A bread box is a kitchen essential and this article features 19 DIY ideas for you to make your own! Making your own DIY bread box is a fun project that will help you organize the kitchen and keep pesky pests out of your food.
It's also a great way to upcycle old boxes and turn them into a new, fresh-looking bread boxes. There are so many ideas in this post, from simple plain ones to more elaborate designs using various technique. So what are you waiting for? Get crafting today!
DIY Roll Top Bread Box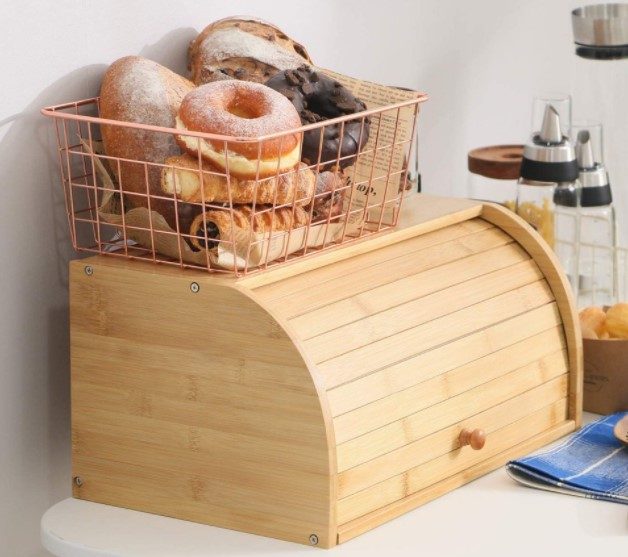 Let's start this list with the most common design of bread box: a roll top bread box. This DIY bread box from Bellman Woodworking And Designs on YouTube has an awesome design that you'll love. Although it may take some time and skill to make, the result will be totally worth it. Check out their tutorial below for all the details on how they made theirs- I bet you can't wait to try making one yourself too!
DIY Two Layer Bread Box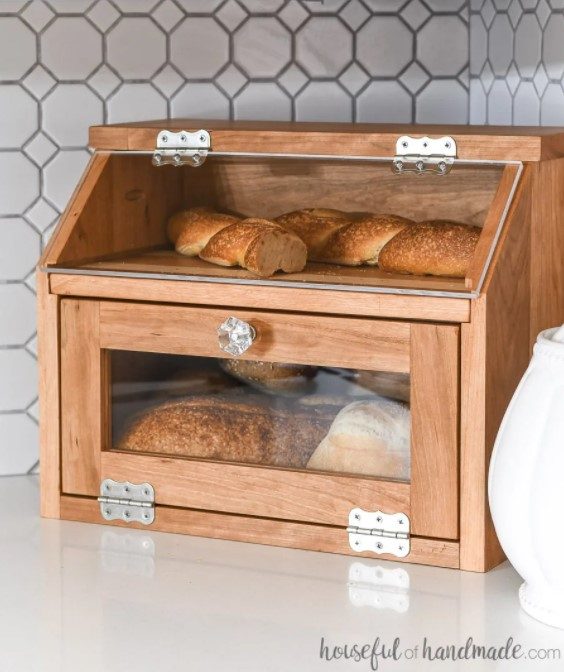 Imagine having a two layer bread box! This DIY project from Houseful of Handmade is an ingenious way to store your extra loaves. Download the free plan on Kregtool today and you'll be baking with ease in no time – Definitely worth-trying.
DIY Upcycled Bread Box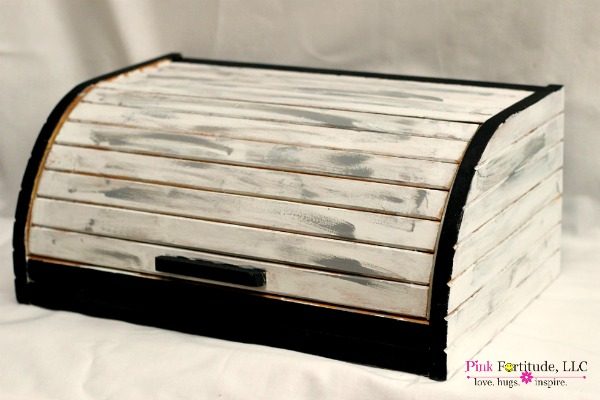 Buying a bread box from the yard sale is worth it because although some people may think that an old item like this will not be of use to them anymore, they actually just need to put in some effort and creativity. For example, you can paint these boxes with new colors so they look more appealing and attractive than before.
DIY Simple Wooden Bread Box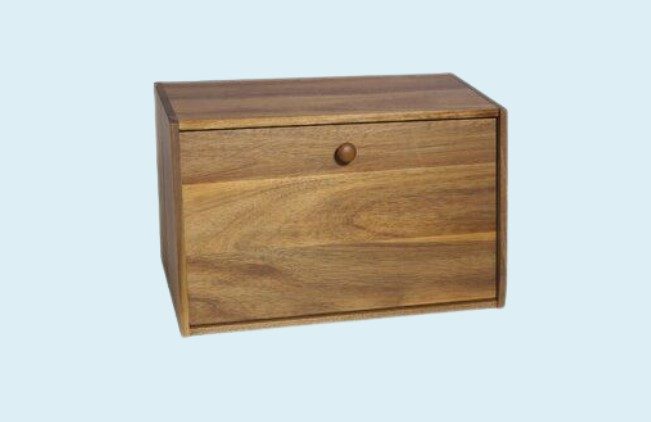 If you're looking for a plain and to the point way to store your bread, why not consider this DIY bread box plan from amateur-woodworker.com? This could be the perfect addition to that beautiful wood table or countertop in your kitchen!
French Farmhouse Style Bread Box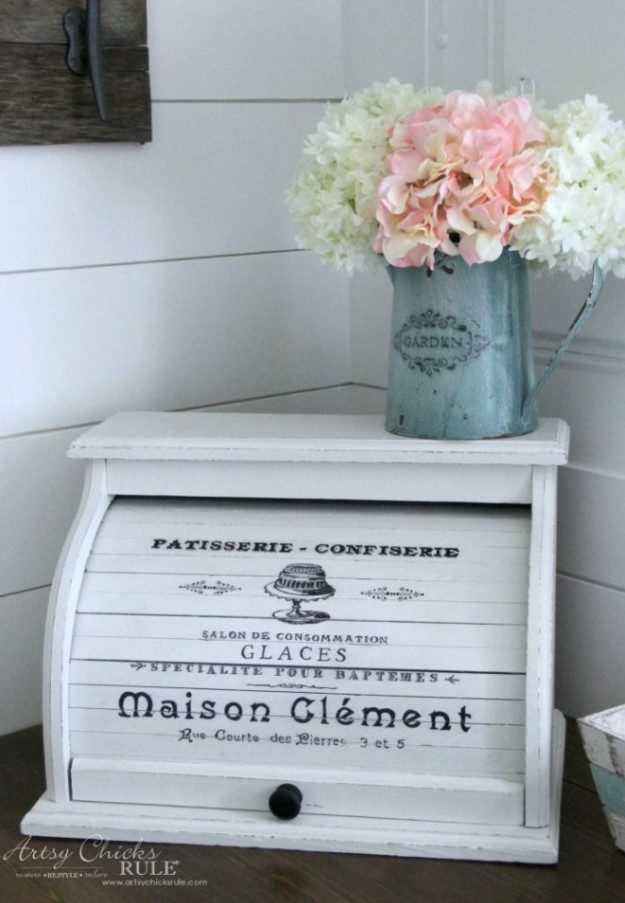 Nancy, a savvy home decorator and artist from artsychicksrule.com found an old bread box at her local thrift store that was in pretty bad shape. She transformed this once-dated bread box into a beautiful French farmhouse look with some simple painting techniques to make it pop again.
Scrap Paper Covered Bread Box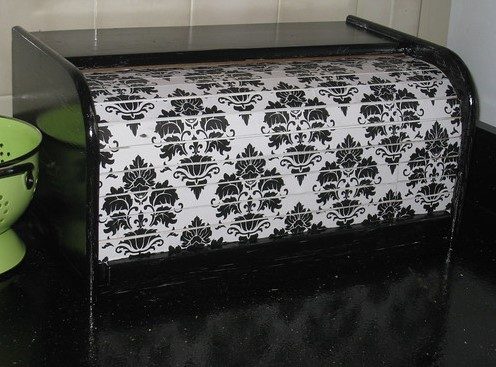 It's a bit like the magic of turning something old into new again. If you have an old bread box lying around that needs to be replaced, why not upcycle it with scrap paper?
With scrap paper, you can turn your old bread box into a chic and stylish storage container. You could even make it match the color scheme of any room in which you place it!
Beach Style Bread Box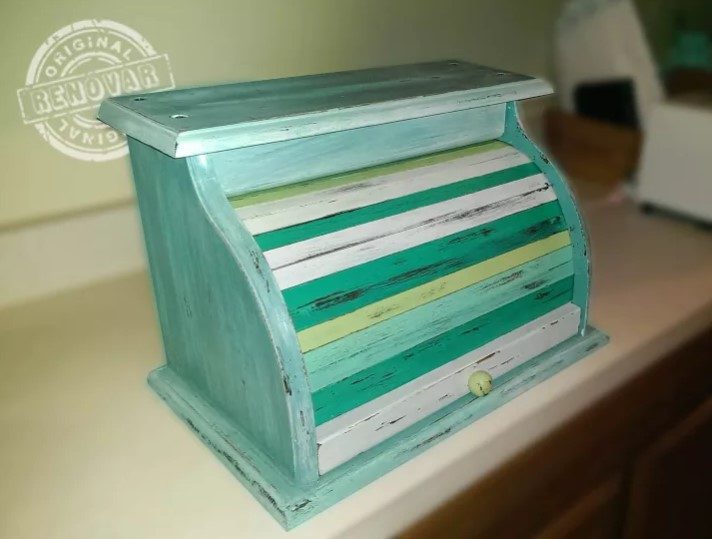 It's the perfect time to make a summer-themed bread box. This project will not only keep your baked goods fresh, but it'll also look super cute on any countertop!
French Bakery Stencil Bread Box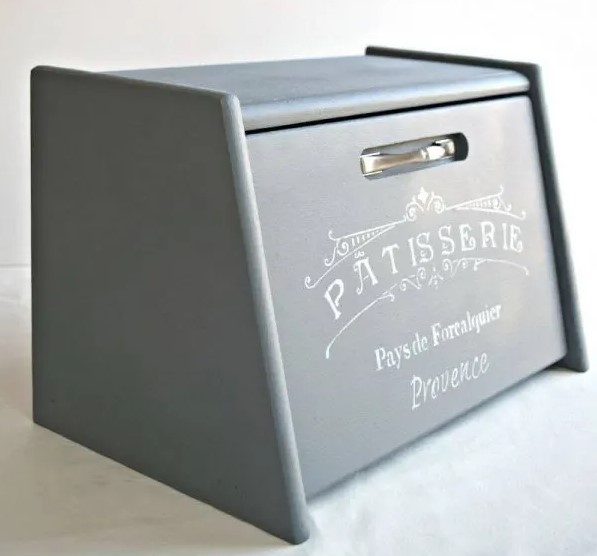 Vineta of thehandymansdaughter.com shares her summer bread box makeover using a chalky black finish paint and French bakery stencils! The result is very chic with some elegant accents that will update any kitchen – even more so if you're into baking your own fresh loaves in-house for an authentic feel!
Vintage Bread Box Makeover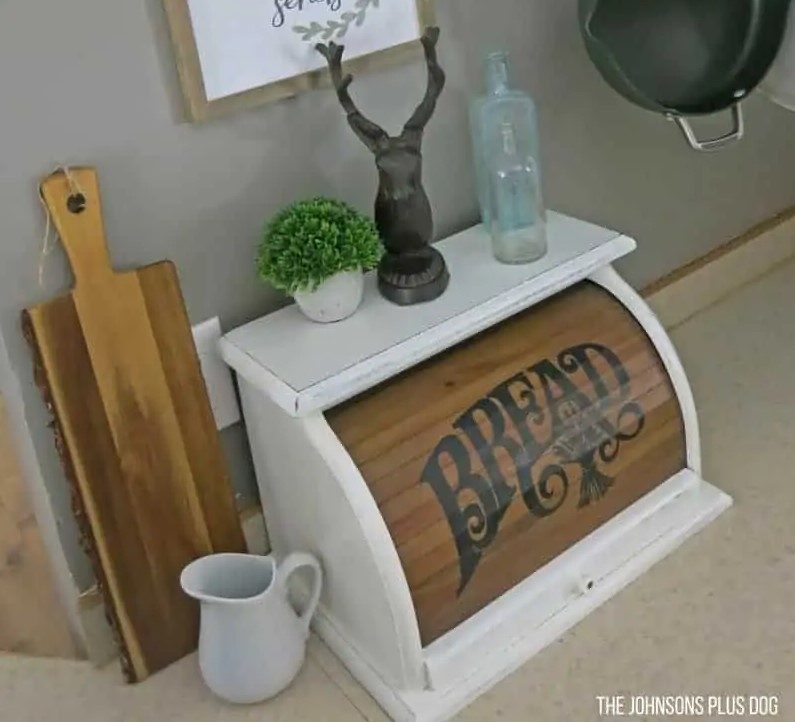 This vintage bread box is painted with a White Adirondack chalk paint color all over the frame, yet the lid stays original. I love how there's such an awesome two-tone scheme going on!
Thrifted Bread Box Makeover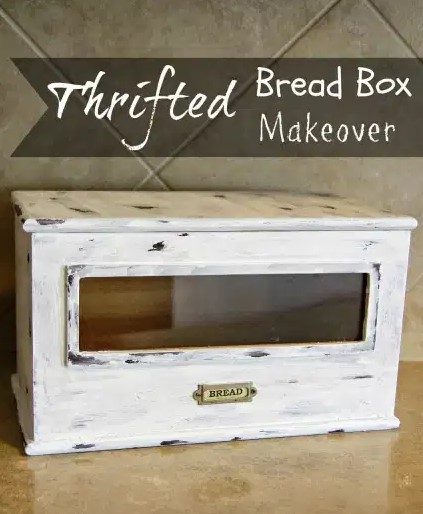 This is another awesome bread box makeover in this list. This one comes from blesserhouse.com. They found an old set of recipe and bread boxes on Goodwill that they refurbished into a new and beautiful bread box for your kitchen counter top. Just like the previous bread box makeover, they use white Adirondack chalk paint but it is applied on top of Java brown chalk paint.
Teal Painted Bread Box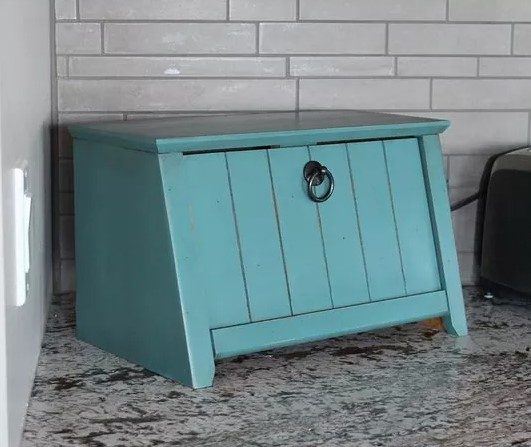 One of the quickest ways to give your old bread box a new lease on life is by painting it. You can do this with very little effort and money, and get great results in no time at all. Just take an outdated blue color like teal and paint over any existing colors, for instance pink or yellow from other items you have used as decorations before!
Chic Bread Box Makeover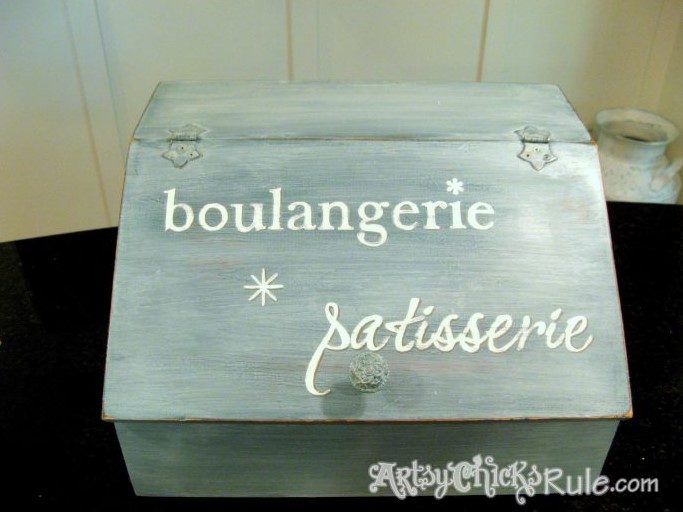 Old bread boxes are usually boring and not very chic, but this one is the exception. With a new coat of paint from Miss Mustard Seed's Milk Paint, some new hinges to replace the old ones that were missing or broken off entirely (and a new knob!), it looks like something you'd see in magazines instead of on someone's kitchen countertop! Oh wait, they actually removed the knob because it's covering up part of those graphics details. Well, it looks better. Curious how it ended up? See the final result below.
DIY Bread Box from Oak Wood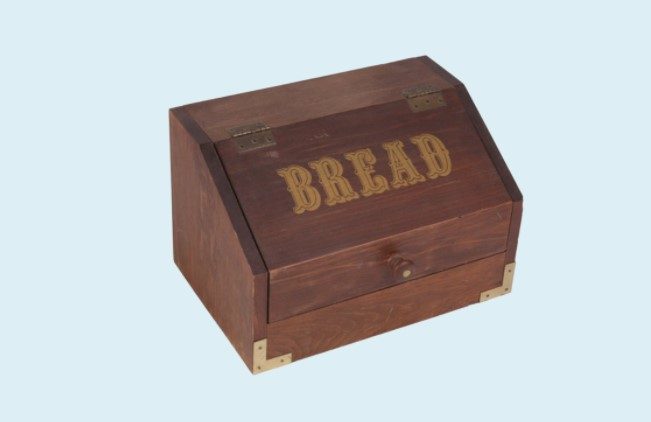 This DIY bread box from Hunker is stylish, durable and a great investment. Made from oak wood with special details that are hard to find on other models, this product can last you for the rest of your days! Unfortunately though, they don't include any photos in their tutorial but you still have to follow step-by-step instructions. To learn more, click on this button below:
Rae Dunn-Inspired Bread Box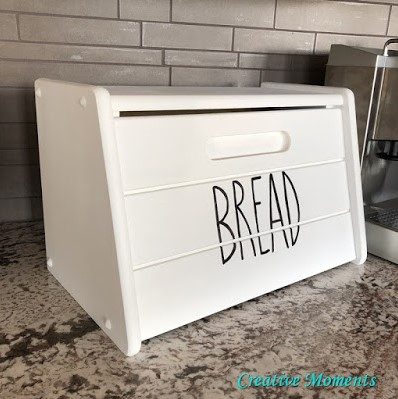 How does your bread box look? If you're looking for a creative way to spice it up, how about painting it with Rae Dunn style? This farmhouse-style paint will give any kitchen with the touch of country.
Vintage Bread Box Refurbish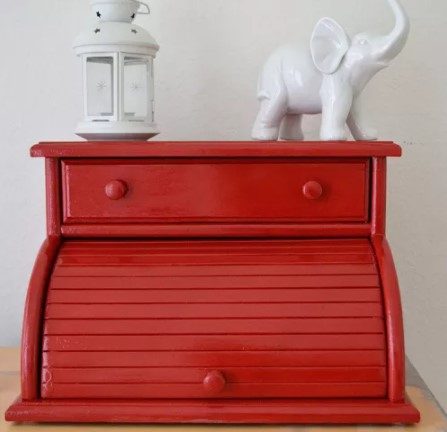 Imagine your kitchen without any of those pesky shelves to hold all the ingredients you need for every meal. The only thing left is a lonely bread box and an empty counter top! That's why painting it red will make it stand out from everything else in there, making sure that each time you go looking for something like flour or sugar, at least one item will be staring right back at you so that nothing ever goes missing again.
DIY Simple Plain Bread Box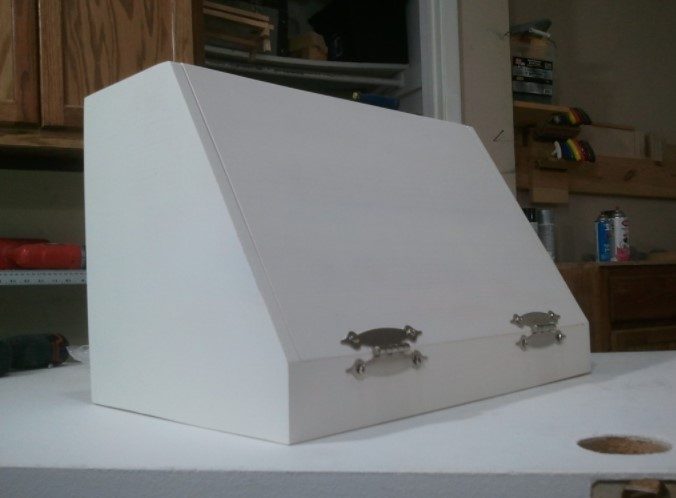 DIY bread box is the perfect way to add a personal touch and neatness, while still keeping your kitchen looking organized. This simple design can be made out of one 8′ 1×12 board according to this tutorial. By following these steps on YouTube you will have an adorable homemade breadbox that fits perfectly in any pantry!
Bread Box Makeover with Embossed Ornaments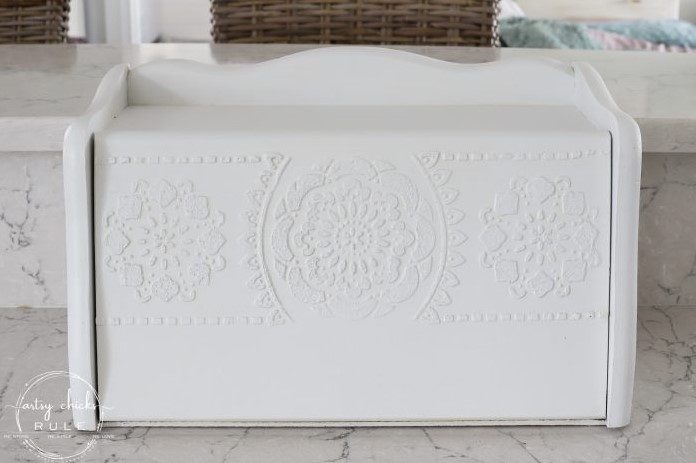 Wow, I'm really impressed! This is another bread box painting, but this one is special. Aside from the paint and paint color, it uses "Fine Stone" product applied on top of stencils to create that embossed effect. What an adorable art!
DIY Low Budget Bread Box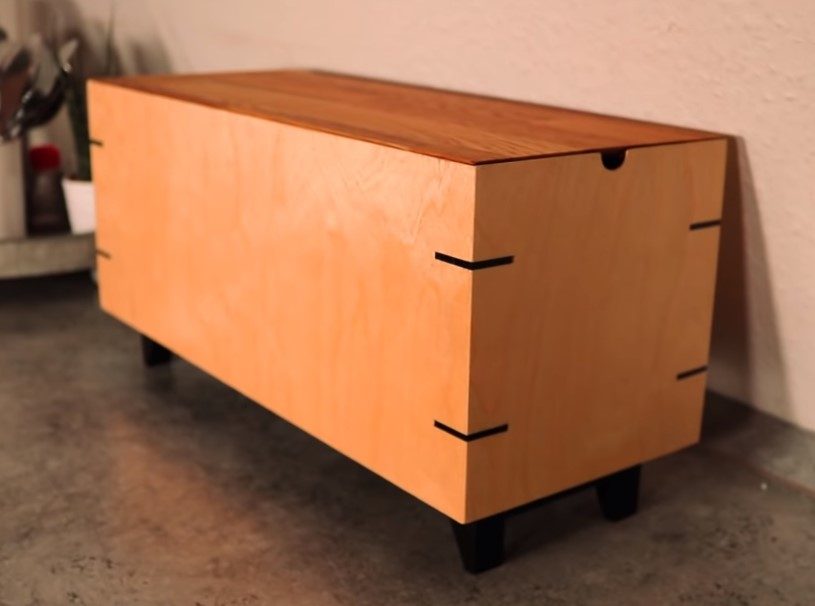 Looking for a new, budget-friendly addition to your kitchen? This DIY bread box is great! It's the perfect square bread box that has all of the elements we love in midcentury modern style. When you open up the lid, it also doubles as an awesome cutting board so you can cut on it!
DIY Bread Box with Built-In Cutting Board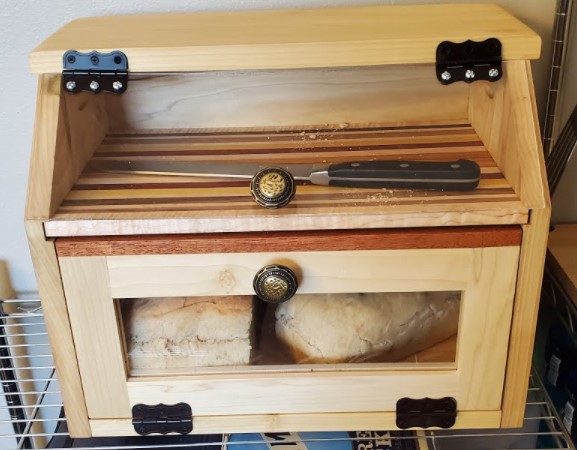 This DIY bread box is a fusion of double-layer breadbox and the built-in cutting board. This ingenious design not only gives you more space for storing your loaves, but also doubles as an invaluable cutting surface when needed!