The time is here and it's almost Halloween. Have you been ready with the decorations? Or are you a last-minute type of person? Well, worry no more because this article will help with that!
Since Halloween is everybody's favorite holiday, there are so many spooky inspirations to keep you entertained all season long. Whether your budget is tight or not, there is something for everyone here including the easiest project with a very affordable price and one that requires more effort (but worth the result!)
Without further ado, check out the list below!
DIY Witch Figure from Old Book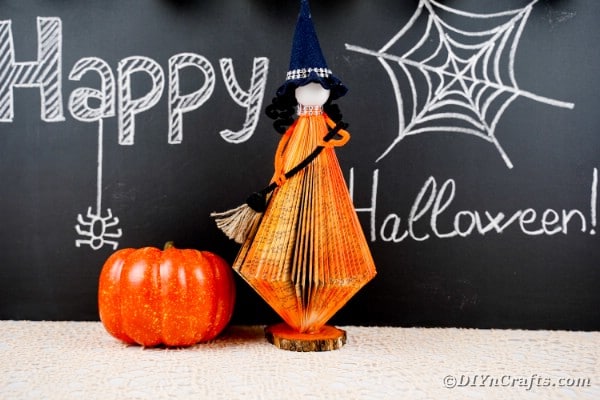 I guess recycling is not only good for the environment but for Halloween decoration as well. Making such a cute witch figure out of an old book is a genuinely creative idea.
DIY No Sew Yarn Wrapped Pumpkins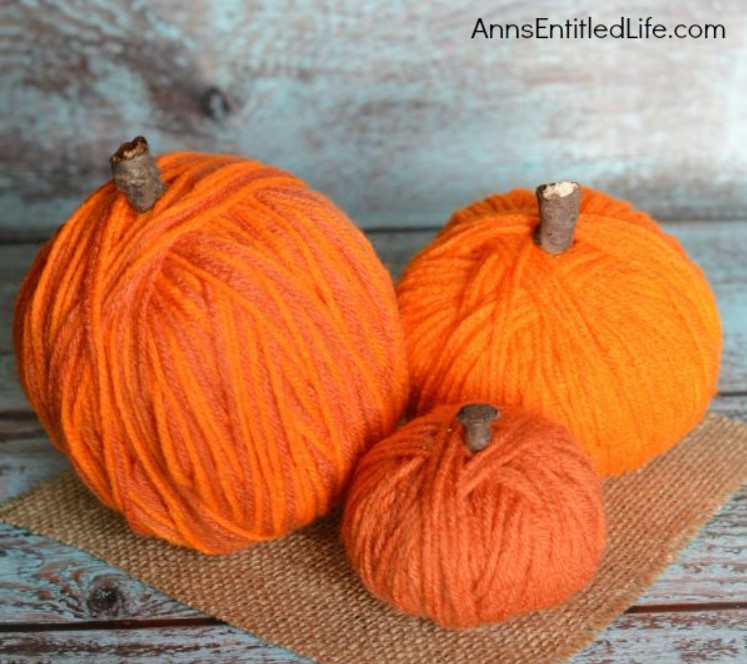 The porch is now complete with the addition of this spooky topiary. The If you're looking for the easiest way to create an adorable decoration for Halloween, this no-sew wrapped pumpkin is your choice. They're such a great way to add some fall decorations for the home without spending too much time or money!
DIY Haunted Birdhouse for Halloween Decoration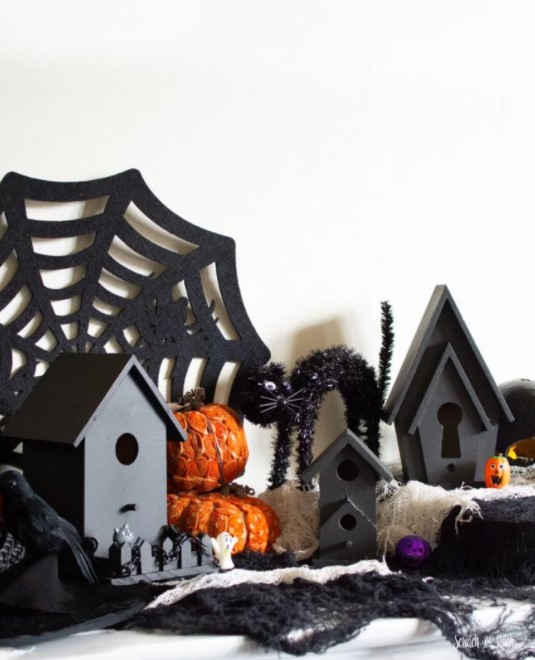 This Halloween, you can decorate your home with a spooky haunted birdhouse! This DIY project is perfect for anyone looking to add a bold statement piece for Halloween. It's not only perfect for the exterior of your home, but it is also great for setting up indoors too.
DIY Halloween Spiderweb Wreath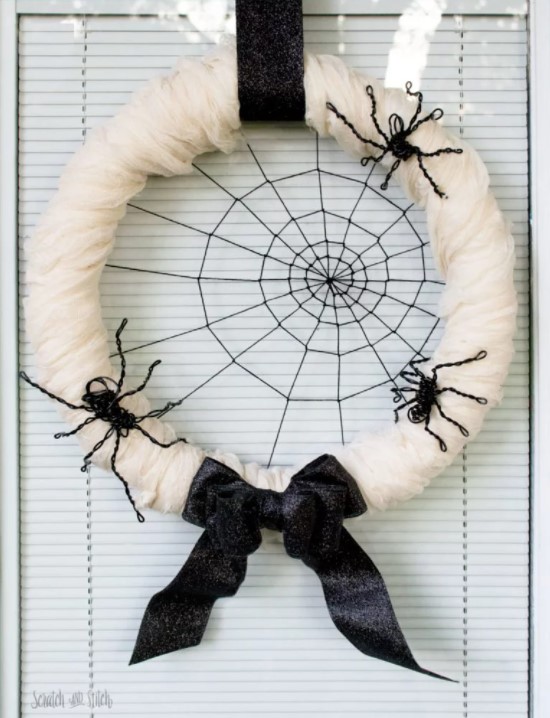 When it comes to Halloween decorations, you can't beat a spiderweb wreath. So if you want one for Halloween this year, try making your own. It's easy! All you need is cheesecloth (you can usually find this at the dollar store), scissors, and some floral wire. Here's how to do it:
DIY Halloween Gnomes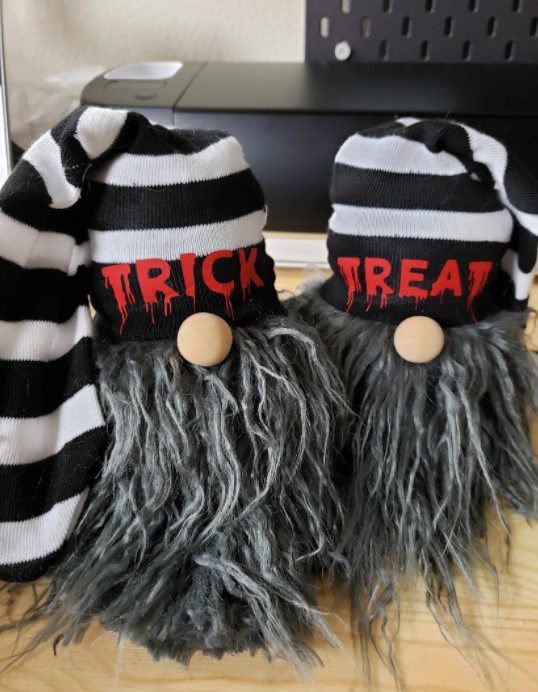 Gnomes are a popular decoration for many yards and gardens during the winter holidays, but it could be perfect for Halloween too! Follow the instructions by clicking the button below (hint: it needs some sewing skills).
Lighted Halloween Pumpkin for Front Porch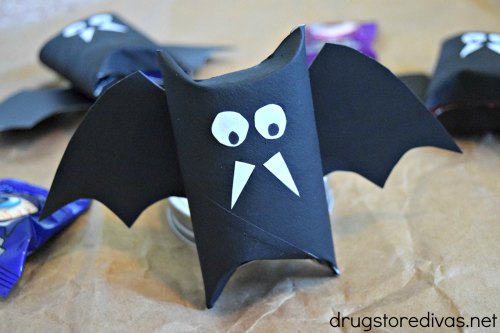 There's a lot of things you can make out of toilet paper rolls, like Christmas ornaments and makeup organizer, but one of my favorite projects is surely these cute Halloween candy tubes. They're an easy craft that results in a great Halloween decoration for your front door or windows.
DIY Pumpkin Lantern from Embroidery Hoop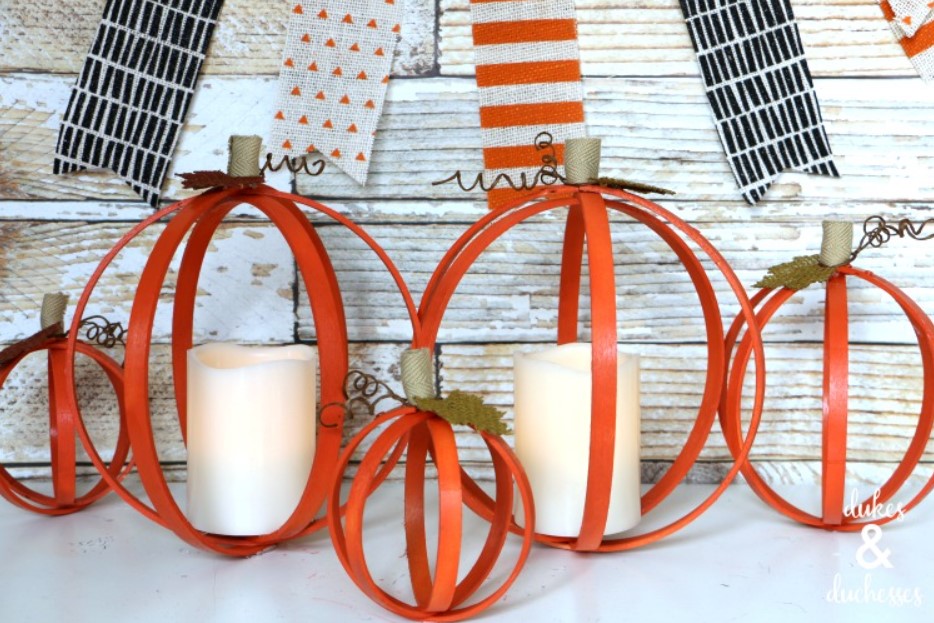 In the fall, pumpkin patches are full of pumpkins waiting for someone to take them home. But if you don't have time to make it out there this year, or your kids want something special for their room—here's how you can turn an embroidery hoop into a pumpkin lantern!
DIY Glowing Tipsy Pumpkin Bucket Tower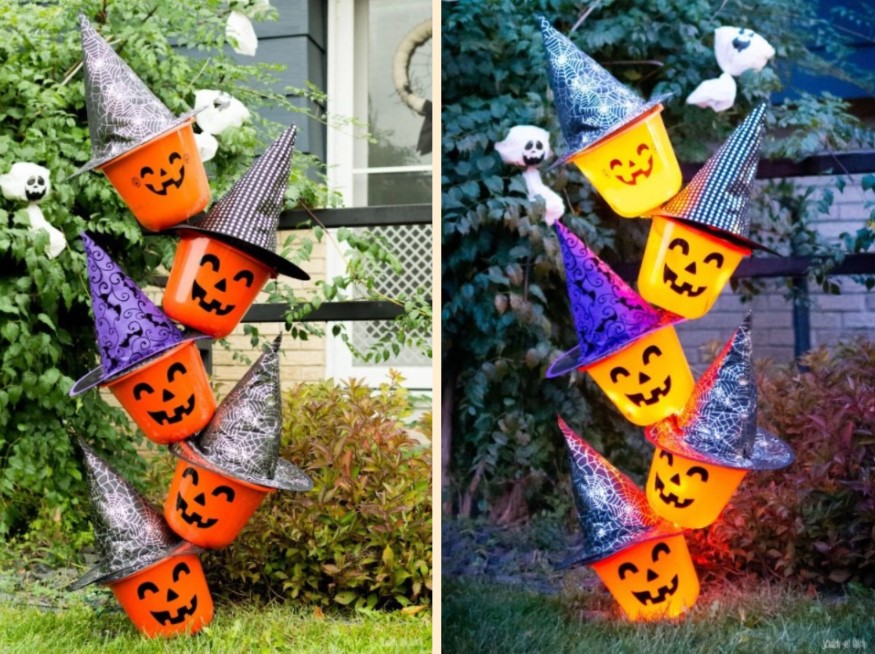 I looove this project so much! This decoration will make your Halloween party unforgettable. Well, yes, this is not so easy DIY project to do, especially for beginners. However, Cathi from scratchandstitch.com has given the clear instruction on how she made this. Learn how to do it by clicking the button below.
DIY Frankenstein Windsock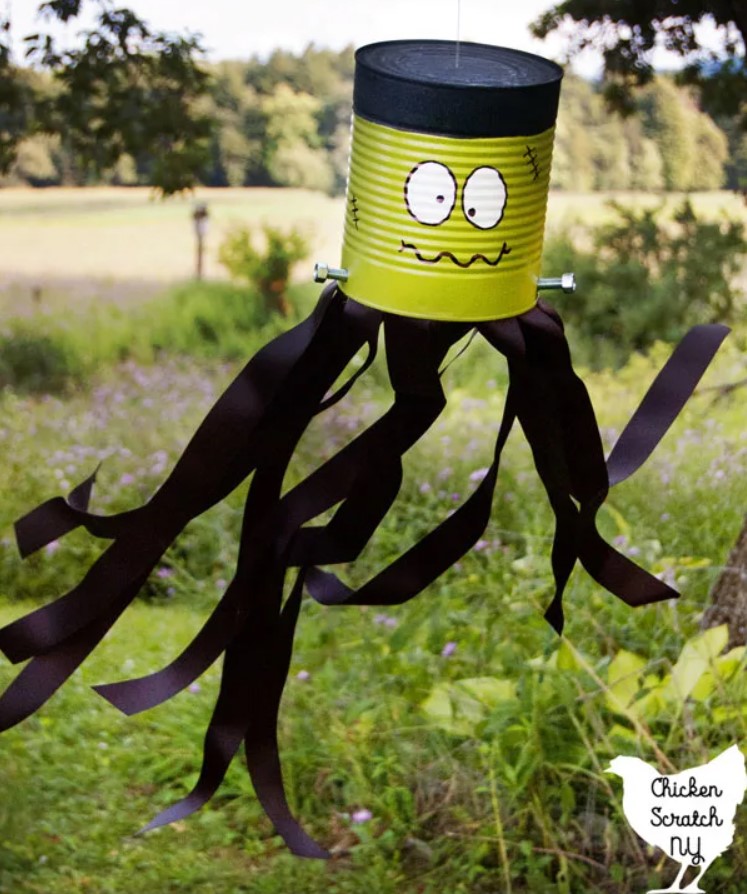 It's always great to have something with the Frankenstein face for Halloween. Making this windsock is not hard and it can be very rewarding. To make one, you need some basic materials like tin can, ribbon, fishing line, scissors, spray paint, paper clip and bolts.
DIY Halloween Soap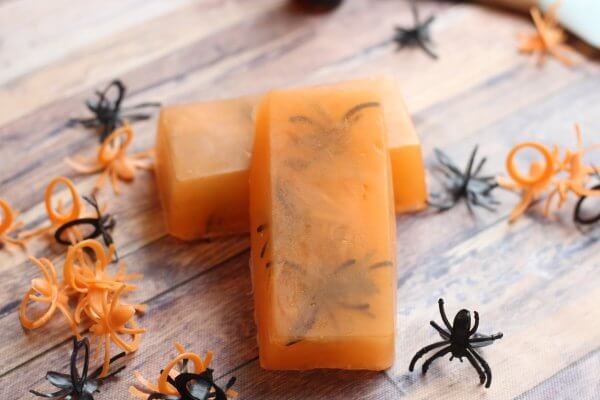 Halloween soap is a fun project for children. It's easy to make and the kids will have a lot of fun with it. You can add spiders or other decorations, or you can just use food coloring to add different colors to the soap.
Lighted Halloween Pumpkin for Front Porch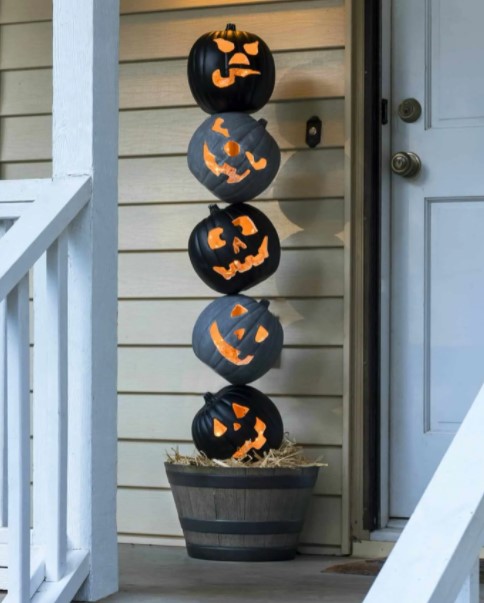 The porch is now complete with the addition of this spooky topiary. The faux pumpkins are stacked into a pillar, making it look like an actual pumpkin! Surprise! They can be lighted for the perfect Halloween ambiance.
DIY Pumpkin Centerpiece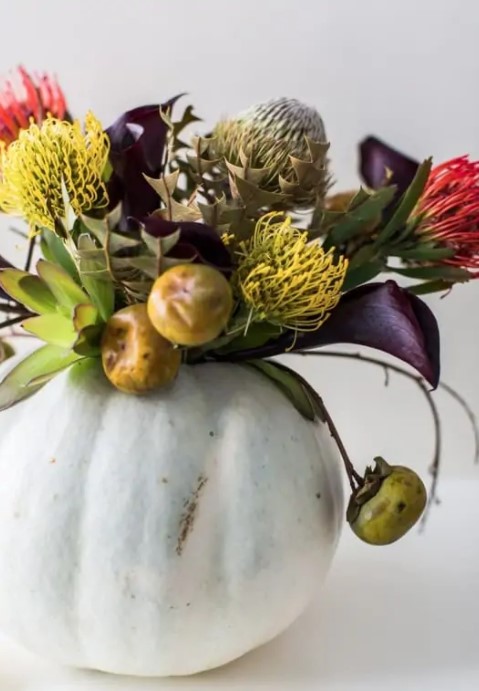 A lot of people go the extra mile to make their Halloween decorations as spooky and eerie as they can. Have you decided yours? If you're looking for a new DIY Halloween decorations, then this might be perfect! Learn how to create your own creepy floral centerpiece by using dried flowers!
Halloween Candy Cart and Skull and Skeleton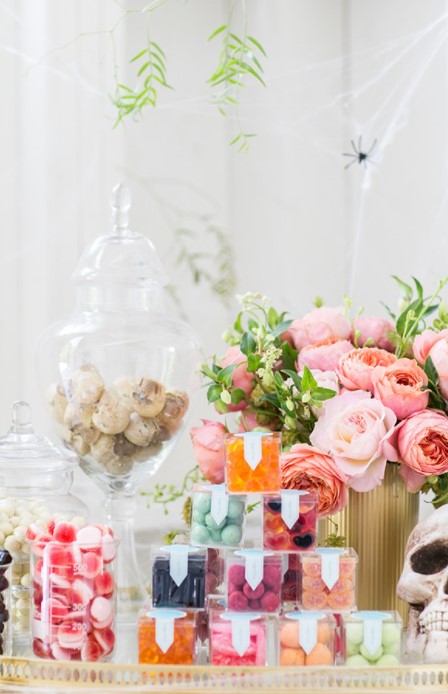 Some may argue that some Halloween decorations are too frightening for children. If you're in search of a more family-friendly option, consider this idea! The color palette is cheerful and perfect for the holiday season – but there's just enough spooky element to get everyone in the spirit without scaring kids away.
Floral Wreath to Welcome the Spooky Season
It's time to do your fall decorating and get ready for Halloween, too! This floral wreath is perfect because it can combine two holidays in one. You'll be guided on how to make this easy project (with pictures!). In no time at all you will have a decorated door that fits the mood of both occasions.
Halloween Decorations for the Faint Hearted Person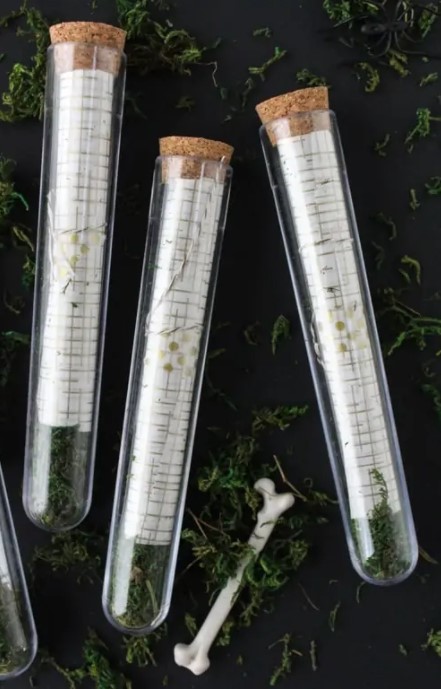 If you're a person who doesn't want to be involved in the spooky Halloween season, then this decoration is for you! This tube is great for anyone who doesn't want to be spooked this year. You can use it as an invitation holder or even fill it with candy and other goodies and you'll be ready to go!
Spooky Wreath Made of Googly Eyes Pong Balls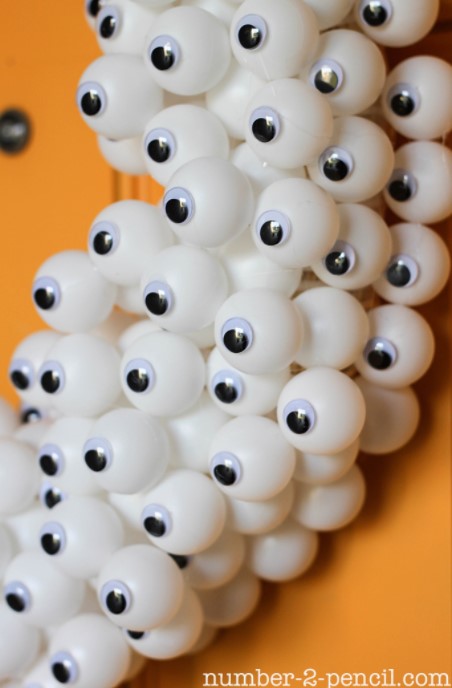 It's that time of year again! Time to decorate with all the spooky things you love in anticipation of Halloween. Why not try this wreath? It will make your doors look extra festive and fun, especially if they're made from googly eyes pong balls like these ones. This craft is very easy and simple, so don't let anything hold you back, and get started today!
Not-too-creepy Skeleton Décor for Dining Table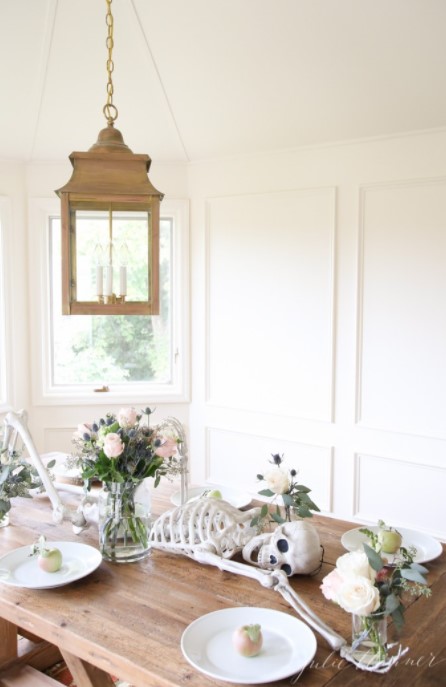 The perfect Halloween dinner table set-up is here! This skeleton décor, which doesn't go too far and stays a little less creepy because of the other accents such as floral decorations. These are just some ideas for your spooky Halloween evening in an attempt to ward off any ghosts that may come knocking on your door!
No-carve Pumpkins with Acrylic Paint and Studs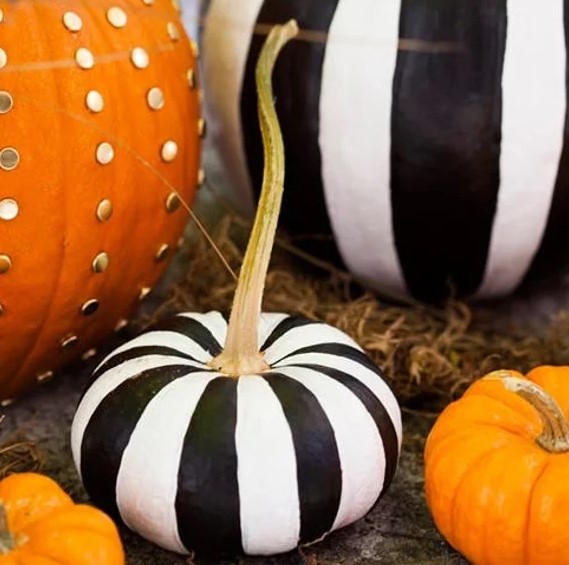 No-carve pumpkin ideas allow you to enjoy a more festive and spooky Halloween without the mess. Simply grab some acrylic paints based on your plan, voila! Your house is still decorated for this seasonal holiday with these no-mess pumpkins.
Spooky Flying Witch Hats Luminaries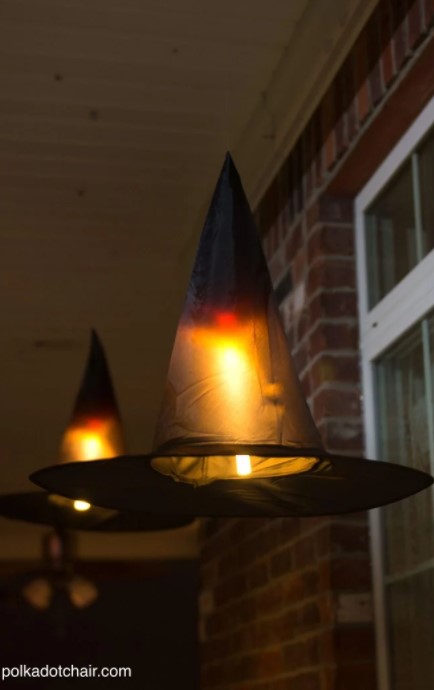 Do you have a porch? Don't dress it up for just one day of the year! With this easy project, which is also fun to make and spooky looking at night time, your porches will be awesome all Fall. You'll enjoy making these witch hat luminaries as much as seeing them every evening on Halloween.
Casper the Friendly Ghost Garland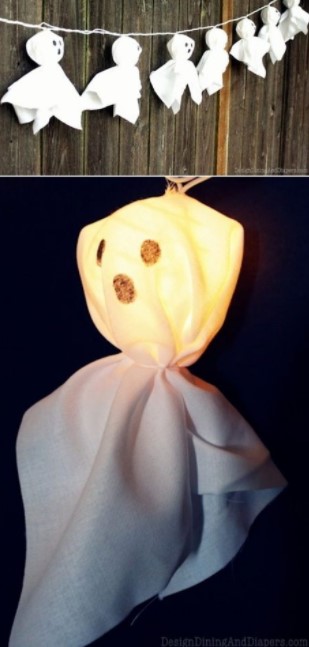 This Halloween, give your home that extra spooky touch by decorating it with these Casper ghosts garlands. They're the perfect way to say "Boo!" without scaring guests or kids too much! The best part is that you'll want to use white lanterns inside so they light up at nighttime.
Creepy Witch Legs from the Bush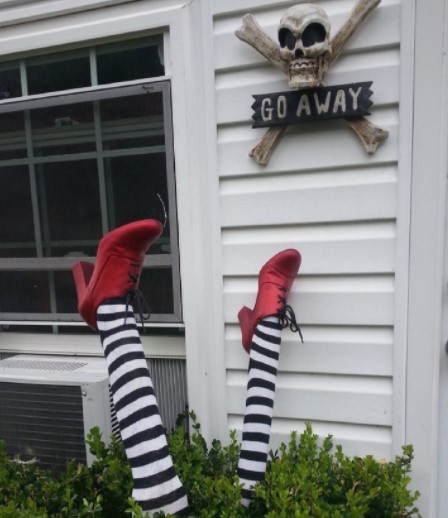 This tutorial will show you how to create a witch legs decoration for your yard this Halloween. The project is both funny and creepy, so it's perfect if you're looking for the right type of Halloween decorations. You can paint it any color you want and customize your shoes!
Flying Bats Decoration from Stiff Felt Sheets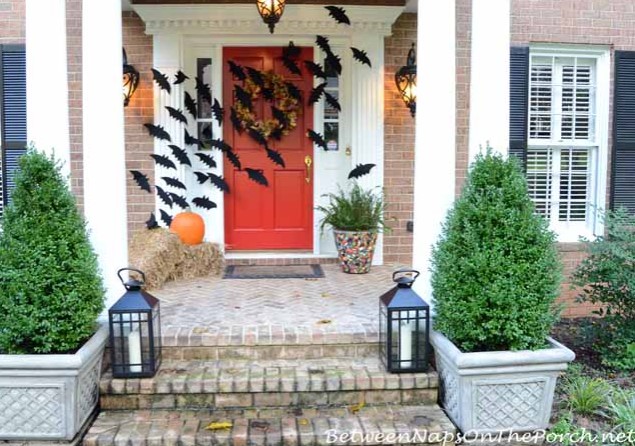 Decorate your front porch for Halloween by hanging a few bats across the door. The bats are made of stiff felt sheets which you can find at any craft store near you (or online too!). For this look, we'll need approximately 40-45 bat shapes to get started. Let's start making them!
'Monster on the Door' Made from Black Vinyl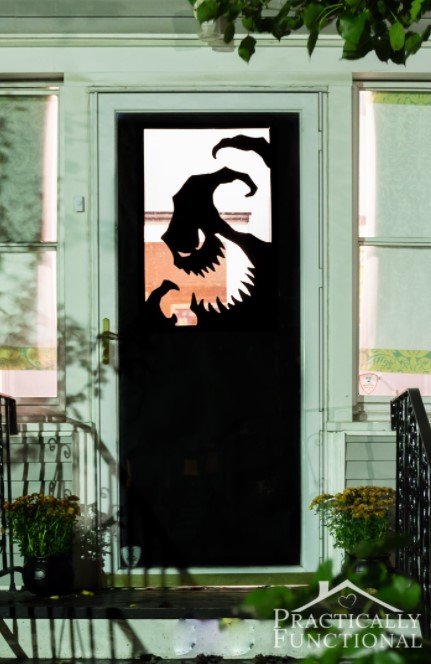 The scariest part of Halloween is the door. Don't let any trick-o-tricksters sneak up on you this year with an Oogie Boogie Head Cutout! The vinyl monster fits in your doorway and can be customized to Frankenstein, Dracula, or any monster you'd like.
Halloween Candles made of Pumpkins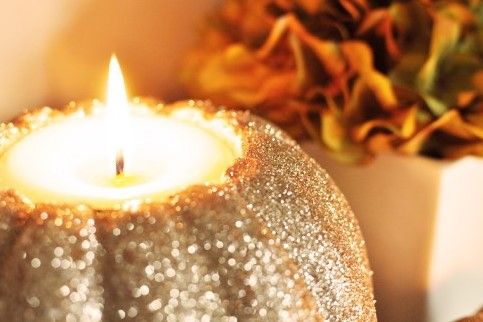 Candle decorations are always perfect for the nighttime and even more so this Halloween. How about candle pumpkins? Here's a quick tutorial to make your own! All you need is a fake pumpkin, which can be found at most dollar stores or craft stores, light it up during nighttime hours and enjoy!
Easy-to-make Spider Wreath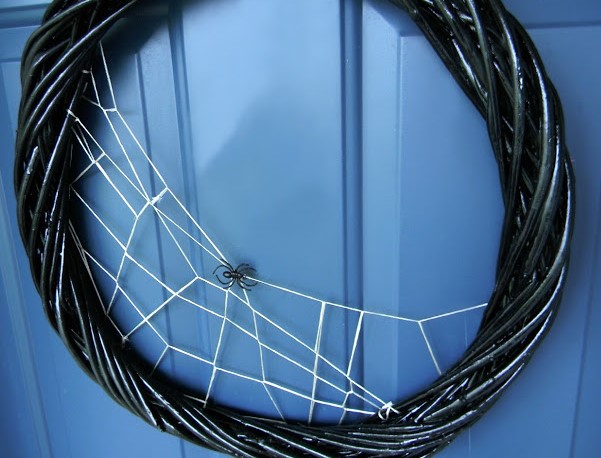 Don't be a Scrooge this Halloween! You can make an easy wreath by turning it into one of these spider-themed ones. It's really simple to do and doesn't require any expensive materials, so you'll save some cash in the process too. There's no better way to decorate than that!
Outdoor Mummy Decoration for $20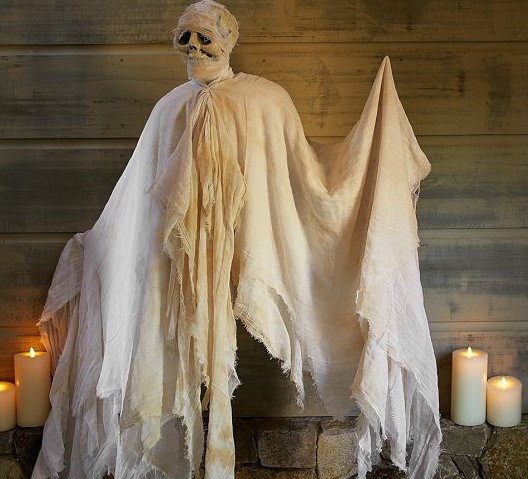 This project is going to show you how easy it is for anyone with a little time and patience. With the methods outlined in the tutorial on making your own mummy display piece at home, there's no reason why anybody should be paying $99 when they could just make one themselves!
Halloween Spirit Pom Pom Garland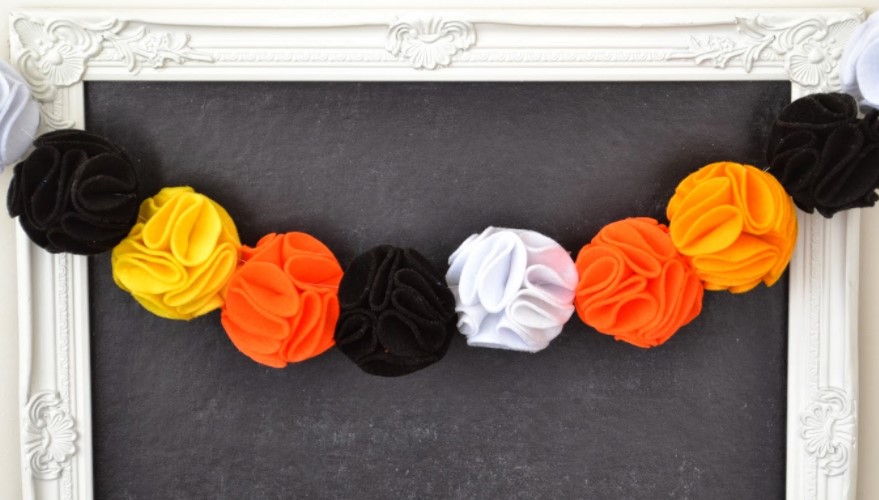 Join in on the Halloween spirit by making this black and orange-themed garland. We all know that garlands are practically a must at any celebration, but what about when you want to make it extra spooky? That's where these little felt pieces come into play! They're simple enough for even beginners, so don't be afraid of getting creative with your decorations.
Candy Corn Jar with Spooky Touches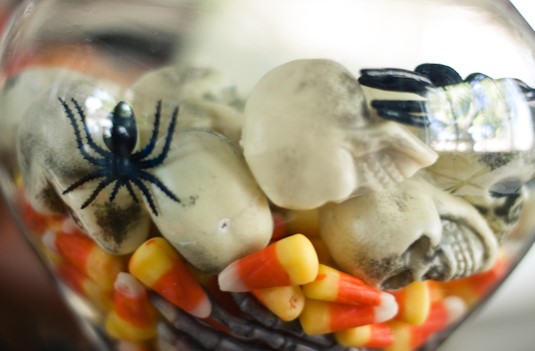 For anyone with decorative glass jars at home, this is your chance to creating an easy Halloween display. Our recipe starts by filling the jar first-half with candy corns before adding in a few spooky touches such as little skulls or spiders.
Budget-Friendly 'Spirit' Jugs Project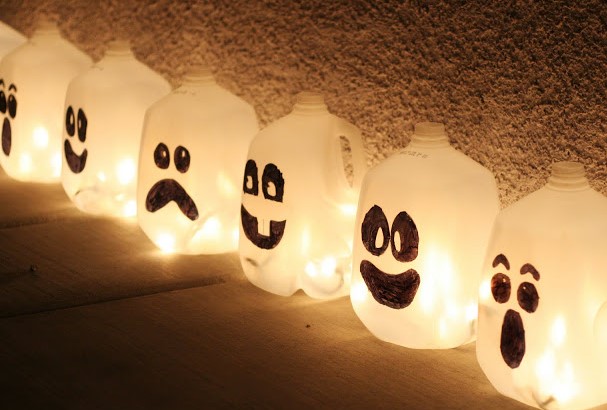 Halloween is just around the corner, and if you're looking for inexpensive yet creative decorations, then jugs are perfect! These things can be turned into luminaries in very easy steps. You can turn recycled jugs into masterpiece spirit luminaries that will cost you next to nothing.
Spooky Candle Light Made of Cups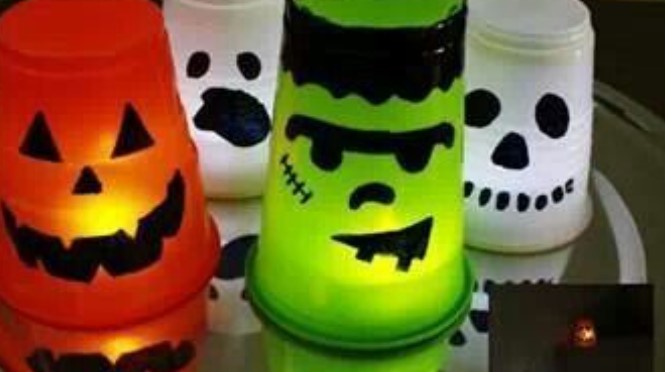 If you want to get your kids involved in the festivities this Halloween without breaking the bank, then look no further than this project. All it takes are a few discarded cups and some sharpies! You will need the cups or any other type of paper container to be drawn on with markers. Your kids will have so much fun decorating the containers to their liking!
Another No-carve Pumpkin Halloween Decoration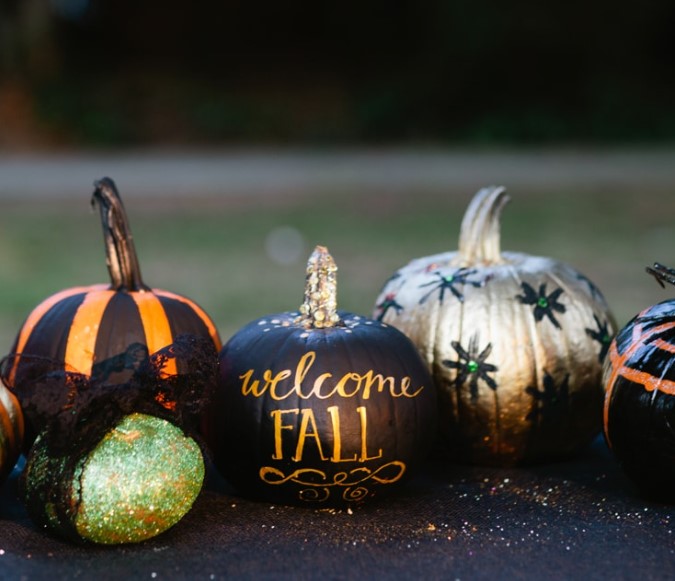 The best part about a no-carve pumpkin idea is that you don't need to carve! You can invite your family and friends over to give it some help. Have fun while doing this activity together, the possibilities are just endless for how creative you'll want to be when decorating them.
Tombstone Decoration Made of Cardboard Boxes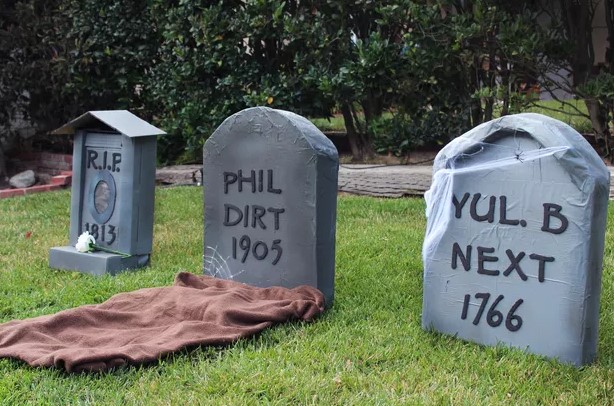 Halloween is incomplete without its traditional décor: Tombstone! They're made of cardboard with old drawings drawn over for an eerie flair. They're perfect for any yard décor! This tutorial will give step-by-step instructions on how to assemble the pieces together!
Découpage Pumpkin with Lace for A Vintage Look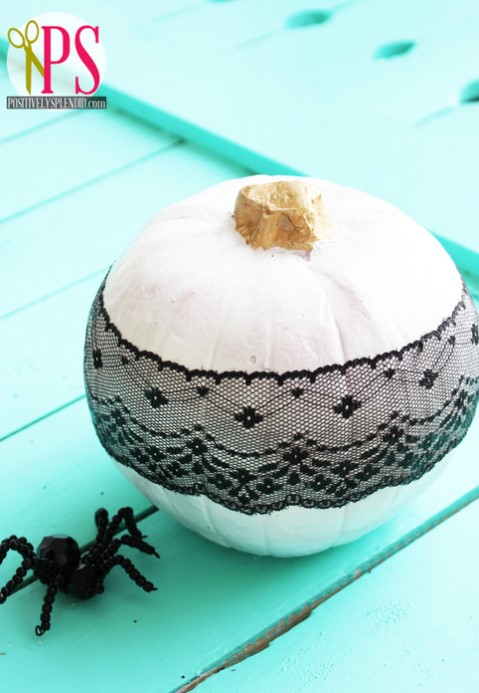 This spooky and elegant pumpkin is the perfect addition to your Halloween festivities! The laces give off a vintage vibe, and they are just as awesome for decoration in any room of the house. This project can be accomplished within an hour or less time- it's worth taking on this easy task before all those pumpkins disappear from shelves!
Hanging Spider Sacks Décor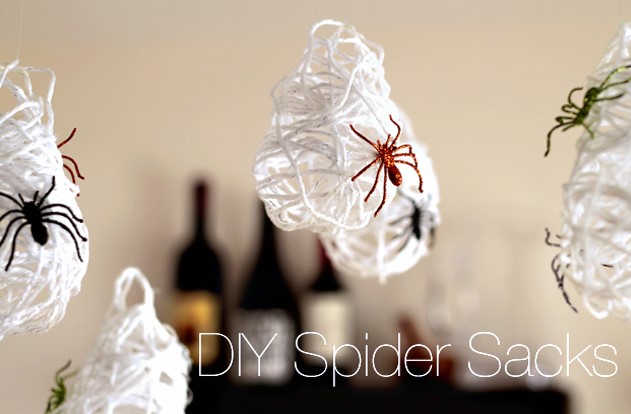 It's always a good time when you get to make something creative, especially if kids are involved. They will be so excited and ecstatic! Plus it only takes a few days because the process involves glue which needs to dry out before your project is complete.
Simple and Easy-to-make Ghost Balloons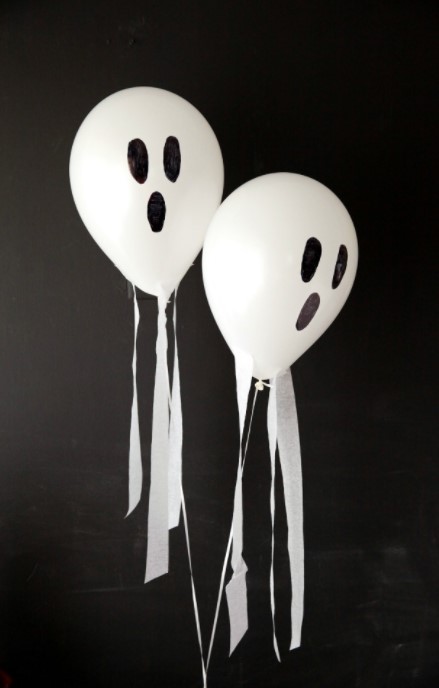 Even if you don't have any plans to create your Halloween decorations, these spooky ghost balloons are a fun and easy way to dress up your home. These balloon decorations take about a few minutes each! Plus they're really inexpensive compared with other types of decoration materials. Once finished, just place them in the yard or outside your door so unsuspecting trick-or-treaters will be scared away!