The living room is the perfect place to unwind after a long day. It's where you can spend time with friends and family or enjoy some alone-time, but it only works if your coffee table complements both you and the aesthetics of your home!
Coffee tables are a piece of furniture that can be expensive, but luckily for us, there is an option to make your own. There are so many design possibilities with DIY instructions, and they're usually quite easy to follow too! Here's a list of some awesomely creative DIY coffee tables for anyone looking to put their creativity on display in their living room!
Sawhorse Coffee Table for Under $25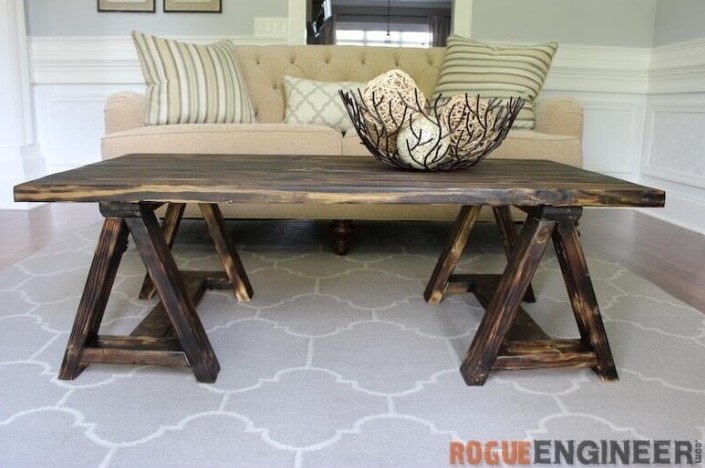 Not your typical coffee table! This is made from a sawhorse frame and it'll transform your living room. It's rustic meets farmhouse-inspired, and it will be the centerpiece of any living room in no time! The building process for this project can also easily suit beginners who want to get their hands dirty on a new DIY adventure.
Modern Hairpin Leg Coffee Table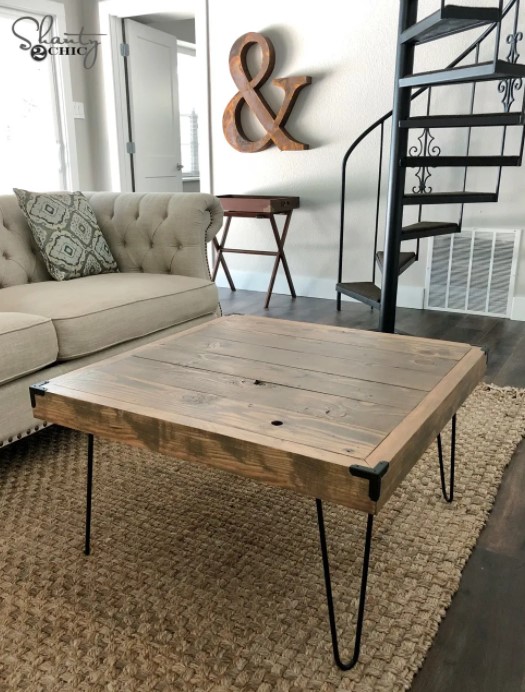 Furniture often costs very highly at retail prices so why not try building yourself? This hairpin legs coffee table is an example of how making something yourself will save money while still looking good. With the materials costing around $50 for this stylish piece, it's hard to resist!
Chevron Pallet Coffee Table Made from Reclaimed Wood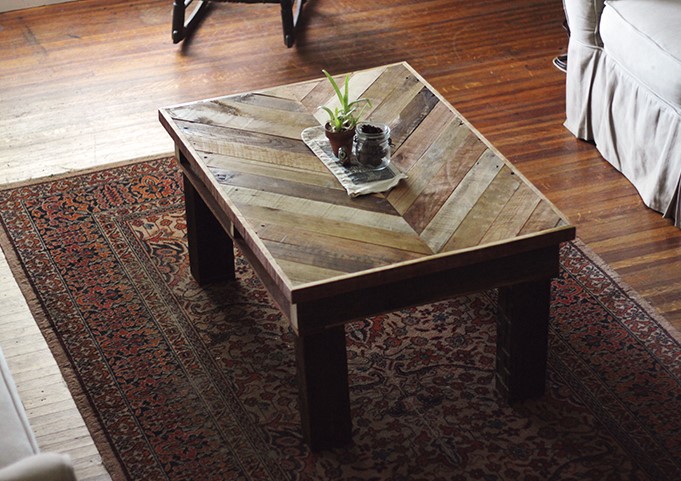 This pallet coffee table is an excellent addition to any rustic-modern interior. This was achieved by incorporating reclaimed wood that reduces the cost of production significantly, while still maintaining an appealing aesthetic for your home!
DIY Coffee Table with A Farmhouse-Inspired Look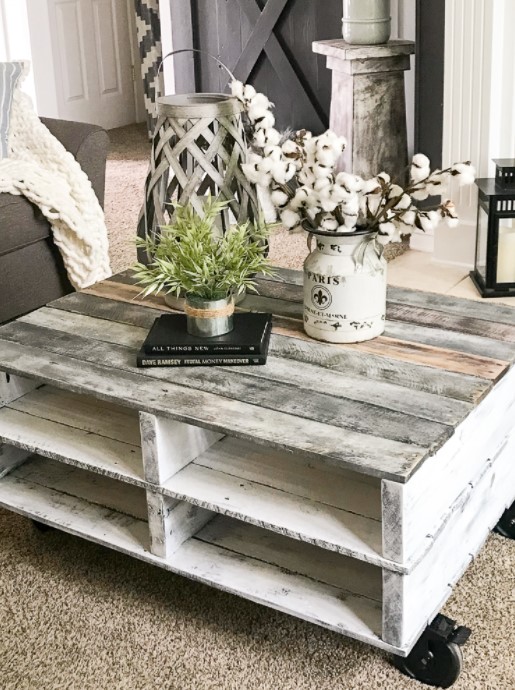 Building a DIY pallet coffee table is an easy and quick project for beginners. You'll have this farmhouse-inspired piece of furniture in just a few hours by following these simple steps. Painting the wood surface will give it an aged look that is perfect for a rustic and farmhouse look!
DIY Coffee Table from Vintage Suitcase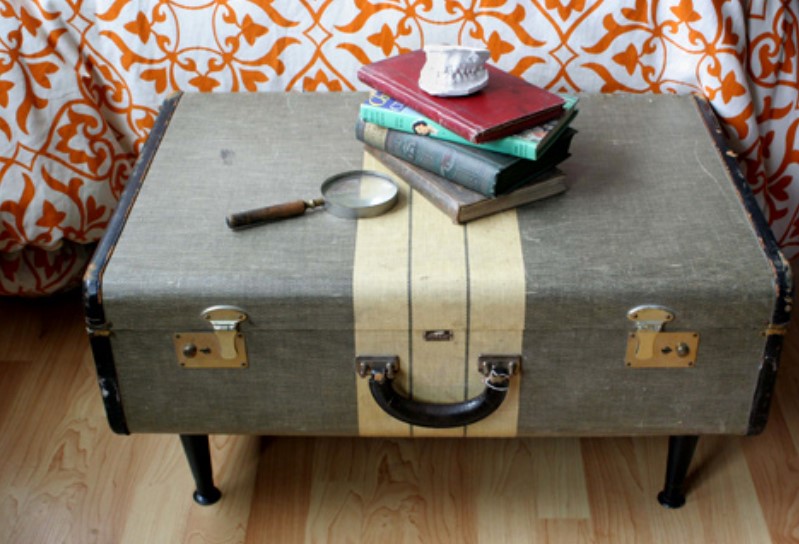 Save your vintage suitcase from dust by transforming it into a coffee table. The project includes attaching the legs to the suitcase. With this project, you'll have extra storage too. What a multifunctional piece! It's time to get started with transforming your old luggage into something new again before someone else snaps it up first!
$50 DIY Pallet Coffee Table with A $999 Look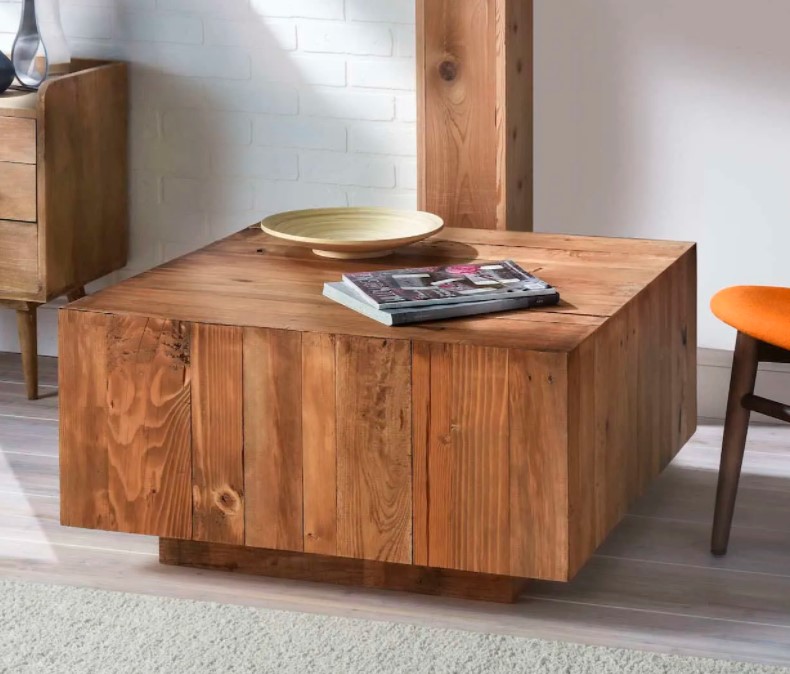 West Elm catalog has fantastic coffee table ideas, but the prices are way too high up. One of those eye-catching items is this perfect example: a pallet wood coffee table! The total project costs $50 and you can find these types of supplies near your local hardware store—talk about convenience!
DIY Coffee Table from Driftwood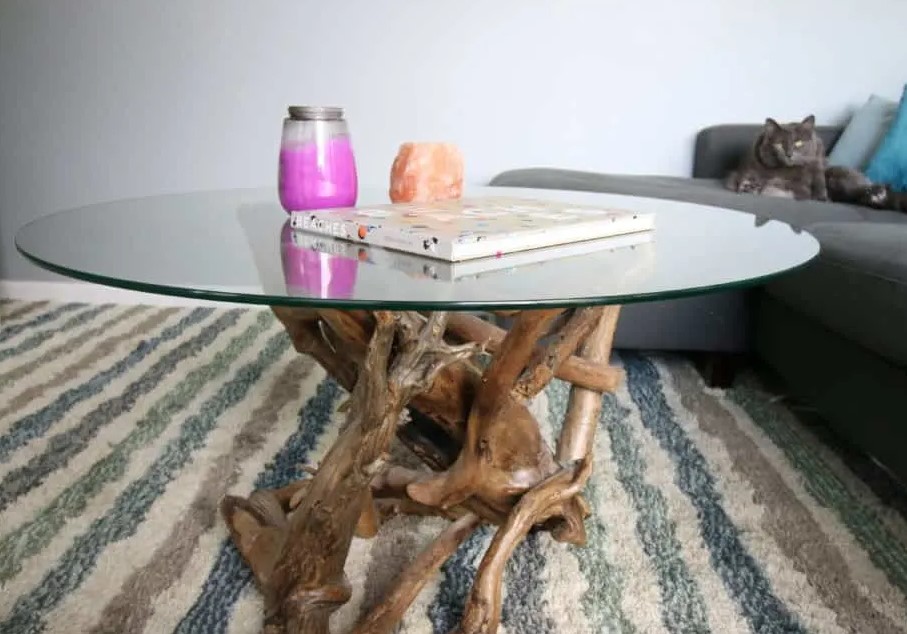 A coffee table is a difficult piece of furniture to find. A large, strong driftwood log can serve as the base for that perfect living room addition! The top could be lined with glass or wood – what will you choose? This project is both artistic and functional so it's ideal for any art lover looking to bring some creativity into their home decorating plan.
Simple Round Coffee Table with A Modern Look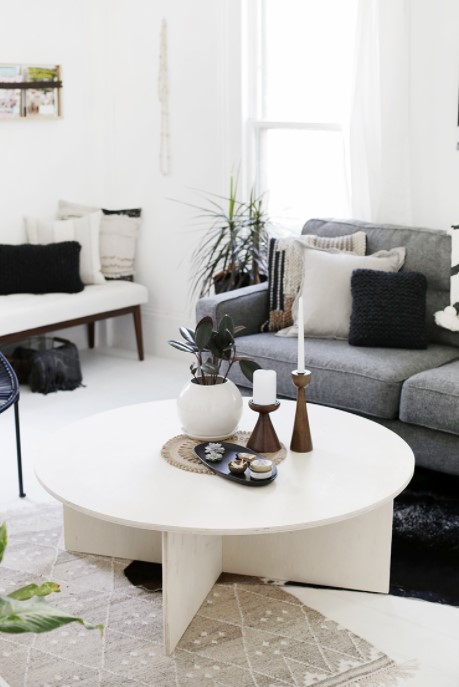 A simple yet beautiful piece, this coffee table is the perfect thing to spruce up any living space. Made of plywood and painted in white color for a modern look that matches most interiors, it's light enough weight so you can move it around your house as needed without breaking your back or stressing yourself out too much!
A Challenging Resin River Coffee Table Project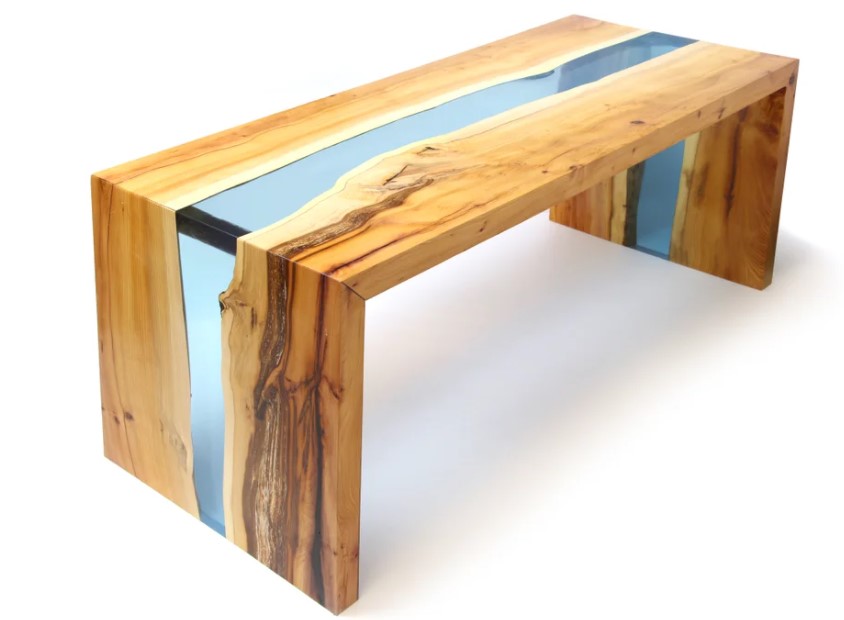 Challenge yourself by building this resin river coffee table! This stunning DIY project looks like art too and is guaranteed to make any room feel more welcoming. Due to the level of craftsmanship required in this project, it's best suited for all experienced woodworkers who love taking on ambitious projects – so if that sounds like you then take up the challenge now!
Marble Resin Wood Coffee Table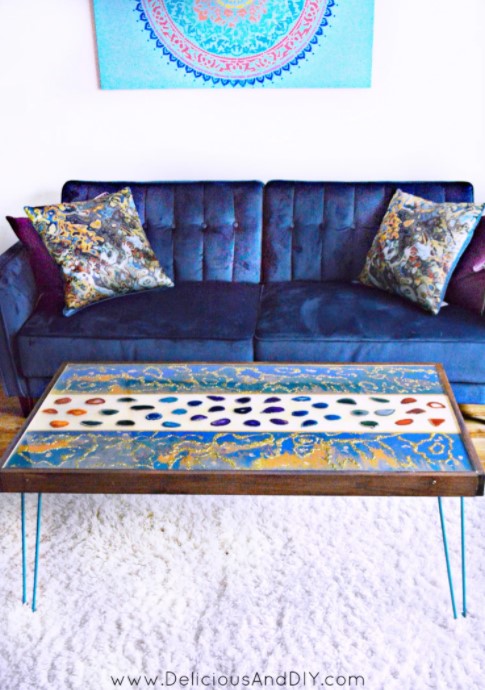 This DIY coffee table is made to look like a piece of art, but it can also function as one. The design has an authentic and unique feel that no other item in your home will have! Making this masterpiece does not take much more than the basic supplies or skills needed for any project!
Side Table With A Wooden Slab and Hairpin Legs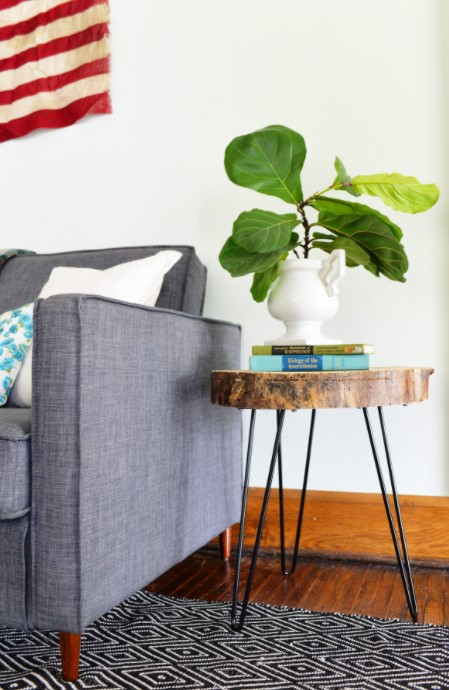 This beautifully designed side table is perfect for a room with contemporary decor. Made from a wooden slab and supported by hairpin legs, this durable piece of furniture can be used to display your favorite decorations or serve as an extra place setting near the kitchen counter. While neutral colors are always timeless, it's also fun to experiment with!
Unique Coffee Table Design with Hairpin Legs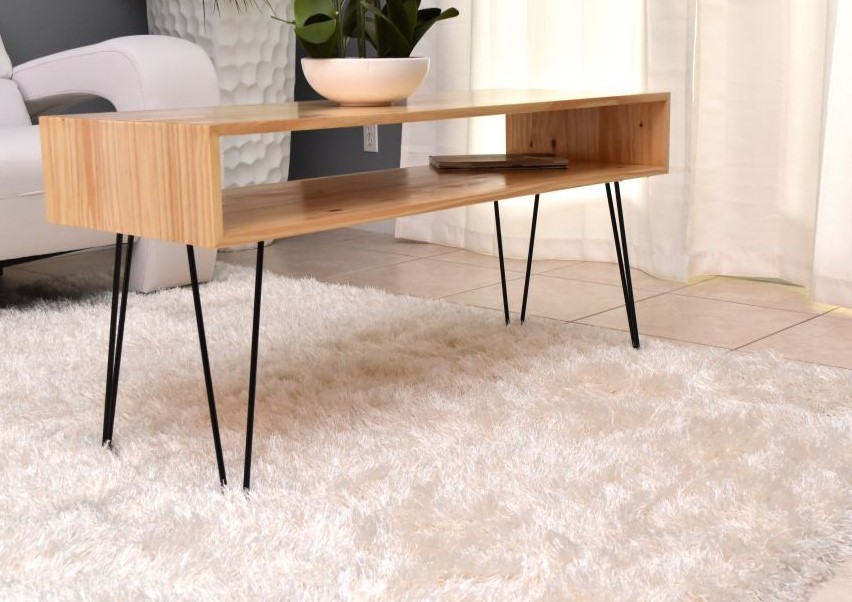 Modern and practical, hairpin legs are a great choice for those looking to make their home chic. This simple DIY coffee table design is very versatile as it can be used in many different types of decorating styles from rustic to modern. Not only does the coffee table provide extra storage space but also offers an elegant way to display your favorite books or magazines when you're relaxing after work!
Factory Cart-Inspired Coffee Table (with Wheels!)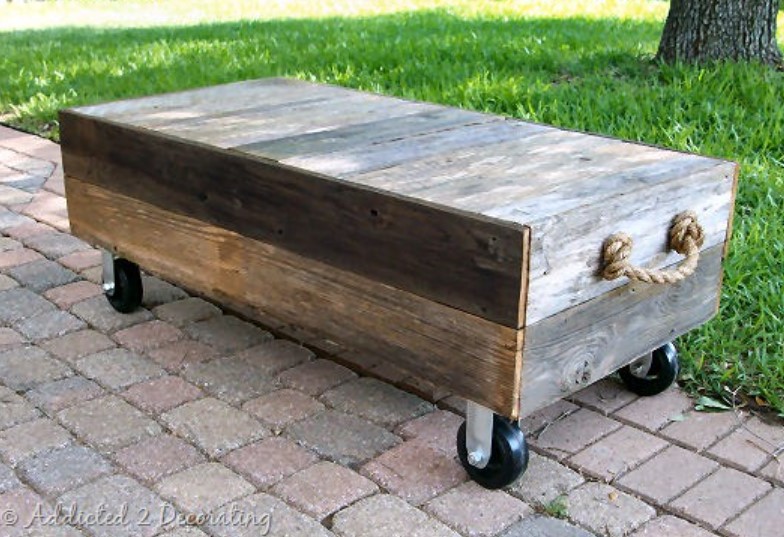 You don't need to buy new furniture when you can make your own! Here's a great design for that old cedar fence picket laying around; turn it into this unique coffee table. This clever, factory cart-inspired design is easy on the wallet and perfect in any living space. Because of its wheels, you can move it anywhere without much effort.
Rolling Coffee Table with Rustic Factory Look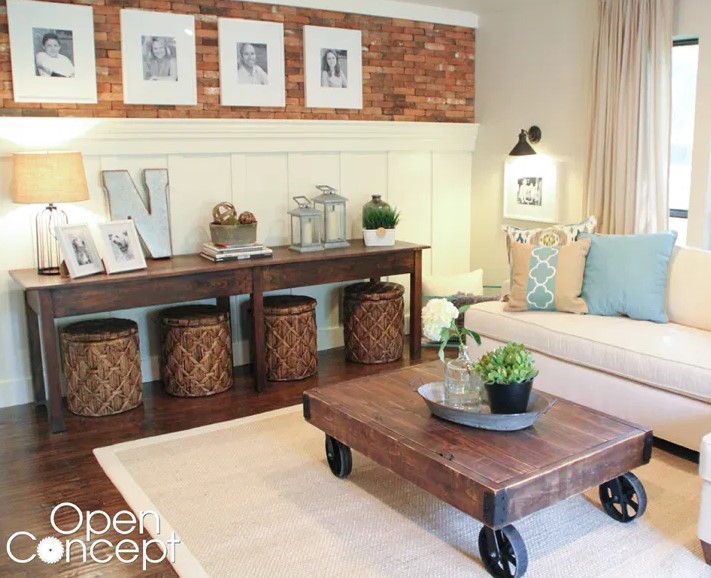 For those who are looking for a more authentic take on the rustic look, there is this $100 project inspired by factory carts. With an included dark wood stain and cartwheels that can be found at your local hardware store, you'll have a table with character as well! This wider tabletop will provide ample space to set up all of your favorite food during a family gathering.
Darkwood Stain Square Tabletop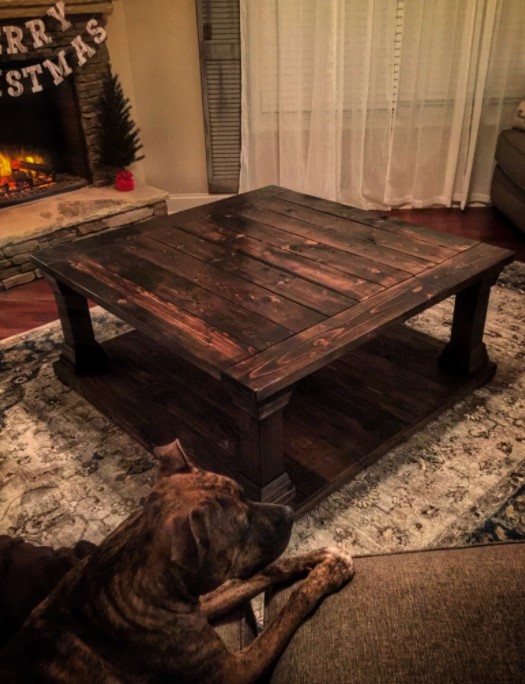 Never get bored with your furniture again! Swap out that round coffee table for a square design. The DIY is super easy and won't confuse you at all. In the end, the result will be worth it. The dark stain choice really stands out on this unique tabletop design–After this, you'll never want to go back to plain wood ever again!
Chalkboard Coffee Table for Kid's Room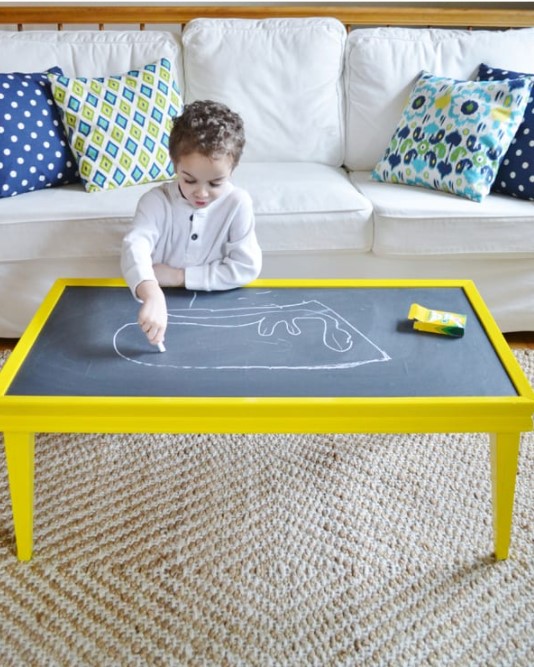 Parents, do you want to know how to make your kids think outside of the box? It's a simple idea that with just an ounce of creativity and effort can create hours upon hours worth of entertainment. Simply take any old coffee table from around the house or garage and turn it into a chalkboard table like this one! You've got yourself not only something new in your home but also endless opportunities for learning as well!
Warm Stained Wood Tabletop with Hairpin Legs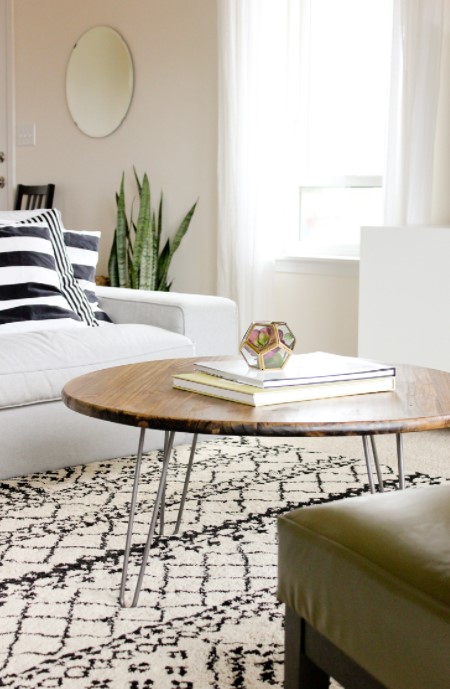 Yes… Hairpin legs everywhere. One of the best things about hairpin legs is that they make literally any design look modern. From this DIY coffee table plan, you can see how we stained our table with warm wood color to help create a cozy atmosphere in your space. The top was made from 3-foot pine wood which allowed us to build it quickly and easily!
'Vintage Market' Pallet Wood Sawhorse Coffee Table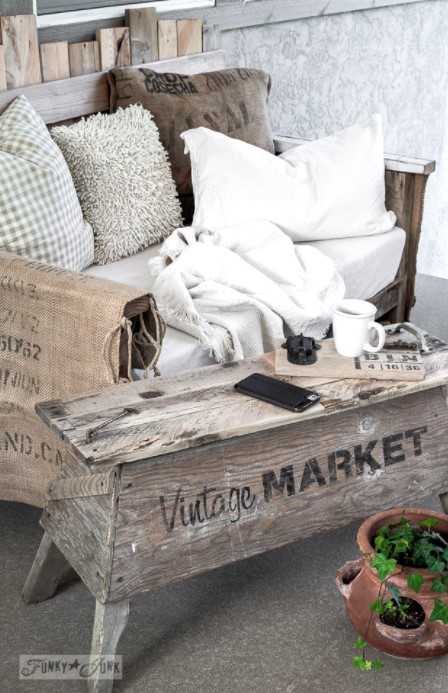 A rusty old sign is just one of many ways this coffee table can be personalized and set apart from other tables in your home – giving it that unique touch every great room deserves! The best part about using an antique-style design like this is how easy it will be on the budget too; all you'll need are some pallet wood boards for its top!
A Side Table Inspired by A Mid-Century Style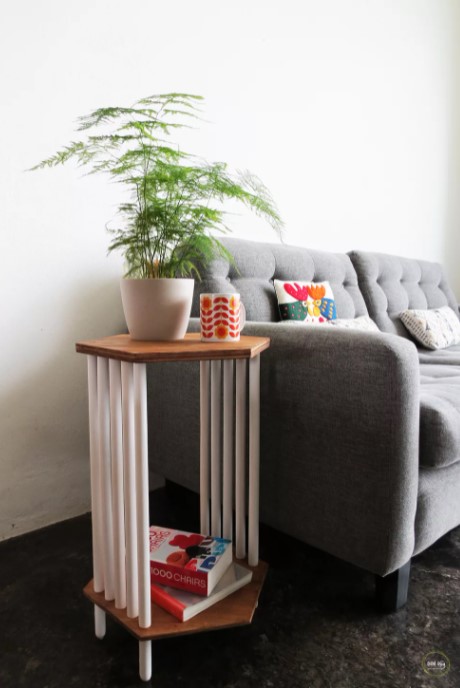 You'll never have to wonder what you can do with your old broom handles because this table gives a few creative ideas. This mid-century side table is made from leftover plywood that's cut in hexagonal shape and then fitted with handle pieces of an old brush or mop. This project couldn't be more inexpensive!
Wooden Slab Side Table with IKEA Legs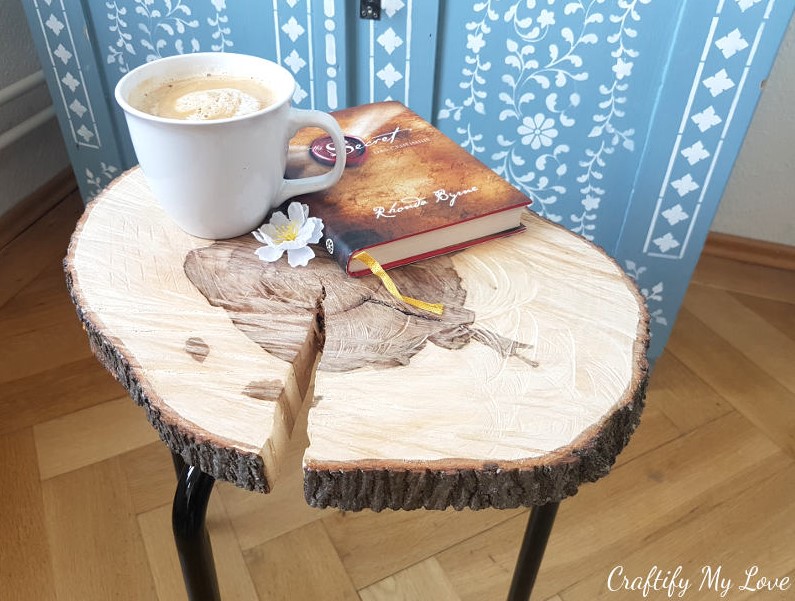 A wooden slab is a great piece to work with, especially when it's made for the perfect side table. The natural live edges on this project make the room seem more inviting and cozy at home. Moreover, IKEA stool legs are incorporated into this design!
Succulent Coffee Table for Outdoor Space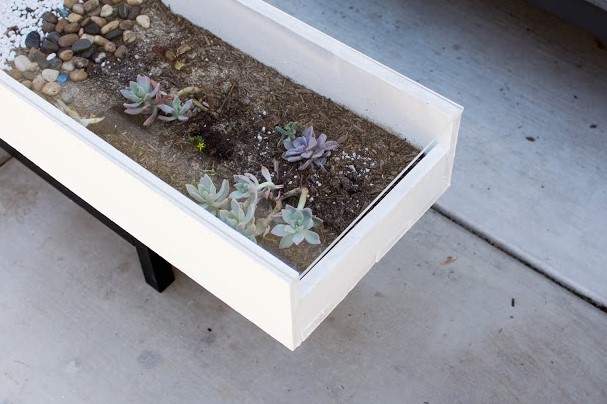 What's better for a relaxing evening than enjoying the company of friends and family with food, drinks, and good conversation? And to make sure all your needs are met while lounging outdoors in style there is nothing like this succulent coffee table. It has an eye-catching modern design that will go well with any kind of sofa you have! Plus these plants inside get plenty of sunlight too so they'll last longer!
Natural Edge Coffee Table with Longer Tabletop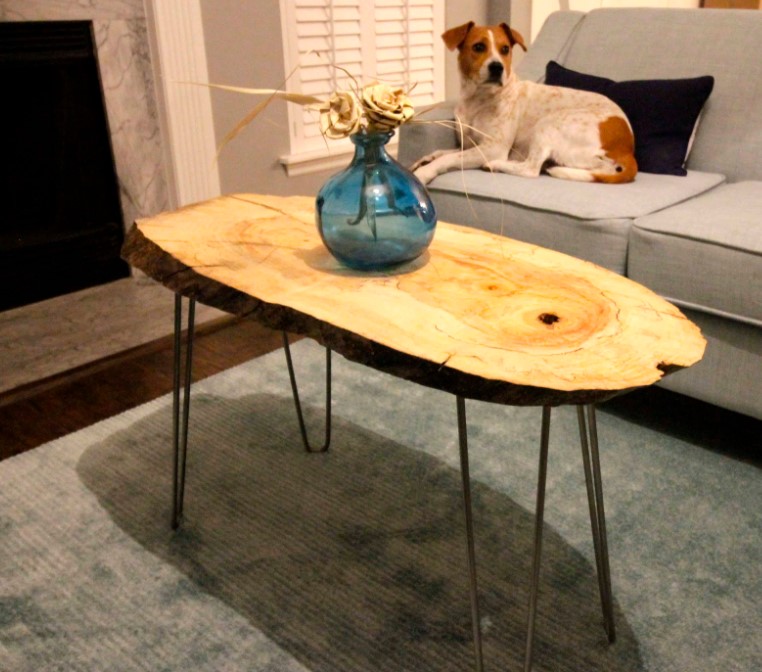 This rustic modern design incorporates a longer wooden slab that can go with any style of home. The slab has live edges which give it an authentic and natural look, but you could also make it more modern by adding hairpin legs!
DIY Coffee Table with Planter Centerpiece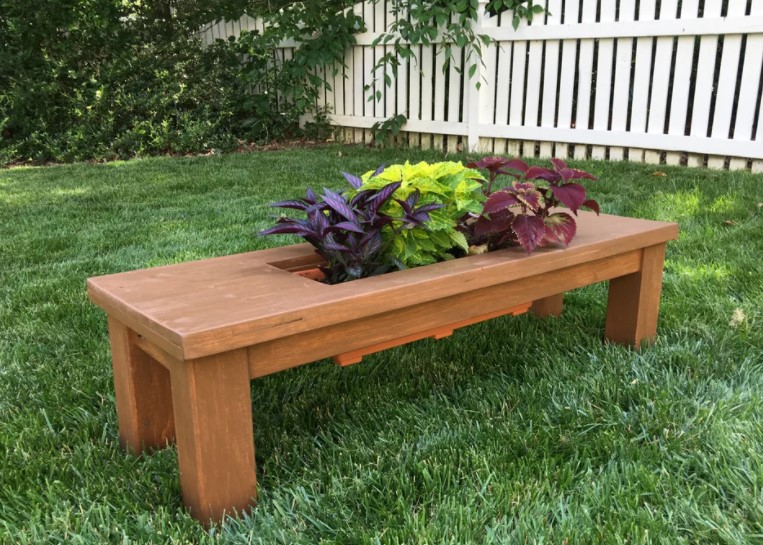 We have a beautiful coffee table design for our outdoor space! It has the perfect clean look with natural wood color. One of the best features is that it includes an open planter in the middle, which can be replaced by anything you need during different seasons such as an ice container to keep the drinks cool on hot summer days!
DIY Coffee Table Project with Unfinished Look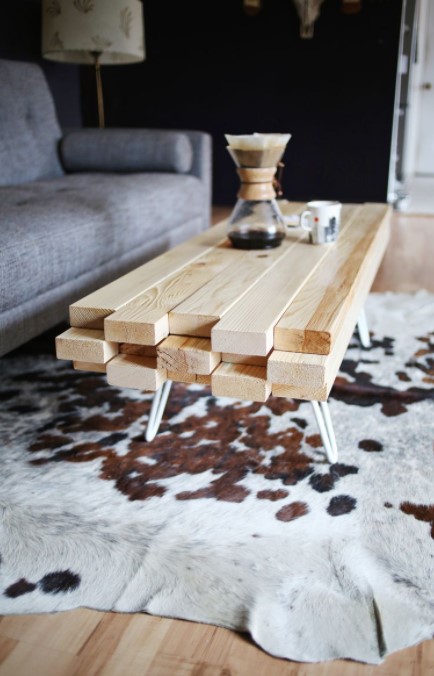 The unfinished look of the top is done on purpose- it gives a fresh, new modern style that can't be found anywhere. The wood color really goes with any room's design too! Here, the table matches well with grey couches while also giving off an aesthetic and warmth to your space.
$40 Farmhouse Coffee Table Made from 8 Boards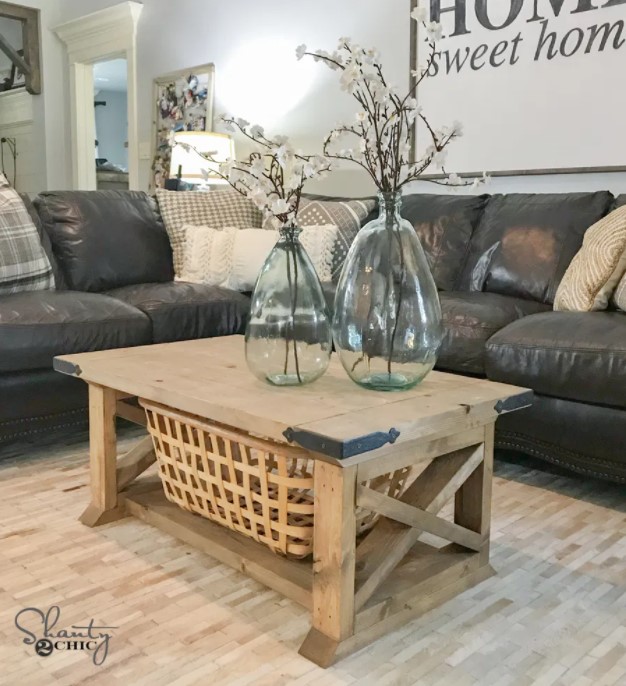 An inexpensive DIY coffee table project–precisely, $40!–which is inspired by the all-time favorite farmhouse look! This gorgeous table is made from 8 boards which sounds impossible but here we are with the finished product. You can have yours too so let's get started and you'll soon be drinking your morning cup of joe on this new piece in your house for years to come!