Firewood is a necessity for anyone who enjoys the warmth and ambiance that comes from using fireplaces, the wood-burning fires in your home year-round to keep things cozy on even those cold winter nights. But while we have this lovely need, there's always something else needed: storing the wood itself!
To do so without worrying about it getting wet or moldy can be tough, but luckily enough, we've found awesome DIY projects of building a DIY firewood rack.
With these new ideas, the wood is kept clean and dry all of the time now! Let's get started on this project!
A Sturdy Little Firewood Rack to Keep It All in Check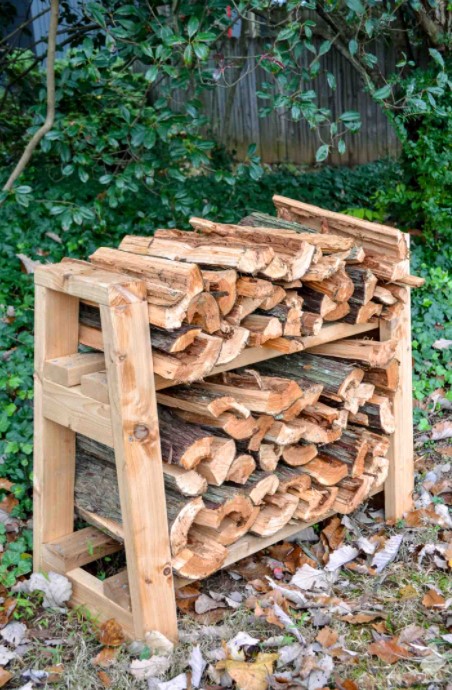 When a storm comes, sometimes it leaves behind damaged trees that can be turned into firewood. To protect the firewood from molding and rotting, storing it away from water is important. To make the building process easy, follow these instructions on how to build your own DIY firewood rack! This one is pretty simple to put together with just 2×4 cedar lumber and some tools. Because many people have found this guide helpful, give it a try today!
DIY Firewood Rack with Roof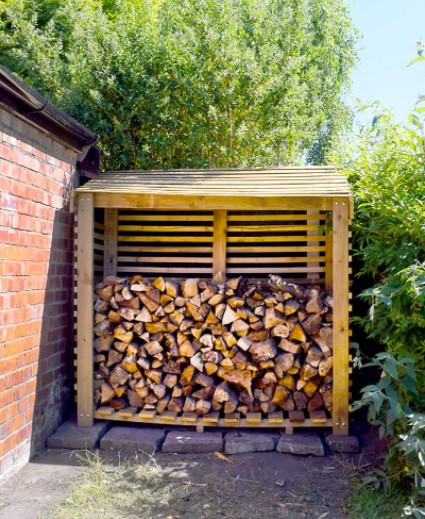 Improving the outdoor space with a wood-burning fireplace is totally worth it because the area becomes more interesting. But as we all know, there's always that one responsibility to store firewood which can be such a headache! That's why we search for a firewood rack plan. Now, instead of having piles of logs scattered everywhere, they're neatly stacked in rows for easy access when winter finally comes around!
A Rustic and Modern Fire Logs Holder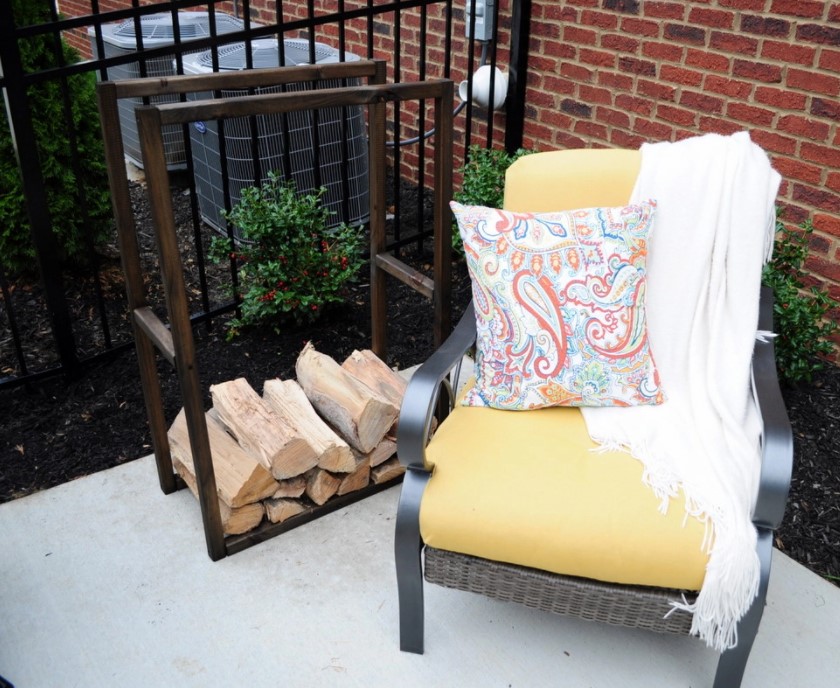 The fall season is the time to hear a fire-crackling sound. The best way to get that feeling at home is by gathering around the fireplace and using some good, old-fashioned firewood. But it won't be as fun when you're dealing with wood scattered everywhere so what's the next best option? Have them neatly organized in an attractive log holder! This will help keep your place looking nice while also giving off more of that cozy vibe, especially if you have one made for rustic modern design.
DIY Wide Log Holder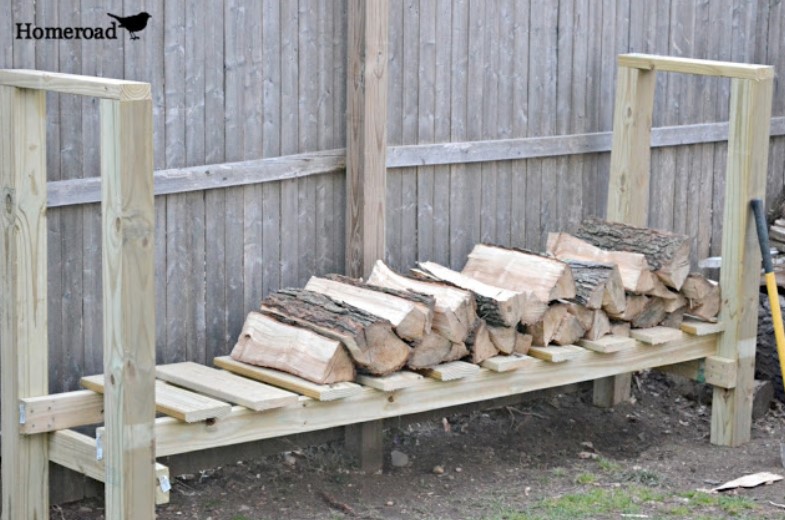 This wide-style DIY log holder is what you might need to store your logs outdoors. This idea features a wide and low design rather than narrow and tall, which will be easier to take some logs when needed.
A Stunning $18 Outdoor Firewood Rack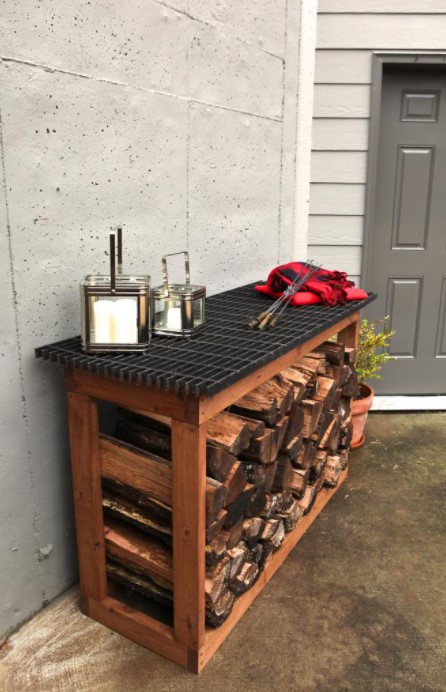 When looking for a firewood rack on the internet, it can sometimes come with flaws like not being sturdy enough and more. To make one that suits our needs better, we should create customized versions of them ourselves! For this project, pressure-treated lumber was picked because its durability is convincing. The costs of materials are around $18 in total which isn't too bad at all!
Indoor Firewood Holder Idea That Is Budget-Friendly and Quick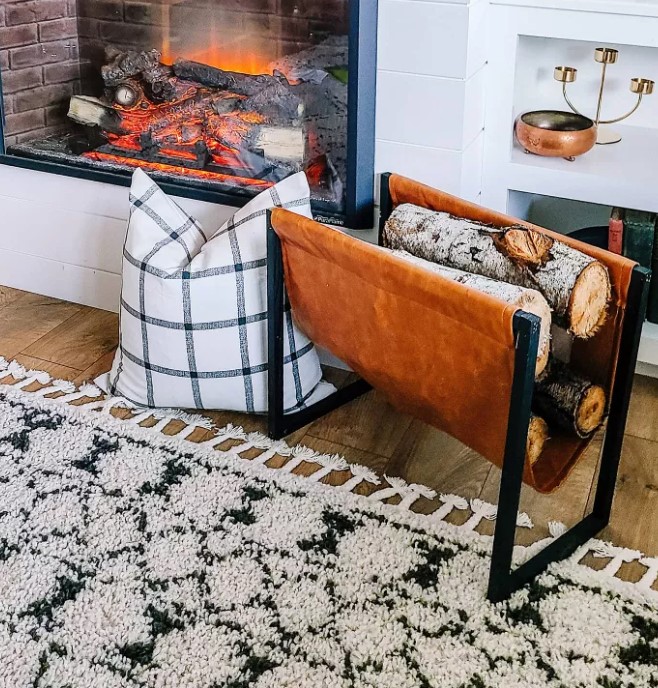 Making your own log holder may seem like a daunting task, but it's surprisingly easy and cost-effective! All you need is wood for the legs and faux leather to make the holder. To add more character to your piece of furniture, we recommend choosing caramel as an accent color that will complement any natural wood theme in your room!
Provide The Best Firewood Organization with This Simple Rack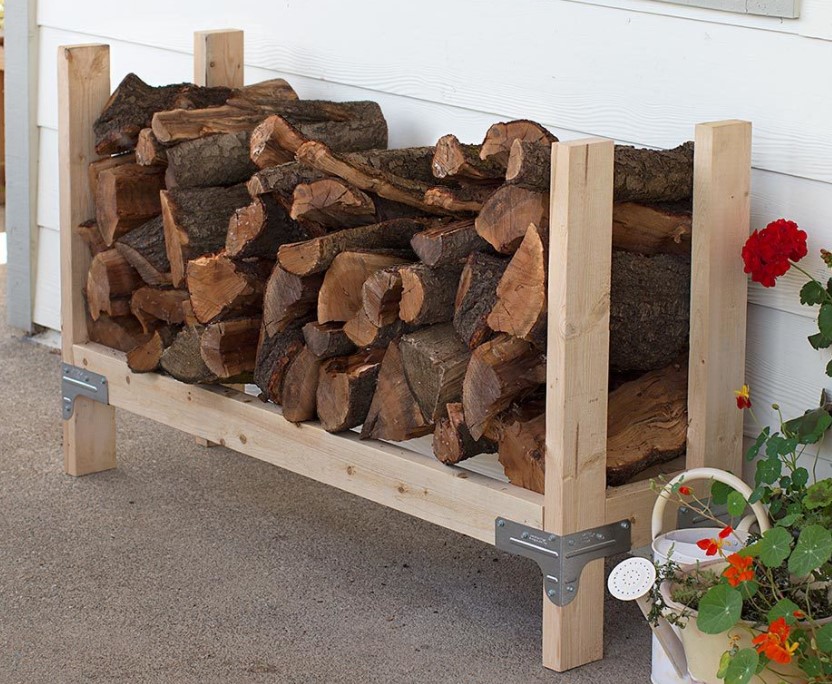 In a place where the temperature is often low, it's always good to have firewood stored for emergencies. That way you'll be prepared and ready when any winter storm hits! So this simple DIY firewood rack will keep your supplies in order so that you're never unprepared again. All one needs are some 2 x 4s and connectors which can be put together quickly with ease!
Firewood Storage Using Free and Recycled Material
A firewood rack with roof is one of the best ways to keep your firewood safe and organized. It also protects it from any elements that might threaten its durability, like rain or snow. And on top of all those benefits? You can use the free material for this project! That's right– metal roofing will work just fine to create a cover over the side where you pile up logs for easy access at any time during the winter season when fires are needed most often.
A Simple Firewood Rack with Just Four Inexpensive 2″x 4″ Boards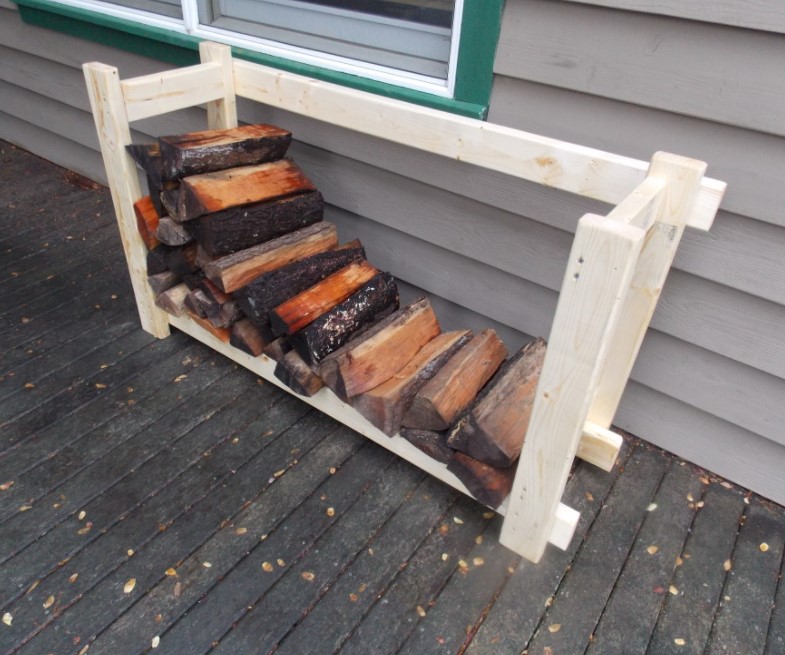 Have you been leaving your firewood lying on the ground? It is time for an upgrade. Let's build a simple firewood rack that won't cause you much trouble while incorporating some of those woodworking skills you've always wanted to try out. This project is using 4 inexpensive 2″x4″ boards and at the end of the process, they are coated with wax oil for prolonged durability against water or humidity so it can last longer than just one winter season!
The Easiest Firewood Rack to Assemble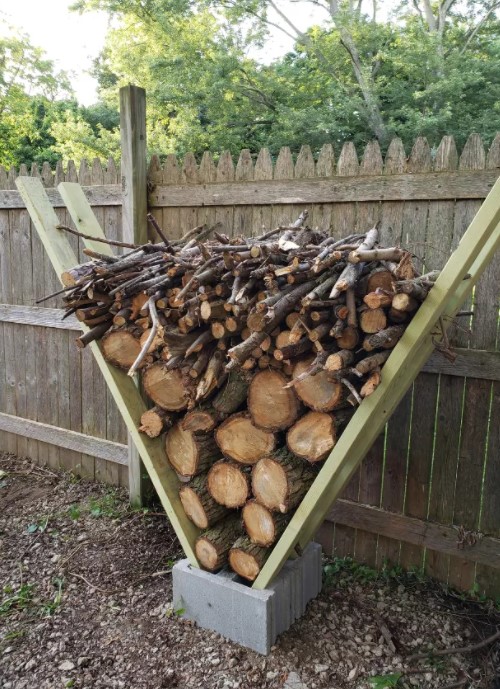 Want a DIY project that won't take all day and can be done for cheap? This is one of the examples. It will only take a few hours or so to complete, moreover, it has some uniqueness because in this project you build on a V-shaped design which makes things more interesting! The materials are from your garage but if not available then we are sure they're inexpensive–perhaps under $20!
No-Tool Firewood Rack Project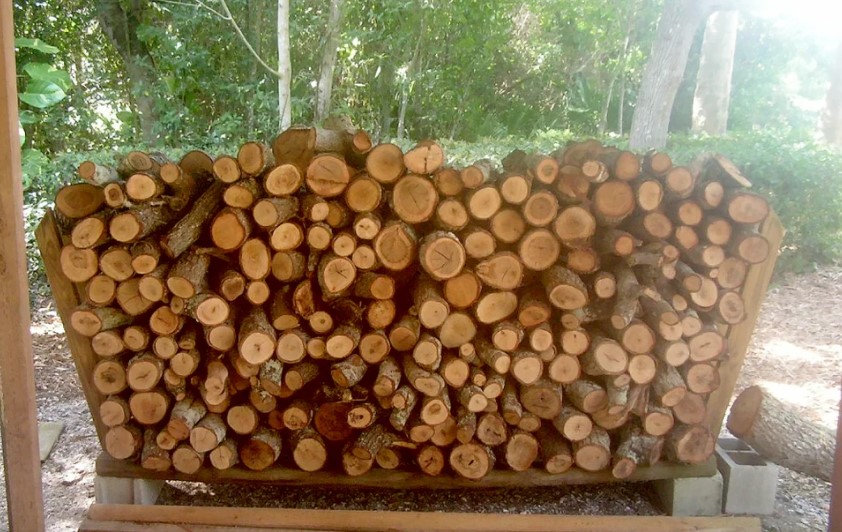 The no-tool project of building a firewood rack is much easier than you would think. All that you need are some cinderblocks and the logs to fill it up with! The best part about this, unlike other projects where tools such as hammers or saws might be needed for hardware installation, this doesn't require them at all. The finished product will not only look great in your backyard or next to the fireplace, but it's also built strong enough for your logs!
A Firewood Storage Shed for Pit Area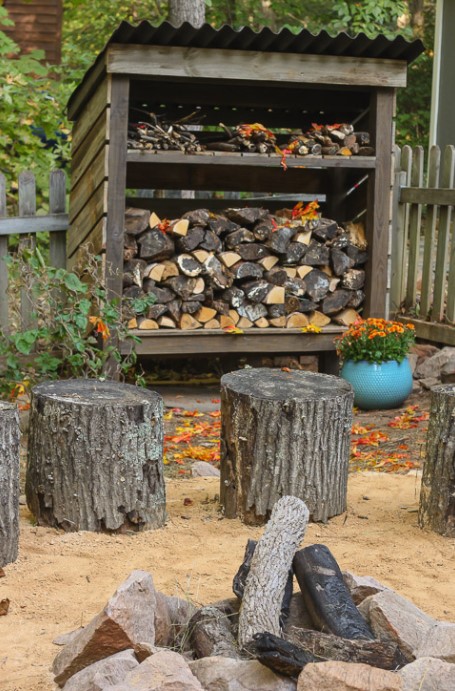 You have finally decided to upgrade your pit area by building a wood storage shed. Talk about the expense, this project is going to be incredibly cheap since you are using salvaged wood from an old fence that was being thrown away! If you don't happen to already have any leftover materials lying around in your backyard then you can find some from Craig's List, plus this is the best tutorial on how to build one yourself!
A Firewood Storage with A Wooden Canopy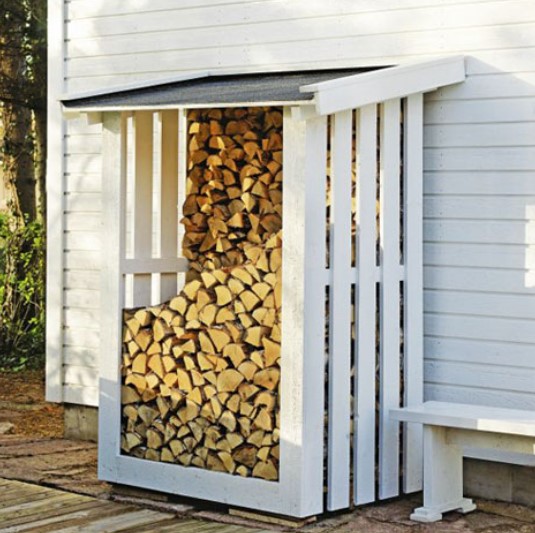 Know that firewood is vulnerable to water damage. What is the best way to make sure your stack remains dry? Build a canopy over it! This simple project can be done with minimal carpentry skills and time, as long as you're following these step-by-step instructions correctly.
A Clean and Minimal Log Holder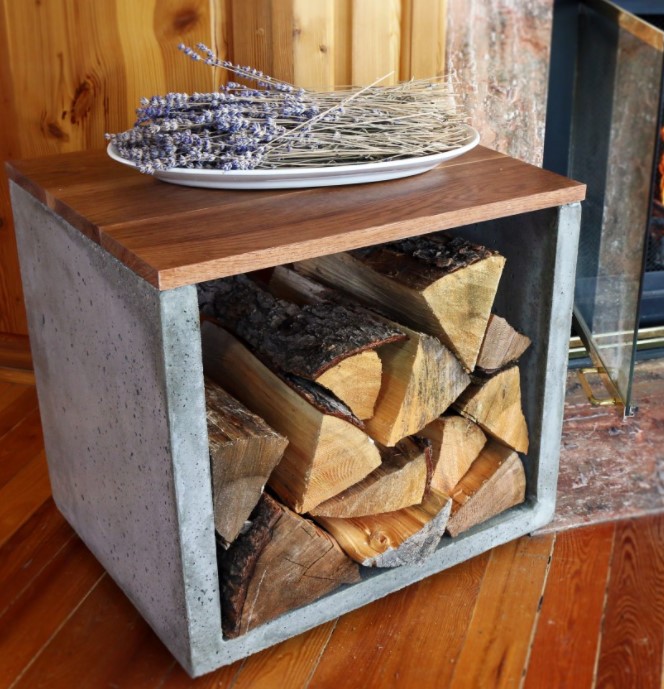 When it comes to building a firewood rack or log holder inside of the house, the interior design of the room should be taken into consideration too. For example, this concrete log holder has a modern charm for its minimal and clean look. Today, such a look can be expensive. With this project, you will obtain an affordable log holder with an expensive look!
A Firewood Rack from Aluminum Mouldings for $45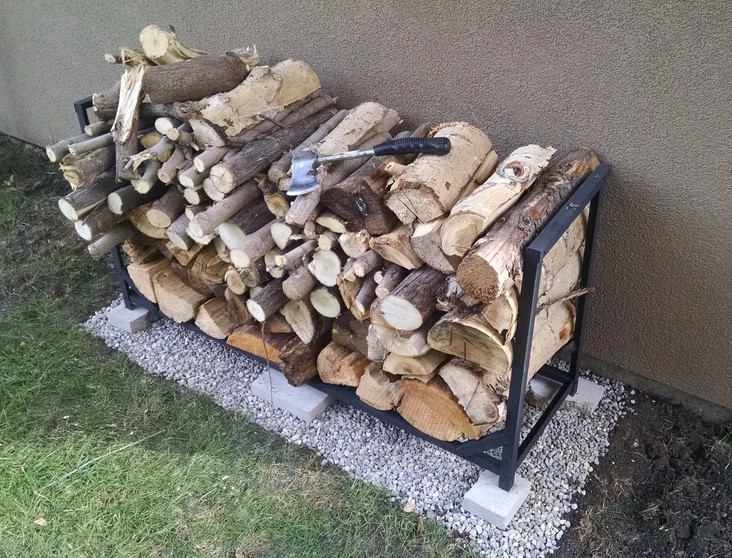 This firewood rack is a work of genius! It was created by using inexpensive aluminum molding, so the total cost for this project is less than $50. With such an affordable price tag and only three hours to construct it, why not get started on your new DIY?
1 Day-Build Firewood Rack with Roof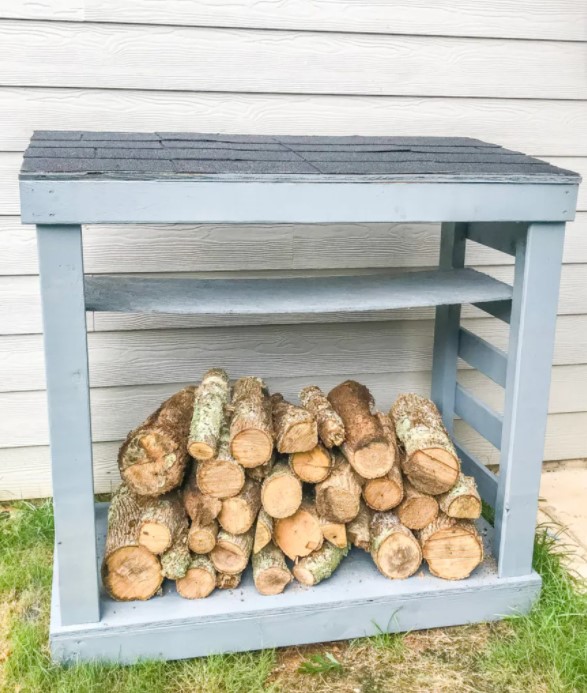 Building a firewood rack is not time-consuming at all. In fact, you can do it in less than one day! Take a look at this easy DIY that involves building with roofing for storage and protection against rain or snow. The entire build was about $50 and now our bonfire wood has an affordable home to live in until we are ready to burn it up later on down the road–pun intended!
A Little Firewood Rack to Go Besides the Fireplace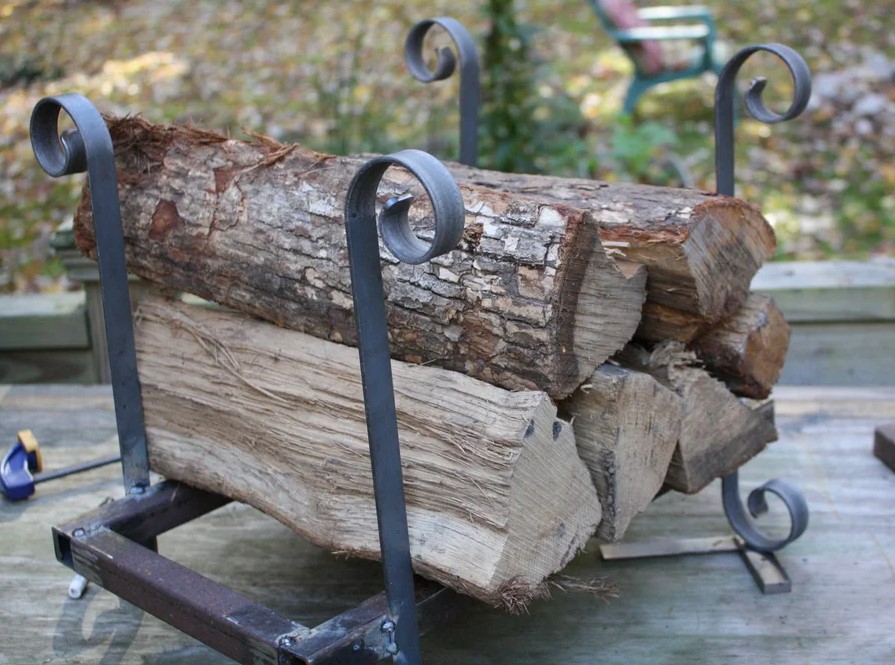 Placing logs onto the ground is never a good idea if you want something neat around your fireplace – but there are better options than just leaving them as-is! There's always keeping them in order with an installed firewood rack. Keeping logs neatly on a metal rack will not only keep your floor clean but also makes it easy to see the sizes and pick one that matches. Plus you don't have to worry about them getting old or rotting over time since they're built of welded metal bars.
Floating Firewood Holder with A Modern Look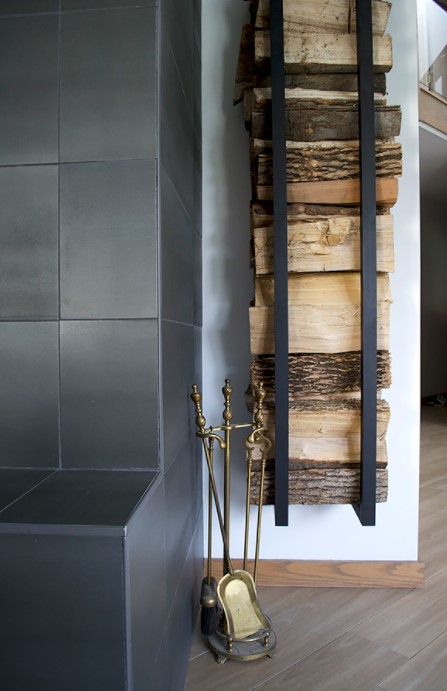 It's a great feeling when you find the perfect project online, but it feels even better to try and make your own. This DIY floating firewood holder is simple enough for anyone to build and affordable – not bad! One more thing, don't forget about rust protection as well!
A Wall-Hanging Firewood Rack from 2x2s Scrap and Plywood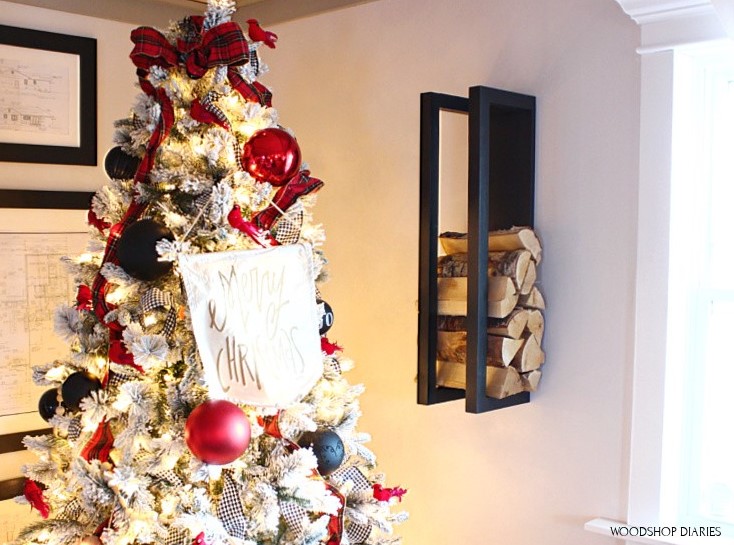 Another wall-hanging firewood rack that won't disappoint you! This version is not as tall as the previous one, considering the space where it is placed. Surprisingly, for a modern look, this entire project was assembled from 2x2s scraps and plywood. Even though its original idea was just a decoration, the plan can still be used in other situations. Let's create this amazing-looking DIY firewood rack!
A Firewood Rack made of Actual Logs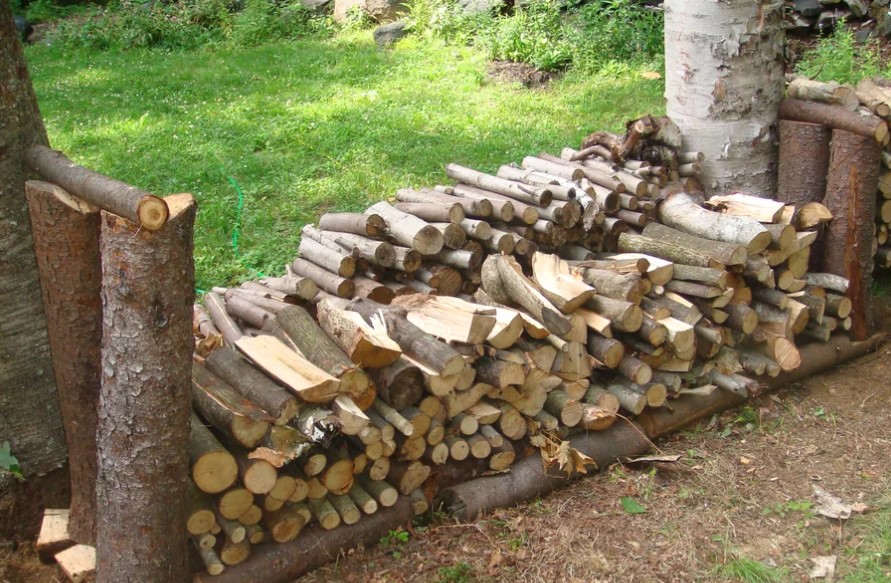 If you love the rustic look of logs, then this firewood rack design might be perfect for your home. The plan calls for a sturdy frame made of log pieces that are screwed together. This project is surprisingly easy; it only takes about a few hours! Most importantly, it lasts for a long time!
A Hexagonal-Shaped Firewood Organizer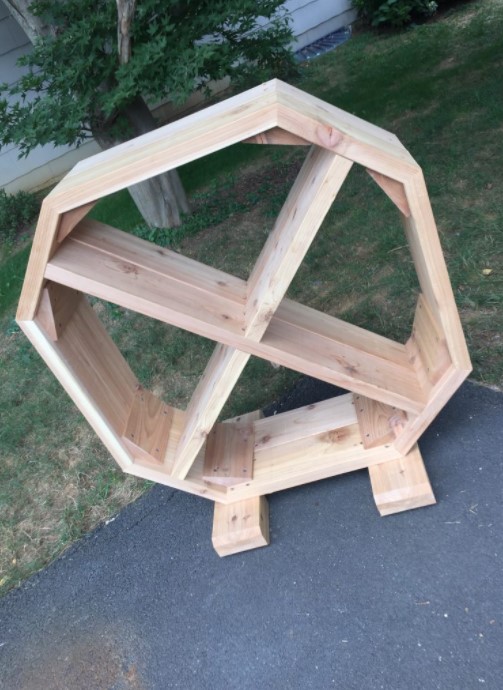 Creating a hexagonal-shaped DIY firewood rack can be an interesting way to add some flair and creativity. The shape is both functional and decorative, making the fireplace area more appealing! This organizer comes outfitted with cedar wood which means it won't attract bugs – only compliments from visitors who are in awe at this new creation!
A Movable Firewood Rack Made of Plumber Pipes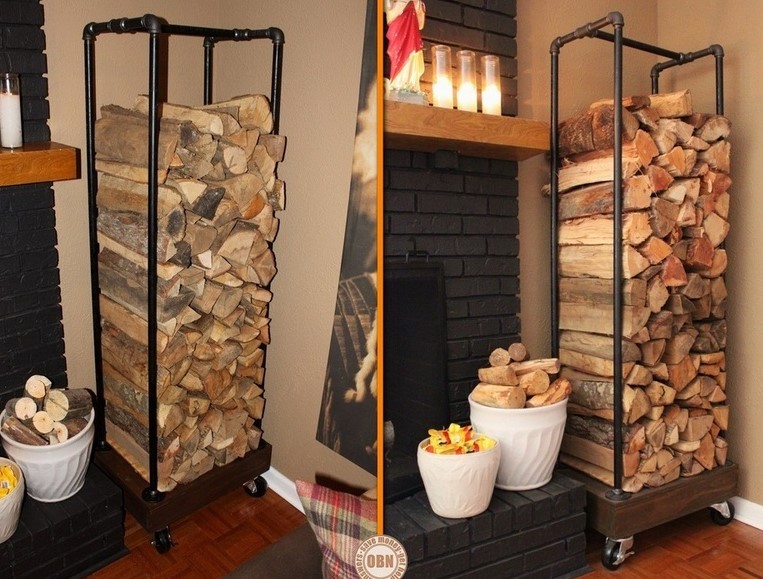 What is the point of having a fireplace if you can't enjoy it? Take that industrial feel to your living space by building this DIY project. Build your own industrial-style firewood rack from plumbing pipes, with wheels that make it movable. The next time you want to load the wood on a cold winter's day, simply roll out this convenient DIY project and fill it up!
A Super Budget-Friendly Log Store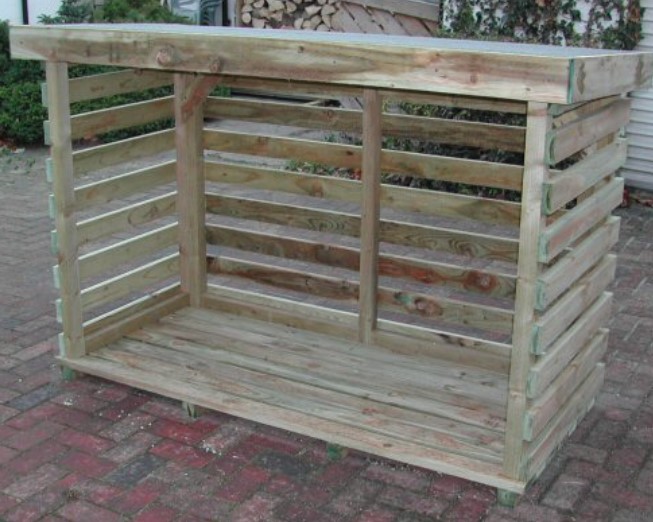 Firewood has long been a necessity for heating houses and this budget-friendly rack provides an easy way to store it. The pallets are found in local DIY stores or garage sales, costing less than $50! With some time spent working on the racks (less than four hours), you will have them up and ready for your house!
2 in 1: A Firewood Rack That Doubles as A Bench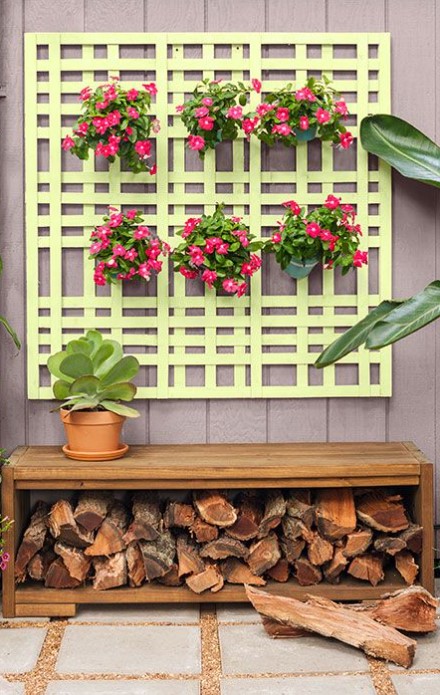 If you were wondering how to combine your need for a firewood rack and bench, this is the perfect solution! You can have both in one space. The best part about it too? It's not going to cost an arm and leg either because installation takes less than 1 day with rates much less than $500. Believe us when we say nobody will be able to say no when they see this great rack-bench!
A Fireplace Bench That Doubles as Firewood Storage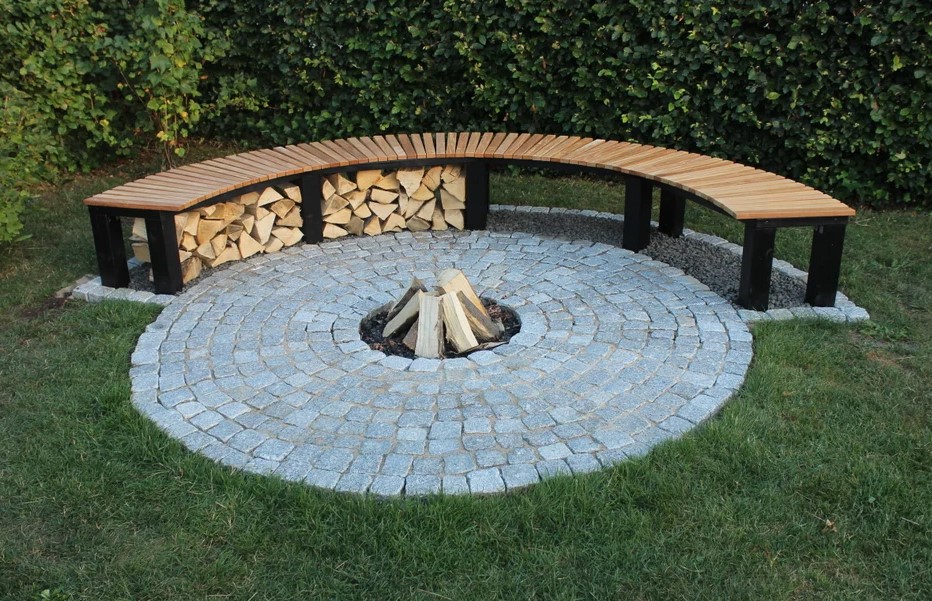 It is always the nicest thing to gather around the fireplace. This plan advises us to build a half-circle bench around the firepit. Where do we store the firewood? you might ask. The answer is the space beneath the bench. For this result, you may need at least 2 days of work–which is totally worth it considering this magnificent result is what you will get in the end!