Foldable tables are a great alternative to the standard, bulky dining table. They don't take up much space and they look good too! The only problem is that these things can cost you an arm and leg for not-so-impressive results. That's why we have gathered 25 easy DIY projects on how to build your own foldable tables.
The best part about making your own DIY folding table is you can use your own creative flair or follow these step-by-step instructions. We have all sizes and budgets in mind because we want you to find the best furniture for your interior design needs. Browse our expansive list and find what will work best in your house today!
A Small Table Attached to A Folding Umbrella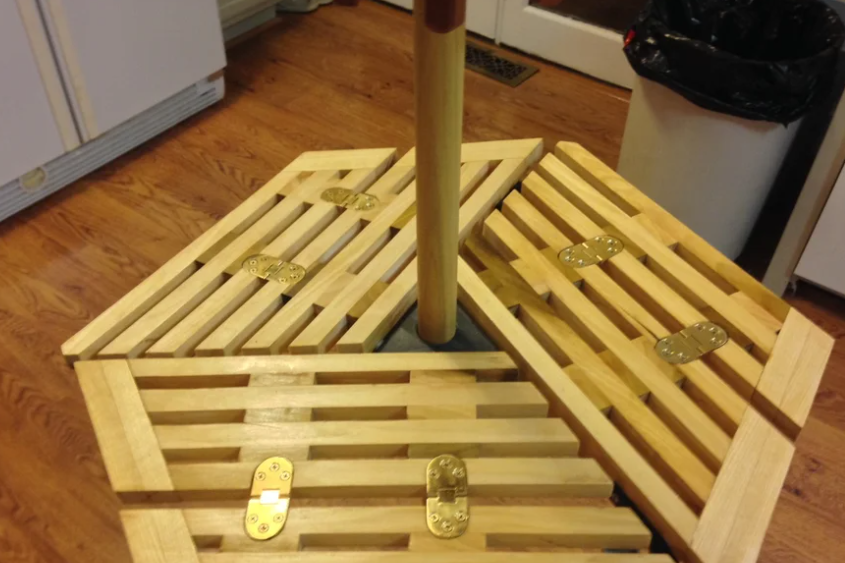 Inspired by a visit to the beach, this DIY folding table idea was born. The initial plan of the idea was to have a nice foldable surface to set up glasses while enjoying the sunset on the beach. This table is a lightweight and budget-friendly solution that can be easily taken from one adventure location to another. A few 3D CAD designs are provided to help ease your DIY process too!
Detailed instruction in Making Cedar Folding Table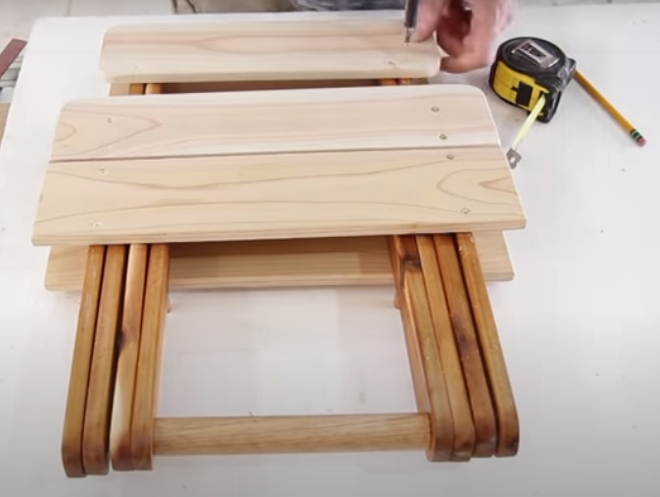 Cedarwood is a popular choice for many who build outdoor furniture because it can withstand damp and rough climates. It makes an excellent material to use in this DIY folding table. The cut list has been provided to make measuring each part much easier. This way, you know how big your finished product should be. Plus, this project will be easy to transport no matter where you go!
DIY Folding Table from 3/4″ Plywood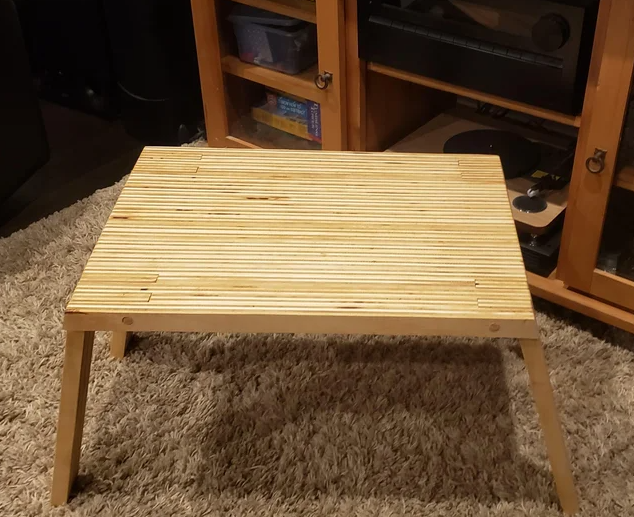 Following a plywood challenge, this DIY folding table is built using fully plywood material and without screws or nails needed – detailed steps to follow are available. Surprisingly, it's satisfying once you get down the process of aligning cuts for each piece; as well as inserting dowels in place of hinges which can be assembled with ease.
Big Project – Folding Picnic Table Plans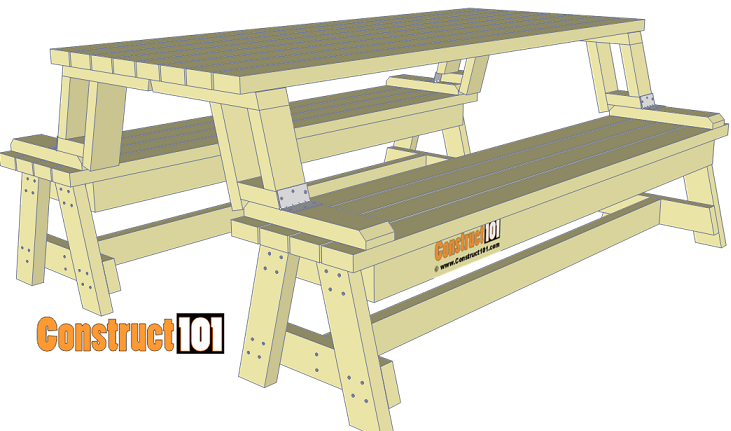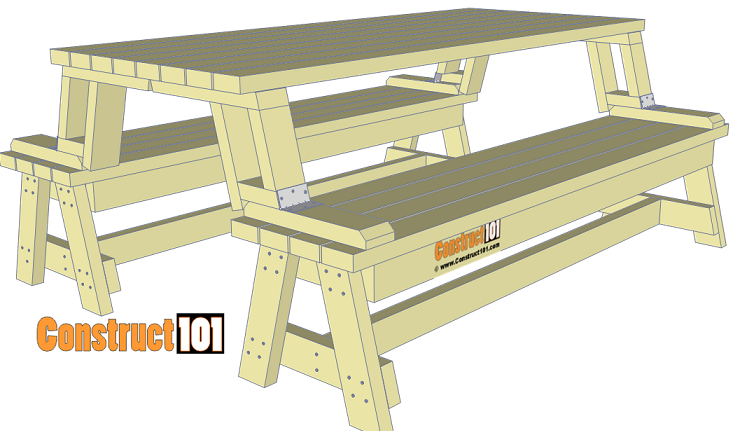 For a backyard renovation, you can't forget about this DIY folding picnic table plan. These tables will come in handy when deciding to throw an outdoor BBQ party! Once the feast is finished and the table has been cleaned, it transforms into two separate benches for your family or friends to relax while waiting for their meals to digest. This fantastic plan ensures that there's always enough room for everyone!
Super Stylish Industrial Folding Table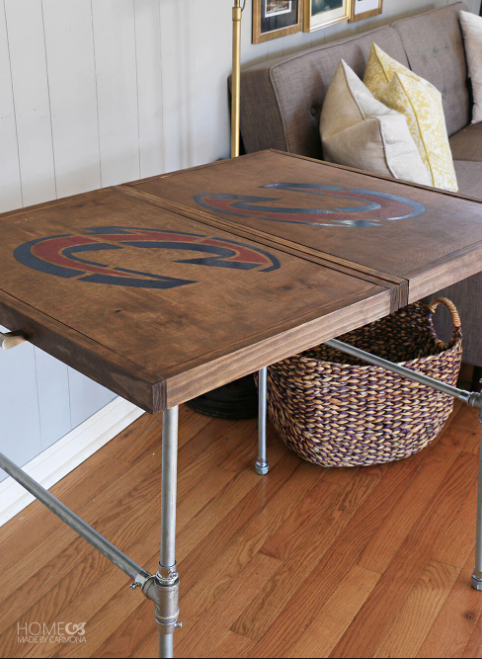 At a glance, this DIY folding table looks ordinary. But when you look closer, it's genius! It folds and becomes like a briefcase to carry around easily – perfect for those spontaneous backyard gatherings of your favorite team-watching party with friends. To support the plan, galvanized pipe is used because it's sturdy but super lightweight; perfect for an easy set up right in front of the TV or outside on the patio without having to worry about getting too heavy. Little decoration adds character – just choose your favorite sports team's logo!
The DIY Folding Table for A Lack of Space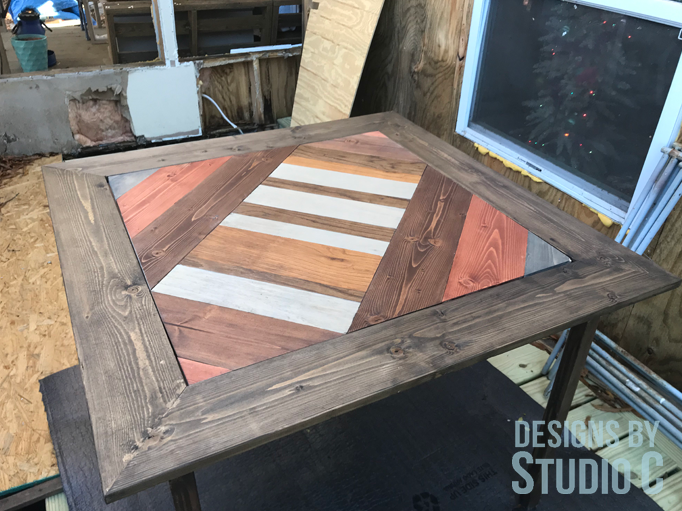 You know that feeling when you're running out of rooms and can't find the space to do anything. That's where the DIY folding table comes into play! This easy-to-build furniture is perfect for small spaces while being able to serve as an extra surface during any kind of get-together or event. The plans are adjustable, so they're perfect no matter what size fits best with your needs – As an example, this 40″ square table will provide plenty of space without taking up all the area you have available!
An Inexpensive DIY Game and Poker Table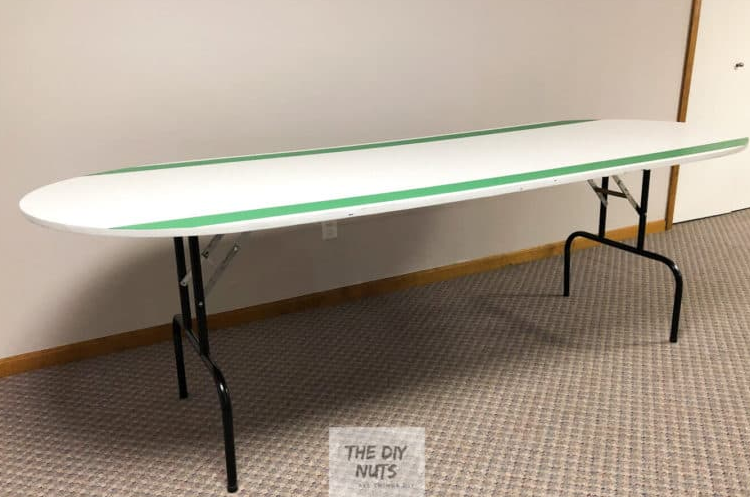 This DIY folding table is perfect for those who love to throw a get-together party at the house (and play poker!) but don't want permanent big tables. The 8-foot long table will give you plenty of space and can hold up to 20 people! To reduce your material cost, it's suggested that you combine cheap plywood and drywall which also makes this project super easy!
DIY Folding Farm Table for Family and Friends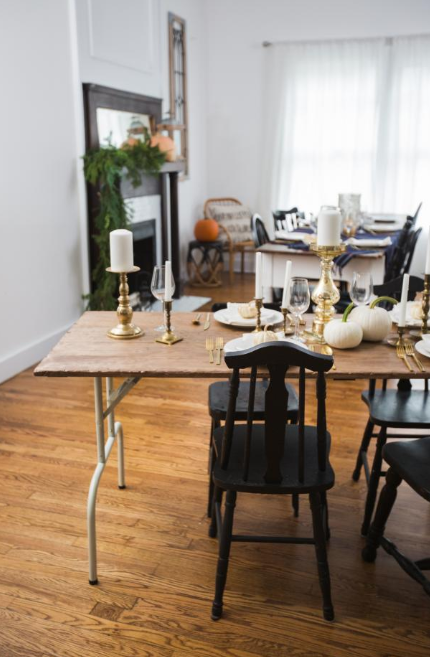 Farmhouse-style furniture has never looked so appealing, and this DIY folding table is a perfect example of why (it makes any home feel cozy and inviting). If you've recently had your heart set on the rustic look for dinner parties or family get-togethers but are worried that plastic tables will wobble when people sit down to eat then worry no more! This beautiful pinewood design offers just what you need: stability with style.
Fold-Away Desk from 2x4s for Extra Workspace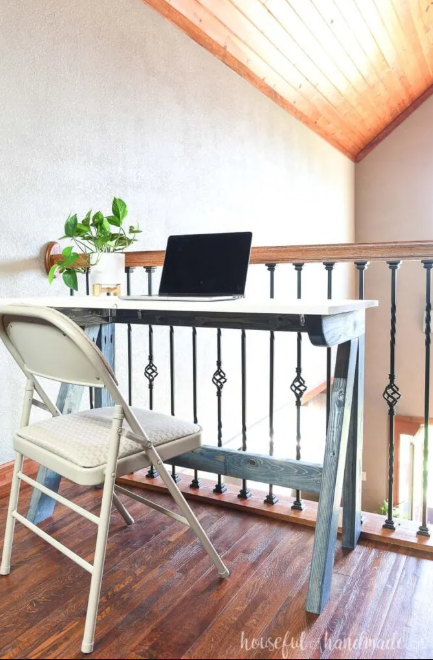 Being forced to work in a small space is making it hard for you to focus. Extend your workspace with this DIY folding table that can be taken outside when needed and put back in the closet without any hassle. This project also helps reduce material costs by using 2x4s – which are cheap! The total cost of the table comes out to around $30, but you'll get much more surface area than what was originally planned for such an affordable price!
A One-Piece Folding Picnic Table Out of 2×4 Lumber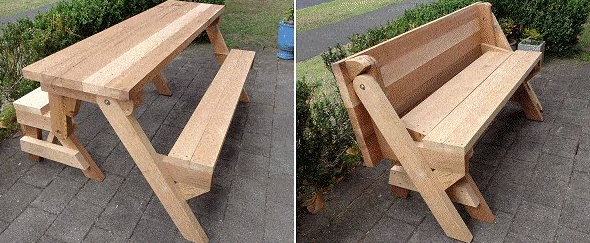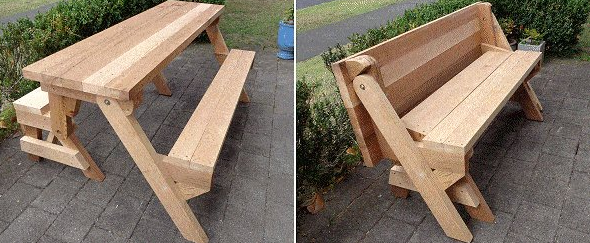 With summer in full swing, it's time to take advantage of the sunny days. This DIY folding picnic table provides a comfortable backrest when folded into a bench – talk about 2-in-1 furniture we all need! It is built using one wood size only – 2x4s or 4″ x 8″. With clear diagrams and drawings throughout the tutorial, building instructions are simple for even beginning builders!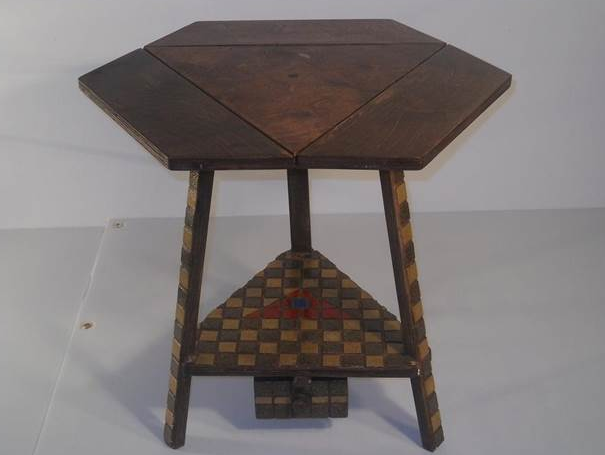 The best DIY project is the one that solves our problem. The 'Hexagon' folding table is built to fit in-between two chairs, short enough for armrests and large when unfolded! It's made from durable wood so it won't break easily as well! This creative idea will solve common household issues – bumping elbows with someone else when eating dinner or spilling food because of the lack of space. This way, you can have an extra surface while keeping your interior design unique and minimalistic.
A 16th-Century Drop-Leaf Table Design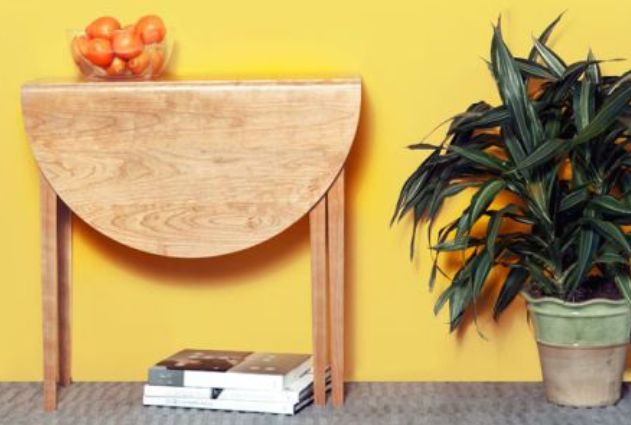 Who would have thought that over 400 years ago, furniture designers had it all figured out? The 16th-century drop-leaf table was developed as a way to save space in the home when you needed room. And now with our generation's ever-growing obsession with living small and minimalistic – this timeless piece has seen its revival! Does it look complicated? Don't worry, the animated walkthrough and printable plans of this DIY folding table make this project easy to tackle.
A Wall-Mounted Laundry Folding Table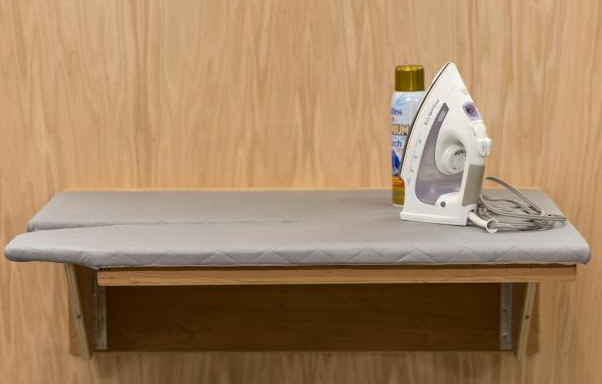 Doing the laundry is one of those domestic chores that everyone hates to do. Even more so when you don't have enough space and just feel like your lungs are about to collapse every time you breathe. Thankfully, there's a solution! Building a DIY folding table that mounts on the wall will make this chore much easier. Simply adjust it as needed between sitting down and standing up according to how tiring each position is. With this project, you can finally say, "no need for back pain anymore!"
Inexpensive and Sturdy Folding Table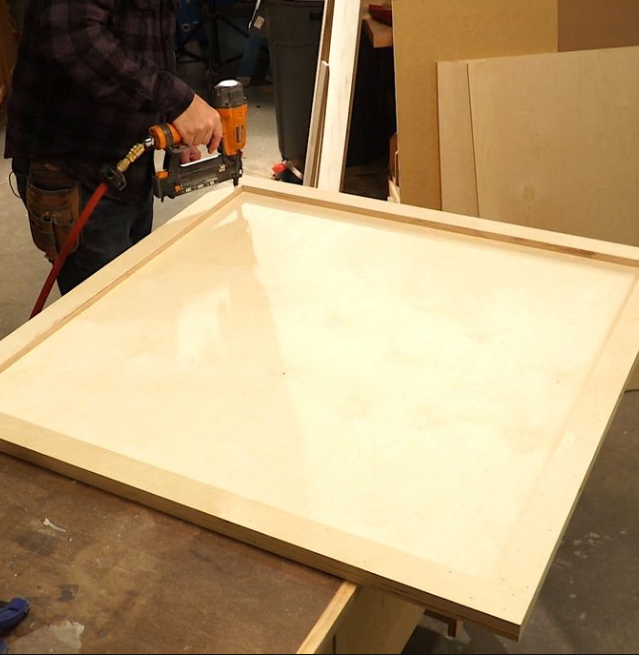 DIY folding tables are a great space-saving solution for small spaces, but they can tend to be flimsy. This DIY project will show you how to build your own sturdy table that is designed with longevity in mind! Baltic birch plywood not only looks beautiful and provides stability, but it also lasts longer than many other types of plywood because the material resists dents or scratches well over time – making this one investment worth its weight in gold!
A Lightweight DIY Folding Camping Table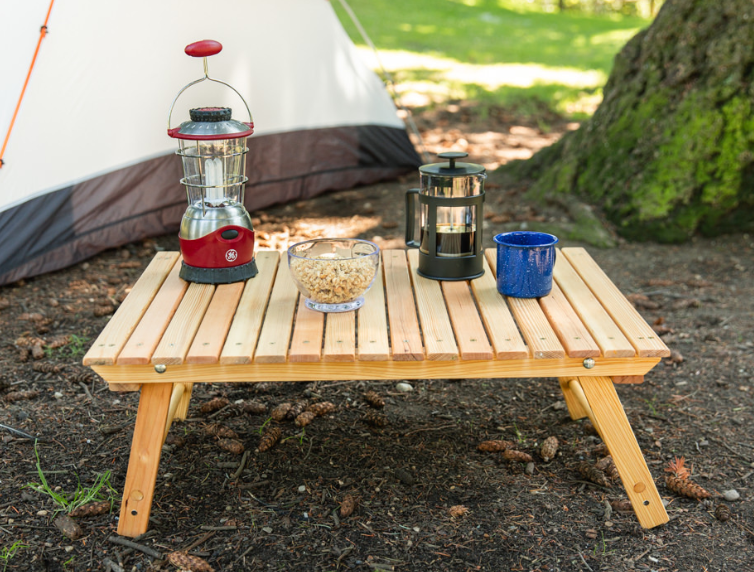 It's always great to be able to enjoy the beauty of nature while camping. But wait for a second… how are we going to eat at our campsite without any tables?! Well, don't worry because this awesome DIY folding table is made just for campers like yourselves who want their outdoor dining area set up in no time! With 9 steps outlined below – including dimensions and building plans – you'll soon find yourself sitting down next to an amazingly designed portable picnic table!
DIY Folding Ping Pong Table Perfect for Fun Celebrations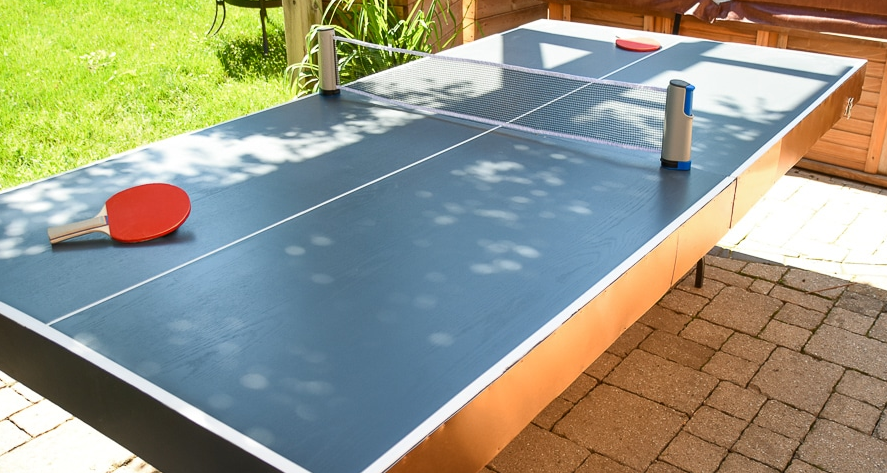 A celebration would never be complete without some sort of recreation for all involved, which usually includes playing an active game like Ping Pong; but once you're done celebrating, where do you put all the ping pong table? Nowhere – it takes up too much space! That is why it usually comes with a foldable feature. The best part about this DIY project is that the folding ping pong table can be stored in a 10-inch wide footprint area!
A Folding Farmhouse Table from Reclaimed Wood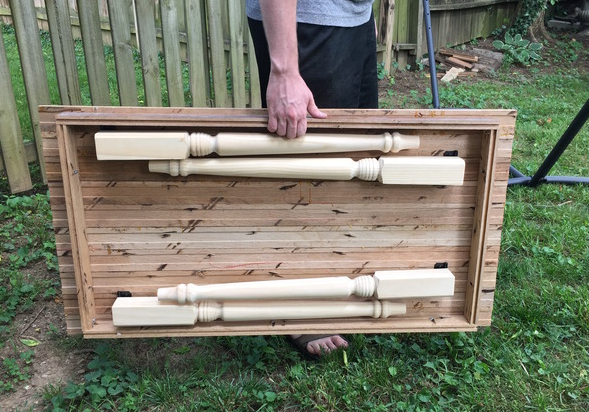 Take outdoor relaxation to the next level with this DIY project! Building your own folding table from reclaimed flooring, 4 spun legs that can turn any outside space into an inviting place for you and your loved ones. The rustic charm perfectly matches any scenic outdoors setting or porch décor – making it perfect for those who love camping or other outdoorsy things too!
An Outdoor Folding Table with PVC Legs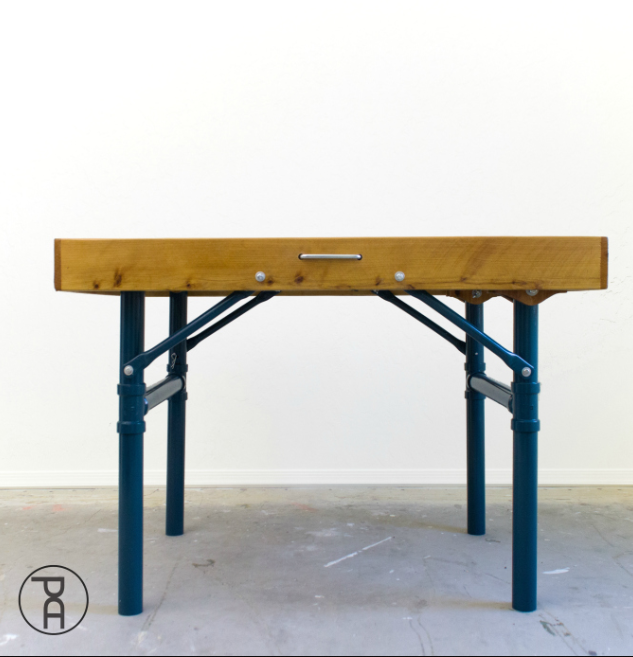 Spending time in nature, away from the noise of cell phones and other distractions is a great way to feel refreshed. But what do you use for a table when going camping? A folding table! This DIY project has all of the instructions on how one can make an easy folding table with PVC legs that will fit nicely into any car trunk – even if you have no prior building experience.
A Folding Table that Doubles As A Mirror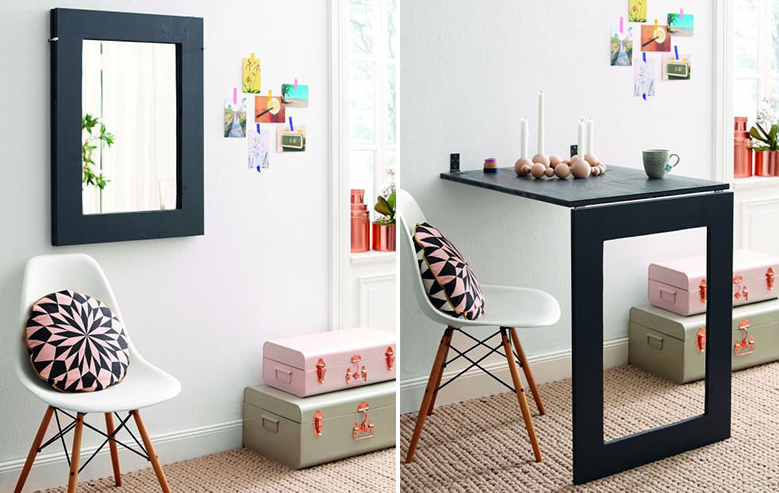 Living in close quarters means you have to get creative as ordinary things turn into extraordinary when transformed with a little creativity and ingenuity. For instance: this DIY folding table doubles as a mirror once the eating is complete! Considering its dimensions from the tutorial, it may be perfect for those living alone or new families just starting – especially if there's only one kid around. Once dinner time ends, all you need to do is fold up your tabletop (no hassle!), and voila! A handy reflective surface awaits – a great space saver for tight spaces!
Foldable "Murphy" Table for the Children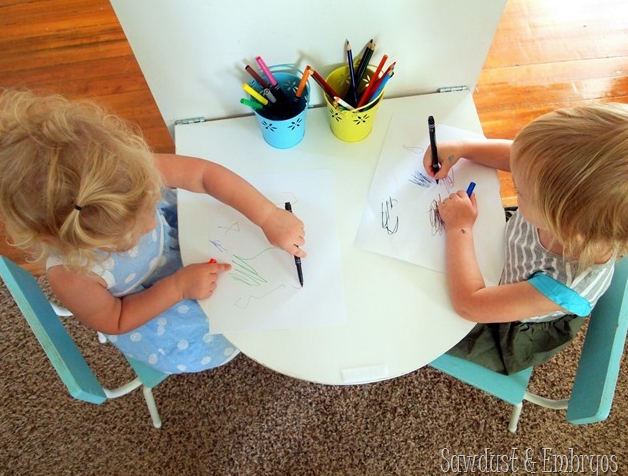 When it comes to the kids, they're always on the move and trying their hand at something new. Being able to provide them with a safe space where their creativity can thrive is important for any parent. However, sometimes that means sacrificing some floor space to keep up with these rapidly growing little ones – but not so if you make this DIY foldable "Murphy" table! The table folds back into itself after each session of drawing has finished, allowing enough room for running around!
A Large Foldable Table for Parties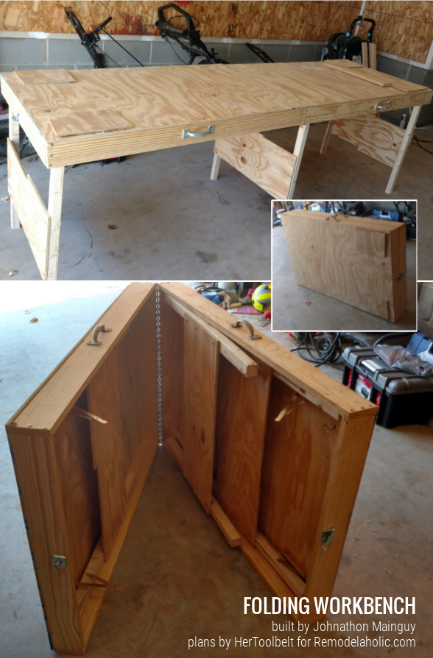 The DIY project is a great idea for parties with large groups of people. You can also use it as your workbench! The portable table folds up into an easy and convenient size to store when you are finished using it, which makes this the perfect solution for everyone's needs no matter where they go – even in their very own yard or garage.
Adorable Folding Down Table for A Small Apartment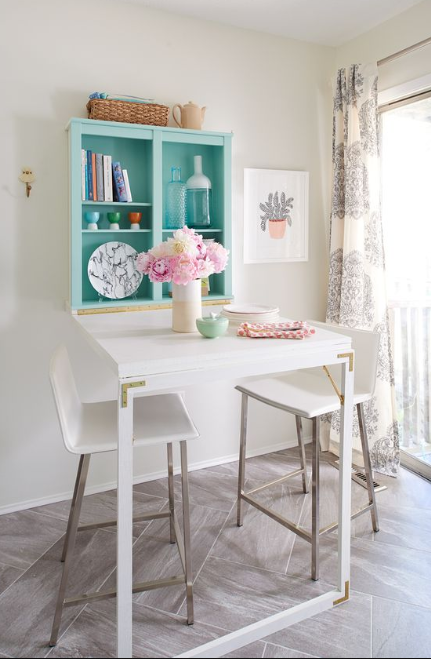 Not enough space in your apartment? No need to worry as the solution is here! A folding table can help you organize and make efficient use of small spaces. It comes with a bonus too – a kitchen-themed display cabinet! For this foldable desk project, you need materials like plywood, paint or stain (depending on what color best suits your home decor), hinges, and hardware from any local hardware store. Follow these steps and tips throughout the DIY folding table tutorial to customize yours!
A Small Folding Table or A Large Stool? Both!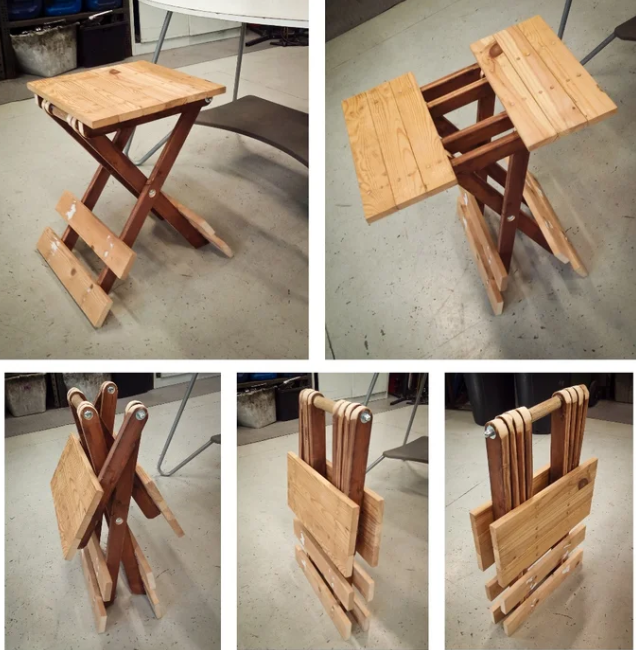 This DIY folding table serves multiple purposes and will be a great addition to your home. It's small and easy enough for you to carry when traveling, so it won't take up much space in the car; but even better than just being portable, this smart design can transform into a stool if needed! That way, whether hiking long distances or feeling exhausted after completing some work at your desk: rest assured knowing there'll always be somewhere comfortable nearby.
Have A BBQ Party Anywhere with this Fold-Up Grill Table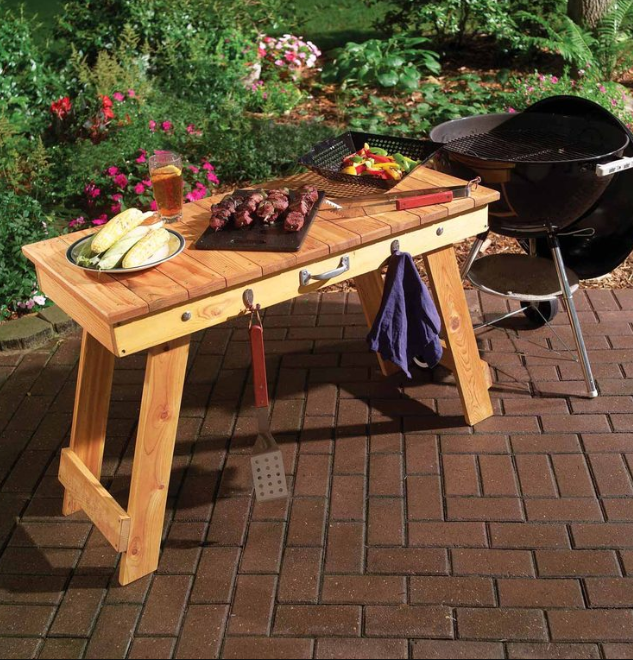 Throwing a big party outdoor can become difficult at times if you don't have any tables set up. That's why having one handy-dandy fold-up grill table becomes necessary when doing things like this! Made completely from high-quality wood material (Cedarwood), these are sure not to disappoint anyone who throws a BBQ get-together party next time!
A Workspace Without Sacrificing the Floorspace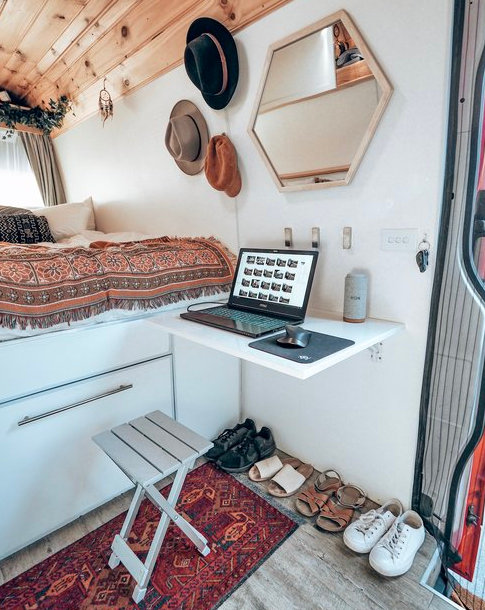 This van conversion idea is genius. The small space of a moving vehicle can be difficult to maneuver, especially when you need an actual workspace with a table and stool for work but there just isn't enough room. That's where this DIY folding table comes in handy as it serves both functions – a place to eat on the go and an area to start working during those long hours on the road!