Is your desk cluttered with a computer, printer, and other office equipment? Are you looking for a way to organize all of your things while maximizing space? A monitor stand is an excellent solution.
With these DIY monitor stands, you can get creative with materials and make something that suits your needs.
1. DIY Small Monitor Stand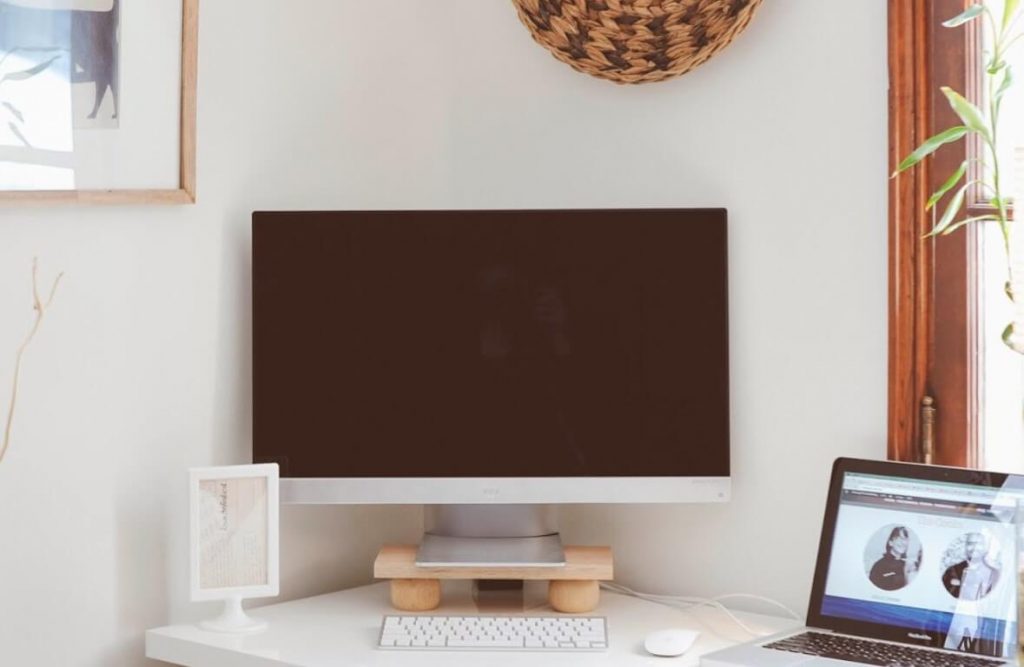 Do you want to make a clean, modern, and simple monitor stand? Then, this might be best for you! This one comes from Erin Kelly from newblooming.com.
She was using two stacks of dictionaries before, but it just wasn't working with the high-design look of Erin's office space!
That's why I am pleased to offer you these DIY Monitor Stand tutorials on Erin's blog that will give your home or work stations an updated appearance in no time at all!
2. DIY Vintage Monitor Stand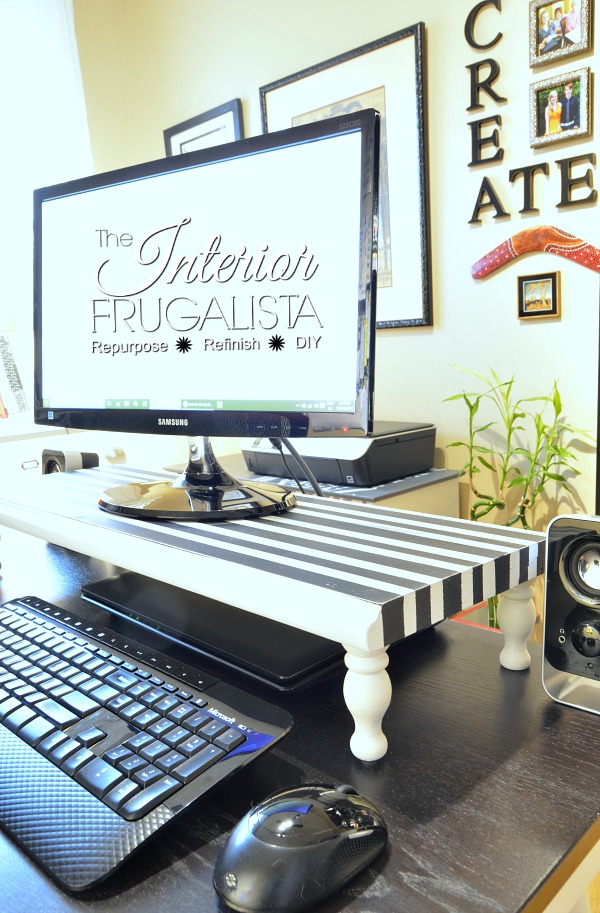 If you are like me, then, there might be some old pieces of wood lying around waiting for their next project. It turns out it can be used to make a monitor stand for free.
Luckily, I found this great tutorial by Interior Frugalista who built her own monitor stand using an old footboard and two antique chair spindles!
Follow the tutorial here.
3. DIY Multifunction Monitor Stand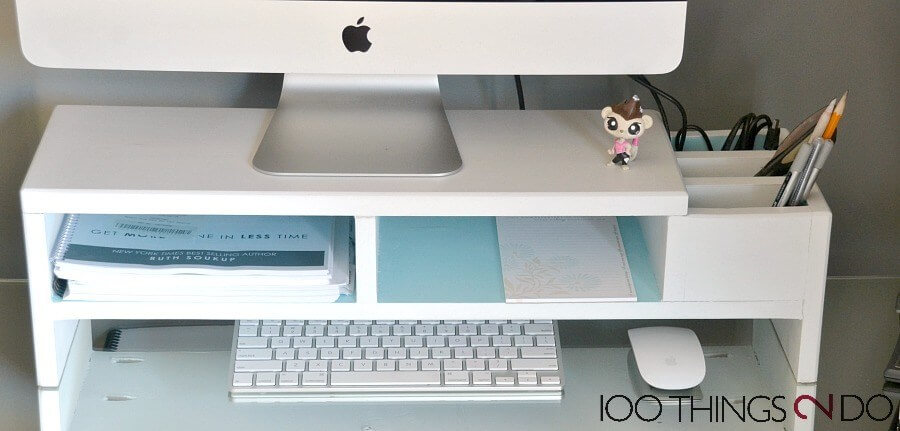 This multifunctional monitor stand is perfect for the person who has paper, stationery and snacks lying around their desk.
The organizing options provide a place to store your pens, pencils or other office supplies while the two shelves keep you in control of all those pesky papers that always seem to go missing!
Follow the tutorial here.
4. DIY Monitor Stand with Charging Station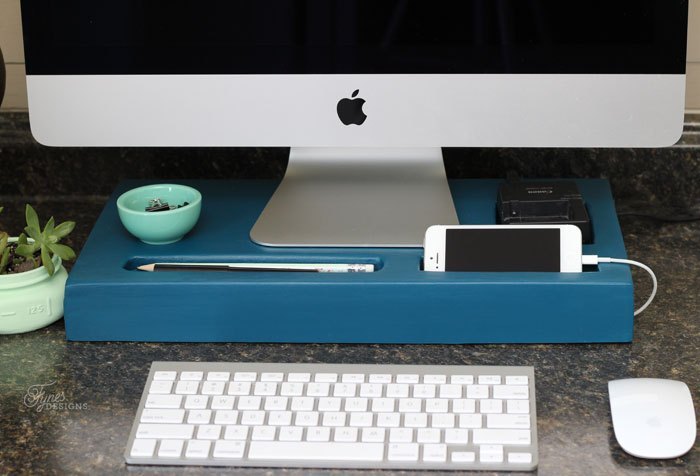 The following DIY project is a really neat way to make your own monitor riser. With the charging station, you'll be able to charge up your phone and get on with work without having any distractions from being low-battery or out of range.
The best part? It cheap and easy to make! See the details here.
5. DIY Monitor Stand with Bookshelf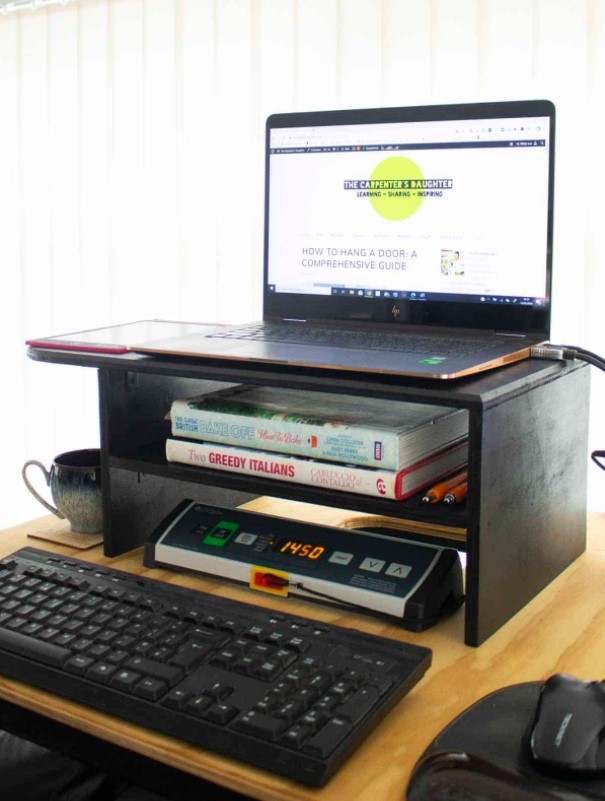 Do you need a desk to work on or just want something more decorative? This DIY monitor stand is perfect for either situation!
With easy instructions, it's not hard at all and can be customized however you like.
This monitor stand is made out of plywood offcuts and put together with simple l-brackets. Follow the tutorial here for all the details.
6. Using Scrap Wood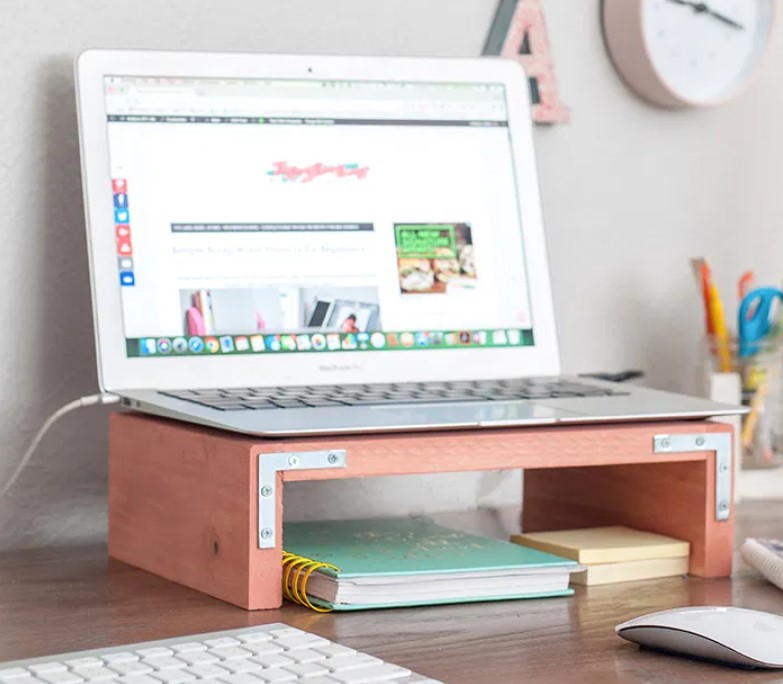 This is an easy project to make if you're looking for something to do on a weekend. This monitor stand is a great way to repurpose scrap wood that's been sitting around your house. Simply follow these instructions and you'll be on your way!
7. Built-in USB Port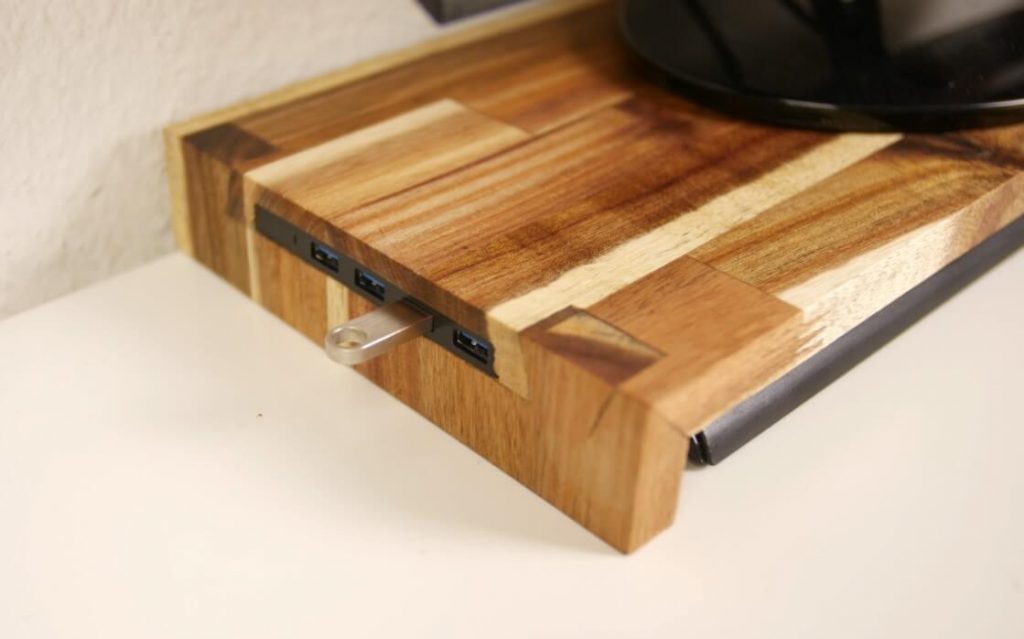 This is one of the coolest monitor stands I have ever seen! It has 4 USB ports to charge your gadgets or transfer data to your PC with ease. The stand itself is made out of wood with seamless joint, making it look clean and attractive.
Interested to make this? Follow the tutorial here.
8. A $7 DIY Monitor Stand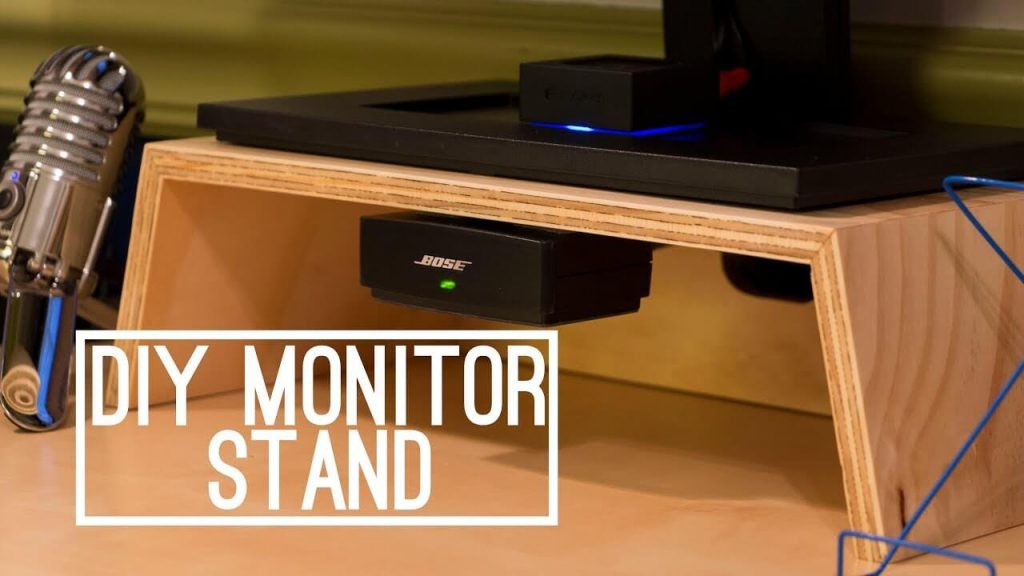 This comes from a Youtube video that came up in my recommended section. This shows us how to build a simple yet outstanding monitor stand for only $7 using plywood!
Watch the instructions here.
9. Simple Custom Monitor Stand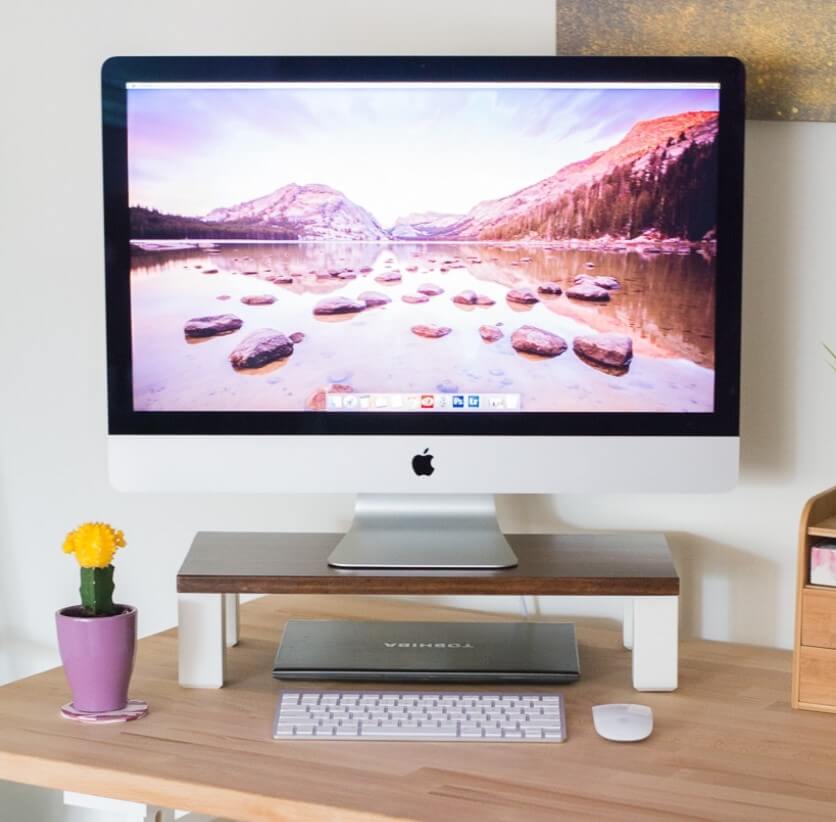 Wondering how to make a custom DIY monitor stand? We have just the thing for you! This tutorial will show you how Brittany from bybrittanygoldwyn.com made her simple and functional monitor stand.
It's an easy and functional way to hold up your monitors. Furthermore, it's also durable! Follow the updates on its performance 4 years later on her blog.
10. LEGO, anyone?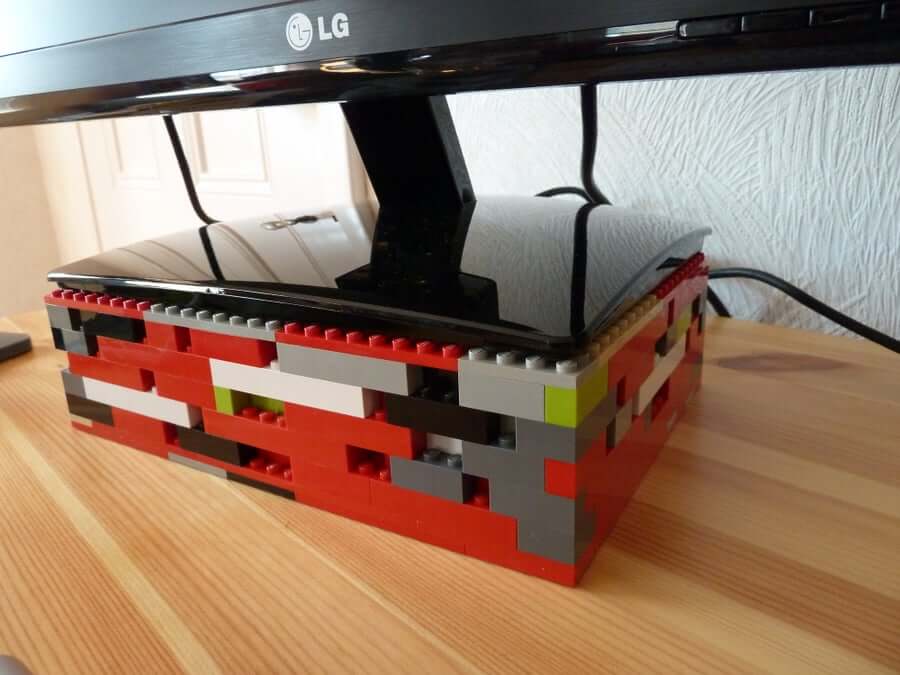 You can build an awesome monitor stand from LEGO bricks! You only need to follow these instructions and you will have your own unique creation. The best part is that you can adjust the color, the size or the shape according to your needs.
11. Industrial Style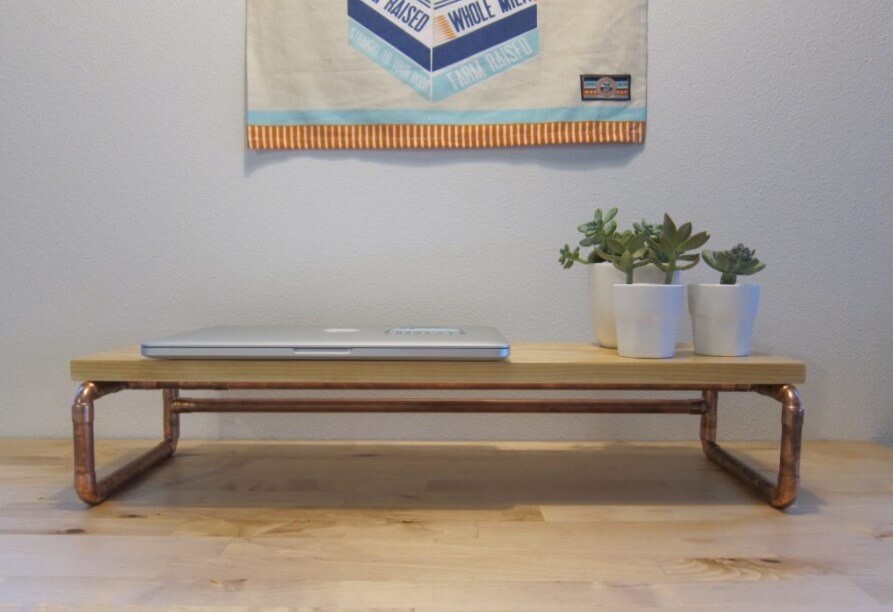 This DIY monitor stand tutorial is perfect for you if you want to go industrial! It's built with a copper pipe and wood that will give your desk an excellent, strong-looking industrial feel.
You can create a monitor stand lift your computer off the desk while also providing space to store your keyboard underneath. Follow the instructions here.
12. Shabby Chic Monitor Stand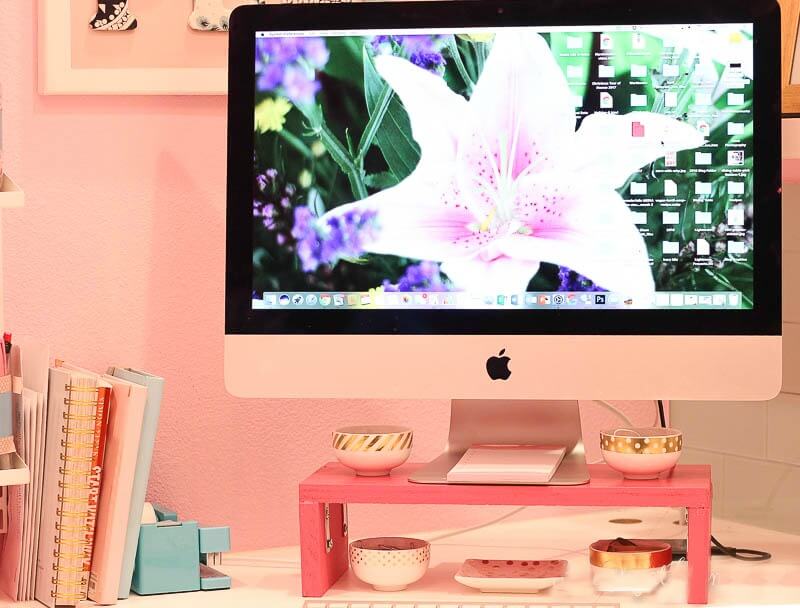 I loved this simple yet beautiful DIY monitor stand! It elevated the computer screen which will save space and making it to have enough room for office supplies. Interested to make this? See the instructions here.
13. Cardboards for Dual Monitor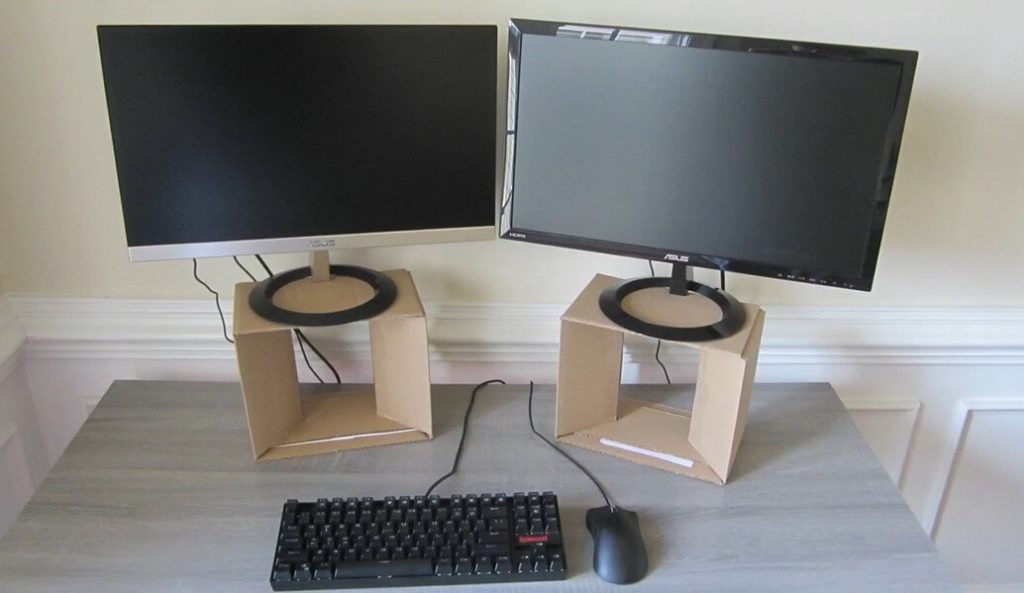 It's great to have the right tools on hand for any project. But sometimes you need a quick fix when things are going wrong fast and there isn't time to go out looking for supplies!
Luckily, there's an easy way that can be done with just what most people already have at home: cardboards.
It works best if they're dry because it becomes weaker in wet conditions. This is a super simple solution worth trying next time something goes awry!
See the instructions here.
14. 3D Printed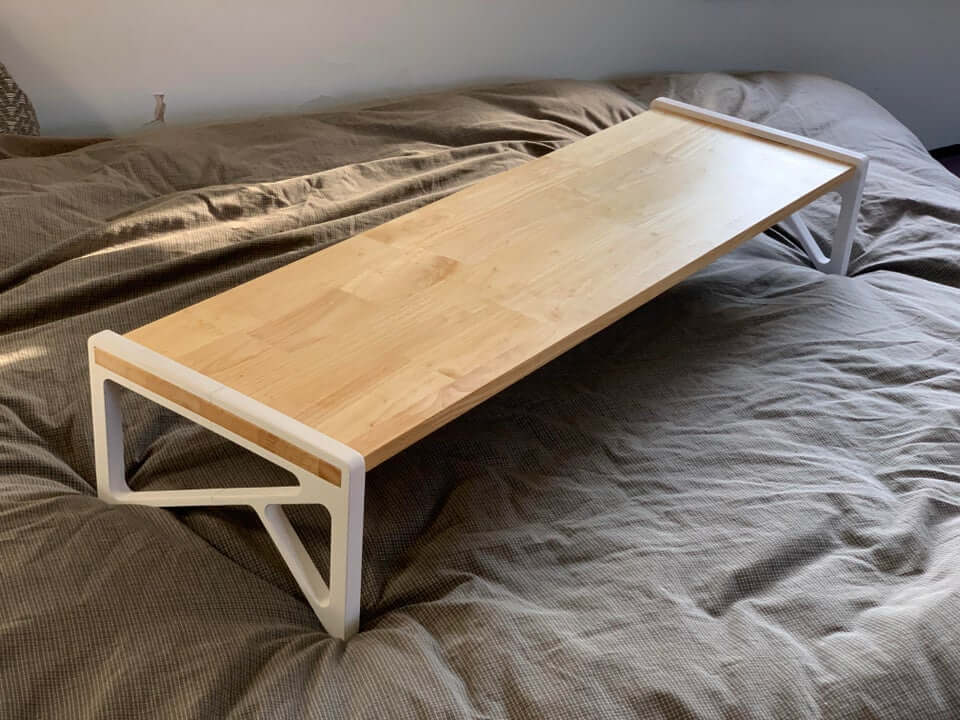 This project was inspired by those cool IKEA shelf-to-monitor stand hacks that's been floating around on the internet, but this one is done in a more sophisticated way; with 3D printer. See the instructions here.
15. DIY Vented Monitor Stand
Building a vented monitor stand is one of the best ways to customize your gaming setup. You can make this ventilated monitor platform for all types monitors-the larger, the better!
This DIY project will take you through some simple steps that are easy enough for anyone with basic skills and tools.
Once completed, not only will it allow more air circulation around your expensive electronics but also create space on top where you can store things like controllers or other accessories while keeping them charged at hand's reach! Let's get started – see instructions here.
16. Layered Plywood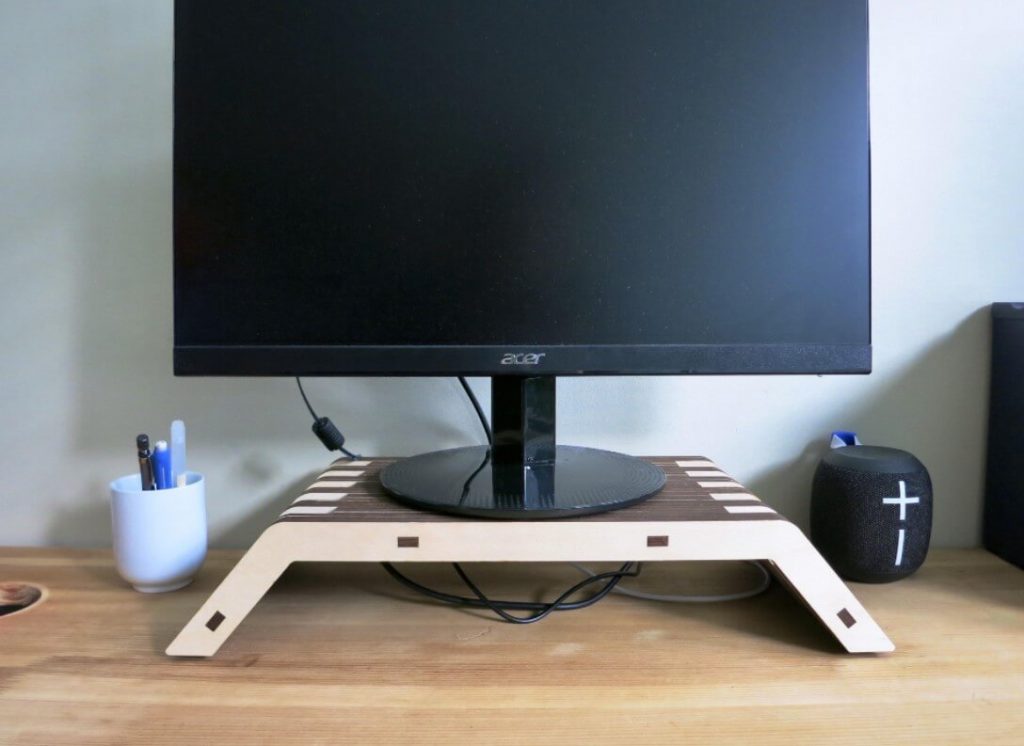 I love this cool stand because it looks like a piece of art. This awesome monitor stand looks like it's bent, but that just makes it even more cool.
This one is made out of layered plywood that has been laser cut and glued together to make sure it is durable and withstand the weight from your monitor.
See the detailed instructions here.
17. DIY Monitor Stand with Wireless Charging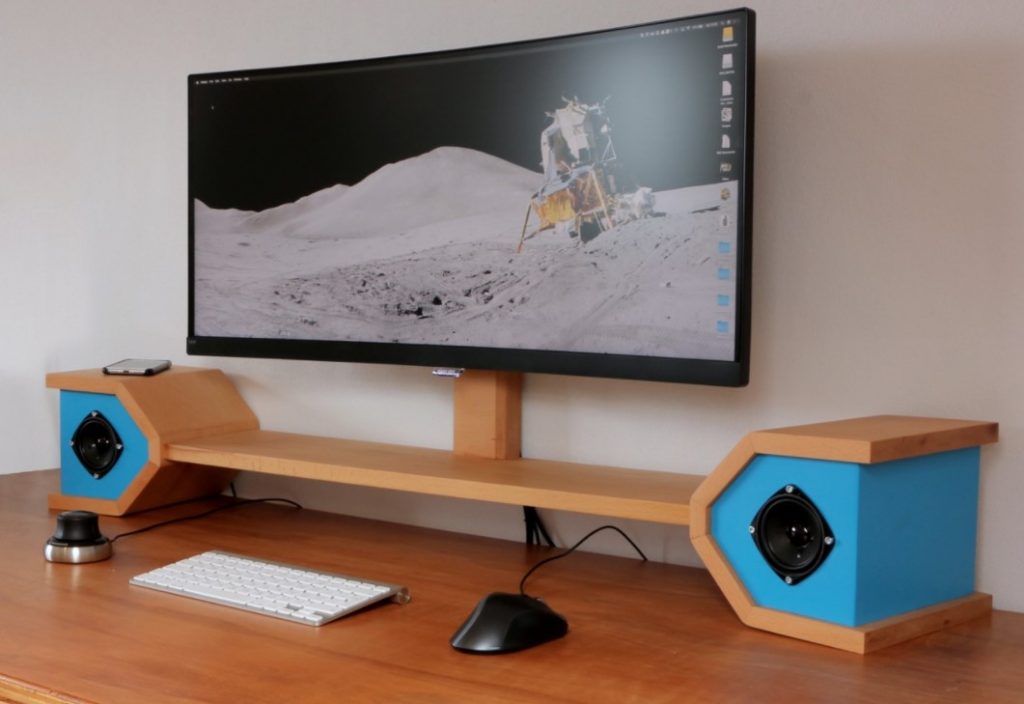 You've been working your fingers to the bone for a really long time and it's about time that you get something nice, like this all-in one DIY monitor stand.
It features everything that someone who spends their days sitting at work can ask for–a built in speaker so you don't have to wear headphones while doing what needs done; plus wireless charger so when those pesky hours are up, there is no need of hunting down an outlet.
Read the detailed instructions here.
18. DIY Monitor Stand with Organizer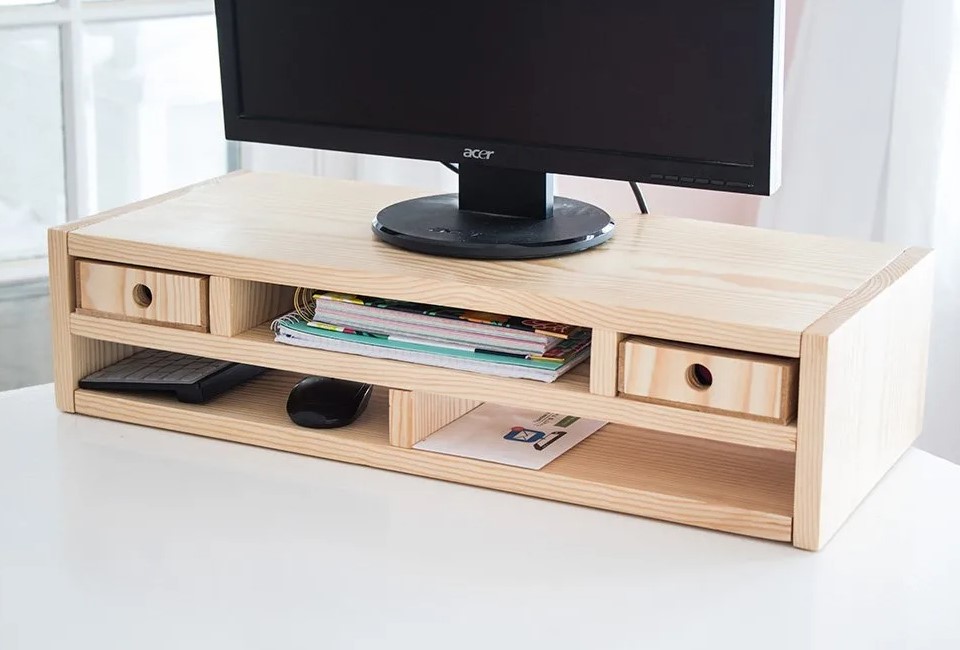 Do you spend hours on your phone or laptop? Do you have a hard time finding the right items when looking for something because they are scattered across your desk and floor?
Well, never fear!
The DIY Monitor Riser doubles as an organizer to contain all of those important things that seem so far away. All it takes is one board to make this amazing workspace helper. It's very cheap too – only 15 dollars! See the instructions here.