A Murphy bed is the perfect solution when it comes to tackling your small space issues—you keep all of the floor space available while still having access to an extra place for sleep or storage.
That said, do you know what brand-new Murphy bed purchased from stores and installed by pros costs? Over $2,000—and that probably doesn't include the mattress too!
Luckily today we'll find out how easy DIYing (or building) our own Murphy bed that suits our style and will cost us less so we won't break the bank either!
DIY Murphy Bed with Modern Farmhouse Look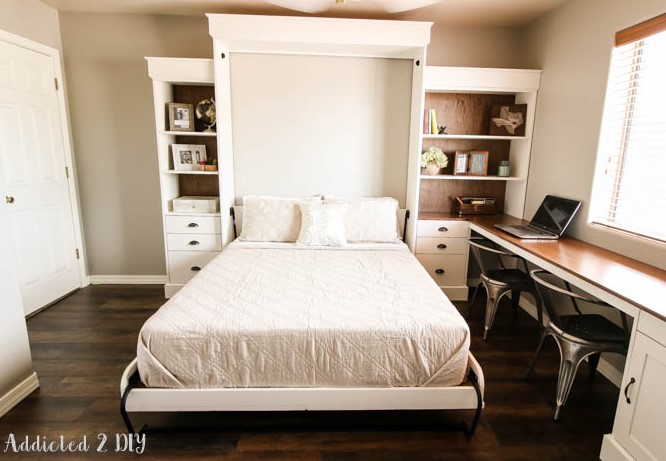 This Murphy bed will make your space more functional. You can use it as an office or a craft room in the morning and turn it into a bedroom at night! Are you looking for instructions on how to build one? The tutorial has been made very detailed so that building is easy, especially when cutting plywood. Give this project a try!
Deluxe Murphy Bed for Guest Bedroom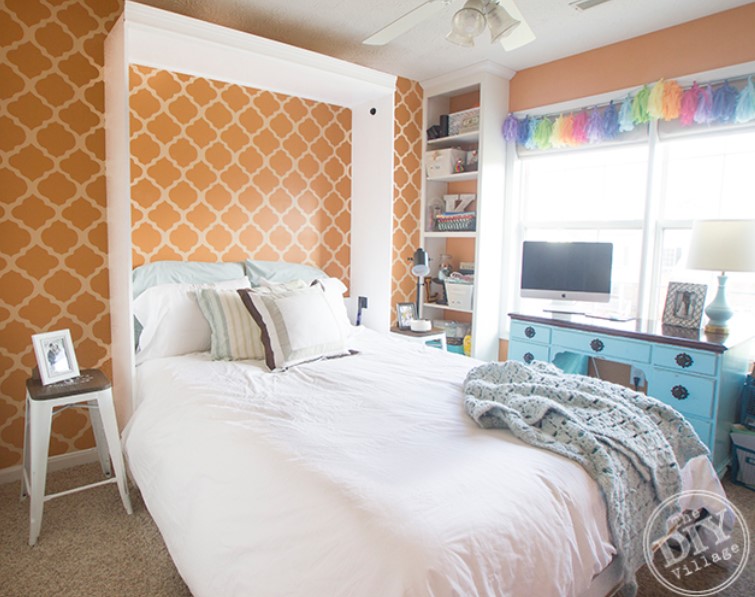 Turning a spare room into an extra bedroom for guests is possible with Murphy beds in mind. With the proper hardware kit, constructing one of these versatile pieces becomes simpler and faster than ever before too! This particular installation features a clean look with white color that will work well to create more space within your home.
Queen Size Murphy Bed with Rustic Look and Style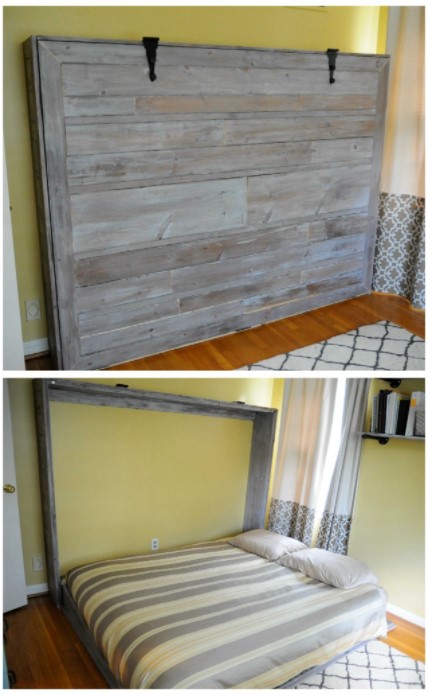 A queen-size bed might need a larger bedroom to fit, but with the Murphy bed idea, it becomes possible to even in a considerately small room. After a simple build using a few materials such as pine boards, plywood, door hinges, vinyl upholstery, and stain, you'll have this amazing piece in your room!
Side Folding Murphy Bunk Bed with Turquoise Wall Accent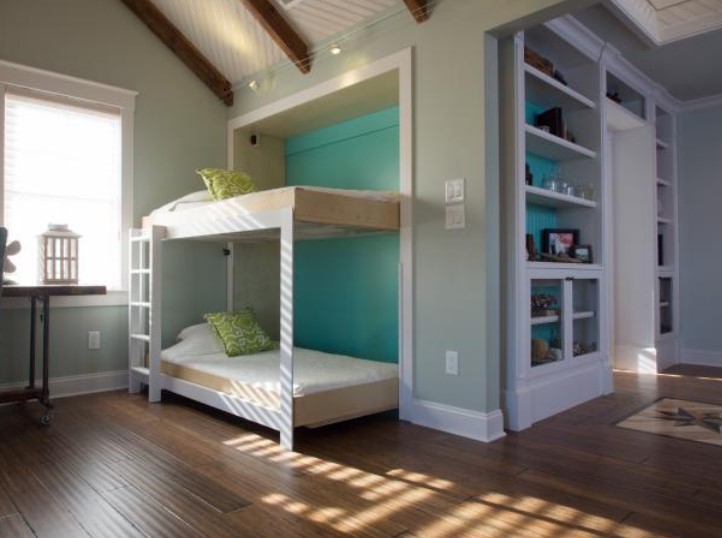 Turning your spare room into a guest bedroom has never been easier with Murphy beds! This project specifically remodels an unused media space and converts it to a Murphy bunk bed for twin mattresses. The turquoise accent wall adds color while making the room more vivid, but you can change it as desired!
Murphy Bed with Bookcases in Natural Wood Color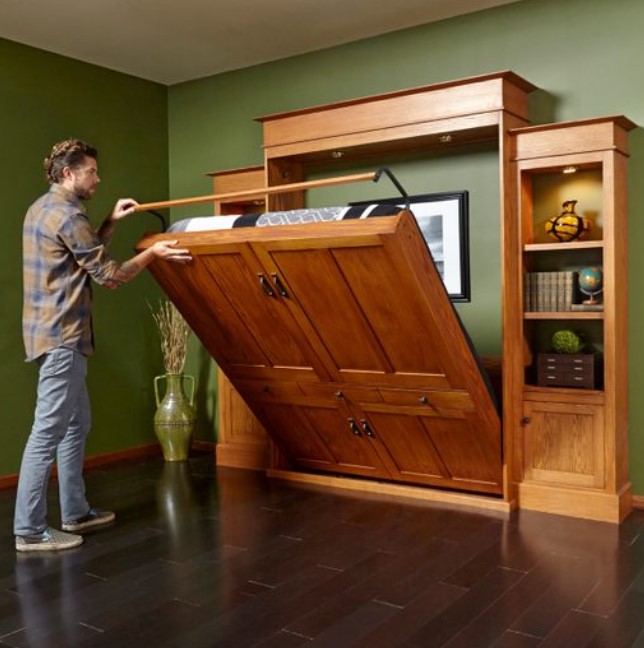 The Murphy bed is a clever way to save space without sacrificing comfort. However, it's important not to forget the importance of storage. With shelves and bookcases built into this design, most homeowners will find they have plenty of room for all their books or any other belongings that need some extra care! The natural wood color will give your room an earthy feel that you'll love!
Queen-Sized Murphy Bed for Guest Room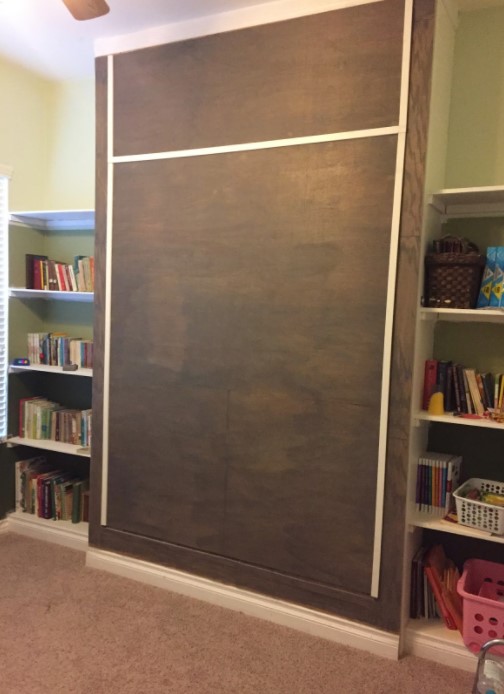 A Murphy bed is a popular choice for small homes and apartments because it allows you to maximize your space while still maintaining the comfort of sleeping. However, they can be really expensive from stores! Many cost over $3000 with some kits costing up to $1000 on their own too. This project solves that problem by providing instructions on how you can make one yourself at home and save thousands of dollars in the process–plus get extra storage on each side with shelves.
Twin Murphy Bed in The Shade of Blue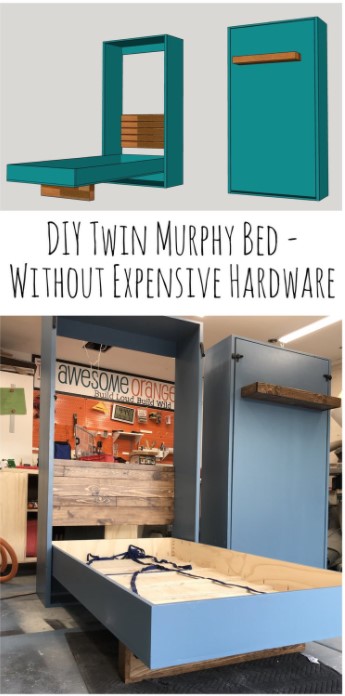 If you're looking to create a space for your two kids (or you simply need two beds in a room), then consider creating these twin Murphy beds! They are great because of their size and versatility. It's nice that this tutorial comes with instructions in case it seems too complicated – just make sure to have some help if possible so you can finish faster.
Modern Murphy Bed for Less than $250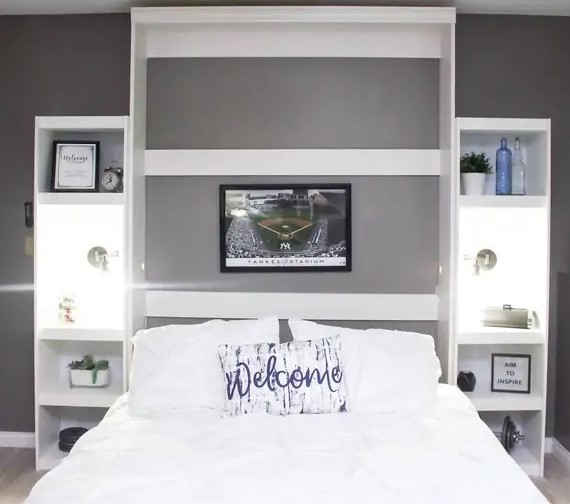 If you're looking to create a space for your two kids (or you simply need two beds in a room), then consider creating these twin Murphy beds! They are great because of their size and versatility. It's nice that this tutorial comes with instructions in case it seems too complicated – just make sure to have some help if possible so you can finish faster.
Modern Murphy Bed Complete with Bookcases and A Desk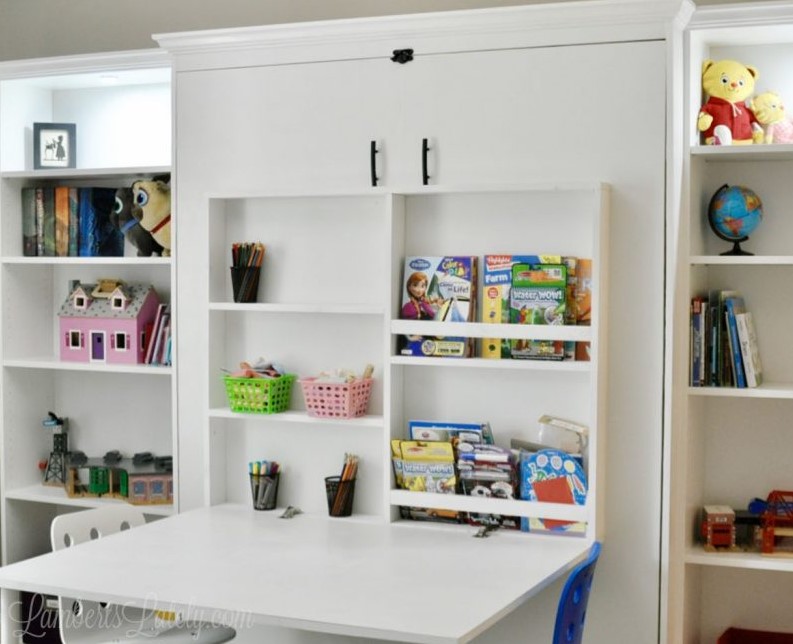 You'll never find yourself bored at home again! This DIY package has it all. You'll get a Murphy bed, bookcases, and desk in one project – that's 3 things for the price of 1! There is more though… Underneath this awesome desk rests an even better surprise; a chalkboard!
Gorgeous Murphy Bed Built from A Kit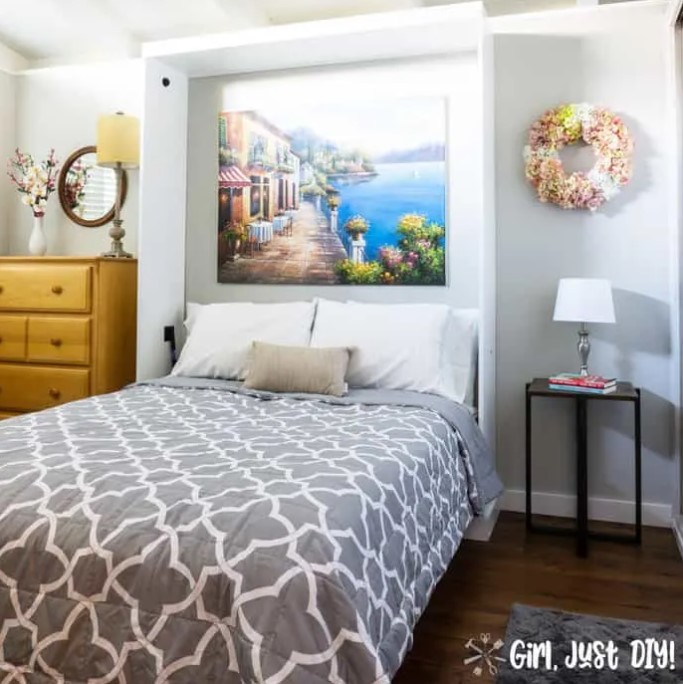 Sometimes a limited space becomes the perfect condition to remodel. With Murphy bed kits, now it's possible for such tight spaces! It takes less than 10 square feet of floor space (and costs around $1000 in total) and you're on your way to modernizing your room in no time at all.
Murphy Bed to Free Up Some Floor Space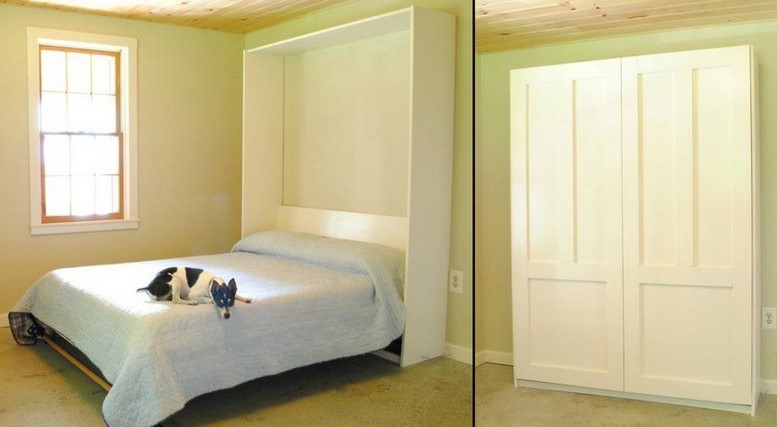 Everyone knows it's a bummer to have limited floor space, preventing your mobility. One obvious solution is having a Murphy bed in the room! This wall bed will cost you less than buying one at the store and there are only a few supplies needed such as 3/4″ Plywood, Coat and Paint, Metal Brackets, and Screws.
Murphy Bed Tucked Away Behind A Sofa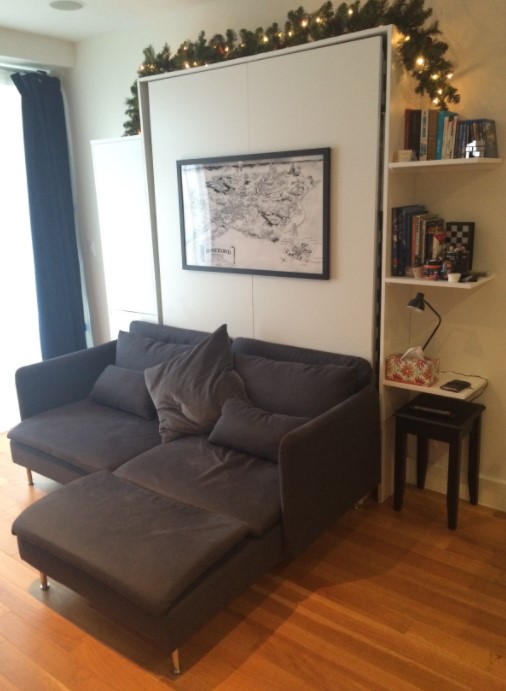 The clever idea of folding the extra wall bed away behind a sofa is ingenious. When you're not using it, your living room becomes just like any other cozy place to hang out with friends and family. This would be perfect for those who live in tight apartments or condos where space can always become an issue.
Building Murphy Bed with IKEA Hack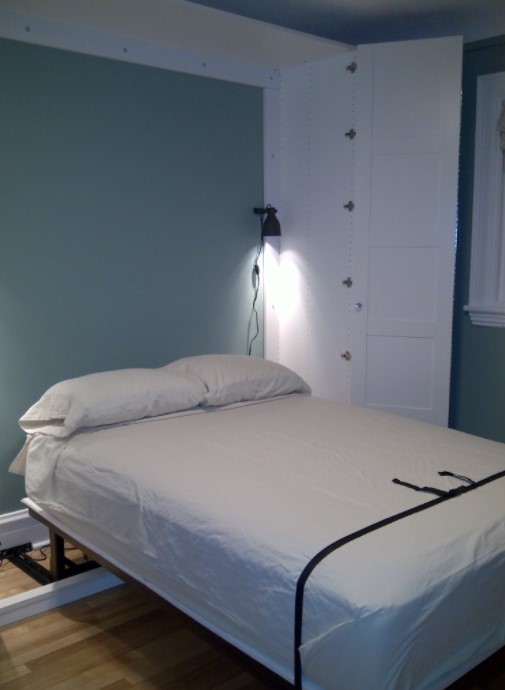 The bed for this project is from IKEA and it fits nicely with the Murphy Bed idea. The side cabinet was sacrificed to make way for a comfortable place to sleep. A clever and creative solution, this bed will look great in your home while you get all the sleep that you need!
A Fold-Up Bed for A Studio Apartment or Guest Bedroom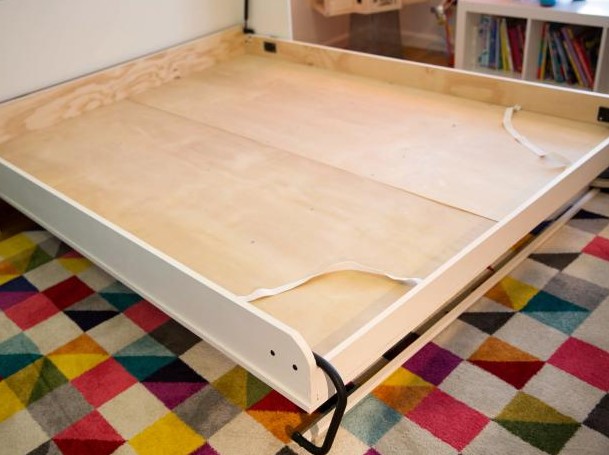 A Murphy bed can make your studio apartment or a guest bedroom more functional. You will still have the use of space when guests are not around! This tutorial includes measurements and pictures to make it easy for you to follow along, too- so let's get started today!
Modern and Aesthetic Murphy Bed Setup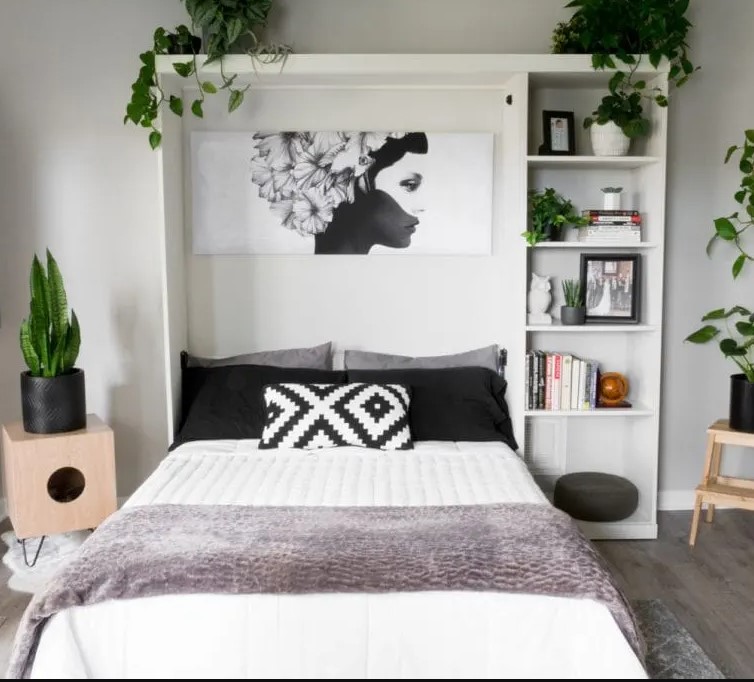 An aesthetic bedroom can be used as a photo studio too for an added space and creativity boost. Let's take advantage of that by building this beautiful Murphy bed setup with a very modern finish, and you'll find yourself staying in your room longer than usual!
Build A Murphy Bed to Make the Space More Efficient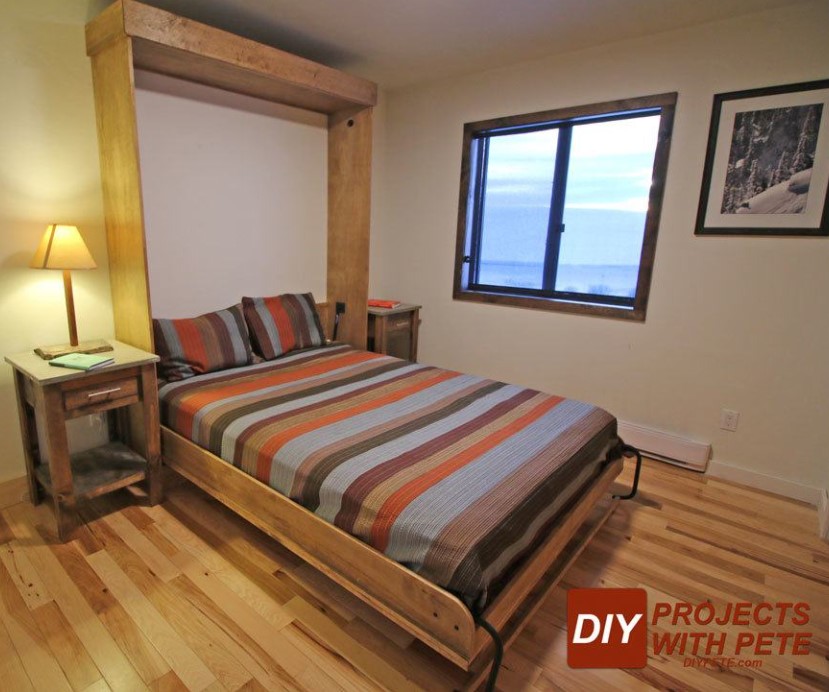 Murphy beds are the perfect solution for making your room both comfortable and efficient! And this project is a great example. When guests aren't around, just fold up the Murphy bed with little fuss or mess- it's so satisfying knowing that you can have more space in any given week without having to sacrifice comfort. The natural wood color also makes them look sleek while keeping their durability intact over time too!
A Murphy Bed for Dogs with Functional Drawers and Cabinets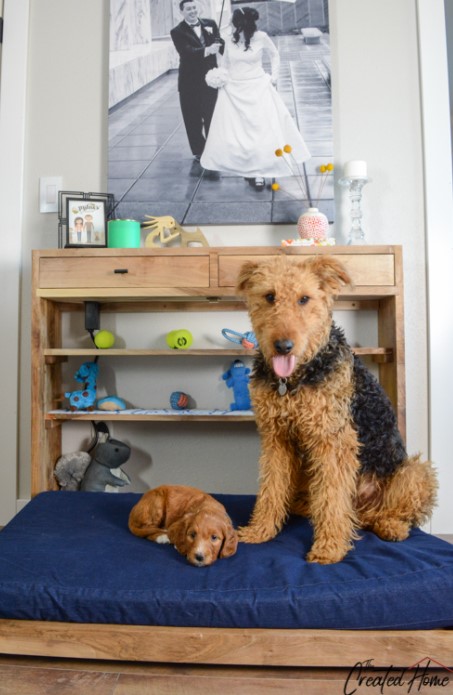 Your dog will love you more when they get their own Murphy bed too! Complete the furniture with functional drawers and cabinets to stores your pup's toys, treats, leashes, collars, etc. Dogs deserve a comfortable place of their own just as much as we do, so they can enjoy their time at home even more!
Simple Single-Sized Murphy Bed for A Guest Bedroom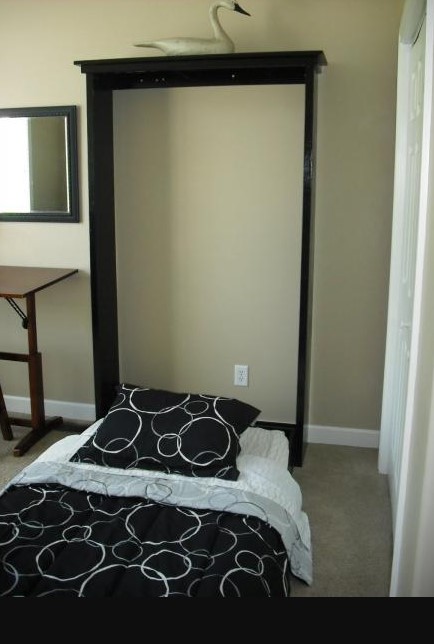 If you are looking to maximize the use of small spaces within your home while also having an accommodating place where friends could stay over, then consider installing a Murphy Bed. This project is aimed at a single-size bed for guests. When building it, remember safety precautions!
Modern Murphy Bed with Rustic Darkwood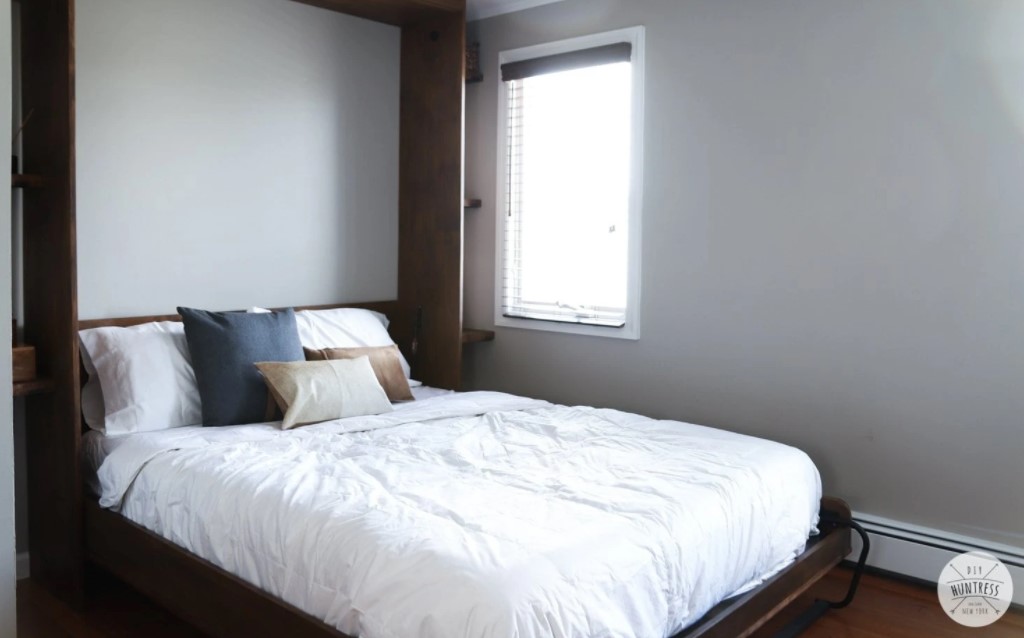 Murphy beds are the perfect solution for tight spaces. They can easily be folded up when not in use, giving space to do other things like storing books and clothes! This Murphy bed has a rustic style which gives it character while also making guests feel at home with its inviting look.
Side Folding Twin Murphy Beds Project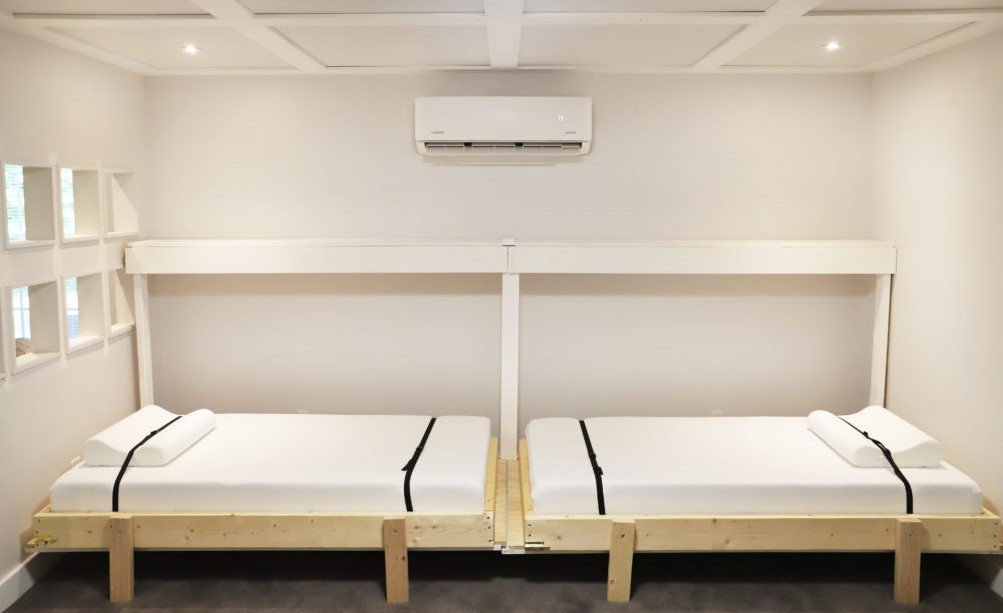 Want to choose the most space-saving and stylish set of beds for your accommodations? Twin Murphy Beds are perfect! They provide you with a cozy place to sleep as well as elegant room decor. But wait, they're not expensive at all. So, go ahead and enjoy getting some rest on these modern twin Murphy beds while feeling extra cozy during your stay here!
Genius Murphy Bed for A Tight Space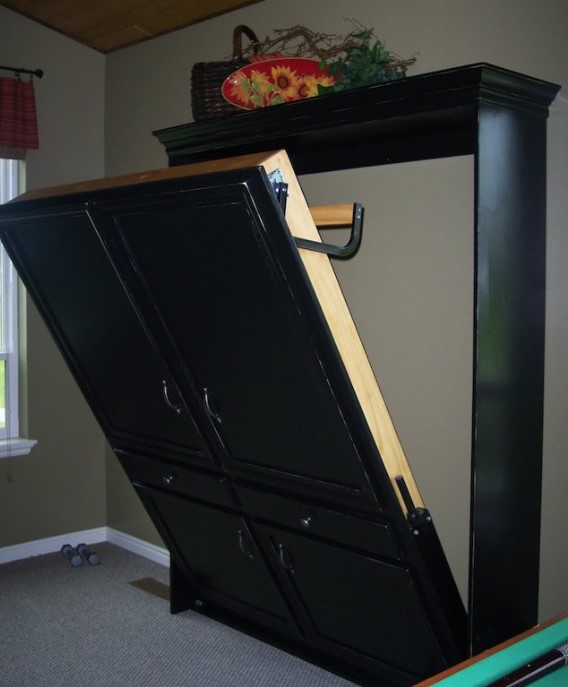 A Murphy bed is just the ticket for those with tight spaces. It offers a great solution to that vexing problem of not being able to sleep in your own bedroom because it's too small and you need a large enough bed! You can customize any color or finish, so make sure you pick one that will look amazing with your room decor.
Murphy Bed with IKEA Wardrobes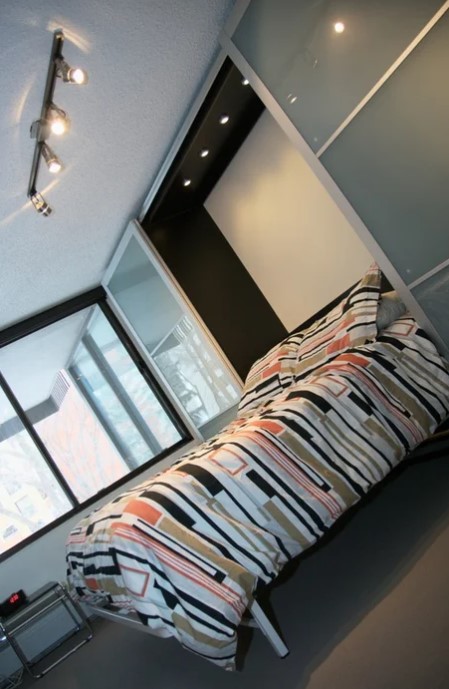 This is a Murphy bed idea that brilliantly uses IKEA furniture. The project simply turns two pax wardrobes into storage and a queen-sized bed fitted in the middle, moreover, the total cost works out to be much lower than what retail stores offer. Isn't it awesome?
A Murphy Bed That Can Transform Into A Work Desk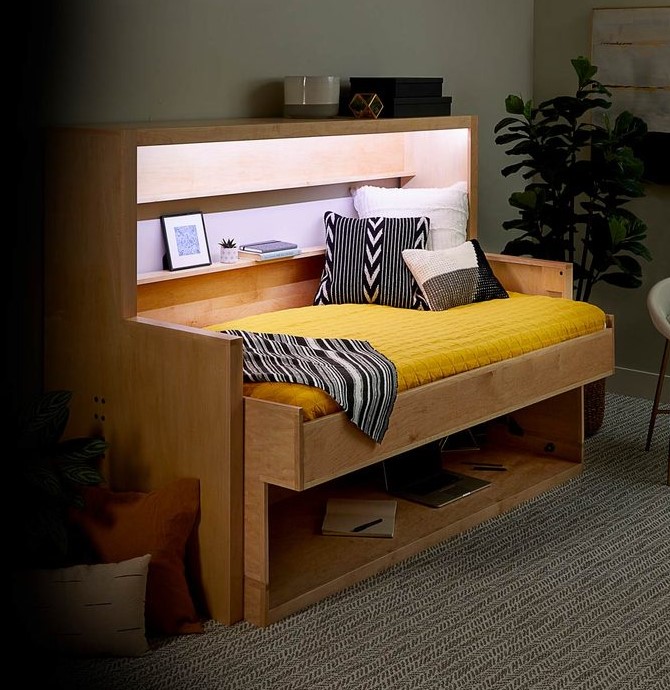 For those who need a little more space, there are plenty of ways to make the most out of your living space. With clever ideas like this Murphy bed plan, you can transform the bed instantly into a desk in order for you to maximize productivity while working from home.
Another IKEA PAX Wardrobe Hack for A Murphy Bed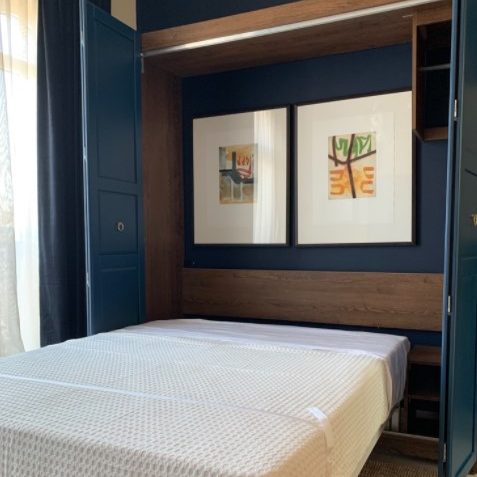 PAX Wardrobe is a great addition to any home. With this piece, you can easily and beautifully store your Murphy bed in an inconspicuous place until it's needed for sleeping or lounging around the house. This sleek design will be sure to update and enhance your space!
Repurpose TV Stand into A Gorgeous Murphy Bed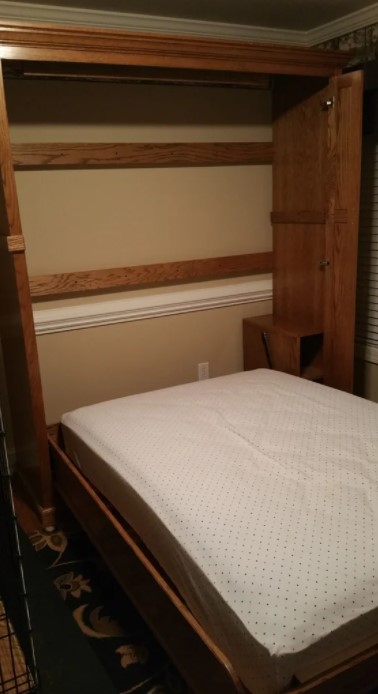 Don't throw away your old TV stand, convert it into a Murphy bed to make the most out of every inch in space. This project allows you to customize based on what type of stand and size suitable for your new bedroom furniture. Don't wait anymore, as many benefits come with this decision!