Backyards are your own private oasis, a place where you can unwind and enjoy the company of friends. It's also perfect for hosting parties or just relaxing with family in peace while taking in some sun during a beautiful summer weather!
It's important to enjoy the serenity of your outdoor space, but you need privacy too. If nosy neighbors or passers-by are constantly gawking at what you do in your garden and home, then it defeats the purpose!
That's why DIY outdoor privacy screens are a great way to keep the outdoors in and the neighbors out. We've curated tons of the best privacy screen ideas for you, so let's get started!
DIY Outdoor PVC Pipe Privacy Screen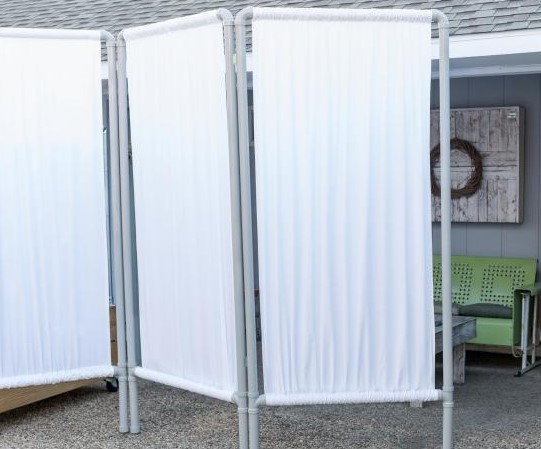 Hang curtains from this DIY portable privacy screen to create an open-air enclosure that will help you and your guests feel comfortable with their private space. The customizable design of these PVC pipes combined with inexpensive bedsheets makes them easy on the budget without sacrificing style or quality. So, go ahead and use any color sheets!
DIY Planter and Privacy Screen in the Garden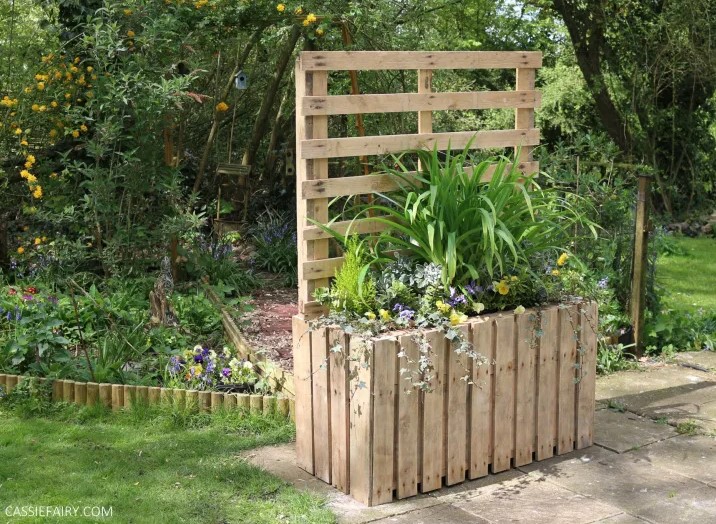 If you're looking for something fun to do on a lazy afternoon and happen to have enough spare time for about 2 hours' worth of work then this DIY privacy screen project might interest you. Up-cycling old wooden pallets can make planting outside much more enjoyable. Not only because they add color, but also give protection from prying eyes when sitting outside in complete private.
DIY Privacy Wall for Father's Day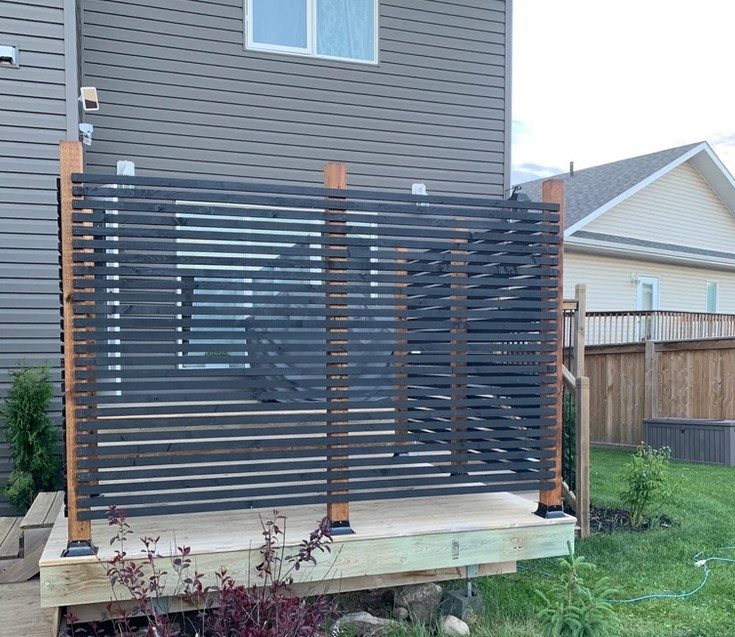 Father's Day is upon us and it's time to start thinking about how you can spend quality bonding time with your dad. This DIY privacy wall will take some effort, but the payoff will be worth it as you two share a good chuckle while making something together. They say that men often open up when they are working so this project could provide an opportunity for talking heart-to-heart!
DIY Outdoor Privacy Screen for Suburban Home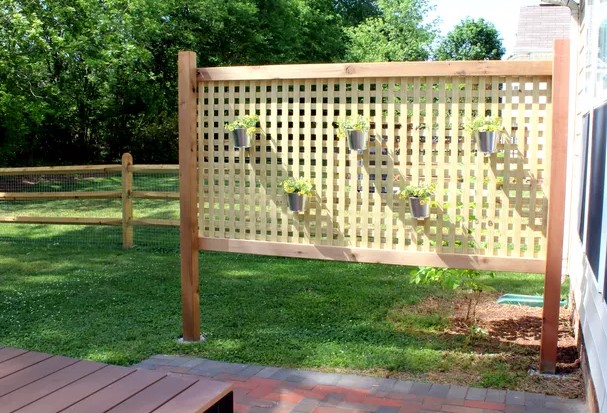 In the suburbs, you may have a small yard but it is still enough for some outdoor fun. Many people are going to be experiencing a lack of outdoor space too. But this DIY privacy screen project will solve that problem and provide your homes with more privacy for personal outdoor activities!
DIY Privacy Screen with Super Easy Steps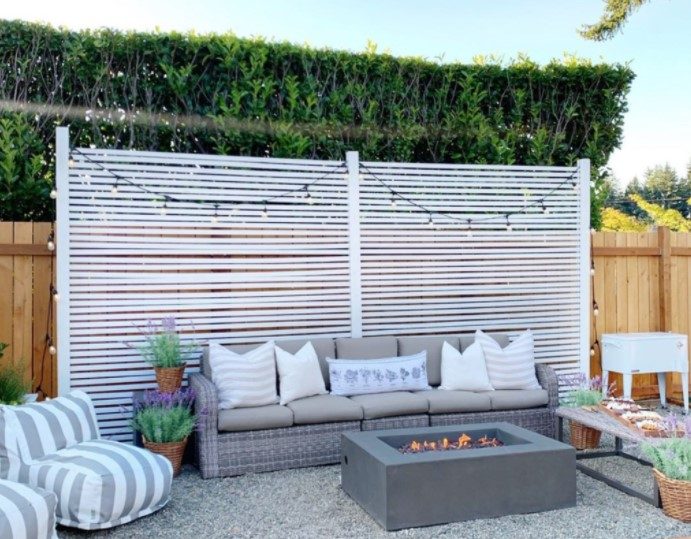 Transform your backyard space with a DIY privacy screen. From bland to lively, this project will turn any backyard into the best hang out spot for friends and family alike! What are you waiting for? Get started today on turning that plain old space of yours in a vibrant gathering place where memories can be made.
DIY Backyard Privacy Screen with White Fabric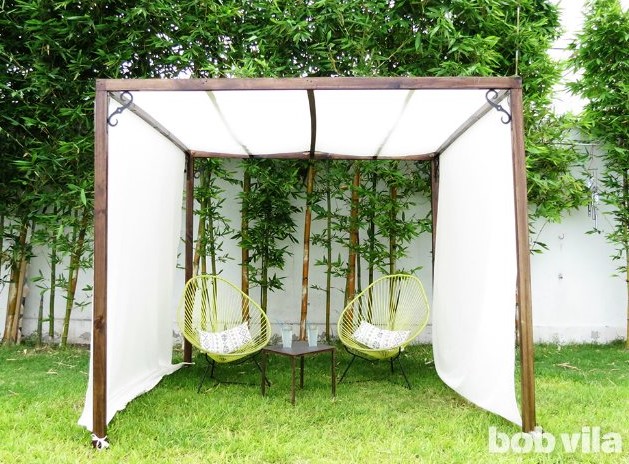 As you know, fences are expensive and time-consuming to build. If you're looking to get some privacy for your backyard without the hassle, worry no more! Check out this step-by-step guide on how you can build a privacy screen that even includes shade in case it's sunny outside.
DIY Outdoor Bench with Privacy Screens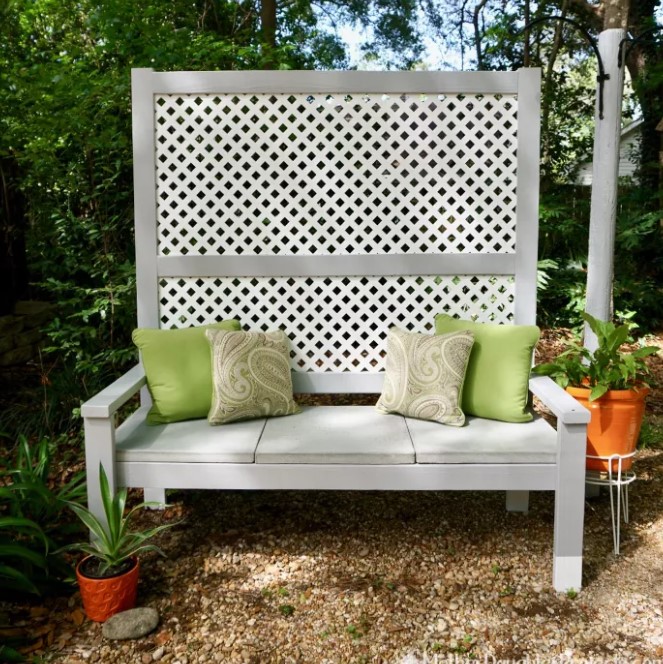 We all love having a multipurpose piece of furniture in the house. This bench is not only comfy, but it also protects you from nosy people behind by giving you privacy! Check out this DIY project to learn how to make your own customized privacy screen for that added touch!
DIY Pergola and Wood Slat Privacy Screen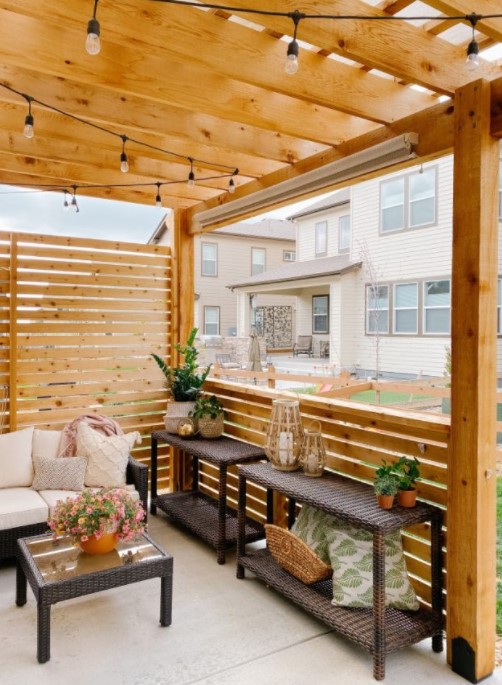 The perfect solution for privacy in the middle of a neighborhood is to build your own DIY outdoor privacy screens. Not only do they provide shade, but the pergola also provides shelters during summer. This creative solution is sure to be one-of-a-kind!
DIY Privacy Screens with Planters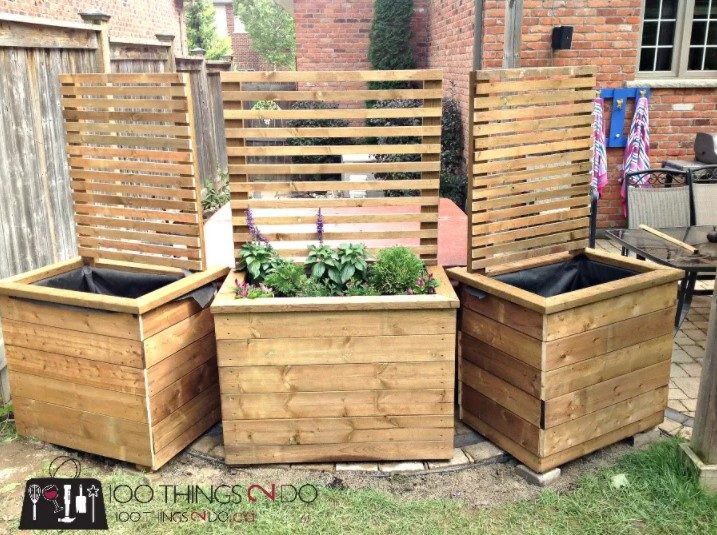 Interested in a new way to grow plants with the added privacy? Well, look no further! This DIY privacy screen with a planter is perfect for your backyard or garden needs. All you have to do is follow these easy-peasy plans and voila – instant planters complete with that much-needed privacy from nosy neighbors or other prying eyes.
DIY Privacy Screen on Patio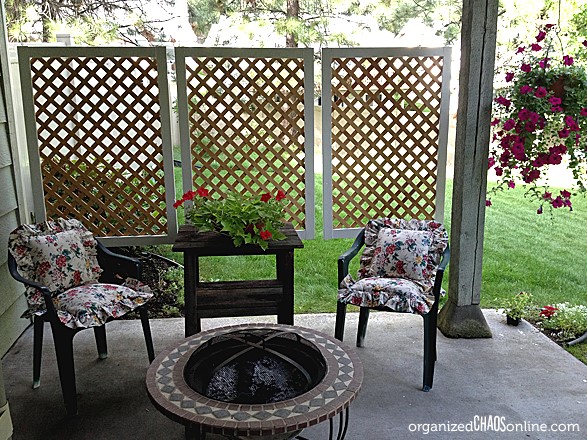 Feeling exposed to passersby and curious neighbors on their decks seems a bit much sometimes—especially when we're doing something as simple as spending time in our backyard! This DIY outdoor privacy screen will make your living space less open. This project costs around $30 so get ready with some materials that are already lying around or buy them at any home improvement store near you!
DIY Deck Privacy Screen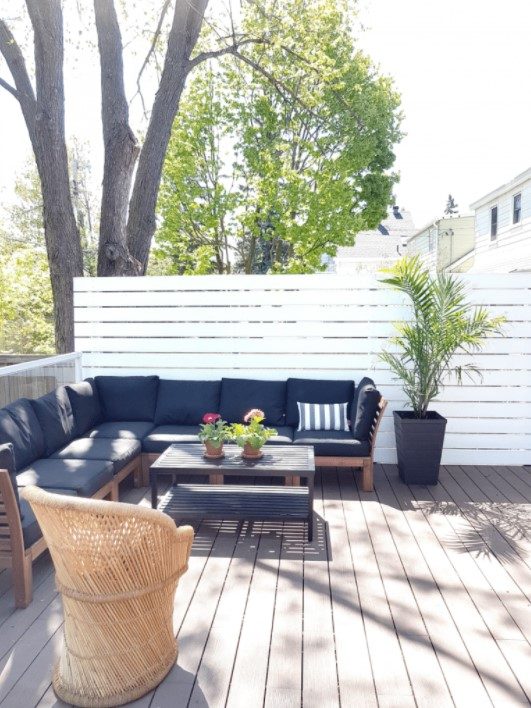 There's no better place to find a nice, private space than your own deck. This DIY privacy screen will give you the protection and seclusion for whatever reason that may need it on your outdoor living area. The step-by-step tutorial is easy to follow with clear instructions so all you have to do is put in the effort!
DIY Pressured-treated Wood Privacy Screen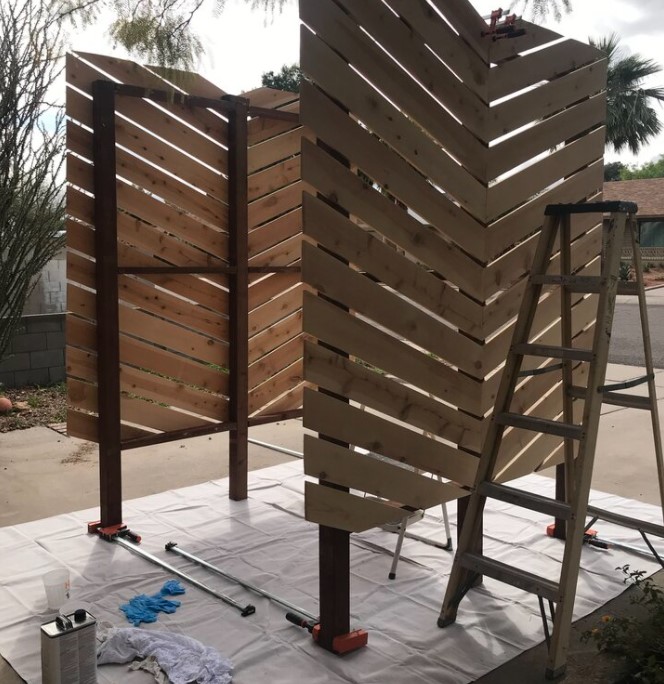 Privacy screens are the perfect way to enjoy your time outdoors even when you're at home. But what about those pesky neighbors that have a two-story house? No need to worry, because these DIY outdoor privacy screens will not only offer privacy from them but also provide shade as well!
DIY Decorative Privacy Screen for Garden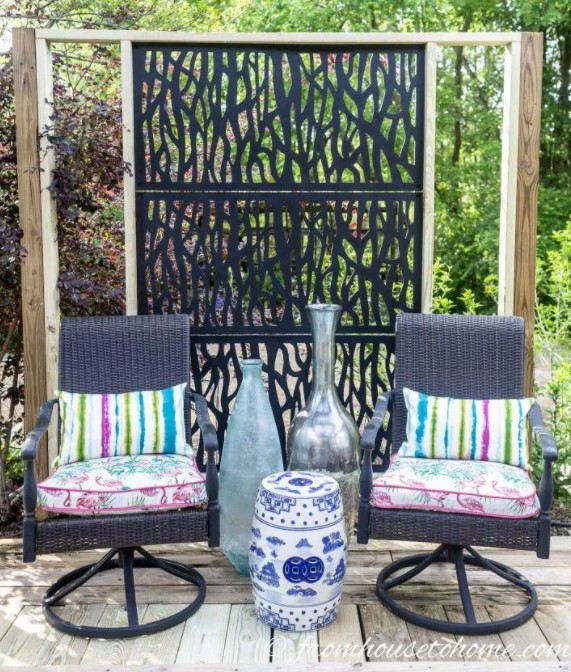 If you're looking to add some privacy or create an outdoor garden, this DIY project is perfect for the job. The screen blocks off your backyard from nosy neighbors and provides a beautiful backdrop that can be admired by all who visit! This simple yet beautiful design not only offers exceptional coverage but also adds personality.
DIY Natural Privacy Screen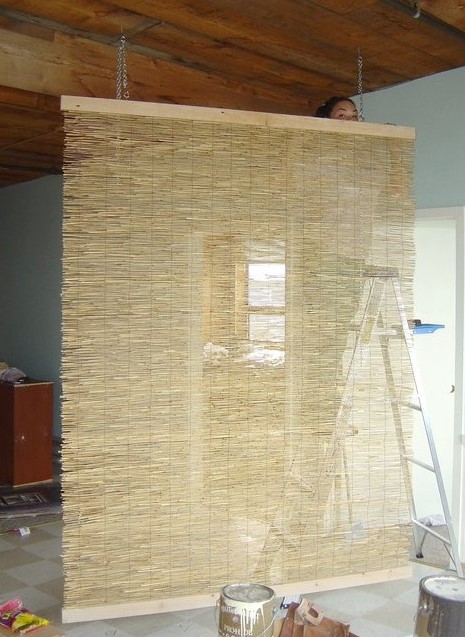 With this quick and easy DIY project, you can create a screen in your outdoor space that will give you some peace of mind. The DIY privacy screen is made of reed fencing, and it's called a tropical style because the fence has such an exotic look. The project will be quick and easy to make as well as fun!
DIY Simple Chevron Privacy Screen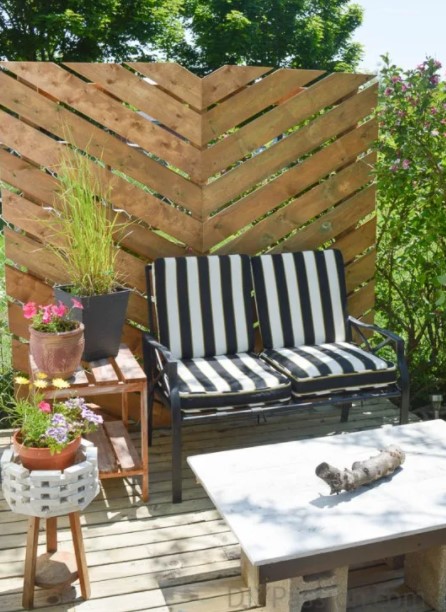 Privacy-seekers rejoice! The chevron privacy wall is finally here to make your outside space feel like a safe haven. With only $150 and a day of work, you'll be able to set up these sleek panels that are guaranteed for the yard business. So, no more peeping neighbors will get in on any of your secrets!
DIY Thrift Shop Upcycled Outdoor Privacy Screen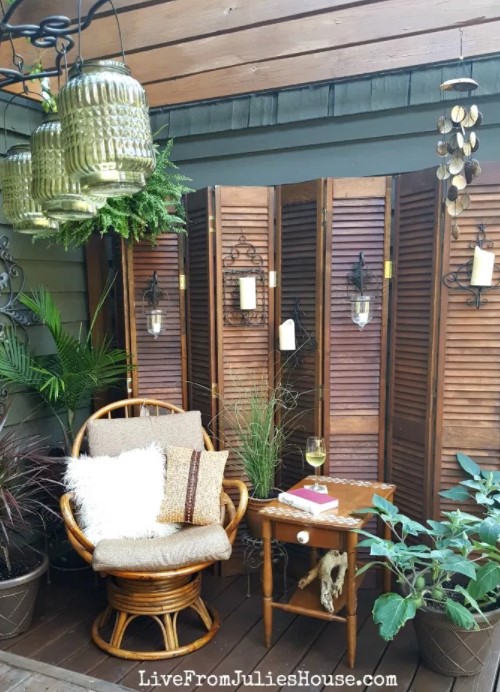 Are you up for a thrift shop challenge? The old shutters are bought from second-hand store with cheap price. Stain them with Minwax English Chestnut to make the color even and voila! they have become an outdoor privacy screen which screams boho style!
DIY Unique PVC Pipe Privacy Screen for Garbage Cans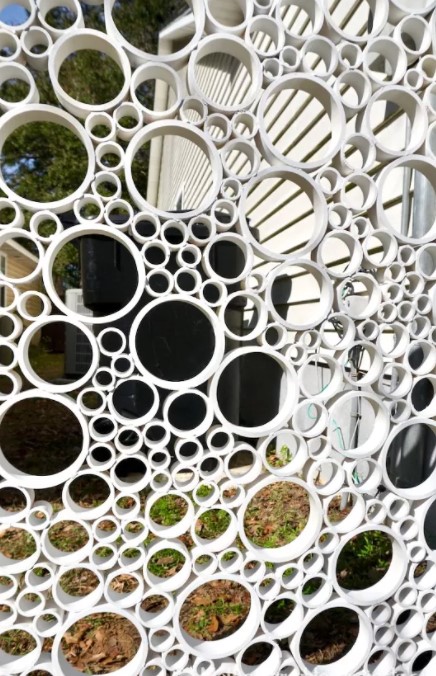 This is a perfect solution for those who want to cover their garbage cans and keep them out of sight. This privacy screen made from PVC pipes, which can be found at your local hardware store, looks great in any outdoor space as it blends with the surroundings. The best part? It's very easy to install!
DIY Cheap Privacy Screen for Patio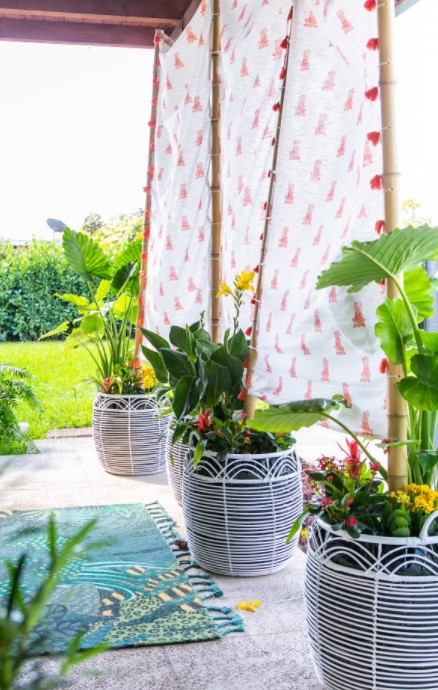 With a few inexpensive materials, you can create an attractive privacy screen. This DIY privacy screen for the patio is made from beautiful repurposed shower curtains and bamboo poles to create a sturdy, elegant solution that is also budget-friendly!
DIY Outdoor Privacy Screen from Old Shutters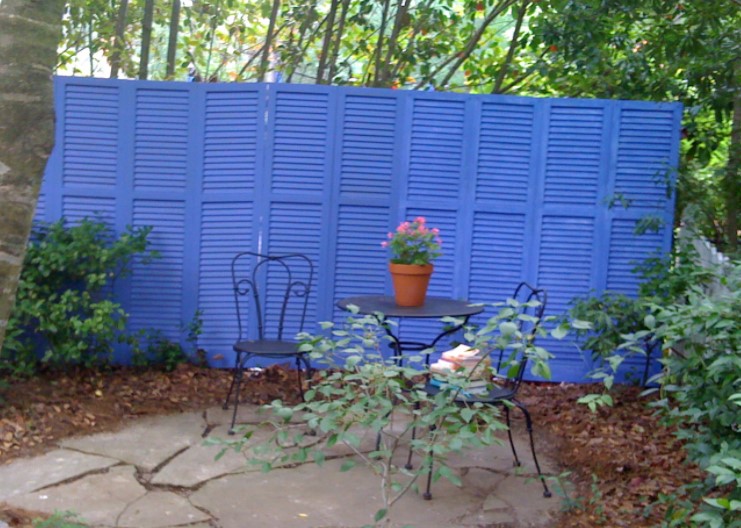 Imagine your very own outdoor living space, complete with a privacy screen to give you the peace and tranquility that is all too rare these days. This project will use repurposed shutters for an old-world flair, perfect in any garden setting!
Evergreen Trees as Outdoor Privacy Screen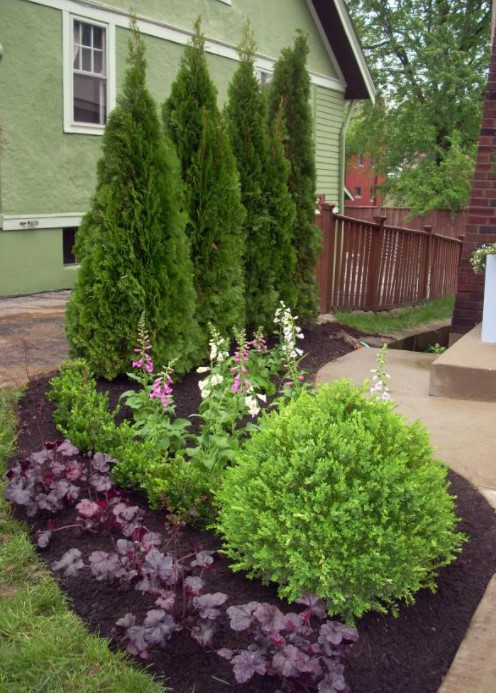 Evergreen trees can be the perfect solution for your need for privacy in your home. Not only will these "backbone" shrubs provide a lovely backdrop to paint a pretty picture, but they also serve as an excellent way to screen out unwanted views or create shade on patios and yards. What evergreens are best suited for this job? Have a look at this detailed guide!
DIY Industrial Chic Privacy Screen for Outdoor
Industrial chic has been all the rage in interior and exterior design for a while now, and this project is no different. This DIY outdoor privacy screen idea uses basic roofing material that can be found at any local hardware store to create an efficient yet stylish enclosure!
DIY Trellis Outdoor Privacy Screen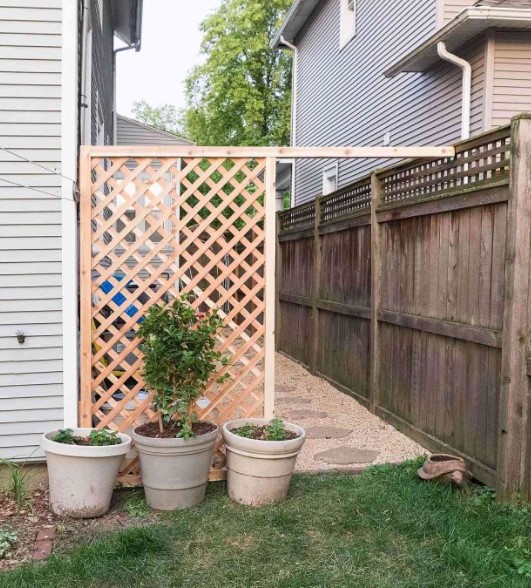 Do you have a messy backyard? Hide the mess with this super simple DIY trellis screen. It took about two hours to build and install, but now your whole backyard can look clean while still being completely private! This is just an outdoor privacy screen that you've been looking for!
DIY Outdoor Privacy Screen for Porch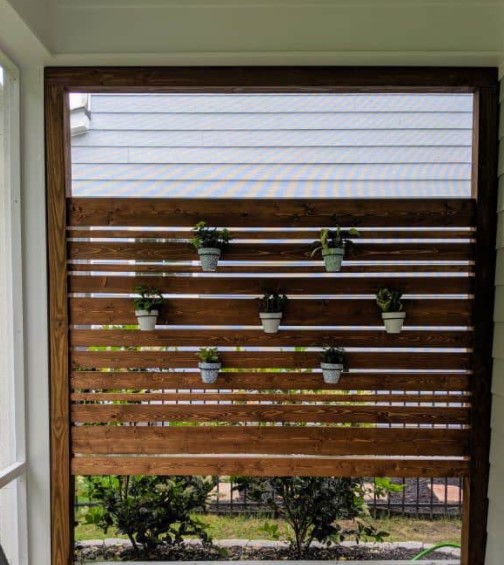 You can't go wrong with a simple DIY project that ensures your outdoor living space is properly shaded. This privacy wall not only provides shade but also offers the added benefit of providing warmth and visual interest to any porch area! The best part about this project is its low cost – you'll probably already have all of the materials on hand at home.
DIY Modern Privacy Screen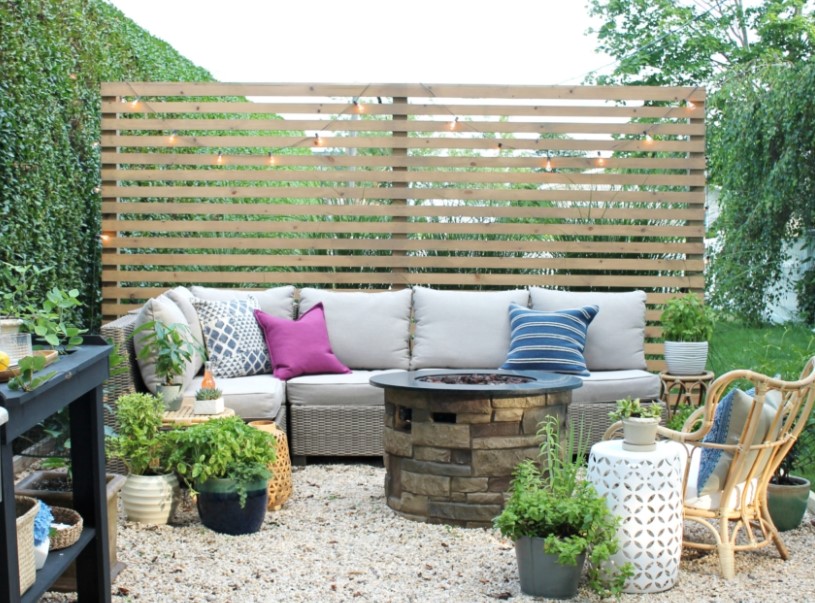 This is a modern, open-air slatted privacy screen. It's lightweight and easy to install while providing shade from the sun as well as keeps your kids in view without you being seen by neighbors. Plus this sleek design suits all styles!
DIY Lighted Privacy Screen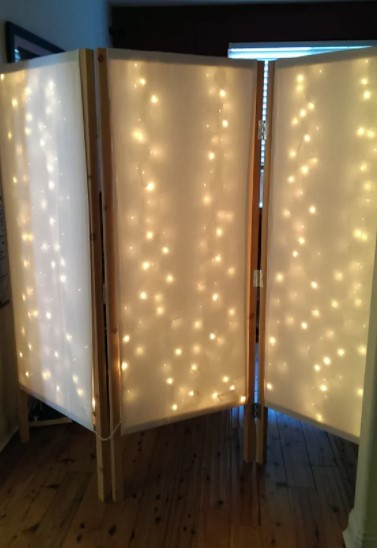 Build your own DIY privacy screen! This handy design doubles as a room divider and can be lighted at night, acting also as an ambient lamp. With the minimal skills required for this project you'll have it up in no time – let's get started!
Privacy Fence with Welcome Sign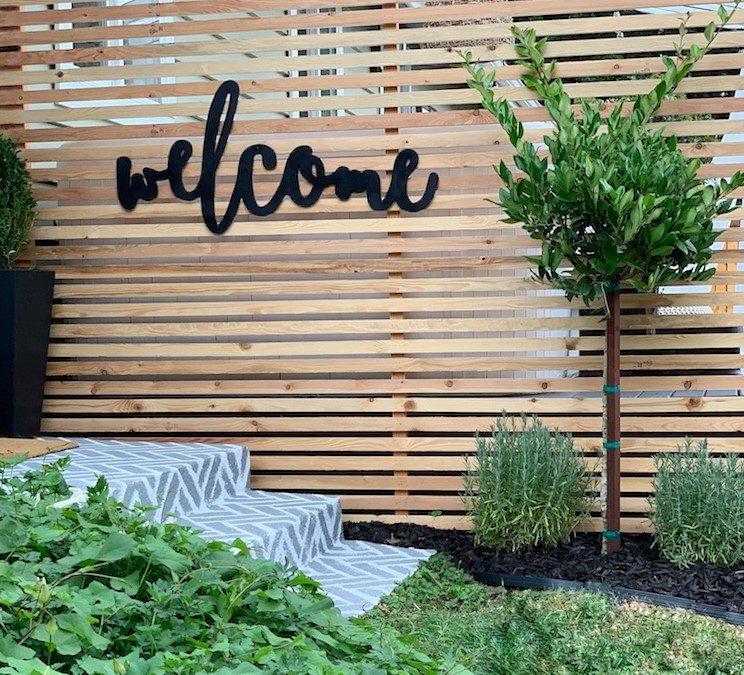 If you're looking to build a smaller-sized fence around your patio and have more space between yourself and prying eyes from nearby houses (or just want something prettier than bamboo sticks), look no further! You can have the privacy you want while still making a friendly impression with this privacy fence tutorial!
Privacy Fence for Suburb House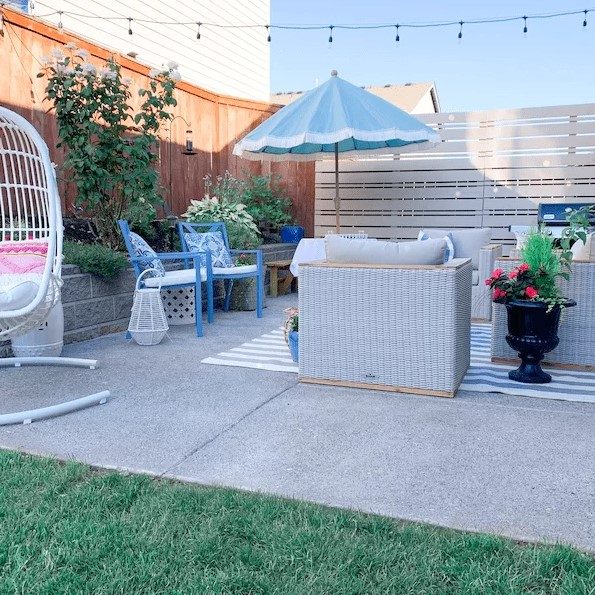 Living in the suburbs has many benefits, but also its drawbacks. With houses built on top of each other and seeming like public property all day long it can be hard to get privacy sometimes. That is where this DIY privacy screen comes into play! This way you will have your own personal space with a style that suits you too for less than $350.
DIY Privacy Screen Planter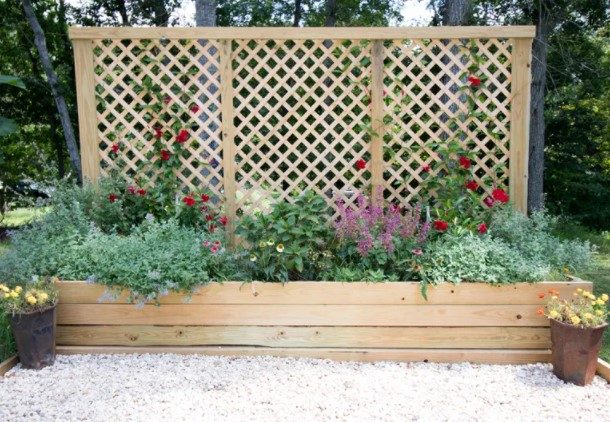 This privacy screen was a joy to create. It took less than a day and the end result is amazing! The planter box created perfect space to grow flowers, which also adds color during dreary days in winter. With this structure as part of the yard, it creates an element of intrigue throughout the year with its natural beauty all around us during every season!
DIY Modern Styled Privacy Screen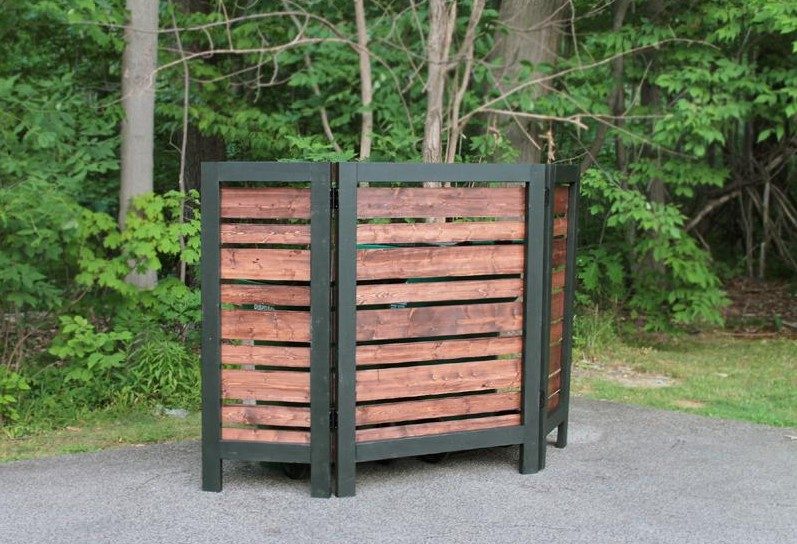 This sleek modern privacy screen is meant to be used as a stylish way of hiding unsightly outdoor items such as trash cans, recycling bins, or AC units. But it's versatile enough that you can use it as privacy screen for your backyard by extending the width or height, or simply build a series of them.
DIY Privacy Screen with Plant Holder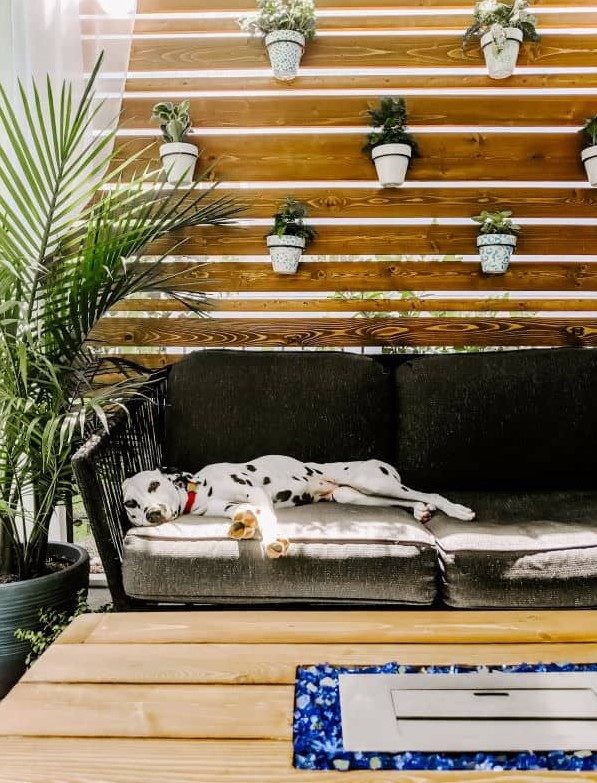 This DIY privacy screen is a fun and creative way to personalize your space. Instead of opting for the traditional curtains, you can invest in some wooden slats and install some planter holders! This will provide an aesthetically pleasing addition as well as give you peace of mind with a little more security from people walking by.
DIY Privacy Screen to Hide Your Chain Link Fence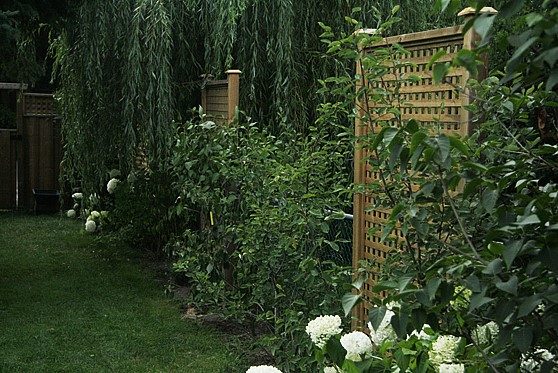 This DIY trellis privacy screen is perfect for any space that needs some added natural beauty. The modern design will complement the home's décor nicely, and it'll last a lifetime with proper care.
DIY Lattice Privacy Screen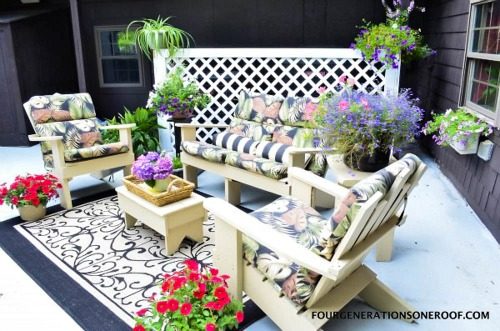 Privacy screens are a great way to add some curb appeal and peace of mind with your neighbors. With this DIY lattice privacy screen, you can solve the needs for hiding ugly ac units, trash cans or unsightly neighbor right in front of your eyes.
DIY Outdoor Privacy Screen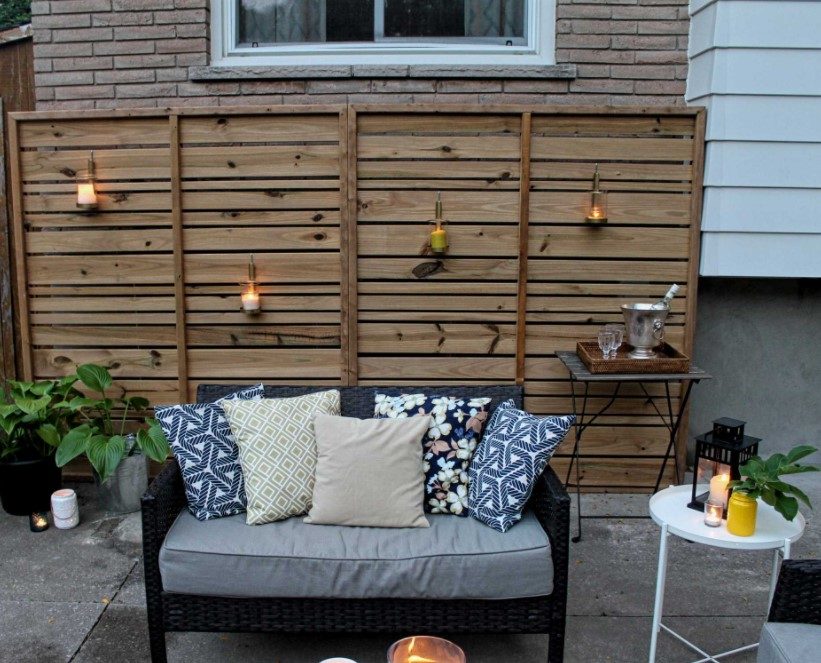 Hide your irritating laundry room window or pesky pipe with this DIY outdoor privacy screen. Not only will the wooden screens cover up what's bothering you, they'll make for an adorable patio too!
Simple Planked DIY Privacy Screen (A Makeover)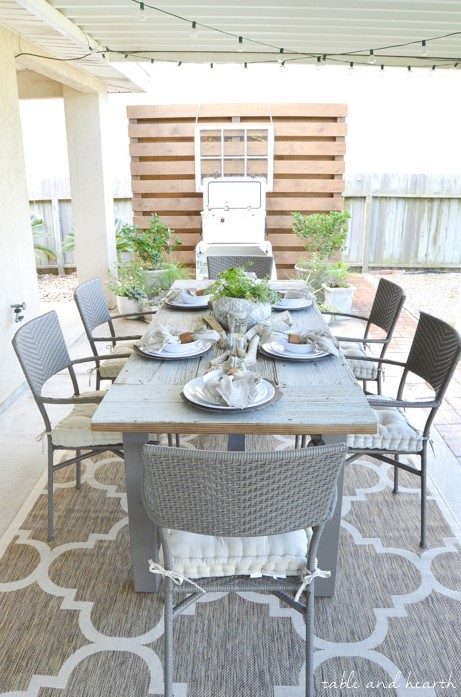 This planked privacy screen is a makeover from the lattice privacy screen that has previously been built. It did what it was meant to do, but the owner didn't like the pattern so they created a new DIY privacy screen which I think looks even better! See how they replaced that eyesore with this planked wooden planks below…
DIY Porch Privacy Panels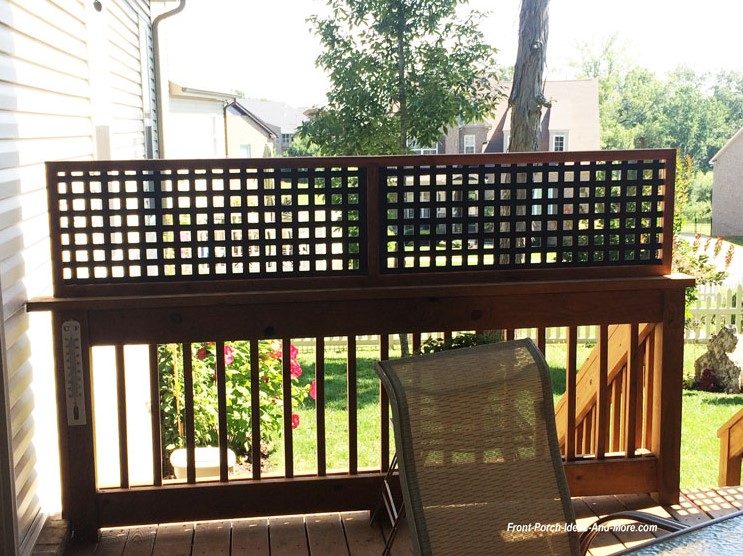 This DIY privacy screen is a great way to add ambiance and create your own private space. With just some ingenuity, you can easily make the frames for vinyl lattice panels. This project will take patience but it's worth it!
DIY Privacy Screen for Climbing Plants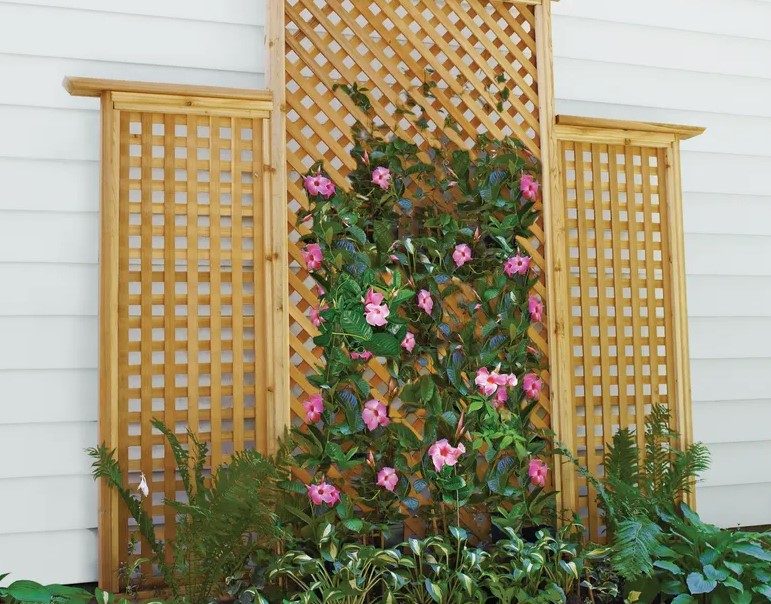 If you have a blank wall in your yard and are having trouble thinking of what to do with it, not to worry! This sturdy lattice trellis adds dimension, color, and decoration for climbing plants. It also works as great privacy screen when placed on the side of your house or garden that faces most people who live nearby.
DIY Unique Outdoor Privacy Wall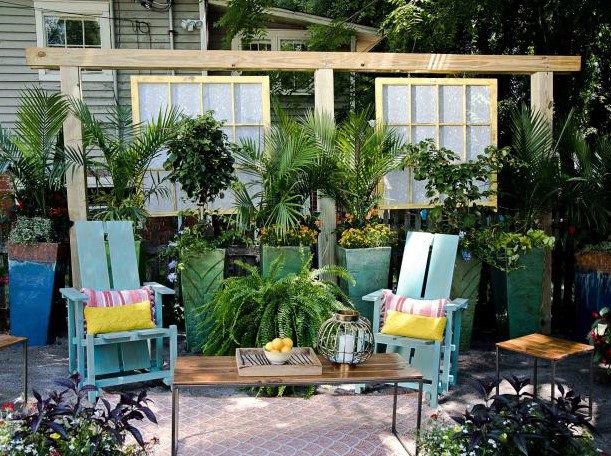 Your home is your sanctuary and you should be able to enjoy it without interruption. This step-by-step tutorial will teach you how to build a beautiful privacy fence with wood that won't break the bank. Stop wasting time on this eyesore of an issue!
Vertical Garden Privacy Screen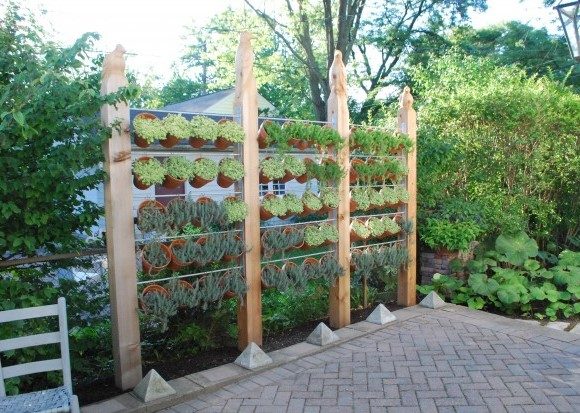 One of the most creative ways to create a privacy screen is by using clay pots hung on galvanized steel hooks. This idea was taken from Barry Harrison's garden and can be recreated for your own home, though this article does not go into detail about how to build that, but you can capture his amazing idea!
DIY Lattice Deck Privacy Screen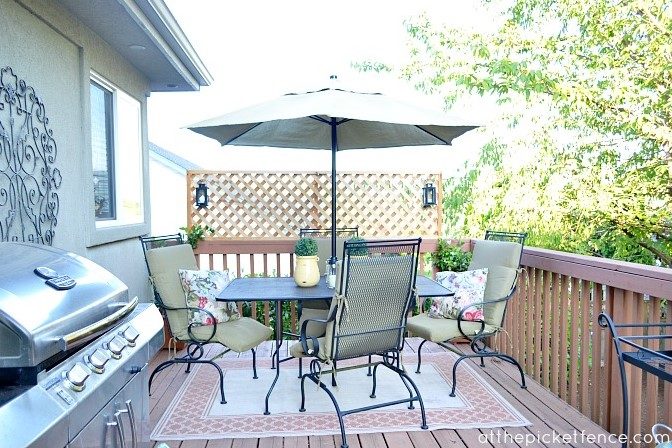 Lattice pattern is a classic and timeless choice for many homeowners. It can be found in all shapes, sizes, colors, and designs to suit your taste. This awesome lattice deck privacy screen will not only give you that beautiful look but also provide some much needed shade during the hot summer days!
DIY Herringbone Pattern Privacy Screen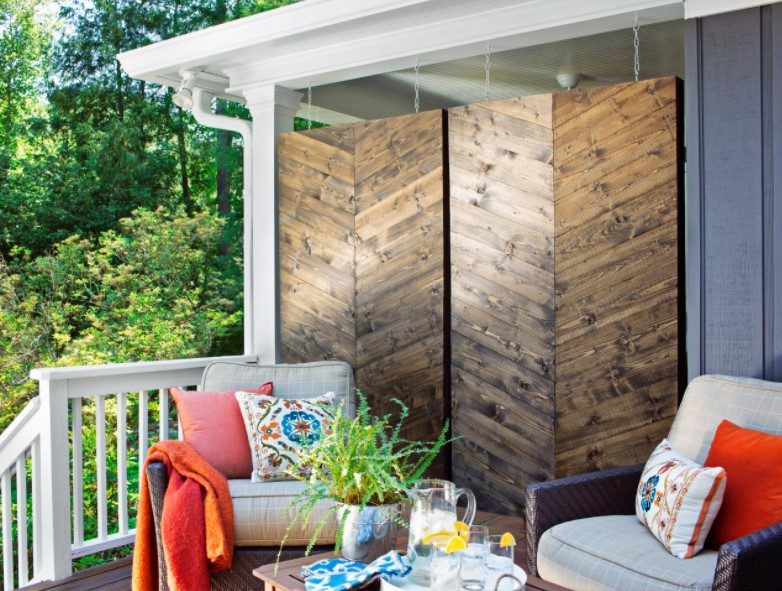 Herringbone pattern is one of the most popular privacy screen pattern because it provides an elegant touch and gives off that premium feel when it comes to style. It can be created out of any kind of wood as long as protection with outdoor stain and sealant is used so make sure there's no disappointment in durability!
DIY Privacy Screen from Closet Doors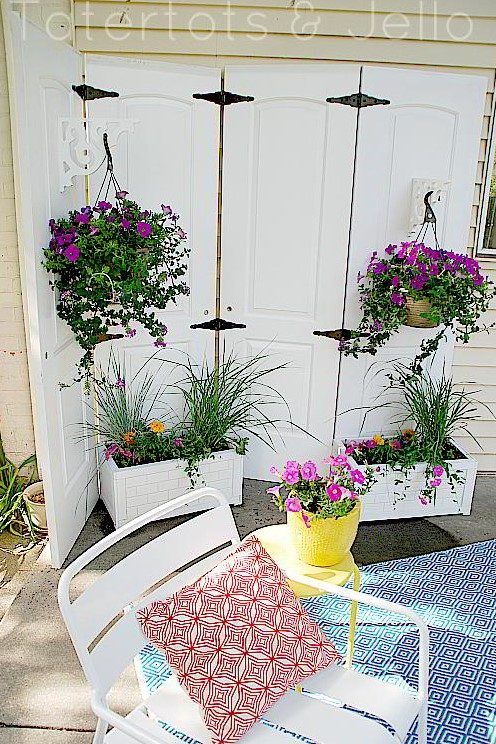 Closet doors are often left in the garage as they're not really worth anything else. But this creative DIYer decided to take her old closet doors and turn them into a foldable privacy screen – that's both practical and versatile!
DIY Portable Privacy Screen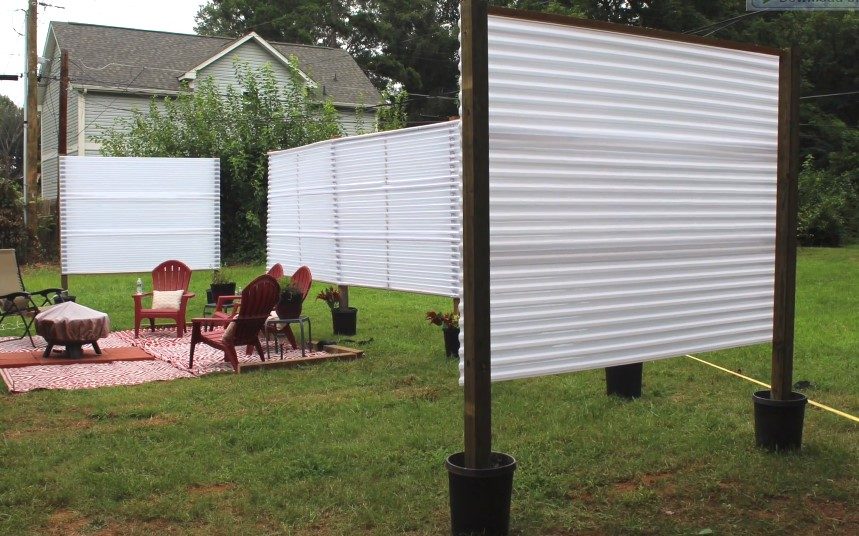 The problem with privacy screens is sometimes we think we need to remove or replace it somewhere else, which is also not an easy task to do. That's why this DIY portable privacy screen comes in. This innovative idea gives the the ability to move your privacy screen anywhere on your yard that is necessary!
DIY Outdoor Curtain Holder for Privacy Screen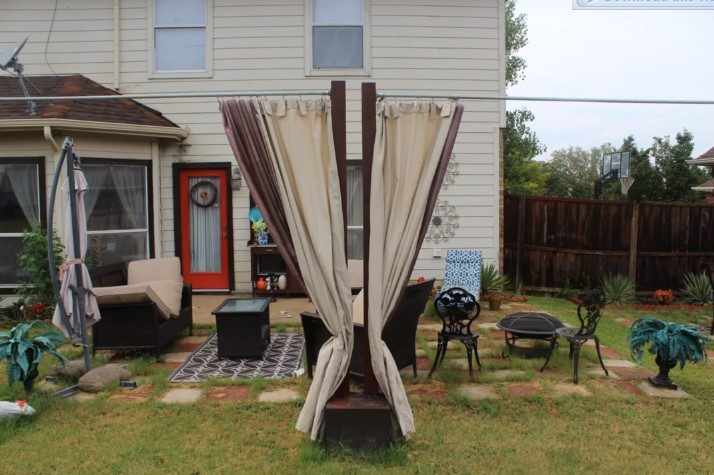 Here is another solution of portable privacy screen. Using a curtain as a screen could be an excellent solution if you're looking for some privacy. Well, yes, it's not really considered to be "portable," but it does give the same flexibility of being able to use it whenever you think it's necessary. When done, simply draw your curtains and let fresh air in! One thing to note is that this may decrease its durability because of dirt and weather. So when not in use, remember: take down those curtains!
Outdoor Privacy Screen with Aluminum Roll Flashing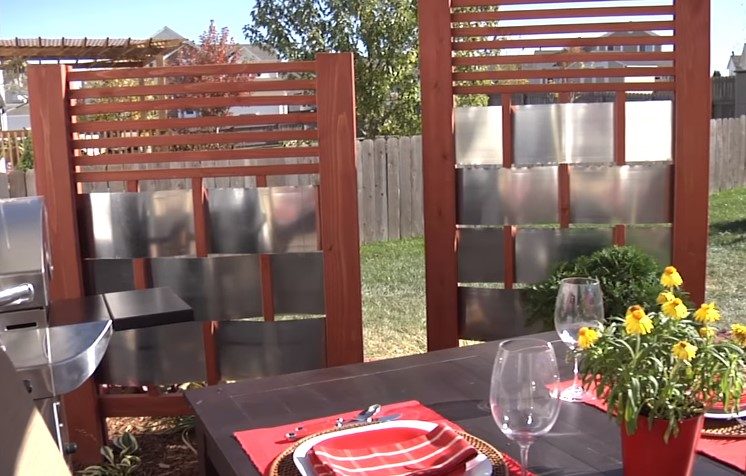 This materials combination not only brings privacy to your patio, it also provides a new look for you. With a combination of wood and aluminum roll flashing, this handy DIY screen will provide an aesthetically pleasing wall that doesn't just block vision but also prevents intruders from seeing what is going on in your backyard!
DIY Backyard Porch Privacy Trellis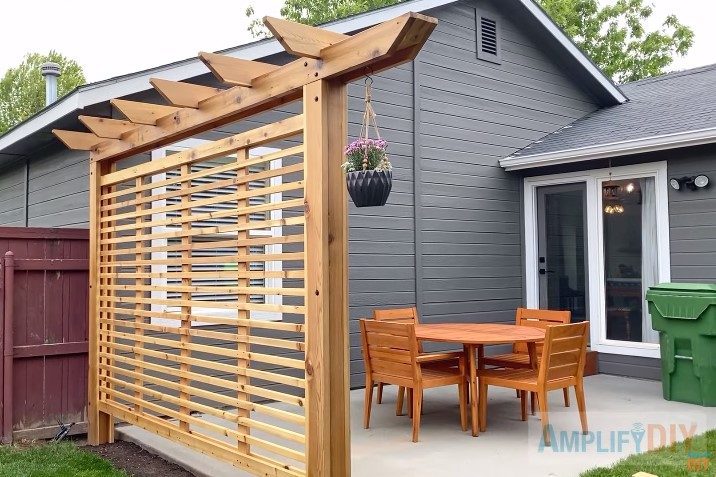 Check out this awesome project by AmplifyDIY on YouTube! He created a beautiful privacy trellis as a birthday present for his niece's husband. The plans allow you to keep the design as is or make it your own with some small changes. Plus, he shares his 3D design on TinkerCad so they are easy for anyone to follow along and recreate themselves if desired.
DIY Faux Boxwood Privacy Screen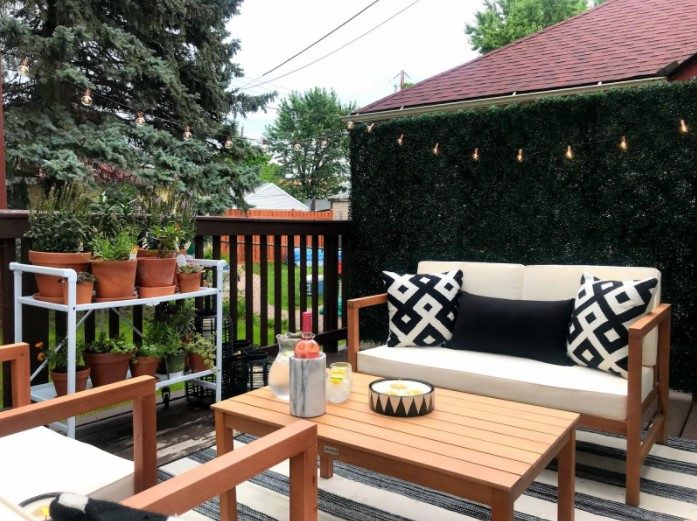 Faux boxwoods are the perfect solution for those who don't have a green thumb, and they allow you to enjoy your garden without all of the hassle! You can easily create a DIY privacy screen with these artificial plants that require no care. They're basically maintenance free!
DIY Macrame Privacy Screen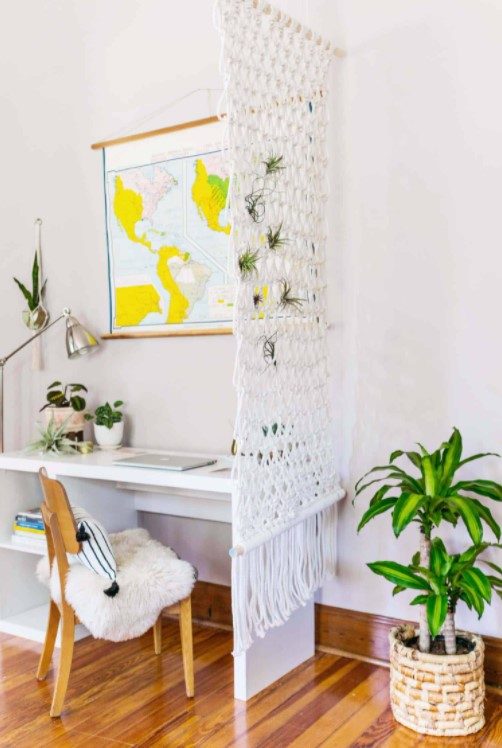 This macrame screen is meant to be a room divider, but you can take this idea and bring it outside to make it a privacy screen. All you need are a wood dowels, some hooks screws, cotton rope or any other natural fiber string material for the knots, and your knotting skills (no worries we have tutorials below).
Backyard Vertical Planter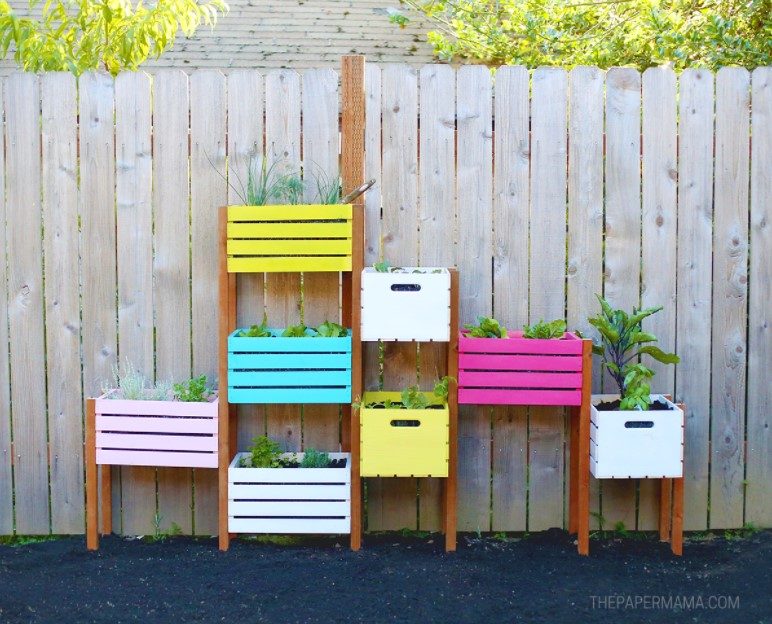 A vertical garden made out of wooden crates is a great idea for an easy and creative way to make privacy screens. Utilizing the space between each crate, you can grow plants that will add color and beauty to your patio or porch! To keep this project durable, be sure to seal it with a clear outdoor spray paint.
DIY Bamboo Privacy Screen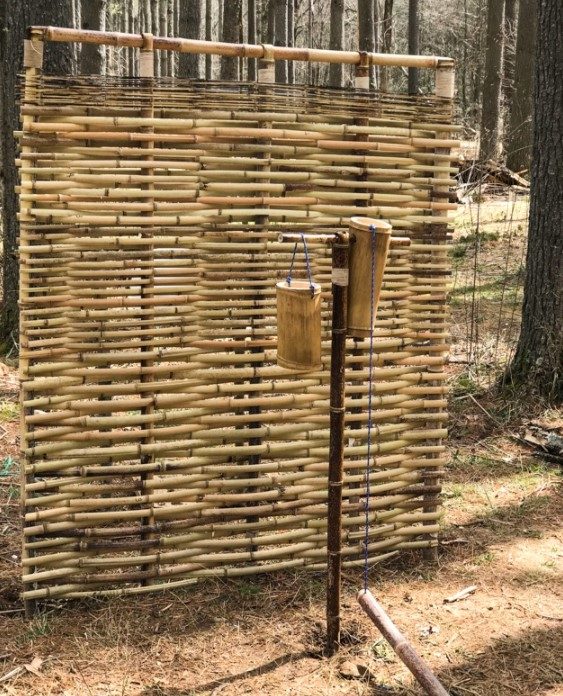 Ever thought about making a privacy screen out of bamboo? If you love bamboo, then this should be your next project. It is amazing! Well, yes in some parts of the US it's difficult to get canes for construction but that doesn't make it any less worth while because when completed you'll have an exotic-looking fence or screen all made out of this durable materials.
IKEA Sultan Lade Privacy Screen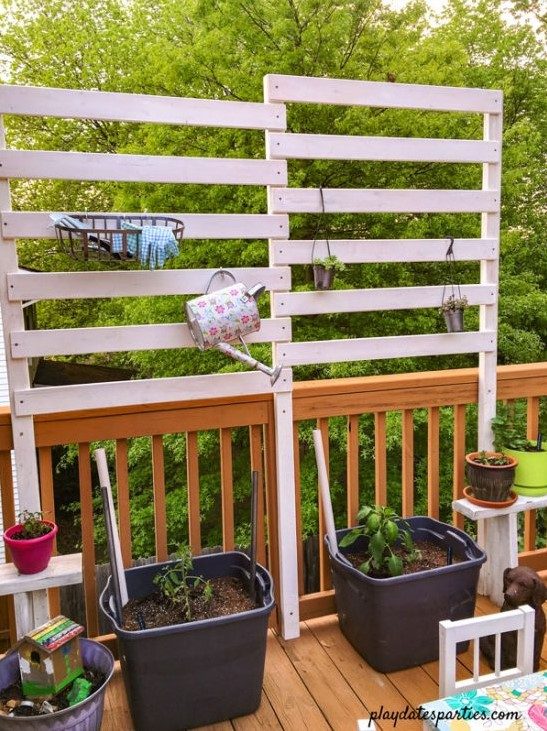 This DIY deck privacy screen is a great way to make your patio more private and secluded. The IKEA Sultan lade paneling can also double as an amazing climbing trellis for your climbing plants! While the assembly process only takes about a few hours, it's worth taking some time out of your day on this weekend project because you will have such rewarding results.