Thanksgiving is coming and a question you should answer is, have you been ready with the home decor? Whether you're hosting a Thanksgiving dinner or simply looking to make your home more festive, try adding some DIY Thanksgiving decorations with things you have on hand.
Whether it's an indoor centerpiece for the dining room table or outdoor decor that will help extend festivities out of doors, there are plenty of simple and easy ideas worth trying this year.
A Simple Painted Pumpkin Menu Great for Fall Gatherings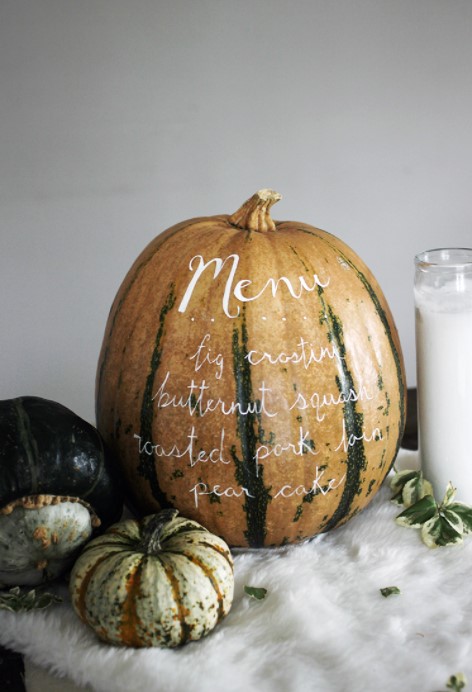 It's time to get ready for fall festivities with an easy DIY Thanksgiving decoration! This idea is inspired by what her mom used to make and it invites us to create a menu. Since we're celebrating Thanksgiving, the menu will be painted on a pumpkin- just in time for your family gathering or office party this November. The letters are handwritten so you can make them more personalized if you want; otherwise, transfer paper may work better since they shouldn't take much effort at all.
Decorate Holiday Table with Tin Punched Candles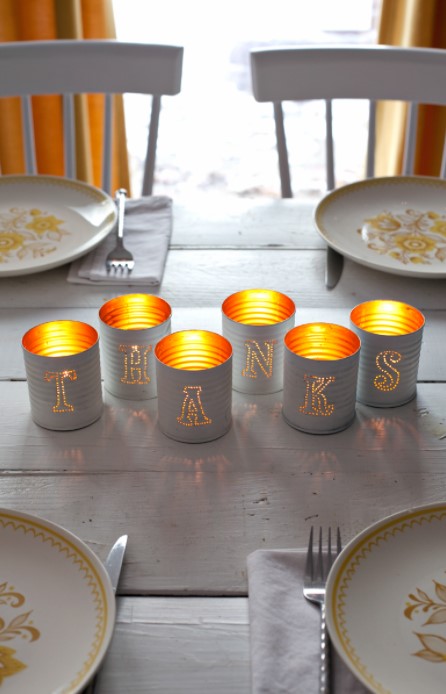 Thanksgiving is coming up fast, and what better way to kick off the holiday season than by giving your home a little festive decor? One of our DIY recommendations for this year's Thanksgiving table is tin-punched candles. The tutorial shares an important note about how to make opened cans stable enough for punching without denting or collapsing which will help you get the best result when creating these beautiful decorations. Don't forget this crucial step!
Succulent Topped Pumpkins Are All The Rage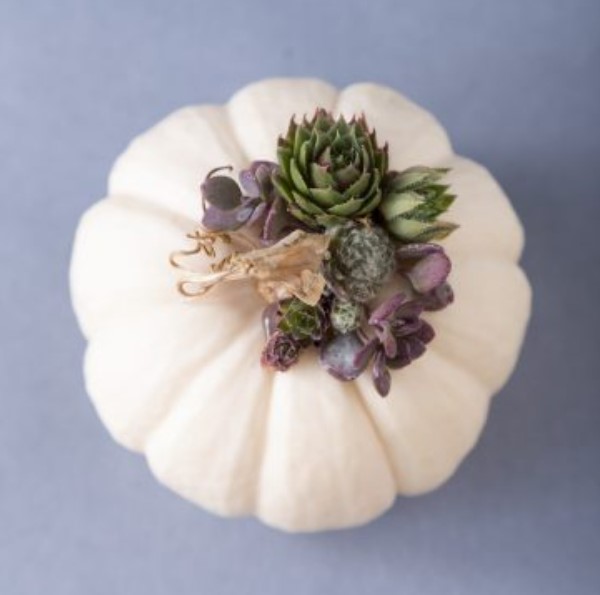 Inspired by a small white pumpkin that she saw in her sister-in-law's house, this DIY Thanksgiving decoration gives you the chance to be creative with succulents. But before we get started with this DIY Thanksgiving decoration, let's decide whether or not your little pumpkin succulent will stay indoors or outdoors; if it stays outside, then you'll need cold-hardy succulents that can handle changing of temperatures.
Get Ready for Fall with Painted Wood Slice Pumpkins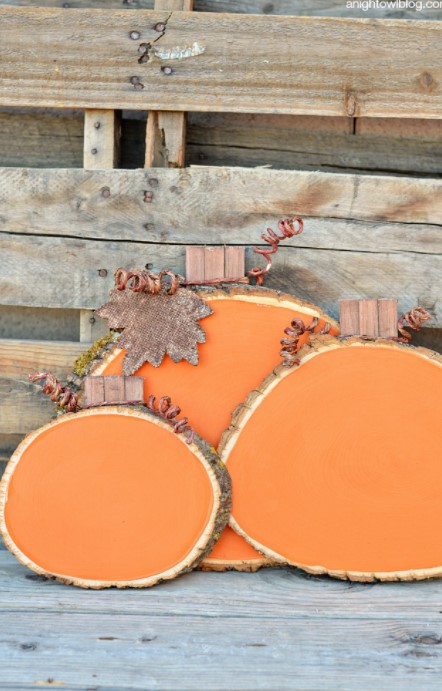 A versatile decoration that is great for Thanksgiving and other occasions, wooden plaques are the inspiration to create these attractive wood slice pumpkins. They can be arranged at a party buffet, hung on a wall as part of an elegant holiday decorating display, or used in various food displays such as those found on serving trays. These DIY decorations start with simple supplies like wooden plaques. For this project, you will need a large plaque or a smaller one depending on what size of pumpkin you would like to make.
A Grateful Sign Out of White Vinyl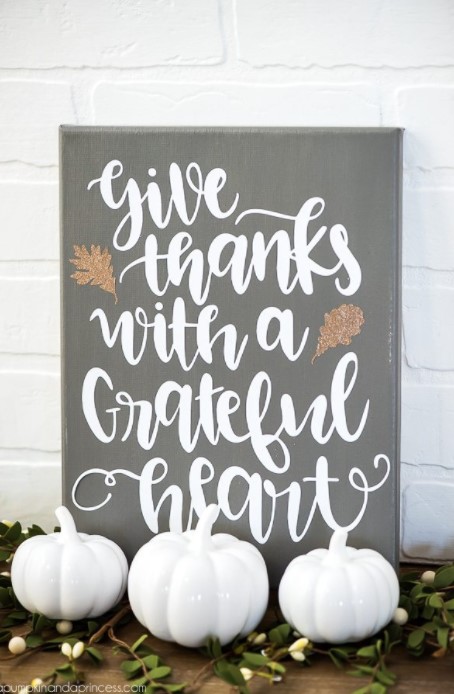 Thanksgiving is a time to be grateful for the many blessings in our lives. Creating your own artistic sign of gratitude can remind you and others what really matters on this day that's all about sharing with family, friends, and loved ones. This iconic DIY grateful sign is made using white vinyl letters on a 9 x 12 canvas that can be displayed during mealtime so all guests can appreciate the reminder.
A Paper Doilies Thanksgiving Banner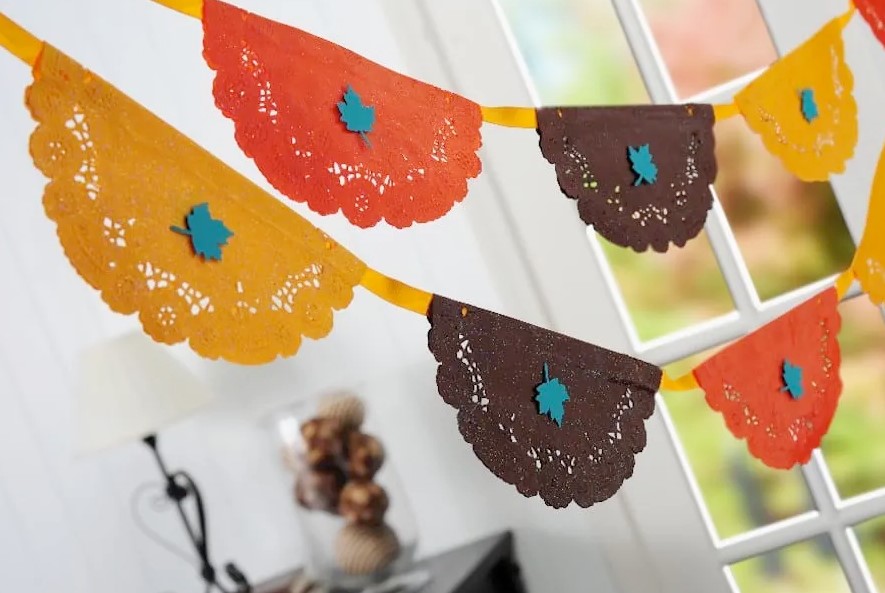 Banners or buntings are one of the easiest party decorations to make. Here, the banner is made to celebrate Thanksgiving and it's easily created from paper doilies. They usually come in white color, so you need to put a little effort to paint them in Fall season colors–orange, yellow, and brown. One thing is for sure, the entire project is inexpensive.
A Big Impact On Your Door–A Corn Husk Wreath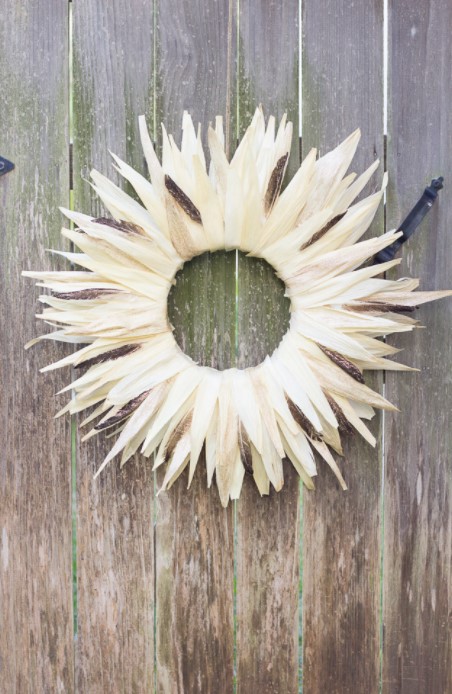 The corn husk wreath is a popular go-to door decoration for all seasons. For the Fall season, we can hang this colorful and festive item on our front door to make any guest jealous of your seasonal decorating prowess. This DIY Thanksgiving decoration will still look great year-round in many different places such as above your mantel or buffet table at home during Thanksgiving dinner!
Mini Pumpkin Foams Covered in Fall-Season Colored Yarn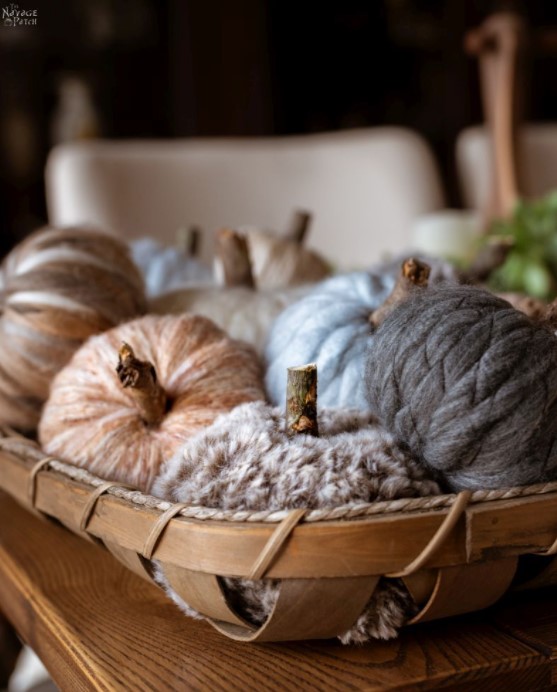 Mini pumpkins are a great decoration for your Thanksgiving table, and this DIY project is super simple. Using foam and yarn to create this charming little version of Autumn's favorite fruit is as easy as 1-2-3! This easy-to-make yet creative idea will take a while from start to finish. What's better than having an adorable centerpiece that only takes 5 minutes?
DIY Thanksgiving Decoration from Mason Jar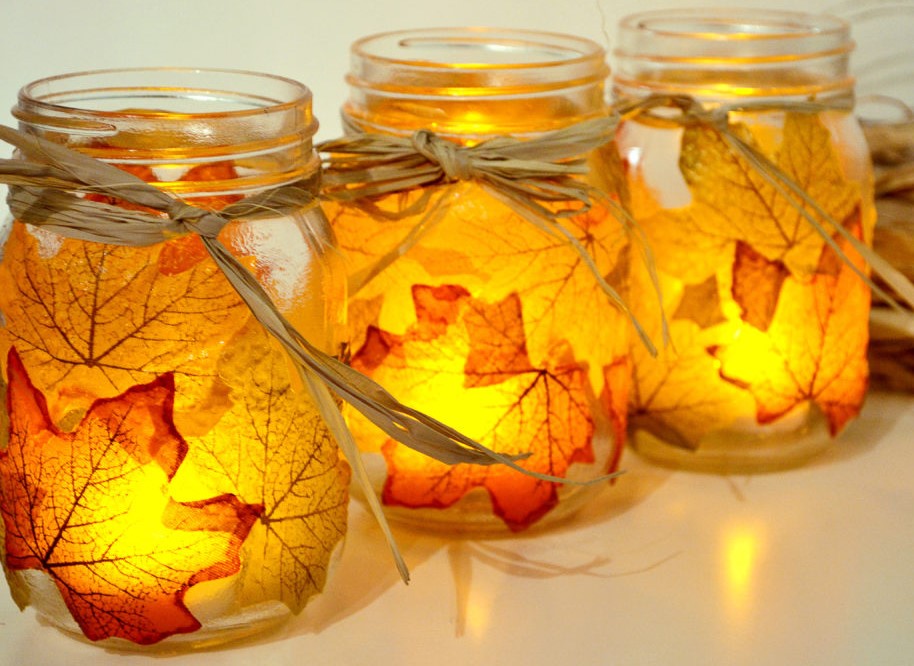 Mason jars are a go-to craft supply when it comes to finding an easy DIY Thanksgiving decoration that is also budget-friendly. For this Fall season, the jars were decoupaged with faux maple leaves and later used as candle holders! It may not come as much of a surprise if we tell you that these mason jar decorations only cost around $5 – what other type of deal could be better than spending less for your décor?
Thanksgiving Turkey Magnets to Adorn Your Fridge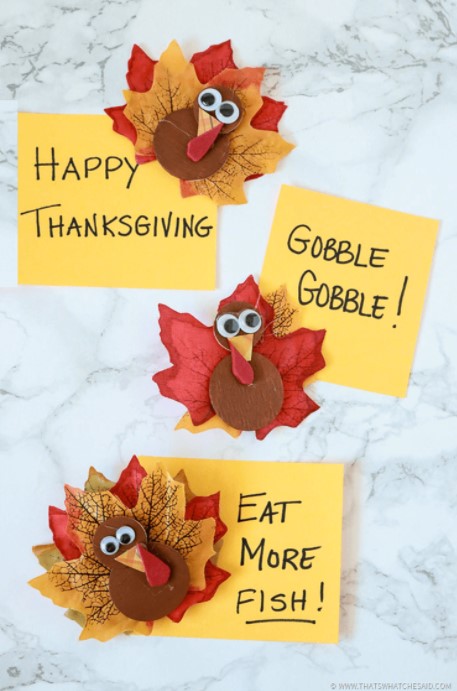 We are sure your fridge needs some Thanksgiving flair as well, and we have found the perfect decoration for you. These turkey magnets will not only make it easy to find your favorite food on Thanksgiving Day but they can last even until next year! With supplies that everyone has lying around their house or at any craft store, these decorations take fewer than an hour to create. The simple steps will guide you thoroughly before being able to hang them up in style.
Cute Mini Pie Box Thanksgiving Place Cards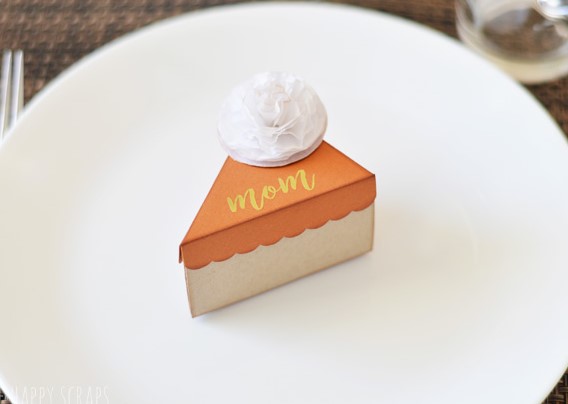 A Thanksgiving dinner can be a blast with the right decorations! Put together some fun little snacks to tide everyone over before you serve up the main dish, and make sure they're stored in these adorable boxes. If you don't plan on serving the snacks at all, use them as decoration instead. We are sure that they'll look great under your centerpieces!
Delightful Concrete Pumpkins Decorations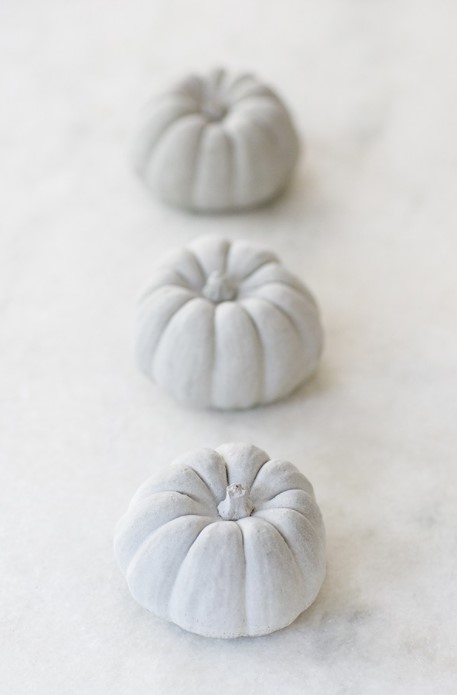 Fall is not only a time for leaves to change colors, but also an opportunity for creativity. It's the perfect season of pumpkins in all shapes and sizes! You can even use some concrete mix to make mini pumpkin decorations. You'll be able to place them indoors or outdoor depending on your preference. If it's indoors then they will add beautiful charm, while if outdoors they are going to look great on that porch. But before painting these little cuties up, either using acrylic enamel paint or epoxy paint, make sure that it has good coverage because we don't want any patches left unpainted now do we?
A Gratitude Tree–A Way to Display Thankfulness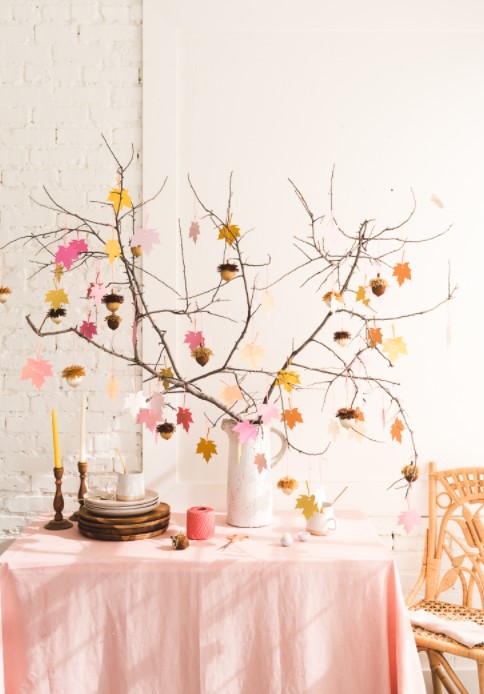 This Thanksgiving, get creative and make a gratitude tree with your guests! Give each guest an individual paper leaf or several leaves to write down one thing they are thankful for. This is not only exciting but also creates more bonding time as everyone gets involved in this project. Isn't it amazing how we can all express ourselves in this festive time?
Easy-to-Make Thanksgiving Basket Wreath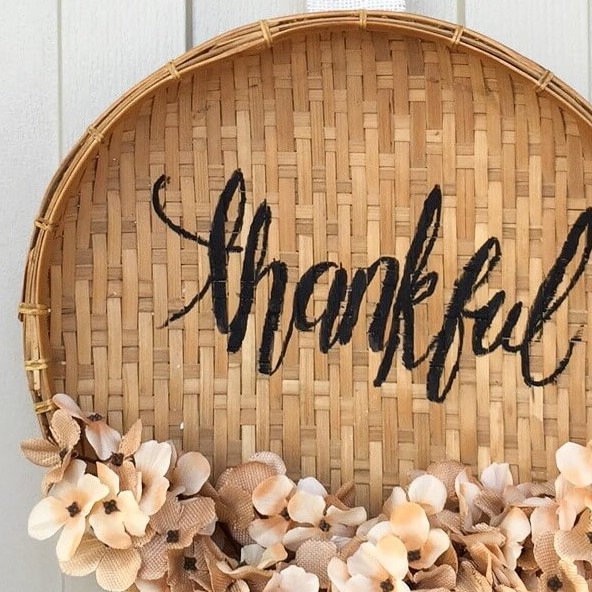 Let's go to a thrift store and find this round shallow basket! The shallow basket is then used as a wreath for Thanksgiving decoration. Of course, the wreath will be boring without faux flowers so we need to include them too. To finish it off don't forget to write something on the baskets such as "thankful" so everyone will be encouraged to be thankful on that specific day!
"Give Thanks" Banner to Hang Above Dining Table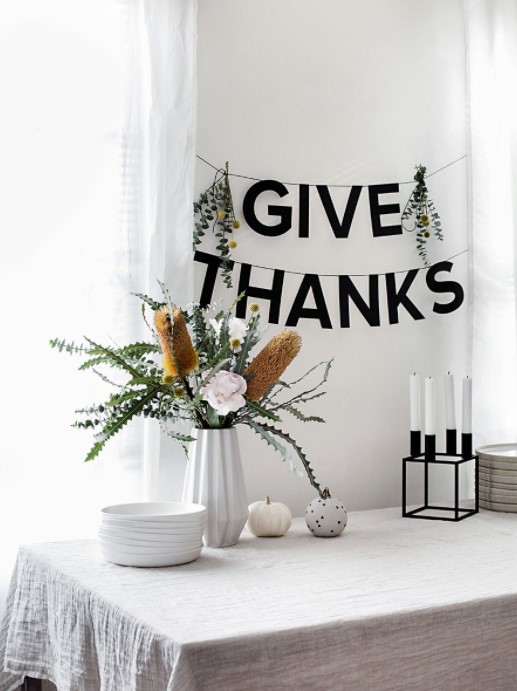 There are so many fun ways to decorate for the holidays! Hosting a Thanksgiving dinner party is especially exciting because you get to plan all of the details. If you're looking for easy DIY decoration, try this simple banner that says "Give Thanks." All it takes is printing out letters from available templates and sticking them on a string. This handmade banner will remind your guests of how they should be thankful for all the blessings.
A Cute Little Leaf Garland for Thanksgiving
For your Thanksgiving get-together, we have a garland idea that will make everyone happy. It is colorful and festive enough to brighten up any day. This beautiful creation includes felt leaves cut into shapes then assembled with yarn before being hung from the ceiling or banister posts in your house. Let's try it out today!
Beautiful Mason Jar Leaf Lanterns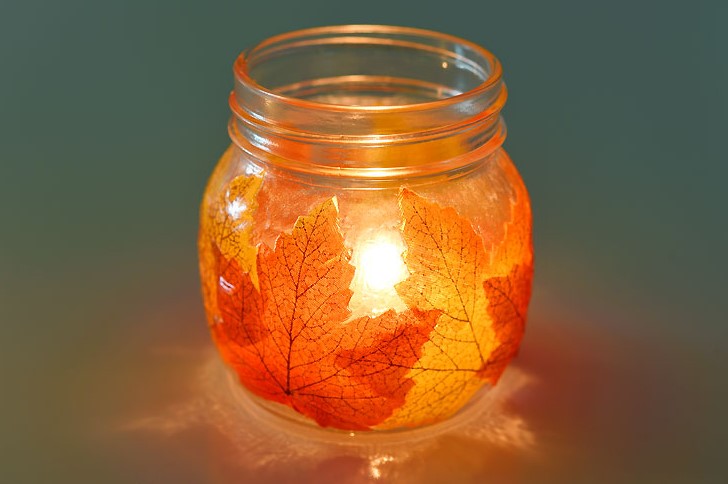 Making these beautiful mason jar leaf lanterns is a satisfying journey. From the moment we glue fake leaves to our jars until we see them light up in joy during Thanksgiving dinner, this DIY project will not only give you an opportunity for time spent with family or children but also happiness and gratitude.
The Simple DIY Mason Jar Luminaries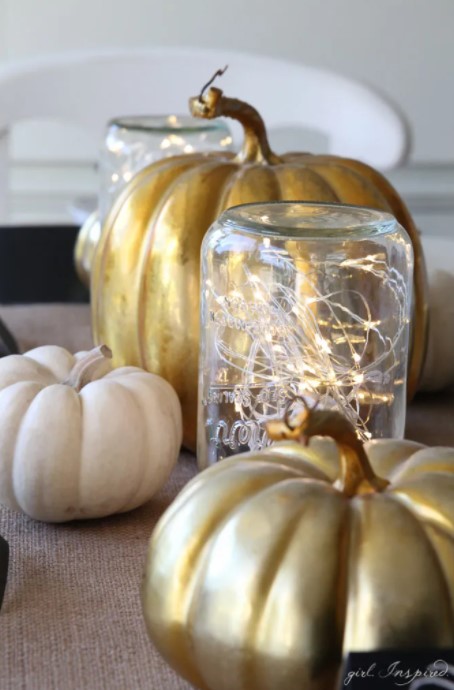 Here is another mason jar idea. The Thanksgiving dinner table will be beautifully lit with these crafts. The difference in this project is that the luminaries are less strong, which means they can provide warmth to those on the table without being too distracting or blinding them from their meals and conversations–creating an intimate dinner setting that will make everyone feel at home on Thanksgiving!
Leather Napkin Rings for Thanksgiving tablescapes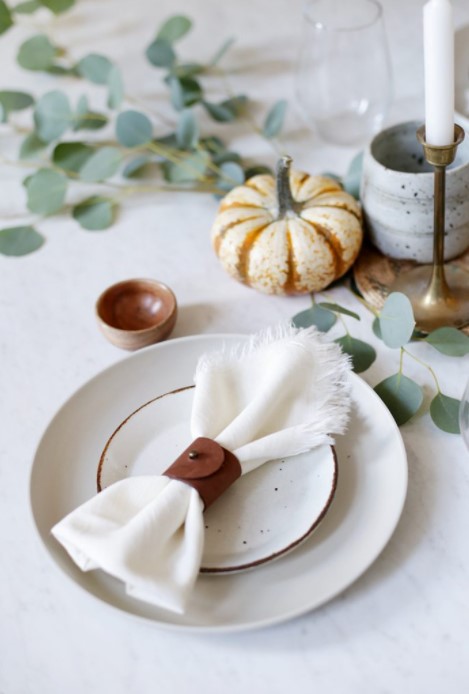 During Thanksgiving, the decorations at your home should reflect the atmosphere of the special day by including leather napkin rings on each table setting – especially if you have any guests over! These pieces will be sure not only to please but also invoke awe with how incredible they look wrapped tightly around the napkins. This is the kind of Thanksgiving décor that stands out with elegance and will be appreciated from every angle!
The Perfect Stenciled Pillow Cover for Thanksgiving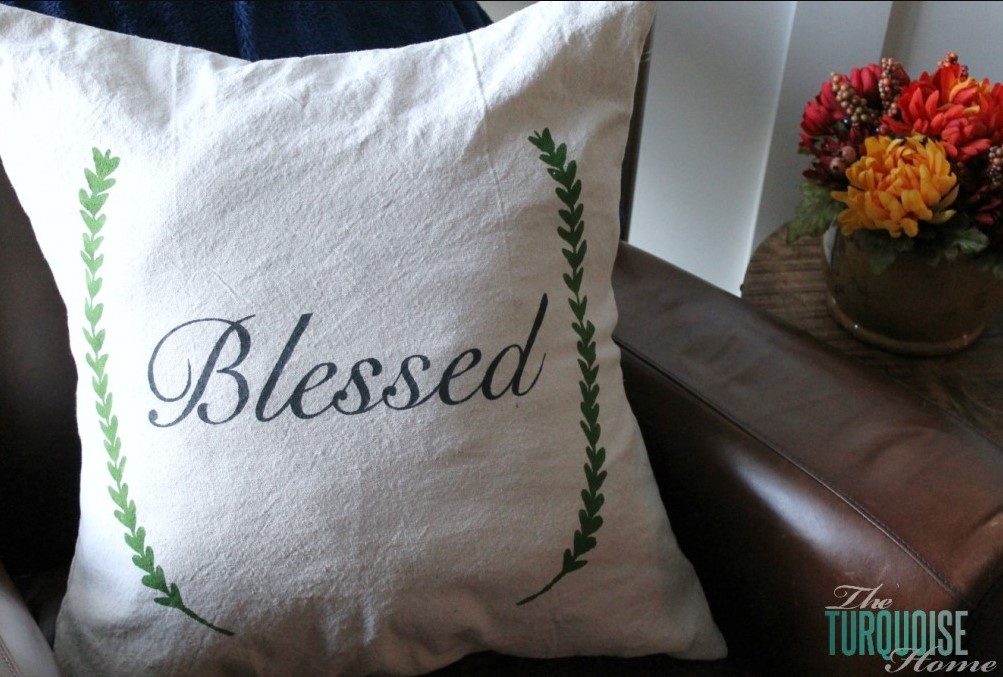 Do you have any old fabric at home? This would be a perfect time to turn that scrap of material into something Thanksgiving-related. Precisely, it can become the face of your new stenciled pillow cover! The writing is read "Blessed" which goes perfectly well with this season when we're grateful for what we have. Just customize it based on want you want to say!
The Perfect Way to Serve Food At A Thanksgiving Party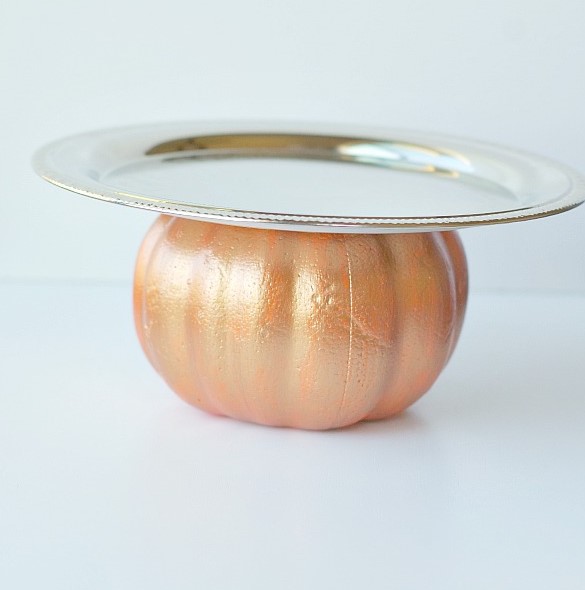 You're going to love this budget-friendly pumpkin tray project that will make you the hostess with the mostest. If you are a copper lover, you will appreciate how well the tray matches up with the orange pumpkin! The project is quick enough for you not to get too bored working on it. We believe you'll find yourself enjoying making your own just as much.
An Inexpensive Pumpkin Pie Felt Garland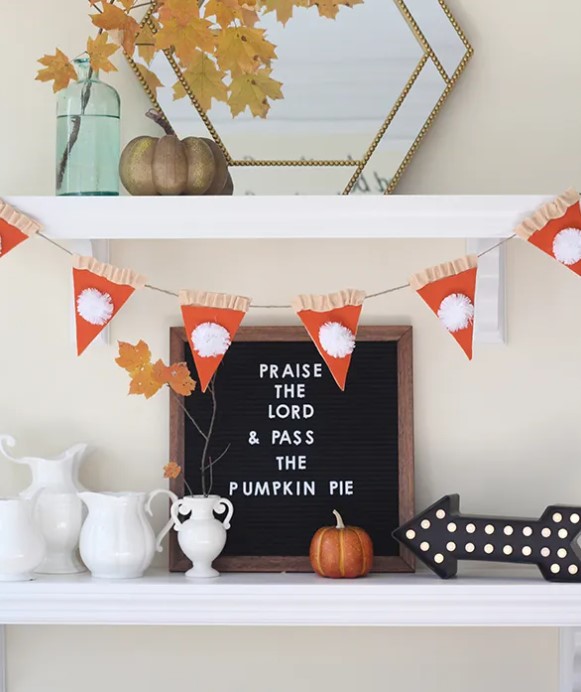 You can't have Thanksgiving without the pumpkin pie, can you? Other than making the real pies, you also need to make this pumpkin pie garland to hang above the fireplace! Will it be difficult to make? The answer is not at all because the supplies are pretty much obtainable from local craft stores for such an affordable price.
A Simple, Thrifty, Rustic Fall Acorn and Pinecone Garland
This acorn and pinecone garland is a great idea for Thanksgiving. Not only does it symbolize the Fall season, but it's also versatile- going well with both Christmas trees or just on any standard wall as decoration. The process is easy to follow too, so we are certain that you'll end up making an even better project than what we have here.
A Colorful Walnut Garland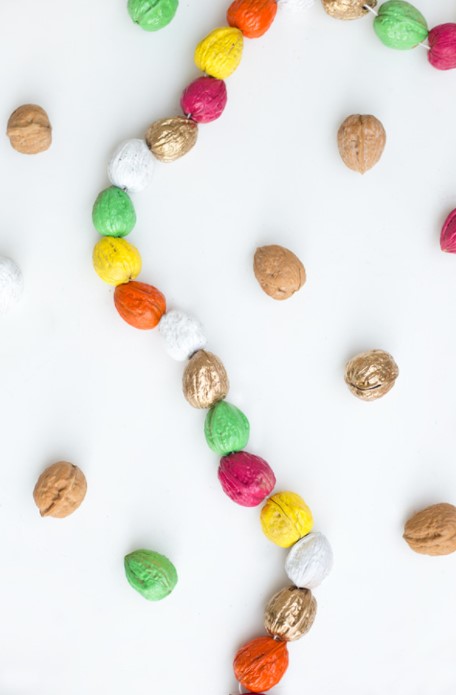 Thanksgiving is one of the most exciting holidays in America. This holiday provides a perfect opportunity to get together and show how thankful you are for your friends, family, neighbors, and everyone around. Let's decorate this year with colors that represent happiness! And it should be more colorful than just orange, yellow, and brown. This garland made with walnut creates colors that resemble the rainbow for a lively atmosphere around your house this Thanksgiving!
A DIY Fall Doormat for $15 with Stencils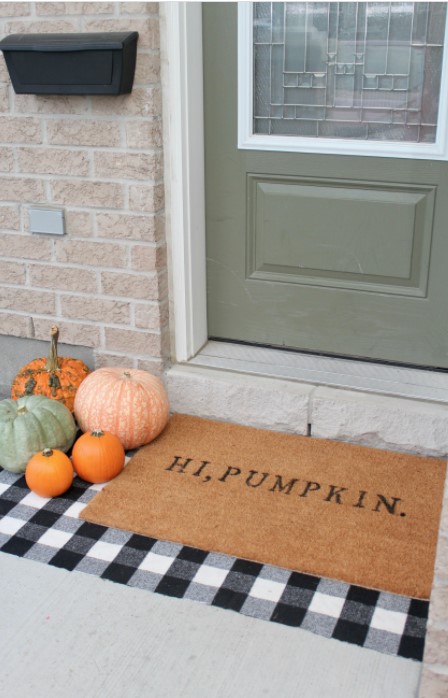 Last but not least, we need to welcome the season of feeling grateful with a nice doormat. When we say nice, we really mean it. Where else can you find a mat that greets you like this, "Hi, Pumpkin!" Surprisingly, the entire project costs you around $15 only. Moreover, using the stencil technique, this surely will be the easiest DIY Thanksgiving decoration of all!