Want to create a crochet bird centerpiece? Add some embellishments like tree branches, nests for the birds, or even more companions! You can also try using different colors and patterns – it's all about being creative.
Crocheting is an awesome skill that you'll have fun honing as well!
This collection of crochet bird patterns offer detailed guides and covers to even the smallest detail. Whether you're a beginner crocheter or an expert, you will surely find these step-by-step tutorials helpful.
From colorful tropical birds and baby hats with crocheted birds as decorations, let's check out some more exciting designs from this list inspired by nature!
The Rare Zebra Finch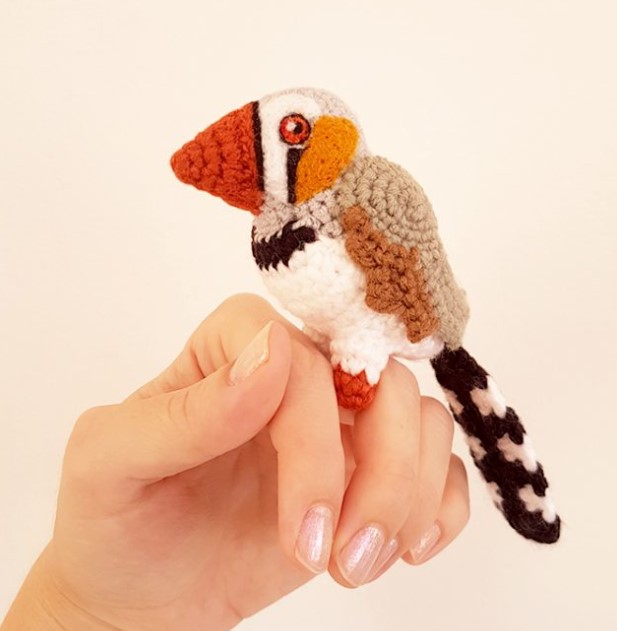 The Zebra Finch, a small bird endemic to Central Australia with black eye stripes referred to as 'tear drop' and the black and white barring on their rump that resemble zebras. This crochet pattern captures all of these details perfectly! You can work it up using a 2 ½ mm hook but any slightly bigger or smaller won't be an issue.
Fun and Colorful Colibri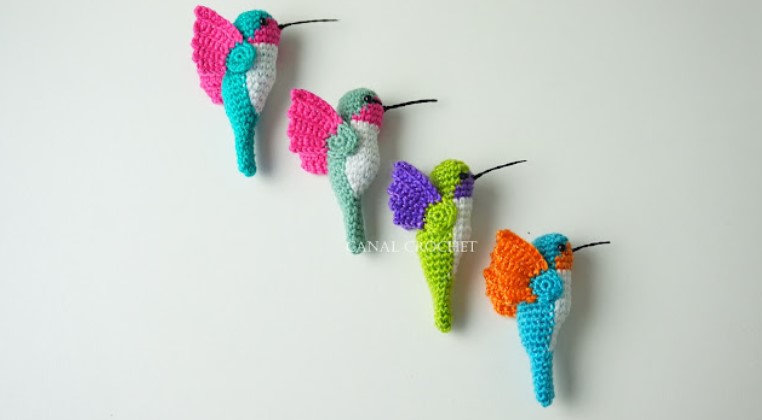 Crochet your own Colibri and give it a bright personality! The crochet pattern has succeeded in grabbing the bird's details such as its long, thin beak that is made of glued black thread. In this amigurumi project, you can have fun trying out different colors to see which fits your taste best – why not try making one with rainbow yarn? As proof, these colorful birds create a vibrant and cheerful look on anything they sit upon!
The Lesser Bird of Paradise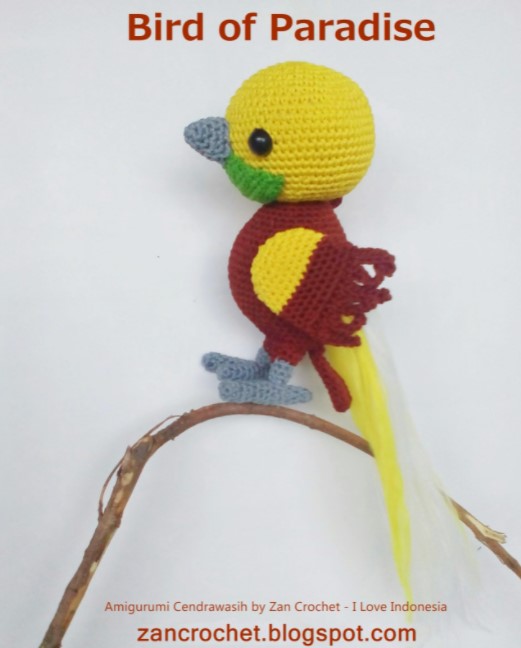 This Lesser bird of paradise crochet pattern is a fantastic project to work on. If you're looking for something new and cool, this might be the best choice! Crocheted using a 2mm crochet hook, I would say that it's not exactly like the real thing but close enough so decorating with some beautiful feathers will probably make your craft top-notch!
A Flock of Amigurumi Birds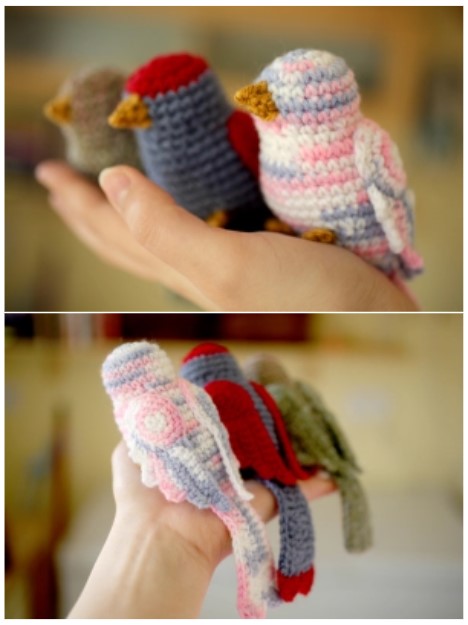 Crocheting is an interesting hobby for many reasons. One of the best things about it is that you can change the outcome just by changing the color scheme! Look at these cute amigurumi birds – they're amazing because their wings have great detail and unique colors! To complete the face (above the beak), you could use black thread or safety eyes.
Crochet Birds Motifs Free Applique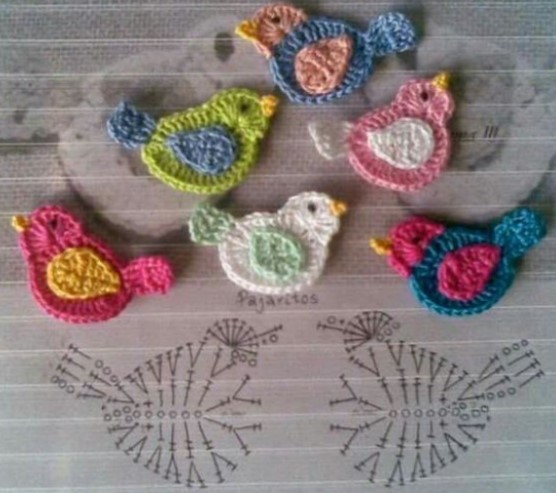 This bird applique is a great crocheting project for beginner crocheters since it's not as complicated to make as the amigurumi one. The applique is usually made small – just like this pattern! The final product will look similar to an actual baby bird waiting with its mouth open, expecting some worms from the mommy bird. Doesn't this make you want to crochet it? Let's try out this simple and cute pattern!
Crochet Kiwi Puzzle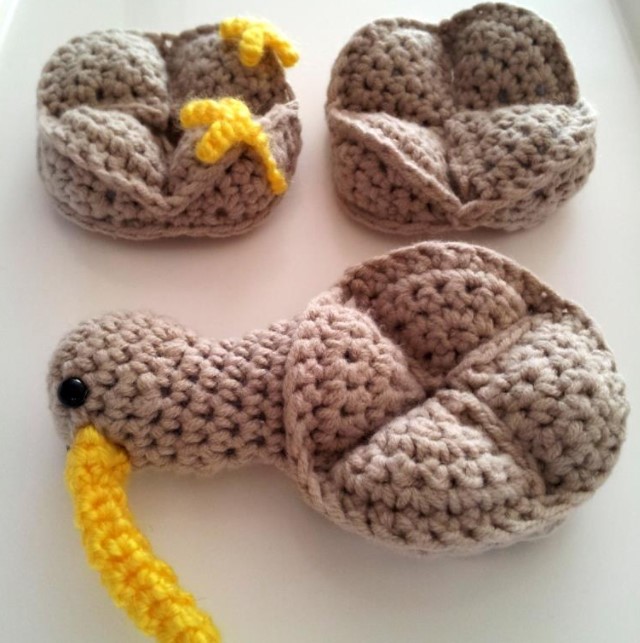 This is an amigurumi pattern that lets you crochet your own Kiwi bird! This awesome project will let you use brown and yellow yarn to create a realistic representation of the flightless New Zealand endemic. The Amamani uses three segments that easily assemble when finished, making it perfect for small children who might be interested in learning how assembling works!
Crochet Sparrow C2C Square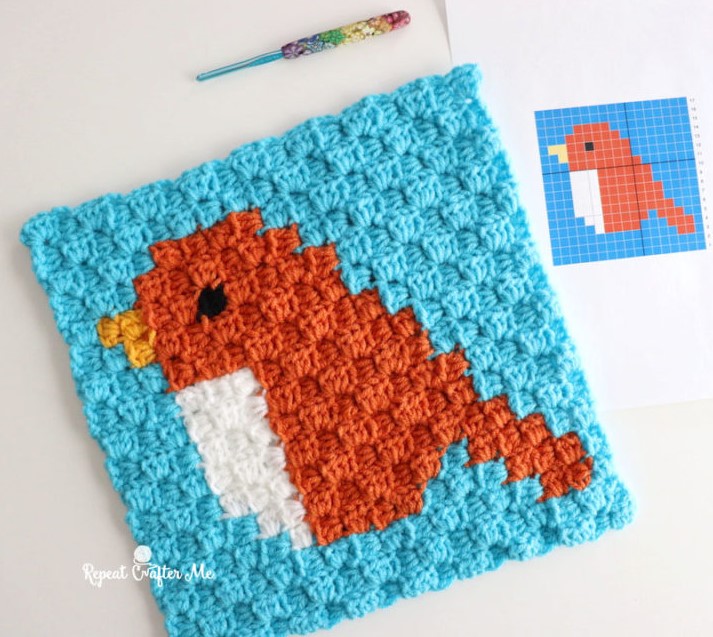 We all love the beautiful colors and patterns of birds, but many people don't know that crocheting is another way to capture this beauty! In fact, you can crochet your very own Sparrow through a C2C (corner-to-corner) square. You'll be able to modify it as much as you want – for example by changing what kind of bird or which color it has. This sounds like an awesome project already right?
Eurasian Blue Tit Amigurumi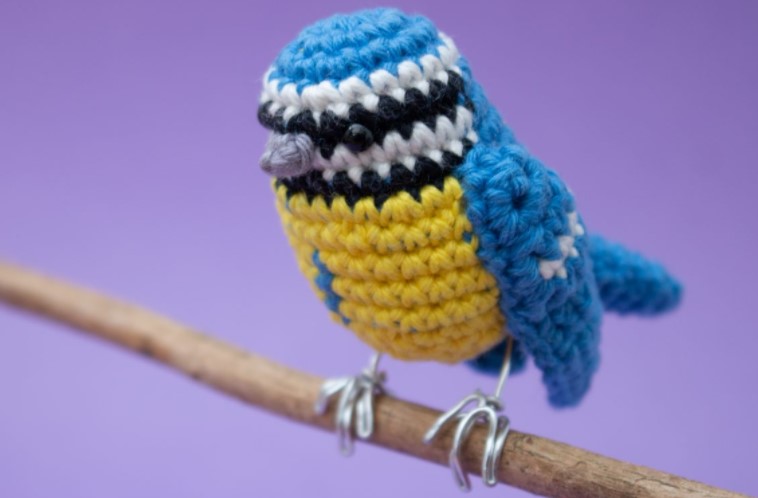 Now you can crochet your own little blue tit! This easy pattern allows you to customize the size and colors of any bird. The tutorial provides both written instructions with pictures, as well as a video walkthrough for extra guidance!
Europian Robin Amigurumi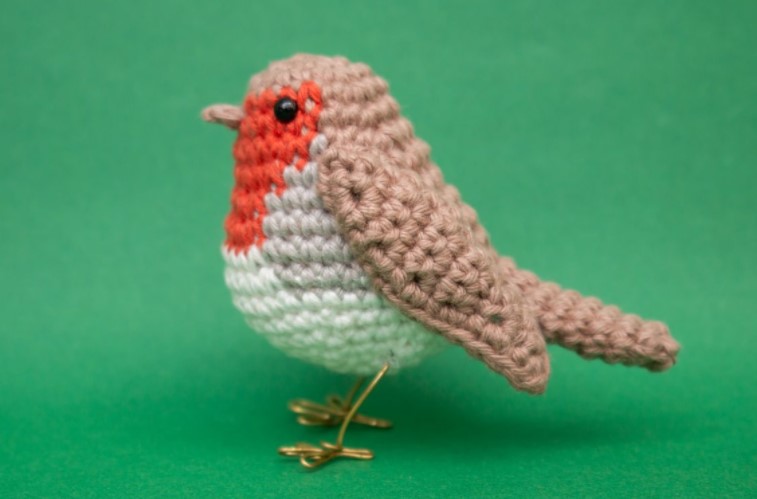 This is the tutorial to make an amigurumi European Robin. It's a small bird with beautiful colors and motif that will beautify your room or accompany you during gloomy days! This crochet project, crocheted using light worsted weight cotton yarn and size B or C hook, can be done by seasoned as well as intermediate crocheters!
Bob and Betty Bird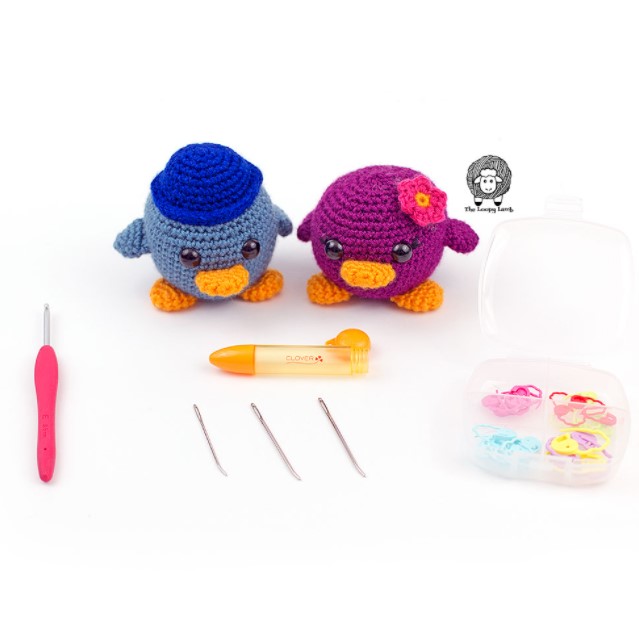 These cute amigurumi friends are Bob and Betty. They have been out on this sunny day, but now they're ready to hang around inside with you! With an easy crochet pattern that allows for lots of design choices, it's fun choosing a more neutral color or adding accessories like bowties or tree branches for them to hang on to.
Bluebird of Happiness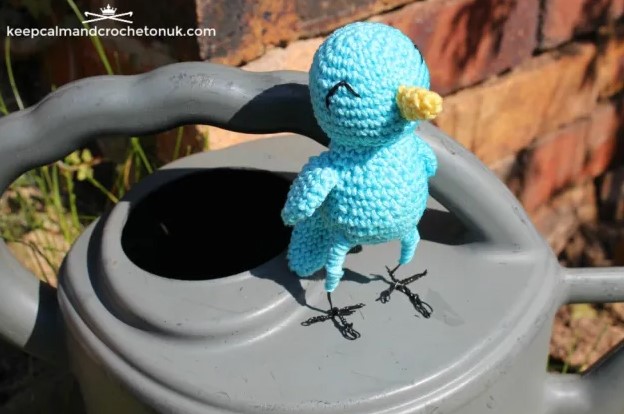 In many cultures, the Bluebird is a symbol of joy. In this craft tutorial, we will be making a crochet version of this cheerful bird to bring happiness into your life too! The eye (which also has an endearing smile) is made using black embroidery thread whereas the feet are crafted from wire so that they can maintain the bird's posture.
A Crochet Bird Tutorial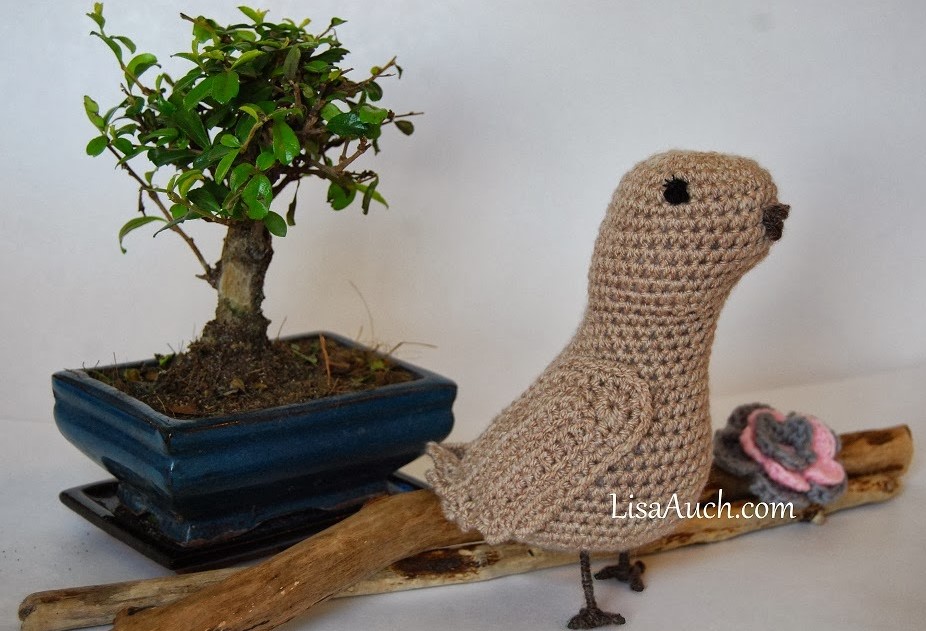 This free crochet pattern for a bird is done from the head down to the bottom and needs a 3.5mm hook. You can shrink or enlarge it by using either bigger or smaller hooks with yarns of your choice, which makes this project really interesting!
Crochet Parrot in the Wilderness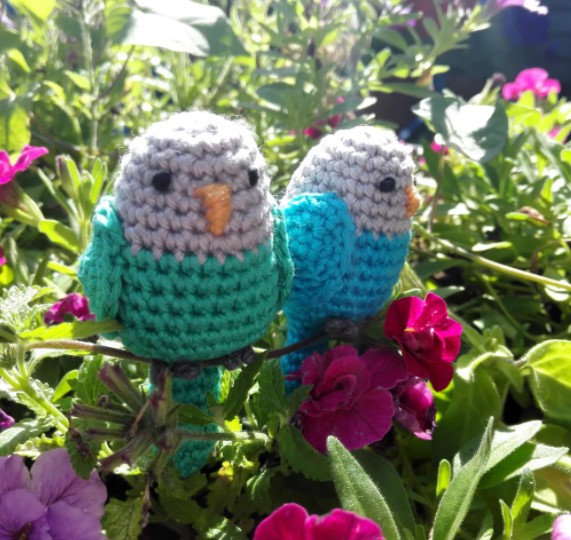 This crochet parrot tutorial is a quick and easy project that you can complete in an evening. The two cute birds are made with blue and green yarn, but there's no limit to the number of colors available! Using a 2 1/2 mm hook, this pattern produces a 5 cm or about 2-inch finished parrot amigurumi!
Amigurumi Birds And Birdhouse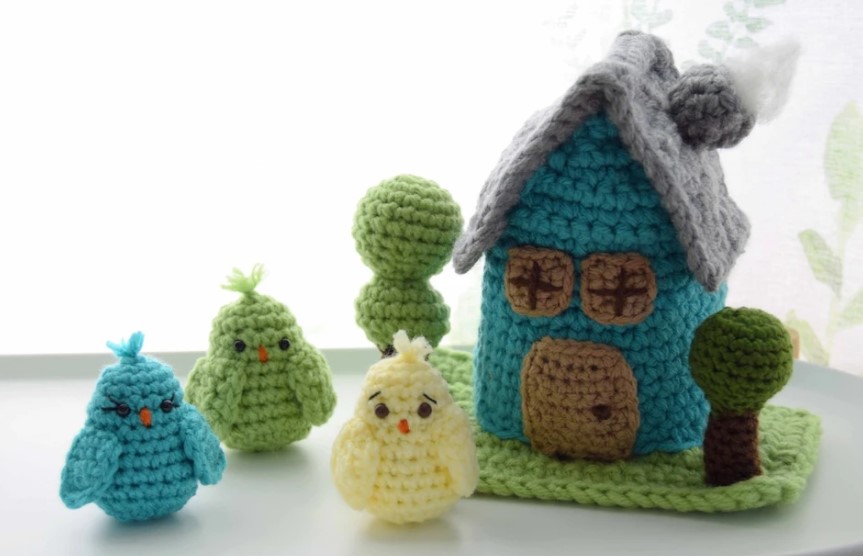 After making those adorable little birdies, you will soon realize that they need a house too! Making this crochet centerpiece of birds and their home would be the perfect project. Let's start by getting all of our supplies and noting down any abbreviations you might come across to stay on track throughout the process!
Amigurumi Cockatoo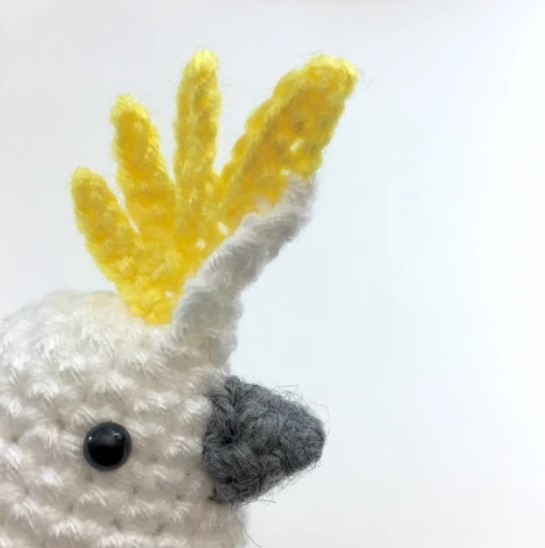 Have you ever seen a bird with yellow and white feathers? The cockatoo is such an example. It has this beautiful color combination that, every time you see it, makes you feel refreshed! Today you're going to make your own crochet version of the amigurumi cockatoo. We'll only need basic crocheting skills for sure—it's not difficult at all! Let's get started on making your very own 3-inch tall 4-inch long cute little buddy friend today by following these instructions!
English Robin Amigurumi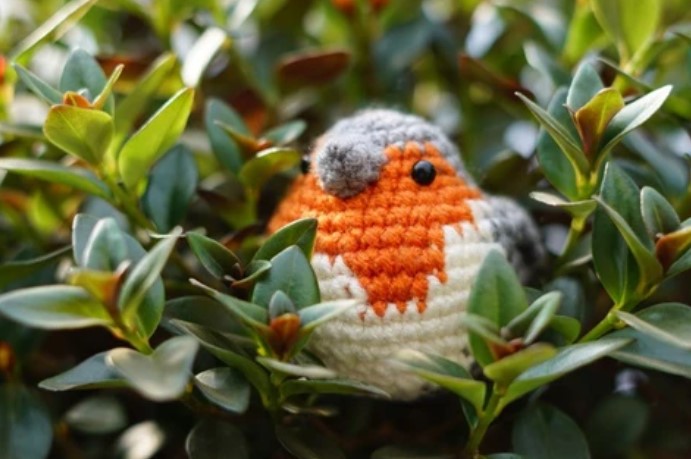 The English robin or European robin is also known as the red beast. The name was derived from the red mark on their chest. If you love birds, this crochet pattern is a must-try. This replica measures about 3″ tall and 4″ long – it's excellent! There might be a problem when doing color changes. When it happens, take a look at some tricks included in the tutorial to help with that process!
Bernard the Black Bird and His Pal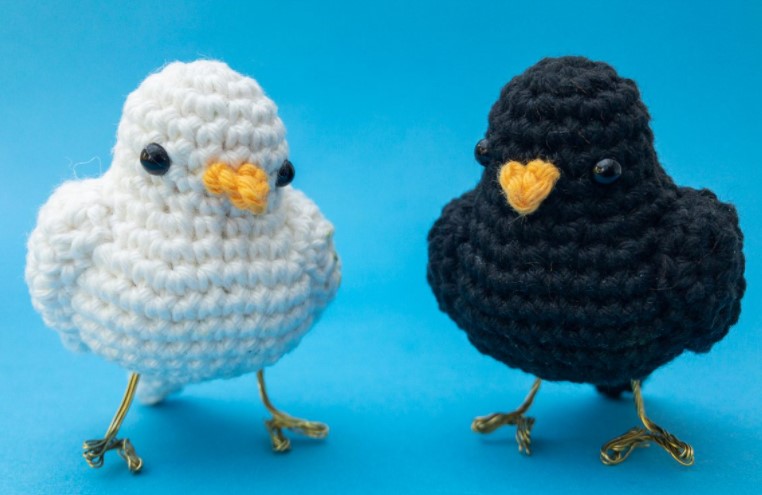 The blackbird in this crochet pattern is called Bernard. He has a white-feathered friend too! You can use your favorite colors to make them. Before starting on these birds, it's always good to know things like single and double crochets as well as magic rings with invisible decreases using sc – they are all skills that will be used for this project so familiarizing yourself with those beforehand would save time later when creating these patterns.
Nesting Rainbow Owls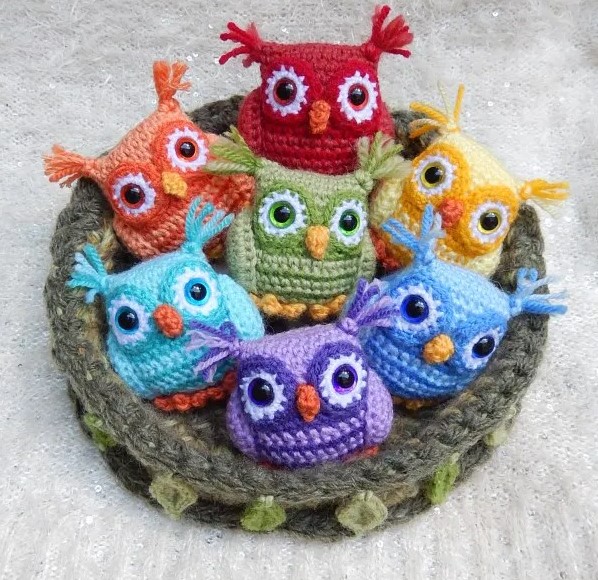 We can't talk about birds without mentioning the owls, since the owl has long been a symbol of intelligence! So it is only right to crochet a nest full of baby owls. Making this project exciting? Choose vibrant colors for these little guys! To complete your cute little owl family, you should definitely crochet the nest too.
Homer the Pigeon Amigurumi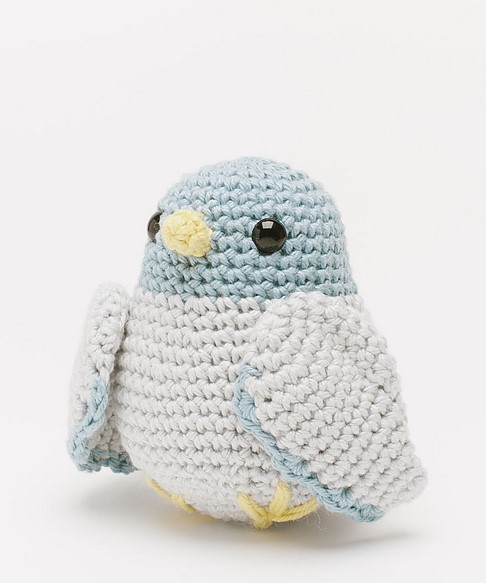 A crochet pigeon is a graceful and beautiful bird, but the swift flier can take off at any time. This pattern shows you how to make your own colorful version of this animal with some yarn and other supplies. A 3mm hook will be used along with 100% cotton DK yarn for 188 yards in light blue shades that resemble an actual pigeon just like the instruction!
Simply Cute Blue Bird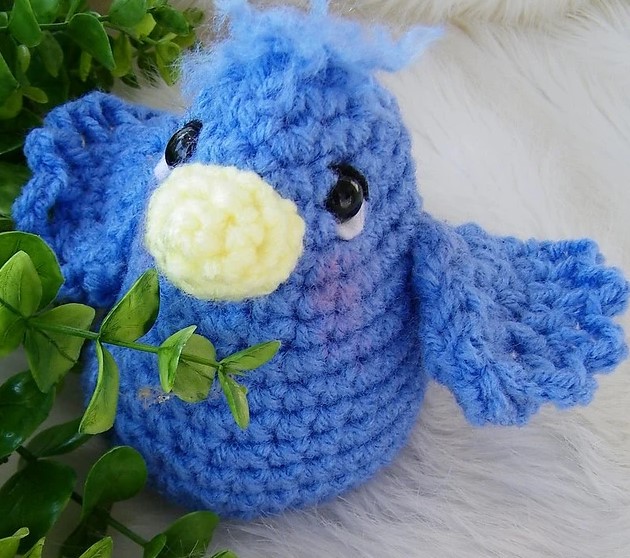 A simple crochet pattern, this bluebird is great for those who want to make a cute and realistic-looking piece. When it's posed in its natural background, the bird looks so alive! Another unique feature of the crocheted animal is that there are hairs on top; these can be made by following this tutorial carefully. Make sure you have all materials needed beforehand so that you'll go through the process smoothly!
A Palm-Size Birdie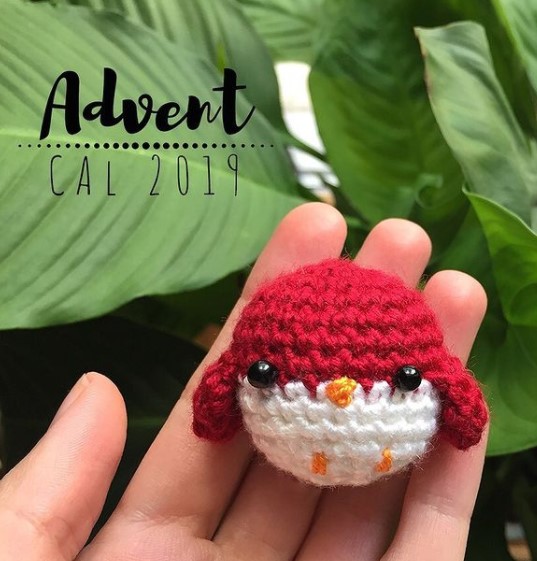 This crochet pattern will guide you to create a palm-sized birdie. You'll start with red yarn and won't need much in the way of supplies for this project! Once it's finished, hold your little bird all day long without worrying about dropping it!
Tulla the Adorable Bird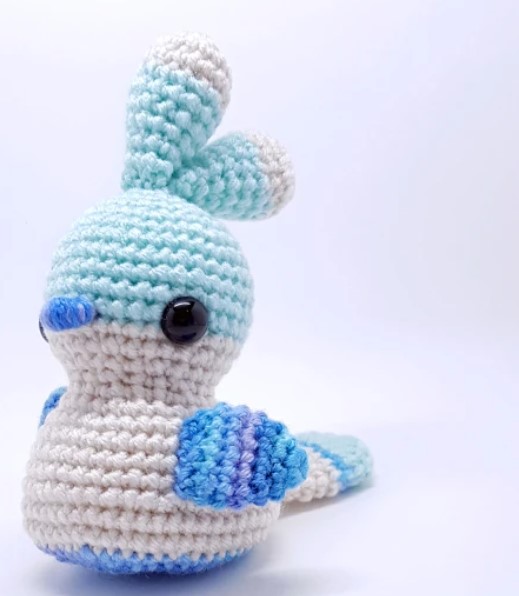 This is Tulla! She's an adorable crocheted bird who will bring joy to your life. We're confident that nobody can resist her cuteness – she measures 5 1/2 inches tall and has this charming feather on top of her head. You'll receive three different colors to choose from this project, so you have more options for customization!
Sweet and Happy Birds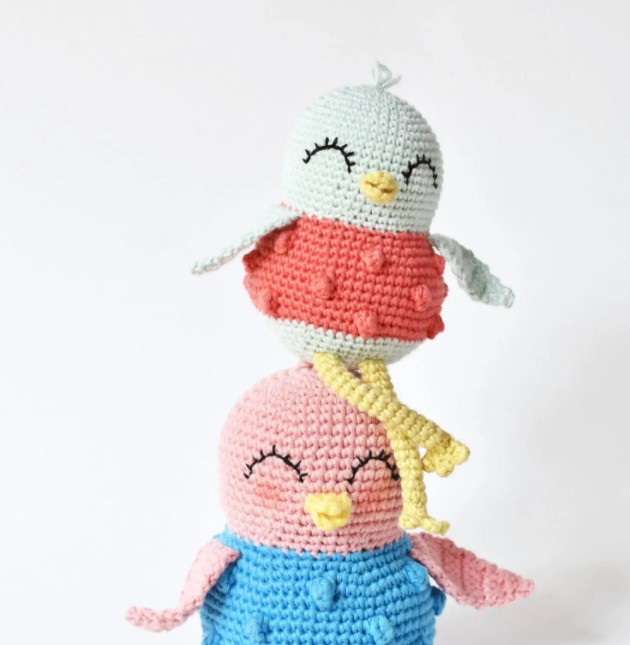 This crochet bird is as cute as can be! Her body and head are crocheted in two different colors of yarn, which makes her look like she's wearing a sweater. With such an adorable face, you'll never want to stop looking at this little cutie pie!
Crochet Bird for the Winter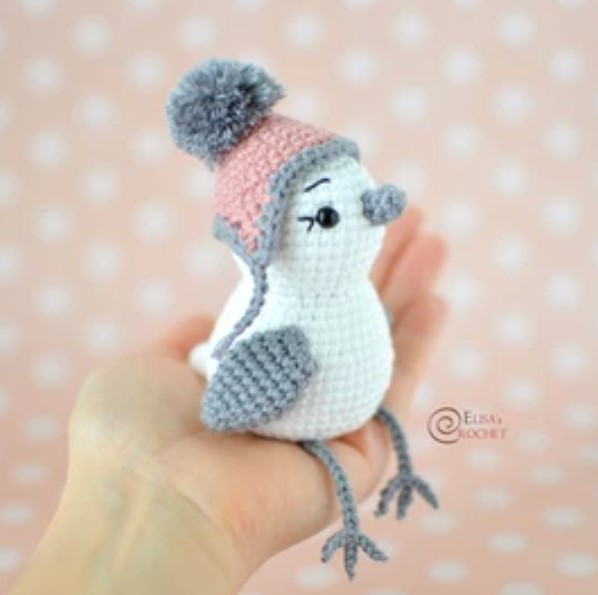 Crafting a bird is exciting because you can create so many different accessories for every season. As an example, this crocheted amigurumi bird is ready for winter with its pompon hat – perfect to wear during the coldest months of the year! You'll only need a small amount of fiberfill since the feet are made floppy and soft.
Tullip the Bird
Tullip the bird is perfect if you want to make a decorative crochet bird. It measures about 12cm and can be made with a 2.5mm hook size, but it's optional! If you don't have time for all that extra work or are looking for an easier option, skip the tail decoration by using small diameter buttons in various colors instead. This project is a fun color-play opportunity!