If you have watched the Ratatouille, then you know Remy – an average-sized blue-gray rat with a big dream. He works really hard to achieve his goal, which is truly inspiring! If you want to crochet your own mouse friend, like Remy, we've gathered some free patterns here for inspiration.
These inspiring crochet patterns will help you make some adorable mouse designs, from baby booties and ear headbands to amigurumi. Whether you're a beginner or expert crocheter, our list is something that everyone should try!
Some of the tutorials we have found even provided video tutorials that show you exactly how it is done. These are great for beginners, but if you want to finish your project quickly and effectively, learning some basic skills in crochet such as making a magic ring or circle, understanding terminology used in crocheting, and knowing what materials are commonly needed when starting a crochet project are recommended.
If you haven't mastered the basics, don't worry. All these amigurumi mouse pattern tutorials have very thorough instructions with step-by-step pictures to help guide you through it! Let's check out the list and find your perfect match today!
Crochet Mouse Ragdoll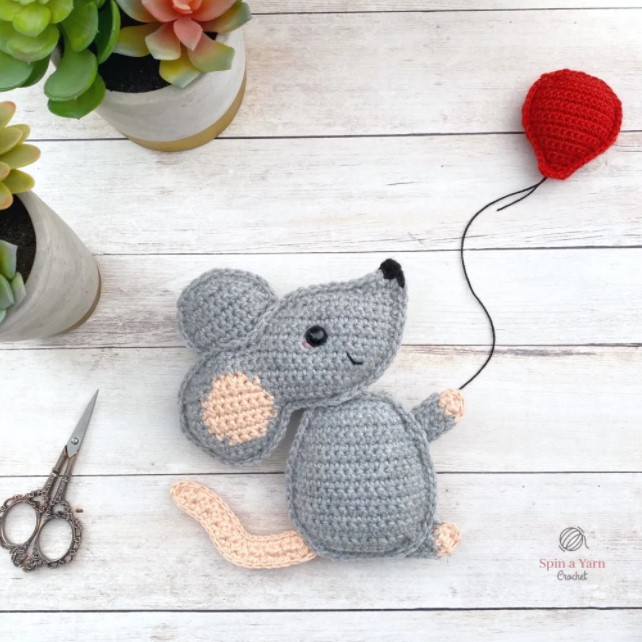 This smiling gray, beige mouse is trying to hold his red balloon – he looks so happy! Unlike a 3D version of this toy, the 2D ragdoll design will not require complicated instructions. After crocheting 12 separate pieces and sewing them together correctly, you should have made an approximately 7 1/2 inch tall stuffed animal that you (or your children) can play with. Let's read carefully through the pattern so you don't miss anything important along the way!
Adorable Pink Baby Mouse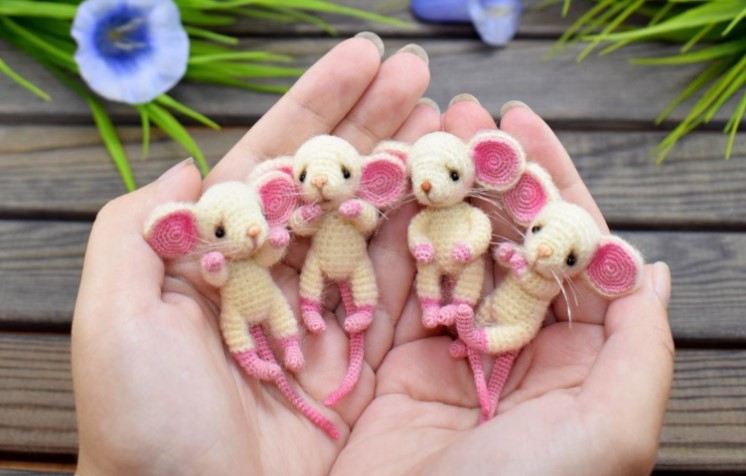 Do you love crochet baby mice? They are so cute and you want to hug them. These babies are made using cream color and coral pink yarn that you can find at your local craft store. If they're too small for you, make them bigger by grabbing a thicker yarn with larger hook size. Make these cuties into reality today!
Piu the Mouse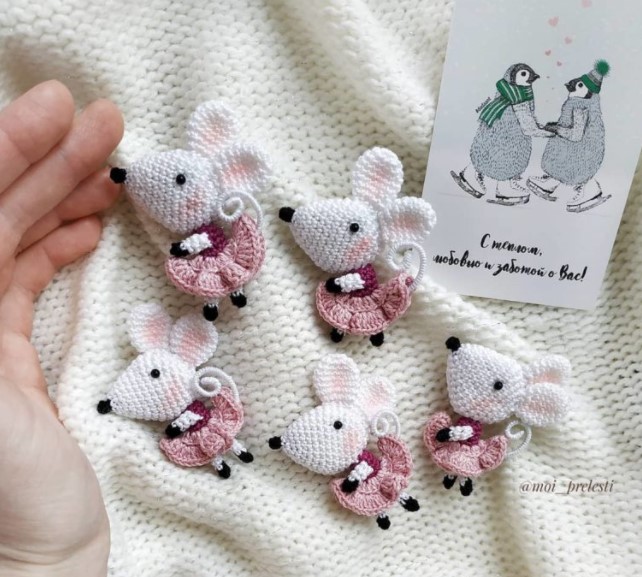 Meet Piu the mouse! A perfect crochet pattern for beginners, this is a great project to try when you're learning. If you want an extra challenge or character in your design, make her dress and put it on like she's dancing the night away! Alternatively, if simpler patterns are more appealing, then why not change up the color of her dress instead?
A Plumpy Crochet Mouse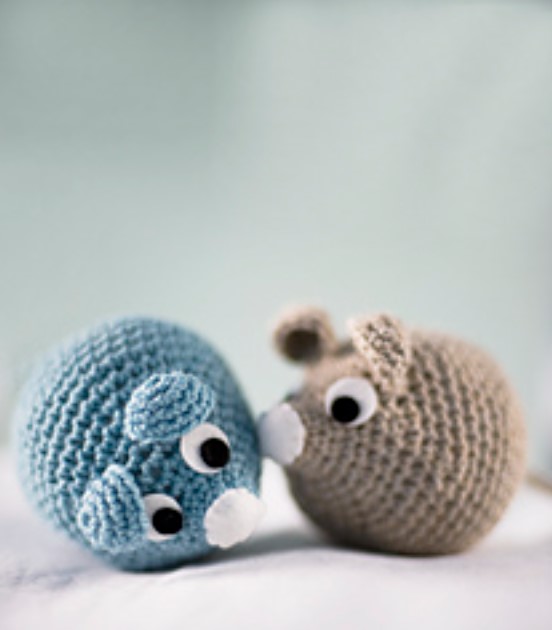 This crochet mouse pattern is interesting because it gives the mouse a plump tummy. It's also easy to make since you don't have to worry about making its legs – perfect for beginners! This 5-inch tall crochet mouse can be made with different colors as desired and has googly eyes that are made of white or black felt, but feel free to use embroidery floss if children will be around.
Venya the Mouse Amigurumi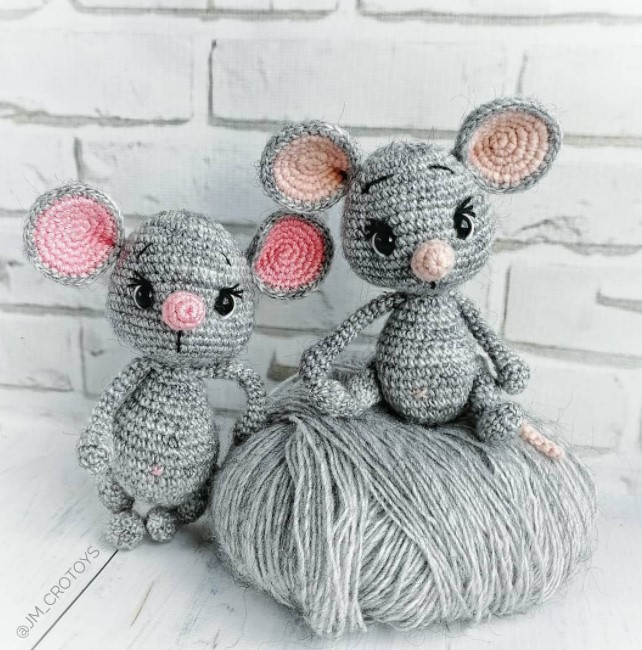 Meet Venya, a 4.7" tall mouse amigurumi made of grey and pink 100% acrylic yarn with added eyelashes to her 9 mm safety eyes for maximum cuteness! You can also change the color of Venya's inner ears as well as try out different shapes for eyebrows to give this little girl some extra character.
Malvin the Amigurumi Mouse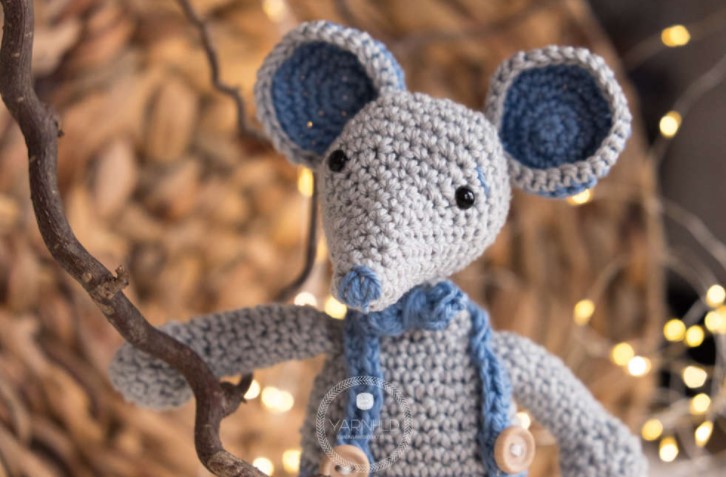 Meet Malvin the crochet Valentine mouse! Before we talk about his spouse and baby, let's learn how to make him. He has a nice overall outfit that matches his inner ears with brown buttons at the suspenders completing its look. Create yours using shiny cotton yarn in 5/3mm hook size!
Little Mice Kissing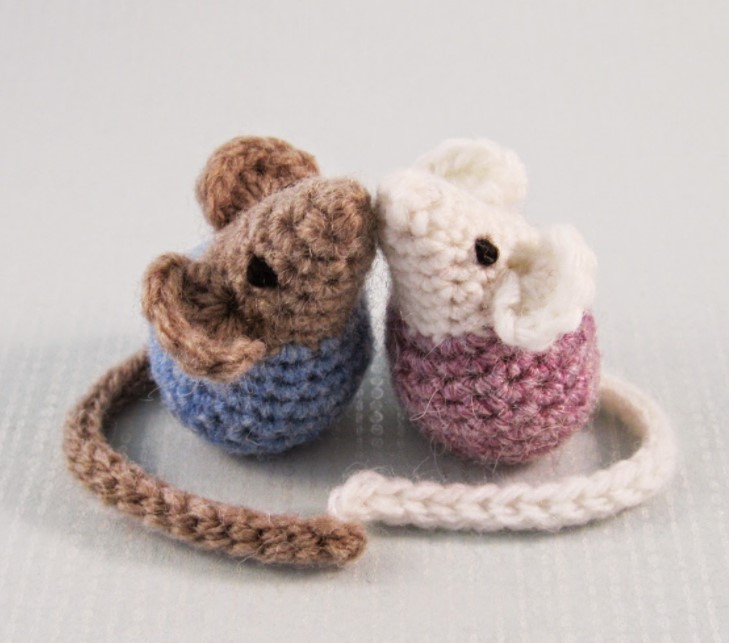 Whether you are a beginner or an expert crocheter, a simple project is always good to try – It's a refreshing activity that requires simple steps, so you need to try this crochet mouse pattern (make two mice to recreate the picture above). You can place these kissing mice on your desk or shelf at home for decoration as each mouse measures only 2″ without the tail included! Let's get started!
Cute Baby Mouse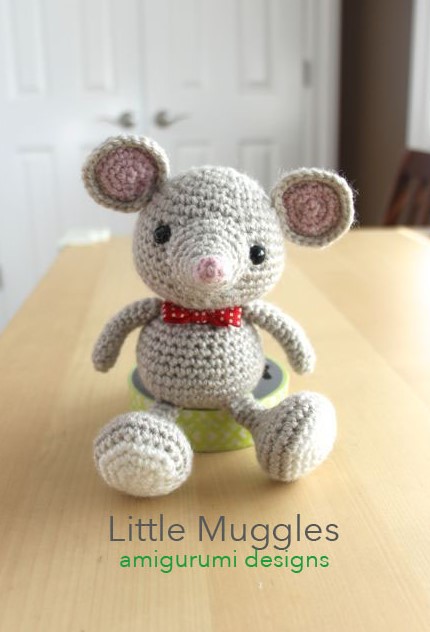 You will definitely fall in love with this crochet baby mouse best friend. He is extra adorable because of his polka dot bowtie. He also has inner ears made in a spiral shape. Now he is more special and unique. Just imagine having this crochet little mouse as your companion!
Lisa the Mouse in A Pink Dress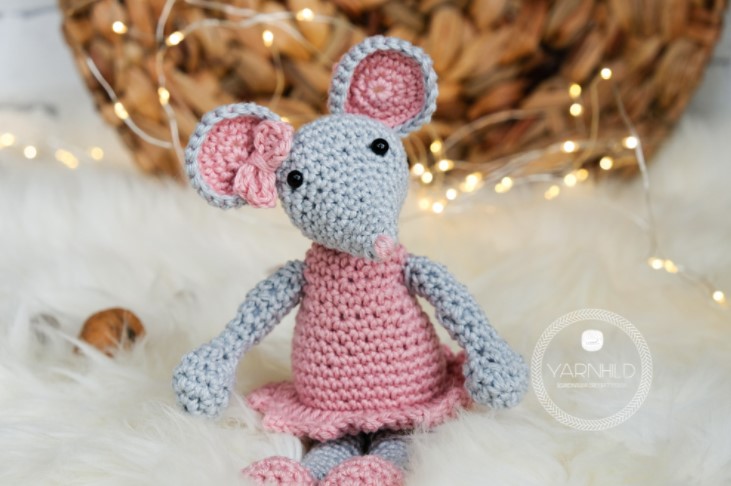 Lisa is Malvin's Valentine date, and she looks lovely in a pink dress that matches her bow. She has matching shoes too! Lisa the crochet mouse is shorter than Malvin but made of the same type of yarn and the same size of hooks. With 6mm safety eyes sewn onto her face, she's looking at you innocently. Let's get started on crocheting this cutie today!
Winter Mouse Amigurumi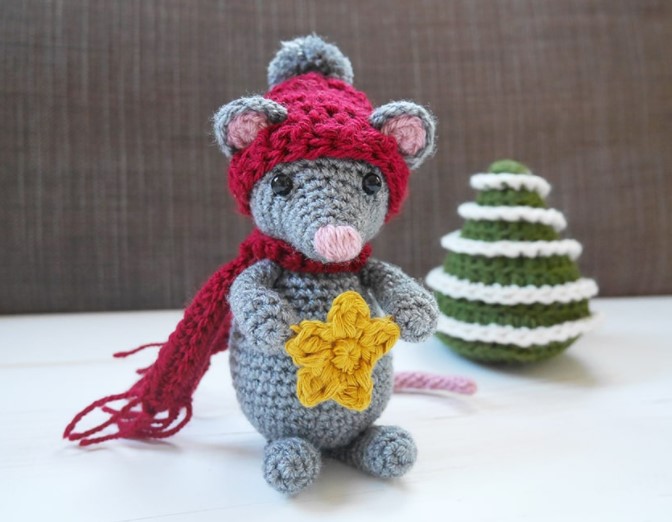 The winter mouse amigurumi is ready for the cold weather. He has his hat and scarf on to keep him warm, and he's holding a star so that it can be placed at top of the Christmas tree over there! Crocheting this cute little guy will be fun with any additional accessories you add along the way. You'll see how each accessory brings out different parts of his personality as well!
Easy and Quick Little Mice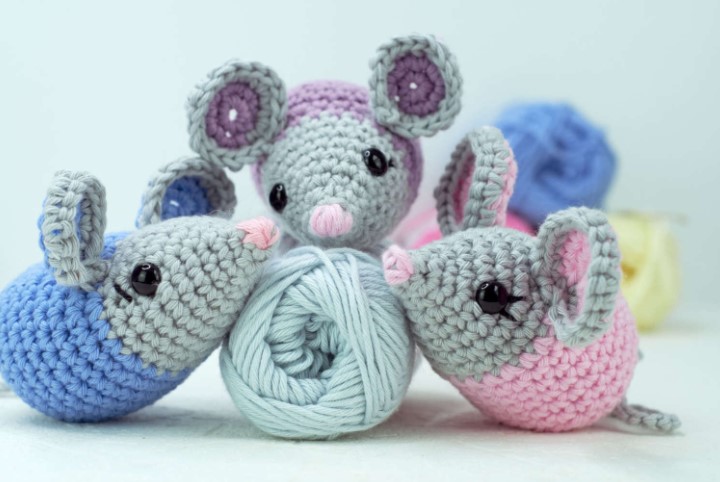 These crochet mice don't have legs, so you can make them quickly and easily. The ears and the tails are attached to the body at the end and you can make them simply from yarn scraps. The cool thing about it is that there are no rules as far as colors go – be creative!
Crochet Mouse Baby Booties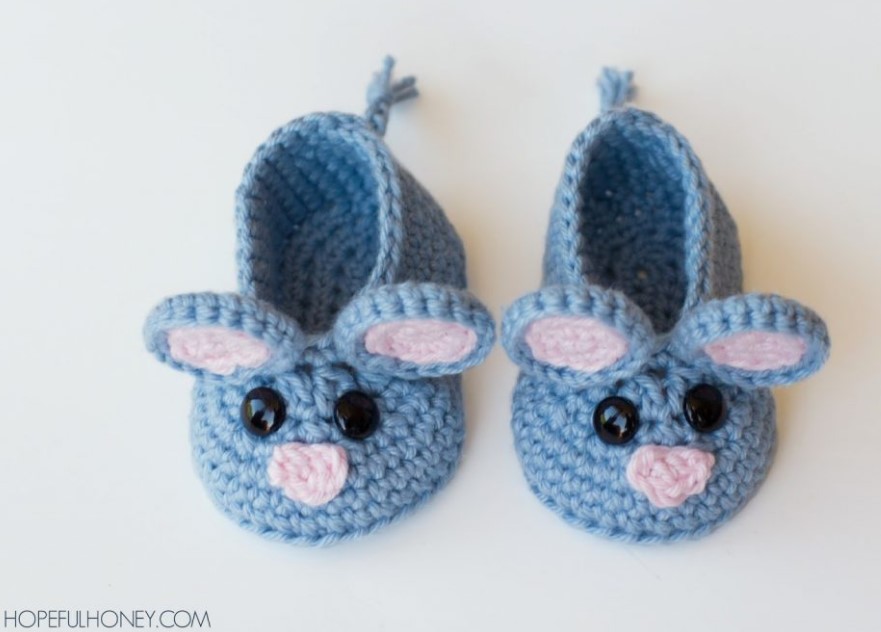 If you are stuck on what to get as a baby gift, look no further! These crochet mouse booties stand out for their charm and cuteness. The little ears sticking up will boost the curiosity of your new bundle of joy – they might even try to grab them! You can choose between different colors based on whether it's a boy or girl, and neutral tones like beige work well with any gender combination too!
Easy Peasy Catnip Mouse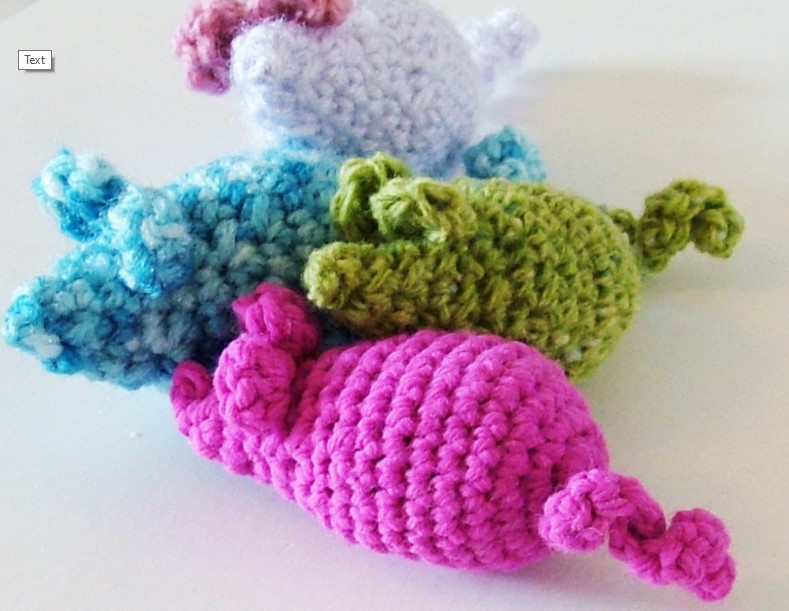 If you are a cat-owner, chances are your little feline needs some entertainment. This crochet pattern is an easy and creative way to keep them busy through fun playtime with this simple homemade toy! Making more than one will be even better since they'll likely scratch or chew on it until the materials wear out in time.
Crochet Mouse Headband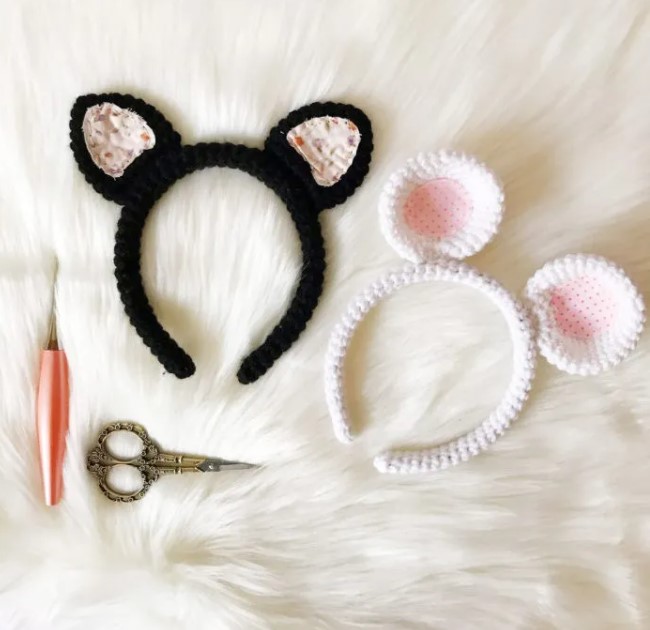 Now you can crochet cute headbands for your kids using this tutorial! This is the perfect accessory to complete a mouse costume. The detailed instructions make crocheting these beautiful accessories much easier than it looks! You will also have fun embellishing them with different fabrics or even buttons and beads once they are finished.
Sweet Little Crochet Mouse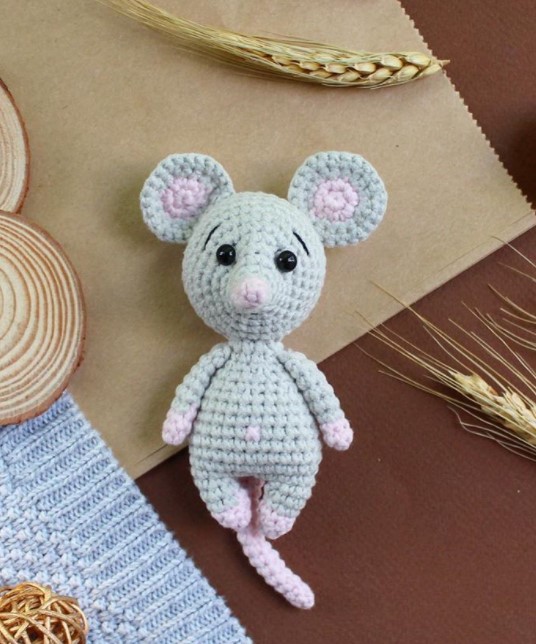 When you meet this crochet mouse, it is love at first sight. He has the perfect look of innocence and kindness with his light gray color and rosy pink cheeks. Let's go ahead and get started because we're sure you'll create a wonderful friendship!
A Flat Crochet Book Rat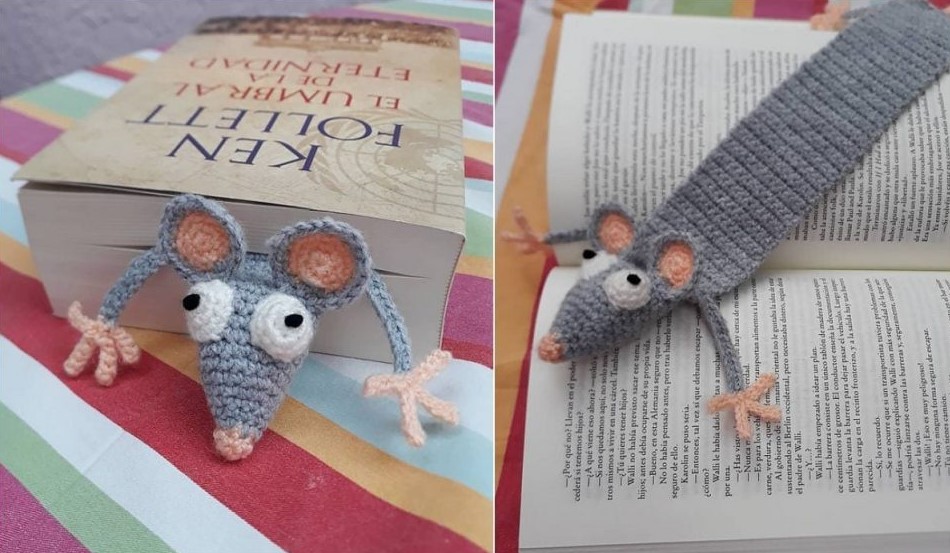 Reading is a relaxing activity, and crocheting is too. Combining these fun pastimes, you can create a crochet bookmark with this mouse design that looks like the body gets flat because of the weight of your book. This project becomes perfect for beginners as well!
Lola the Amigurumi Mouse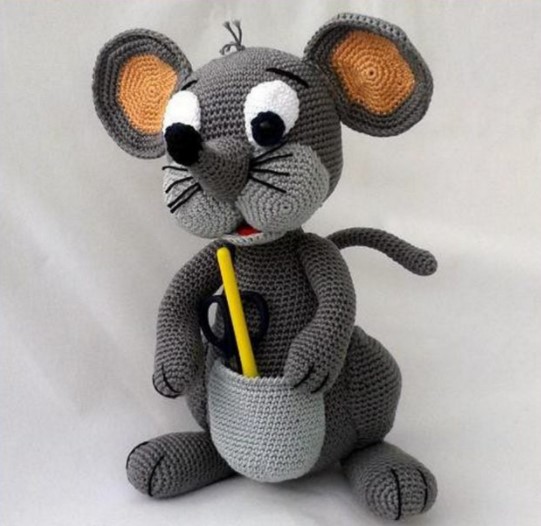 Lola the amigurumi mouse is not your ordinary stuffed animal. She has a kangaroo-like pouch that you can use as a pen holder and realistic nose to make her look more life-like! You will easily be able to change Lola's size by changing the hook or yarn type depending on how big you want her.
Christmas Amigurumi Mouse

A crochet mouse pattern is a must-try project for any crochet lover this holiday season. Try adding some Christmasy accessories, such as a scarf and mittens that match the Santa hat! You can adorn your creation with these seasonal pieces, but make sure they're removable so you can use them again in another season.
Crochet Mouse with Nice Outfit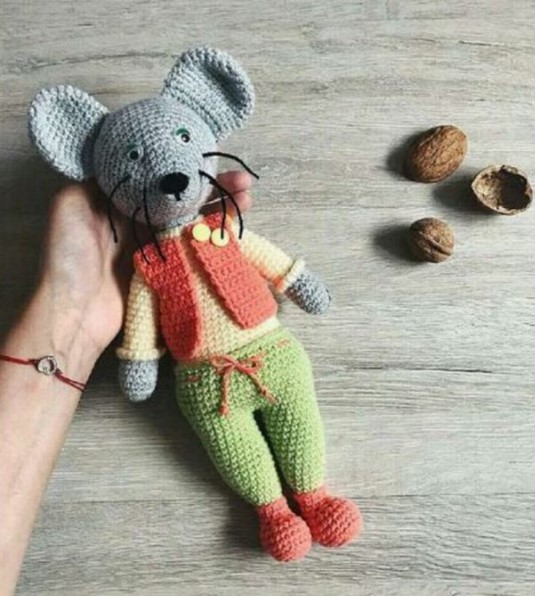 If you want to dress your crochet mouse up in some nice clothes, try this pattern. This colorful outfit makes the mouse look modest but trendy! It's also cool that there are so many colors to choose from when making it – there is no wrong way!
Mini Crochet Mouse with Big Ears
The tiny crochet mouse with its big ears is adorable. What makes the mouse more appealing is that it fits in your palm and measures 6cm tall when sitting upright – how cute! This project would be perfect for beginners because they will only need to use a small amount of yarn and basic techniques while creating this piece.
Adorable and Easy to Make Pattern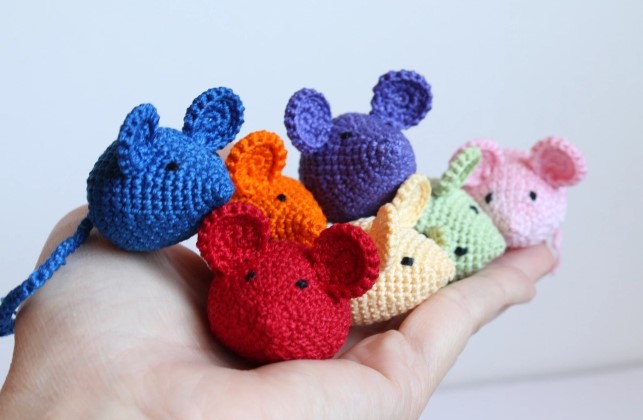 This crochet mouse pattern is very beginner-friendly. Using only a 1.5 mm hook, you will need to make the body, ears, and a long tail without making any legs for this little guy! The unique design of these mouses makes them perfect for teaching children numbers and colors with a different colored mouse in each hand!
Dress Up Mouse Crochet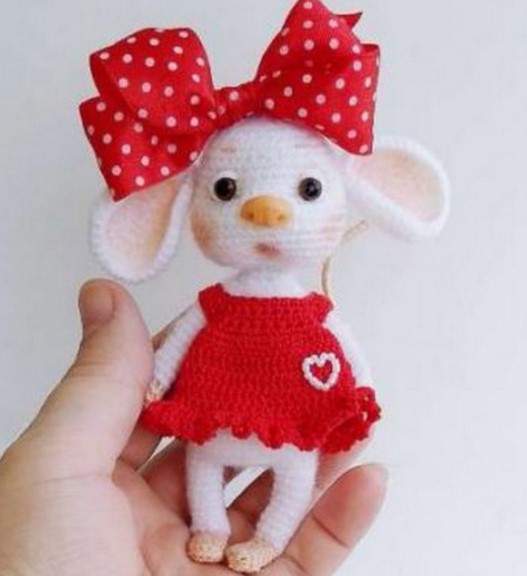 This crochet mouse is too cute! It comes with a dress and accessories to match. You can make dresses in different colors so the doll changes up its look, which makes it even more fun for young girls who love playing out roles. A big bow also makes the cutie extra lovable!
Amigurumi Little Mouse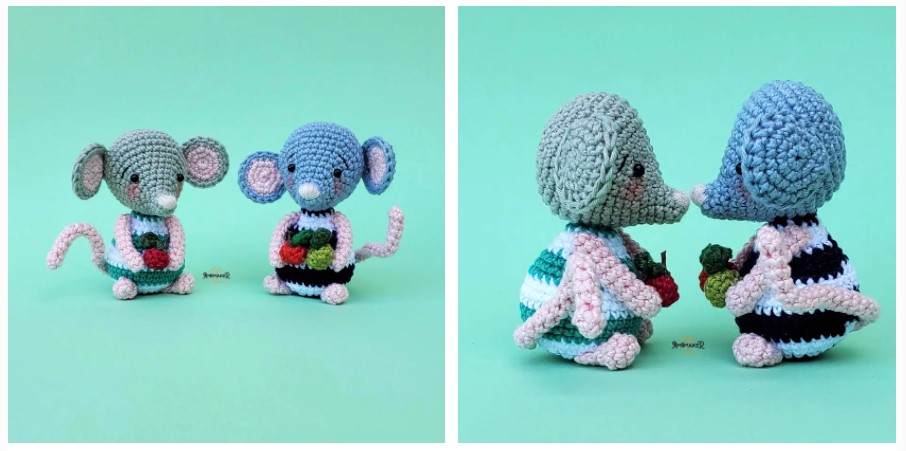 If you want to try a crochet mouse pattern that is out of the ordinary, but still easy enough for beginners, this one will be perfect. The unique design on its stripe tank top makes it fun and interesting instead of the basic. You can change up the colors as well if black and green aren't your things!
Cute Amigurumi Mouse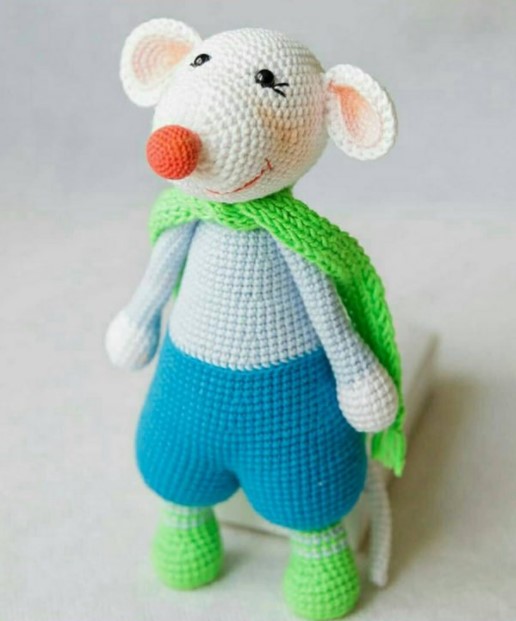 Make your days better by crocheting this mouse with a contagious smile. His color combo radiates a calm, but fun personality – perfect for any time! Give him some accessories like a scarf to bring out his character and make the day bright again.
Adorable Malvin and Lisa's Baby Mouse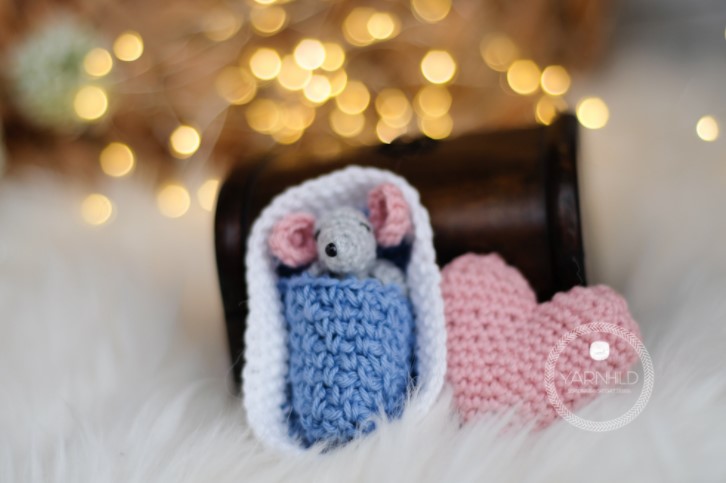 Our Valentine crochet mouse couple, Malvin and Lisa have a new baby! This is their adorable little one in the cradle. You can use the leftover yarn to make it so you can choose whether or not to make this version bigger than the original pattern allows for. If you put together the entire family, they will be the perfect portrait material!