Sheldon from the popular TV series The Big Bang Theory once said that an octopus would be the best candidate of man's underwater best friend because it has 8 limbs which are great for playing catch. Now you can make one by following these free amigurumi patterns and have a pet buddy of your own.
There are many different crochet octopus patterns available to delight a loved one who admires ocean-inspired stuffed toys.
Our list includes patterns for all skill levels, easy, intermediate, and advanced, complete with step-by-step guides that will leave you confident in your ability.
See these lovely ideas and find the most inspiring!
Purple Octopus with A Big Smile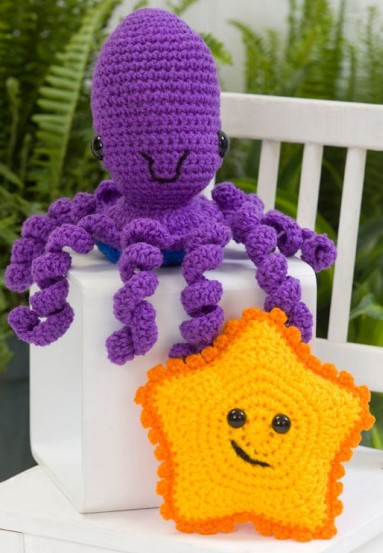 This crochet pattern is sure to make your kids smile. The 6 and a half inch octopus has an adorable grin stitched on his face at the end of this easy-to-follow tutorial. This amigurumi friend also comes with a starfish that can be made as well if desired! The best part is it can be safe for children under 3 years old when you replace the 18mm safety eyes with black embroidery floss, so they don't pose any choking hazards.
Teeny Tiny Octopus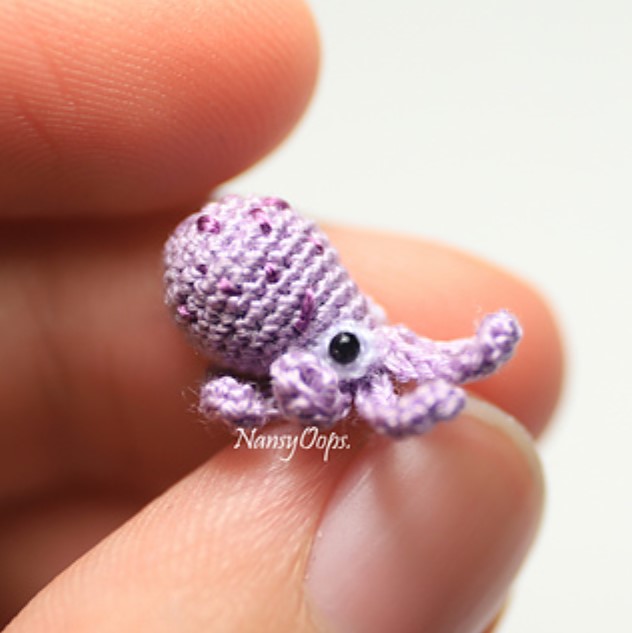 If you love crochet patterns that are challenging and require meticulous attention to detail, then do not miss out on this one! This tiny crochet octopus is as big as your fingertips. It will take around 2 -3 yards of yarn with a 0.6mm hook size to create it; however, the results make every minute worth it because its head has multiple dots all over like an actual octopus would have!
Plush Crochet Octopus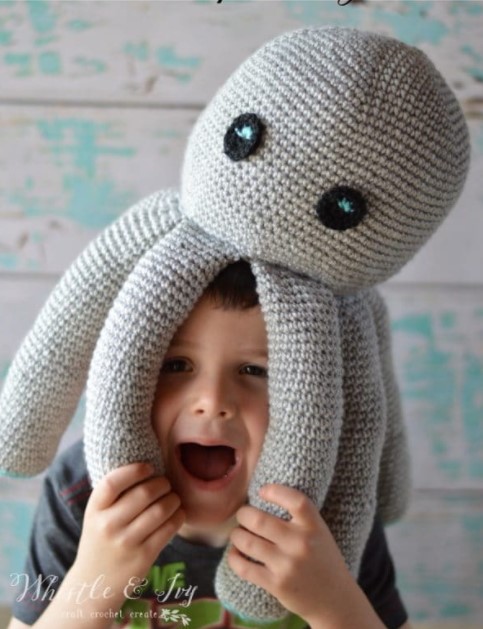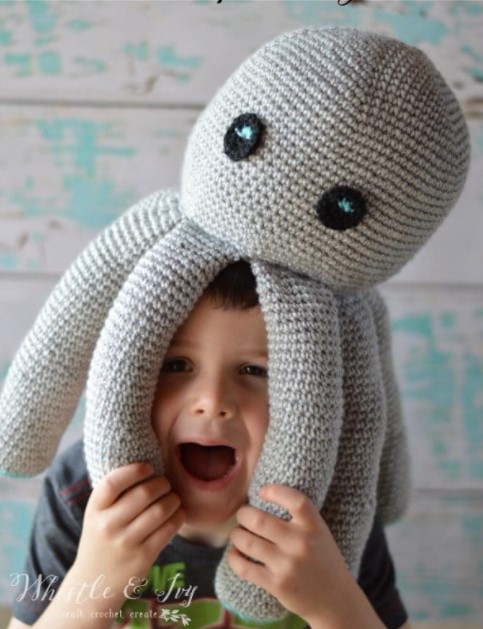 This friendly crochet octopus is the perfect plushie for all ages! Using a G hook and medium weight yarn of two skeins of your first choice of color with a small amount of black, this plushie will be crocheted up quickly. Don't forget to prepare your polyester fiberfill stuffing and darning needle before getting started on it. After all the hard work stitching and crocheting, make sure they stay clean for many hours or days to come as well as making some great memories along the way during playtime together!
Osmond the Octopus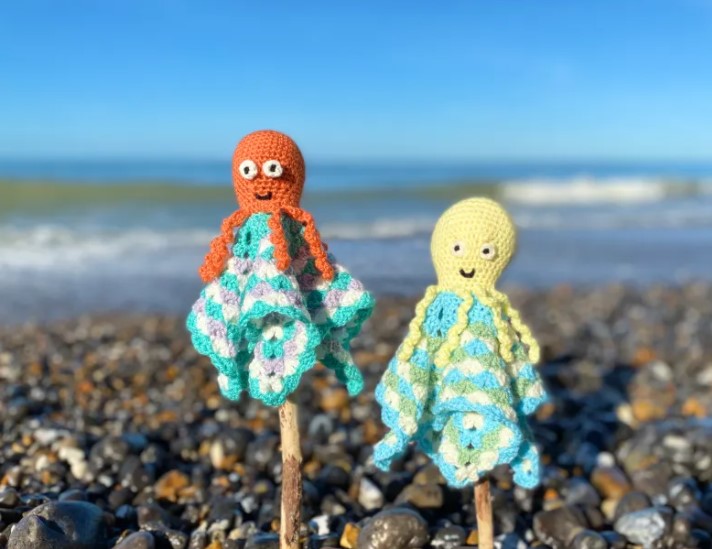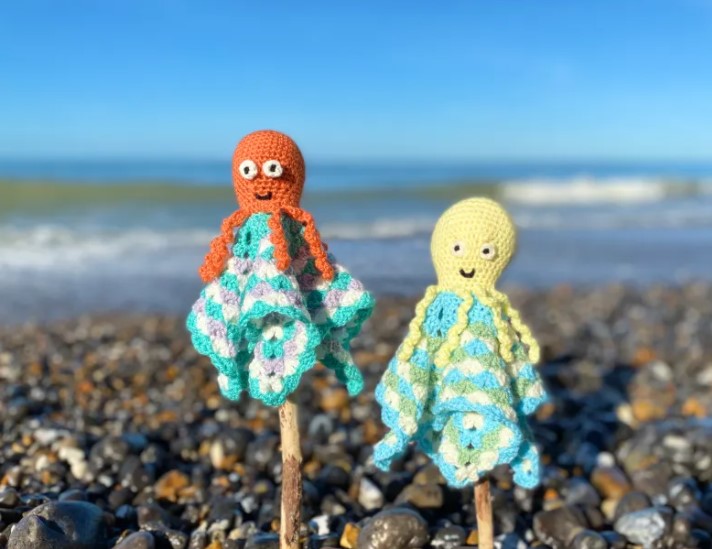 How should you welcome your new baby into the family? We suggest this adorable crochet octopus, called Osmond. The twisty tentacles of an octopus make it more lovable and cuddly! You can be creative by customizing its size, trying a different yarn, or a smaller/larger hook to create various sizes. Plus, giving him character is as simple as uniquely placing eyes or using another color of yarn for his body.
Odd the Octopus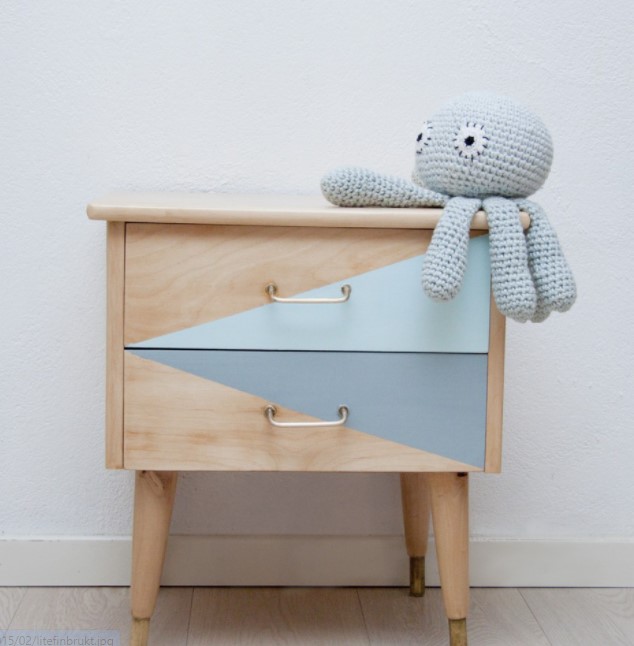 Meet Odd, a friendly crochet octopus who wants to be your best friend. He has unique eyes with stitches on the edges that look hand-crocheted using white and black cotton yarn and a 2.0 mm crochet hook! After crocheting him, his body is given a pastel color which will surely relax whoever gets their hands on Odd, however, you can change them based on what color you like!
Very Squishy Crochet Octopus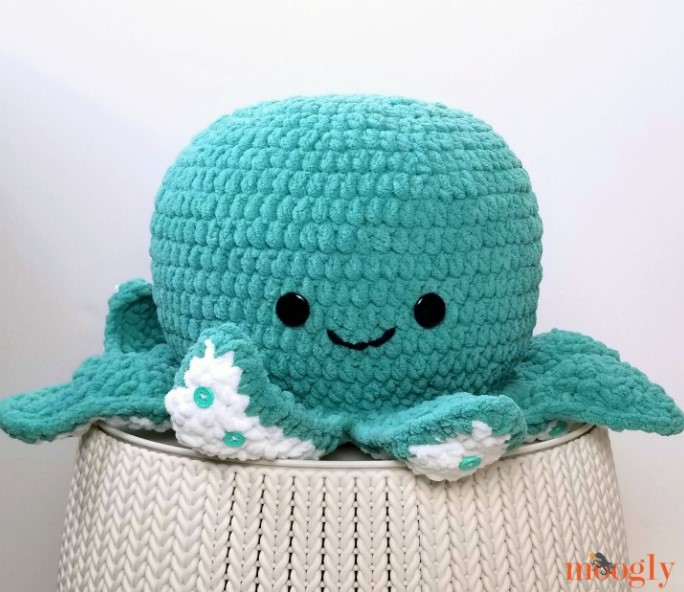 The cuddly crochet octopus toy is a perfect friend to have, especially if it's an Octo Squish. The key for this squishy lays on the microbead pillow ball inside of its head. But that isn't all – not only is the plush fabric soft and comforting but so his 8 adorable arms are too! It will give you extra comfort when hugging him tight (or he'll hug you back!) This cutie has quite an intelligent look about him as well with those cute eyes staring at you, who wouldn't want a buddy like him?
A Lovely Couple of Octopuses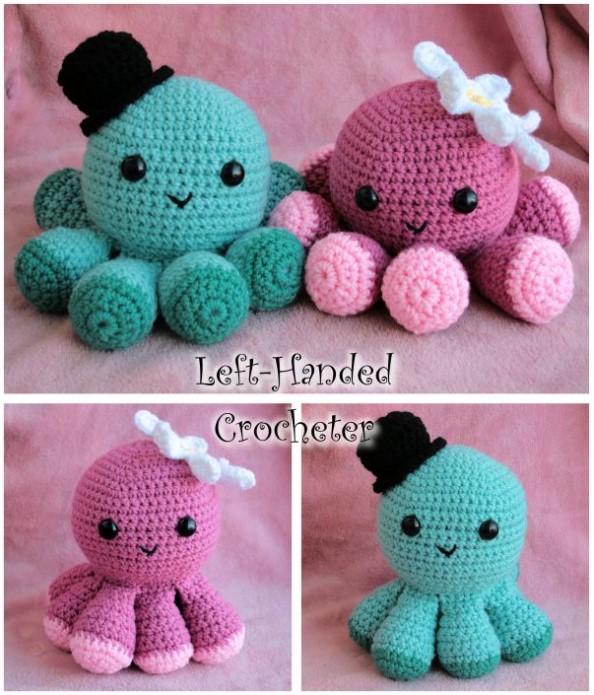 This crocheted pattern allows you to create two adorable octopi. One is a boy with a nice gentleman hat, and the other is a lovely lady with a fresh flower hat. This stuffed animal can be made larger or smaller as desired – just make sure not to let any stuffing be seen from outside by making your stitches tight enough.
Octopus for A Preemie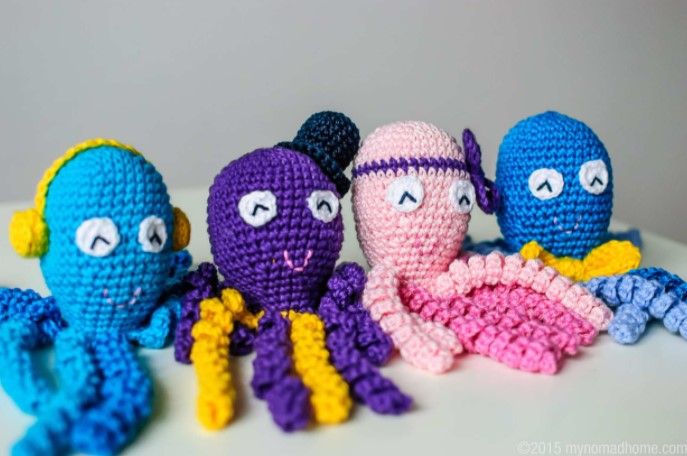 A group in Denmark initiated a project to make crochet octopuses for premature babies. It has been proven that the arms of the crocheted octopus remind them of their umbilical cord and make them feel safer. They also use bright colors like yellow and orange yarns to give off a vibrant look with cheerful faces. When accessories are added, they can have unique characters!
Octopus Cupcake Amigurumi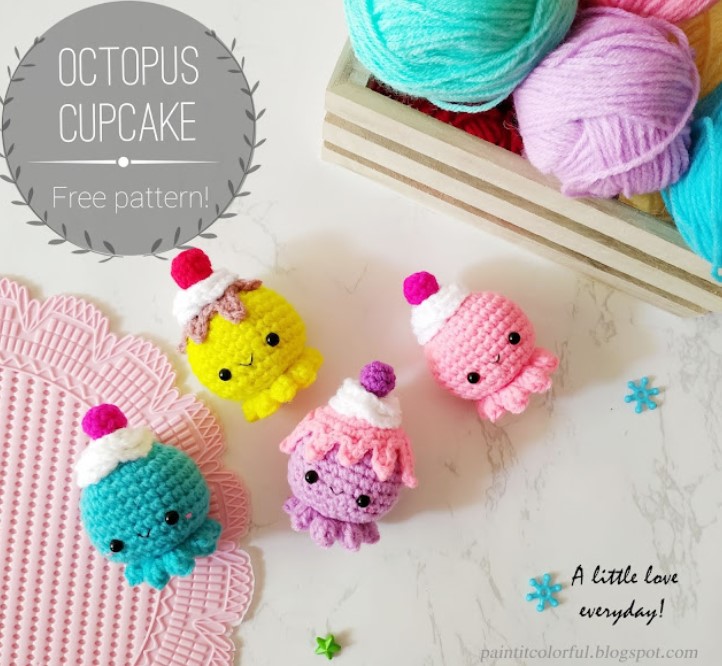 There's a new crochet pattern that you might have not heard about. It combines cupcakes with octopuses to make an adorable creature! This is one of the cutest things you've seen and it will surely charm everyone around. The details are simple, yet so brilliant: they include frosting on top as well as a cherry. You can arrange them together once you're done crocheting each part separately.
Octopus Baby Mobile
If you have a baby's crib, it is compulsory to put a mobile above the crib, so why not crochet one yourself? This octopus-themed mobile will match an ocean-inspired nursery perfectly. The project starts from the head and ends at the bottom using a 4mm hook, colors yarns, safety eyes for decoration, and stuffing for stability.
Oliver the Octopus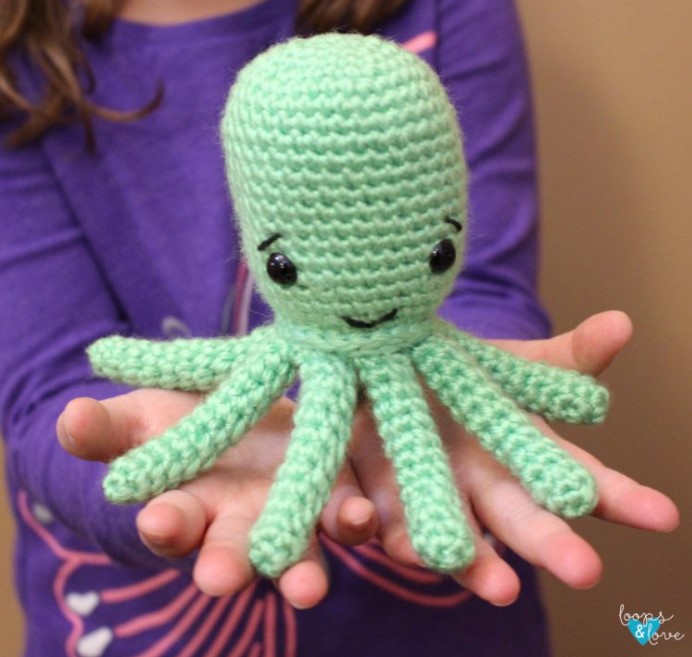 Crocheting this 4-5 inch tall octopus amigurumi is quick and easy. We recommend making the crochet octopus separately (the head and 8 limbs), then sewing them together afterward. The straight legs mean that this stuffed animal can sit nicely on its own but feel free to make any modifications if desired – maybe by curling or twisting them. It's time for some fun with crochet!
Quick and Simple Amigurumi Octopus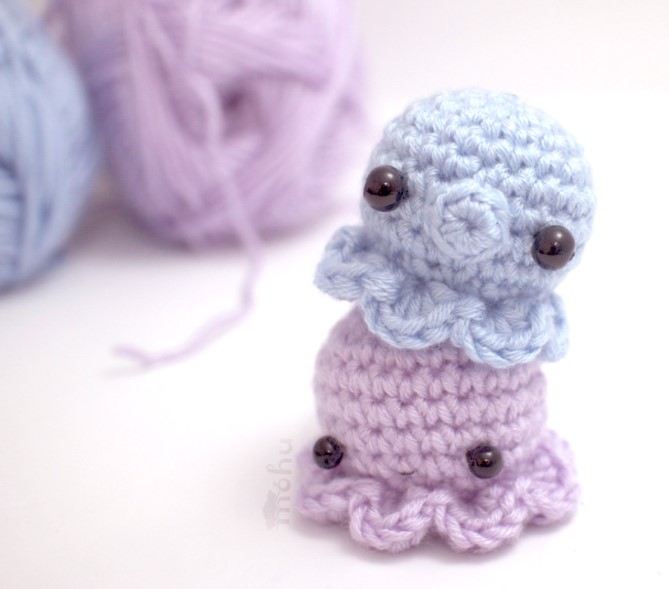 This 4cm crochet octopus with a takochu mouth is so cute! This pattern is suitable for beginner crocheters because it's considered easy to intermediate. You may want to make more than one so you can create an awesome stack of octopi – just like these cuties on display here!
Mini Crochet Baby Octopuses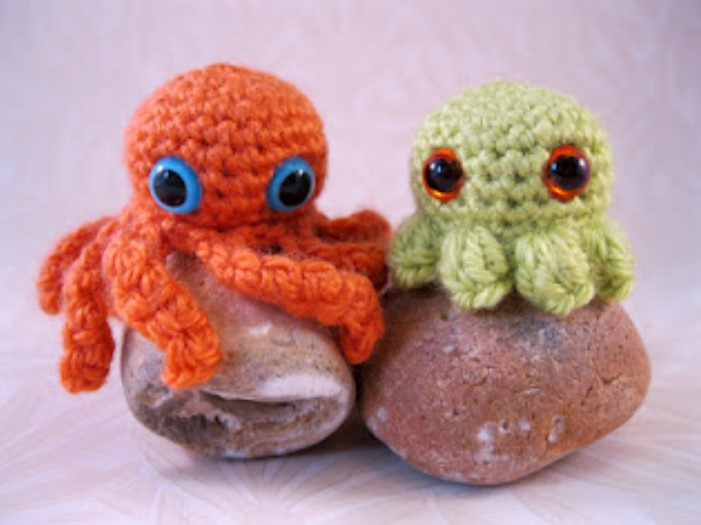 It's hard to resist creating a tiny stuffed toy, especially one like this crochet octopus. This little octopus baby requires just the right amount of yarn and stuffing, so you can make more than one octopus amigurumi. Eyes are crucial for creating the right character in an octopus plushie because eyes can change their personality entirely!
Adorable Octopus Pattern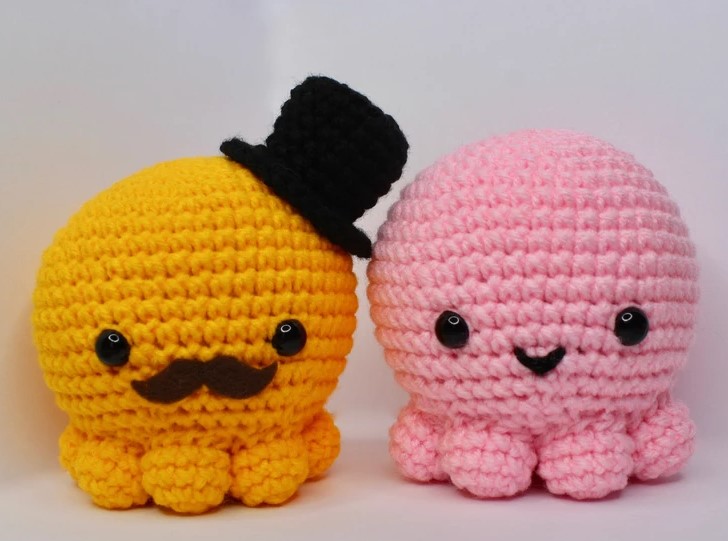 This crochet pattern is perfect for a beginner. You can create another version such as the ordinary octopus with a cute smile on her face, or two different characters! This idea was inspired by dapper octopuses wearing hats and mustaches – you will need a 3.75mm crochet hook, worsted weight yarn in your favorite colors, and a few more other needs. The entire process couldn't be simpler than this!
Giant and Squishy Octopus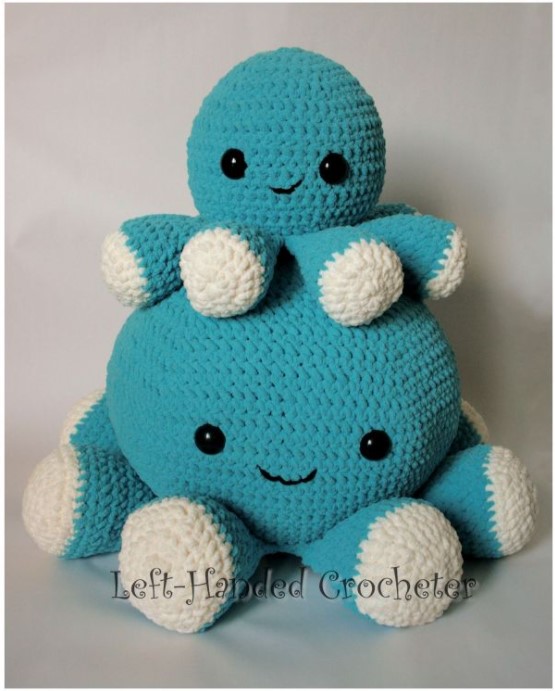 A recent craze in crocheting is the creation of super bulky crochet octopuses. These items are perfect for cuddling and hugging – they're called "squishies." The giant crocheted octopus pictured above was made using a soft 8 mm hook, 10.5 ounces of yarn, and an entire 50-ounce bag of polyfill stuffing!
Kraken Octopus Squid Applique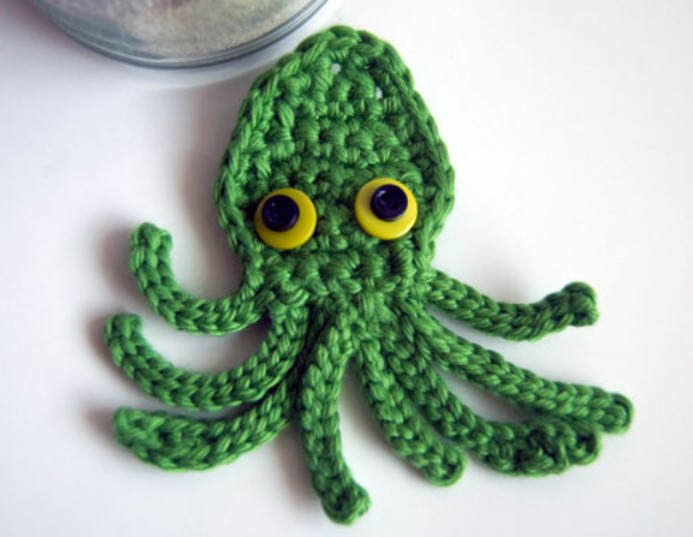 The Kraken is a giant octopus that has been featured in fictional stories for centuries. However, these amazing animals are not at all scary! In fact, they're actually really cute and irresistible as proven by this crochet pattern here. This tutorial will guide you through the process of creating an applique of squid which happens to be a cousin of the octopus. The project is simple with clear instructions given via picture tutorials throughout so it's perfect for beginners too!
Grumpy Octopus Coffee Cup Cozy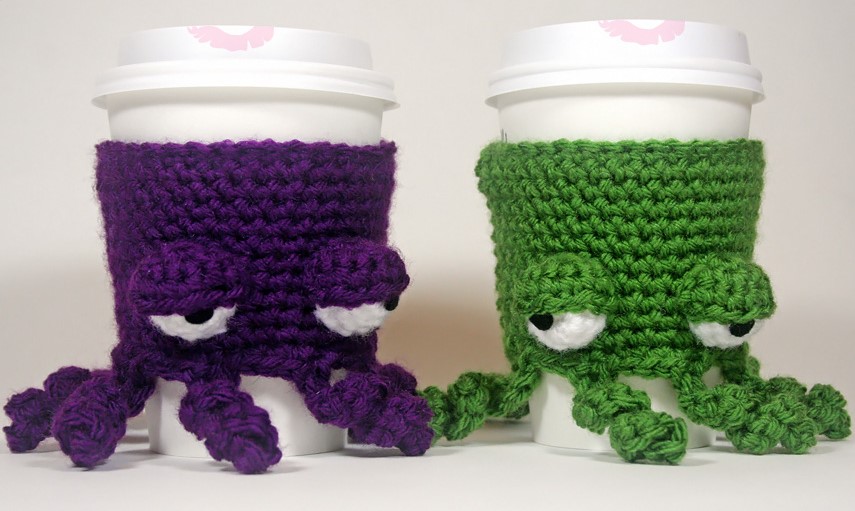 For a cool crochet project, try making this grumpy octopus cup cozy. You can make one for your coffee mug to warn people that you're in an especially grumpy mood before your morning caffeine boost. Now, with eight extra hands holding onto the mug and keeping it warm, you're ready to be more productive!
Crochet Octopus with Twisty Legs and A Bow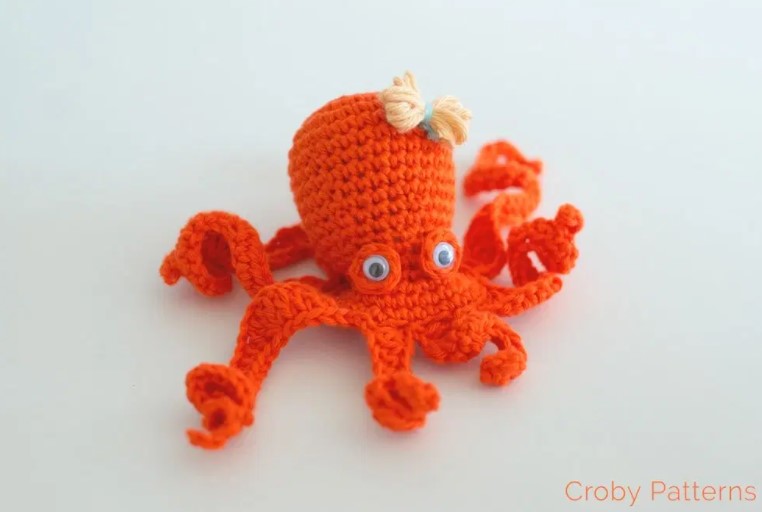 This crochet octopus is not like the other ones. She has a striking orange color and endearing googly eyes that will melt your heart! Her twisted tentacles are details to be included, along with her adorable bow on her head. This amigurumi was made with weight cotton yarn so it's easy to work with – perfect for beginners! You also need 3mm and 3.5mm hooks as well as other tools before you get started working on this project. Ready?
Dave the Crochet Octopus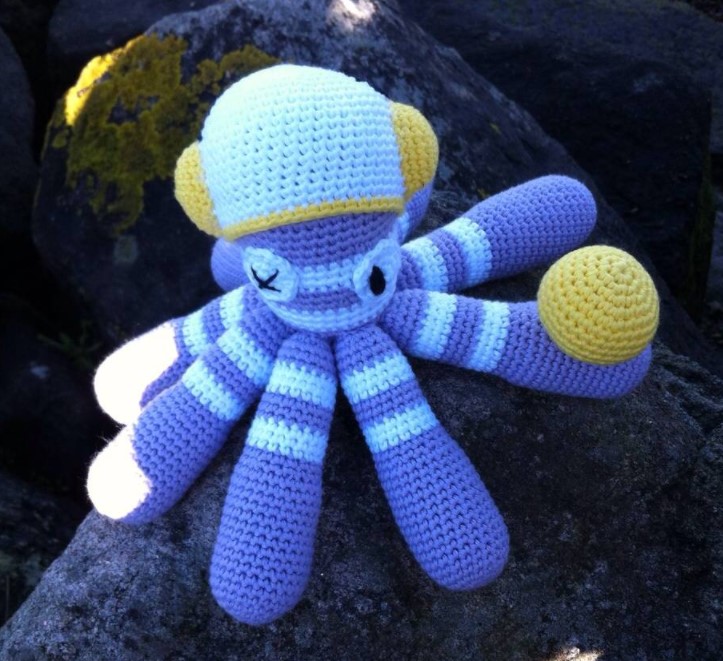 Meet Dave the Crochet Octopus! A fun crochet pattern that is perfect for summer, this octopus will brighten up your day and make you want to go on a sea adventure. His cheerful colors are fantastic against his dark blue body, but it's really all about those eyes – one of them looks like he might be sleeping still while the other one stares right at us. He even has a neat hat and an adorable yellow ball. To create this crocheted friend, start by making the head, then the eight long arms, and the toy separately.
Mini Crochet Octopus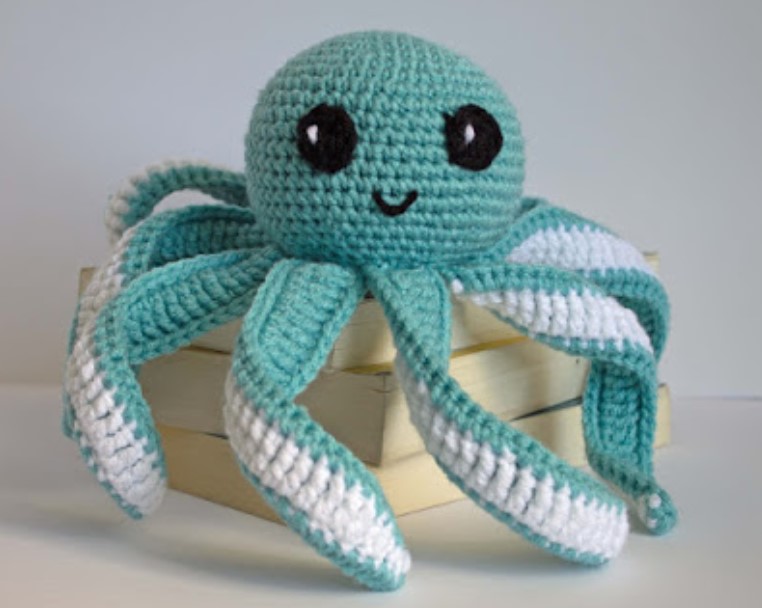 This palm-sized octopus amigurumi is the cutest crochet item you will have ever seen. Its twisted tentacles and 9mm safety eyes make it extra adorable, but its smile is going to make you swoon! You can see how big the ball of yarn is in comparison!
Amigurumi Octopus with Takochu Mouth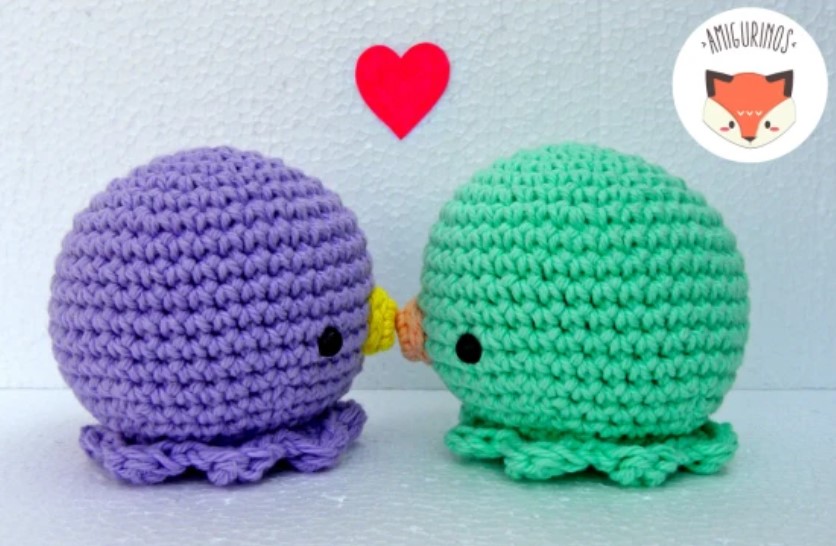 This crochet octopus is about the size of a tennis ball, so it fits perfectly in your hand. Not only does this unique shape grab people's attention but there is another sight to admire from an amigurumi: its Takochu mouth! They are simple and fun to make. Plus, you can replace the color with your favorite one too, so what are you waiting for? Grab your hook and let's start crocheting!
The Preemie Octopus Crochet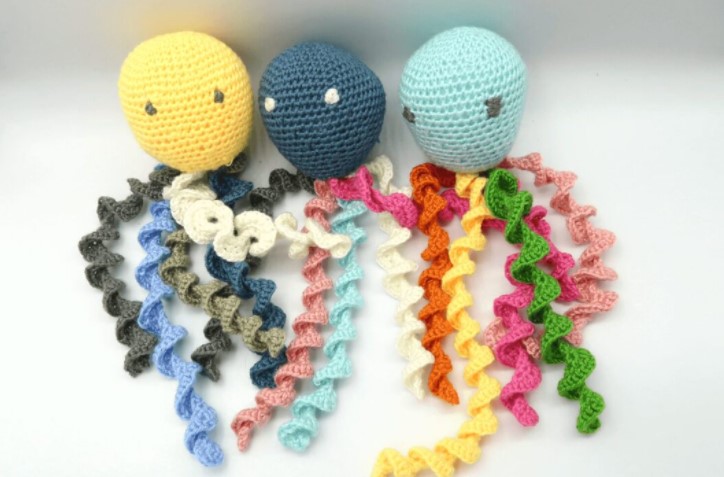 An octopus amigurumi isn't just a product of crochet patterns, it has more important functions for preemies. Today we'll make one with colorful tentacles that will help them feel better and safer. The crocheting process may seem complicated because the head and 8 arms are made separately before being sewn together so in fact, it's quite simple!
Amigurumi Crochet Octopus Pattern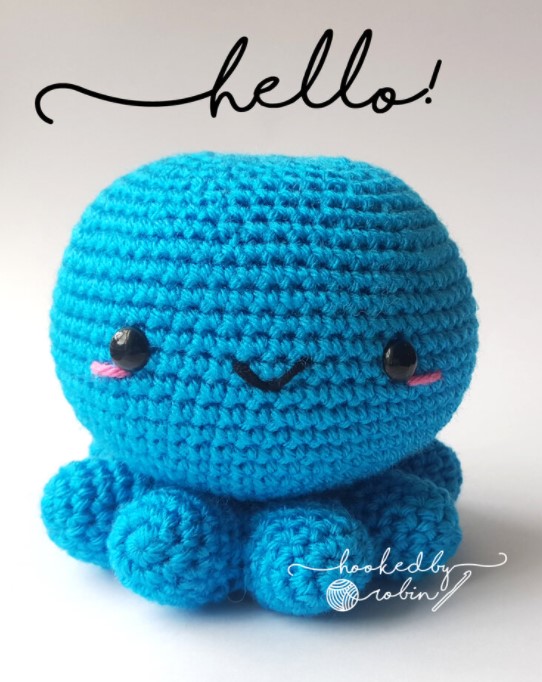 This awesome-looking crochet octopus is super cute. Its legs are crocheted altogether, which makes it easier to attach them to the body instead of sewing each one on individually like most patterns require you do. With this video tutorial, anyone can make their own adorable little cephalopod!
Octopi with Curly Crochet Tentacles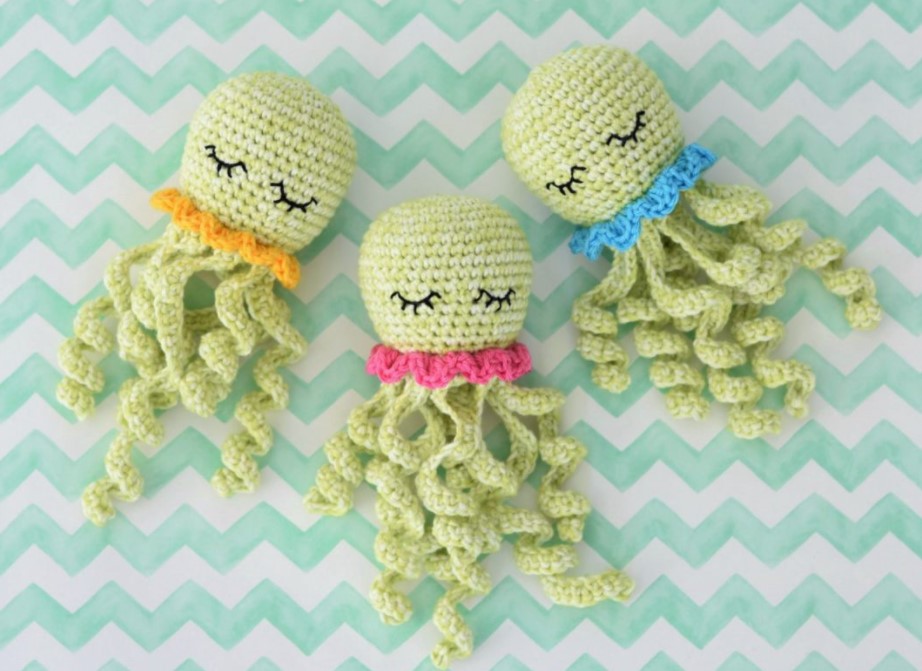 This crochet octopus has been made to be safe for babies. For example, the button eyes have been replaced by black embroidery (or even skipped at all). Another endearing part about this design is its curly tentacles. To also make them safe for the baby, they are crocheted neatly! Now your little one will have a new friendly pal to play with!
Crochet Octopus for Preemies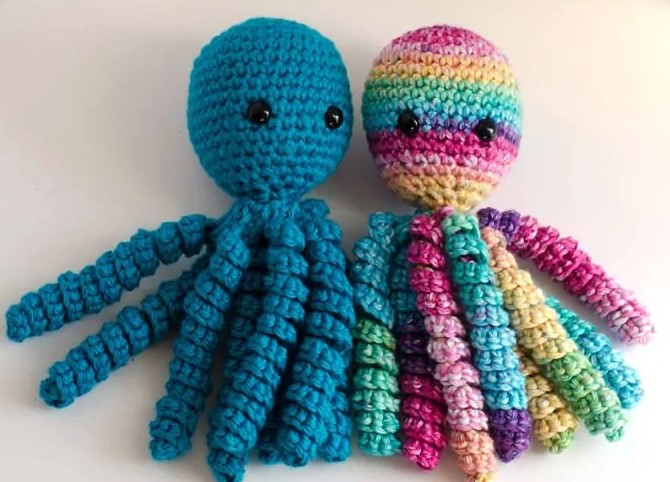 This innocent-eyes octopus amigurumi is a fun crochet project that allows you to practice your skills as well as giving the result to preemies who need extra comfort. If there are any techniques in particular that you want to learn, the video tutorial will show you how before starting this pattern! For example, if magic rings or circles confuse you and make it hard for you to start projects like these with ease, check out the helpful guide beforehand so they'll be easy as pie from here on out.