Has your desk turned into a mess of tangled cords? Do you have to spend time untangling them every morning before work?
Forget the frustrating search for your charger and instead get organized with these genius DIY charging station ideas. With all of your chargers in one place, you'll never have to spend time untangling, looking around, or hunting down a cord again!
Having an outlet strip will also make charging devices so much more convenient because there's less wiring running from device to device as well as fewer wires across the floor tripping people up.
What are you waiting for? Follow these easy steps for building a convenient charging station that will keep all of those pesky wires in order.
DIY Picture Frame Charging Station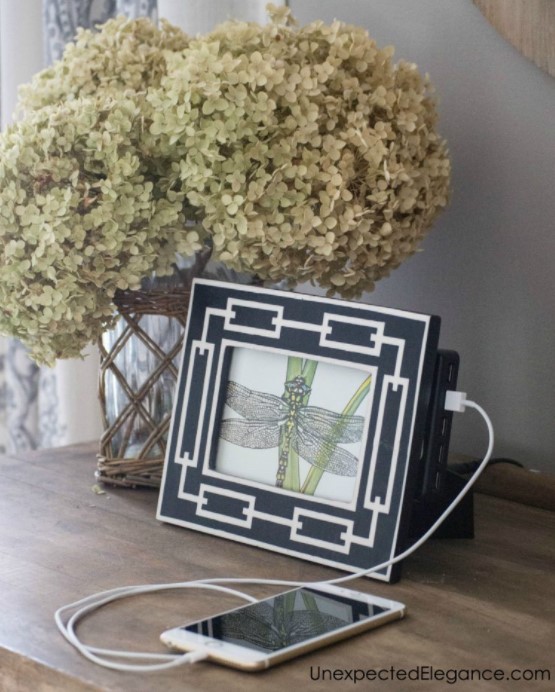 It's quite irritating how the desktop becomes cluttered with a million cords and charging devices. This DIY charging station is making it look neat and tidy by hiding the USB charging ports behind an old picture frame that you can replace anytime!
DIY Low-Cost Hanging Charging Station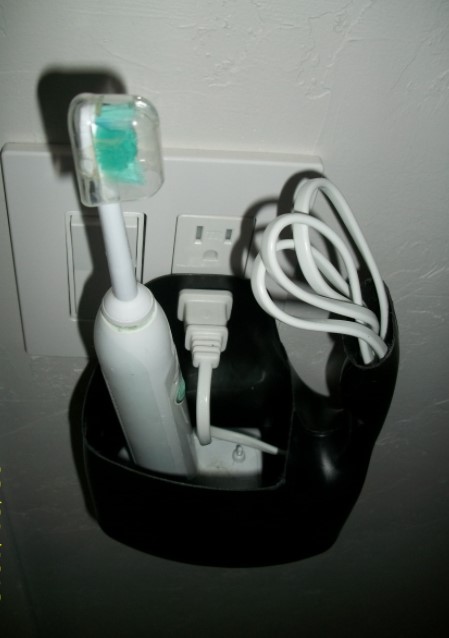 Before you're thinking about throwing away the empty detergent bottle, take a look at this clever project. With some cuts and splashes of paint, that plastic container has now become a handy charging station for all those USB cables.
DIY Charging Station from A Magazine Rack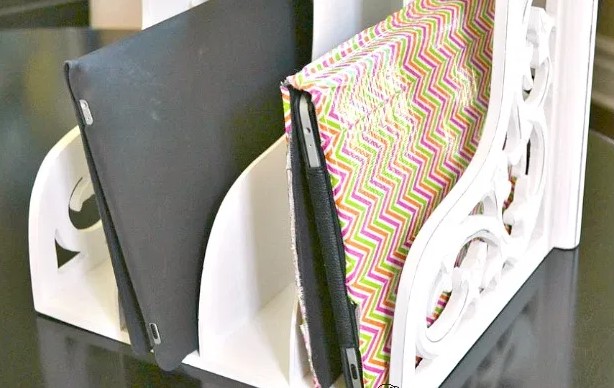 This genius idea is perfect for those who have a problem with their iPads lying around separately while being charged. Now, they're placed in one specific place and won't be scattered about the house!
DIY Simple Pallet Shelf Charging Station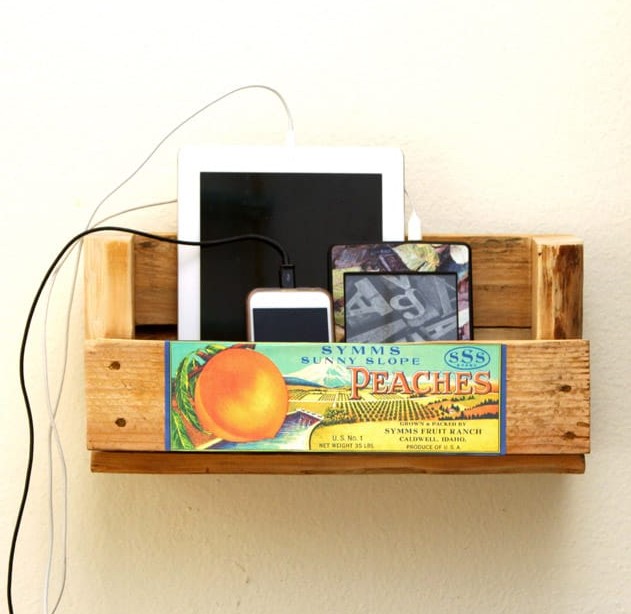 Organize your desk and make use of every inch with this super handy charging station project! Made from scrap wood, it's super easy to build. Hang on the wall or set up as a shelf by your table, either way, you'll be able to free up more space!
DIY Stylish Box Charging Station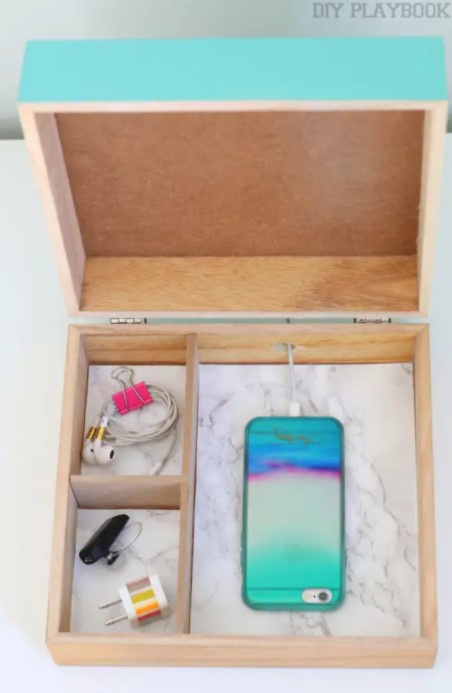 With small living spaces, it's easy to get overwhelmed and cluttered. However, with a little creativity you can transform your space into something functional and fun! For example: using an old box from one of our favorite products we created this DIY charging station that is both practical AND pretty, saving us time in the morning rush.
In A Nightstand Charging Station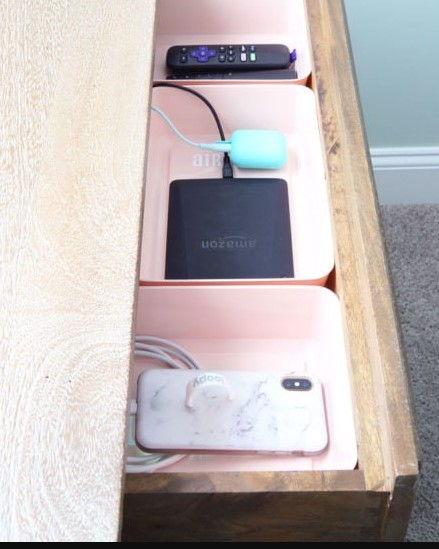 The chargers are plugged into an extension cord that laid on the floor, they're looking messy. They must be really annoying to have all these cords around while you sleep – and sometimes when we wake up in a hurry it's easy for them to get tangled together! Wouldn't your nightstand look much cleaner if there was no wire clutter? This tutorial will show how to create a DIY charging station where ugly wires can stay hidden away from view (and tangle-free!).
DIY Simple Wall-mounted Charging Station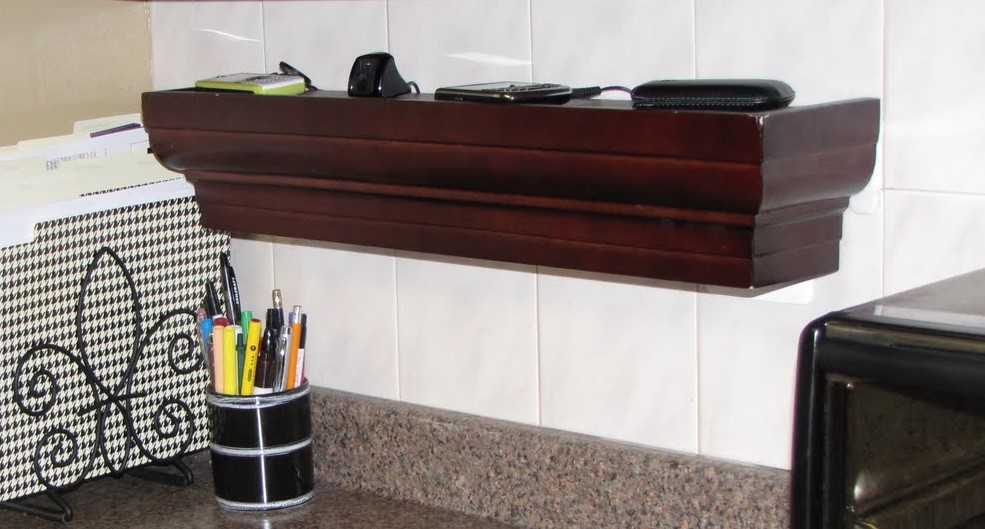 It's a simple and straightforward solution to the issue of messy cords. By placing a ledge shelf over your kitchen counter with an opening for cables inside it, you can solve the problem once and for all, while also keeping your outlets free from clutter – what more could anyone want?
Wi-Fi Router and Charging Cabinet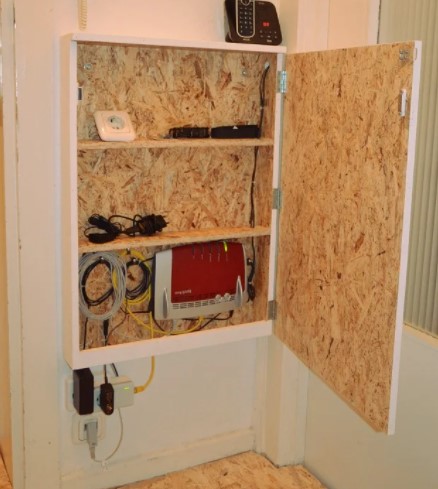 It's not a pretty sight when your router is left on the floor. This DIY project offers an excellent idea to make a closed cabinet above the electric socket so all wires and cords can be hidden there. The station also makes it easy for you to plug in multiple devices, such as laptops or tablets, without cluttering up any of furniture surfaces!
DIY Small Corner Charging Station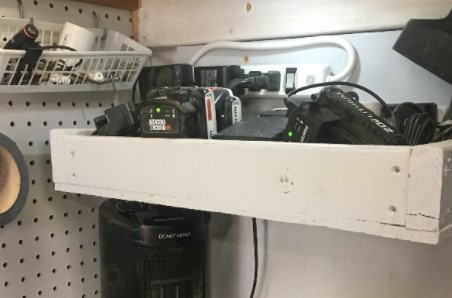 Do you have cords cluttering up your workspace? If so, this is the project for you. Once completed, it will make use of that unused corner space. The project is on a budget too! The charging station can also be created with scrap wood found around the house to save even more money.
DIY Charging Station Using A Utility Cart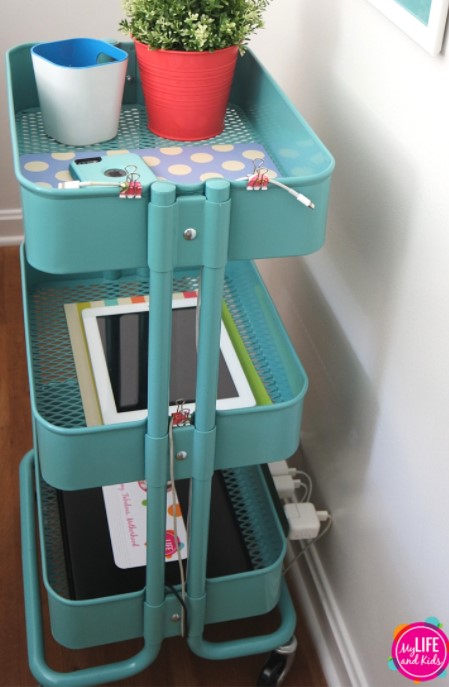 Beautify your home at the same time as you solve a problem. The DIY charging station from an IKEA utility cart is cost-effective and easy to assemble, so there's no reason not to do it!
DIY Charging Station from A Shoe Box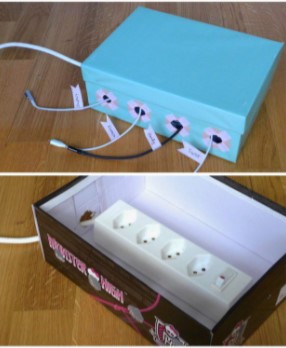 Ah, shoe box. The classic charging station hack we all already know. But yeah, if it works, it works. If you need something quick to hide unsightly cords and wires from your guests, shoe box is always be the answer!
DIY Charging Station from A Bread Box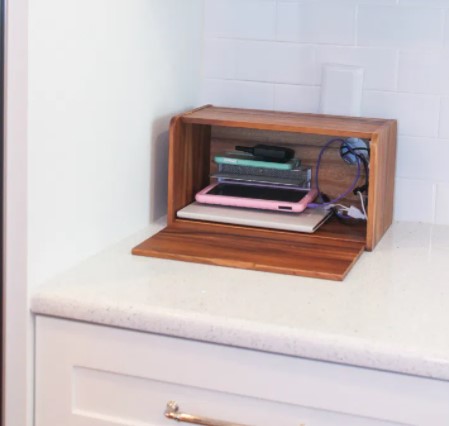 It's a good idea to disguise your charging station by making it look like something you need in the kitchen. Rather than revealing all those cables on an open counter, have them looked neat and stylish like a bread box that matches the theme of your home!
$2 Box Charging Station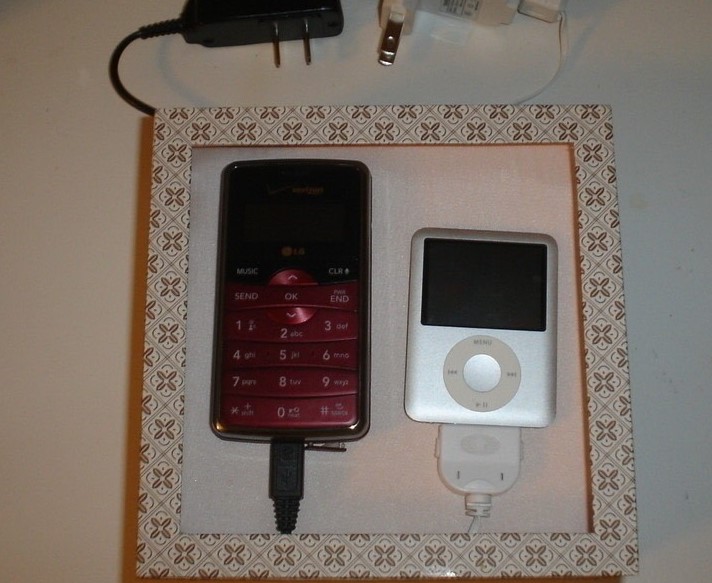 Why spend a lot of money on expensive charging stations when you can make your own for cheap? The best part is that each box only costs $2, so it won't break the bank. Follow these simple steps and soon enough you'll have an awesome DIY charging station in no time!
DIY Hidden Bedside Charging Station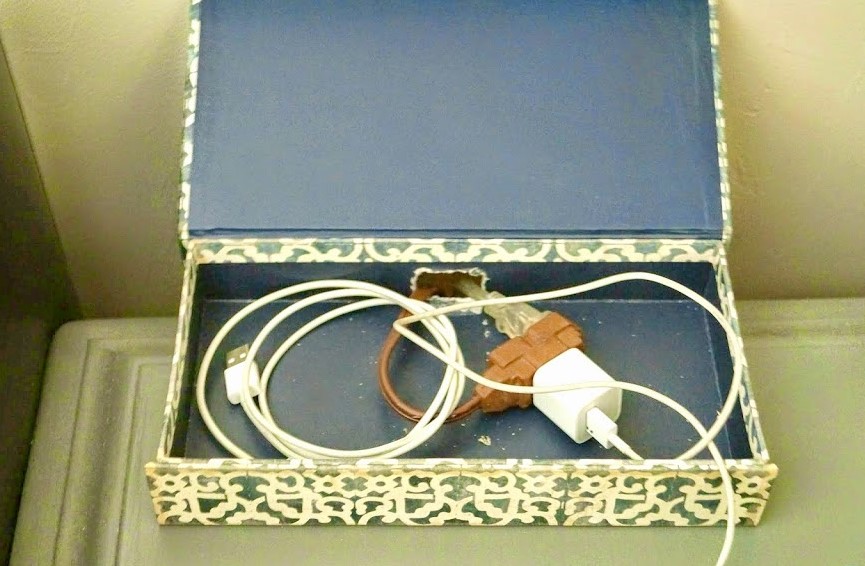 Our homes should be a place where we can come to relax and recharge ourselves. How are you supposed to do that when there are all sorts of cords laying around everywhere? Plus, it's always the little ones who find these wires irresistible! It might not seem like much but we can repurpose an old box into something functional as well as decorative. That is a charging station or an organizer for those pesky cables.
DIY Hidden Nightstand Charging Station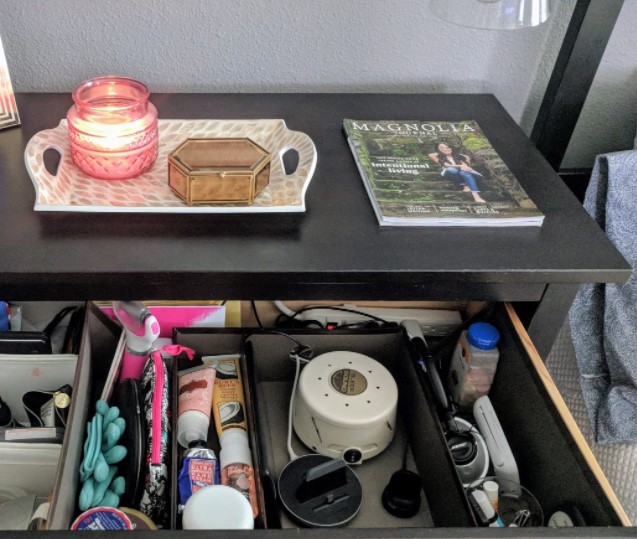 The nightstand is a great place to store your mobile devices, but it can also be an outlet for clutter. The electrical cord situation in the nightstand gets out of hand quickly and this DIY project will make a huge improvement in that area by organizing all those cords into one easy-to-reach location so you don't have to search for them every morning.
Repurposed Bread Box Charging Station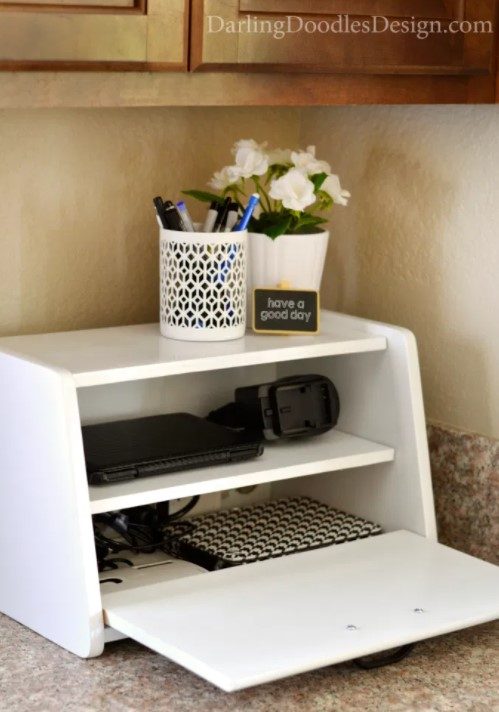 Have you found an old bread box that is no longer in use? Well, it's time for a flip! A gorgeous charging station. All of the cords and chargers will need to be organized so they can fit nicely inside your new box-shaped organizer.
Family Charging Station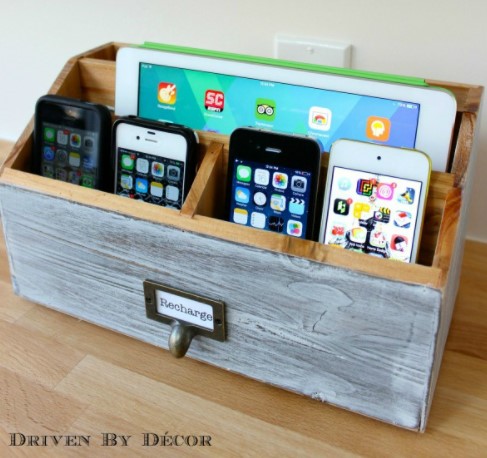 This bedside charging station project is all about transforming your bedroom's landscape. You'll get a clutter-free, chic design that will change the way you live! Now, all members of the family can charge their phones here!
DIY Single Charging Station (and A Phone Holder)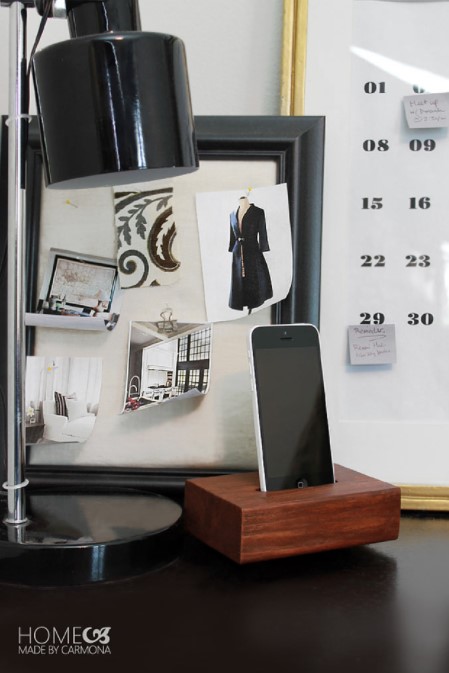 Buy a phone charging station? Or make your own for cheaper! All you have to do is find some scrap wood. With just 2x4s wood and 15 minutes of time, the cost could be as low as $20 or even less than 5 dollars if that's what you need to spend on it.
IKEA Hack Charging Station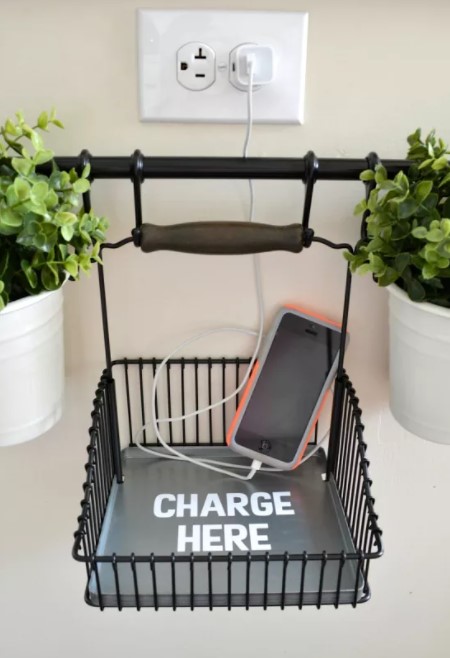 IKEA's Fintorp system can be mounted on a wall or placed in the kitchen cabinet. Combine this with a hanging basket for your charging station and you'll have everything at arms length, making it easy to grab your phone when needed!
DIY Hanging Charging Station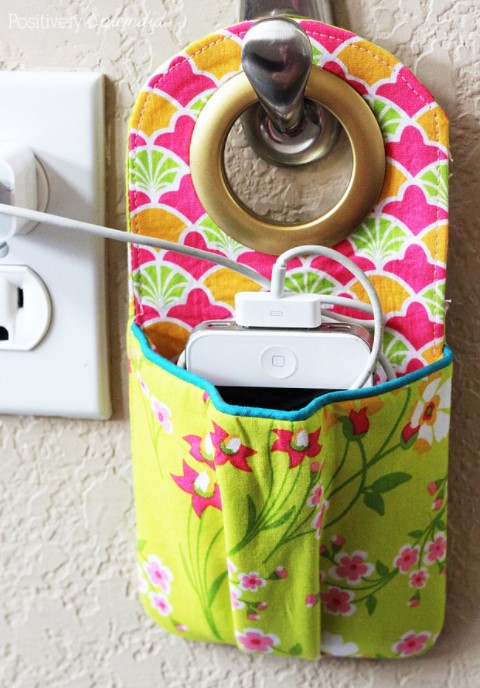 You've had a tough time finding the perfect spot to charge your phone, and you may just want it within reach. This DIY fabric charging station not only provides protection for your device while providing storage space for cords too! After all, who needs an untidy cord lying around or getting in their way? For those crafty types out there this project is both easy and fun with unique customization options available that will fit anyone's style.
DIY Bread Box Flip Charging Station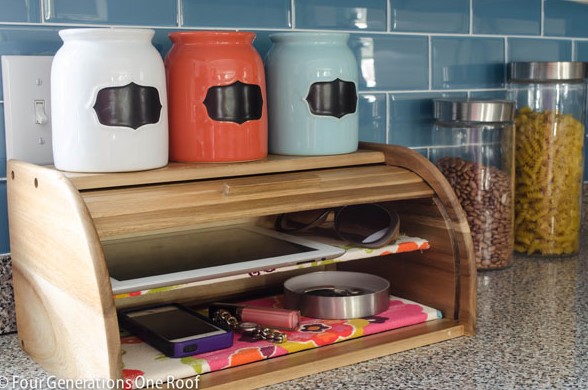 Bread box charging station is an adorable way for tech-savvy families to charge their gadgets and store them in one convenient location. The modern design of this charging station conceals the devices inside while still allowing you access to charge your phone or tablet!
DIY Book Charging Station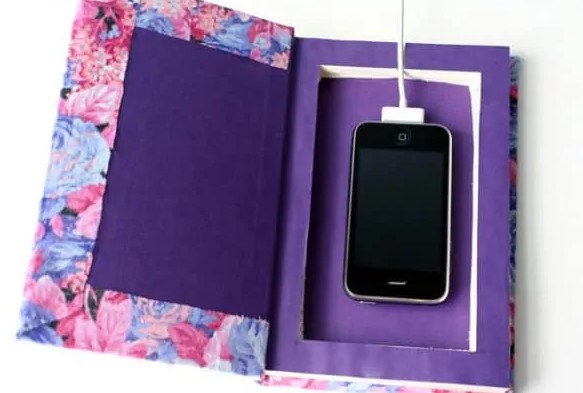 The benefits of reading a book are endless! Not only is it an excellent time killer, but they look great too. It can also be used to hide things like your phone charger or other gadgets that would clutter up the desktop. Now you have one less thing on your desk and more space for what really matters!
DIY Picture Frame Charging Station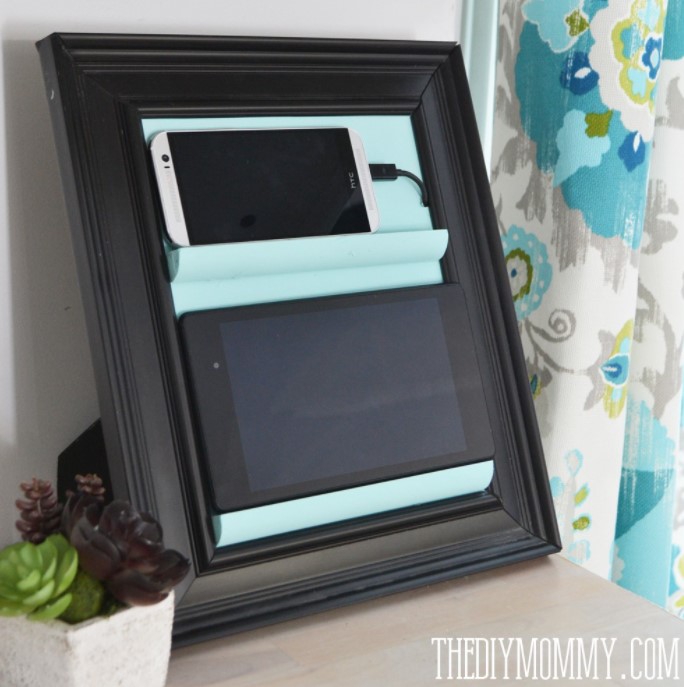 This thrifty charging station can be made in just a few minutes with materials you probably already have around the house. It's perfect for any office, home or dorm room. All it takes is some creativity and not much money!
DIY $25 Charging Station and Dresser Valet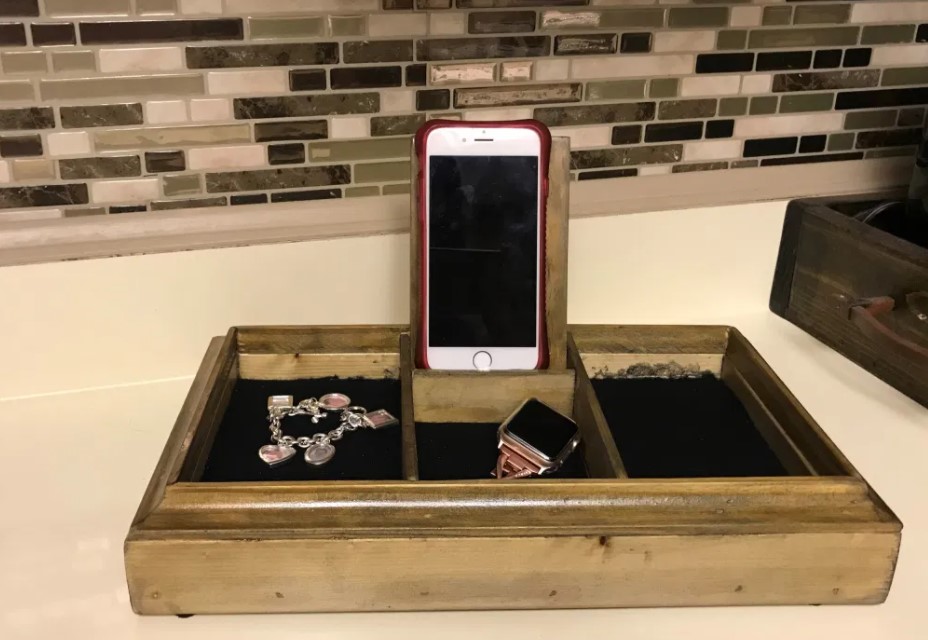 Make your own phone charging station and dresser valet with this easy do it yourself project. At less than $25, customize the size to fit any style of furniture. This makes really thoughtful gift as well!
DIY Revamped Box Charging Station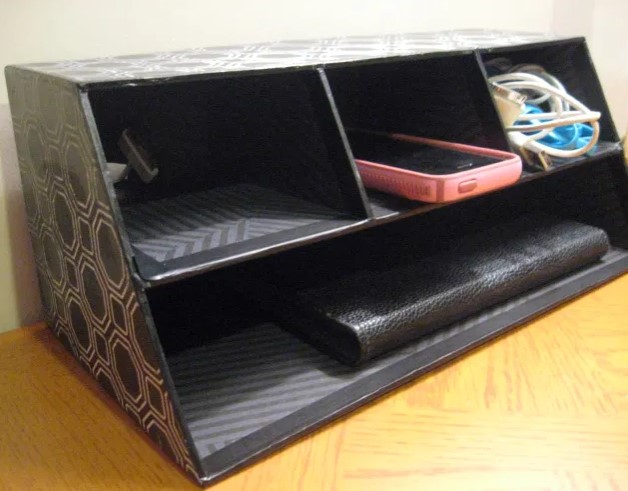 A tangled mess of cords can drive anyone crazy. It's time to repurpose an old box into a functional charging station that both provides space for the devices and organizes their cord in one place, making it easier than ever before!
Recycled Plastic Bottle Charging Station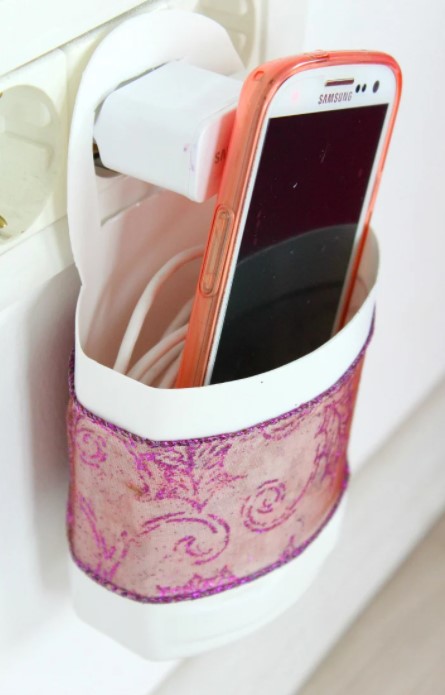 Dare we say that this DIY phone charging station will be the cutest way to keep your mobile device charged around the house (and also save the environment!). It's a functional phone charging station at your bedside to help you always know where it is. This easy-to-create idea can be personalized with different materials or fabrics too.
DIY Sturdy Wall-mounted Charging Station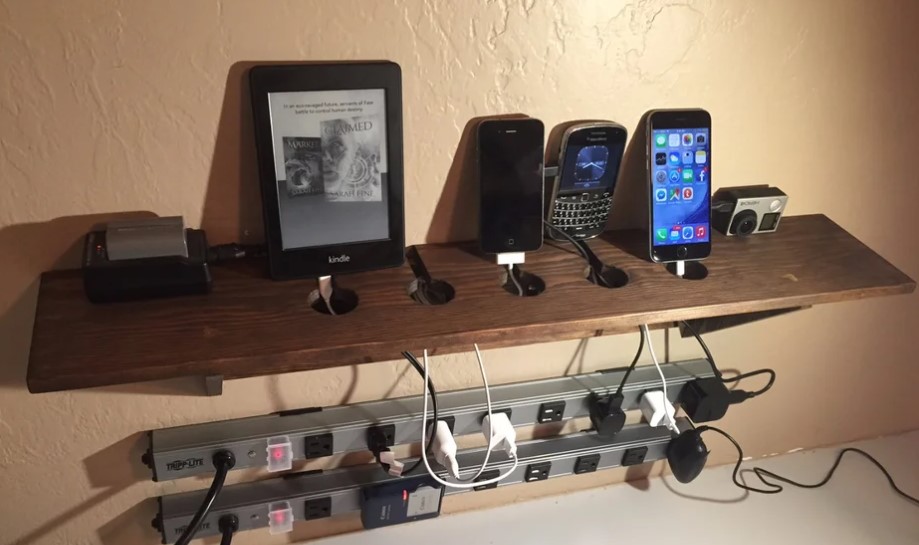 For those of us who are running out of room for all our gadgets, the wall-mounted charging station will be a lifesaver. Not only does it help keep things tidy but you'll also have more space to work with because no longer do your gadgets need their own designated place on your desk! The project is simple and can even be done in an afternoon using one 6′ length of 1×6 board. Let's get this woodwork going!