The Christmas holiday season has finally arrived! Who else is excited? Channel the excitement to decorate the living space with festive ornaments, which we've listed below. These ideas are perfect for anyone who wants a creative and homemade decoration this year.
These DIY projects are easy to make and fun for the whole family. No matter if you have all of your supplies or need to buy them, these quick ideas are cost-effective. Get your Christmas spirit on because it's time for a fun crafting session!
Admirable Colorful Rhinestone Ornaments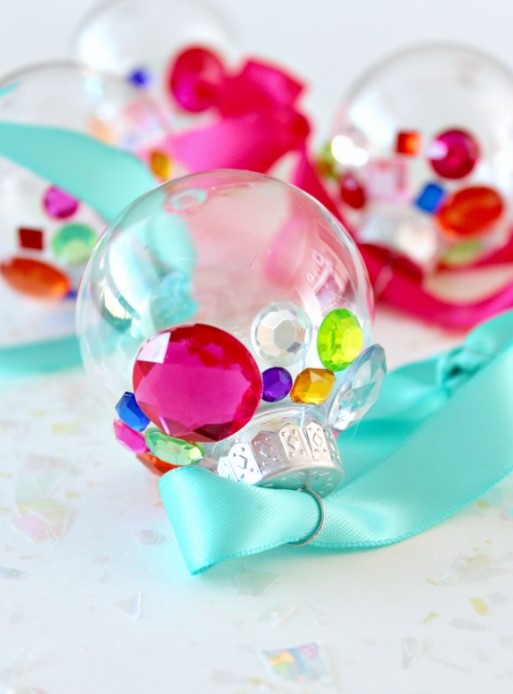 We start the DIY journey with these lovely rhinestones ornaments. The colorful stones are giving out the festive vibe we need during the Christmas season. Surprisingly enough, even though they may seem quite complicated to make at first glance, this beautiful DIY Christmas decoration is easy to make. Plus, you can be as creative as you want when decorating clear plastic ornaments! Note that it will be easier if the rhinestones are self-adhesive.
You Can't Resist These Gradient Ornaments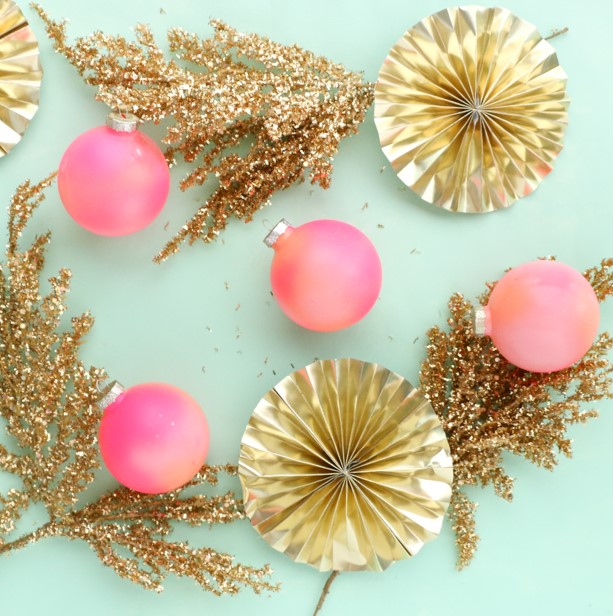 Embrace the wonderful gradient colors and make your DIY Christmas ornaments more interesting with a few simple steps. Transferring these beautiful hues to clear plastic ornaments is as easy as can be! When you hang them up on string for decoration this year, friends will find it hard to stop admiring the ornaments!
Adorable Rudolph Decoration Using Round Ornaments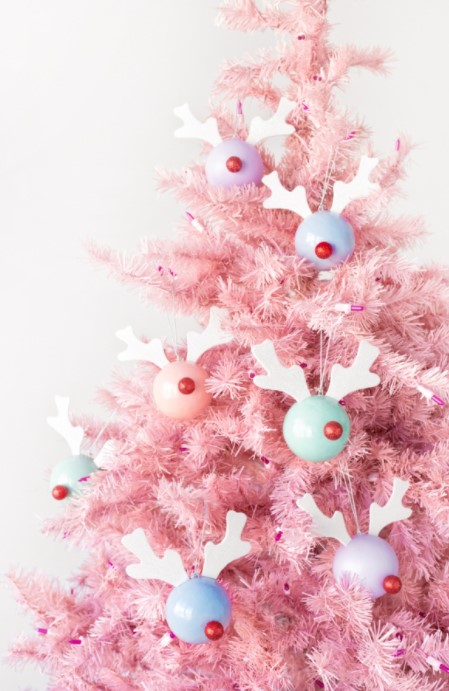 Rudolph the lovely reindeer is always a favorite during Christmas time. Let's give him an even more special place in our hearts by making this adorable Rudolph decor! To create the head, we need round ornaments. Note that we need two different sizes to make both Rudolph's head and his cute nose!
Light Up The Christmas Tree with Paper Candle Ornament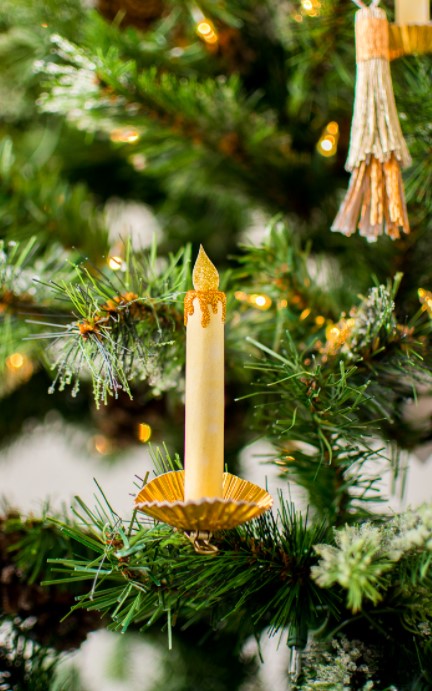 The most important part of Christmas decoration is none other than the Christmas tree. And we all know that it has to be as festive as possible- but this year, you can go a step further and make your home even more Christmassy with these DIY paper candle ornaments. And with the fake fire from these paper candle ornaments being made out of gold-color glitter, this project can't get more perfect! It's cheap, quick–and definitely not flammable!
Simple DIY Balloon Dipped Ornaments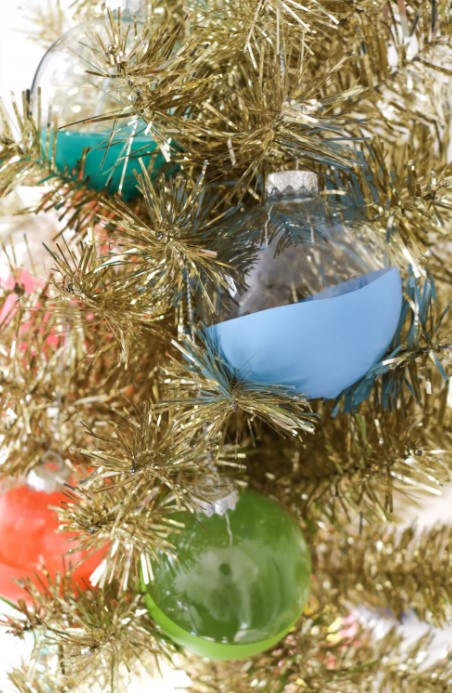 How fun is this DIY Christmas decoration for you? For us, seeing these balloons-dipped ornaments for Christmas decor is an enjoyable experience! The DIY process behind these lovable ornaments won't give you any trouble because you just have to cut the balloon in half! Although your hands may smell like latex by the time you finish the project. That won't be a big deal, will it?
Look At These Holiday Houses Decor from Wood Scraps!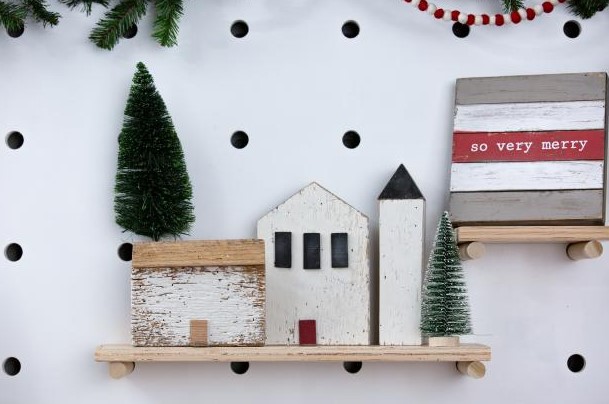 One of the most popular decorations for Christmas is a charming snowy village–either it fits in a little globe, glass display, or shelf. From the moment you see a holiday village, it's hard to imagine not being drawn in. The snow-covered rooftops and Christmas trees are beautiful during any time of year. If making one is your goal this winter season, then you're going to need some scrap wood and chalk paint.
Advent Calendar Made with Charming Wooden Houses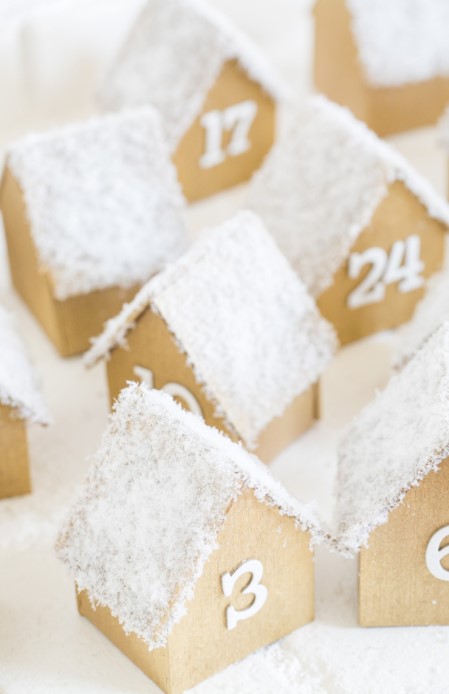 Talking about charming wooden houses, we have another idea that comes with a little twist. Instead of making one or two, we make the houses as an advent calendar–counting down to Christmas Eve. The fun doesn't stop there as you can fill the house with treats too! Don't worry, there is a printable template for the houses' measurements.
A Great Christmas Wood Crafts Project for Anyone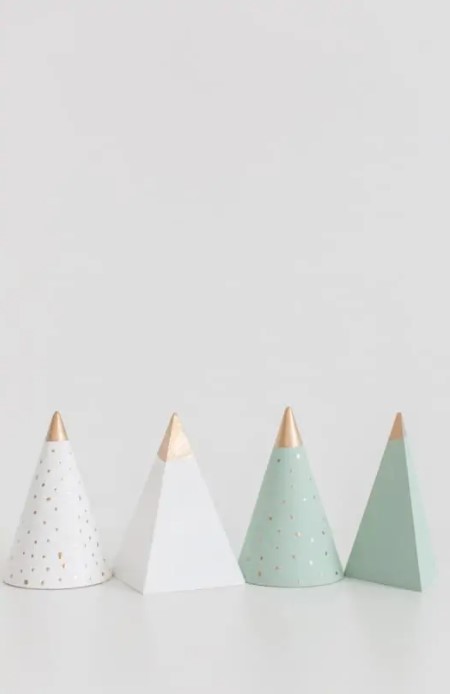 It's time for a challenge that requires the laser cut! People are excited about this project because it is a small and adorable decoration for your holiday table or under the Christmas tree. To get to the shape of a mini-tree, you can use the laser cutting tool so the cuts will be cleaner. Then, you can go all out on creativity by adding glittery paint. These tiny trees become an amazing craft creation for anyone looking to find new ideas!
Colored-Felt Garland for A Festive Atmosphere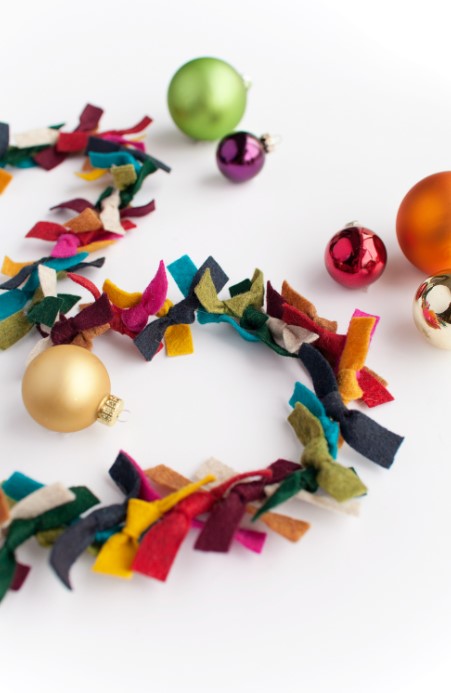 One of the best things about Christmas trees is their beautiful decorations! One decoration that you can't miss out on this holiday season is a garland. There are many types of garlands, but we have to recommend using felt because it's colorful and lasts through all your celebration festivities. This project takes some time, so make sure not to start without doing something else at first like watching a movie while cutting strips or making loops-it'll speed up the process tremendously in no time!
Snowflakes Made out of Popsicle Sticks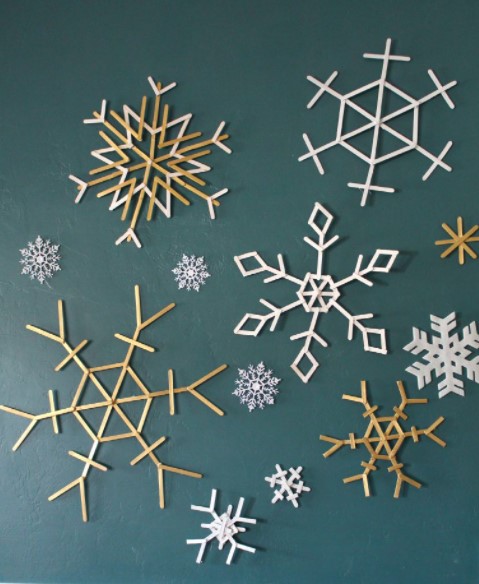 In some parts of the world, Christmas is associated with a white blanket of snow. While the winter season is not present in all countries, snowflakes can still be created using popsicle sticks and glue. You can also use toothpicks or craft staples for extra detail. Plus, kids will love helping make their winter wonderland because they're so easy to make!
Fresh Evergreen Swag from Your Own Backyard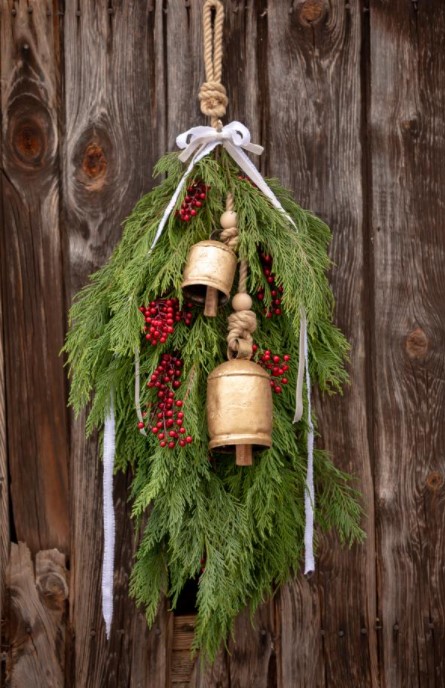 You can't have Christmas without the evergreen tree. Give your Christmas tree a companion by making this evergreen swag to hang on your door–welcoming awaited guests. To complete the swag, you may need fake berries and rustic old-looking bells. Assembling them won't cause any trouble but remember to stay safe with the glue gun.
Festive Christmas Tree Cut-Out Mason Jars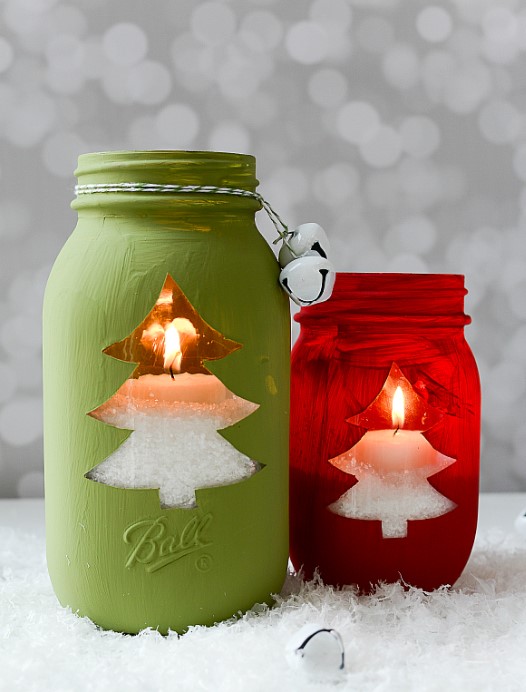 Mason jars are everyone's favorite when it comes to making DIY projects. There are plenty of ideas to make from these handy jars that will spice up your holiday season! One idea is this cut-out Christmas Tree (the stencil template is available on the website below). You will need red and green chalk paints to get that perfect holiday vibe going!
An Ingenious Scrabble Tile Christmas Tree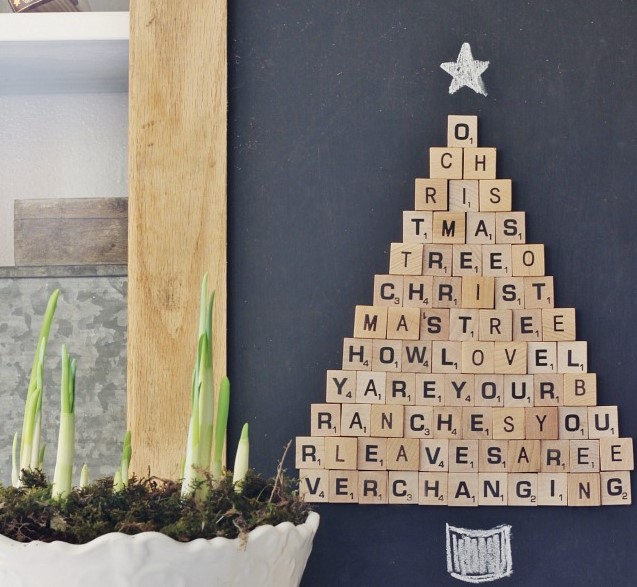 Did you know that it's possible to have a Christmas tree without taking up any space using just Scrabble tiles? You can put the letters on your chalkboard in order of a carol you like, and once they're glued safely, voilà—a beautiful holiday decoration. It turns out that making one from the tiles is surprisingly quick!
Ombre Bottle Brush Trees in just 5 Minutes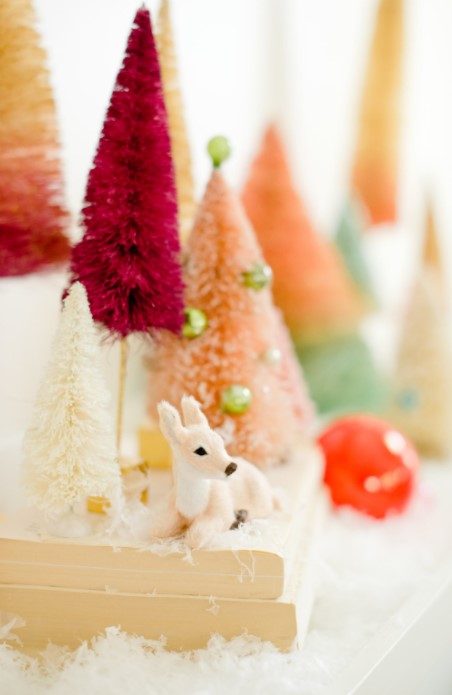 No need to spend all your money at the mall, make these ombre Christmas trees by yourself! These are easily made from bottle brush trees and redesigned with acrylic paints. To ease the paint application, you can use either a thin or thick paintbrush; just coat it in glitter for an extra festive feel.
Let Santa See Your Pom-Pom Christmas Stocking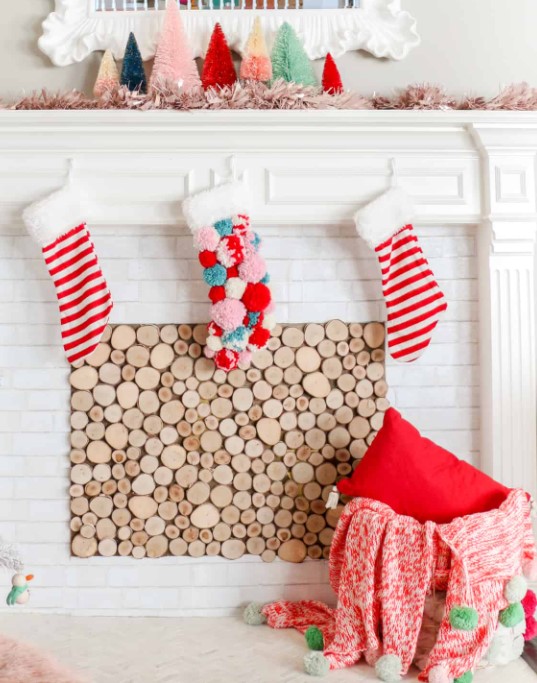 You can't forget about the Christmas stockings! Make a different one that is more festive and fun–a pom-pom stocking. To make your own, you'll need to use a pom-pom maker (available at most craft stores). Then take an old sock and glue all of the poms together. Don't forget to invite your kid if they're around too!
Star and Circle Paper Christmas Decorations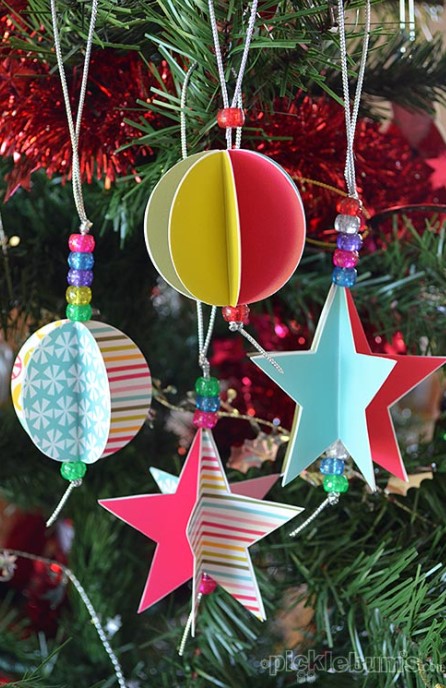 Crafting during the Christmas season is a great activity because it can make us feel more excited about the coming celebration. Take this cute DIY star and circle decoration for example! After printing out all templates from the website, you simply glue them together as instructed to create an easy-to-make festive ornament that will look awesome on any tree!
Joyful Confetti-Filled Ornaments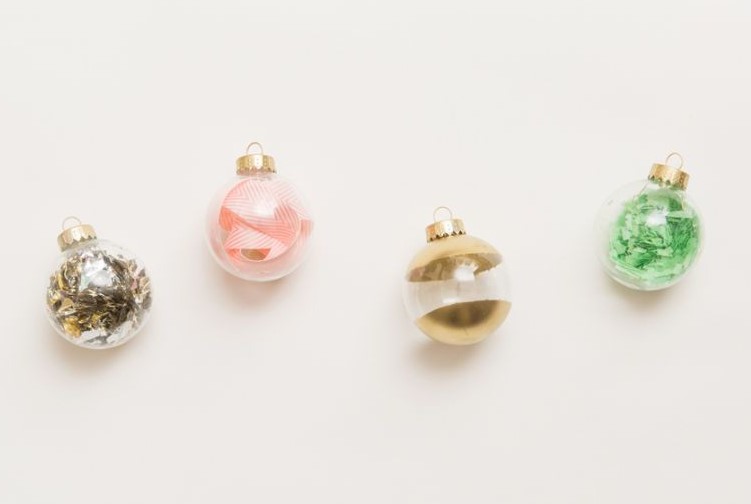 Clear plastic ornaments provide a blank canvas for our creativity. One of the many examples is these confetti-filled ornaments with gold spray paint and pastel confetti, which radiates an awesome Christmas spirit! Not only can you be creative in choosing what type of filling to use but also how much. There really are no limits when it comes to designing your own custom ornament as long as there's enough space left inside.
Christmas Sleds Made of Popsicle Sticks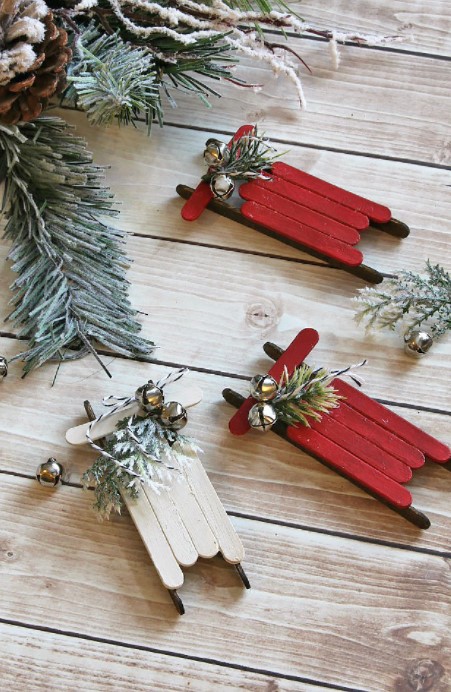 During the winter, many teenagers are having fun with sleds. Sliding from the top to bottom of hills using their handmade boards! Why not take this idea and make DIY Christmas decorations? These are mini-boards made out of popsicle sticks that you can create yourself. All you need is glue, paint, and additional ornaments for your masterpiece!
Rainbow Christmas Ornaments from Dry Clay
Decorate your home this Christmas with a burst of color by making these rainbow shapes out of clay. Create the general shape first and then add in different colors, giving each one its own unique hue to create the perfect display! The best part about it? It's easy enough to do over the weekend or during the evening after work hours so you can get creative with kids too!
Adorable 3D Paper Snowman Ornaments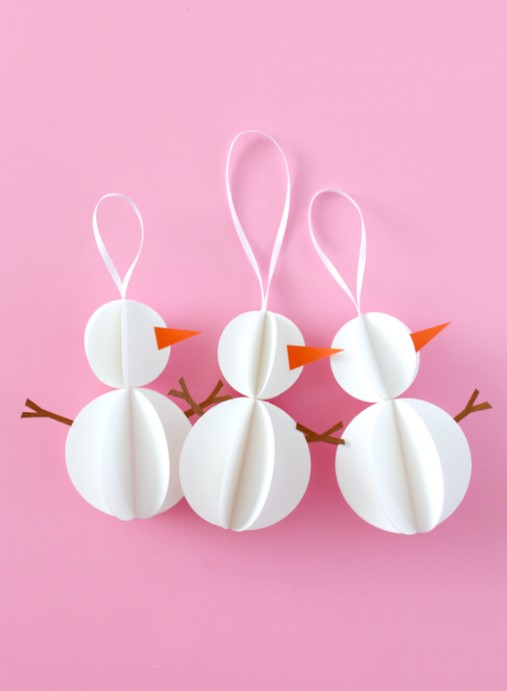 The snowman is one of the most iconic symbols of winter. With this 3D paper version, you'll be able to craft your own snowy friend without any fuss! The body parts are made with circles that come in various sizes–making them easy and quick for kids or adults alike. Add a carrot nose and some stick hands to get started on making memories worth remembering during the season's best time!
A String of Vintage-Looking Christmas Lights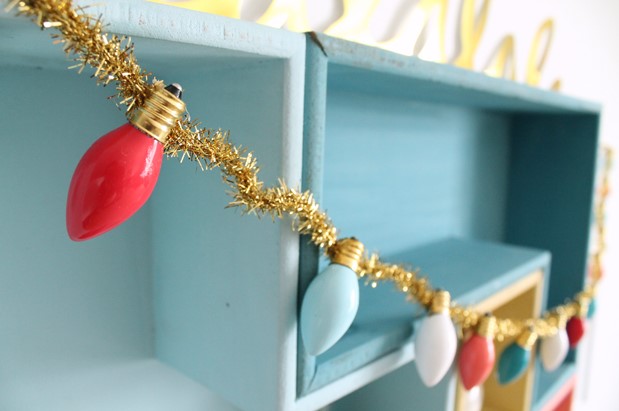 Have you ever considered hanging up some light-colored lights for a Christmas celebration? It's an easy way to add color and cheer! The vintage-looking red, green, blue, and yellow colors on these fun DIY holiday decorations are great if you want the feeling of joyous anticipation. The bulbs themselves only cost $2.99 – so there really is no excuse not to decorate your home this year with them! To finish off this fun decoration project, all you need to do is wrapping gold tinsel wire trim around every bulb!
Plastic Spoon Christmas Tree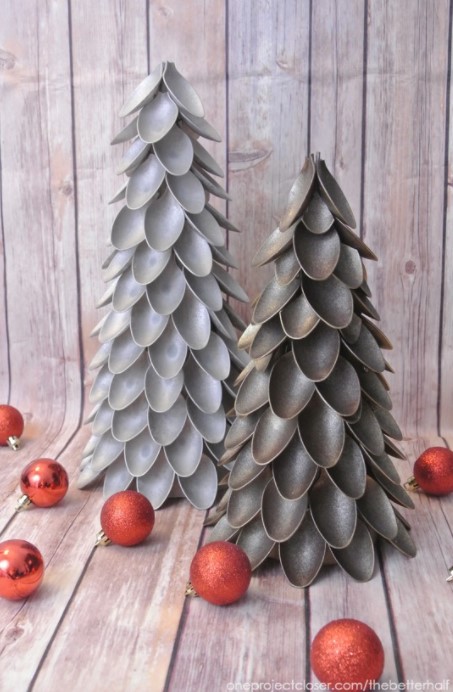 Another material you can use to make a Christmas tree is a plastic spoon. This is pretty easy to make and affordable too. Before assembling the spoons, making a Christmas tree, you need to spray paint them with the chosen color. Here, the color is a mixture of browns, chalkboard black, and gold.
Birch Branch Stumps and Mini Trees
Your Christmas decoration needs a centerpiece and what else is better as a centerpiece than a naturally glamorous birch branch stumps and mini trees in silver and gold? Yup! We are about to make all of those in this DIY Christmas decoration project. A perfect result but low maintenance. Isn't this something that we all want?
A Stunning Lighted Christmas Star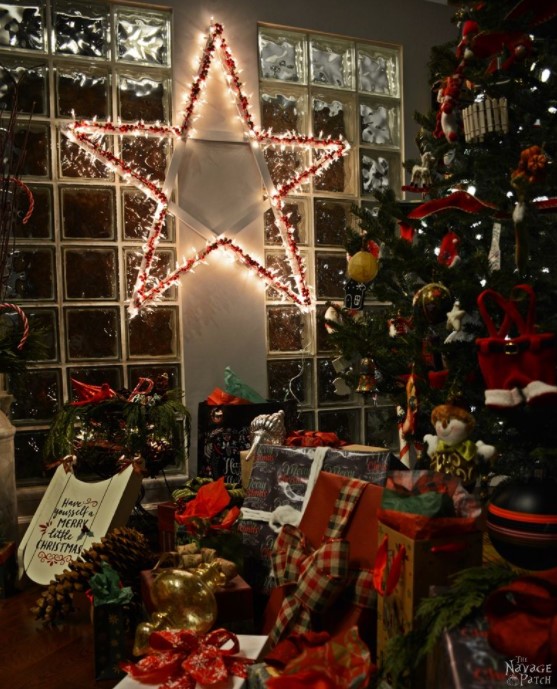 Lights up your living room and dazzles the neighborhood. The Christmas season is just around the corner, but you don't have to wait long if you want a head start on decorating! Check out this star that will make any house feel like it's time for all things merry and bright. This DIY lighted decoration takes some work – cutting wood into slices, using nails as connectors. However, once it's finished, your home will be ready for Santa with its new shining centerpiece!
A Christmas Rag Wreath from Red Stripe Fabric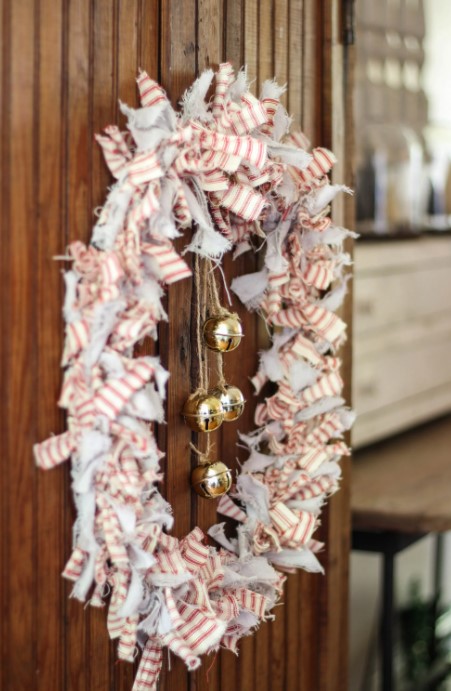 A wreath is a perfect way to add some cheer and festivity to any holiday celebration. This Christmas, let's hang a rag wreath in our doorway! The fabric has an interesting red stripe pattern that adds even more life to this festive decoration. We can also string bells from it to ring out all of your joyous feelings during the holidays!