A decoration can do wonders for any event. This is especially true when you are celebrating a special occasion, like your birthday! You don't need too much to make the mood feel right at home: even one of our simple tassel garland decorations will suffice!
DIY tassel garland is the perfect project for those looking to add a little pop of color and that festive touch without breaking your budget! The best part? Guests will be so impressed when they find out you made it yourself.
Here are 35 simple DIY tassel garland tutorials for when you want to decorate your home or party and feel festive!
Simple Rainbow DIY Tassel Garland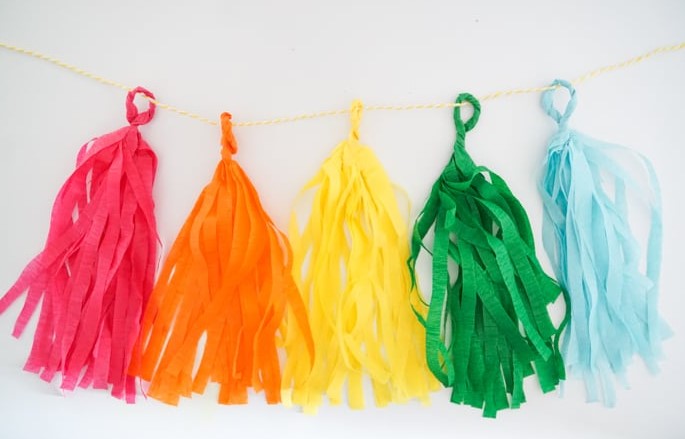 Party decorations shouldn't cost you an arm and a leg. You can easily make your own with this DIY tassel garland for a low price. Plus – since it's all handmade, you'll get exactly what you want in terms of colors and style. This rainbow tassel garland only requires crepe paper, a ruler, and scissors in case you need help cutting!
Easy DIY Yarn Tassel Garland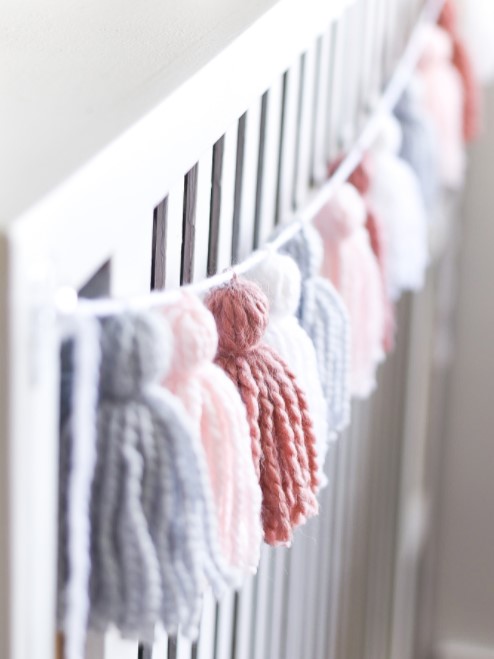 The yarn tassel garland is the perfect way to add a little cuteness and coziness to any room in your house. The theme of this DIY yarn tassel garland is a pink bedroom decoration, so the tutorial requires a variety of colors, such as pink and pastel shades, in order to create an interesting display. You don't have time for that? No problem! This project takes less than an hour from start to finish with just some simple steps.
Rainbow Tassel Garland for Party Décor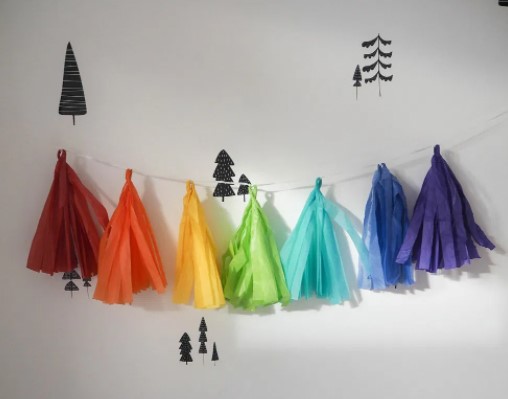 Your loved one's birthday is coming up, and you're already stressing? Don't worry! This DIY tissue paper tassel garland will be perfect for your celebration. Made with a few supplies like ribbon or string – this craft doesn't take much time at all to complete. You won't regret investing in this decoration that can be reused again and again without any hassle whatsoever!
Outdoor Tassel Garland for Any Weather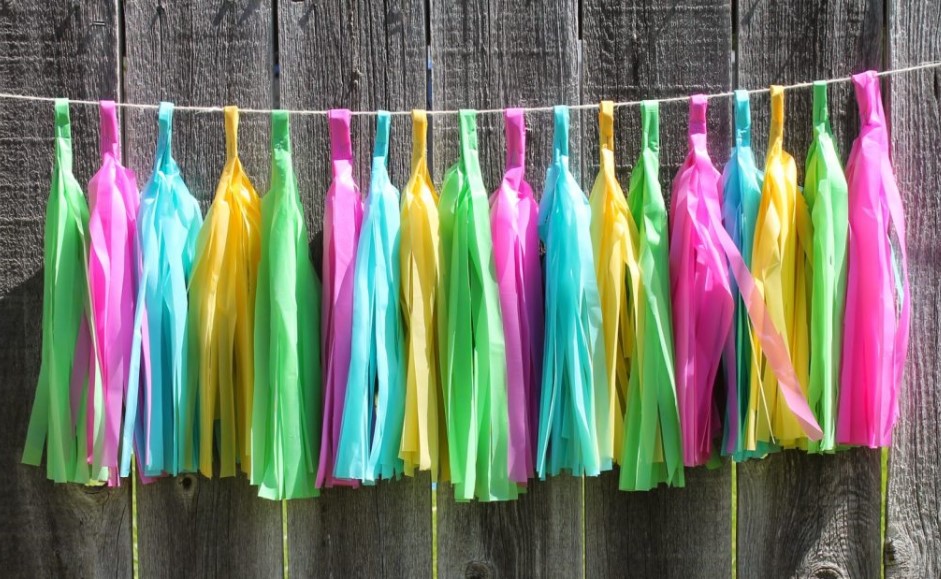 Tassel garlands are a fun way to dress up your indoor or outdoor space. Guaranteed, everyone will love the eye-catching and festive decoration for any occasion, and even better when they're weatherproof! This DIY tassel tablecloth is ideal for outdoor parties because it's made from tough plastic. The supply is inexpensive and can be bought at local stores easily.
DIY Tassel Garland for Baby Shower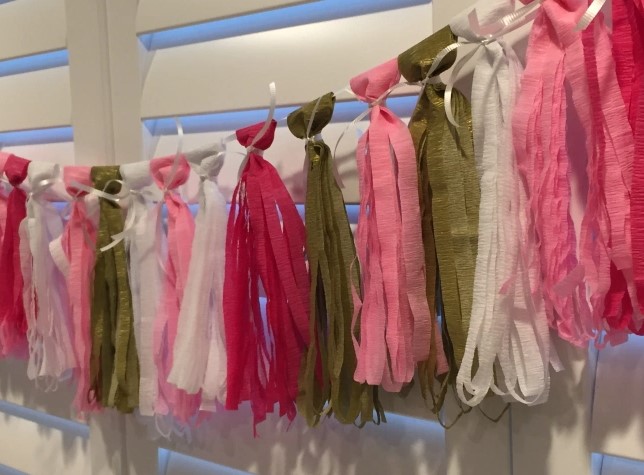 A baby shower is a special time for the mother-to-be as well as her friends and family. Give them this adorable garland decoration that only requires scissors, some rolls of crepe streamers, and string or ribbon to make it perfect! There are so many colors available that make this project easy.
Easy Wood Bead Garland DIY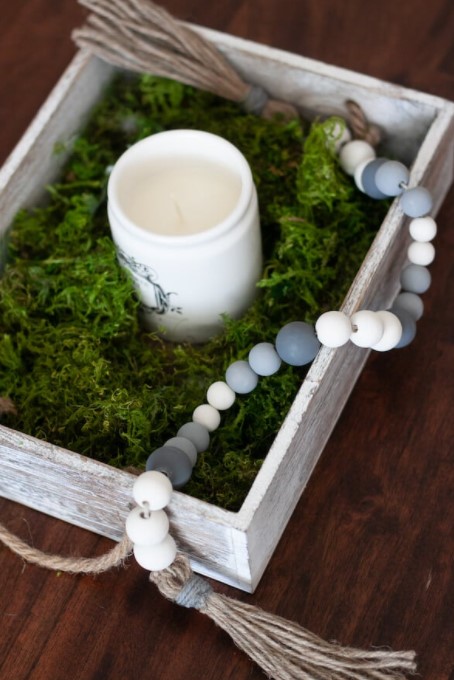 The rustic design of the wood bead garland is perfect for farmhouse-style decor. However, this type of decoration can be used in any space to bring a little more character into your home! One way you could spruce up your interior with these natural decorations would be by hanging them on doors or windows. You'll also find that they're really easy and inexpensive to make – so go ahead and try it out today.
Doorknob Wood Bead Tassel Garland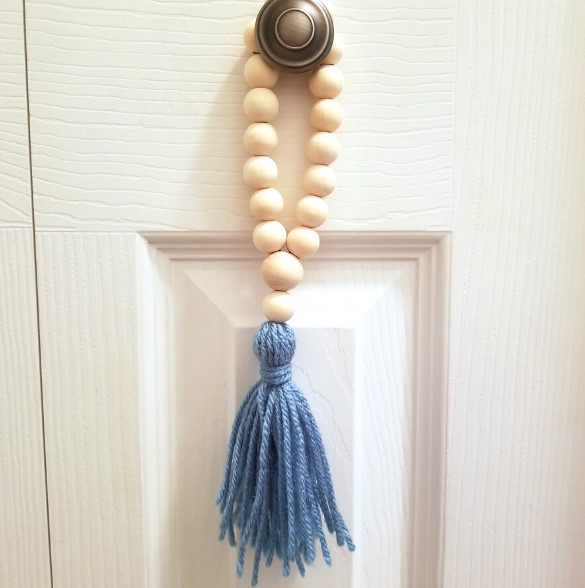 Wood bead tassel garland is the hottest trend in town and who doesn't love a hot new idea? Other than that, it's adorable to make and it's very customizable too. For example, coloring the beads will make the project more creative. So, in this tutorial, you'll learn about the supplies needed for a successful wood bead garland. Let's get started together!
DIY Christmas Tree Tassel Garland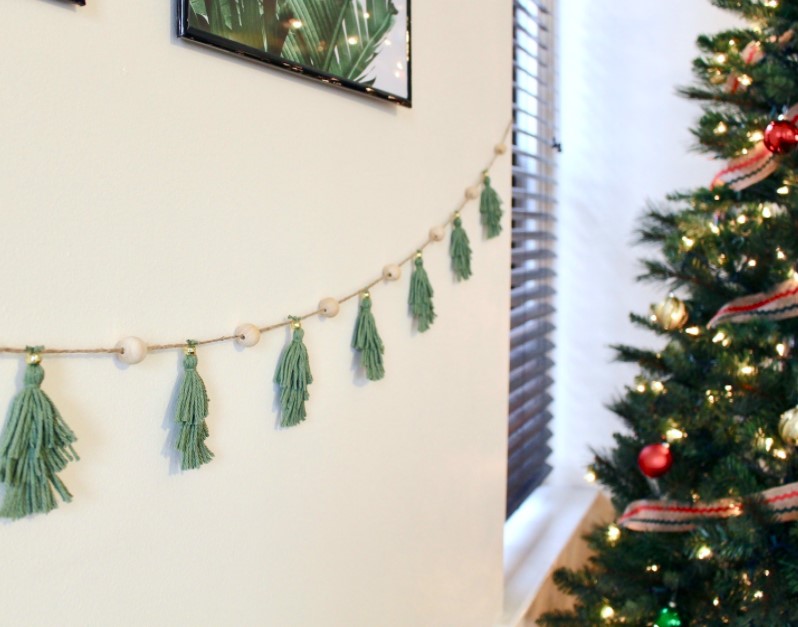 Ever wonder how to deck up your house for Christmas on a budget? Here it is! An easy tutorial that will give you the festive look without breaking the bank! The living room is already craving holiday spirit, but stores can charge big bucks. This tassel garland tutorial has everything you need and won't cost too much.
DIY Napkin Tassel Garland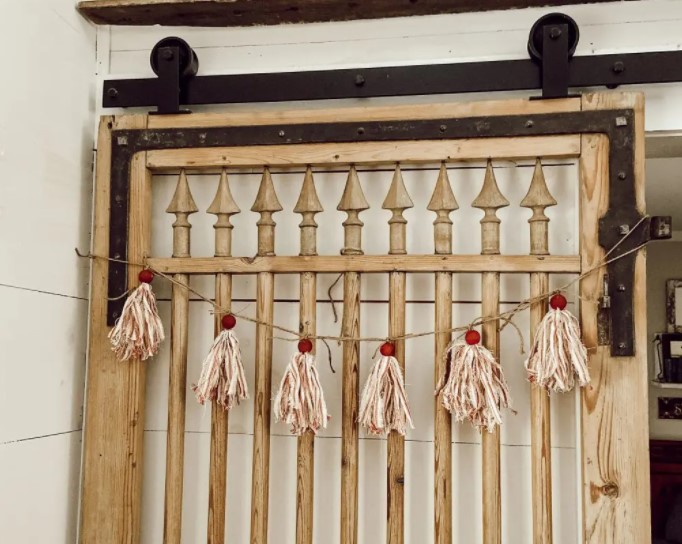 This is the perfect project for all of you DIYers! Get your craft on and make this tassel garland. It's not only easy to do, but it will also turn any space into a festive winter wonderland in minutes. You can add some beads too if you'd like or hang the beautiful garlands up anywhere with ease – over windows, doors- they're so versatile that there are tons of possibilities out there just waiting for your personal touch.
Adorable Mini Tassel Garland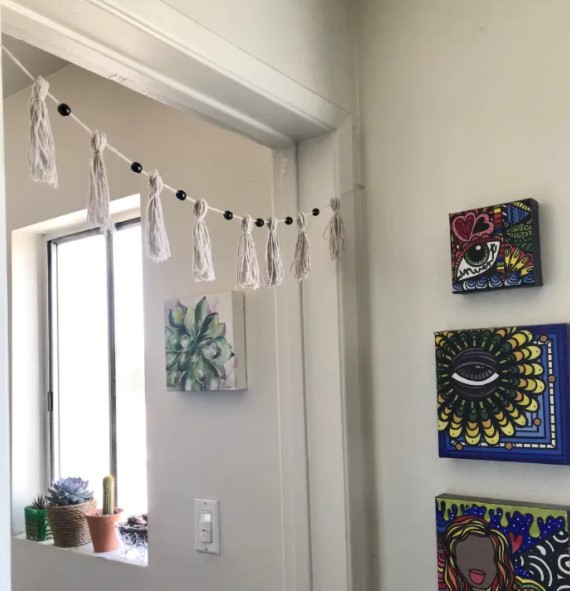 Have you ever needed a cute way to decorate your home or party? Tassels are the perfect, simple, and elegant option. Decorate your home or office with this beautiful door decoration. Hang it up in a doorway, on the wall, over-the-door style—whatever you want! You can use different colors of tassels and even add beads for an extra special touch. This tutorial will show you how easy it is to make tassel garlands for any occasion in just some steps!
DIY Twine Tassel Garland
Twine is a great way to personalize your tassel and make it unique. Check out the jug before and after adding twine! The difference can be mesmerizing. It's so simple but it makes such a difference that we will be getting compliments left and right about how exciting it now looks!
DIY Tassel Boho Chandelier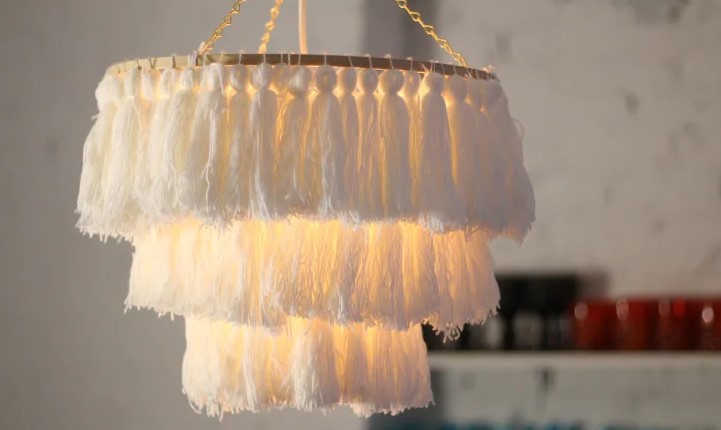 This DIY project is perfect to create a boho vibe in any room. The size of the chandelier is customizable depending on your home's dimensions, but it might be best to measure before you purchase hoops for this easy-chic look. The chandeliers are simple and inexpensive enough that they can fit into most budgets.
DIY Fabric Tassel Garland
The tassel garland is a great project for anyone, and it can be used in so many ways. For example, you could use the fabric to create a lovely backdrop at your party or as an easy way to cover up that mistake on your wall! It's also nice when decorating kids' bedrooms with this fun design- plus there isn't any difficult stitching involved!
DIY 4th of July Tassel Garland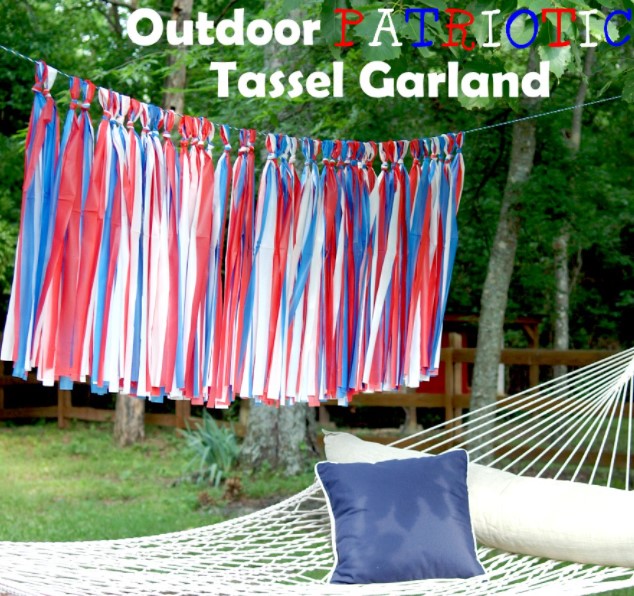 This patriotic garland is perfect for Independence Day! This project should cost less than $5 and can be used to decorate trees in your yard. For this, you need 3 plastic rectangular tablecloths of each red, white, and blue as well as a clothesline from the Dollar Store. These are all so easy to find that it won't take long at all before they're hanging on every tree in your backyard!
Simple Wrapped Rope Tassel Garland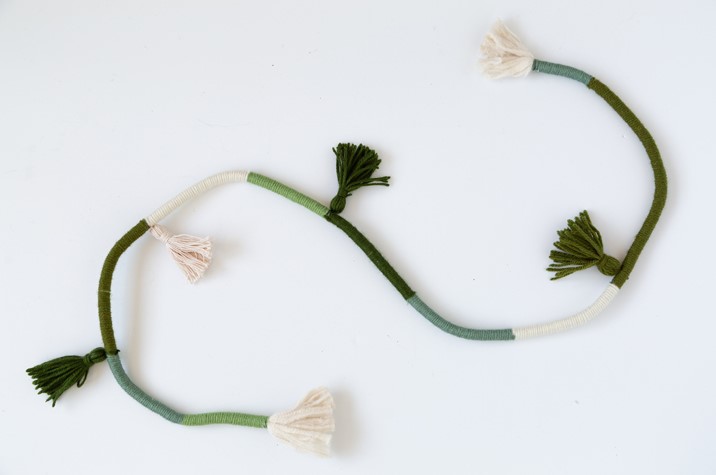 Tassels made of yarn and wood beads are so in right now, but there is an alternative that's just as exciting! This tutorial shows you a tassel garland made of wrapped rope. It's the perfect project for anyone looking to get crafty with their time. It doesn't take much skill or tools and it can be reused over and over again.
Unique Garland Made of Rag Ties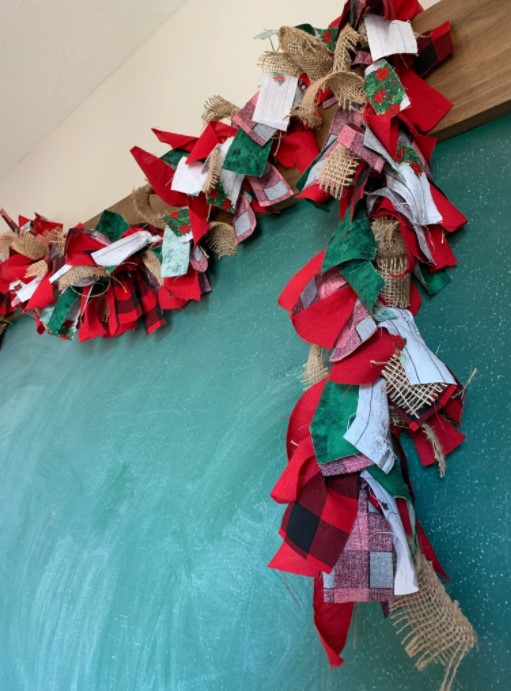 The best time of the year is here and it's your turn to make a festive Christmas decoration. In stores, it's quite pricey, so making one at home can save you money and let you be creative too! Plus, the fabric and jute string needed to make it are found in many local shops. With this handy DIY guide, you'll learn how to be crafty with colors, size & length without spending much more than what's already sitting around your house!
Easy and Colorful DIY of Bow Garland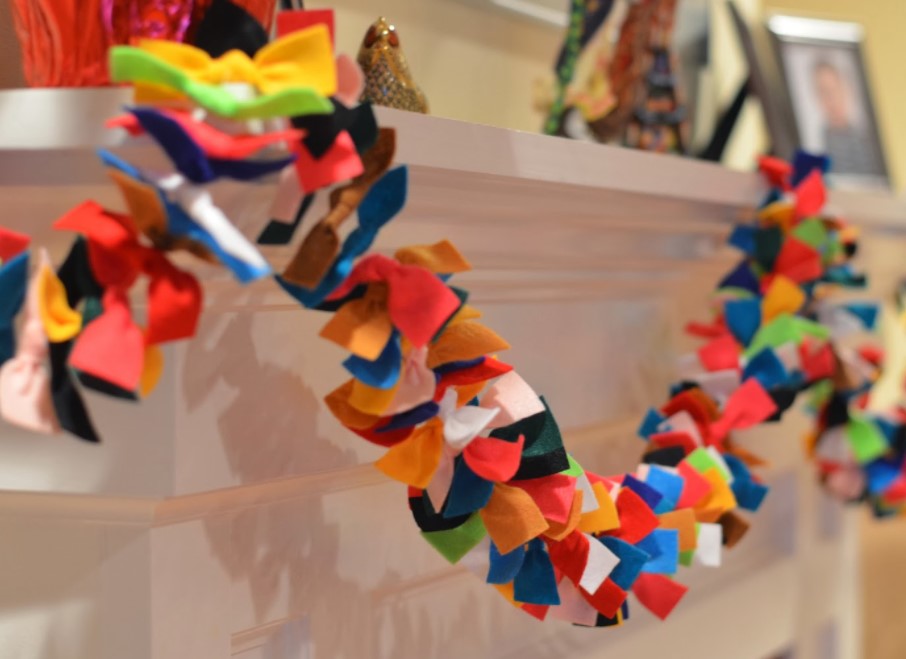 The brilliant mix of colors in this DIY is fascinating. Other than easy to be made, it is economical too. The total cost of the project is under $10! The plus point is it can be used for any celebration throughout the year. Either it's a birthday, new year, or even Christmas Day!
DIY Ruffled Tassel Garland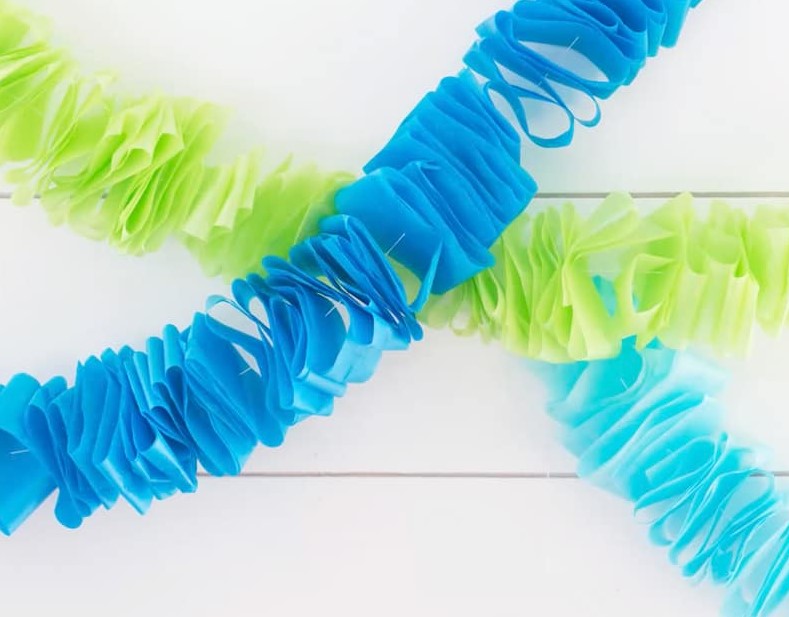 Terrific, you've found it: a quick project that's perfect for your next party or celebration – beautifully simple yet so festive looking. Tissue paper garlands are the newest trend in DIY decorations. These ruffled tissue creations take little time to make and can be used for any occasion!
Quick Bernat Yarn Tassel garland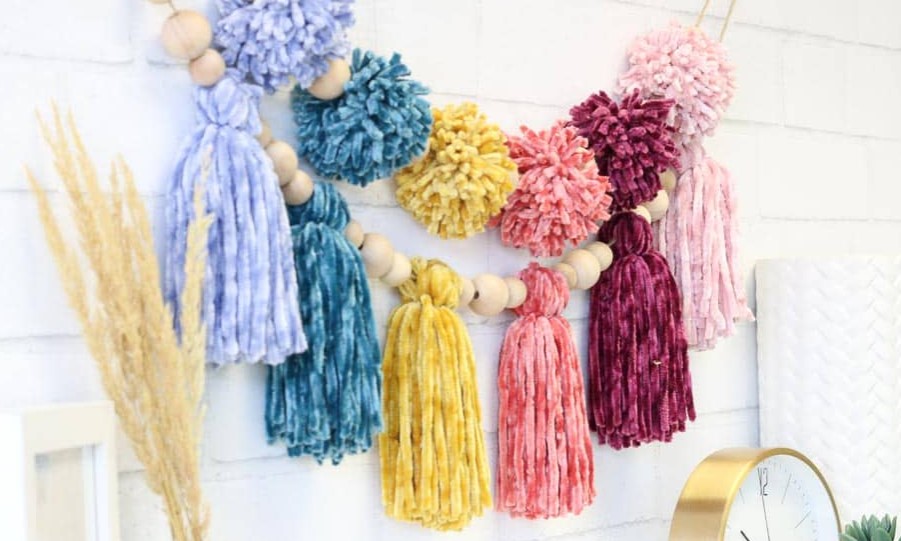 Rainbow color is a mixture of cheerfulness and excitement which are good feelings to put in a decoration. Using Bernat velvet yarn, not only that it's festive, but it's also showing a spirit to welcome the warmth of the fall season!
Thrifted Yarn Tassel Garland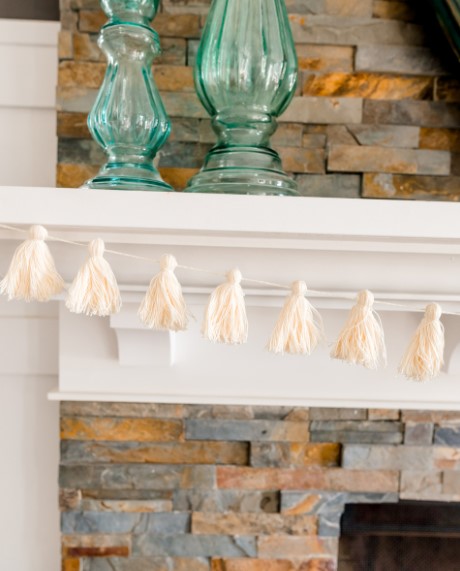 Tassels are so easy and fun to make, especially with the thrift store yarn! Creating this DIY tassel garland was such an inexpensive experience. When you're thrifting for a project like this one at your local vintage clothing shop, don't be afraid of purchasing items that might not work out flawlessly- most times they'll turn into something even more special than what you had planned in the first place.
Easy DIY Yarn Garland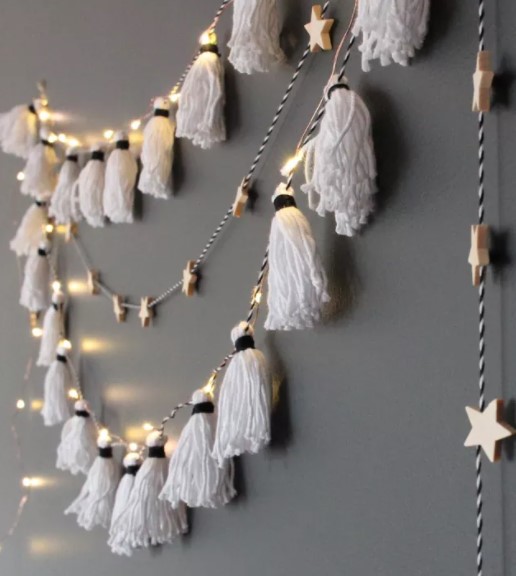 If you're looking for a creative DIY project, this is the one! A monochromatic garland made with fabric and yarn. The supplies are easy to find at local dollar stores too, so it's not difficult. When your masterpiece is ready, place on anything around your home from tree branches to lamp shades- anywhere that needs some décor added!
Easy DIY String Tassel Garland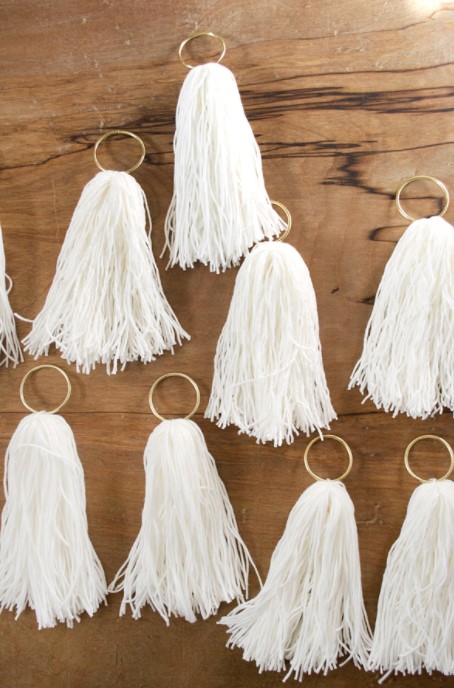 This garland is not only beautiful, but it's also insanely easy to make. All you need are two supplies: gold macramé rings and a few rolls of string depending on how long you want your garland! The gold rings make the garland stands out. When it's placed on an empty wall, it gives touches of simplicity and elegance.
DIY Big Tassel Mini Garland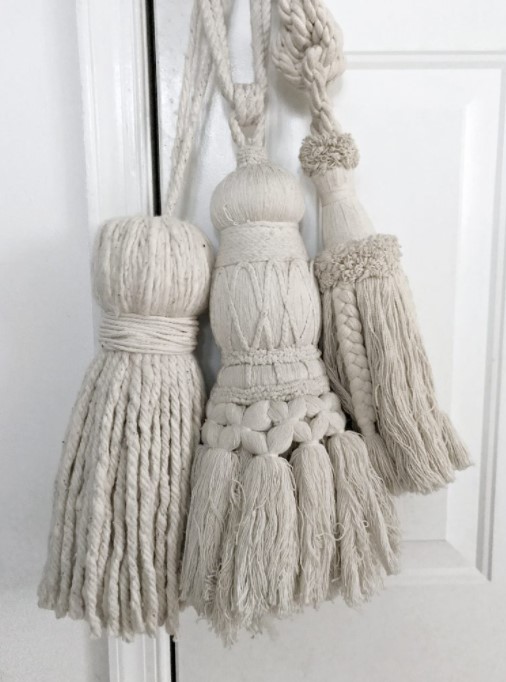 Look at how huge these tassels are! They're not easy to find in stores. Even if you do, the price may be way too expensive. But don't worry- this tutorial will guide you step by step on how to make them yourself for much less money and with so many more colors options as well.
DIY Paper Garland for Halloween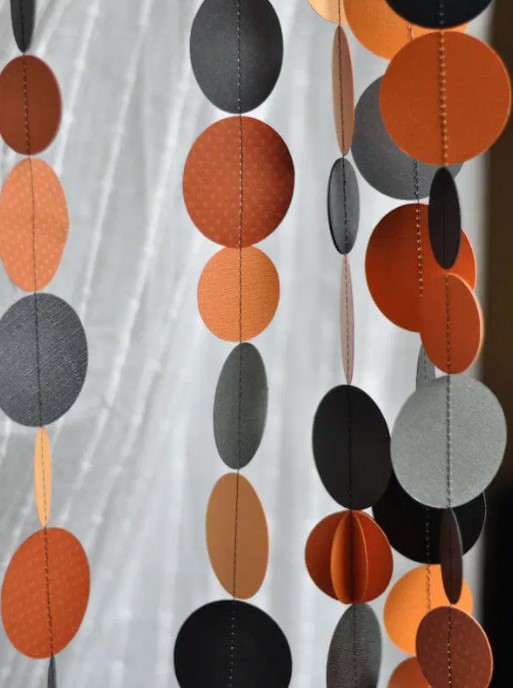 The perfect spooky touch for your Halloween festivities! These cute paper garland add a fun accent that's not too over-the-top. Not to mention it only takes minutes to make with just some punches and string, so you can have them up in no time!
Tasty Ice Cream Garland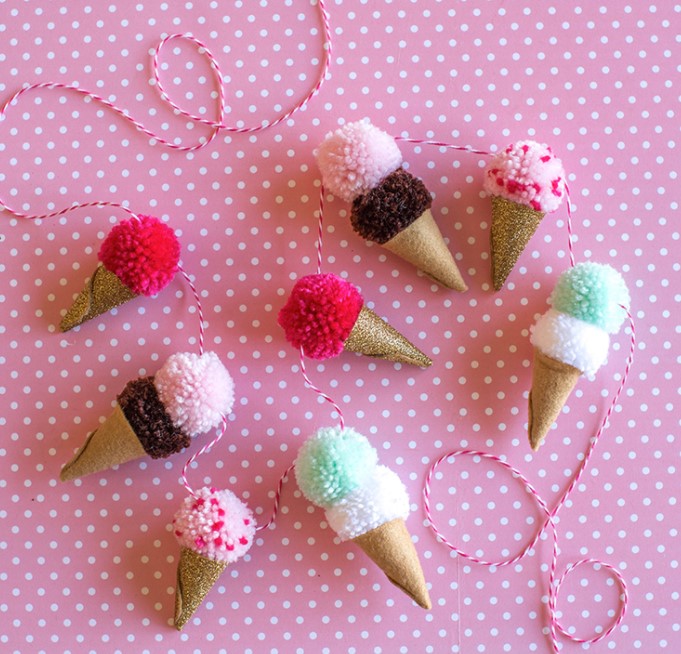 This ice cream pom-pom garland is a fun project for crafters of all ages. You'll have so much fun making this garland, and styling it is like a puzzle! You can put it on the wall or around your favorite plant. Or you could just play with it to make something new every time.
Repurposed Old Clothes Tassel Garland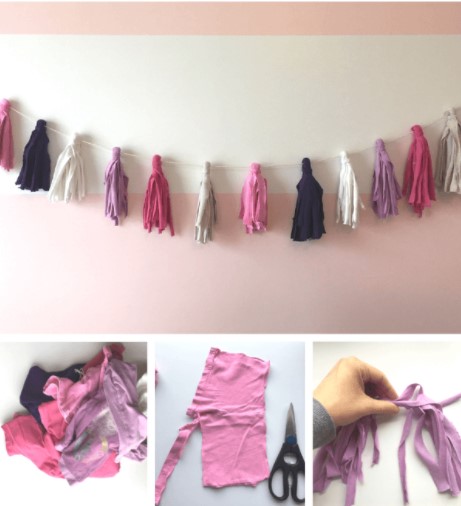 This one might be a great DIY project: turning your child's worn clothing items like pajamas or outgrown shirts from last year (which are just sitting in storage) right back around again as fabric for a handmade tassel garland that will decorate his/her room with love. This DIY is the perfect way to give your kids' clothes a new life–or make them into something even more sentimental!
Simple DIY Sequin Tassel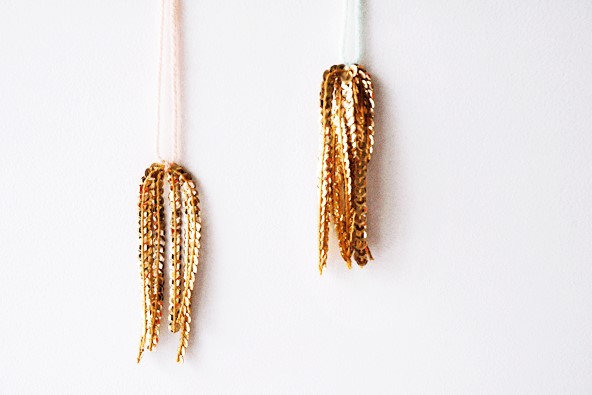 This is a simple and fast craft idea that will surely get you some compliments. Look at these shimmering tassels! All you need is some gold sequin trim, scissors, or thread of your choice such as yarn. You can't go wrong with such a simple and fast craft project!
Unique Tinted Paper plate Garland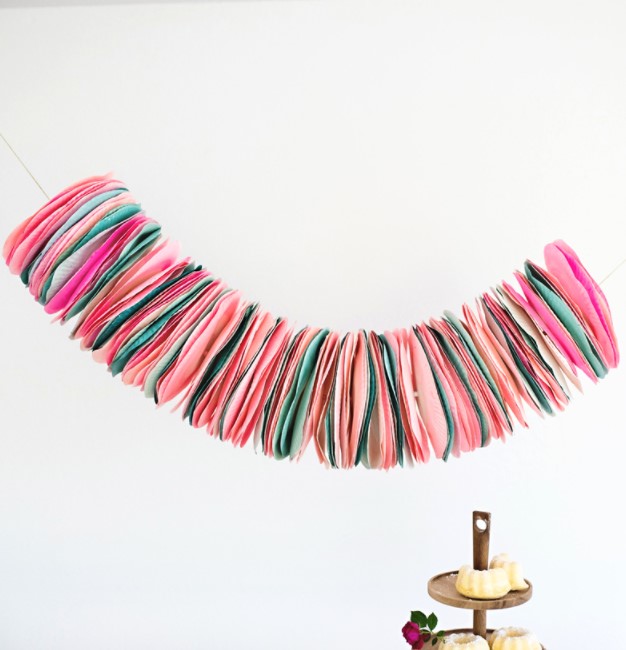 The modern style of this paper plate garland is perfect for any event, and you'll find it's easy to customize with your favorite colors. It can be used as a party decoration or hung on the wall like artwork!
Adorable Tutu Tassel Garland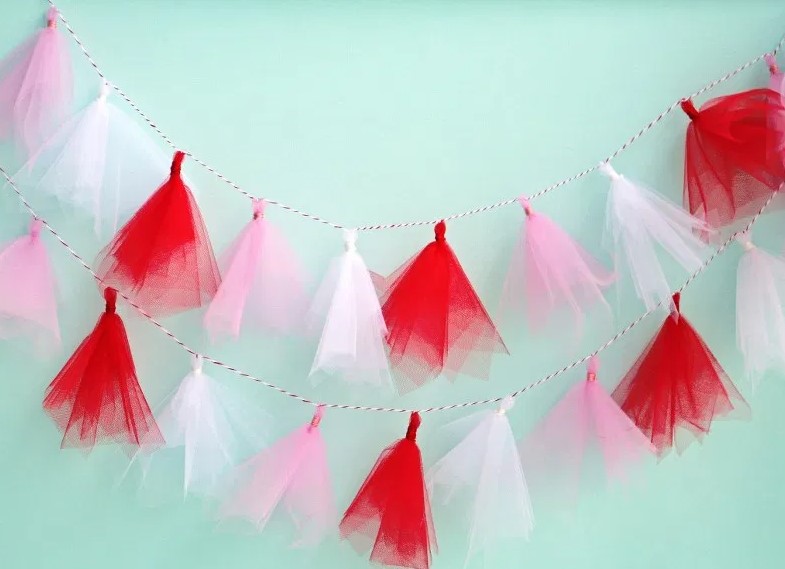 Imagine waking up on Valentine's Day to the sight of this garland hanging from your door. The mix of colors is adorable and sweet, while still being modern enough for a minimalist home décor style. You can add that personal touch by incorporating some photos into the design too.
Blossoming Tassel Garland DIY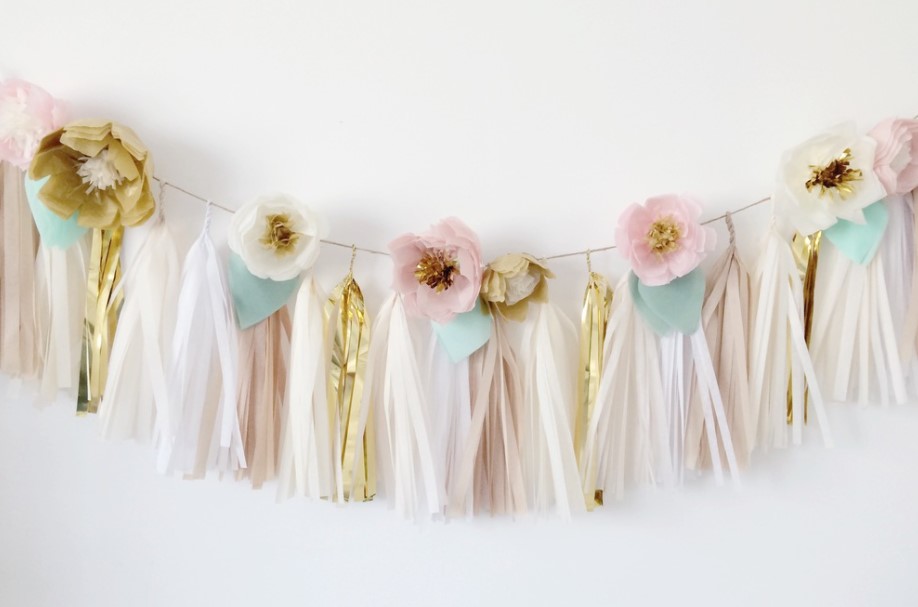 You can't go wrong with flowers to brighten up your space. The colors instantly lead you into an instant good mood and remind you that spring is on its way. Plus, it's not difficult to make this idea a reality and create an elegant floral garland that can hang anywhere in your house with just some time and effort!
Colorful Fabric Tassel Garland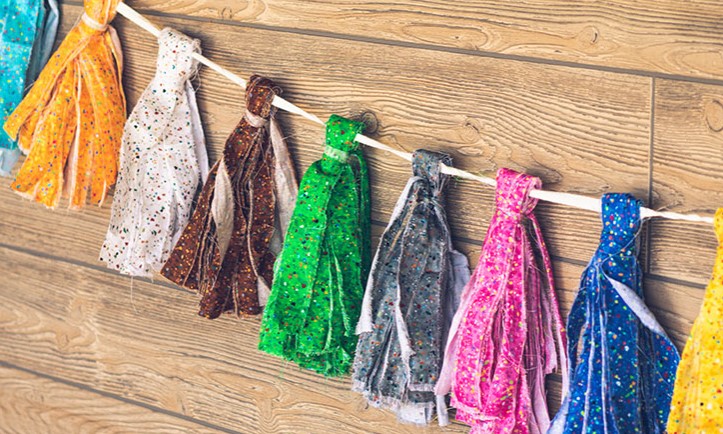 This is a fun fabric tassel garland idea using several fat quarter bundles. This is a no-sew tutorial that will give you the look of an intricate and glamorous craft in under fifteen minutes with minimal effort. You'll be glad to know how easy it actually was, too – just a few simple steps is all you need for your own stunning, one-of-a-kind DIY project.
Patriotic Tassel Garland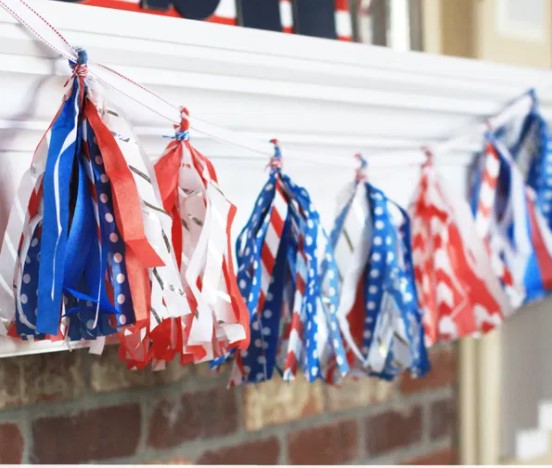 The perfect 4th of July decoration is here! This Patriotic Tissue Paper Tassel Garland will add some color and holiday spirit to any space. Choose from a number of tissue paper colors patterns for the perfect mix-and-match look or switch out your garland's patriotic décor for every other occasion by simply changing up its patterned papers!
Bright Red Tassel Garland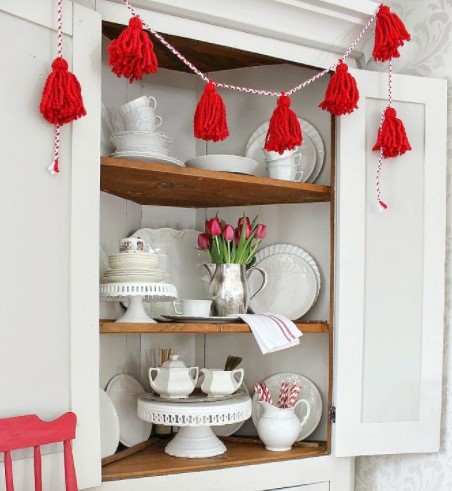 Making a tassel garland is super easy and will make you the coolest host ever. You'll need some yarn for this craft, as well as string or twine to tie off your finished product. The instruction below is designed to help make your very own tassels – this project can be used as part of an event design scheme (perhaps hanging them along chair backings at weddings) or just adding some colour into any room!
Distressed Linen Tassel Garland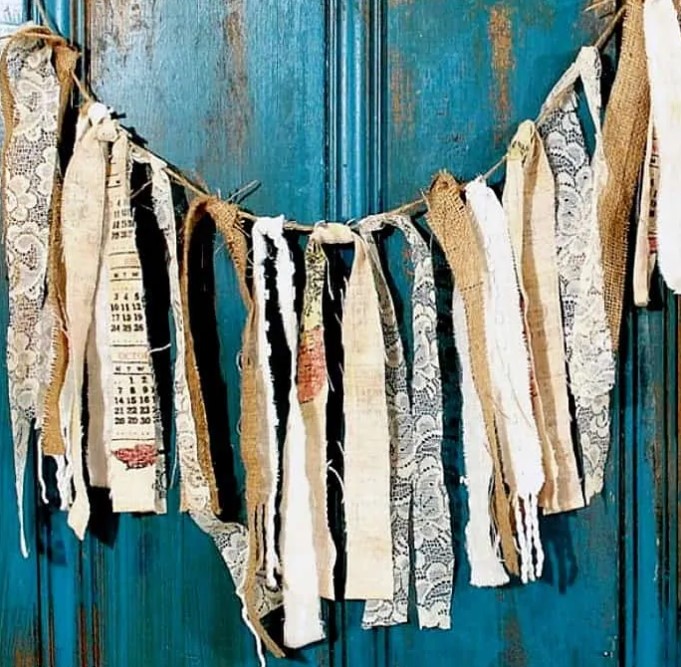 Do you want something vintage and distressed? Using old-timey linen pieces, natural jute stringing cord in various lengths (depending on how long/thick you want the tassel) along with an embroidery hoop for easy placement. It'll make anybody smile when they see it hanging in their home year-round so go ahead: get creative while saving money too.
DIY Spooky Garland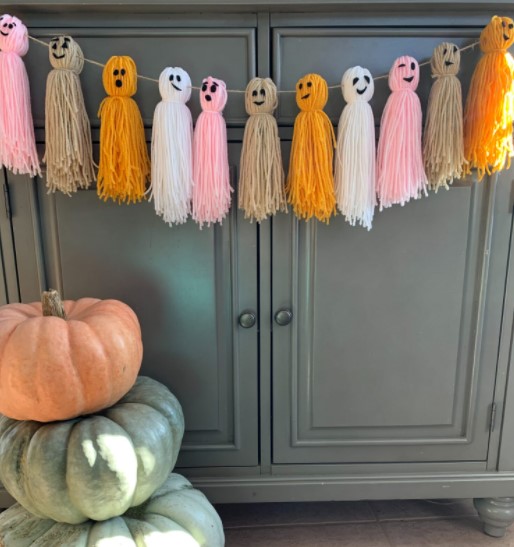 This is a perfect project to make with the kids! Not only will they have tons of fun, but it's also an easy craft that can be completed in less than an hour. The supplies needed are inexpensive and simple to find – what could be better? Once it's finished, you can hang your new decoration anywhere from the kitchen to even an area where children are playing with toys.