Without proper shelving, all of the stuff just ends up piling high on top of each other until everything gets tangled together into one unorganized mess where nothing ever sees the light of day!
This all will change when you pick the right DIY projects to build customized closet shelves. Then, everything will be neatly stacked!
Stack upon stack, that is how you make your closet works for you – it has to be functional; you have to 'click' with it. If issues like blouses, dresses, or shoes can't be found in your closet space then something is wrong.
Don't worry though! There are some practical DIY ideas and tips on how you can build your own closet shelves for your needs.
Here are some of them.
Get Rid of the Clutter with Master Closet Organization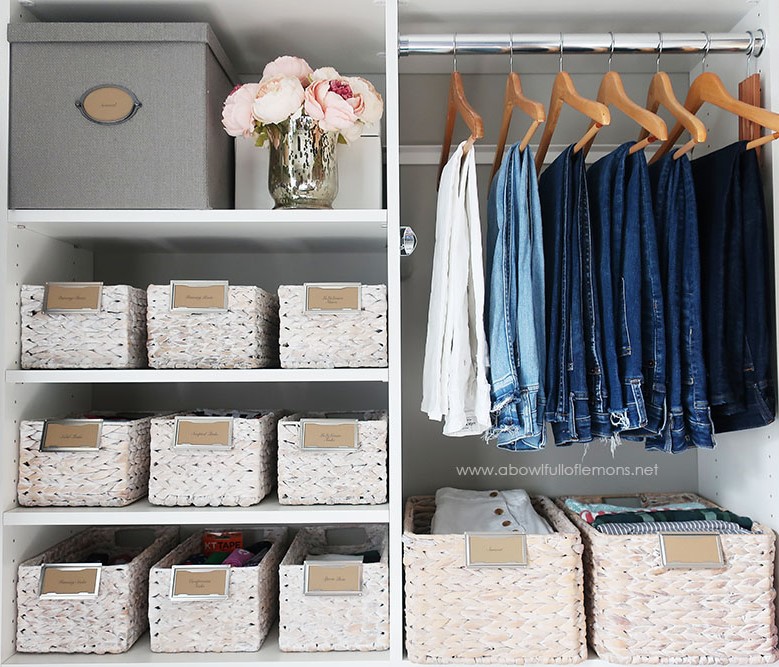 Walking into your closet should give you a new strength to continue the day. Unfortunately, that won't happen if the room is chaotic. This is when you know you need a better closet shelves system. Here comes the handy-dandy DIY closet shelves project that you need – whitewashed baskets! Using a labeled basket for each item allows you to maximize the shelves (having more space to store things!). Plus, you need to take a look at how clothes are folded to give more space for more.
Functional and Beautiful Closet Shelving System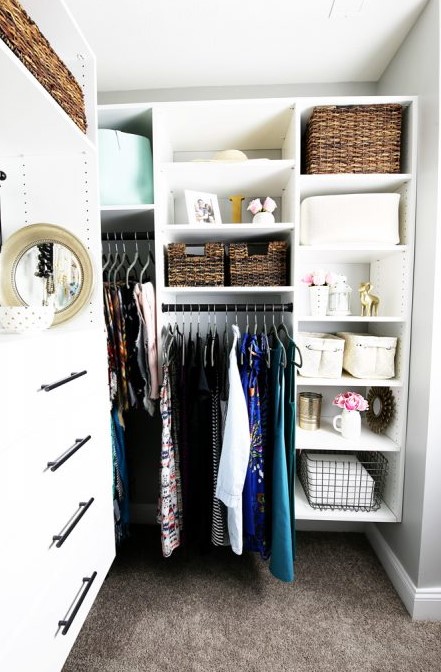 It is important to make sure that you include comfort in your closet planning. Without it, the layout of the room could be awkward and create an unpleasant experience for anyone who walks into your closet. You don't want people staring at a mess or bumping their heads on something, do you? With the right closet shelving system, all those worries will melt away as it gives you better access to everything by using up every inch available without feeling cramped!
Save Your Unorganized Closet Shelves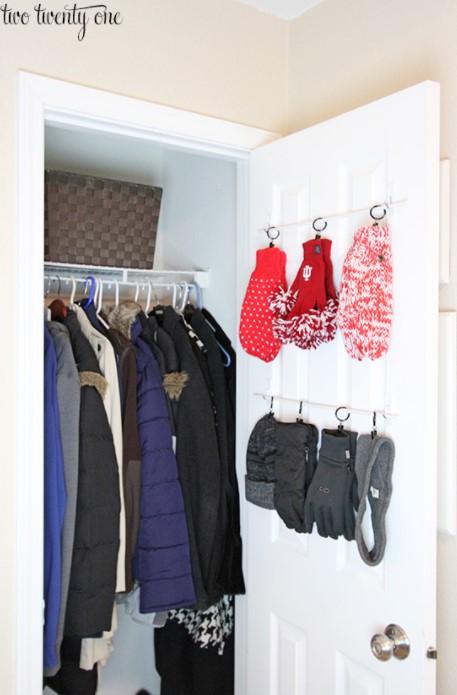 It seems like everything on the closet shelves gets tangled up with one another, making for an irritating mess! Save yourself from this pain by taking out all the stuff that might be stuck together so they're easier to organize. The plan here is to mount dowel rods onto either side of your door frame – then use hooks (which are affordable) as well as baskets if necessary to get things organized better than before. This way, clutter can't pile up again on your closet shelves!
Renovate A 'Horrible' Closet with Spacious Closet Shelves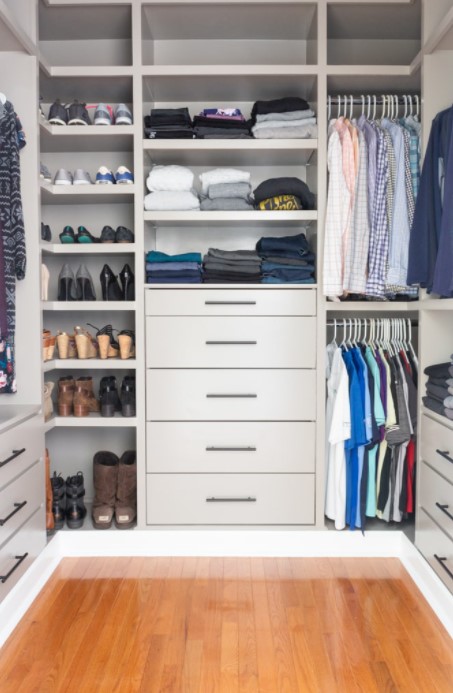 DIY or renovating a closet requires a finalized concept of the future closet space that you want. The concept must be appealing and not giving a headache about the way things are organized on the DIY closet shelves. This total closet renovation uses several drawers and builds better closet shelves to store jeans, shoes, and sweatshirts which will make for an enjoyable and hassle-free experience!
Simple and Affordable Box Shelves for Closet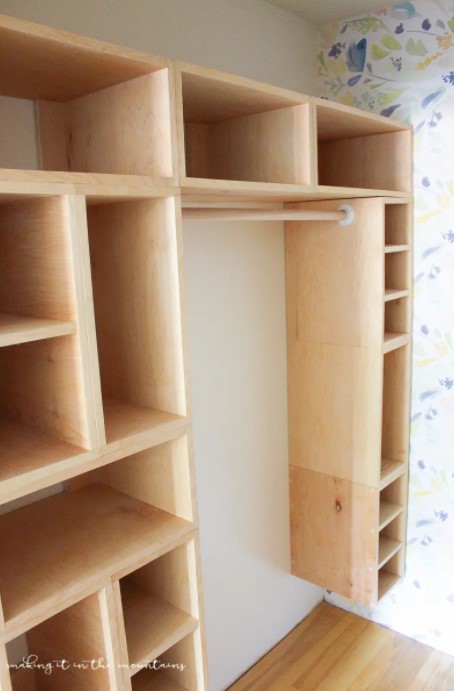 There's so much to think about when renovating a closet space. But one thing worth investing in is closet shelves – they'll make everything more orderly and organized! Box shelves are the best way to do this because you can customize them according to what items need their own shelf space. That will prevent any mixing up of things or forgetting where something was put down!
Solve the Lack of Storage with Custom Closet Shelving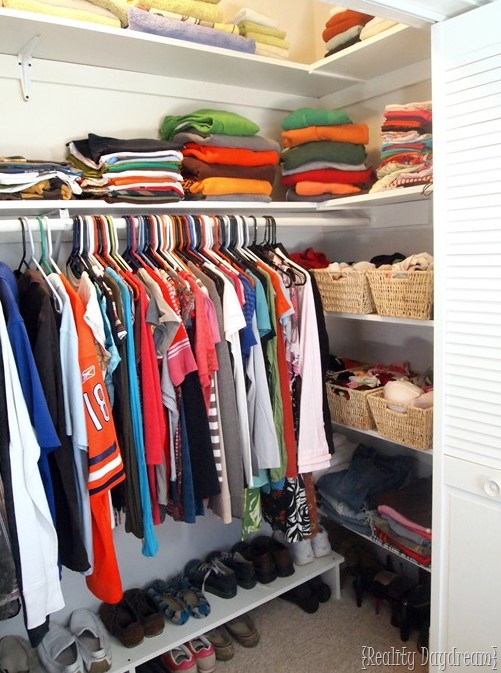 Getting ample storage in a new house is like winning the lottery, but you can always build one yourself and customize it based on needs. The top shelf in this DIY closet shelves is built to contain towels, sheets, or linen clothes which are all necessities for any home! You also notice how there's an additional shoe shelf at the bottom that fits right into place – no more wasted space with shoes thrown around everywhere. This way, you will stay organized by utilizing your entire living space!
Closet Shelves for Purses and Clutches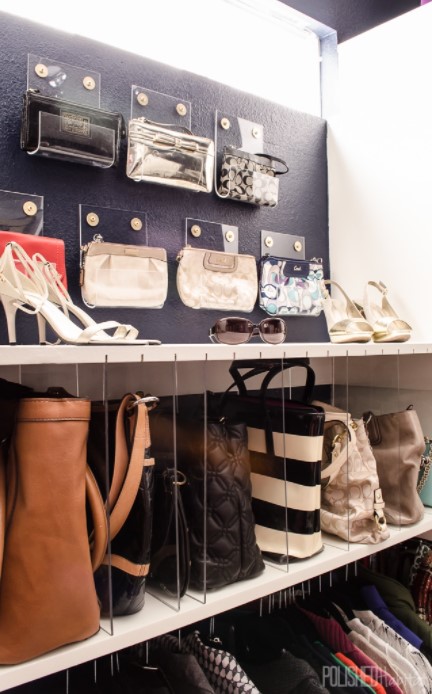 As a woman, it's important to have somewhere for your purses and clutches. Putting them on the closet shelves isn't always an option because they can get in the way or be difficult to find when you need one quickly. But that doesn't mean there isn't space inside of your closet! Building acrylic holders is simple – all you do is bend and snap together different pieces of acrylic until it fits. You could also make acrylic dividers if needed so all sizes of bags don't get lost within piles by accident!
A Built-in Closet System to Organize Your Clothes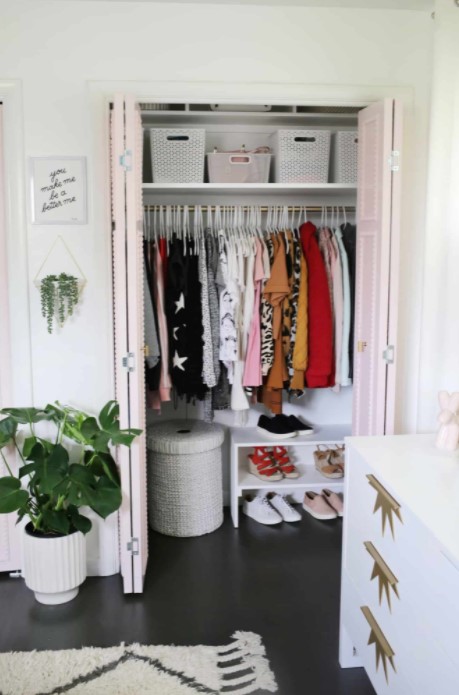 A DIY built-in closet is a key to solving space issues. It will be perfect as well when you have several shelves for storing items neatly. Firstly, measure precisely how tall and wide your shelving needs are going to be before you start any construction work. If there's enough room left in between each shelf, then building dividers would make a great addition. Other than dividers, baskets can do just fine at organizing smaller things like belts and purses too!
Easy to Customize Closet Shelves Idea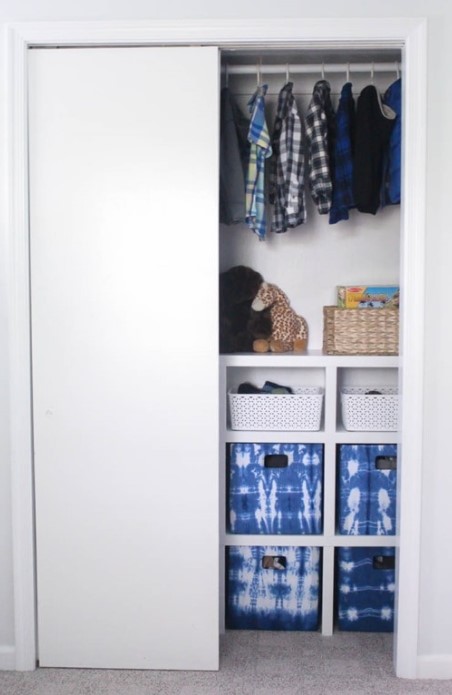 What is the first thing that comes to your mind when you think about a closet? It's a space waiting for new items. How unfortunate it would be if we have wasted this precious area by cluttering it up! Lucky for us, there are many ways on how we can maximize our available storage inside. This tutorial will guide you through some of those smart ideas in building what people call "better" closets shelves, with costs ranging from $40-$100.
Budget-Friendly Closet Shelves for A Tight Space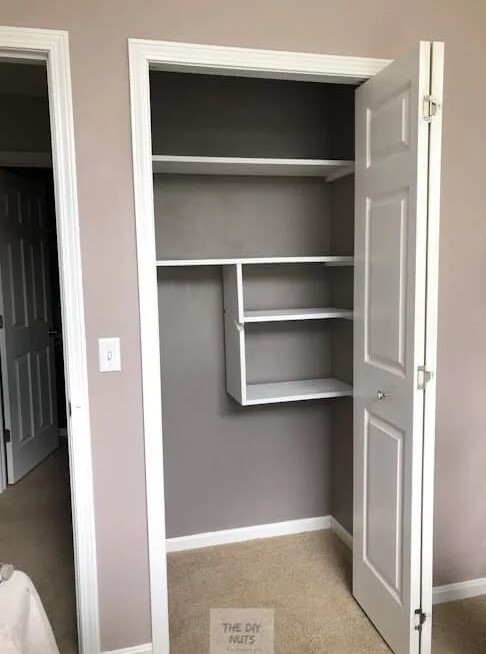 It is easy to just give up on your small closet but it is also easy to renovate it into a better closet by building more shelves. Two birds with one stone; by adding more shelves, you get a more organized space and a more pleasing view of clothes neatly stacked. With these DIY closet shelves ideas, you'll get your dream of an organized space without getting rid of any clothes!
Convert Book Shelves into A Built-in Shoe Closet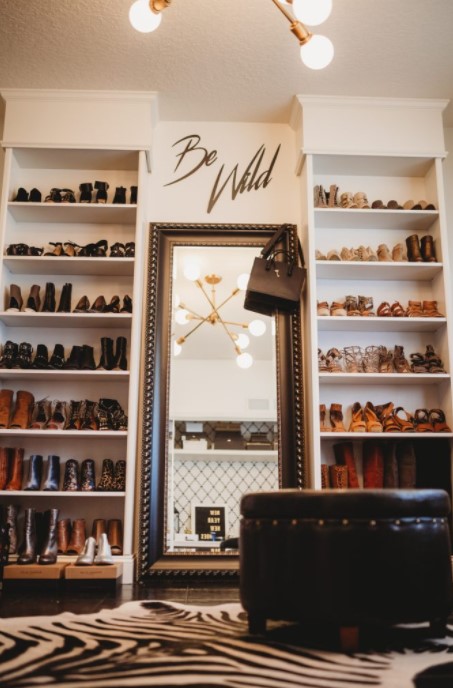 If you have the privilege of a spacious closet, tall furniture should be counted to your design and that includes these floor-to-the-ceiling shelves for the shoe closet. This DIY project is utilizing two bookcases that are separated by a full-size mirror. To reach the ceiling and to sit atop the floor nicely, additional boxes need to be built as well. Making this entire shoe closet with already-made bookcases is simple and trouble-free.
Declutter Clothing Mess with A Better Shelving System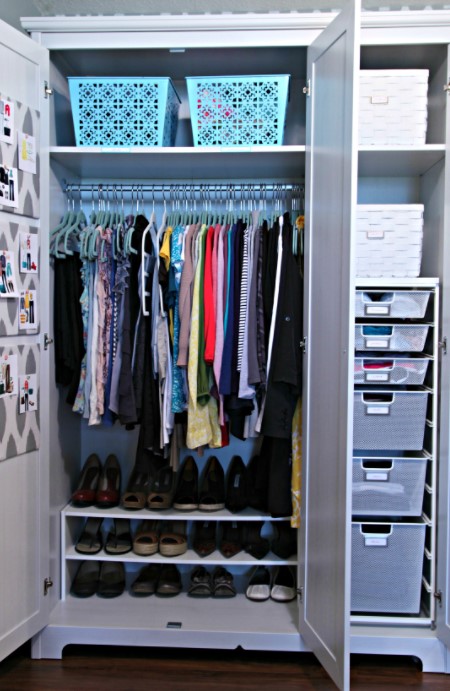 Closets are often a disaster waiting to happen with no proper shelving or racks, but this DIY idea using IKEA armoires and customized additions can help you turn that mess into an organized closet. Shoes at the bottom of your shelves make it easy for everyone in the family to find what they need easily without having them all over the floor!
Closet Makeover – No More Crumped Space!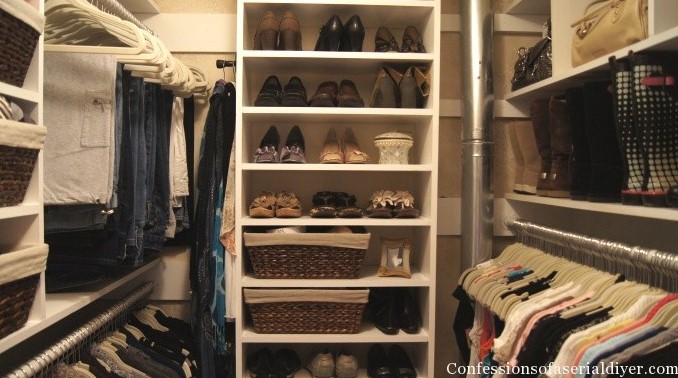 A cramped closet can often be the issue when it comes to sharing a space with two different people. But this problem will not exist anymore – use every inch of that storage area for your clothes! Closet shelves help divide and make everything more organized so there is no longer any confusion in looking for your items during big clean-outs or trying on new outfits! Closet Shelves Solution for Scarves
Closet Shelves to Organize Nursery Clothes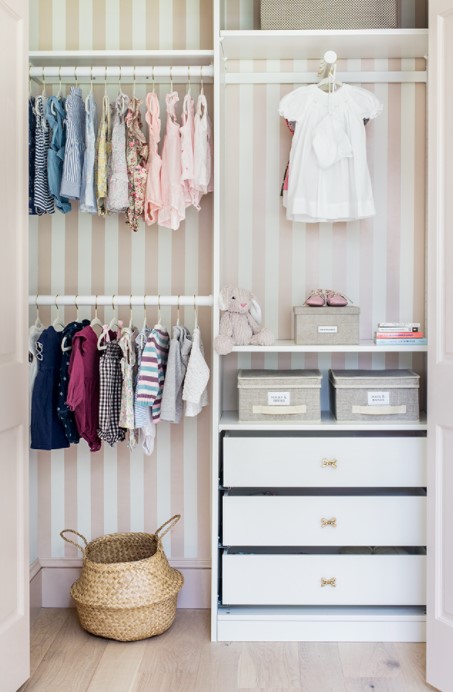 If you're looking for a cost-effective and easily customizable closet system to give your nursery room the perfect finishing touches, then this is what you need. With an IKEA Pax wardrobe as your starting point, assembly becomes simple: just follow all DIY instructions supplied with the plan (which will only set you back $205). The finished result? A tidy storage solution that'll keep the baby's clothing and necessities organized from start to finish!
Closet Shelves Solution for Scarves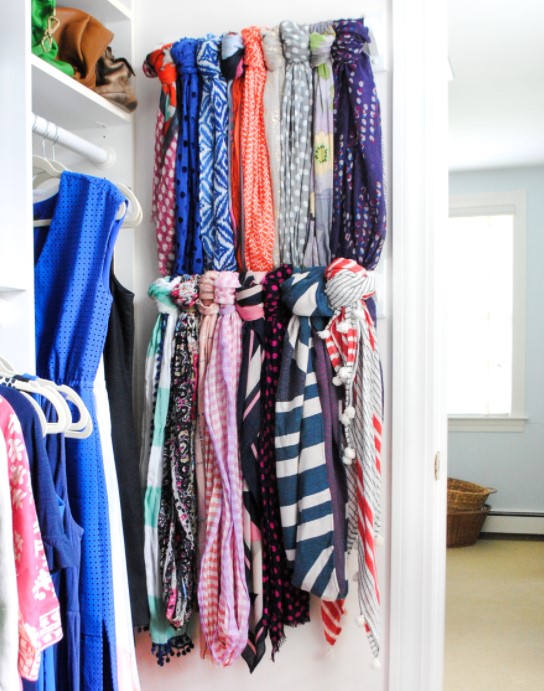 To take your scarf collection to the next level, it's time for a DIY closet shelves renovation! Shelves are great if you need room for stacking things like sweaters and pants on top of each other. But when scarves get piled up in stacks one over another, they can easily become tangled. So, this tutorial will be teaching how to hang your scarves on the wooden towel bar in the closet! This creates more space and can also show off some beautiful pieces too.
A DIY Tutorial for Easy Closet Shelves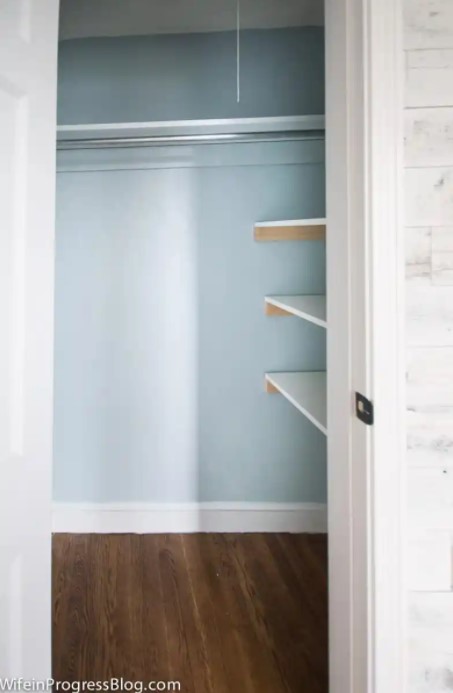 A dusty corner is never a good idea. If left to sit for too long, it'll start getting messy and unhappy. So instead of just letting the dust collect in that space, why not turn it into something useful? Closet shelves! This DIY project will be sure to make your home more functional! For a bonus – this tutorial suggests using Melamine shelving units because they're durable enough so you don't have to worry about stains or dirt ever ruining them.
Wood Closet Shelving Plans that are Easy to Build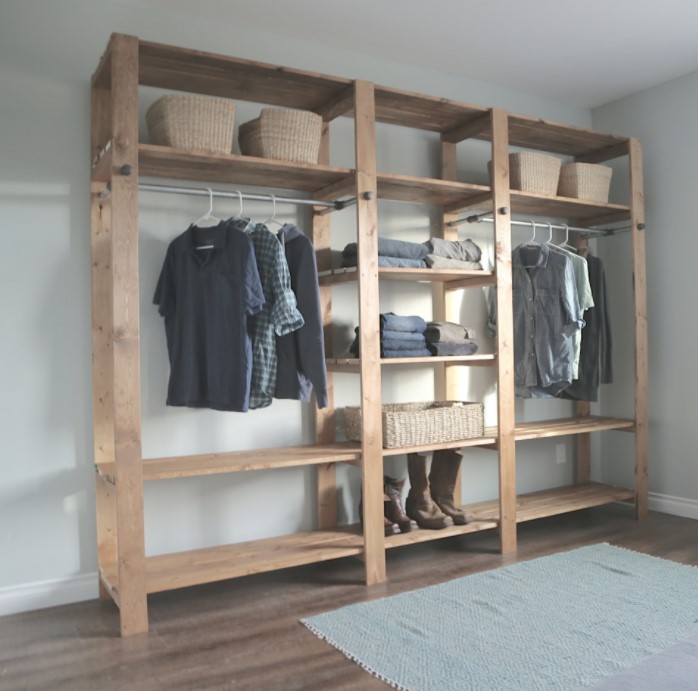 Wooden closet shelves are becoming more prevalent in homes and why is that? Well, for starters, the design of a wood closet shelving unit fits any style from farmhouse to modern. This DIY project also allows you to customize your setup, so if you don't need some parts, just leave them out! In total, it will cost $200 for a 10-feet closet but just $20 for a linear foot. Plus, the supplies can be found at most hardware stores and lumberyards!
Remodel A Closet with Custom-Built Shelves
Your walk-in closet screams for a makeover. So why not remodel it with the DIY project that includes better shelving? The key to making this plan happen is box shelves which can be customized in size and use, like one big set of them for hanging clothes while others are smaller ones made specifically for folded clothing or other items. This tutorial has included all of the best tips to create this amazing plan, so read on for more info about creating awesome box shelves!
Simple and Inexpensive Wood Closet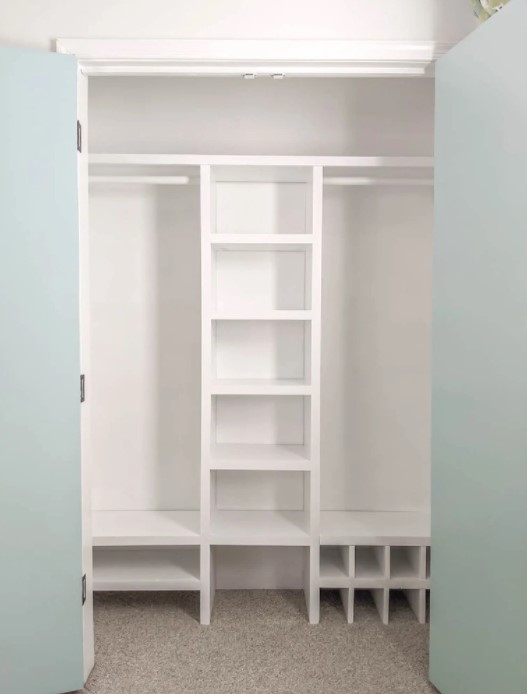 Some closets are typically small spaces, but that does not mean you should be embarrassed when reaching in to grab something. If this is the case for you, then there's an issue that needs attention ASAP! If every part of the closet has its own designated area, then things will stay neater. With shelving sections labeled as "hanging clothes," "folded clothes," and "shoes," items can easily find their way back to where they belong without any hassle!
The Ultimate Man Closet Makeover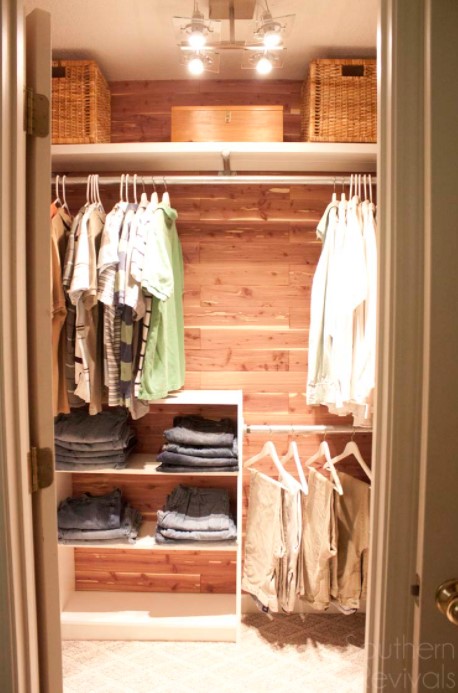 Men are not an exception when it comes to closet organization. A pile of mess builds over time, so a makeover has to be done! If that is the case, then this ultimate DIY project for better closet shelves is what you need! The highlight of your new space will be the cedar planking background which gives out a cottage-style feel – perfect for men's closets and suits any type of room settings too. To cut costs on materials, an IKEA Billy bookcase is used and turned into custom-made shelving units, easy peasy lemon squeezy right?
Under $100 closet system IKEA hack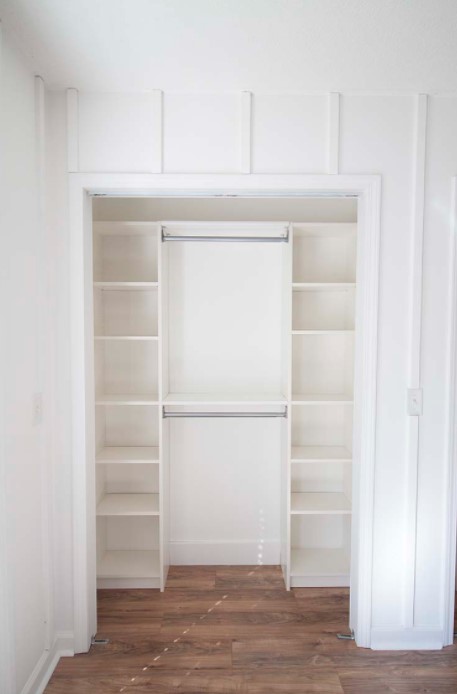 It's easy to get caught up in the overwhelming number of items we have and take our closets for granted. The good news is there are simple, cost-effective DIYs to clean out your closet without spending $100 on a renovation! One way is with an IKEA hack that provides double racks for hanging clothes as well as box shelves where you can put different sizes of items. It shows how important organization really is when dealing with clutter. After all, this DIY closet shelves unit has been living 7 years comfortably since it was built!
Basic DIY Closet Shelving that Everyone Needs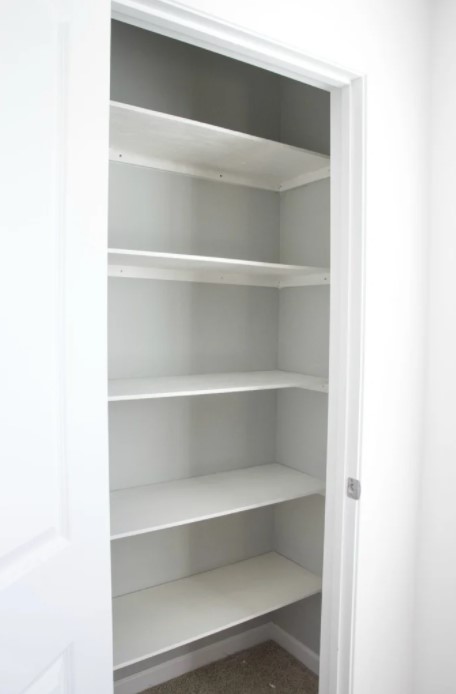 Have you been telling yourself to get your cluttered closet done but never have the time? We hear that all too often! Here's a solution: start by cleaning out the chaos in your closet and then follow the next steps provided by this easy DIY closet shelves project. It may be simple, but it will make life so much easier from here on out ─ just wait till you see how organized this makes everything!
Industrial Vibe Closet Shelving System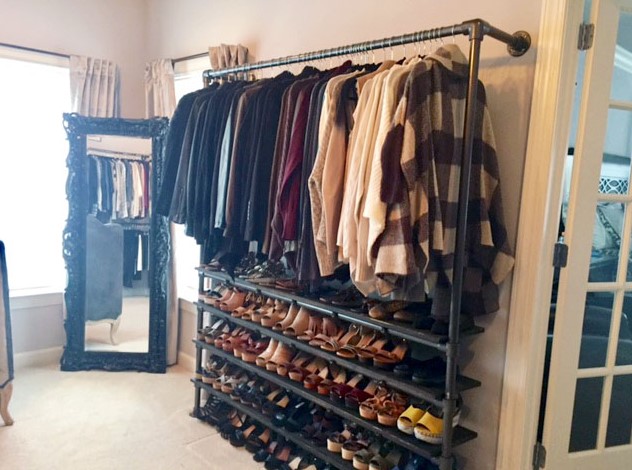 Imagine the feeling of walking into your very own master bedroom closet. You've got plenty of space for all sorts of clothing and other items you want to store, but there's one problem: it feels like a dark cave that could use some sprucing up! That is where this DIY closet shelves project comes in handy – building an industrial walk-in wardrobe with pipes and fittings shelves that provide ample storage spaces for clothes racks and shoe shelves. This ensures the perfect amount of organization while still maintaining a stylish look!
Tackling Closet Issue in A Shared Bedroom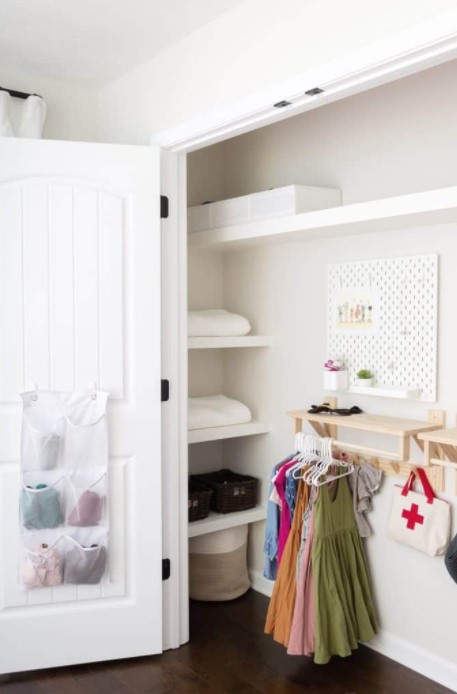 A one-man closet is bound to be messy at some point, let alone a shared bedroom. But you can always fix minor issues with better organization and storage such as the built-in shelving on an empty nook of your space. Give yourself more room for bins or baskets by installing this extra shelving which will make it easy to organize the clothes, whether they're yours or not!
The Walk-in Master Closet with Built-in Storage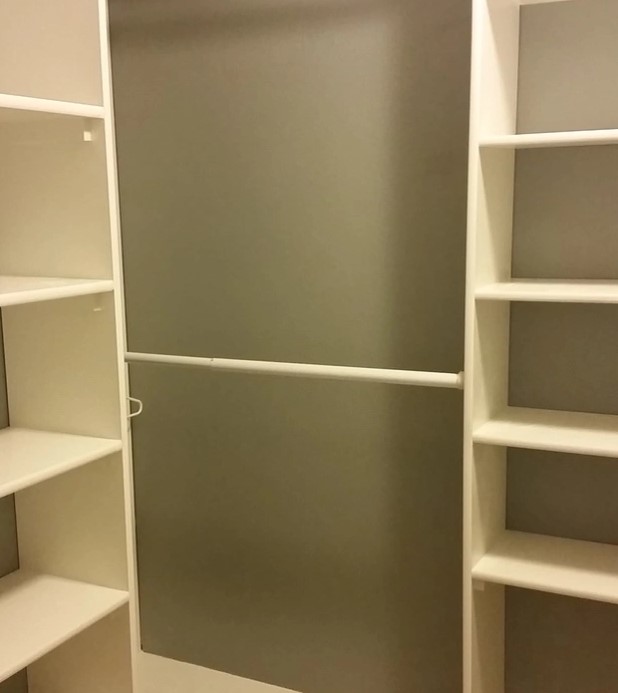 The phrase 'Home Sweet Home' doesn't feel right when the clothing organization is a mess. Who loves seeing an unorganized closet? No one. One of the best DIY closet shelves ideas lays in this master closet. It has massive built-in storage which every master closet needs. The plan is to have His and Hers sections fit in the area so a lot of closet shelves and hanging rods are added. When the work is done, you'll be happy to have found an organized place for all these items!