Organizing a room can be tough, especially when it comes to clothes. What's the best way? You could do some DIY clothes rack ideas! These are great for organizing and rotating your closet items while keeping them on display at all times.
Some people may not want to invest in a closet makeover project because they do not have the time or money. However, DIY clothes racks are usually easy and inexpensive. Check out these surprisingly simple tutorials for some great ideas that could work well with anyone's home life!
Simple Yet Stylish Clothing Rack From Pipe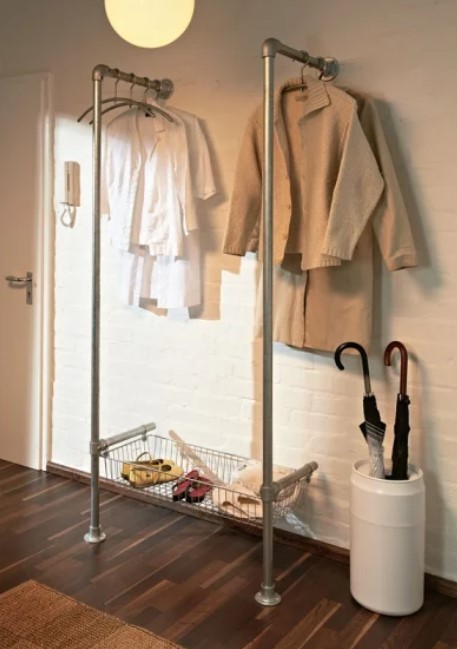 Some people find it difficult to organize their closets or store clothing and other fashion items because they have a small space. This simple but stylish cloth rack can be achieved by assembling just three things: pipes, Kee Klamp fittings, and an IKEA basket. The total price for the materials is around $172! Hopefully, this project will fit your budget as well as the criteria of an excellent storage option!
DIY Clothes Rack from Stair Rail Balusters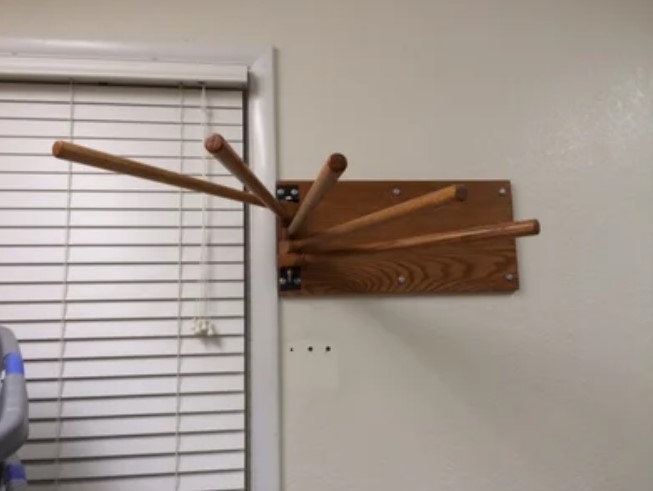 We are always adapting to new problems and finding a way around them. It's the same with drying clothes, especially those that take up too much space in your home when they're not being used! Here is a genius idea, using stair rail balusters as an alternative clothing rack for apartments or small homes where there isn't enough room for traditional hanging racks.
Hanging Copper Clothing Rack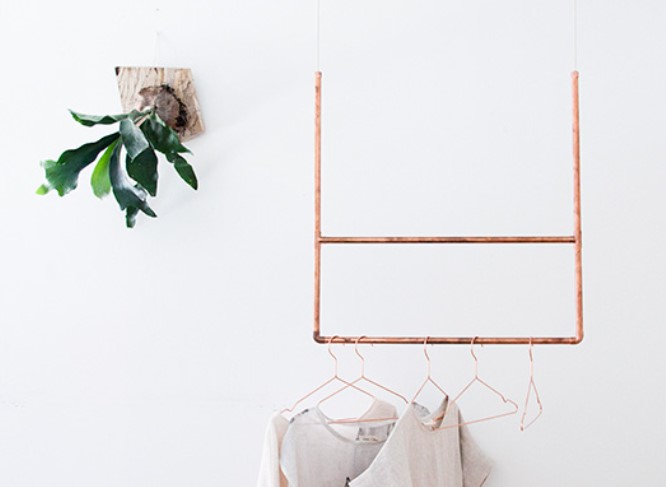 Using too much floor space is just not the option for a small space. Then, what's the solution? Let's take a look at this hanging copper clothing rack! It serves several functions at once. For example, it's a great addition to the interior design (the copper makes it stylish and modern), it doesn't take up floor space, the clothes are hanging beautifully, and it's not complicated to make.
Minimal Yet Functional Copper Clothing Rack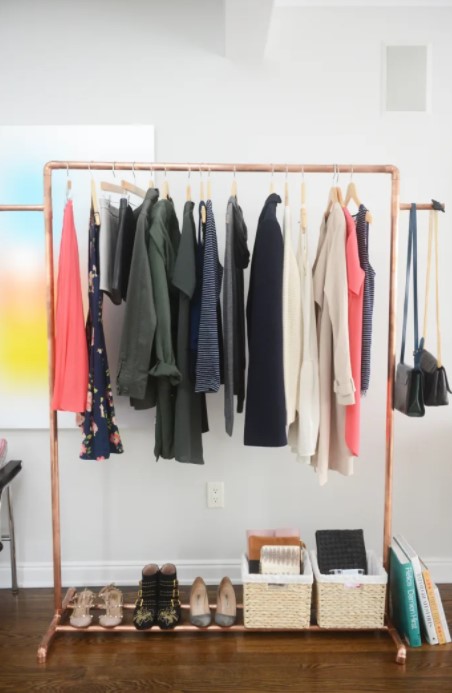 Talking about copper clothes rack, some prefer a standing rack to a hanging one. One of the advantages of having a standing clothes rack is its stability. Moreover, its bottom part provides extra storage for shoes, slippers, or boxes. Here, you'll be able to see the detailed plan to help you build it in an hour.
Simple Clothes Rack for Garage Sales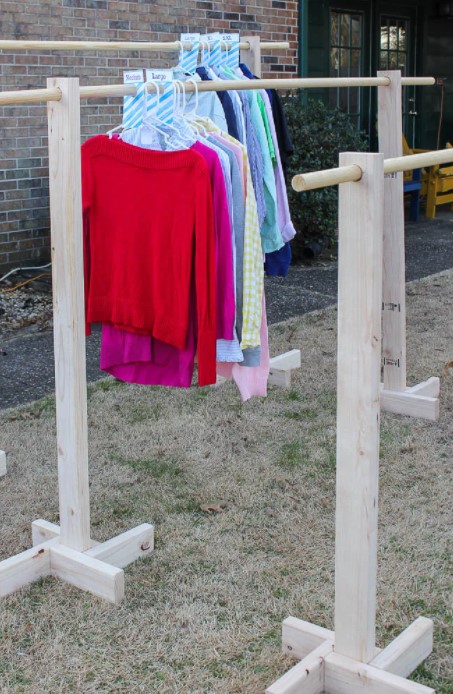 On the day of your garage sale, you'll want to have a clothes rack for all those garments that you're selling. This DIY project is perfect because it's not only cheap and easy but also takes up minimal space in the process! It looks complicated, doesn't it? Just wait 'till you see how simple this build actually is. There are three different sizes of racks so you could pick one that suits what you need.
A Simple PVC Clothes Rack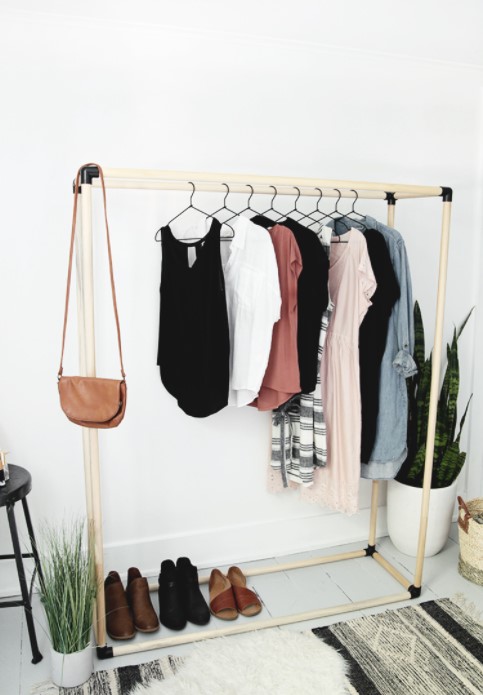 Moving into a new house is both exciting but also challenging. In most houses, there isn't enough room for all our clothing unless we create it ourselves by building simple yet stylish racks like this one! Wood dowels and PVC elbow pipes make up its basic frame which can be stained or painted to match the rest of the decor.
Easy-to-Assemble Dowel Clothing Rack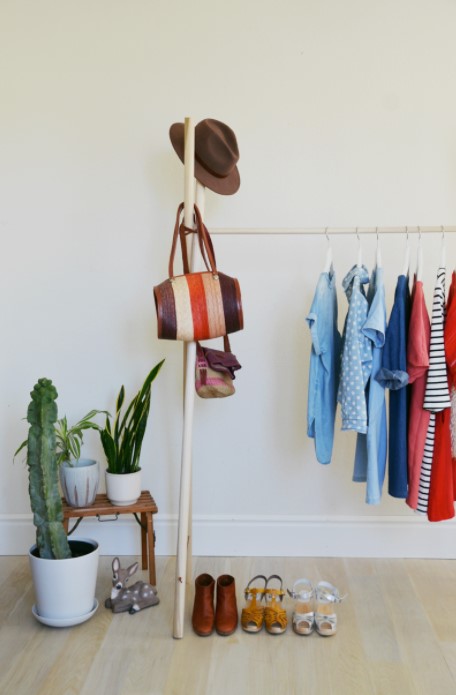 In this era, every piece of furniture is not only serving a functional purpose but also an aesthetic one. This homemade clothes rack proves it with its poplar dowels assembled by leather cords that make the perfect hanger for your favorite pieces. When you're done using the clothing rack for a while or want to move it elsewhere, all you have to do is dismantle the parts just like any other easy-to-assemble furniture and put them back together when needed.
DIY Clothing Rack for Your Laundry Room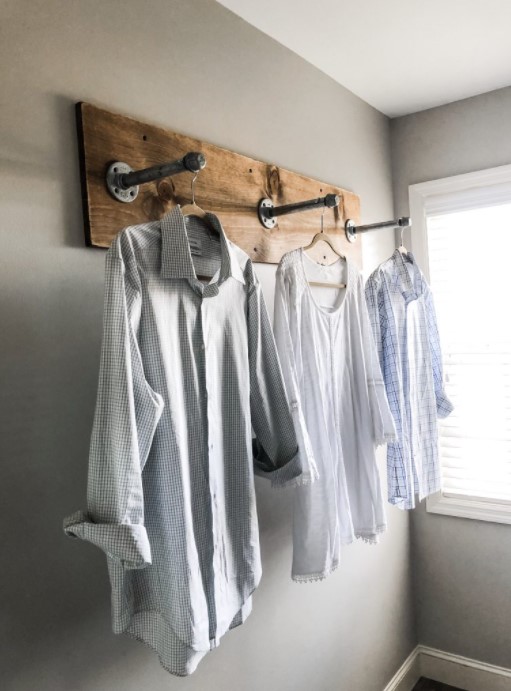 It seems like most laundry rooms are in tight spaces, but this room needs a little extra space for clothes too. To make that happen, we need to get rid of the wire shelf and build our own DIY wooden clothing racks with industrial pipes instead. Once they're built it will add some new atmosphere into the room as well!
Copper and Leather Combo in A Clothing Rack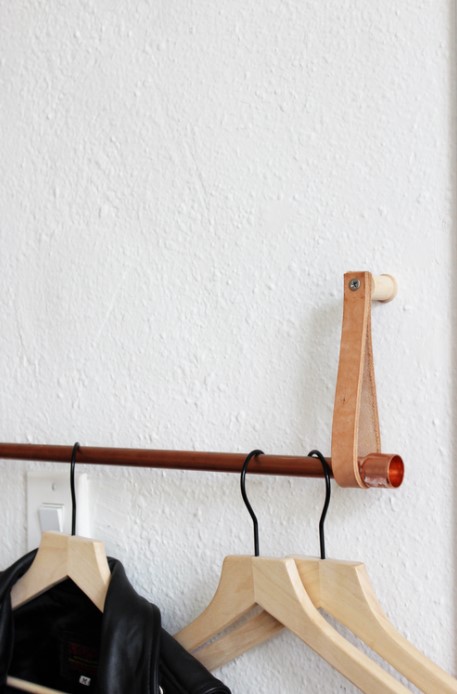 Copper pipes are a stylish addition to any interior design. Leather wall straps make them more elegant and functional for hanging clothes which is why they're ideal in such tight spaces. To build your own DIY clothing racks out of the copper pipe isn't hard at all; it only takes 10 easy steps! Once you've built one, not only will this amazing piece be useful for storing garments but also as an artful display option.
A Simple Garment and Purses Rack
Everyone is looking for a pleasant and gorgeous way to display their best clothes and purses' collections. And we would like to recommend this simple rack that only costs around $20. The rack's main supplies are wooden dowels and cotton canvas for the bottom compartment. Once you're done with your decorating project and it looks similar to this, don't you love the result?
Fixing A Closet Shortage with Garment Rolling Rack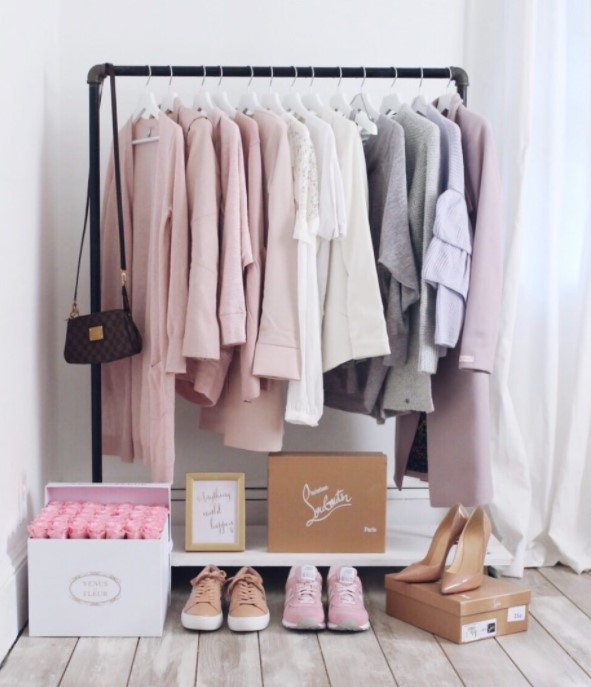 Have you ever run out of room to store clothes? It's a nightmare, but we've got your back. Check out this rolling garment rack that will not only save space in the closet but make it look more industrial and stylish. The secret is mixing steel pipes with old wood – now you can be organized AND fashionable!
A Coat Rack for The Entryway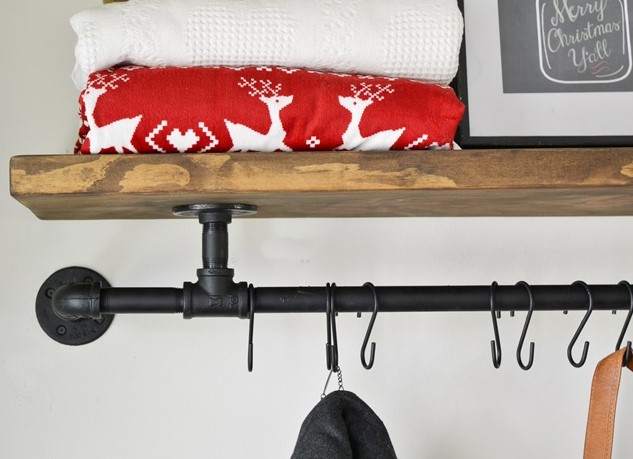 What's the best way to make your entryway less cluttered? Well, you could always try out this DIY industrial coat rack. The pipes and wood board are all sourced from hardware stores so it'll be easier for you to collect what's needed to get started on this project! Plus, building this rack is relatively simple so let's get into construction today!
Build This Kids Clothing Rack in 30 Minutes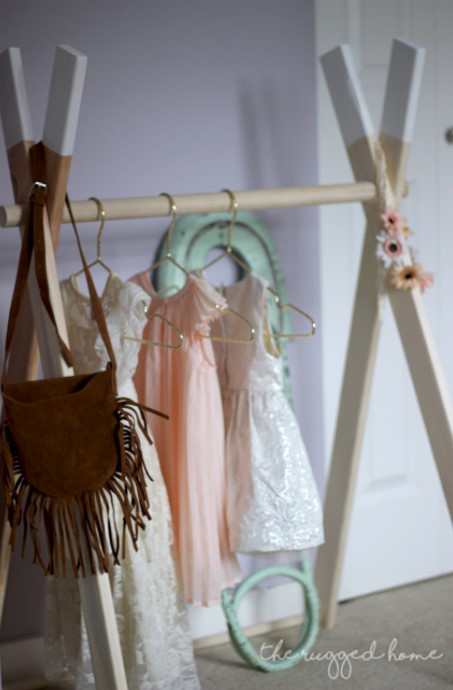 When it comes to a DIY project, many of us are seeking the simplest and quickest one. This clothing rack for example takes only 30 minutes to finish! Not only that, the materials from the checklist are available at any hardware store near you. Once the wooden dowels are assembled and your finished rack is decorated, it's a fun time to involve your kids in hanging their clothes.
$9 Ladder Clothing Rack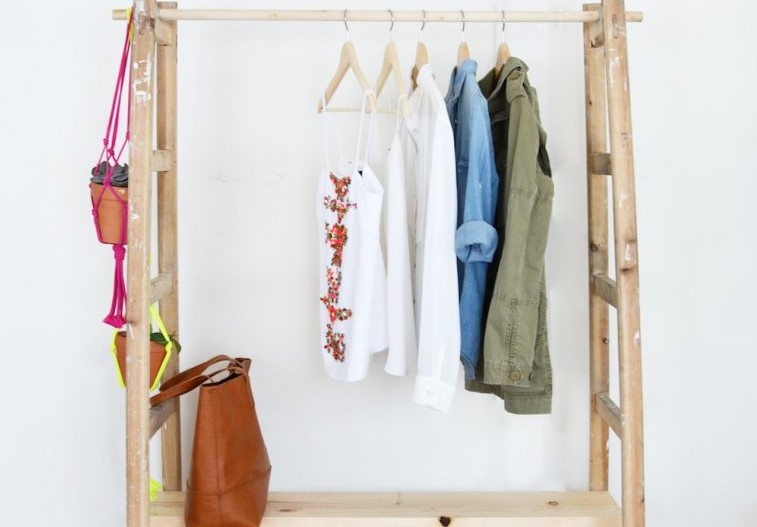 A DIY clothes rack doesn't have to be expensive. A ladder can become a very functional piece of furniture with the addition of some materials that will only cost you $9; this is an affordable price for something so versatile and attractive! To hang your clothes, all you need is a wooden dowel, while at the bottom (to store shoes) you'll want to use a plank made from wood. So not only does it make storing clothing easier but also works as both art and shoe storage too!
Plumbing Pipe Clothing Rack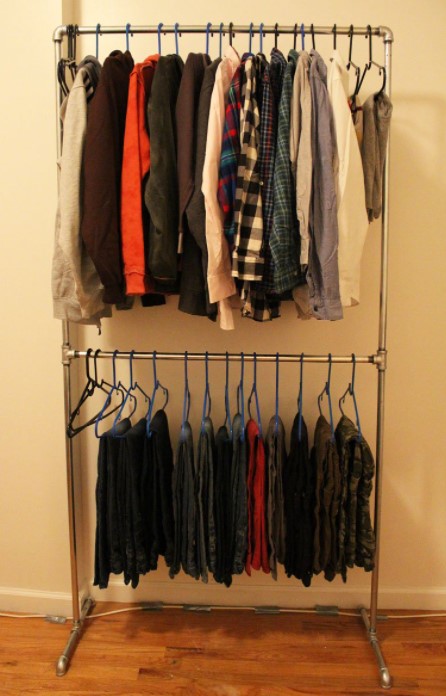 Other than copper pipes, the usual plumbing pipes are also popular for making DIY clothes racks. Plus, with this project, we can have two hanging racks – one at the top and bottom! The range of budget is $80-100, but these materials are galvanized, they'll last a lifetime, and will be sturdy enough to hang those jackets and jeans on without worry.
Industrial Pipe Clothing Rack for Laundry Room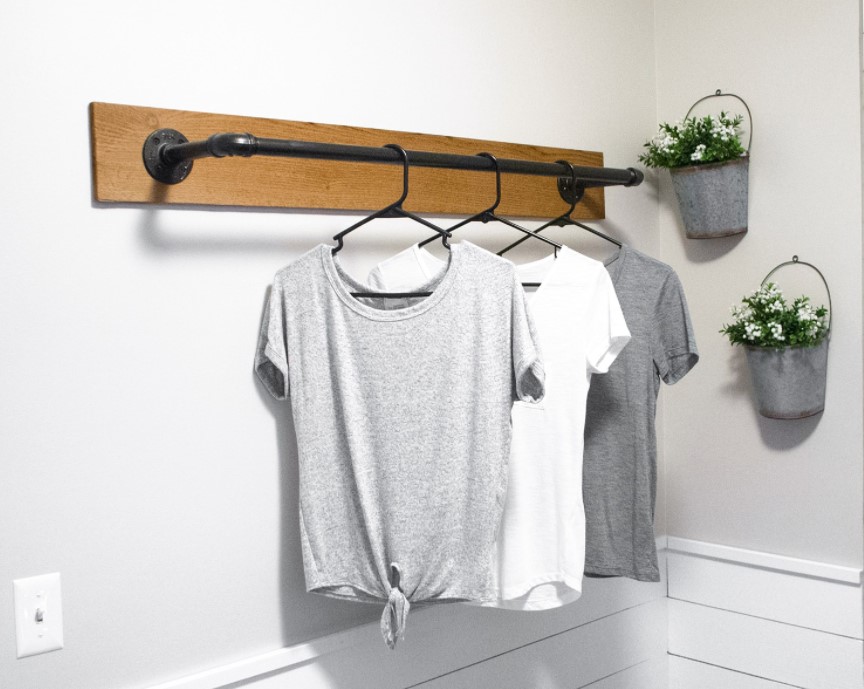 Dryers are not always the solution. Some clothing items will last longer if they're hang-dried. But some people don't have enough space in their laundry rooms for racks to hang-dry their clothes. Luckily, there is an easy DIY project that you can try! With just $30 worth of materials, it's possible to make this functional industrial pipe rack that also has great aesthetic appeal!
Wood Clothing Rack for Tiny Kid's Closet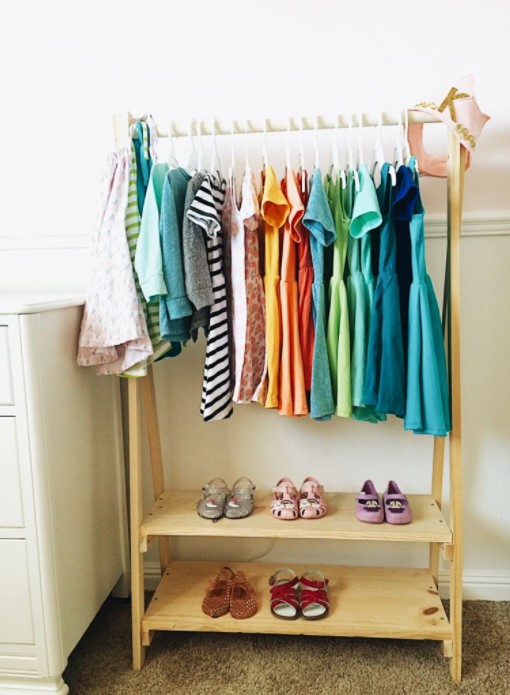 Dressing up your kids can be all fun and games until the clothes are getting too crowded. Keep things organized with a custom-made wooden rack! You'll need to customize its size based on how much clothing it has to contain, but that's easy if you're willing to do some DIY work. All you will need is wood dowels, pine boards, common boards, and voila! Your childrens' clothes collections now have their own place in this simple yet stylish dresser organizer.
Pipe Clothing Rack for Tiny Apartment Closet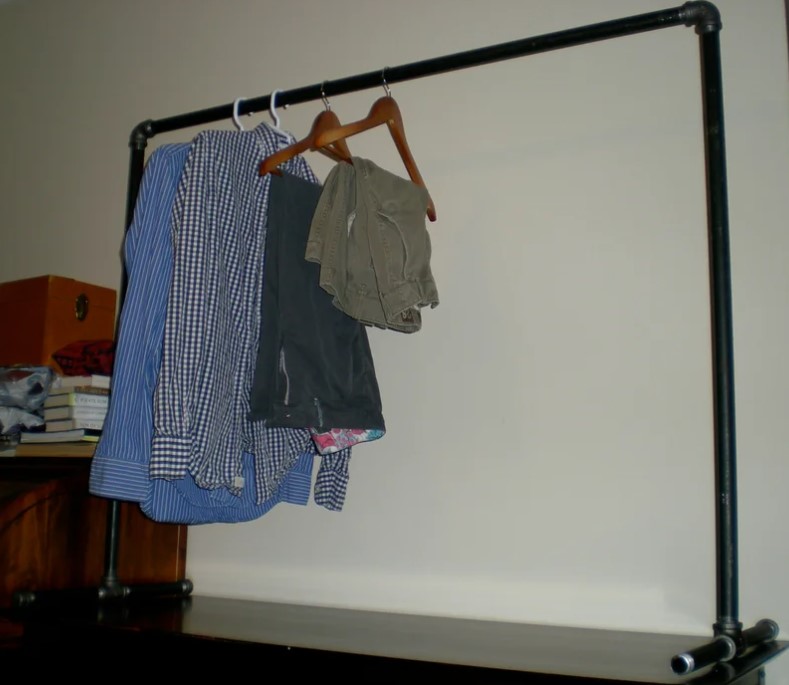 One of the downsides to living in a downtown area is having a small closet. But that shouldn't be an issue because you can DIY your way out with this easy-to-build pipe clothing rack! Threaded pipes make it quick and simple for any homeowner looking for more storage space without spending much time or money on building their own custom rack from scratch. However, before starting construction, don't forget to clean those threads so they're not dusty or greasy!
Hanging Clothes Rack That Hangs From The Ceiling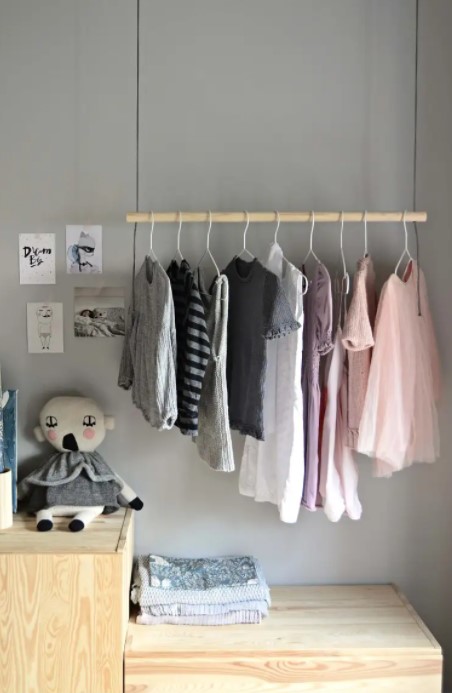 One of the downsides to having a large wardrobe can be that it makes your room feel small and cramped. A solution is an adorable hanging clothing rack for extra storage! This style forces you to be tidy so there won't be any excuses left when it comes time for laundry day – even if space isn't at its best, this stylish addition will solve all problems in one go!
Garment Rack with Storage Box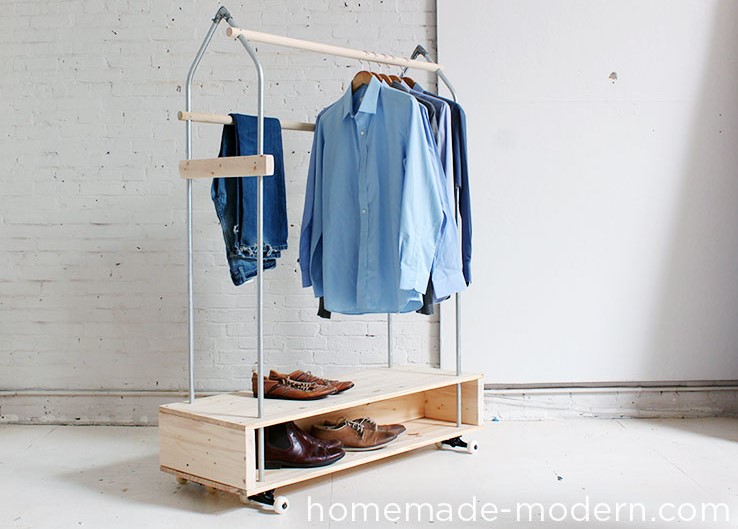 For those that are constantly on the go, a simple garment rack is not enough. Shoes also need a place to stay. That is why our today's pick is this simple garment rack with a storage box at the bottom. What's even better about it? It can be moved with ease thanks to its skateboard wheels and won't take up too much space in any room you put it in.
Bright and Light Lucite Acrylic Gold Clothing Rack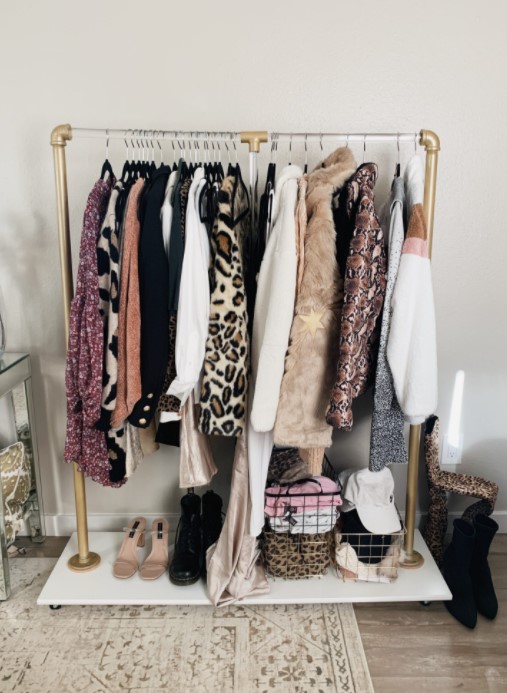 When you can't afford expensive furniture that's not meant to be touched, consider building your own instead! This lucite acrylic gold DIY clothes rack is a great example. In just 15 easy steps, now you'll have this fabulous piece for much cheaper and it will still give off the high-end look that people crave!
Copper Pipe Rack In An Open Wooden Wardrobe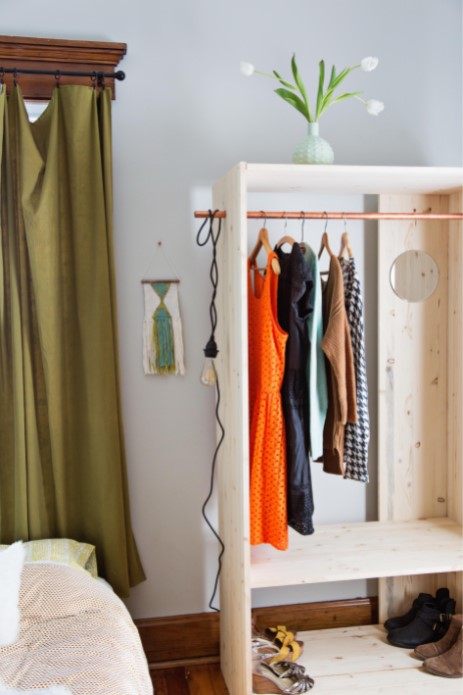 One of the best ways to make a room feel open is by installing a wardrobe without doors. The open wardrobe and copper pipe clothes rack are a perfect match for any homeowner looking to bring out their natural, earthy side. This project came in at about $140 including customizations such as back paneling and small circle mirrors which highlight its design with just enough flair that will make your friends jealous!
A Rope Hanging Corner Clothes Rack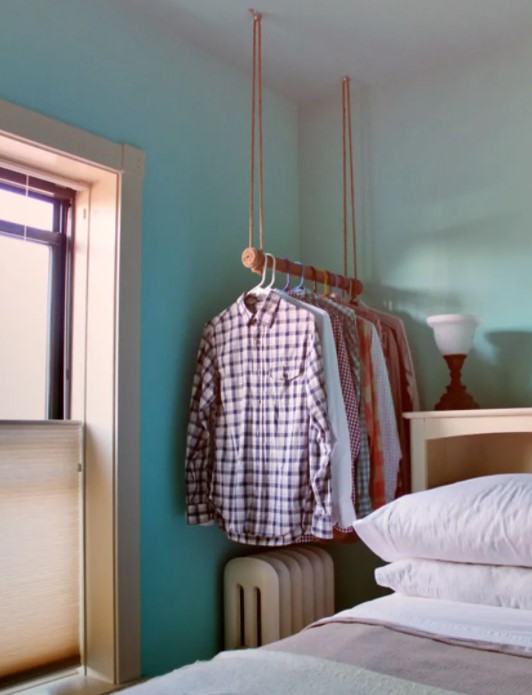 A tight space only makes you more creative. If there is a corner in this small bedroom apartment, that doesn't stop the creative juice from flowing! Building a hanging rope clothing rack can be helpful. This DIY rack might just solve all of those tight-space problems! With the handy little invention, it will never again be too challenging to get dressed on time because you can easily pick out the clothes from the rack!
New Zealand's Pulley-controlled Clothes Drying Rack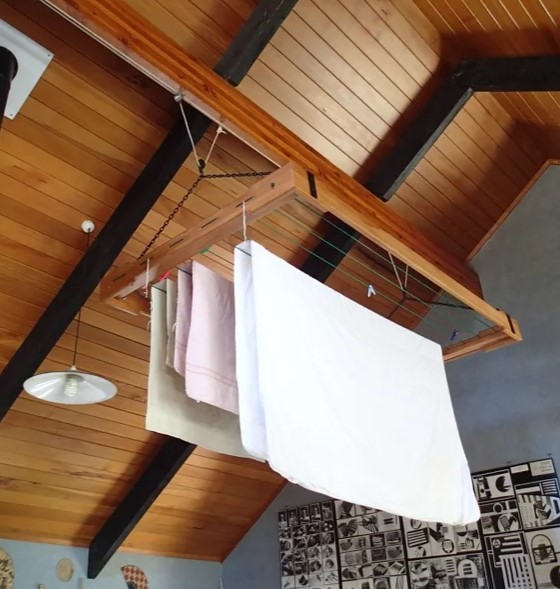 The design for this clothes drying rack was based on a system in New Zealand. It is perfect for those who want to air-dry their clothing and not use as much electricity! The pulley systems (around five) are efficient, reliable tools that allow you to keep your home neat by avoiding wrinkles forming on your clothes like when they're dried with the dryer.
Ladder Clothes Racks That Anyone Can Make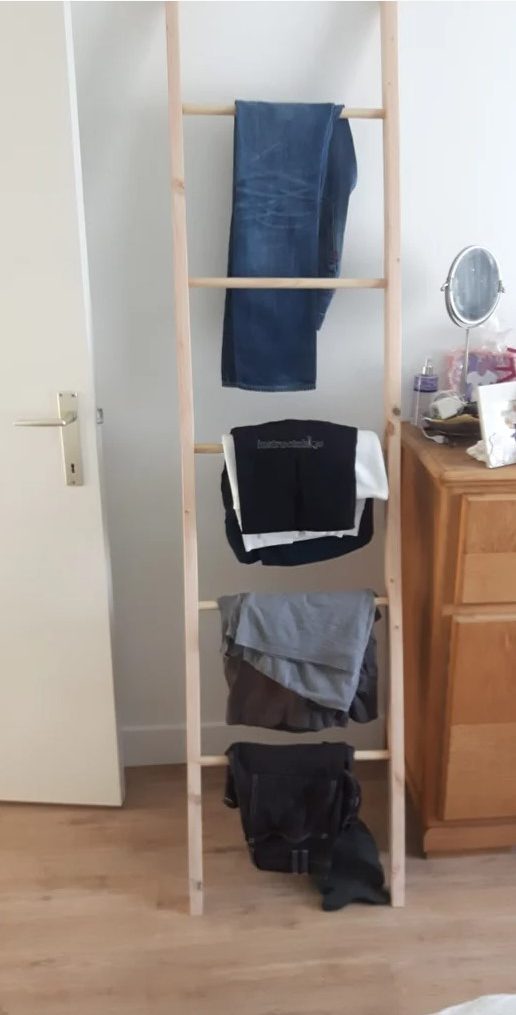 If you need a quick and easy way to store your clothing, then why not consider building this DIY ladder clothes rack? It only requires two pieces of lumber as well as some leftover bits from an old child safety fence. If you want a different look on your rack, staining the wood would also work great! However, we love its natural look too!