Sometimes, when you're living in an apartment with no space for a coat closet or storage area, a common problem among urban dwellers nowadays, you may feel like there's nowhere to put your coats.
And if people are constantly coming and going from the house then it can get especially messy!
But never fear, there are many ways to create a functional coat rack that doesn't take up too much space.
For instance, these genius DIY ideas will help turn any corner of your home into a flawless coat rack solution that everyone will love!
A Charming Rustic Coat Rack Out of Driftwood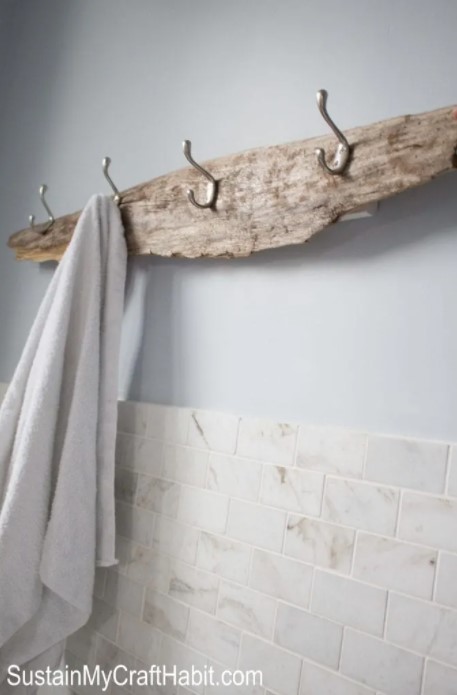 In all likelihood, a trip to the beach is a delightful recreation. It will be more exciting when one discovers a piece of driftwood being washed ashore and knowing that it can be DIYed into a charming rustic coat rack. Before the hooks are mounted to the wood, of course, it has to be cleaned and perfectly dried first which may take a day or two but it's worth every bit of effort because the finished result is stunning!
Creative Old Shutter Coat Rack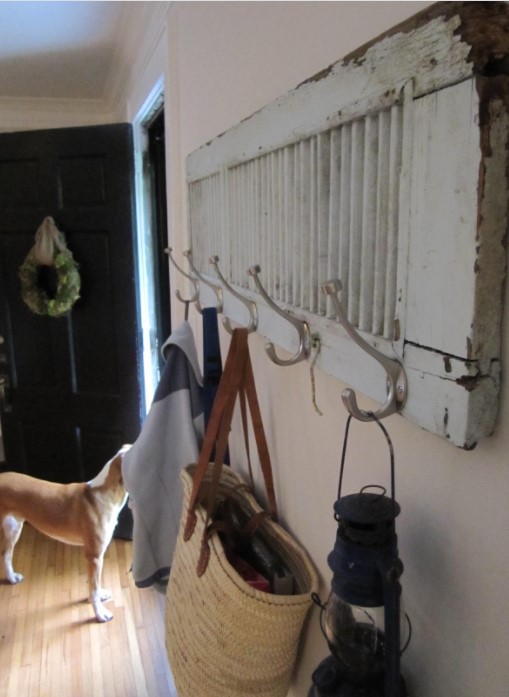 You can get authentic cottage-style decor by adding rustic items to your home. Take for instance this DIY old shutter coat rack, which was brought from the antique mall and has a chippy blue paint with a touch of traditional edge to it. A simple modification is done by mounting the coat hooks onto the shutter and d-hooks to the back of the shutter. This project is simple and a great rustic addition to the house.
Standing Coat Rack Out of Scrap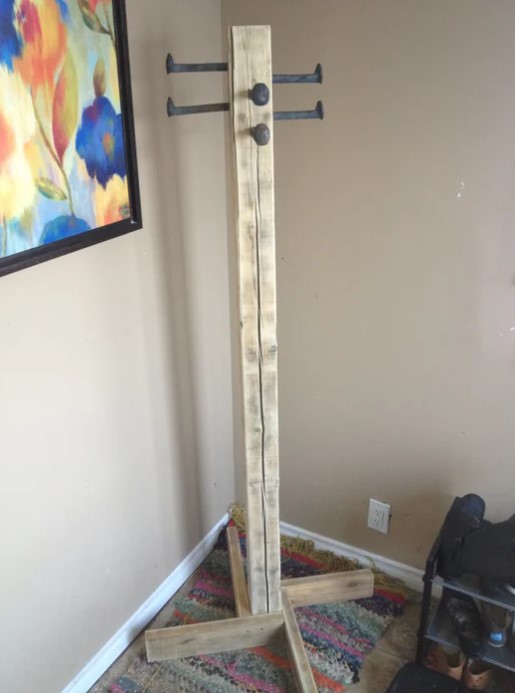 Since rustic furniture has gained a lot of popularity in the market, this DIY standing coat rack made out of scraps is a great idea to keep up with the trend without breaking the bank. The base is composed of 4 pieces of 16″ 2X4s and the tree is made of 4X4 that is 6′ tall. This sturdy coat rack will not tip over!
Inexpensive Chopped-Branch Coat Rack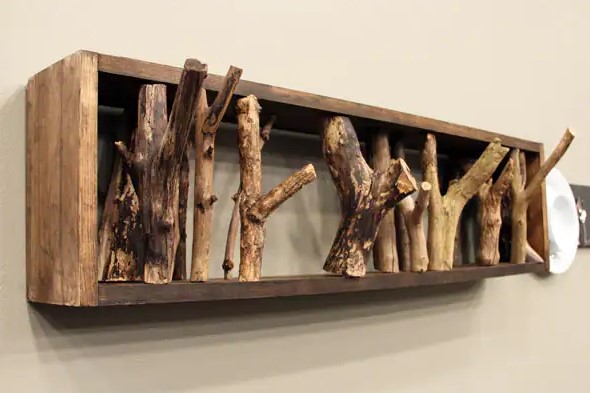 Branch coat racks are a convenient and stylish way to store your outerwear, but they can be pricey when bought from stores. Fortunately, this DIY branch rack is not that complicated to make. And if you already have these materials lying around in your garage or basement? You'll reduce costs even more! Don't forget to apply furniture wax after finishing up so that it lasts as long as possible!
A Safari-Themed Coat Rack for Kids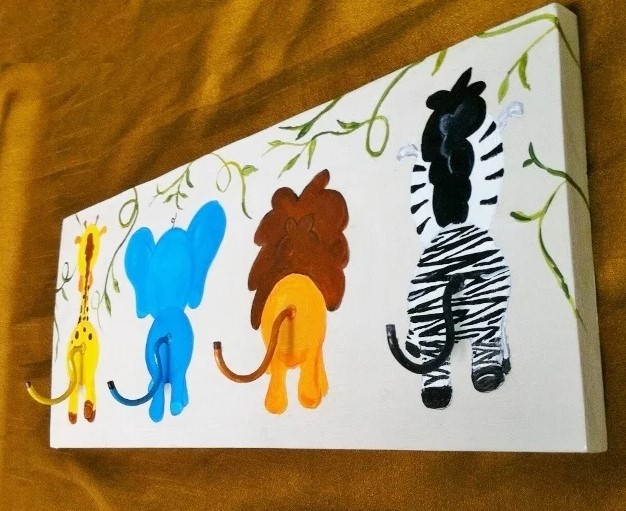 With a little creativity, the room where your child will play and sleep can become an inviting oasis. Consider building this DIY safari-themed coat rack to keep things tidy. They're simple to make using a wooden plank in 6.5″ x 16″ x3/4″ dimensions. All you have left is painting the animals and adding hooks for tails. You can also add some embellishments like leaves or flowers if your kid likes that sort of thing but overall it'll be a creative idea for your new addition!
Geometric Pattern Coat or Backpack Rack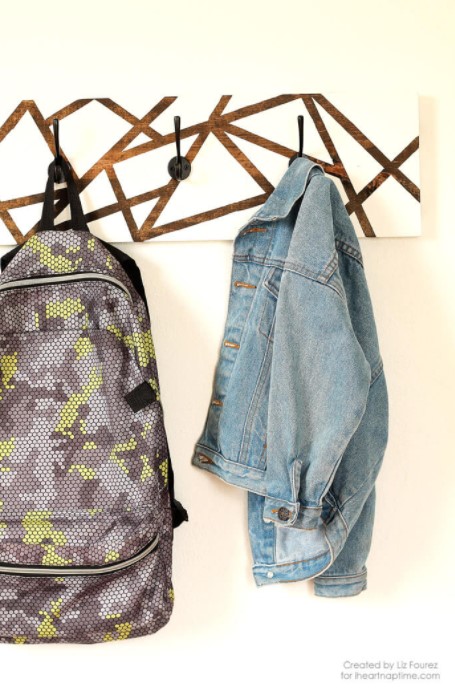 Encouraged by the need to have a designated spot, this unique geometric pattern rack is made. The pattern may seem too complex, but actually, it is quite handy to make. The DIY project starts with staining the wood board and proceed to create the pattern using painter's tape. After that, apply the second coat of paint to create the magic! Isn't this project simple?
Easy Wall-Mounted Coat Rack by The Entryway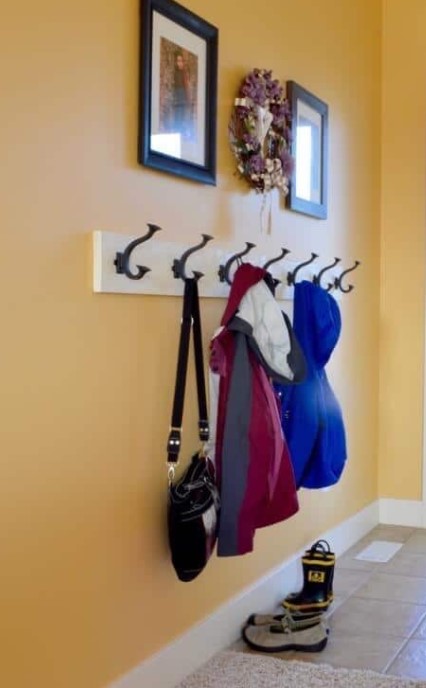 One way to keep the entryway organized is by having a designated area for guests and family members to hang their coats. This DIY coat rack idea creates an easy-to-see area with large decorative hooks that are perfect for hanging jackets, purses, or even totes bags! It's like rustic home decor or farmhouse style accent all rolled into one. It goes great in any form of design you choose from modern to contemporary.
A Fun Lego Coat Rack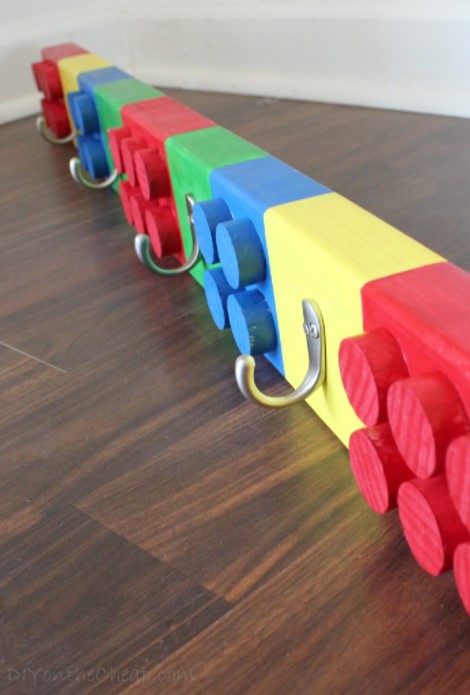 A new addition that your kids are eagerly awaiting? The Lego coat rack – it looks so cool! It's a creative way to make your coat rack fun and exciting, especially for kids. This DIY Lego coat rack is made of wood but looks like actual legos from afar! The painting part can be tricky so it's better to use painter's tape or tacks to divide the color into sections which will help you know where each row starts and ends.
A One-of-A-Kind Lumber Coat Stand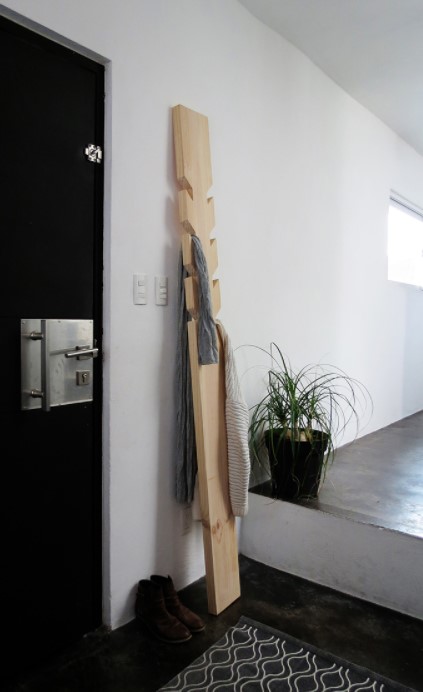 The modern furniture trend is all about simplicity, but that doesn't mean it can't be stylish and functional. This simple board has been modified into a coat rack with the help of notches cut out on either side, to hang your coats for convenience and protection! To avoid damaging any delicate garments in the future, give them extra sanding before you put up this updated DIY piece of design.
A Gorgeous, Heavy-Duty, Rustic Towel rack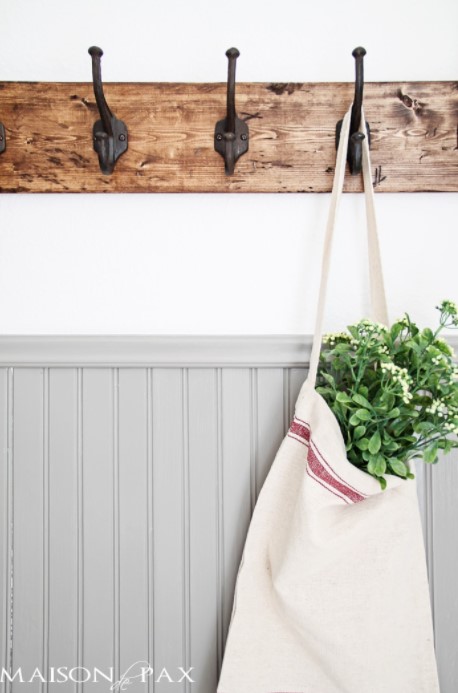 This rustic coat rack is a timeless piece of furniture that suits any type of design. And with this DIY project, you can make it for yourself and show off the result! It's simple to do – just cut the board to your choice of length, then mount heavy-duty iron coat hooks. The beauty lies within its simplicity. This one doesn't have any elaborate carvings or other details like some designs might, but instead offers an organic feel through its rich color and worn appearance.
Simple Coat Rack from Wooden Poles and Rope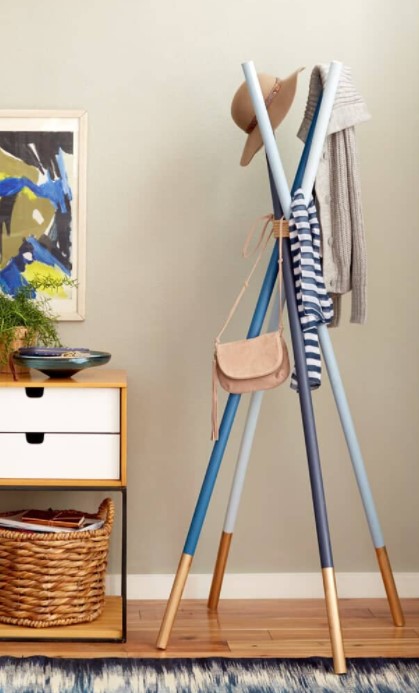 This unique coat rack may remind you of a tepee. Surprisingly, it is simple to make; only requires wooden poles and rope (and a few other necessities). The DIY project starts with repainting. You may want each pole to have a different color. Then, tie the poles with rope. Remember to spread the poles' feet apart for stability.
Wooden Zig-Zag Coat Rack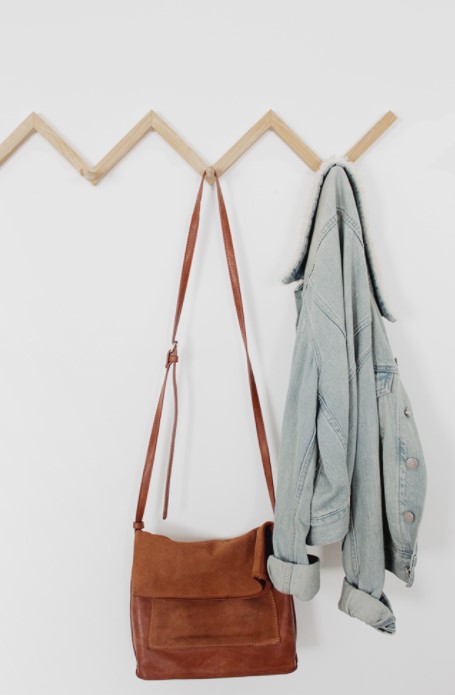 Without a doubt, every living space needs a coat rack. However, finding one that matches the style of your room is not easy! One option for finding what you're looking for is building it from scratch so it will suit the design of your house perfectly. For example, this DIY zig-zag coat rack fits in well with modern designs due to its simple styling. But, making sure everything gets put together at 90 degrees can be tricky so you need to follow all steps carefully to have the desired result.
Pallet Wood Coat Rack with Nautical Touch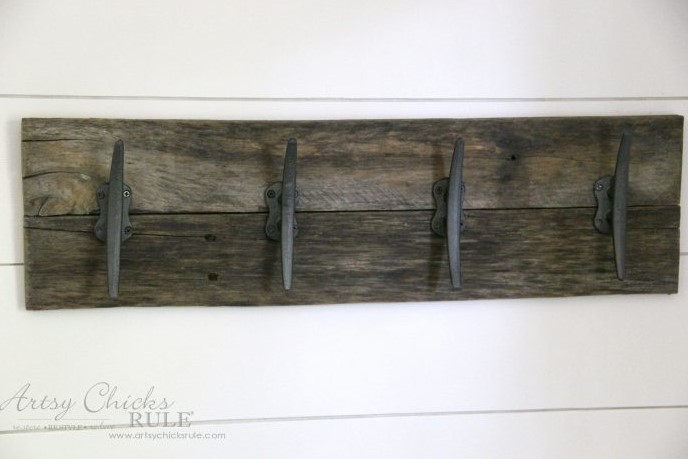 DIY lovers will be delighted to see this DIY coat rack project which combines a rustic value and nautical charm. To accentuate the rust, the wood pallet is used (ideally one with an age-old character). Then, you can add an element of sea life by adding cleats bought for $4.99 – making it simple but not too pricey either!
Vertical Wood Pallet Coat Rack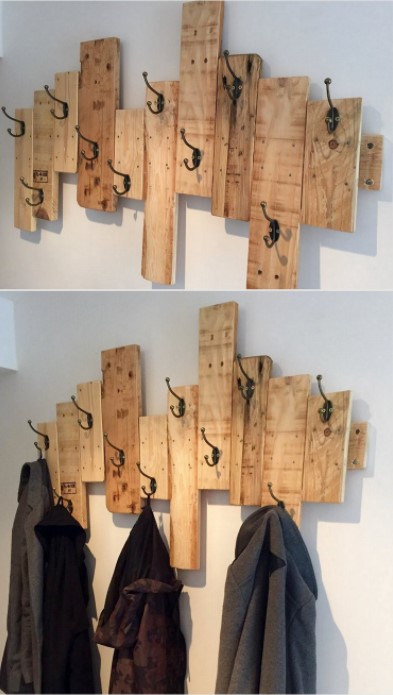 You might be surprised to know that many types of interesting, creative furniture can be made from wood pallets. One example is a coat rack which stands out because the pallet boards are arranged vertically and dark hooks for coats have been mounted on it. All in all, this DIY project turns your regular ol' wooden crate into something much more functional!
Farmhouse Style Towel Rack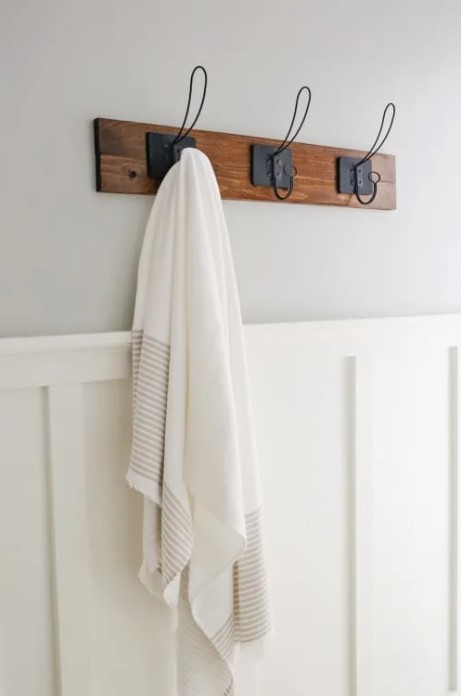 Initially, the farmhouse rack is used for towels but the idea is transferable so you can build one for coats as well. In this DIY project, the farmhouse feel is accentuated by the use of stained wood board and industrial-vintage metal hooks for an affordable price. The finished result looks stunning in any space!
Simple Crown Moulding Coat Rack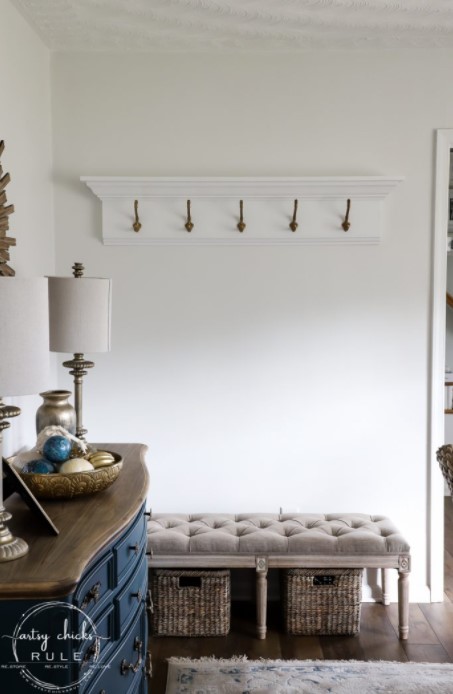 For a heavy and secure-looking coat rack, you can opt for a DIY crown molding coat rack. It is a perfect project for those who are running out of floor space but need storage. This wall-mounted rack offers the best solution. The coat hooks in this project come in an antique vintage style which can be found online easily for an affordable price. We're sure your local hardware stores have one too.
Double Wall Mounted DIY Coat Rack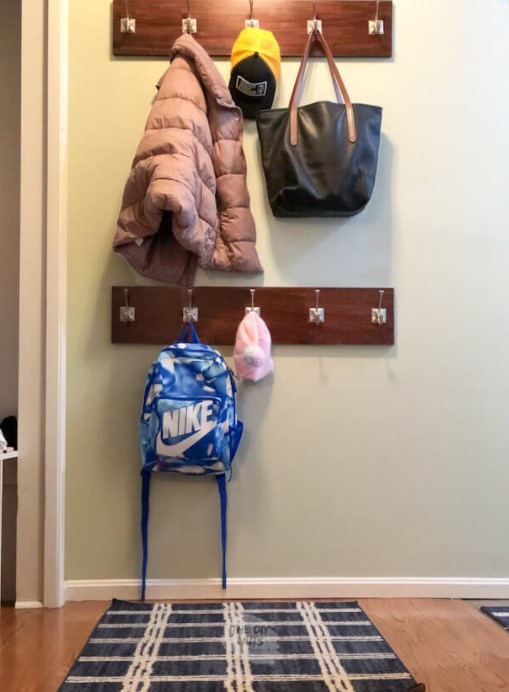 Have you ever struggled to find space in your closet for all of the coats, hats, and jackets that are required during this time of year? If so, why not build a double wall-mounted coat rack! This will give each person more room to store their belongings. It also works well if you have a big family with lots of members who need to hang up a lot of things!
A Simple and Functional Wall-Mounted Coat Rack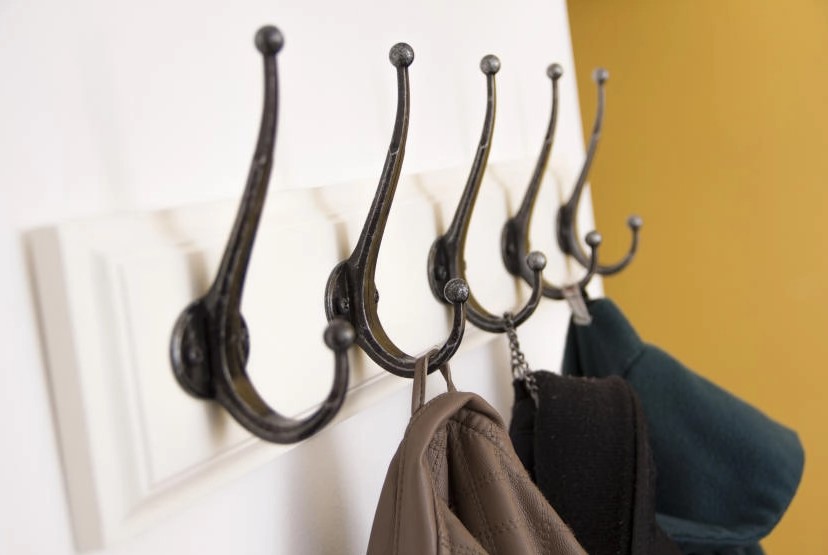 The perfect modern coat rack is often designed with simplicity in mind. This DIY project proves that statement to be true and will have your coats organized like never before! With the wood painted a stark white background, hooks are chosen in dark colors so they can stand out against the simple design of this piece. With only 6 steps, you can create a space that will keep your coats and jackets neat!
Unique and One of A kind Insulator Coat Rack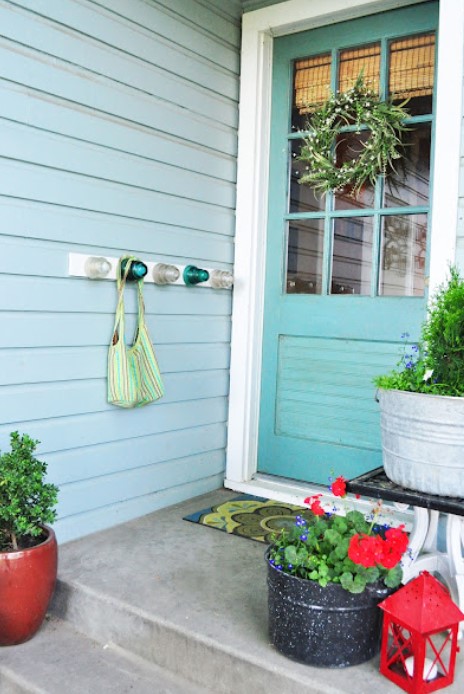 Rarely there is a tutorial of making something out of insulators (or maybe none?). In this project, the insulators are used to make a DIY coat rack. You may be wondering, how do those insulators stay attached to the board? Well, the answer is pegs! Follow these instructions and you'll see a little magic for yourself.
Industrial Pallet Coat Rack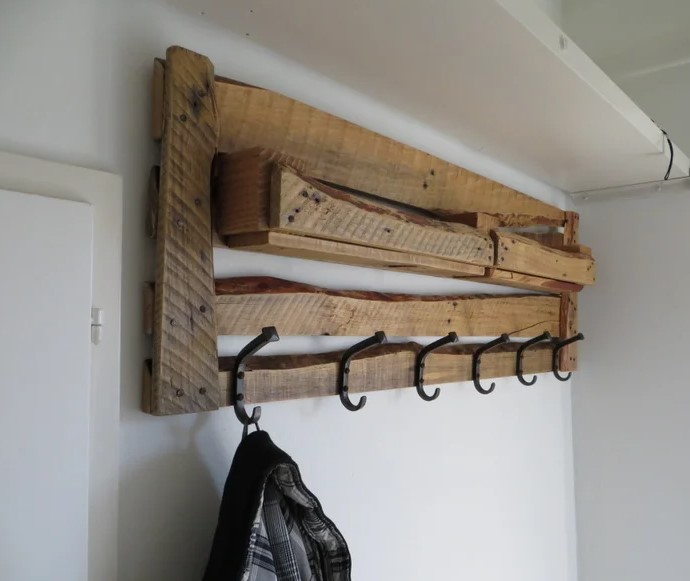 The beauty of a pallet coat rack is that it gives you the space to hang all your coats in one area without taking up too much room or cluttering. It's also inexpensive and fairly easy to make, so if you're looking for an alternative way to organize those cluttered entryways into smaller areas, look no further than this detailed tutorial on how this rack is made!
A Unique Wall Hook Rack with Railroad Spikes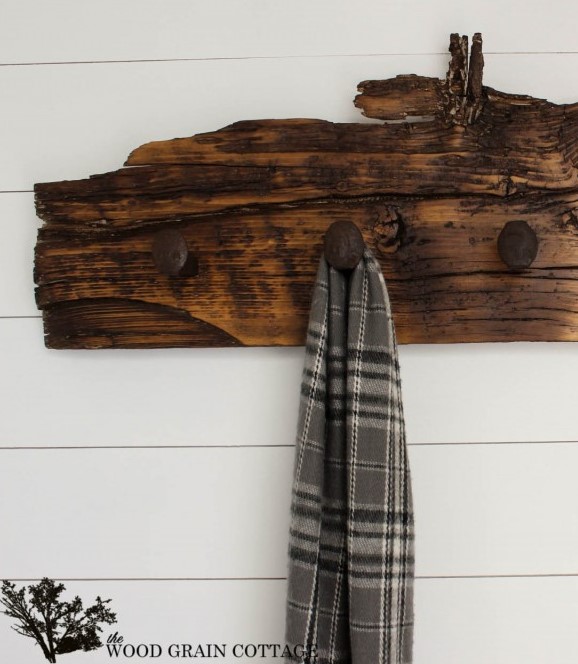 This is a one-of-a-kind DIY wall-mounted rack. The railroad spikes that are used as hooks provide an exciting and unconventional detail to the room's decor, while also helping you keep your favorite clothes in order! Not only does this come with rustic charm from weathered wood, but it will give you something more interesting than just another coat hook on the top of your door frame or inside the closet.
Colorful Reclaimed Wood Coat Rack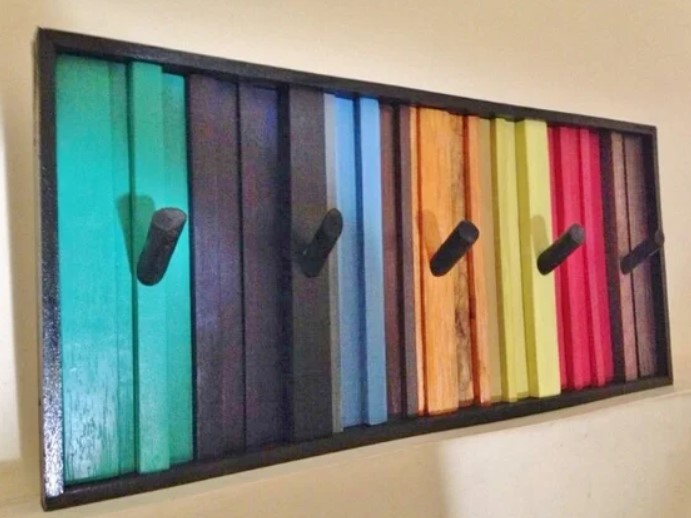 Do you have some scrap wood in your garage? Well, if you do, don't throw them away. Who would have thought that they can be transformed into this colorful coat rack? This FREE DIY project is very simple to make with only three items: a tree branch for the hooks and two pieces of scrap wood for the base. Brilliantly, these materials are found outside so it's free! Or if you have to make some trips to a hardware store, it won't be over the budget!
A Simple and Fun Hanger Coat Rack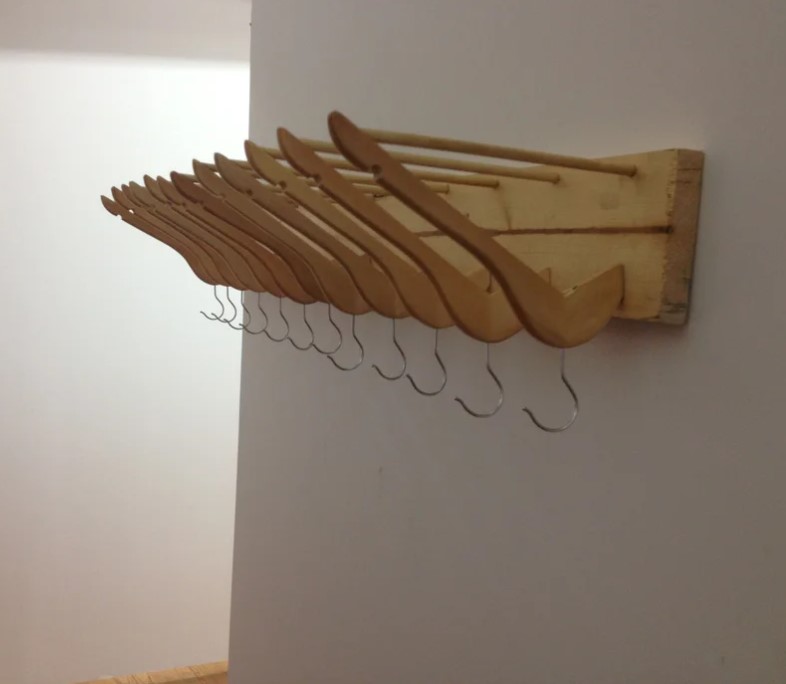 Another simple idea to create a DIY coat rack comes from these hangers. You have the option of using new hangers or recycled from your closet. The hangers are simply hung upside down on the already drilled board. Measure perfectly the gap between each hanger too. In the end, you will have this unique coat rack to organize your belonging!
A More Budget-Friendly Branching Coat Rack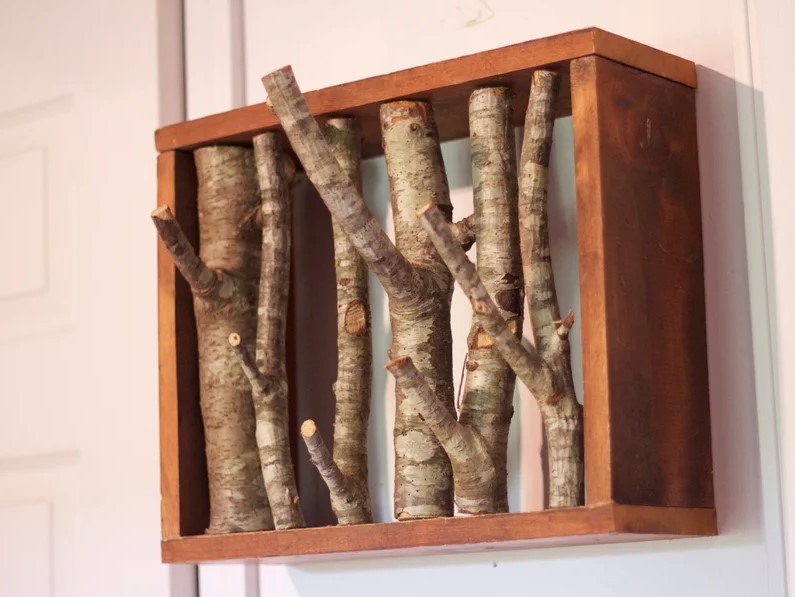 The branch coat rack serves a few purposes. Firstly, it hangs your clothes nicely and secondly, it becomes somewhat of an art display or something that gives out artistic value to the house. That is why they are sold quite pricey at stores (online or offline). However, DIY is always better! Using branches you can find outside in nature you will be able to reduce costs dramatically!
Vintage Wood Shoe Stretcher Coat Hook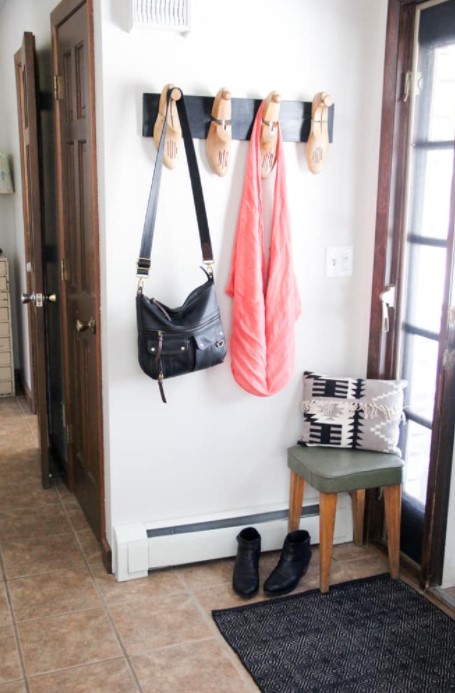 You might have shoe stretchers lying around from when you were trying to keep your shoes in perfect condition. But, now that they're no longer useful for the job at hand, don't just throw them away! Upcycle those stretchers into something functional by drilling holes for screws and attaching them to a piece of board so it can serve as a coat rack. This is such an easy way to get rid of clutter while also making room on your furniture or floor space!