Storage is an integral part of every home. Without room to store things, your living space will be cluttered with knick-knacks. So no matter where you are in the house, there should always be some sort of organization system available for use.
If you're looking for a nice way to store your things without taking up floor space, these DIY floating shelves are perfect.
A floating shelf can fit any area and provide ample storage space while maintaining the cleanliness of the room too. The clever design is also easy on the eyes with its modernity that will match your contemporary living schemes perfectly!
Check out the following list for some of our favorite DIY floating shelf ideas!
DIY Floating Shelves from Leftover Wood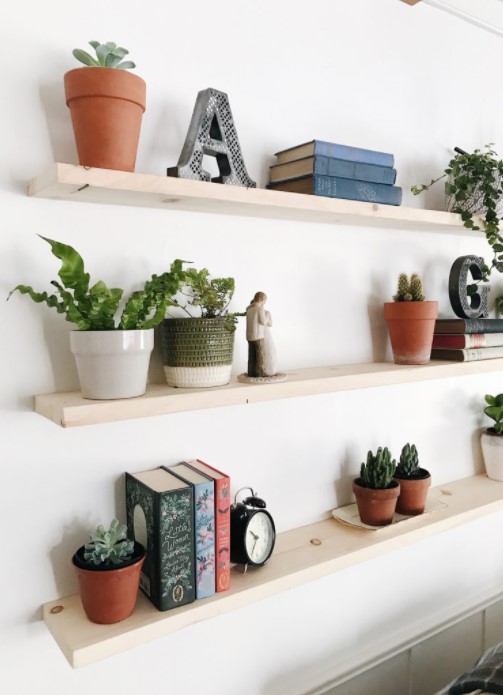 You don't need to buy expensive shelves when you can DIY your own. Look no further than these awesome floating shelves that are super easy and inexpensive—all thanks to leftover wood from a previous project. The only thing needed is precise measurements which may be tricky but it's worth all of the hassle in order to get this amazing DIY result!
Building Modern Floating Shelves in just 4 Steps!
Floating shelves are an alternative to the standard shelving that you see in most households. Floating shelves can be a more inexpensive option than buying them from stores, and they're easy enough for anyone with basic carpentry skills to do themselves! Check out this tutorial on how to build modern floating shelves in 4 simple steps!
Floating Shelves That Make A Strong Statement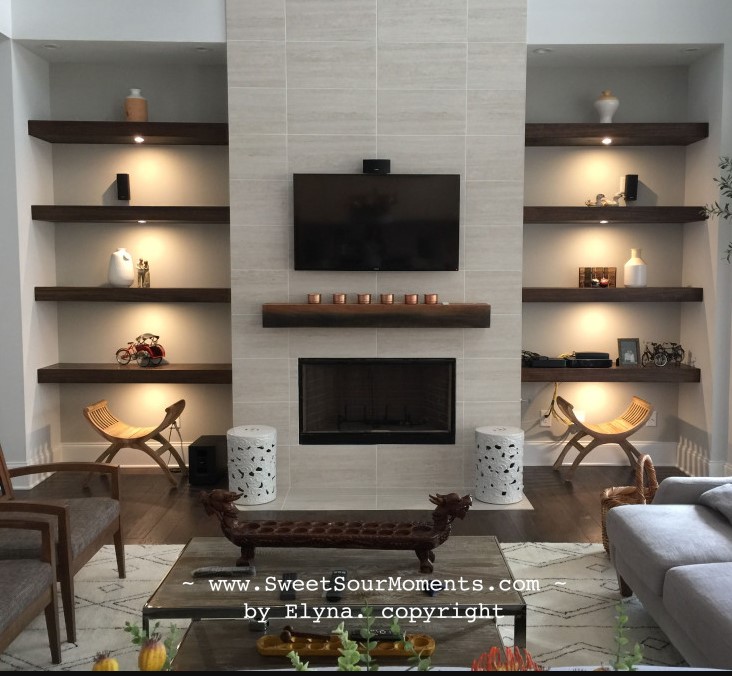 If you want a built-in floating shelf that will really stand out and become the centerpiece of your room, then this is it. The dark wood appearance gives off an air of sophistication to any living space while giving plenty of storage for books or other items!
Scrap Wood Floating Shelves for the Bathroom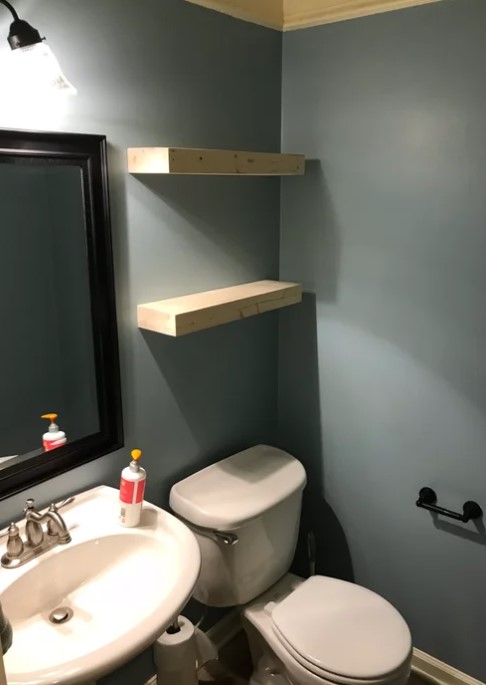 It's time to clean up your half-bath! An easy and affordable way is by building floating shelves out of scrap wood. The shelving will make your bathroom feel more organized, which in turn makes you happier (and probably less stressed)! And it's also providing a cost-effective solution for any budget.
Update Your Liquor Cabinet with DIY Floating Shelves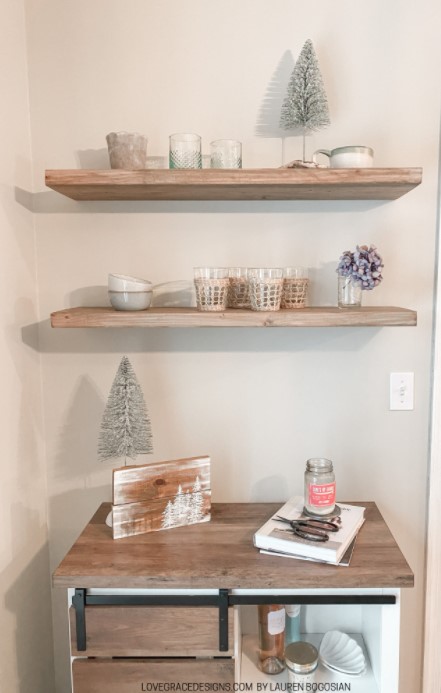 Imagine the satisfaction of having a home bar that offers guests an array of drinks, including your favorite wine! With these floating shelves built above a small liquor cabinet, you'll have plenty more space to store nicer glasses as well as some decorations for sprucing up this mini-bar. These shelves are fast and easy to make with just 2×10 pine boards!
Floating Shelves with Natural Edges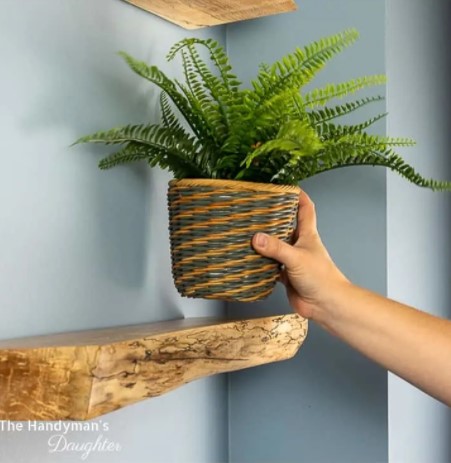 These natural edge floating shelves are perfect for displaying your indoor plant collection. These rustic boards beautifully display any plants you may have in a certain place and can be placed anywhere because of their lightweight design!
Modern Rustic Floating Shelves to Fill-Up A Nook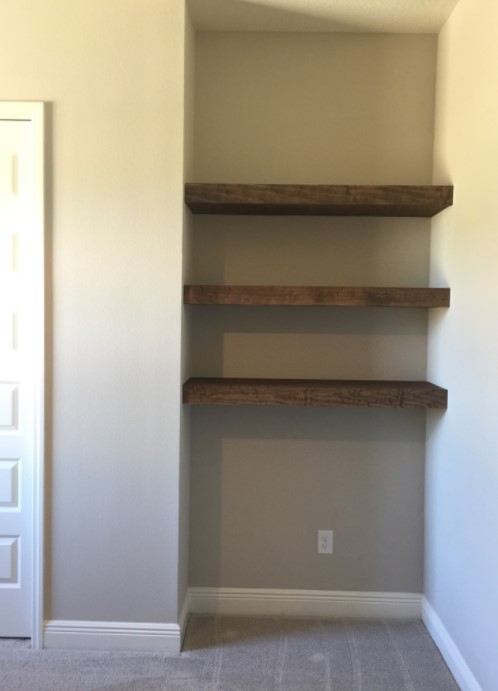 What do you think is the best way to fill up empty nooks? Many people fear that emptiness creates awkwardness. Luckily, there's a solution! Floating shelves are perfect for this type of situation because they provide storage and help keep your space organized. The rustic look also falls in line with modern homes so it will complement any space beautifully!
Open Shelving Beside A Closed Upper Cabinet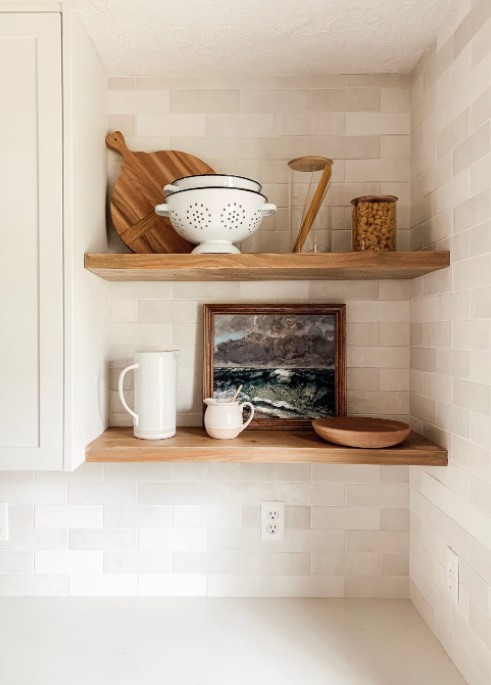 Having multiple kitchen cabinets with different designs can be a great way to enjoy the look of your space. Mixing open shelving and closed upper cabinetry is one example that's sure to add some variety to your cooking routine. By accentuating natural wood in this project, it adds character while making an already beautiful room even more inviting!
Strong Floating Shelves for Extra Bedroom Storage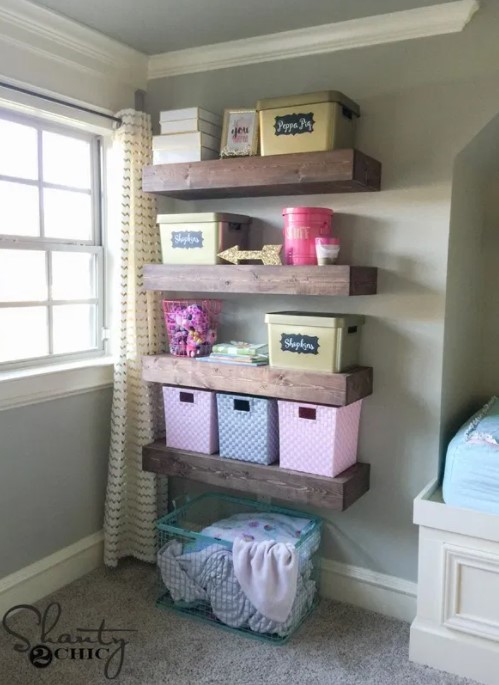 Every bedroom needs extra storage space, and if you're looking to add some built-in shelves that are both strong and attractive then this tutorial is just for you! Keep things off the floor with a DIY floating shelf project!
Modern Plywood Floating Shelves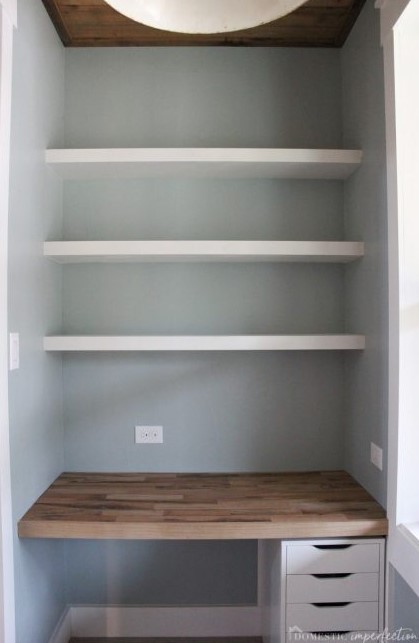 These DIY shelves may seem daunting at first but they're actually simple and functional. Plus, they are a budget-friendly addition to any office, home, or bathroom. Made of lightweight plywood, they won't put too much pressure on your walls when you install them. The tutorial is detailed too, so anyone can get the job done!
Easy Floating Shelf to Decorate A Blank Wall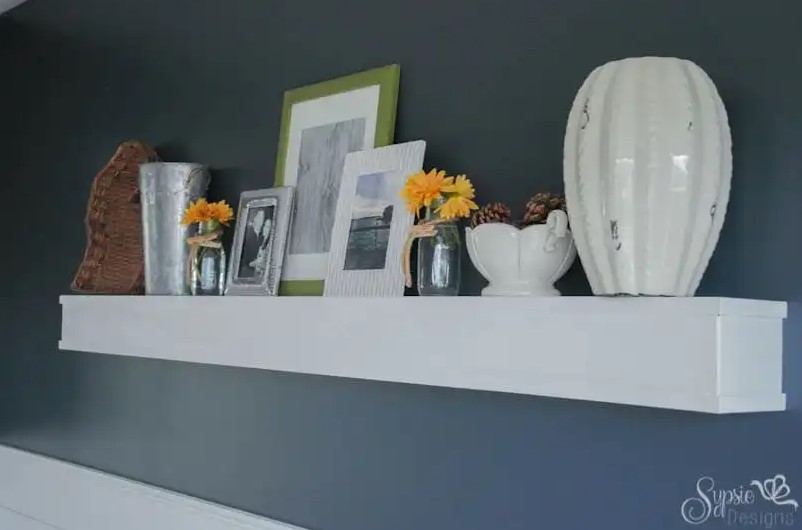 Don't let that plain white space in your living room make everything else seem boring – add some personality with an easy DIY project from scratch: Floating Shelves! All you need are two 1×6, a 1×4 board, and few screws for this simple crafty idea!
Easy $20 Floating Shelf Project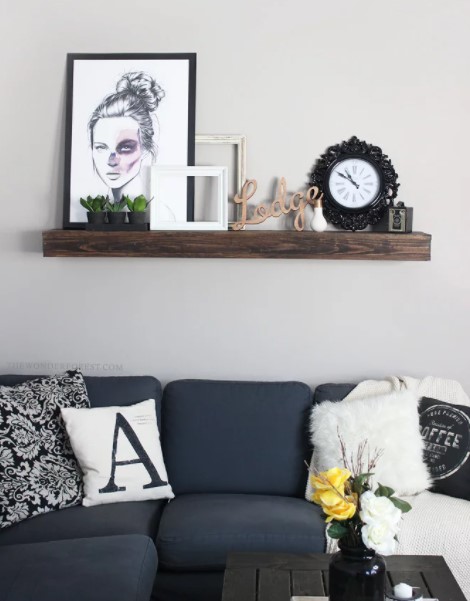 Why settle for a room that feels bland and boring when you can make it colorful, fun, and exciting? A floating shelf is a perfect way to bring your favorite objects in the home together. It's not just an item of storage either- use this $20 project as a display space or decoration!
A Bedside Floating Bookshelf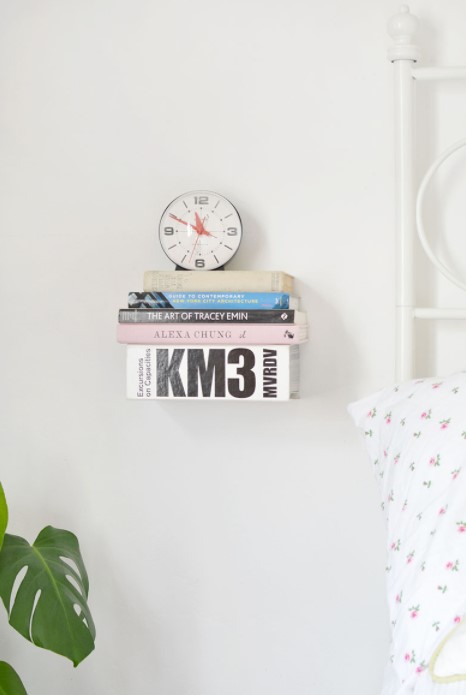 Did you know that reading before bed has been proven to help people sleep more soundly and stay asleep? It is also an excellent activity for children, especially young ones. You can build a floating bookshelf on the wall close by your bed for easy access to all of your favorite novels!
Bathroom Floating Shelves with Faux Rivets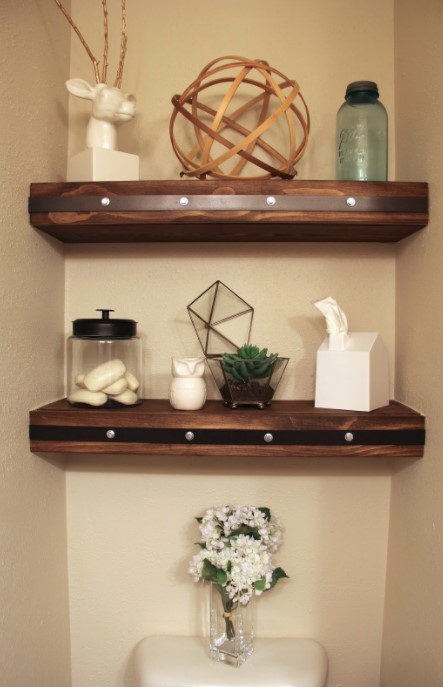 Do you have a half-bath with no storage space? Build these incredible, floating shelves complete with faux rivets to finish the look. Aside from providing the bathroom extra storage, they give it such an amazing character that anyone who's inside will be dropping their jaw!
Beautiful and Stylish Kitchen Floating Shelves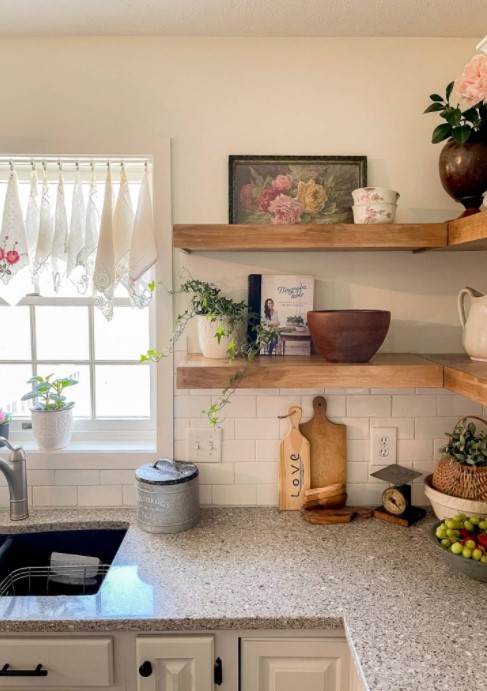 The beauty of this wooden solution is that it doesn't just offer storage space but also serves as a gorgeous corner shelf for your kitchen. The best part is that you don't have to spend over $800 on this chic storage solution; it's easy enough to build one yourself!
Build A Floating Shelf in 3 Hours (For $20!)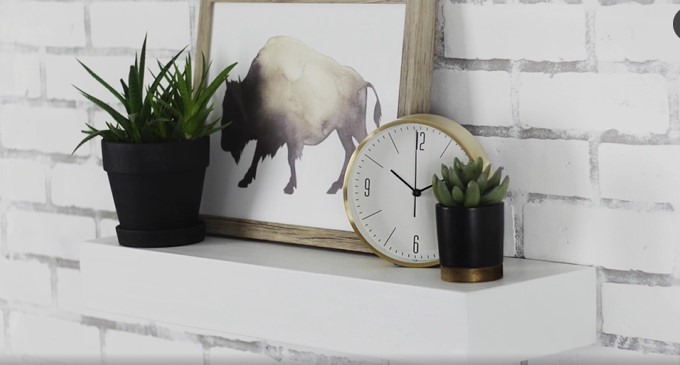 This floating shelf is a great way to get the clean look you want without spending too much time or money. With just 3 hours of building it and a $20 price tag, your things will be organized and on display in no time!
Modern Rustic Floating Shelves for The Bathroom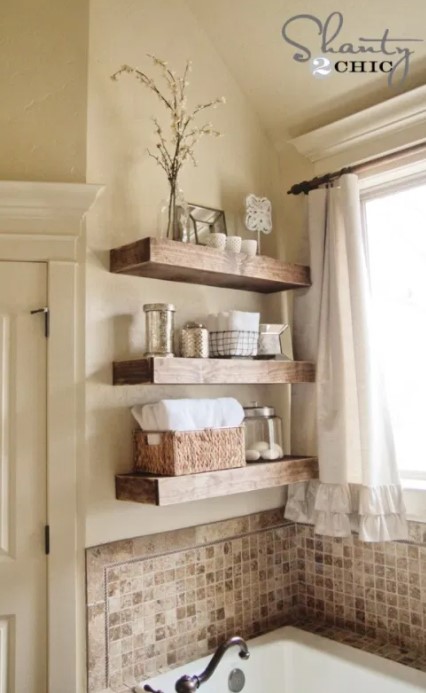 Rustic floating shelves may seem outdated to some but they are timeless masterpieces for those who can appreciate their beauty! The rustic design also matches with modern decorating styles, making them an ideal choice for your new storage system. They can match just about anything from wood tones or dark colors to light walls–which gives this storage solution great versatility!
Perfect Floating Shelves for Narrow Bathroom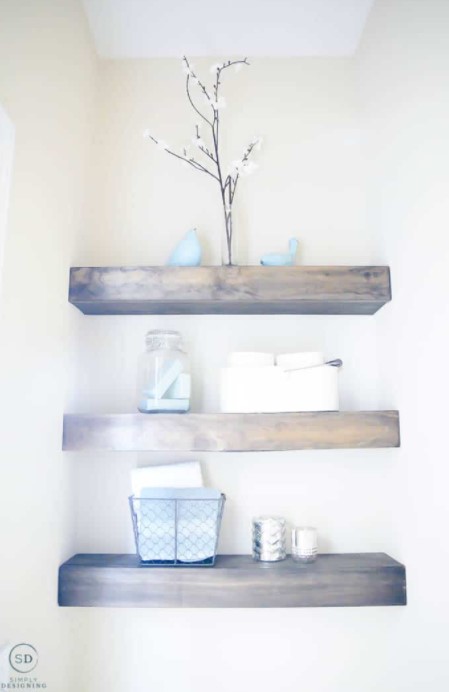 Keep this in mind, it's possible to have a decent storage system even in the narrow bathroom. One of the options is these floating shelves idea. For a high ceiling you can fit around 3 shelves and if your ceilings happen to be lower then just customize based on that.
Inexpensive and Easy-to-build Floating Shelves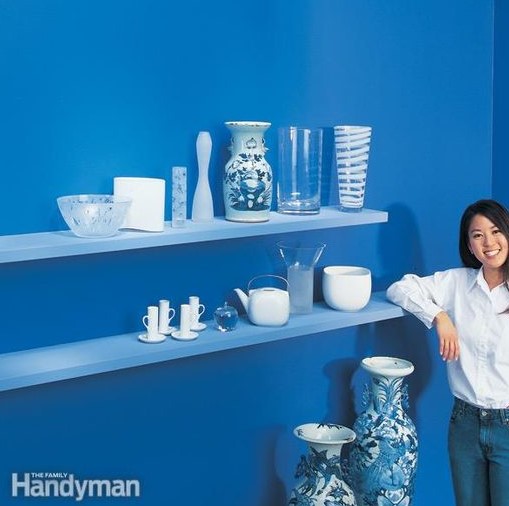 These shelves are the perfect addition to any room in your home for a practical and stylish way of storing books, DVDs, or anything else. The DIY floating shelf is not difficult to assemble but does require patience as it takes one day from start to finish. Surprisingly these sturdy shelves only cost around $20!
A Strong Wood Floating Shelf Above the Tub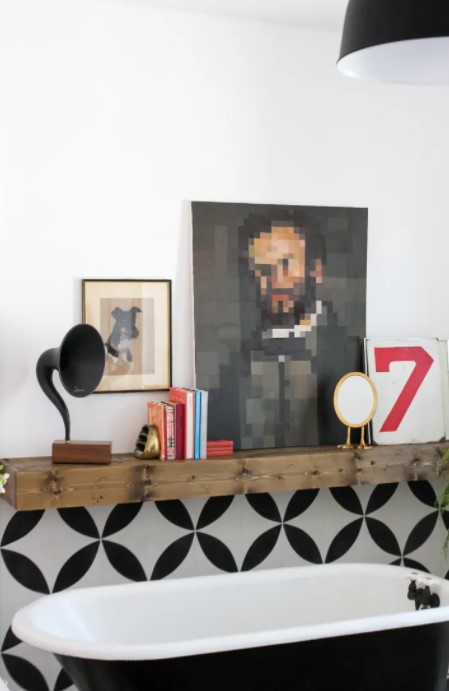 If you're renovating your bathroom, consider adding a storage system for the bathtub area. A strong floating shelf made of wood is both aesthetically pleasing and functional! You can make it more stand out by staining or painting it to match your favorite color scheme.
Build Floating Shelves for Kitchen (The Easier Way!)
Did you know that, with just a few supplies and some simple steps, you can have your own floating shelves for the kitchen? It's true! The design possibilities are endless. This tutorial will show you how to build one with a few supplies and some simple steps. You'll have stunning results in no time!
A Quick Floating Shelf without Bulky Brackets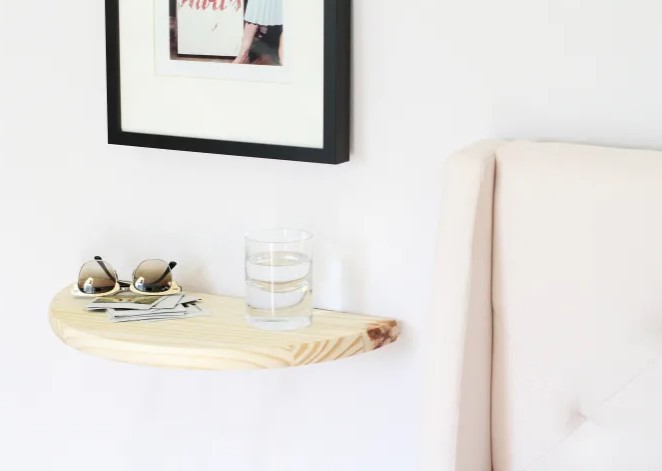 Floating shelves are great for displaying collections, but they're also useful in other ways. This project shows you how to build a floating shelf that can hold dishware as well! It's surprisingly easy–and quick too. The best part is the hidden brackets which make it even more stylish and clean looking than regular ones.
DIY Floating Shelves from Pine Boards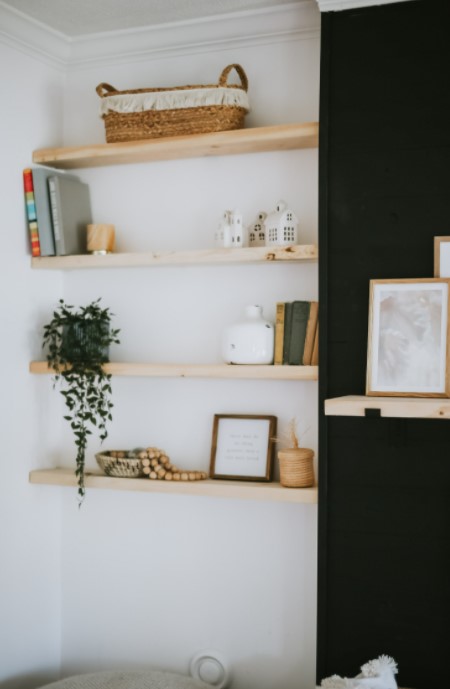 Ever want to add some personality and design flair to your home? These floating shelves will do the trick. These creative shelves are made out of 2″ x 10″ pine boards. With a variety of sizes available, they're perfect for organizing things in any room! Plus there's plenty of space leftover that you can decorate with plants or candles!
Stained Wood Floating Shelves for $20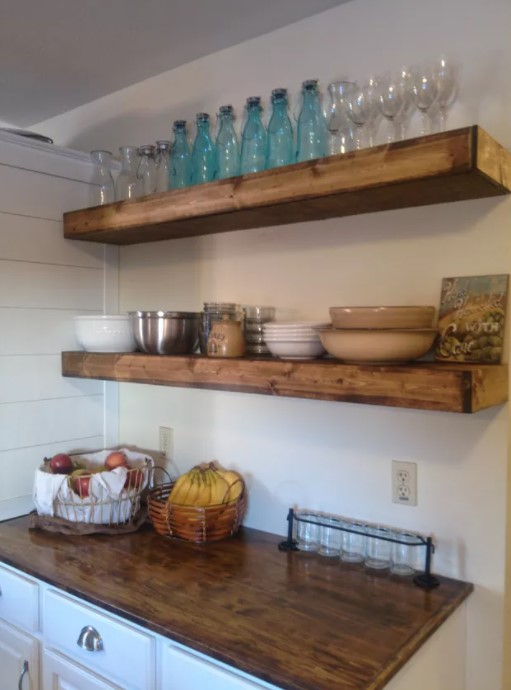 If you're looking to spice up your room, building a floating shelf is the perfect solution. Not only will it add style and organization for all of those items that are just lying around, but it's also very inexpensive! You can make this wall-mounted rack out of white wood or pine boards, which should cost about $20 total.
Rustic Floating Shelves with Metal Brackets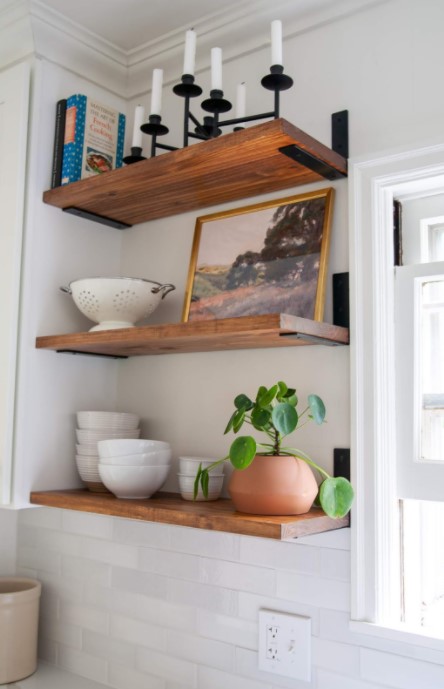 Floating shelves are an innovative way to creatively utilize space. They create a design focal point for the room, which is also functional in giving you easy access and storage solutions! And as opposed to paying $200, building floating shelves by yourself can be had for only around $20-75 – making it possible for your next project!