You're so lucky if you have enough space for your makeup. But what do you do when it's all over the counter? These DIY makeup storage ideas are going to make your bathroom counter happy!
Whether there is only a small amount of space or whether there isn't any, one thing that everyone needs more than anything else in this time and age is convenience.
Perhaps it is time to put down the lipstick and consider a makeup organizer for your makeup. Wouldn't you rather be able to find that perfect shade of red when you want? It will save loads of frustration, not only now, but later as well!
These helpful Do-It-Yourself ideas will help you stay organized.
Elegant Gold DIY Makeup Storage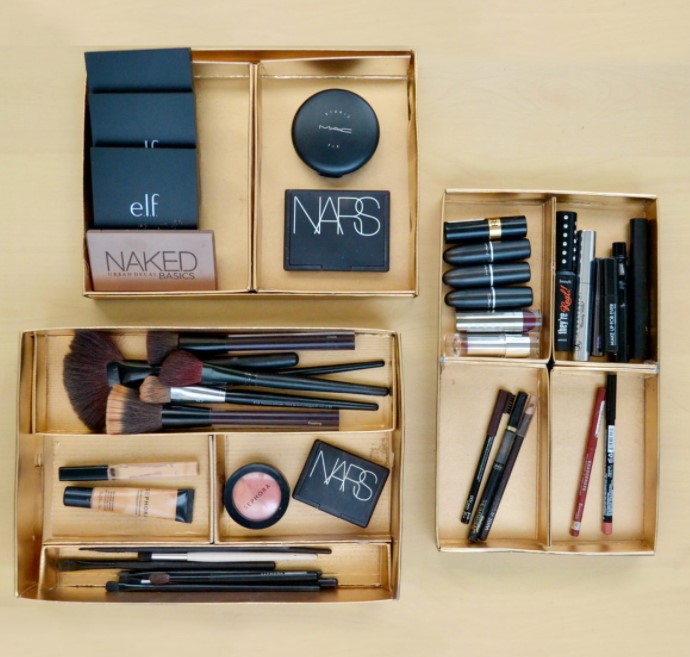 If you're tired of having a drawer full of scattered makeup, then this DIY project is perfect for you! First step: old shoeboxes. Check it out and get started today to turn these into chic elegant storage trays in the end. They'll look great on your dresser or makeup station too.
DIY Mason Jar Makeup Storage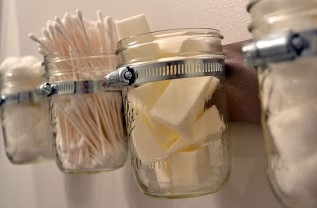 Stuck with the same-old makeup storage? Mason jars have you covered! You can find them at your local grocery store for less than two dollars. They're perfect if you need a space to organize things like cotton balls, eyeshadow brushes, and more. Follow the instruction below to know how it works.
DIY Makeup Magnet Board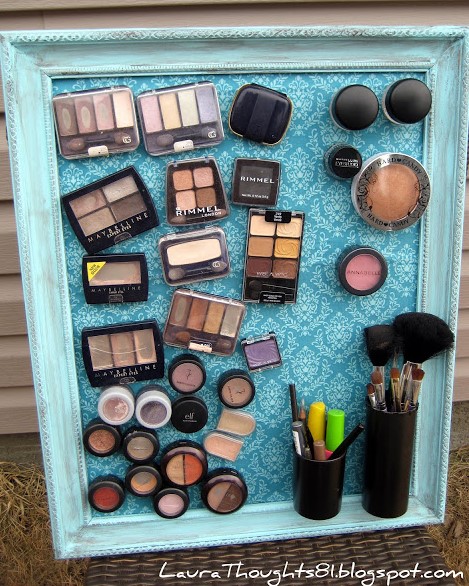 Create an easy and stylish way to organize your makeup collection with a magnetic board. With this DIY project, finding the perfect eyeshadow palette or other beauty product will be easier than ever before! The base of the magnet board is made from old frames you may have around your house–or if not, there are plenty at yard sales too!
DIY Makeup Storage for Nail Polish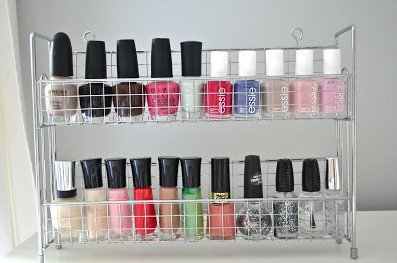 You'll never have to search for your favorite shade of nail polish again! This DIY project is a great way to save money and still get beautiful, organized makeup storage. The previously cluttered and messy makeup storage is now gone!
DIY Makeup Storage for Lipsticks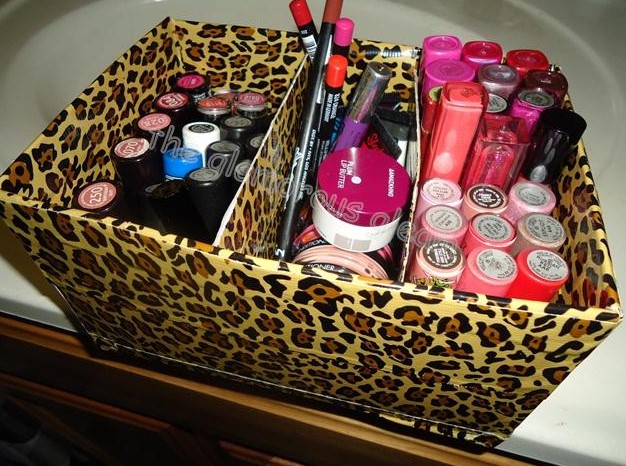 You're obsessed with lipstick and have a collection that's growing every day. We might not be able to help you get rid of any, but we can definitely make it easier for you to store them! All you need is an old shoebox or two, some accent tape in the color(s) of your choice, scissors-and a few minutes!
DIY Minimalist Makeup Storage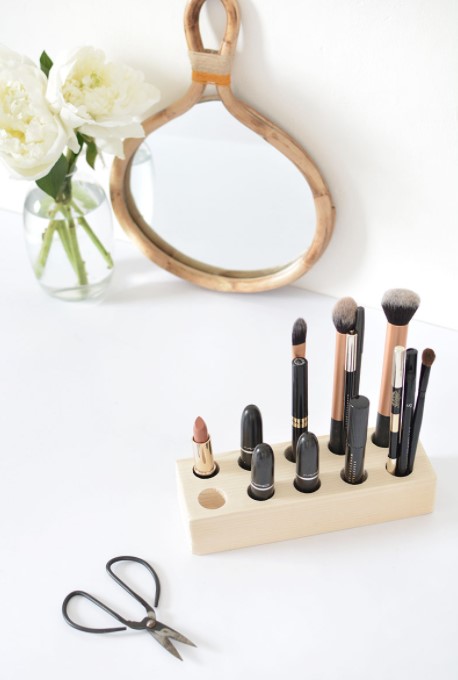 The bathroom can be a disaster if you have brushes scattered around right? Don't worry, because this DIY brush holder took only 30 minutes to make from leftover wood and it's super easy. The style is minimalist which will match any room design, plus the finish looks beautiful!
DIY Makeup Storage from Target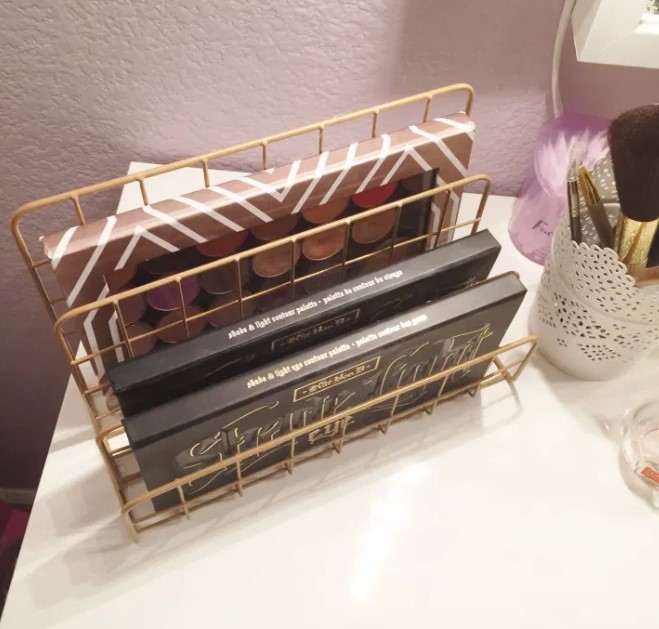 With the Dollar Spot at Target, it's always fun to find new things that are inexpensive. One of the best finds is a wire letter organization! It can be transformed into a makeup palette storage and with so many different options available for purchase in such an affordable price range ($3!), there will definitely be one perfect for any style or color preference.
DIY Glamorous Makeup Storage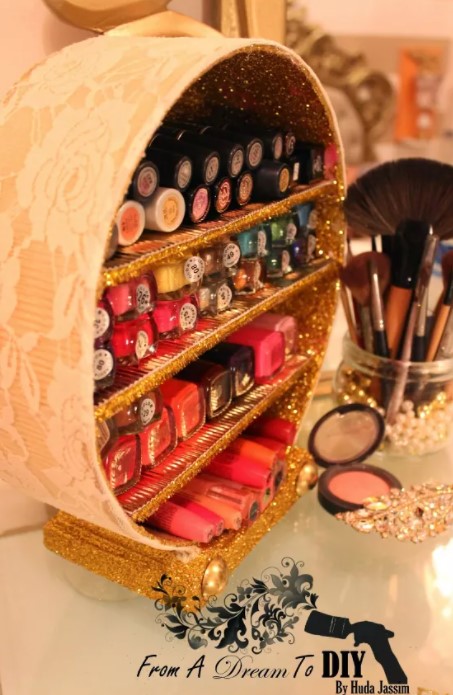 A glamorous design has to include glitter to make it shiny and adorable at the same time, especially if you have an old box that definitely needs a revamp. This old box is the perfect hiding place for your makeup! It'll just take some lace and glitter to make it look less like a disco ball. You can fit tons of lipsticks, nail polish, or other beauty products in this one storage solution, isn't that awesome?
DIY Toilet Paper Roll Makeup Storage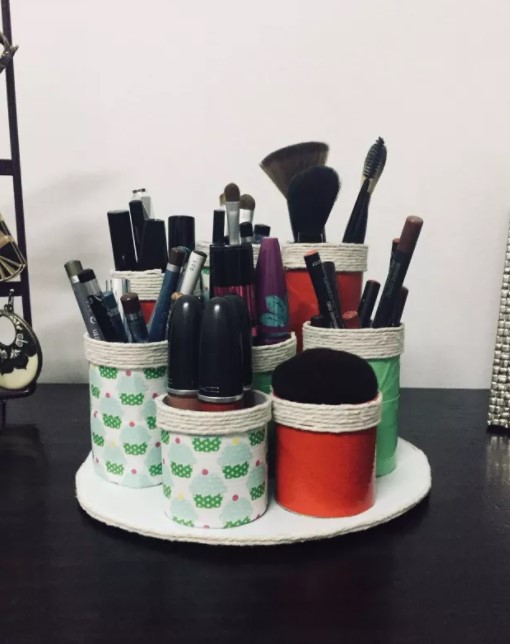 Don't throw away your toilet paper roll when it's done; instead cut it into desired height, cover in decorative tape, and turn the empty tube into something useful like storage for all of your beauty supplies. Aren't they adorable? there are so many ways they could be transformed!
DIY Cardboard Makeup Storage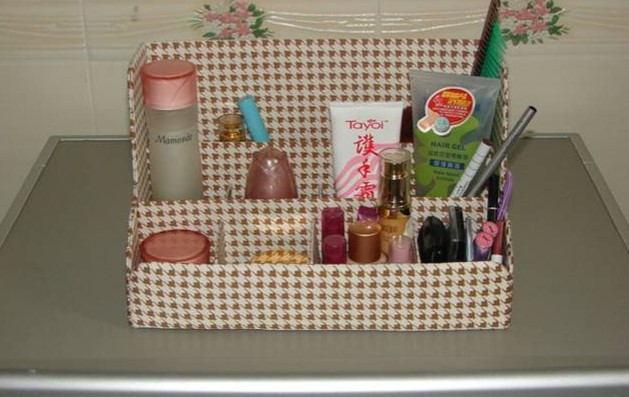 Organizing is tough, especially when you're trying to make your desk clean and orderly. But a repurposed cardboard can be the perfect thing for that! These templates will help with measuring and cutting just so everything fits perfectly on
your desk!
DIY Unique Mason Jar Makeup Storage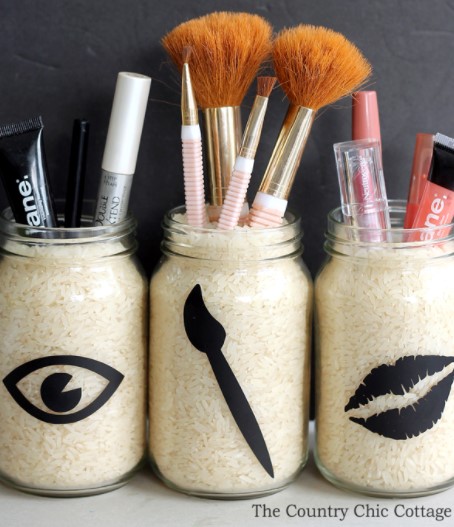 This DIY makeup storage idea is a must for all of your cosmetics needs. All you need are some mason jars and the cutest printable from the instruction below to complete this handy project! Simply add the rice to the bottom so that it's easy to pull out what you're looking for without having anything tip over, too.
Fun DIY Makeup Storage from Cheap Glass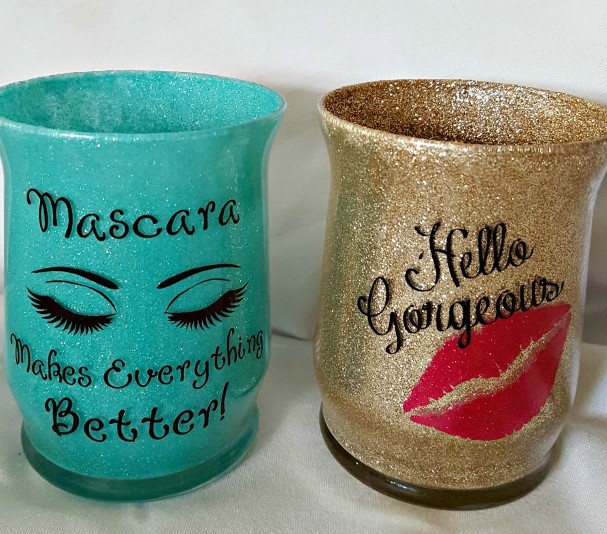 What's not to love about glitter? It pairs well with this easy DIY makeup storage project. These glasses are super versatile and can hold any of your favorite tools such as brushes, lipsticks, mascara- the list goes on! Let's get started!
Quick DIY Hanging Makeup Storage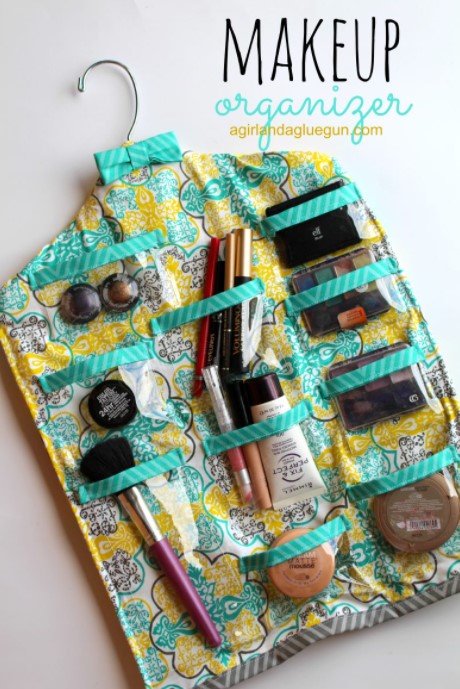 One of the most useful and creative ideas for storing your makeup is this simple DIY that will only take a wire hanger, some fabric or ribbon, and just enough sewing skills to tie it all together. It's one thing we don't think about often but having an organized space can make getting ready in the morning so much more enjoyable!
DIY Ice Cube Tray Makeup Storage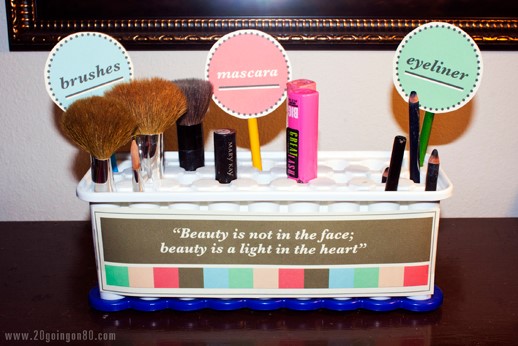 One of the worst problems someone can have is when their bathroom counter has makeup all over it. What solution do we need to solve this problem? Well, if you're looking for a cheap and easy way then look no further! This is DIY makeup storage made from an ice cube tray! The tutorial below provides everything you'll need to make your own storage at home without having to break the bank.
Target Makeup Storage Hack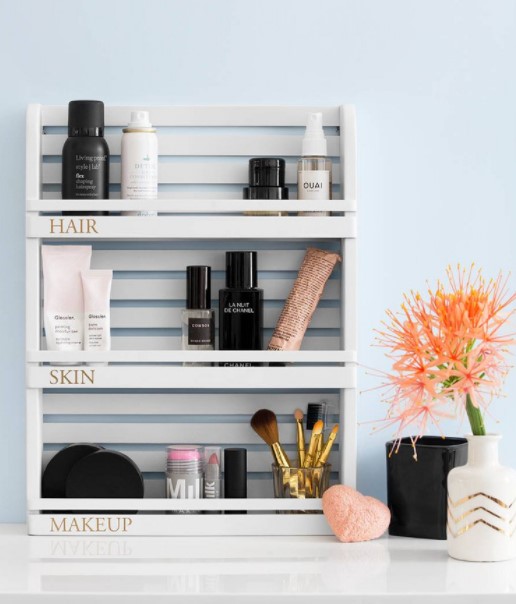 The best way to store your makeup is on a spice rack! You can get one from Target and use it as the perfect makeup storage solution, so look no further than this sparkly piece of furniture that will help keep your makeup off the floor while also keeping them eye-level where they're easily accessed when needed!
Tiny Buckets Makeup Storage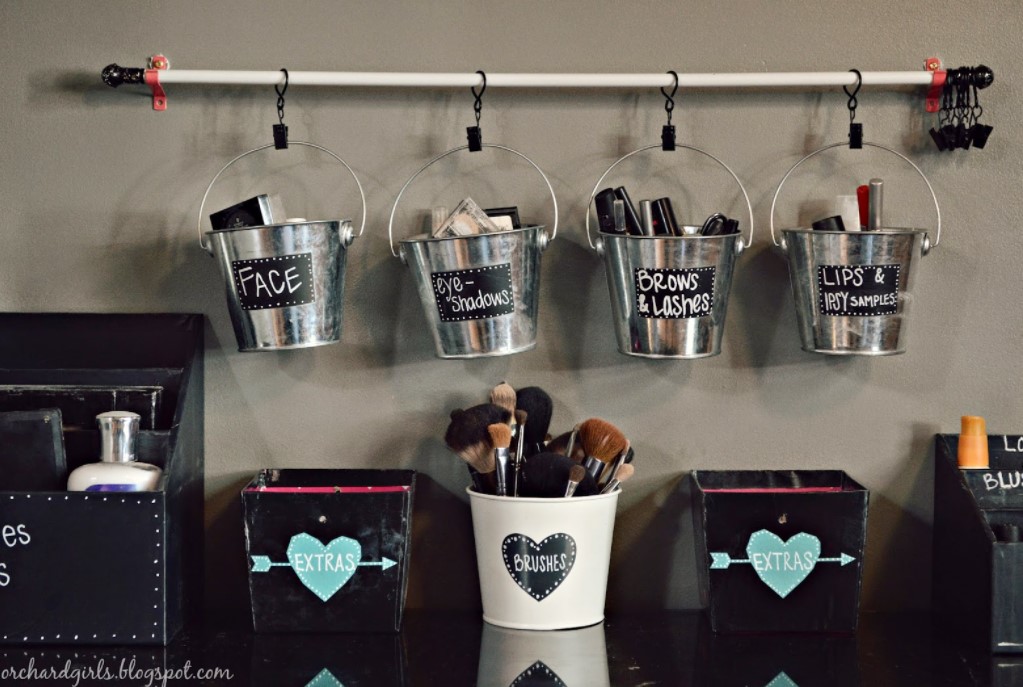 The plus point of this project is that it's easy to customize for any space. The hanging buckets are a great touch when you're looking to add cuteness and organization in your vanity area. To hang the bucket, all you need curtain rods or clips from local shops!
DIY Tin Can Makeup Storage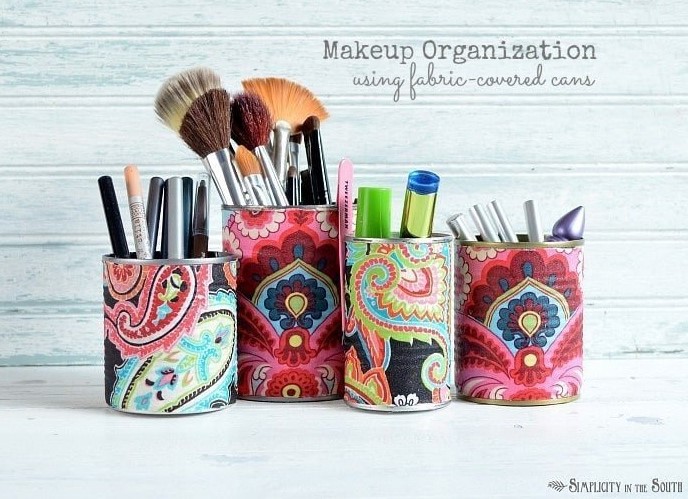 Tin cans are traditionally used for storing vegetables or whatever you might be canning, but they also make great containers to store makeup in! With some colorful fabric and a unique design they become the perfect storage container. They're also pretty to look at when displayed in your room or office space.
DIY Copper Cup Makeup Storage
The copper cup makeup storage from this DIY project is a mix of utility and aesthetic beauty. It tries to take it up a notch by using an elegant and sturdy copper cup. This copper cup can be used for more than just storing your favorite cosmetics, but it adds an element to your room décor!
Travel size Makeup Brush Holder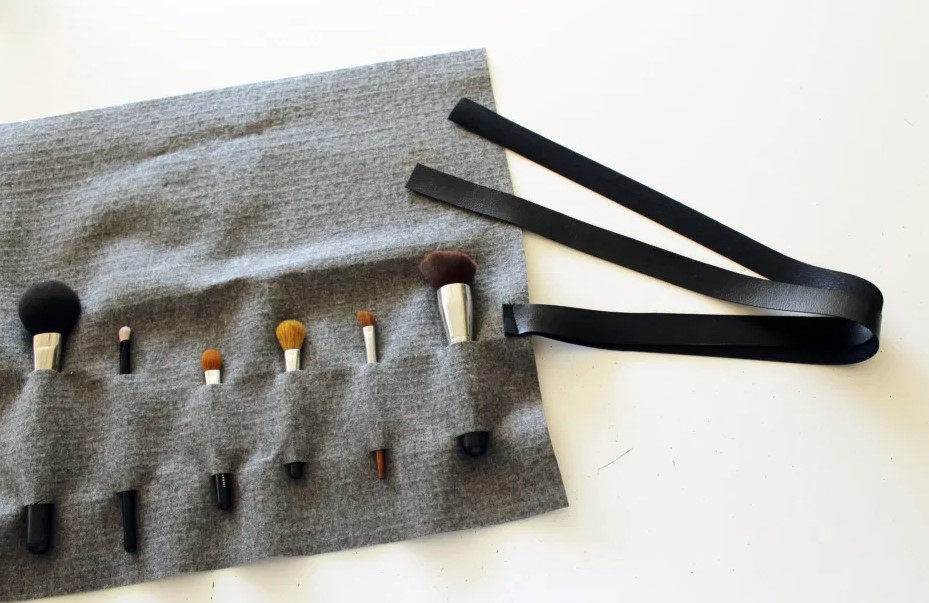 Make a makeup brush holder to keep your cosmetics safe and sound while you're on the go. This DIY project is perfect for people who want something easy and quick to make (30 minutes or less). Plus it will fit in even the smallest space of your bag!
Unique Shushi Mat Brush Organizer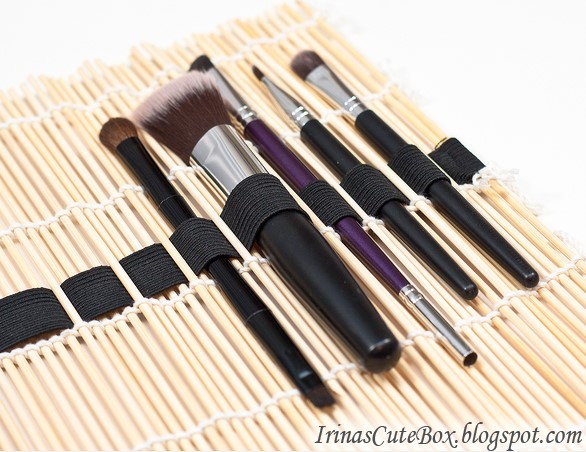 Who would have thought that a sushi mat can be transformed into an elegant make-up kit? The basic supplies for the project are a sushi mat and some elastics. All you need is to stitch the side of elastic onto your beautiful new cosmetic holder.
DIY Makeup Storage from Old Dinnerware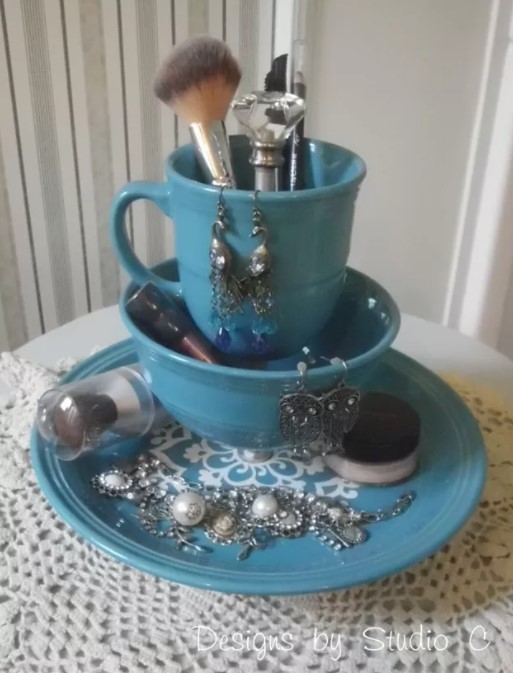 This project is the perfect solution for organizing your makeup and jewelry. It's easy to make, versatile enough that you can use it in any room of your house, and does wonders at decluttering drawers by making space for other things.
DIY Wooden Makeup and Perfume Storage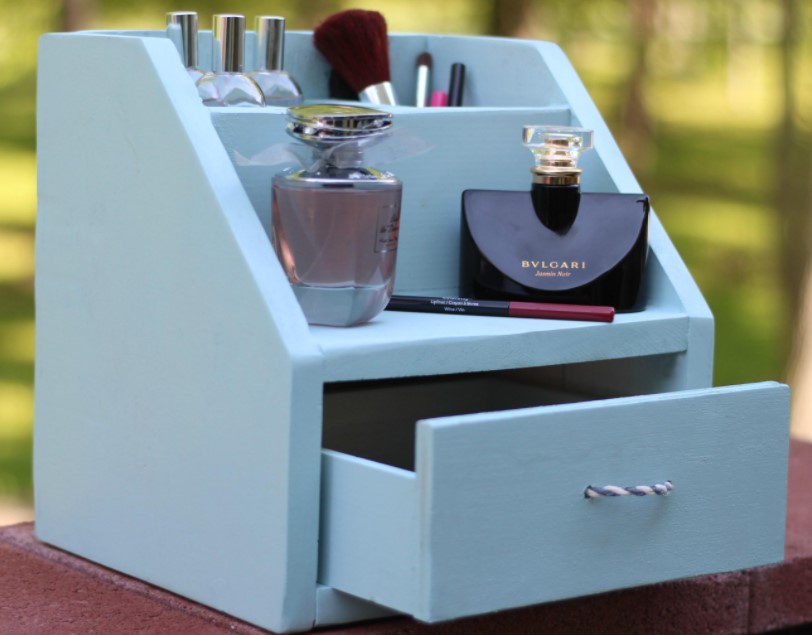 Are you looking for a solution that is more sturdy than cardboard or boxes? This DIY project uses wood so it requires precise measurements, but don't worry! The supplies and templates are explained thoroughly in this instruction below. Let's get started!
Elegant Makeup Brush Holder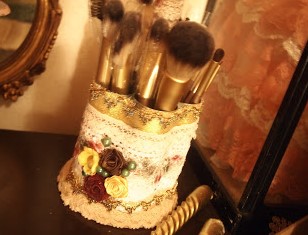 You will never find a more useful and beautiful DIY project for a makeup brush holder. An everyday item that you might have in your home- a toilet paper roll! To improve the design, this project uses lace and flower decorations, but you may use whatever materials are lying around at home.
Hanging Makeup Storage Display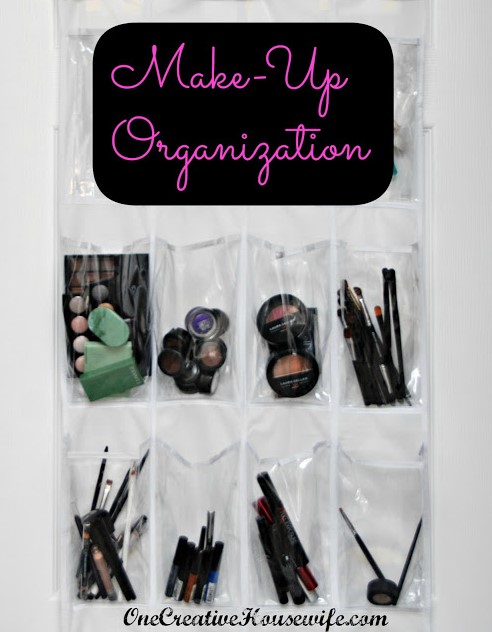 Makeup items often take up the entire nightstand and are always in danger of being broken by curious children. To keep them safe while saving time on morning beauty routines, use a shoe organizer to store all those items! The clear material helps you see what's inside without having to shuffle through piles.
Chic Mason Jar Makeup Storage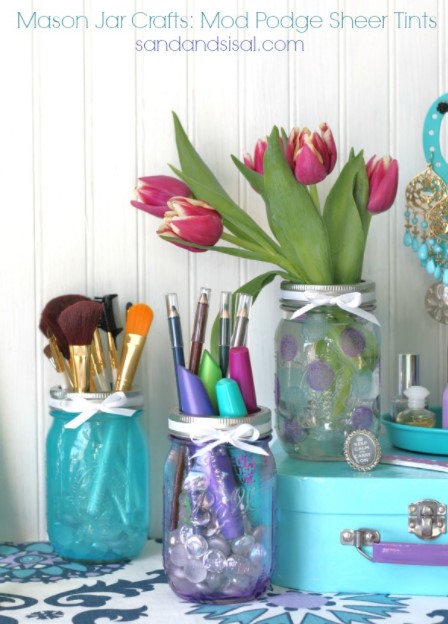 Makeup storage couldn't get any easier with this fab idea! DIY makeup storage out of mason jars is a perfect weekend project because it's super easy and simple. To elevate the look, you can tint the glass with your favorite color! Once it's done, you'll be impressed by how adorable and chic they look!
Simple Glass Vase DIY Makeup Storage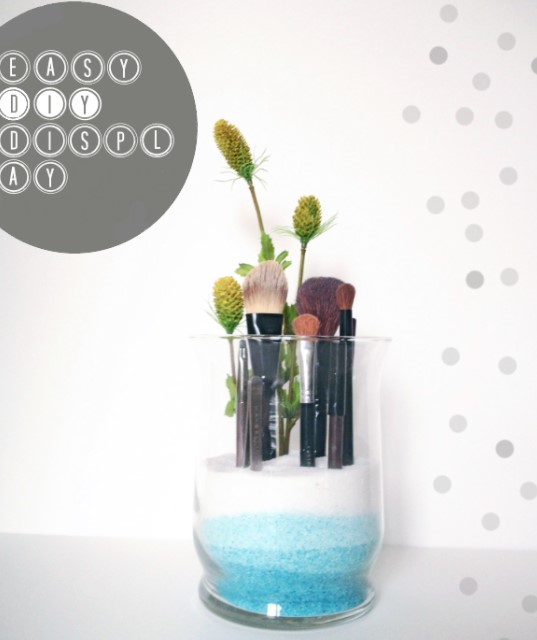 You've stumbled upon the easiest DIY makeup storage. This project only needs a glass vase, white sand, food coloring that matches your favorite shade, and botanical decoration if necessary. The total cost of this gorgeous item is $15! Makeup artists across social media are obsessed with it because they can finally store their products in style and look amazing while doing so.
DIY Makeup Storage with Drawers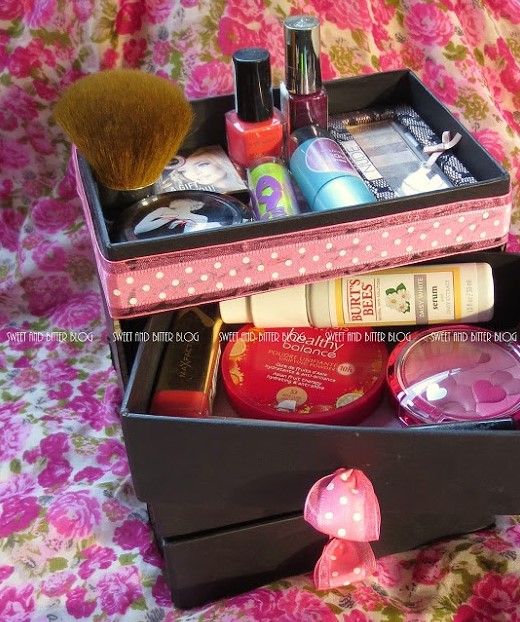 There's nothing worse than a messy makeup area with products spilling everywhere. Well, now you can have your cosmetics neatly organized in style! With just an old box and ribbon, you'll be able to create this DIY beauty storage solution for all of your favorite items like mascara, lipstick – even blush! It needs some cutting here and there but it won't take long, so let's get started right away, shall we?
Leftover Wood Makeup Storage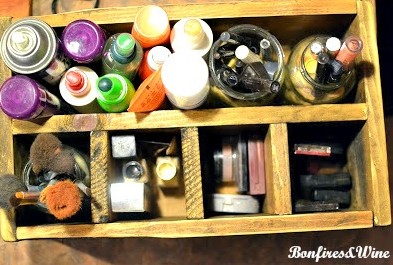 A shabby makeup box is a terrible sight to see when you get ready, right? Just in case there's any leftover wood around the house, go ahead and measure the space available before cutting it into functional storage for all your cosmetics. Now everything has its place!
Cheap DIY IKEA Makeup Storage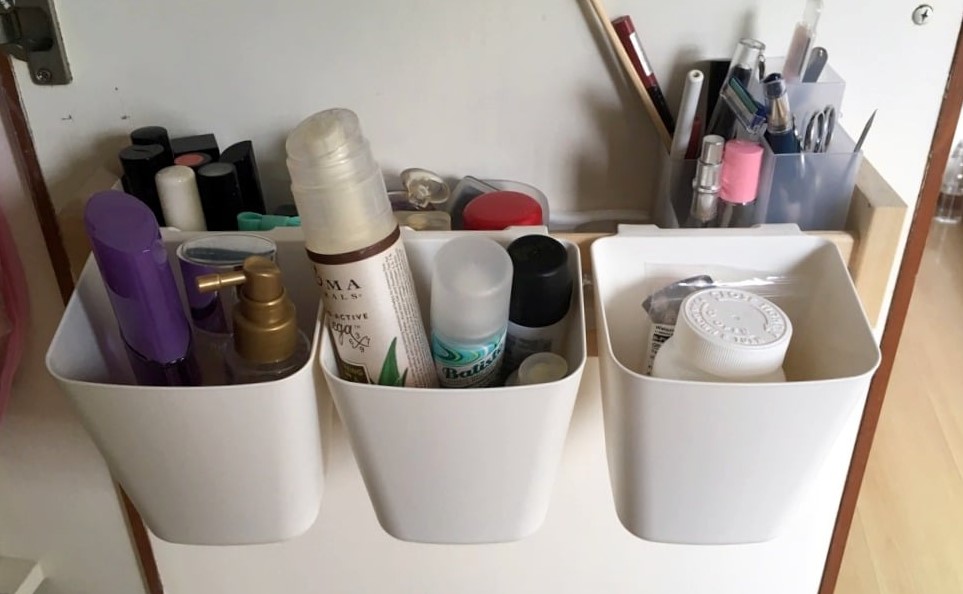 A shabby makeup box is a terrible sight to see when you get ready, right? Just in case there's any leftover wood around the house, go ahead and measure the space available before cutting it into functional storage for all your cosmetics. Now everything has its place!
Repurposed Candy Jar Makeup Storage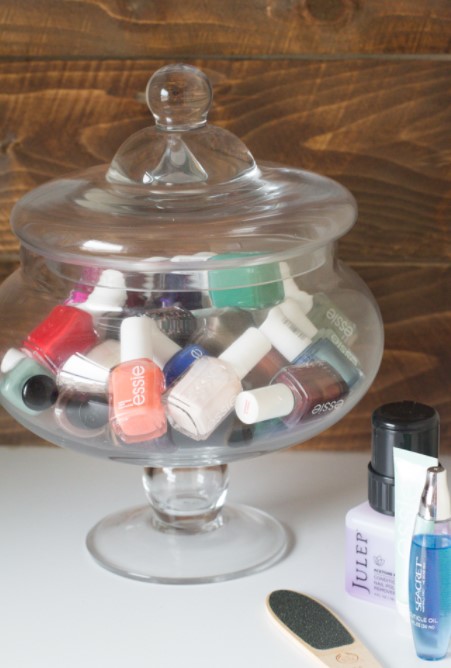 Candy jar display is an easy way to showcase your favorite nail polishes. This is especially helpful if you're constantly changing out colors! This versatile product can be used for more than just nail polish, ranging from lipstick and powder to other makeup items.
Creative Makeup Storage Jars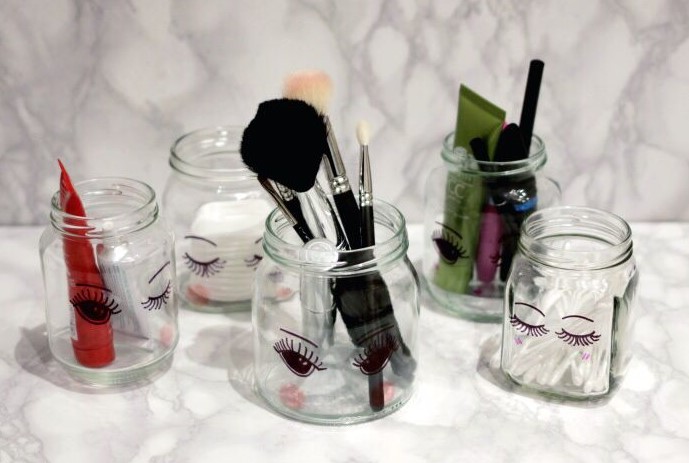 I love it when a project is easy and fun! It's the perfect opportunity to show off your creativity with an original doodle. If you're looking for something quick, simple, and adorable, this DIY makeup storage will be just what you need. Let's have fun!
An Important Note about Makeup Storage
Makeup storage is very helpful in organizing the cluttered products, but It's also necessary to keep the beauty products safely so they'll last longer, so the big question is, where's the best place to keep the makeup storage?
Some products are best kept in cool temperature such as the fridge, while some others need room temperature to live long. For most makeup products, it's suggested by experts that they're kept in a room without changing temperature (cold to hot and vice versa).
The most important note of it all is to keep your products away from direct sunlight! Otherwise, the aging of the products will accelerate and the active ingredients are broken down. Plus, none of us want that to happen!