What better way to make your outdoor space more enjoyable than by adding some outdoor furniture? With the help of these amazing handmade patio furniture ideas, you can make your outdoor space look more stylish and inviting.
Whether it's a decorative rug to add color to your patio or an attractive table for those summer cookouts with friends, there is something here that will suit all types of needs. You can customize them as much as possible at a fraction of regular market prices!
Don't wait any longer, let's dive right in!
Budget-friendly Modern Patio Table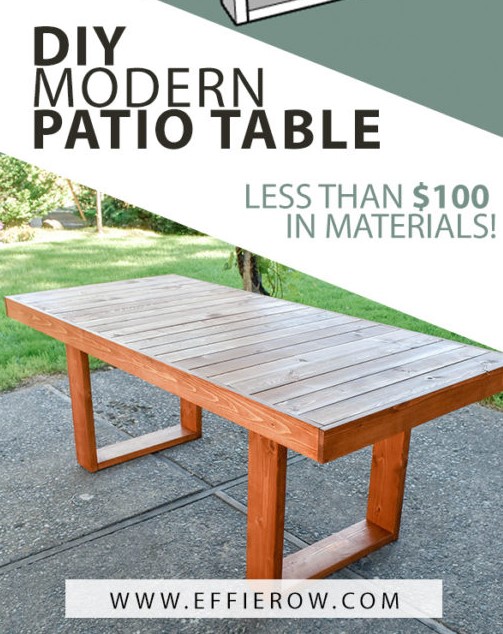 Outdoor entertainment is a great way to improve your quality of life. So, we come up with a quick and budget-friendly project to improve your outdoor area. This is where you'll build an awesome new patio table for less than $100! Don't worry about designing or planning, because the tutorial has got that covered too.
Simple Outdoor Chair with Modern Look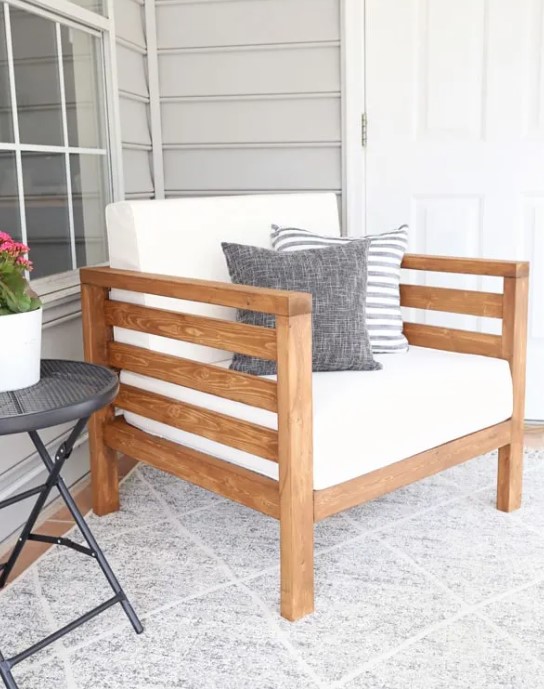 An outdoor chair is a must-have for the summer, and if you're looking to find one that's both modern yet easy on your wallet (and time) then this tutorial will do just the trick. You might be wondering how they'll stand up in all of those windy days we get during springtime but don't worry! This design has some tricks up its sleeve so it can weather any storm.
3-Tier Plant Shelf for A Green Outdoor Area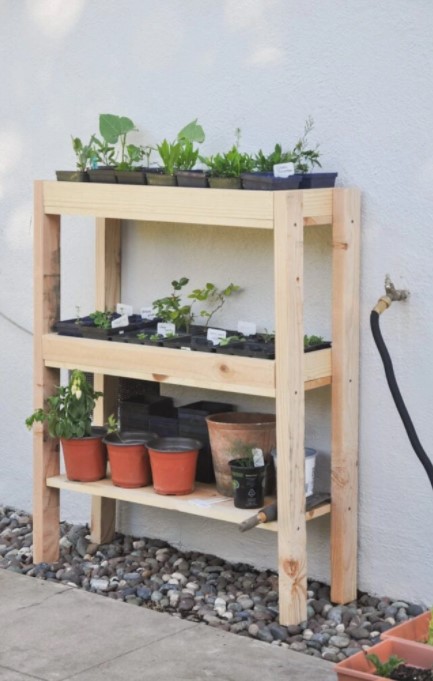 Did you know that plants have been confirmed to help people unwind from stress? They're so helpful, in fact, they can even be used as a way for us all to relax. You don't need much of an area outside your home- just enough space to construct this 3 tier plant shelf project! This is the perfect DIY anyone could do and it won't take up too much time either.
A Raised Planter Box for Mini Outdoor Garden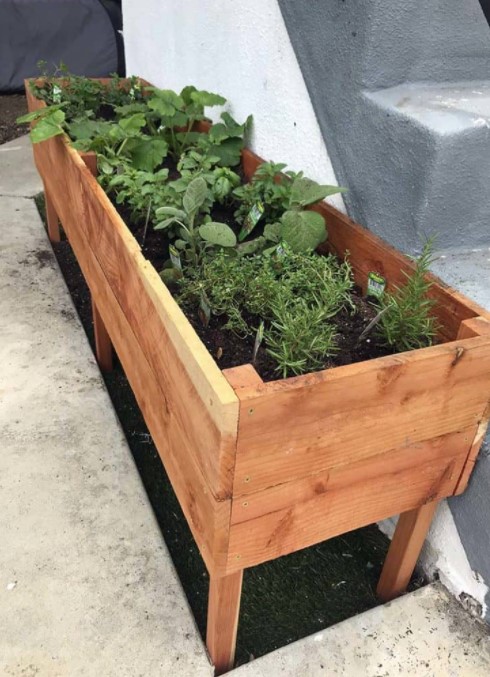 Your love for gardening may be met with limited space. Don't let that limit you from having all the fruits and herbs of your choice though, as this project provides a raised planter box to grow them in! This idea is perfect for outdoor space with sunlight exposure.
Unique Modern Outdoor Chair for Porch Area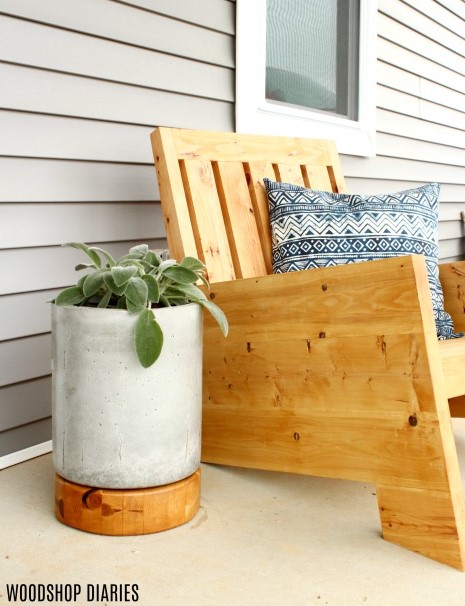 For some people, a porch is an essential part when looking for a house. On the porch, many activities are possible: working on crafts and projects; enjoying afternoon breezes in outdoor chairs; or simply lounging while reading. This DIY outdoor chair is built with unique armrests that offer support without sacrificing comfort. The best thing about this project? It's affordable!
Pergola & Floating Deck for Family Gathering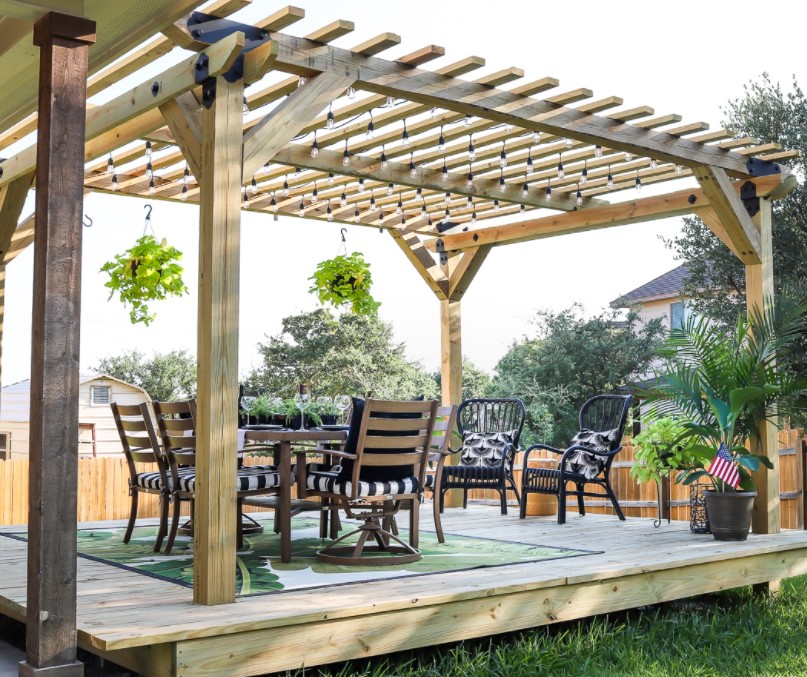 A pergola is a must for any outdoor space. It elevates the look of your area and becomes an amazing place to hang out with friends or family. You won't be disappointed in this project, as it provides not only one but two incredible features: the pergola itself which will provide shade during those hot days, and then also a floating deck that can complement its style!
Comfy Outdoor Cushion for Porch Area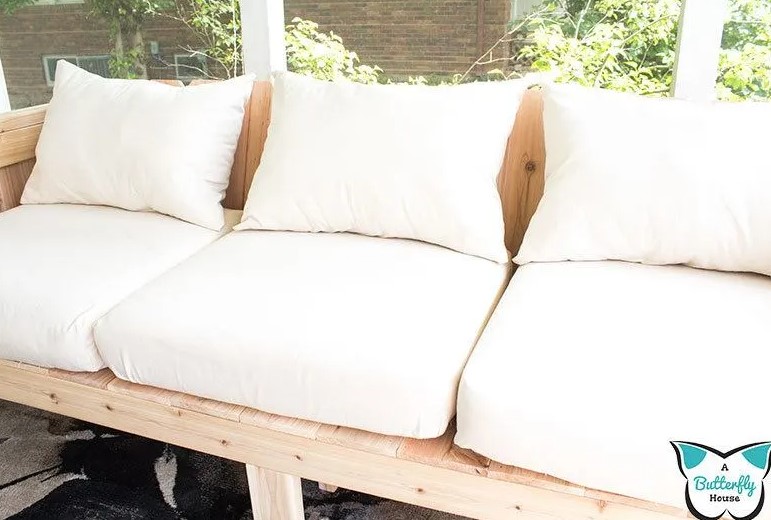 If you want an outdoor furniture piece that doesn't break the bank and looks nice to boot, then this is for you. Building your own cushions from a thrift shop saves lots of money while still looking stylish on any porch or patio.
Potting Bench for Outdoor Garden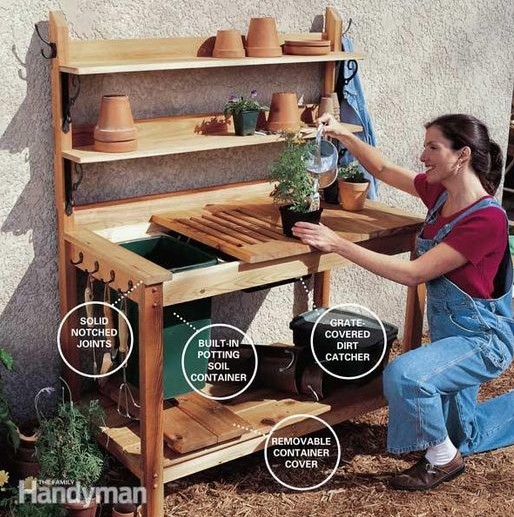 Take advantage of the space you have and organize your small gardening tasks on this beautiful potting bench. The project only takes minimum woodworking skills, making it a straightforward task to complete. It may be just what you need for those long weekends when there's no work at all!
Gorgeous Outdoor Hutch Made of Pinewood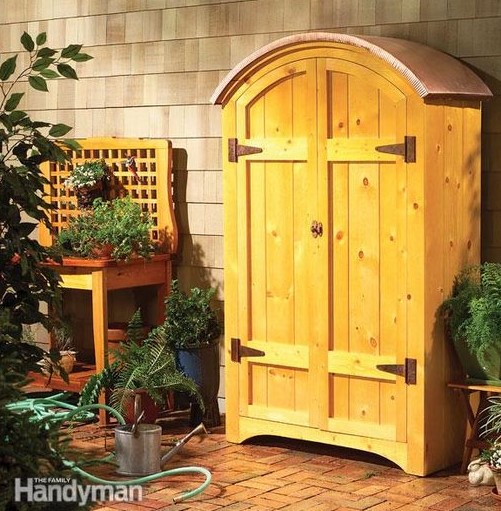 An outdoor hutch is a great idea for storage and organization. It can hold anything from gardening tools to watering cans, keeping your things contained in one convenient location outside while still staying dry, thanks to the copper roof which will keep everything inside nice and tidy.
Easy-to-build Adirondack Chair for Outdoor Comfort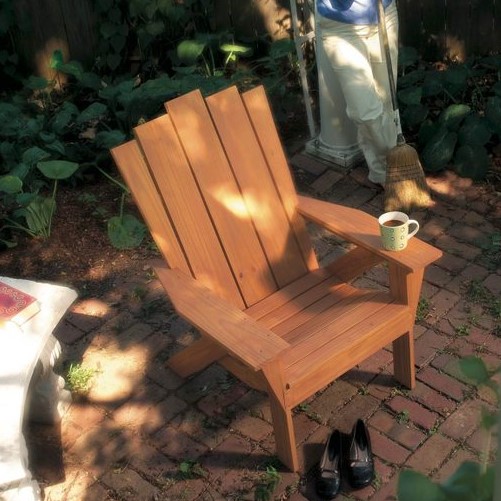 A homemade Adirondack chair is just what you need to have a perfect outdoor space for lounging and enjoying the sun. These chairs are surprisingly easy to build, with very little in terms of hard labor involved – all it takes is some time and patience! The finished product will be stunningly beautiful, yet also durable enough that your kids can climb on them without fear.
Comfy Seats for Outdoor Backyard Theater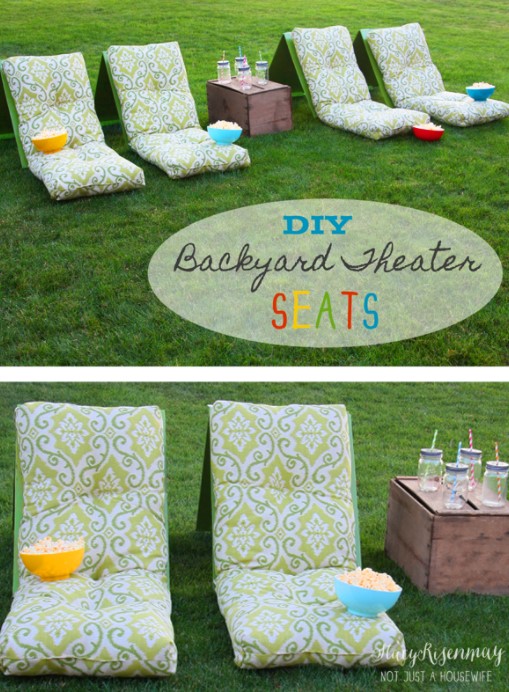 One of the best ways to spend a night is at an outdoor movie. The perfect way to enjoy your favorite flick? Outdoor theater seats, where you will be sitting in comfort as well! With these easy-to-build and inexpensive chairs, watching movies outside will be a whole lot better and more comfortable.
Cozy Hammock for A Lazy Afternoon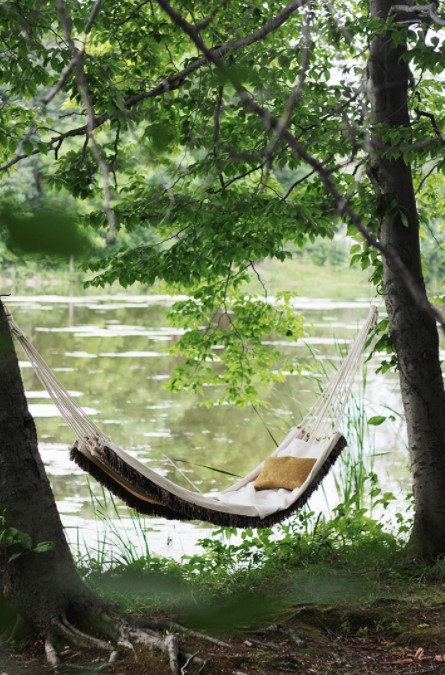 Ever wanted to sleep outside but didn't want the hassle of a tent? Maybe you've even considered sleeping under the stars. Well, with this simple hammock project, that's possible! Sure it'll take some time and effort on your part – at least several hours worth of work in total-but all for good reason.
Outdoor Sofa with A Modern Look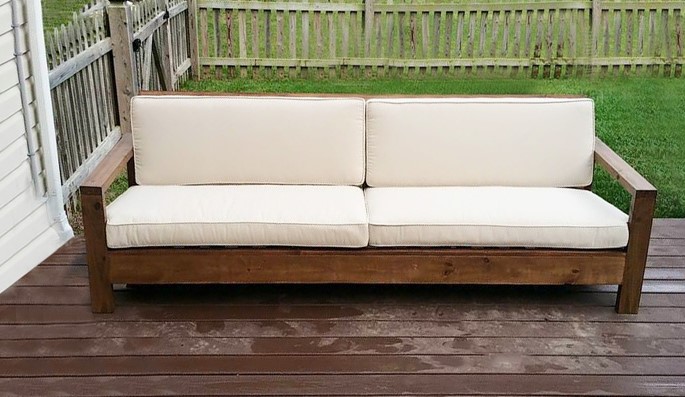 A little-known fact is that an outdoor sofa will make the outdoor experience better. The comfort of this seating is even increased due to its reclined seat and back, which you can't get from a regular chair! Moreover, these seats are sturdy and durable – making them the perfect addition to your deck or patio.
Propane Fire Table for A Warm Outdoor Evening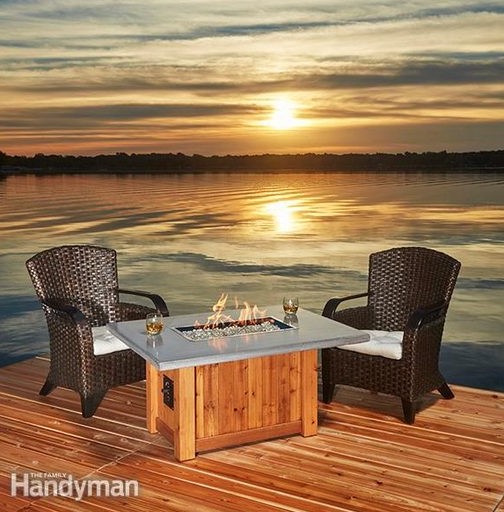 Is your outdoor space lacking warmth and style? Opt for this propane fire table! This project is designed to give you step-by-step instructions on how to build the perfect fire pit. A fire pit is a great way to make any outdoor space more inviting and stylish. This easy-to-follow project will guide you through the process of building one for your own backyard.
Durable and Strong Outdoor Table with Quikrete Top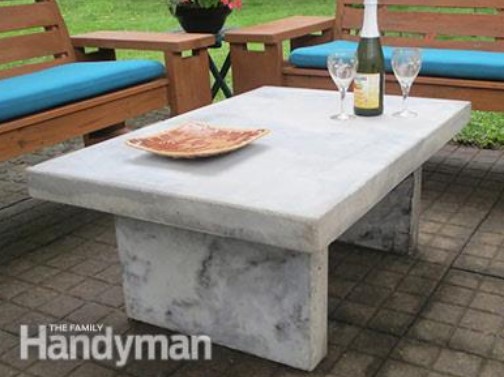 On a budget? Looking for an outdoor table that is equally sturdy and durable but also affordable, this DIY project should help. Concrete tables like these ones are usually expensive to buy new so building one yourself will save you money in the long run!
Simple Outdoor Seating with Wood Pallets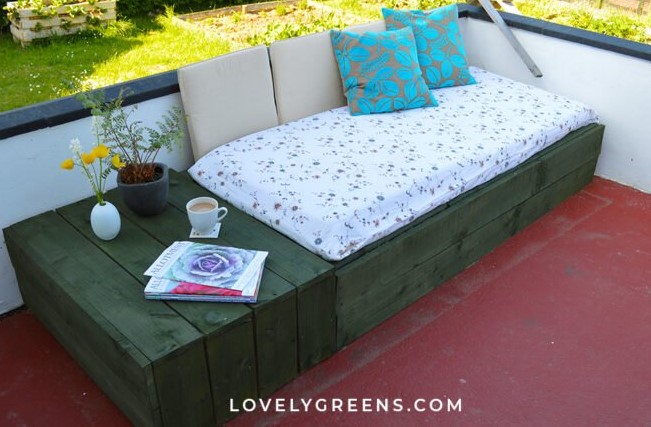 Two words: outdoor daybeds! They're perfect for resting after a long walk. The best part is that they can be made from old wood pallets so they'll never cost too expensive to make one of these beauties. This tutorial will show you just how simple it is to build your own patio day bed using four wooden palettes. All that's left now is adding some pillows or cushions and voila – instant relaxation on a budget!
A Beautiful Porch Swing Bed for A Cozy Outdoor Space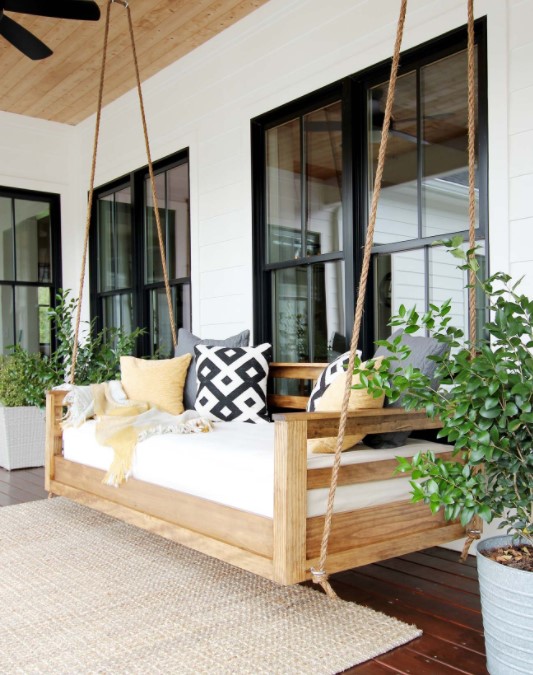 Swing beds provide a great way to relax and enjoy the views from your porch. A simple project for any do-it-yourselfer. Not only does this add an extra touch to the outside of your home but also provides a nice place to take in nature's beauty without even having to leave! A swing bed is easy enough that anyone should be able to complete as long they have basic tools.
Outdoor Coffee Table with Concrete Pavers Top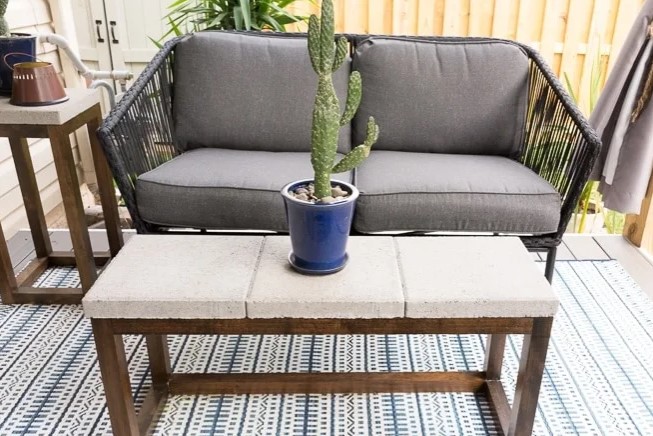 Concrete for a tabletop can be an interesting idea, but pouring concrete is often tiring. Let's make it easier with concrete pavers! Now the project has become simpler and more creative than ever before!
A Beautiful Rustic Farmhouse Porch Swing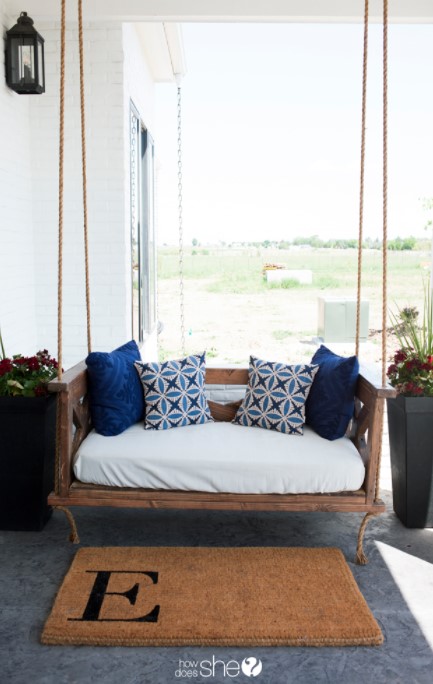 A porch swing is a great addition to any outdoor space. The benefits of installing a new porch swing are endless: they offer hours of relaxation on breezy summer days; people can enjoy reading or watching the sky from their seat outside while listening to natural sounds such as crickets chirping in the background. With our simple DIY instructions, this could be yours too – all without breaking a sweat!
An Outdoor Rocking Chair Makeover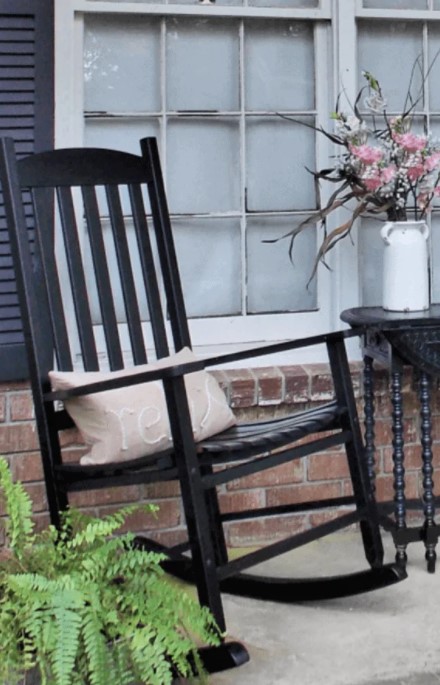 Outdoor space is the place where we can relax. It's good to see our neighbors passing by too, isn't it? Perhaps you have an old rocking chair that looks outdated- but repainting and updating this vintage piece will not only make your outdoor area more modern, but also a wonderful conversation starter!
Quick and Easy Outdoor Table Makeover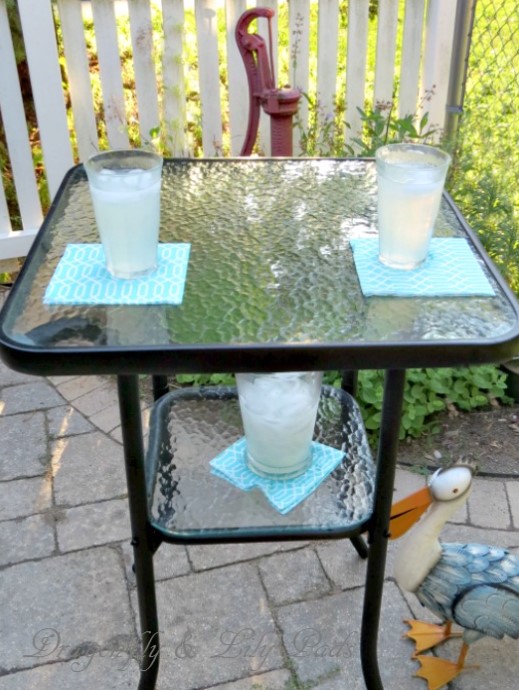 Summer has arrived and it's time to enjoy the sunny weather while we can. We don't need new outdoor furniture, just a bit of creativity! Transform an outdated piece with items from your garage like this old table which is magically transformed into something more modern!
A Beautiful and Bright Macrame Lawn Chair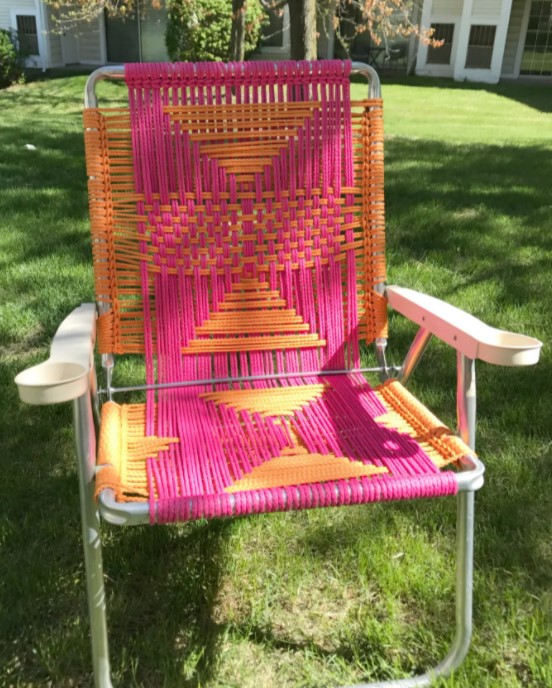 You're probably thinking, "A lawn chair? What's so great about that?". It turns out, these chairs are very versatile in their design! Not only can you use them outside to sit and enjoy the weather but they make for a perfect accent piece inside your home as well. So, instead of opting for something plain or boring, why not give this project a shot with our detailed step-by-step guide on macrame weaving?!
Outdoor Table with Built-in Ice Bucket or Planter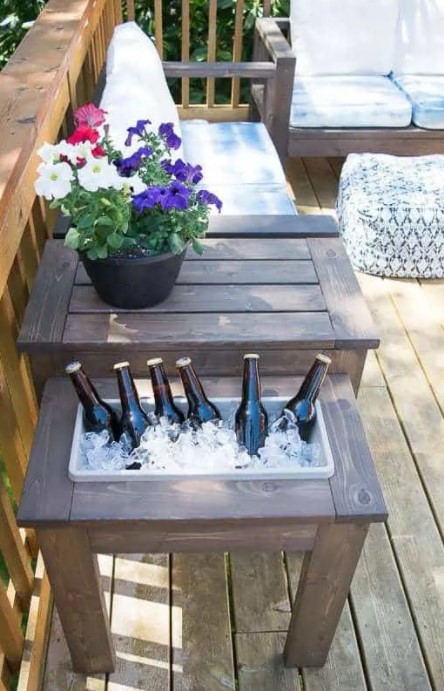 A perfect summer piece of outdoor furniture, what better way to enjoy the end-of-summer weather! The built-in ice bucket is such an excellent idea for a hot day when you want something refreshing while hanging out with friends and family. If you feel like the ice bucket isn't necessary, there's room in that space that can be used for planters or anything else if needed.
A Hammock Stand for A Better Outdoor Relaxation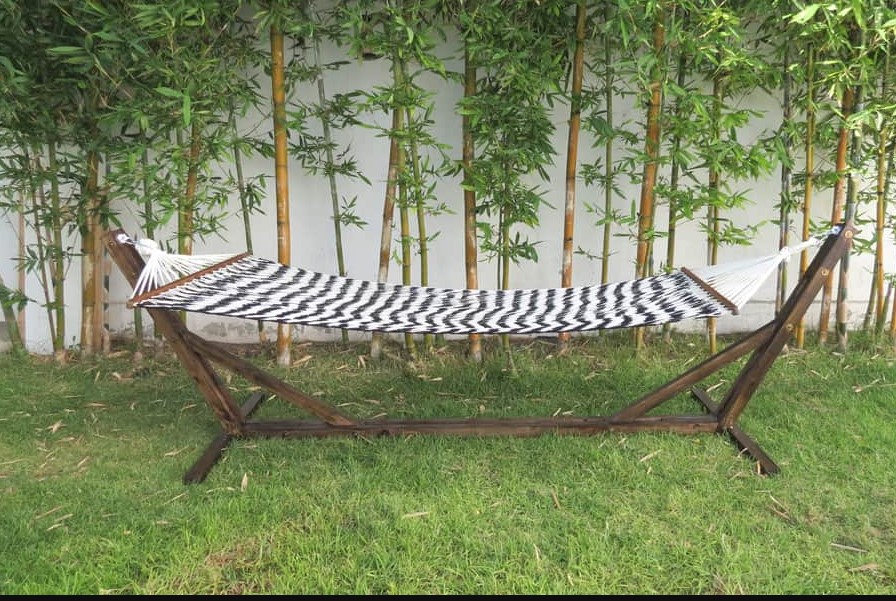 Hammocks are great for relaxing and taking a break from things. But there's one thing you need to do before enjoying your time outside: find something to hang it on! A hammock stand is a perfect solution, but it can be expensive. You don't have to spend money though because this step-by-step DIY guide will show you how you can build an awesome hammock stand all by yourself!
A Versatile 2×4 Outdoor Table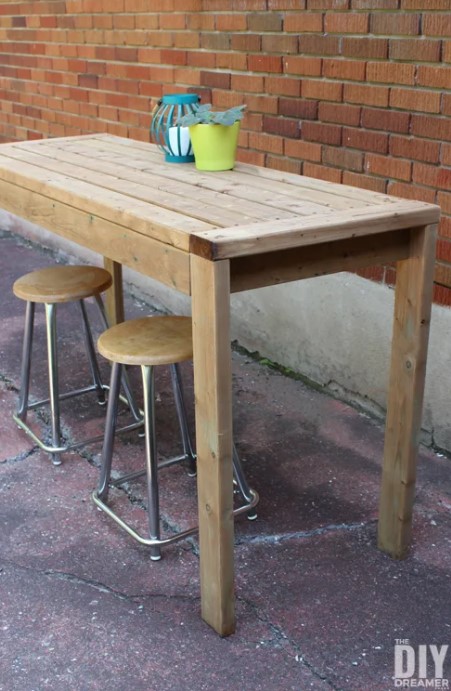 The best thing about owning an outdoor table like this is that it can be used in so many different ways. When you're feeling like cooking outside, use the surface as a bar area and let your guests sit around on benches or stools. If you want to eat out but still enjoy the outdoors with friends and family, just turn it into a dinner table! This project only takes a few hours max – perfect for all of those energetic people who are always looking for new projects to do in their free time!