Watch your favorite series in comfort with the perfect TV stand. A good one is sturdy, aesthetically pleasing, and can be customized to suit you!
Moreover, a TV stand has room for other things like games consoles or DVD collections.
But there's no need to worry because we've compiled some DIY TV stand ideas that will keep you occupied this weekend; all of them are easy enough even for beginners.
So, it's time to say goodbye to the boring TV stand. Let's make it an original piece of furniture that reflects your personality and taste, instead. Here are some DIY projects you will enjoy doing this weekend!
Anthropologie Knock-off with the Same Wow Factor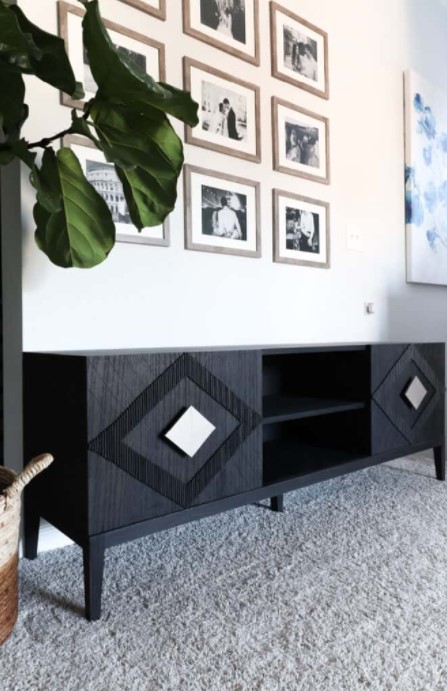 You know that feeling when you fall in love with a pricey piece of furniture? Well, break your heart no more! This knock-off Anthropologie media cabinet will have the same wow factor for much less. With sleek lines and simple doors to make it stand out, this is one item not worth missing on your wish list!
Brawny Wooden TV Stand and Media Console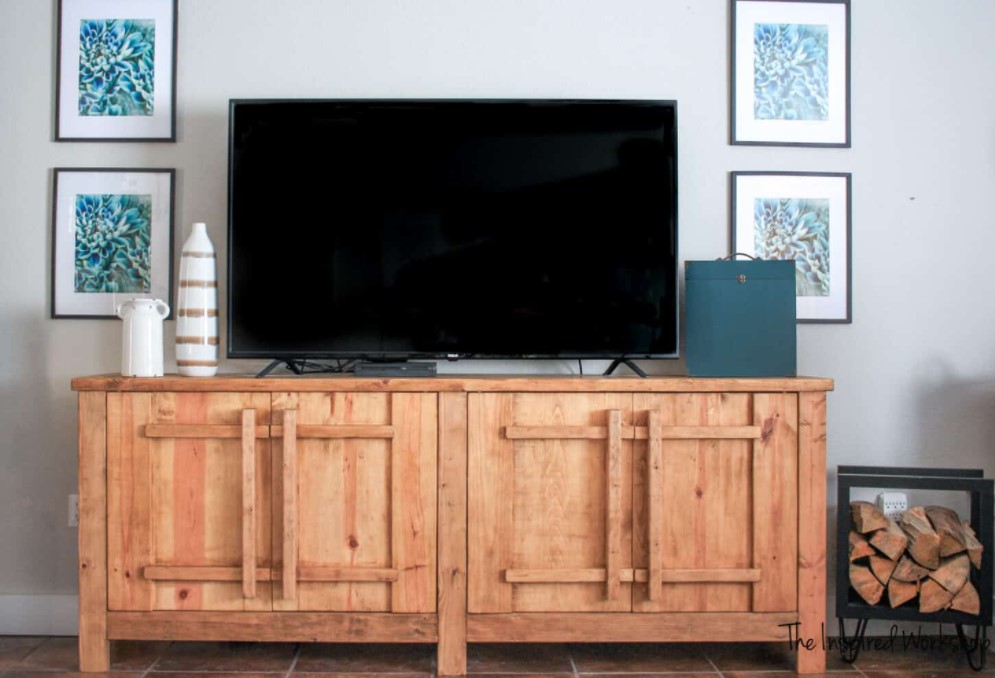 The perfect piece of furniture for the ultimate media room is here! And you know you have a design that's timeless when it can be both rustic-farmhouse and modern. Constructed of plywood, this wooden TV stand also has an inside with storage and shelving for all your DVDs, and games consoles.
Turning A Cheap Craiglist Dresser into A Modern TV Stand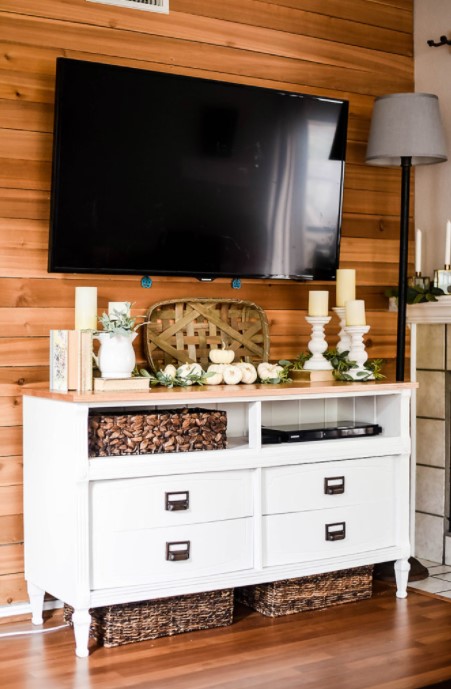 Have you ever found a treasure on Craiglist? That's what it feels like finding an affordable $15 dresser. It can be turned into something new and unique, as in this do-it-yourself project that transformed the worn out looking piece into a modern TV stand!
A Rustic Farmhouse TV Console Table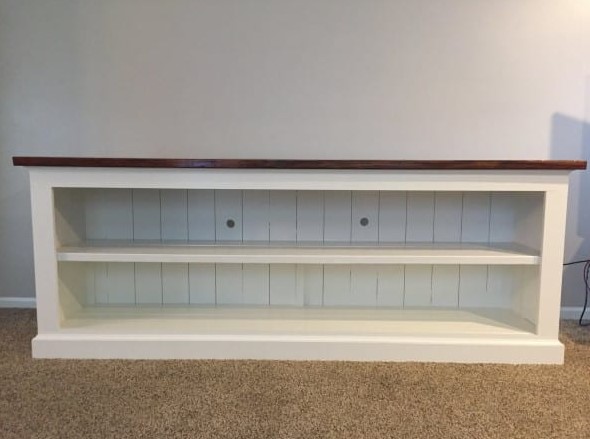 Rustic farmhouse-style furniture can be an excellent way to add some rustic charm to any home. Check out this DIY project for a TV console table! With the entire plan of the process available, it should take no time at all. The fun part about making one yourself? You get to choose from white or gray paint colors during the painting stage- whichever suits your desired look best!
A Bold Rustic TV Stand with Concrete Top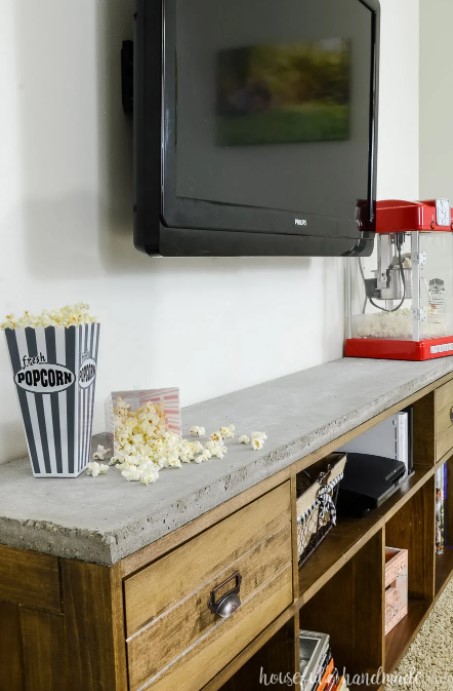 This TV console/stand is a 6′ modern piece that will make any set-up shine. It is the perfect size for a large entertainment center, and provides ample storage. The top of this piece is made from concrete, which makes it stand out in both uniqueness and rustic charm!
Hardwood Plywood TV Media Console with 4 Doors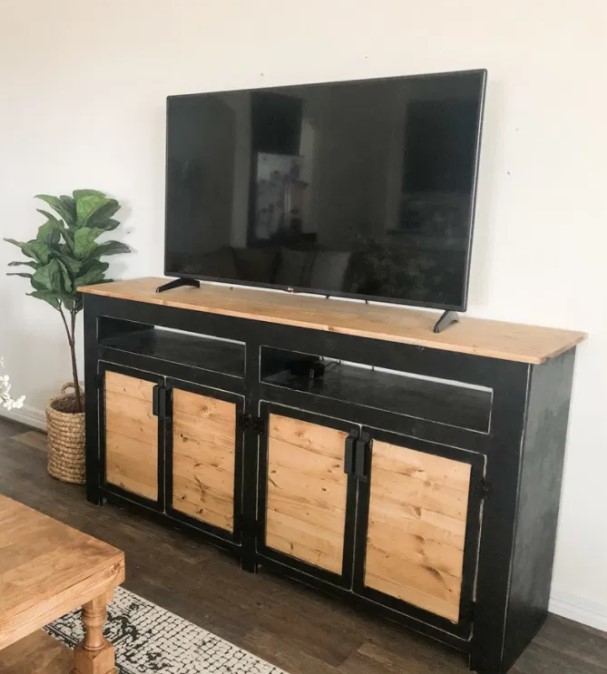 While technology has been advancing, the need for a place to store it all is not going away anytime soon. This DIY project includes instructions on how to build your own media cabinet with 4 doors in order to house all of your components and have them look great while they are stored within easy reach!
A Rustic Farmhouse TV Console with Sliding Barn Doors
Do you want to give your living room a farmhouse theme? You're in luck because this awesome media console with sliding barn doors will fit right into the look. Not only does it come with storage for all of your entertainment, but its great style is sure to get some compliments!
Oakwood Tripod TV Stand with A Layer for A Soundbar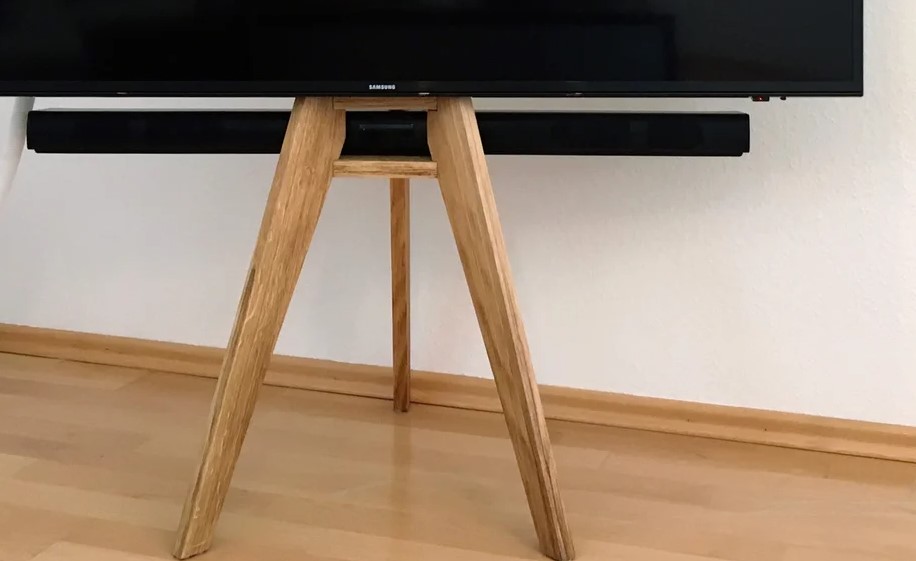 A TV stand is a necessity in any home with an entertainment center. If you're looking for something unique and original, the Oakwood tripod tv stand will be perfect! It has plenty of space to keep your sound bar. The design suits a 50″ TV, but it can easily be adjusted!
Industrial Rustic and Modern TV Stand That's Inexpensive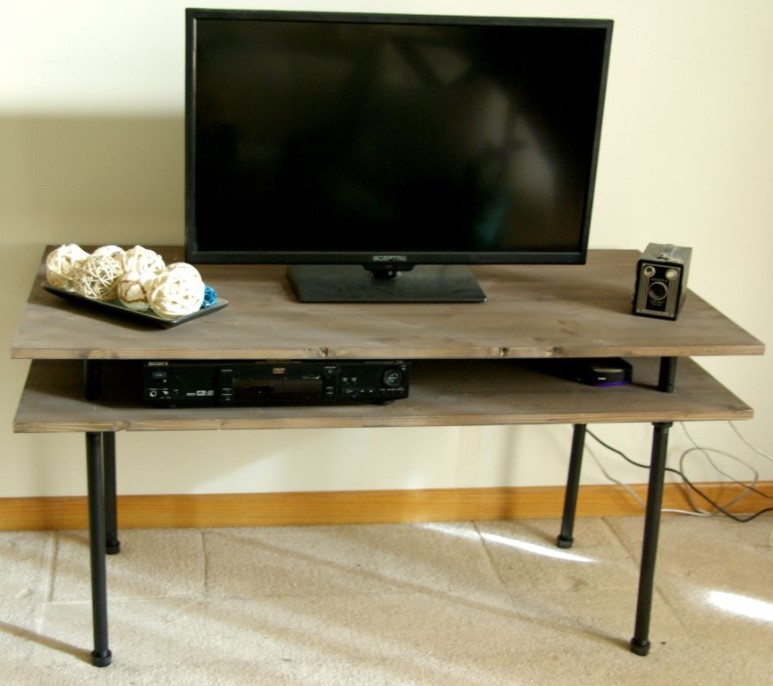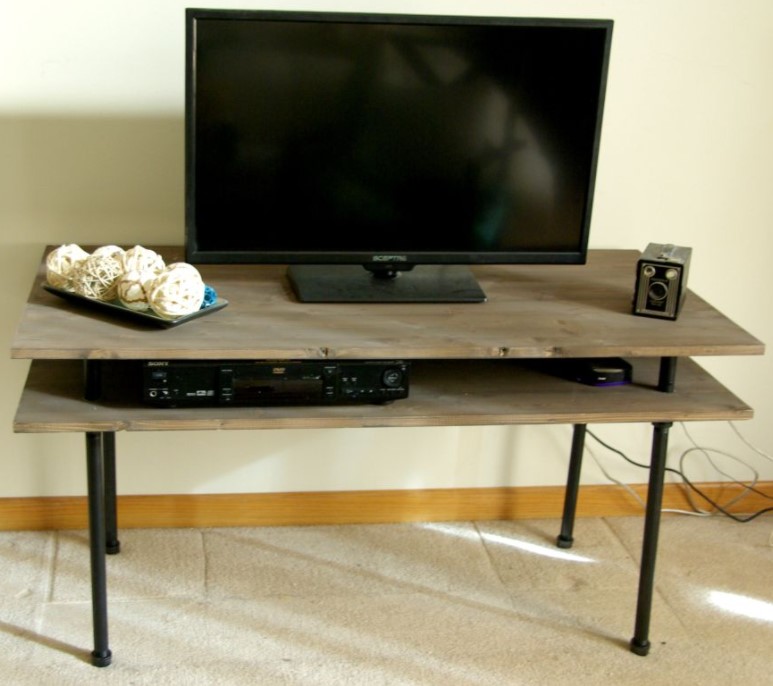 TV stands are expensive, but with a little bit of know-how and the right materials, you can make your own! You only need galvanized pipes that give off that rustic industrial feel and thin wood that screams modern. It's also easy to do this project cheaply so it'll fit any budget.
A large Industrial Console Table with Wheels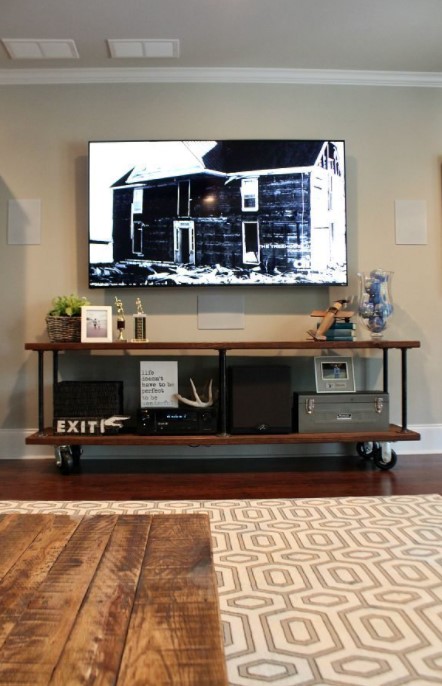 The best way to store your TV, gaming systems, and other entertainment elements in space-saving furniture is with the DIY 7′ long TV console. This has been designed for maximum function without breaking the bank. It's perfect for both TVs as well as being easily movable–thanks to its wheels!
A Quick Project of $50 (or Less!) TV Console Table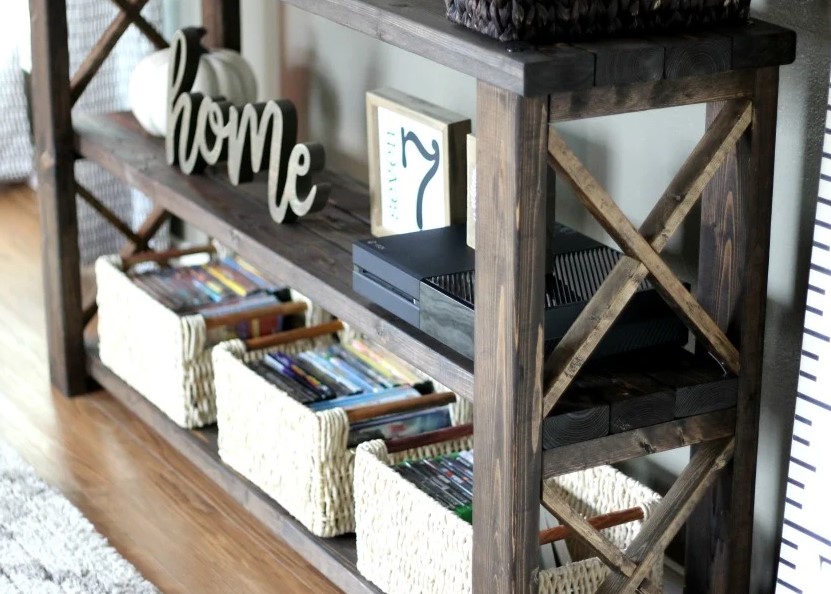 This TV stand is a versatile piece of furniture that can be used as an entertainment center for all your media needs or as storage in small spaces. It's amazing that you can have this for $50! With its rustic-farmhouse look to add style wherever it goes in your home, what are you waiting for?
Simple Pallet DIY TV Stand with Open Storage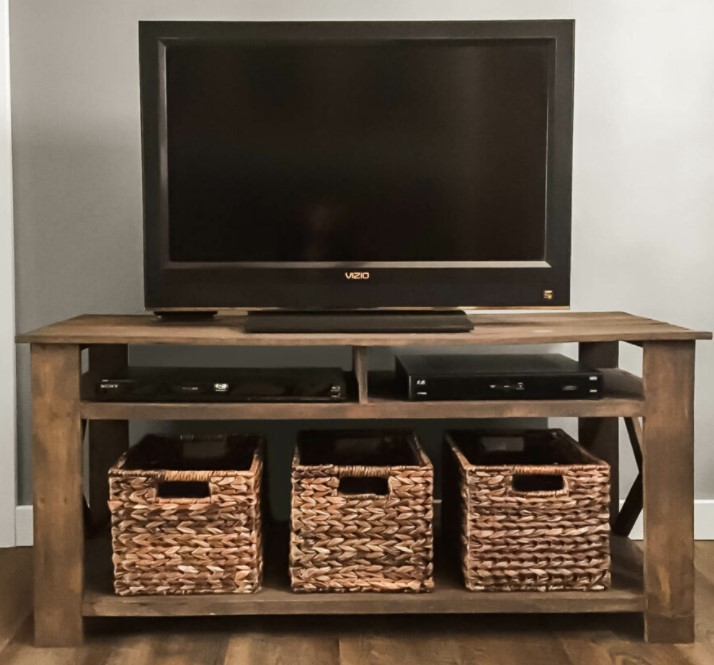 Say goodbye to the boring TV stand. With this easy pallet board project, you'll have a stylish new console in no time and, guaranteed, it will make any room look modern! The open storage design means that everything is easily accessible!
A Modified Easel for TV Stand (with Wheels!)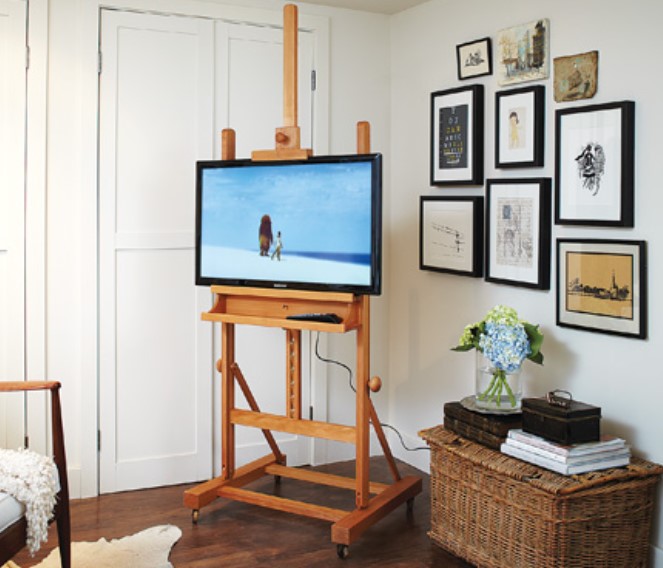 It's not only for painters! An easel is a common tool for painters, but today we're making it even more useful by transforming it into a TV stand and attaching wheels to make the easel movable. Will it be complicated? Nope! It'll be a simple and fun project instead.
Simple and Modern TV Stand from Concrete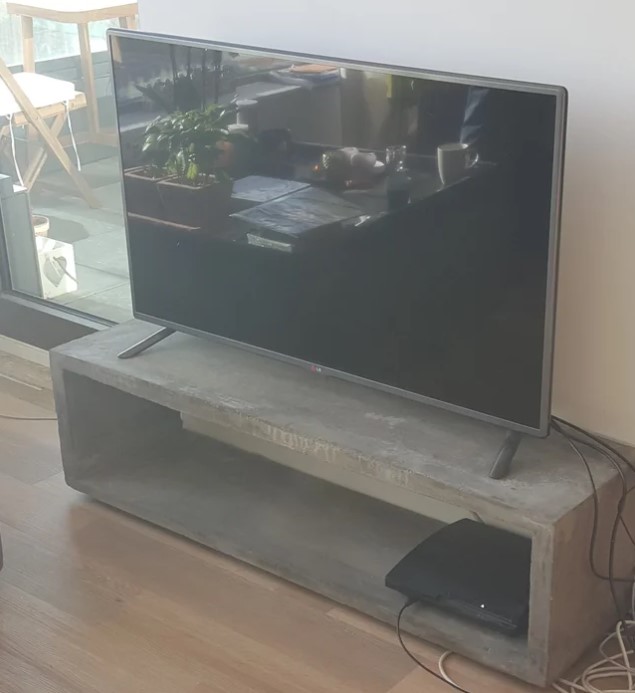 We all need a TV stand in the living room. Especially one that suits our needs and is aesthetically pleasing, like this concrete TV stand! It's easy to do, sturdy enough for your large screen TV and entertainment elements, and will not cost you too much.
An Easy Rustic TV Stand for the Corner of the Room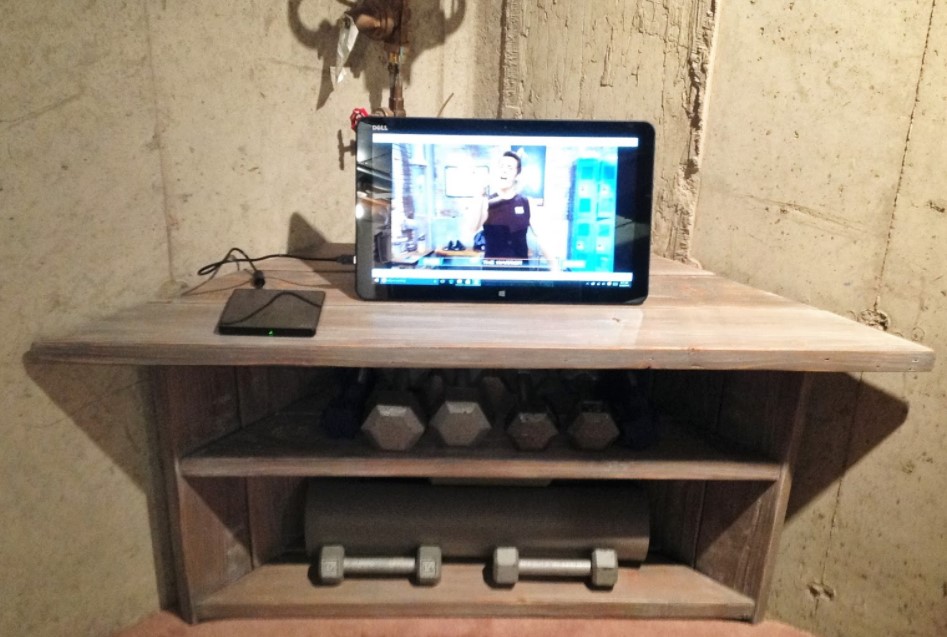 This TV stand is a perfect space saver for those who live in an apartment with limited square footage. Built from scraps and given a natural finish, this corner piece of furniture can be used as an entertainment center or even a storage area without taking up too much space!
A Floating TV Shelf for A Clean Look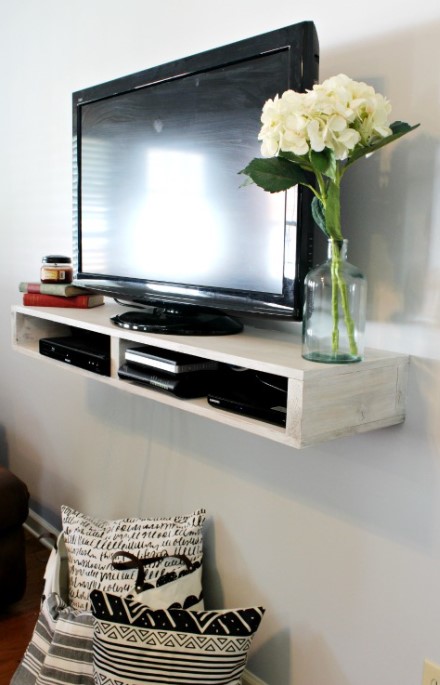 It's easier than ever to make a space look clean and modern with sleek, floating shelves like this one. This TV shelf not only saves you some precious space but also creates an effortlessly chic vibe in your home. Plus? The building is simple too! The open cubbies are perfect for storing DVDs or other items that need easy access when entertaining guests.
Corner Media Center with X-frame Table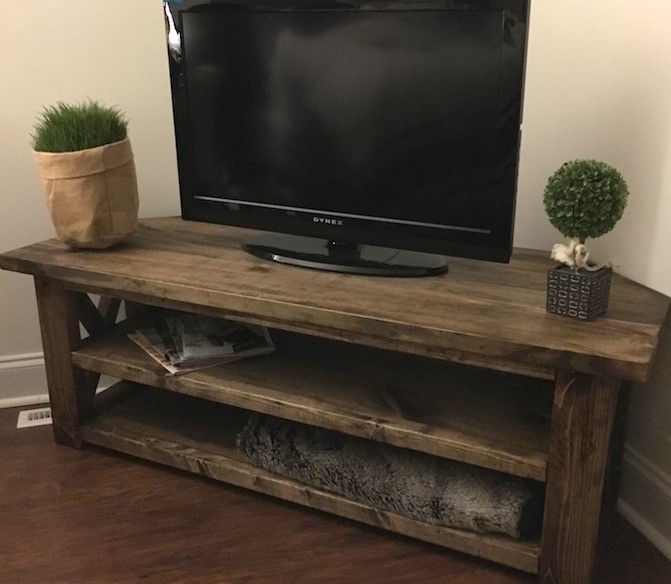 What an empty corner need is a brilliant media console that fits nicely and elevates the style of the room. Who else thinks could have thought about this? Another thing that makes this piece stand out is the X-frame design, it gives off a rustic and farmhouse feel without giving up its modern look!
A Unique $80 TV Stand Project with Concrete Blocks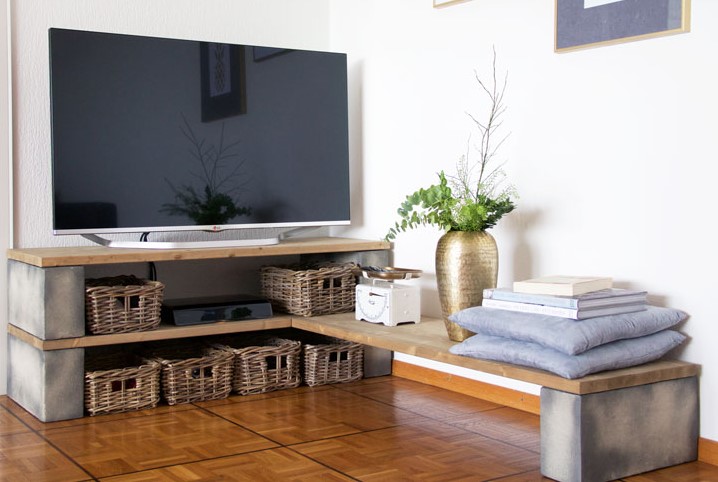 You have to make this! Not only will it look good, but the materials are pretty affordable. $80 is all you need for supplies and once you're done – no one can deny how awesome it looks in a corner of any room.
Sleek and Modern TV Console Made of Repurposed Door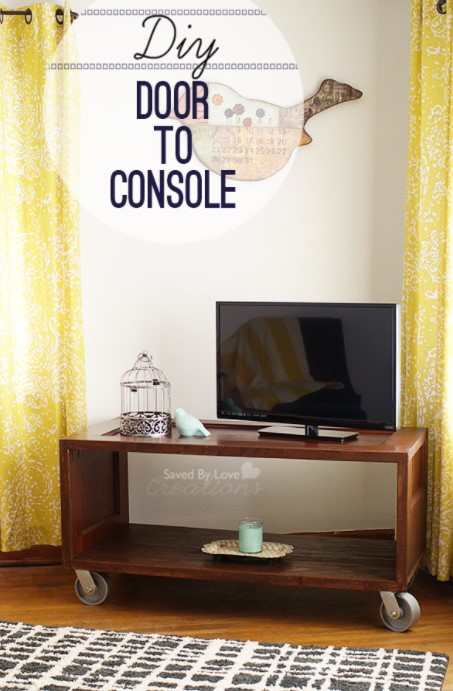 An old door is a gem just waiting to be polished by your creativity! In this project, the door becomes an amazing TV stand. The open storage adds design interest too and wheels make it movable so you can find that perfect spot for its new life.
The Simplest Design for A TV Console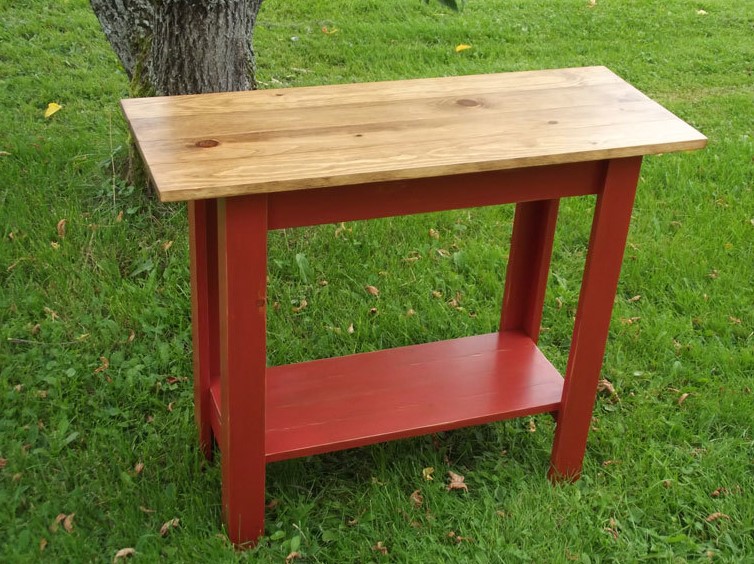 A very simple design for a TV console. You can build this even if you don't have any experience with DIYing! All it requires are boards, nails and drill to create your own modern-looking furniture that doesn't cost much money in the process.
Floating TV Stand and Shelves Supported by Steel Frame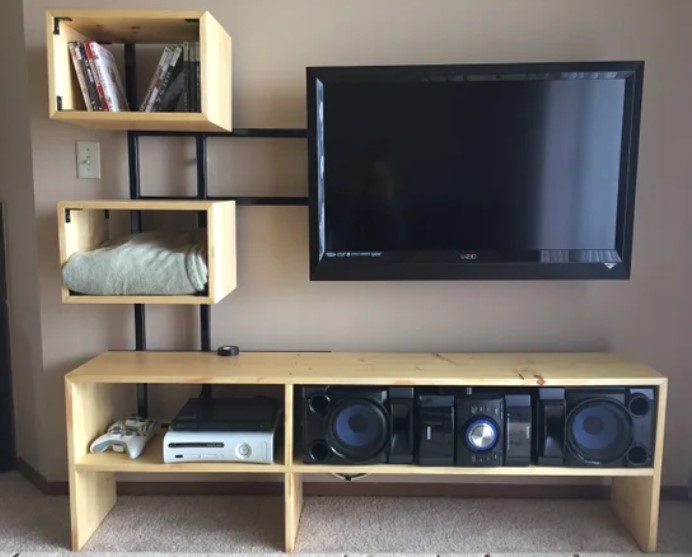 Floating TV stand shelves are a great way to create an aesthetically clean look. It's also the perfect way to hide those messy cords and wires from entertainment devices while adding that sleek element your room has been lacking. The steel frame is what sets this project apart–it supports the floating shelves!
Easy and Simple TV Stand Made of Pallet Boards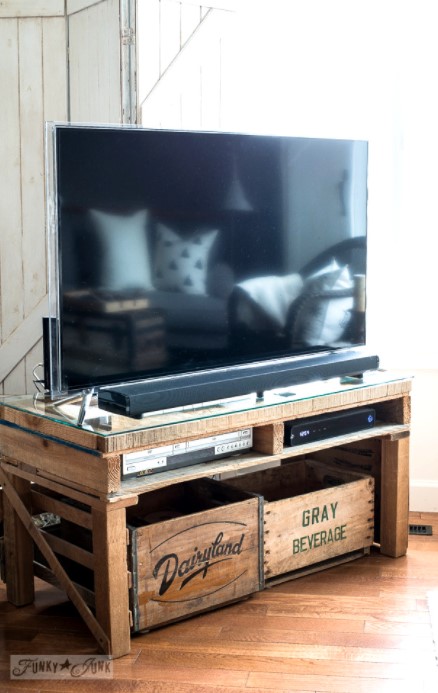 Wood pallet is the go-to material when building rustic furniture. Plus, this project will be cheaper if you have these pallets lying around in the house. The fun part is the sunken surface on top that allows you to decorate it however you'd like.
A One-of-a-kind TV Stand Made of Walnut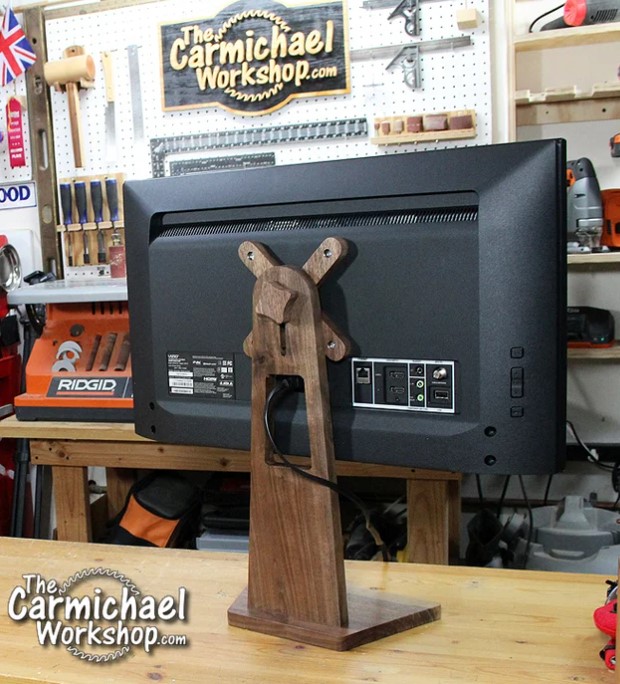 Walnut is a premium-looking material for any furniture, and this classy monitor stand proves it. The natural color makes the wood look expensive while its sleek design will make your work space feel luxurious! Wait, it also works great as a monitor stand!
A Brand New and Remodeled TV Console (For $50!)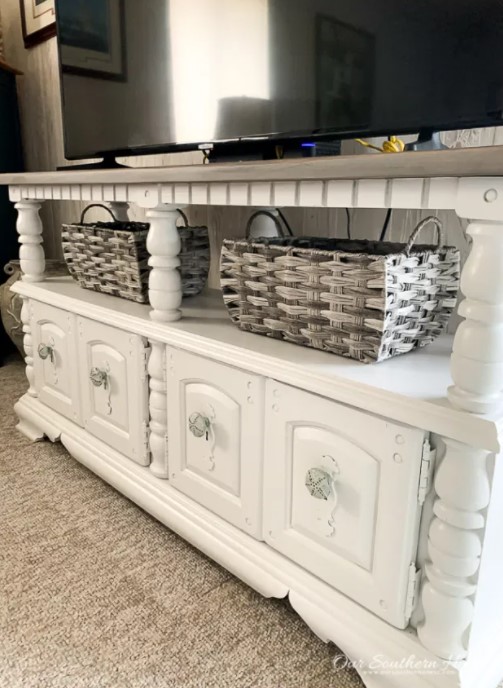 We all know that a TV console is important. However, as the days go by, it will soon become an outdated piece of furniture. This doesn't mean you have to throw out your old one, though! Instead, try remodeling with some paint or maybe even new shelves for things like magazines. But don't stop there- when putting in something modern be sure not to forget about comfort too!
Rustic TV Stand from 9 Wooden Crates!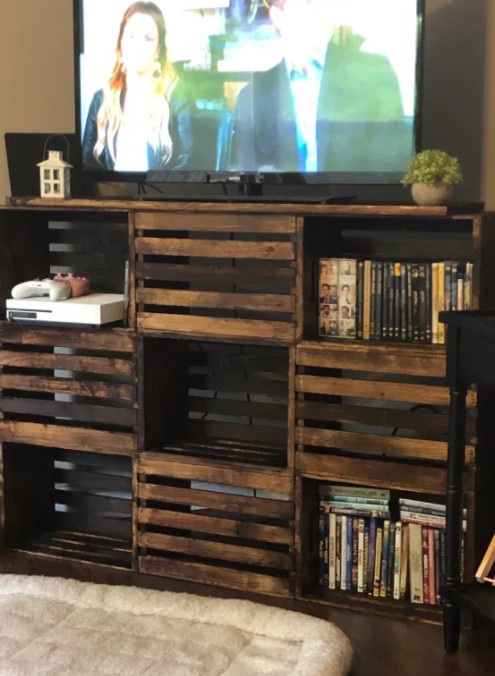 Building a rustic, farmhouse feel TV stand from 9 wooden crates and some supplies? Well, you're in luck because we have the tutorial! The key to this project is strong glue. You'll need it to hold your stack together because every side needs gluing on this one. At last, stain them for that perfect touch of country flair or leave as-is if there's nothing more beautiful than unfinished wood.