Budget-friendly DIY vanity table ideas that are easy to make can be found in this amazing list. These plans are modern, appealing, and attractive!
You will have the opportunity to display your cosmetics collection such as lipsticks, eyeliners, and more accessories on a personalized makeup station.
The ready-to-use one from stores may be costly but you could spend time building it yourself so it will be cheaper.
Plus, you can give some personal touches to the vanity table by decorating it with the style and character that suit you best.
There are all sorts of styles you can choose from like retro-chic and rustic farmhouse styles that will work with any room in your house. Check out these DIY vanity table ideas and enjoy!
Build A Makeup Vanity for A Better Morning Activity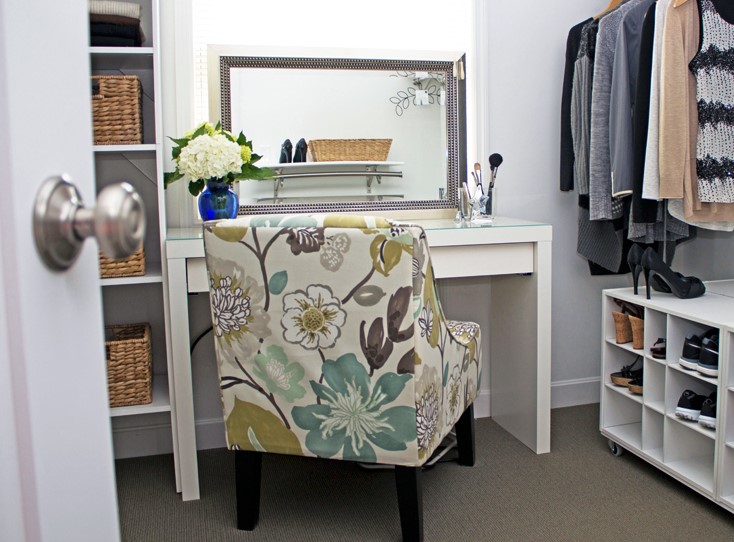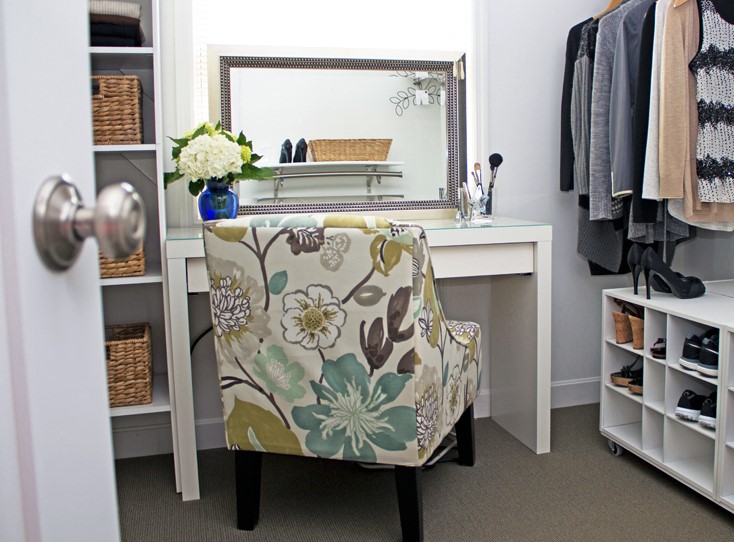 The morning is the most important part of the day since your mood will carry through for 24 hours. If you start with a better organization in place-especially cosmetics and accessories -you'll be facing life on a much more positive note. This DIY modern vanity table has everything you need to look fabulous; made from an IKEA Malm dressing table that can fit right into any home! The mirror is secured by L brackets and metal caddies are installed to hold hair appliances.
A Simple X Leg Style Vanity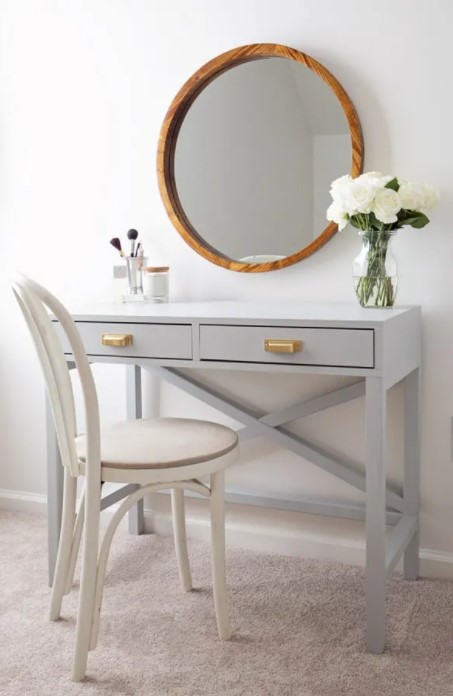 Minimalist, modern design, and functionality come together in this sleek DIY vanity table idea. The X-leg style offers a unique character while the brass drawer pulls tie everything seamlessly into place. With the total DIY cost of $109, including these handles, it can be customized to your liking. You may experiment with other colors but we'd suggest keeping it in a pastel or neutral tone so you don't ruin the unique character of this simple design. Overall, it's an investment worth making.
Dreamy Makeup Vanities Under $50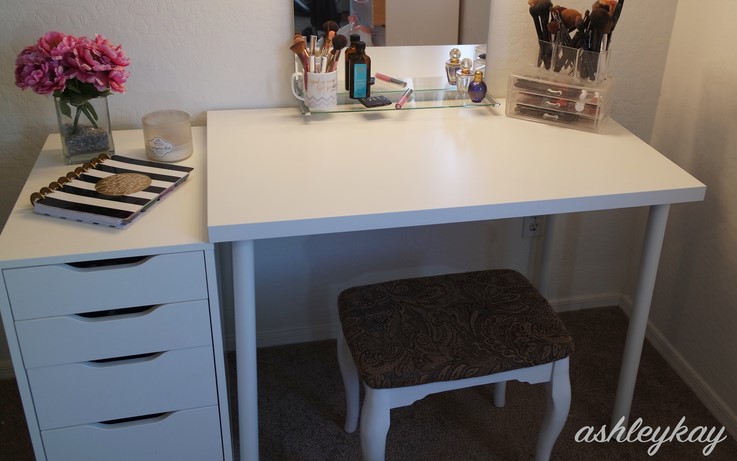 Inspired by the dreamy makeup vanities that are often shown in beauty vloggers' videos, this vanity isn't any less attractive. It has that admirable sleek lines and an affordable cost of building–which is perfect! With less than $50 and materials easily obtained from hardware stores such as IKEA, you can have this DIY vanity table for your bedroom which will be ready to go after some personal decorations!
Less Than $50 Simple Vanity Table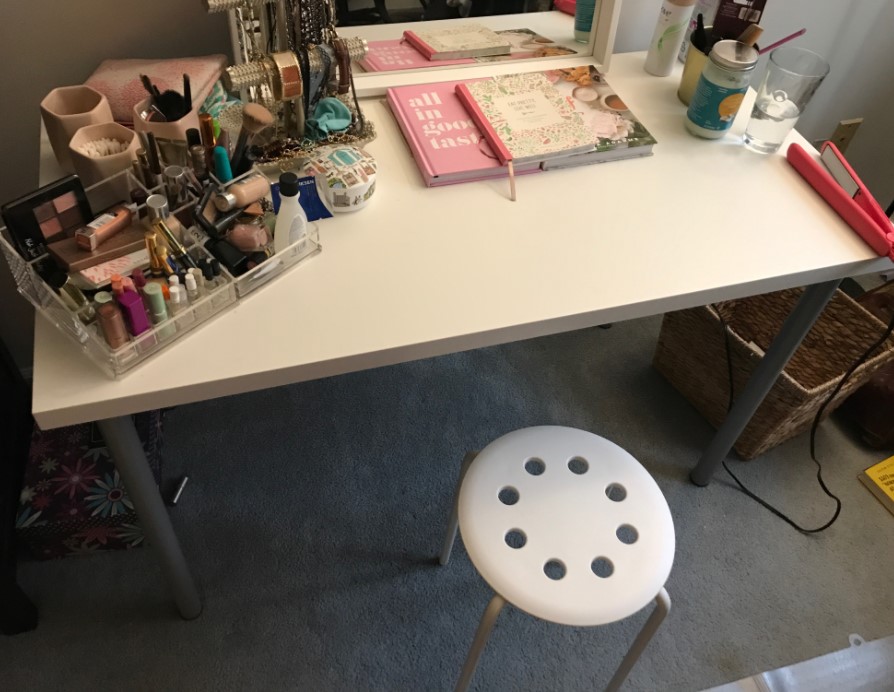 For those who are looking for a quick, simple vanity table option the DIY plan is perfect. It'll be great for college students on a budget too considering that all of this will only cost less than $50! The table which costs $25 has enough space to hold makeup and accessories while also serving as the centerpiece. Lastly, with just an investment of about $20, you can get your own mirror to complete the table – it's so easy! And don't forget the cheap stool ($5) because it really brings everything together!
A Practical Glass Top Vanity Table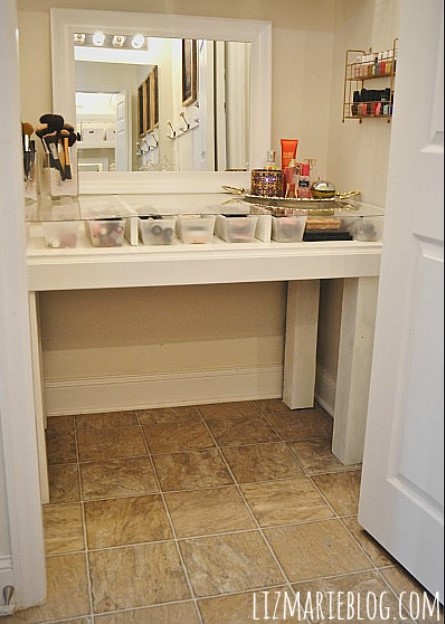 It's time to move on from the traditional vanity with bulky drawers. You deserve a plain sight of each makeup and accessory you want to use without any trouble! Unlike your average desk, this one is made out of plexiglass for guaranteed durability – it will take only a couple of hours at most before it is finished. Take a look under the glass-top surface to find out how cosmetics are organized underneath. This DIY definitely will be worth your while!
Sleek and Modern Vanity to Complement the Blue Tiles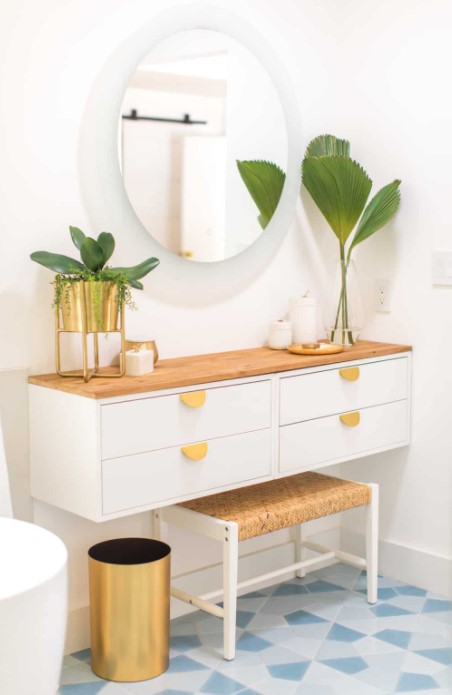 The design of furniture is important because it gives the room a certain character. This bathroom has a beautiful blue tile floor that should not be hidden underneath so the vanity is made hanging. To keep it simple and neat, there are only a few decorations on top such as candles, jars for jewelry, and cotton balls. The total cost for this DIY vanity table is $175 which really isn't bad considering how attractive the finished result is!
A Vanity Table for the Master Closet
This is a perfect DIY vanity table idea that fits in any corner of your bedroom or closet. The tabletop has been securely attached but two legs are added for extra support. As a finishing touch, drop cloths have been glued on each side to give the table an elegant look with its grand opening slit down the middle.
Corner IKEA Floating Desk Vanity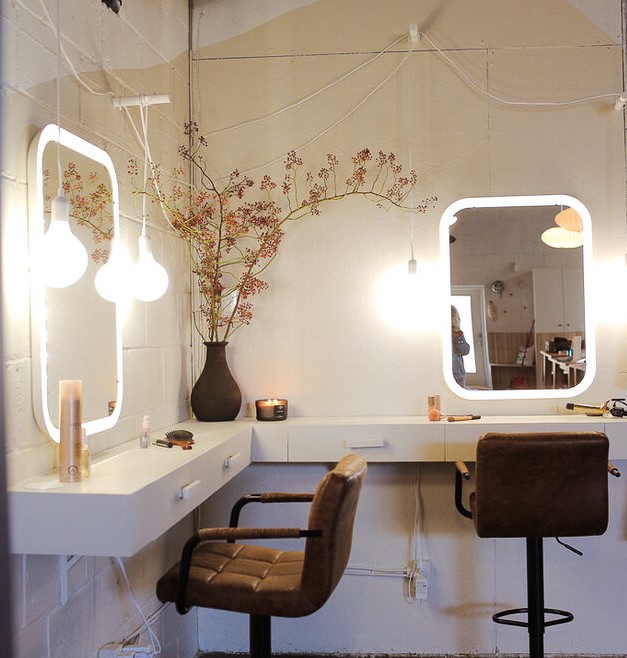 This is a brilliant closet setting that seems like an exclusive celebrity makeup room. The hanging drawers almost blend into the plain white wall behind them, giving it a super clean look. But you're always welcomed to use any color that matches your personality; this helps showcase everyone's style and individuality! You might be surprised how affordable these are too – each drawer only costs $55 from IKEA (which also makes for easy installation).
Modern Vanity Table That Is Sleek and Minimal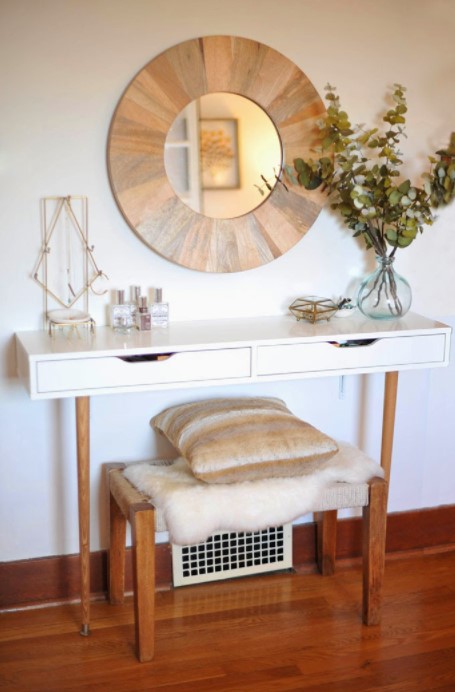 A modern vanity table is a minimalist design. You can clearly see how this DIY Vanity Table maintains its simplicity while remaining functional. The table was assembled from the IKEA Ekby Alex shelf, which costs $50, and tapered wood legs for $27 to make it more stable. The minimal design will leave you inspired to complete your own beautiful masterpiece!
A Small but Convenient Vanity Table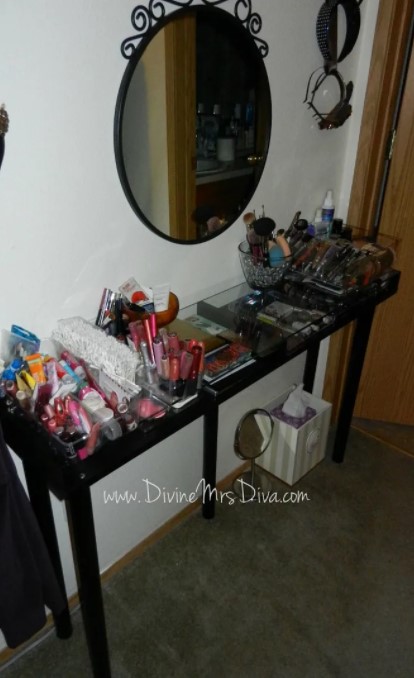 You should take your time when doing makeup. Standing up is exhausting and takes a toll on you after a while. Having the perfect sitting space to do that though makes all of the difference in how good it will turn out! This DIY vanity table fits perfectly with any small living space too because it's 11″ deep, so there isn't much taking up valuable floor or countertop room. And this whole project only took about an hour! Now, you can enjoy more quality time getting ready for work every day.
A Makeup Vanity Table That Doubles As An Office Desk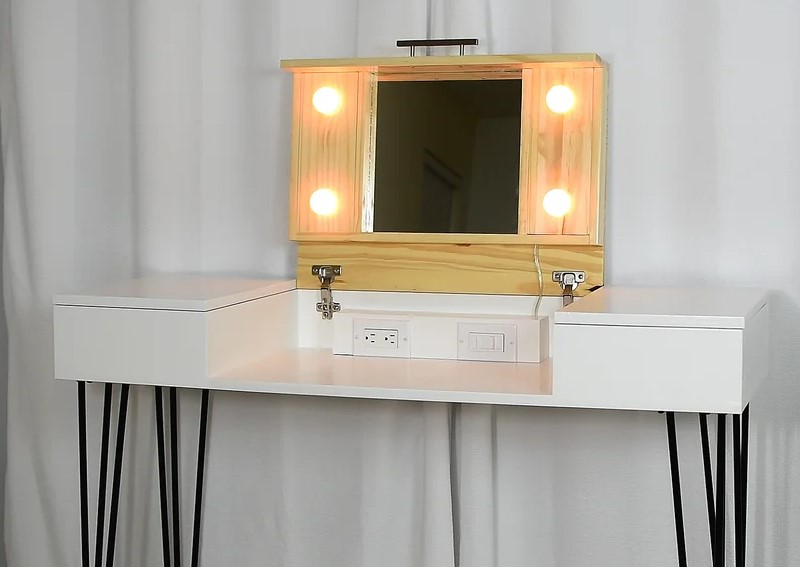 This DIY project is a one-stop solution to your office desk and makeup vanity table dilemma. All in one, you get an incredible selection of features including the electric outlets under the mirror (perfect for plugging in all those hair appliances). The good news is that all of this has been designed with today's modern tastes in mind- such as hairpin legs which are especially "on trend".
Unique Vintage Door Vanity Desk for A Teen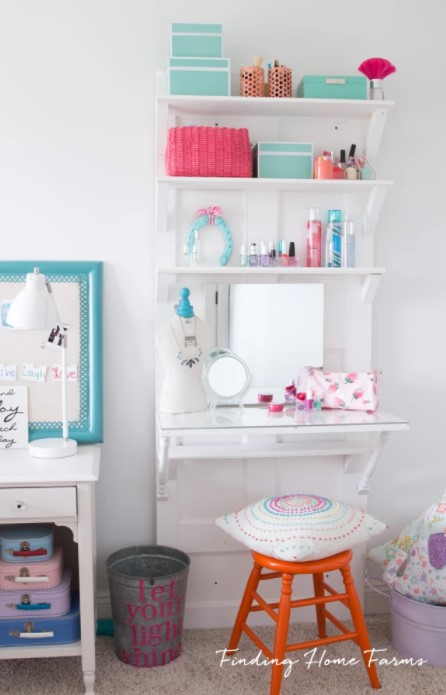 It may seem like a difficult DIY project, but with these thrift store vintage doors bought for under $50, you can create your own vanity table. The shelves and the desktop are made from one of the door panels. Once assembled, it's repainted with clean white paint to show off all its cosmetic colors best. If that isn't enough, then there's also glass top on the desk surface to make sure no detail goes unnoticed.
$25 DIY Vanity – The Perfect Addition to Bedroom Space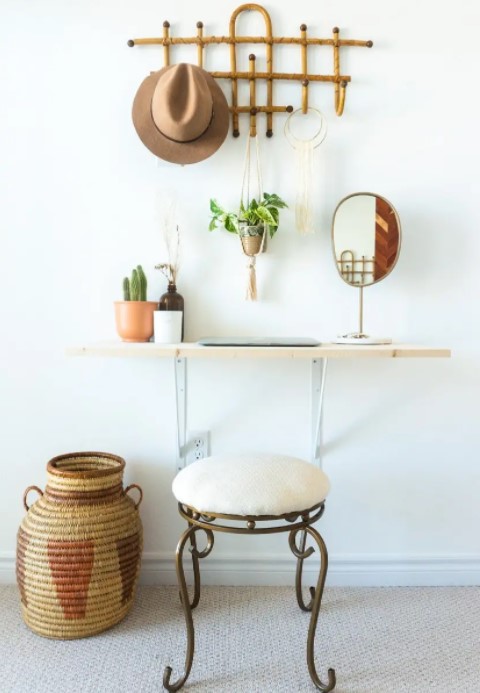 When a vanity table is placed in the bedroom, it becomes one of the most used furniture pieces. It's where you spend time getting ready each morning and night before bedtime too! So this piece has to be grand enough. But if you're looking for temporary set-up until something more permanent comes along, this DIY vanity table project will suit you best! All it requires are a wood board and white brackets which can both easily be found at any hardware store nearby.
Rustic Hairpin Make-up Vanity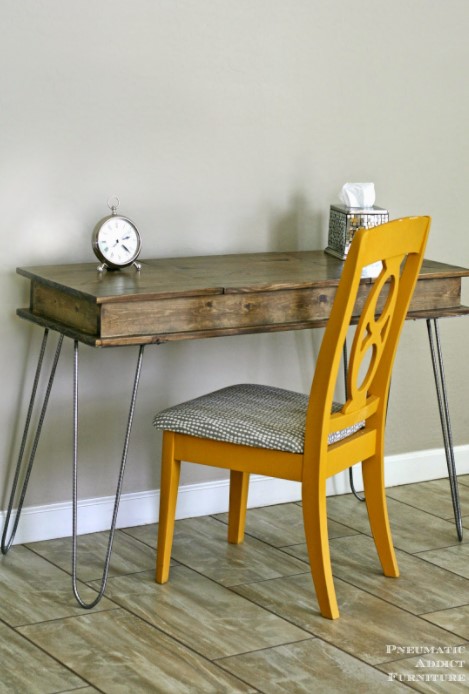 A perfect combination of modern, clean lines, and a bit of rustic touch can be seen in this DIY vanity table. The great news about modern furniture is that it prioritizes functionality. This vanity desk, for instance, once it's opened, it'll reveal ample space to organize makeup and accessories along with a perfect-size mirror fixed in the center that makes applying make-up easier!
Build This Versatile Makeup Vanity in Just 2 Days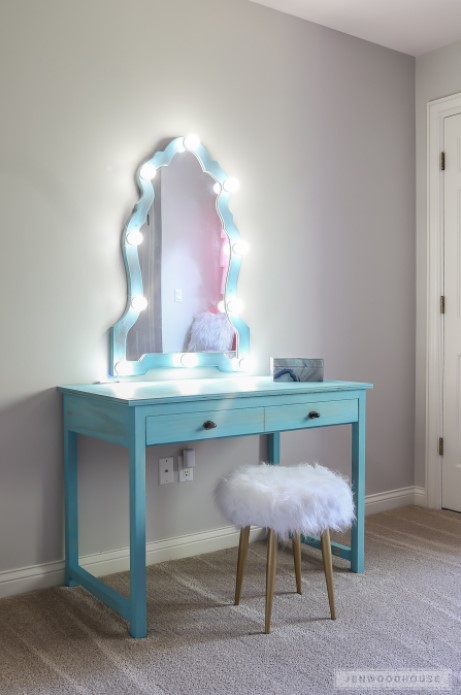 This DIY vanity table is perfect for any woman looking to create a serene space in her home. The simple, sleek design takes only two days to build and finish with the convenient sliding drawer system which makes it easy on your hands! Plus, feel free to choose whichever color suits you best. With free plans available in detail measurements, anyone will be able to make one too!
A Super Simple DIY Vanity with A Shelf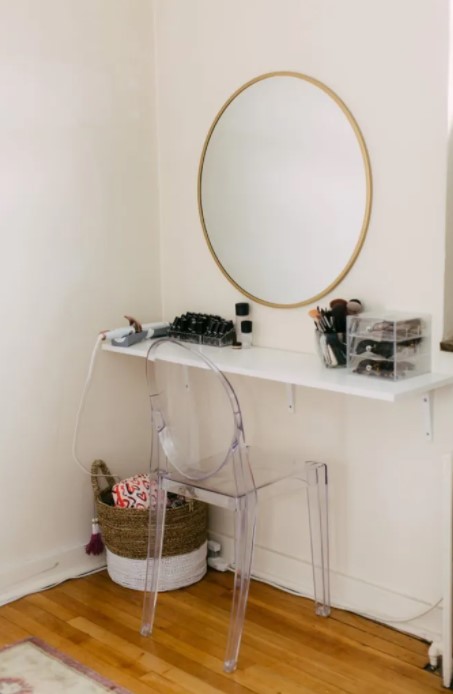 A vanity table makes your morning routine doing makeup and hair like a mini therapy session (which is a better option than standing up in front of the bathroom mirror!). The tabletop is actually a simple IKEA shelf that is mounted using wall brackets, screws, and wall anchors. This way, not only will your space look elegant but performing those dreaded early morning routines will become just slightly more enjoyable too!
Adorable Mini Vanity Table for Kids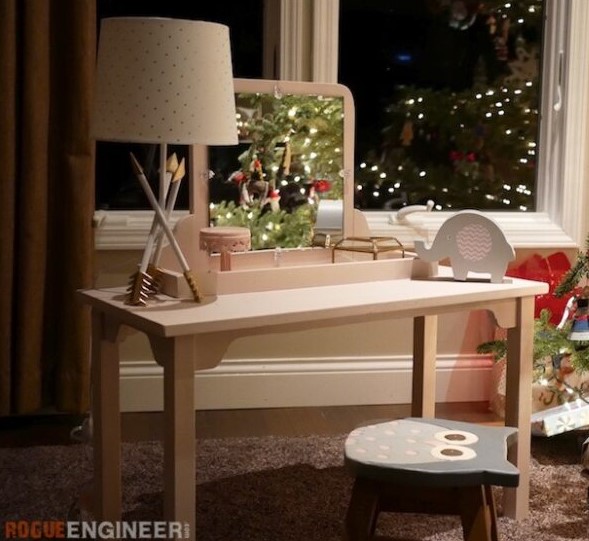 If you're a mom, chances are your child wants to imitate what you do each morning in the bathroom. Make them happy by building this adorable mini DIY vanity table. This tutorial is making it easier by providing the detailed measurement and cut list so that you can follow along with ease. Since this is intended for kids, you can use some animals decorations on top of the table as well!
Thrift Store Vanity Desk Makeover Using Silver Leaf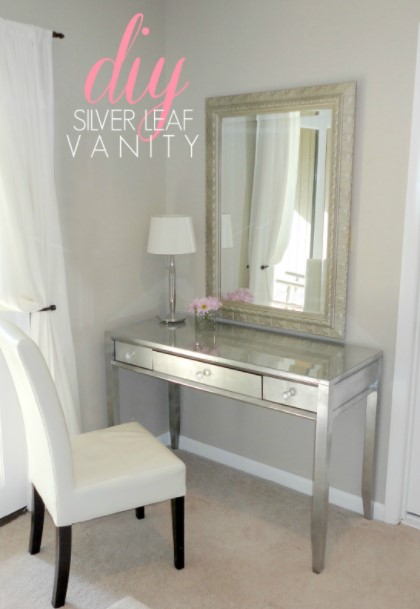 The thrift shop is a paradise for many DIYers. For example, an old vintage table is sold for a very cheap price (this one is $15!). 'Magically', the table can be transformed into something that looks expensive and one-of-a-kind. For instance, this DIY project that takes about 4 hours is changed drastically because of silver leaf and plexiglass top makeover!
A Budget-Friendly DIY Apartment-Sized Vanity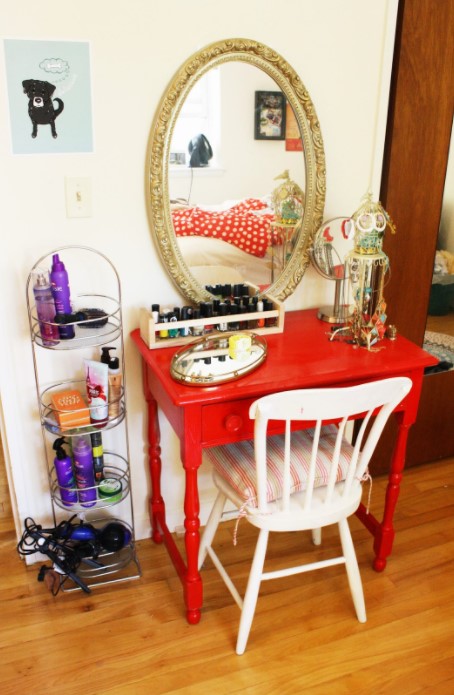 A small apartment is not an exception to have a stunning vanity table. It really helps to get prepared in the morning and it gives your bedroom that nice, classy touch! The total cost of this project comes out to be around $41- although if you do happen to already own some supplies for this endeavor, then the price can come down significantly!
Vanity Desk Makeover – From Wood to Mint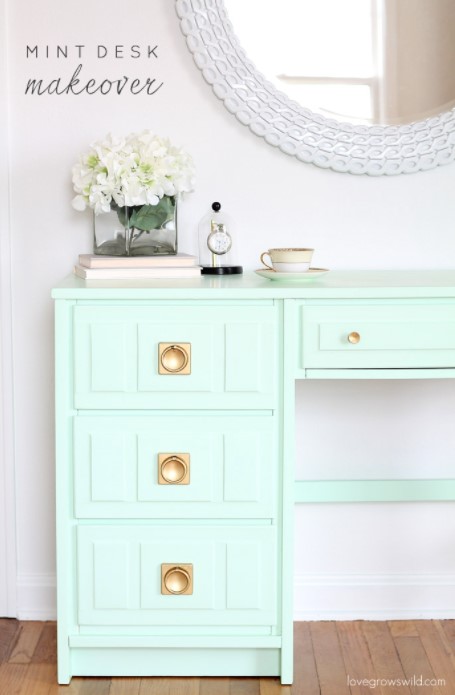 This fresh makeover will give your room the perfect pop of color. If you're tired of seeing wood every day, this refreshing change is for you. When painting mint paint over a wood base color, it helps if there's been an undercoat with primer or even just white emulsion. Two coats are recommended because one often doesn't cover well enough when using such bright colors as mint green. The next step after finishing up all that hard work is covering the shelves with shelf liner which adds extra protection from spills too!
Repurpose A Sewing Machine into A Vanity Table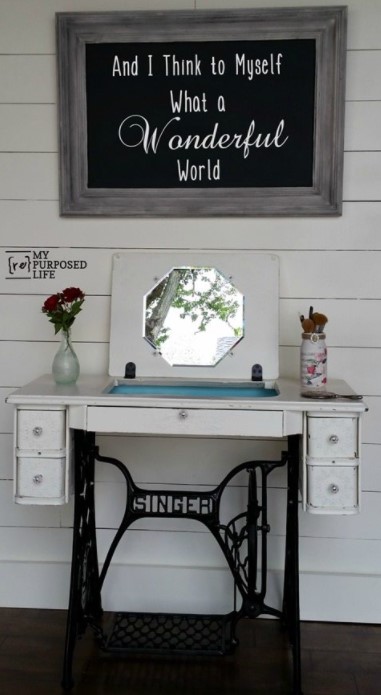 An antique item can do wonders with a touch of creativity. Take as an example this 'singer' sewing machine bought for $25 from a thrift shop. It's transformed into a charming DIY vanity table with ample space of storage for makeup, cosmetics, accessories, and jewelry. During the process, make sure not to forget any details!
Three Compartment Desk Perfect for A Small Space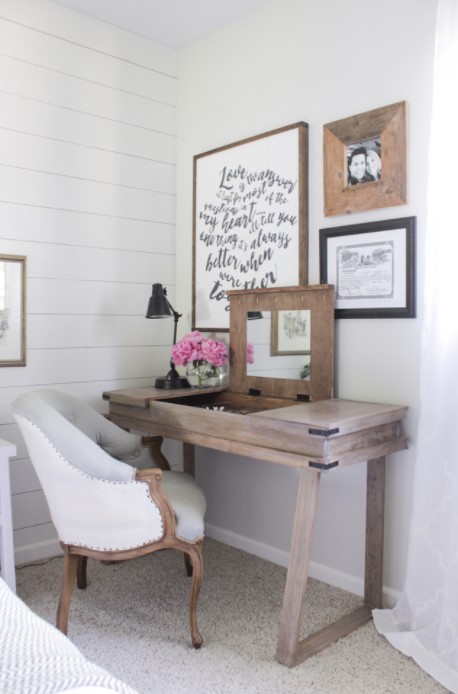 This vanity table is the perfect mix of contemporary and industrial design. It looks simple but it's functional as seen from its spacious compartments when you fold up the tabletop for a quick mirror check-in between classes or office hours, then once pulled down, it quickly becomes your desk space to do some work or those last-minute assignments before the deadline.
Set the Tone of Your Bathroom Vanity for $50
What type of tone do you intend to have for your bathroom vanity area? Before the makeover, the bathroom vanity truly blends into the overall white background. To make it pop, it has been repainted with a vibrant color that obviously stands out so much. Moreover, the whole project only costs $20 and you can turn the table into an eye-catching masterpiece!
A Yard-Sale Vintage Vanity Makeover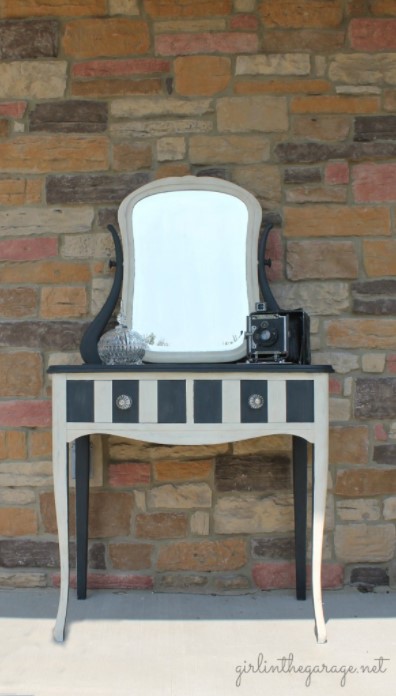 A yard sale deal is always great. You get a cheap item that's transformable to something beyond expectation. For instance, this vintage vanity table. It looks outdated, so a makeover is needed. When redecorating it, you can choose your favorite colors. But make sure not to rush into any of the steps and give plenty of time for drying so as to get the best result possible.
Wall-Mounted Vanity Table to Keep the Space Light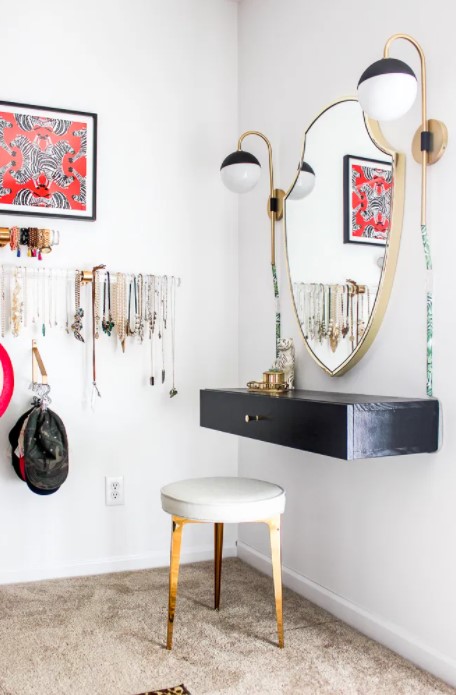 The key to making the room light and airy is not having bulky furniture or one that takes up too much floor space. For instance, a traditional vanity table often has ornate decorations which seem way too big for small spaces. In this case, this wall-mounted vanity is an excellent option as it provides ample storage while also being quite slimline in size at 36″ long by just over 12″ deep and 5 1/2″ thick!