Since crocheting is a popular hobby among many people now, one of the most common projects for this craft is amigurumi! The cat amigurumi design has been gaining popularity lately, and it's not hard to see why these cute little felines have captured our hearts.
These creative project allows you to customize the color and design of your cat. There are many free crochet cat patterns, each has its own unique stitches or techniques.
Some of these free crochet amigurumi cat patterns even provide video guidance through every step.
Let's take a closer look at these adorable cat crochet options and find out which one is the best match for your heart!
Felix the Adorable Amigurumi Cat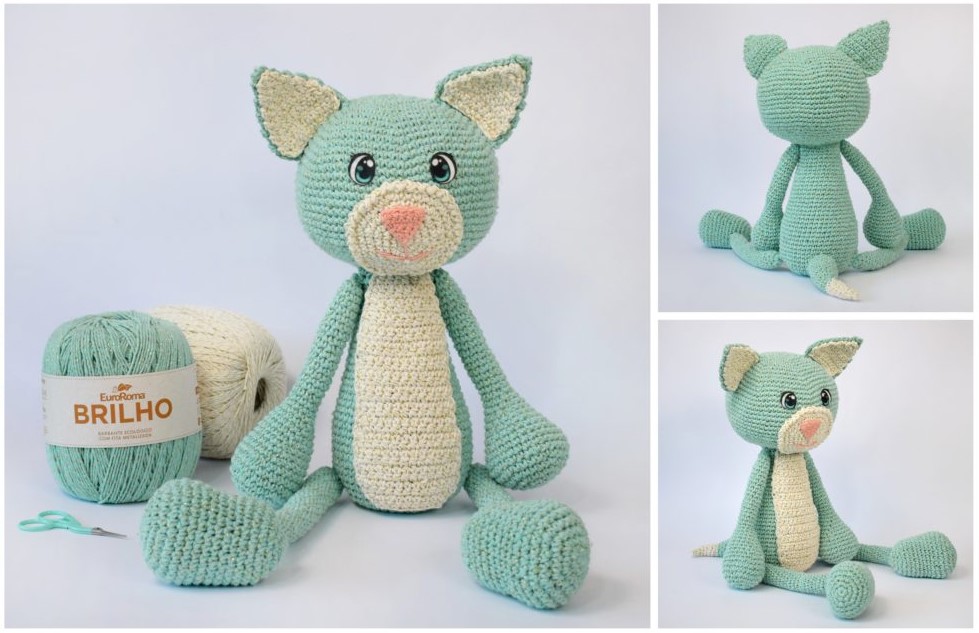 Felix the cat crochet is a quick and easy toy to make for kids, and perfect as an introduction to learning how to crochet amigurumi cat for beginners. The tea-green color combined with white makes Felix look soft and sweet – he's cuddly enough for your children! They'll also love his little pink snout. Following this free crochet pattern, Felix the Cat will soon be lounging with your darling kids!
A Sleepy Amigurumi Cat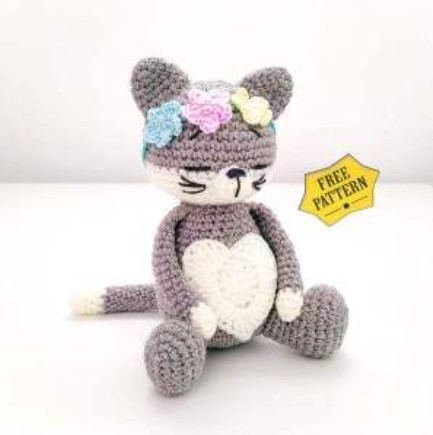 If you want a different mood, try this sleepy amigurumi cat. It comes with a completely free pattern to guide you through the process of making it and includes the flower headband and heart-shaped belly for extra cuteness! The best part about having your own handmade amigurumi kitty is that you can customize its color as well!
Adorable Amigurumi Kittens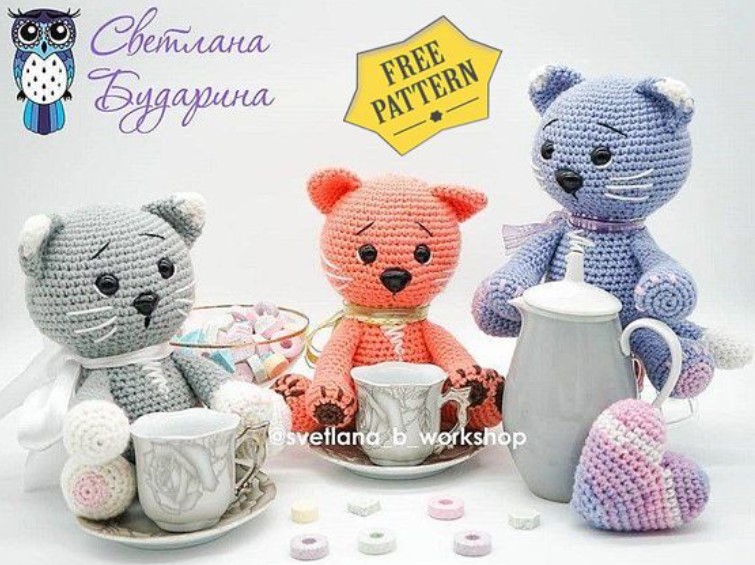 If your daughter is hosting a tea party, then she will need some guests. And what better way to do that than with these adorable kittens from this crochet kitty pattern! The cats are made in three different colors, but if your little girl wants another color, it can always be customized. To make it even more special, there are instructions on how to give them cute paws and whiskers as well!
An Orange Amigurumi Cat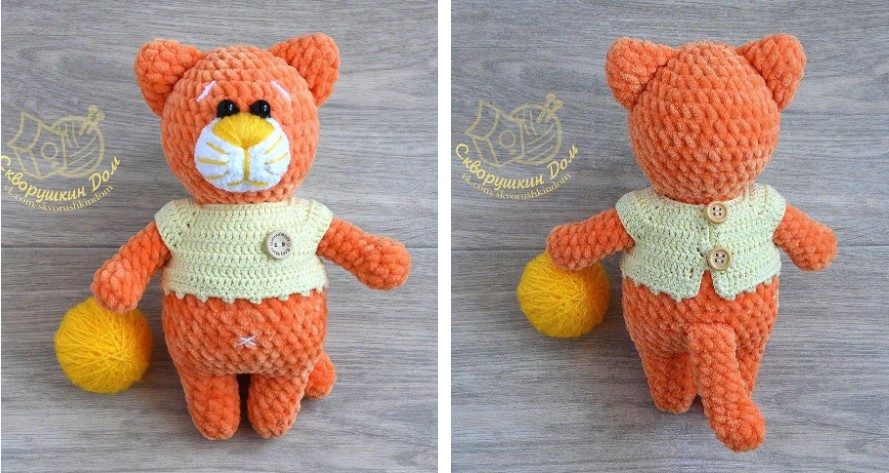 An orange cat is known to be sociable. It also loves to be around people! That's why crochet patterns for orange cats are so exciting. To make the process even more fun, this little guy has a bright yellow snout and a crop-top shirt that will keep him warm in any season. The free pattern includes easy instructions on making his clothes as well as adding the finishing touches with some cute buttons!
Amigurumi Cat Keychain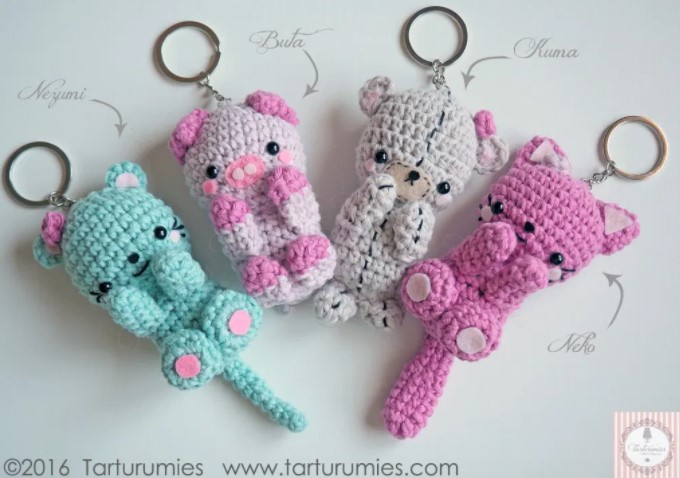 They say kittens are cute enough to melt the hearts of even a stone-hearted person, and this free crochet cat pattern will help you make an adorable amigurumi cat keychain. This little guy will bring joy as well since its cheerful look is sure not to disappoint! The instructions are available in English, Español, and are free to download.
Sam the Halloween Cat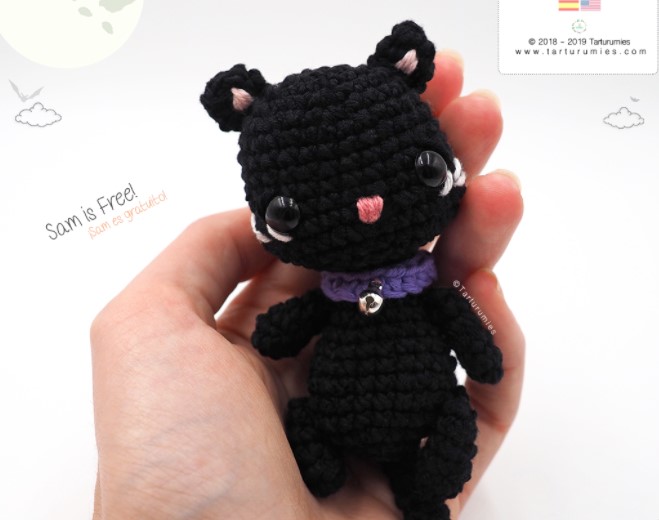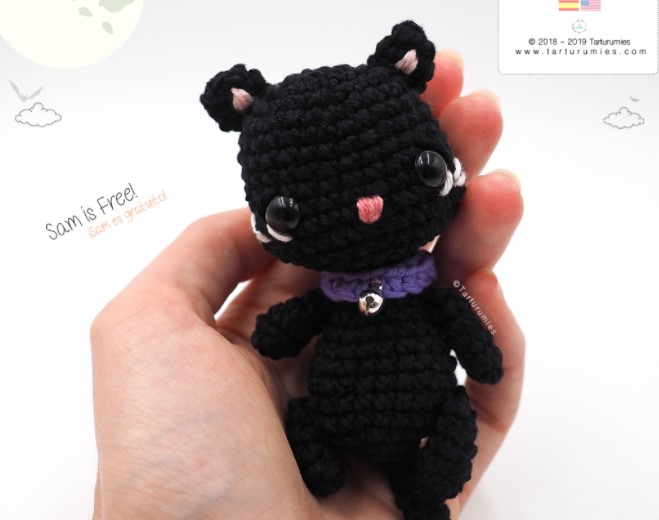 Celebrate Halloween this year by making your own adorable black cat. The free crochet pattern is available under the picture of Sam and his little witch friend as they're on a candy-finding mission! Usually, a scary black kitty is intimidating but not with tiny Sammy because of his big eyes and cute size. Once you're finished with the project, you'll want to cuddle him up right away!
Arturo The Sleepy Cat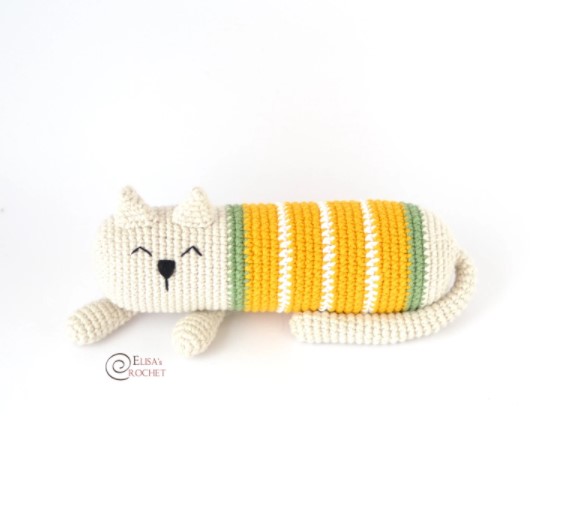 Cat lovers know very well how tired cats can be. They sleep almost anywhere from a plushy cushion to an open box (anywhere with some sunshine!). Inspired by the feline's snoozing, Arturo is born – a sleepy cat amigurumi. Its white, green, and yellow stripes are perfect for a summery vibe too! Using cotton yarn and polyester fiber filling, this crochet kitty is perfect for cuddling!
A Black Cat Amigurumi with Pink Paws
This amigurumi cat is begging for your love and attention with its chubby tummy, droopy eyes, and pointy ears. For a splash of color to complete the perfect Halloween ensemble – go with pink paws! This beginner-friendly project also provides you with all instructions necessary to crochet the adorable Halloween bundle that includes pumpkin, lantern, spider, and more!
White and Grey Cat Crochet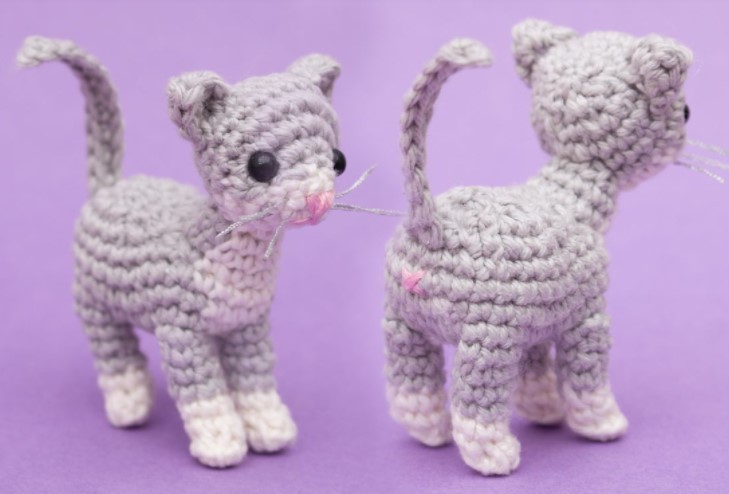 Other than orange cats, grey cats are also common as house pets. They have a fun-loving attitude that is loved by many people and this free crochet cat pattern can help you to make your own! You get the option of making an adorable pink snout or going with another color if desired. No worries though, there's a video tutorial available for detailed instructions too!
A Relaxed Amigurumi Cat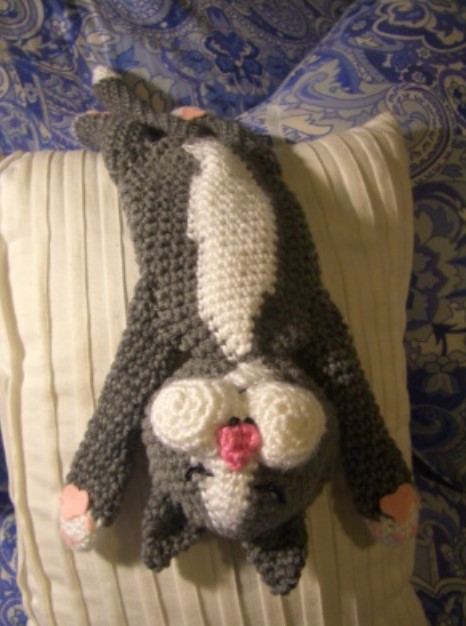 Have you ever seen a cat sleep? It's nothing short of hilarious. Tons of photos on the internet show cats in all their glorious sleeping poses and this tutorial has a free crochet cat pattern so you can make your own amigurumi cat! Whether as part of a project or something to cuddle up with at night when life is getting too stressful (in other words, a necessary addition to any household). Create one now and be prepared for unlimited laughs!
A Crochet Mermaid Cat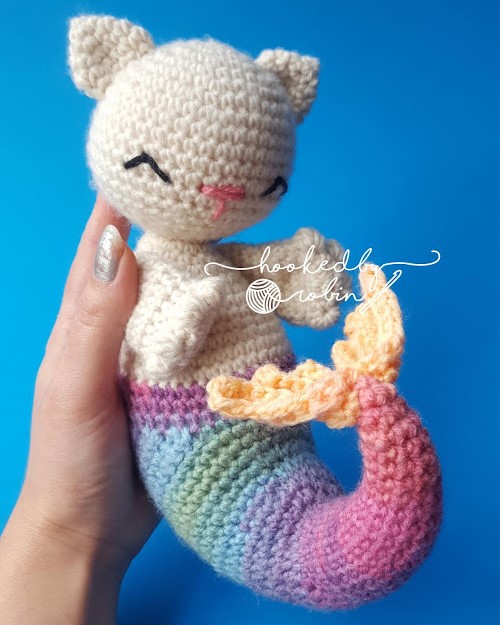 The first thing you'll notice about this crochet purrmaid is her bewitching combo of cat and mermaid tail. And with a rare amigurumi half-cat, half-mermaid design like that it's no wonder why it is a bestseller! The free pattern also comes complete with instructional videos for every part of the head to the tail fin which will make your project go smoothly from start to finish!
Colorful Crochet Cat Coasters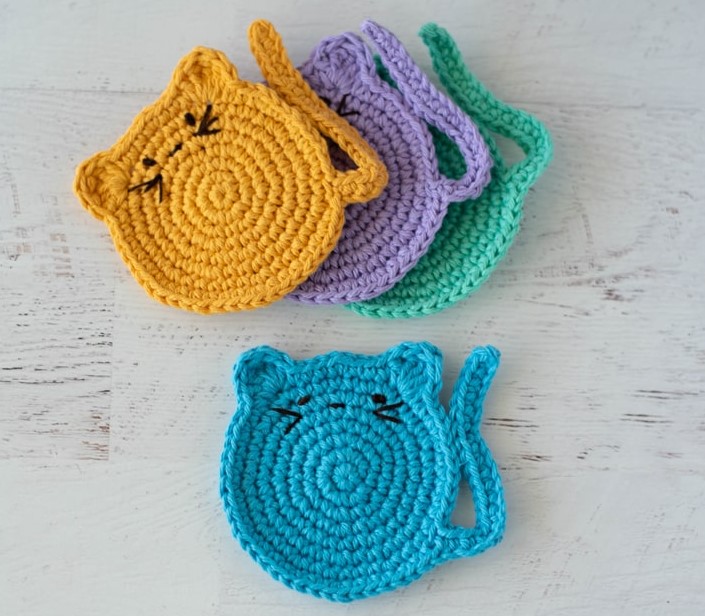 Amigurumi projects are not only enjoyable for any age, but they're especially good when you have scraps of yarn leftover from other projects. By following this free crochet cat coaster pattern, you can use the scrap to make a coaster. Without a doubt, the adorable cat coaster will brighten up your space and also be useful. If possible, making more than one coaster is certainly favorable too!
Cuddly Amigurumi Cat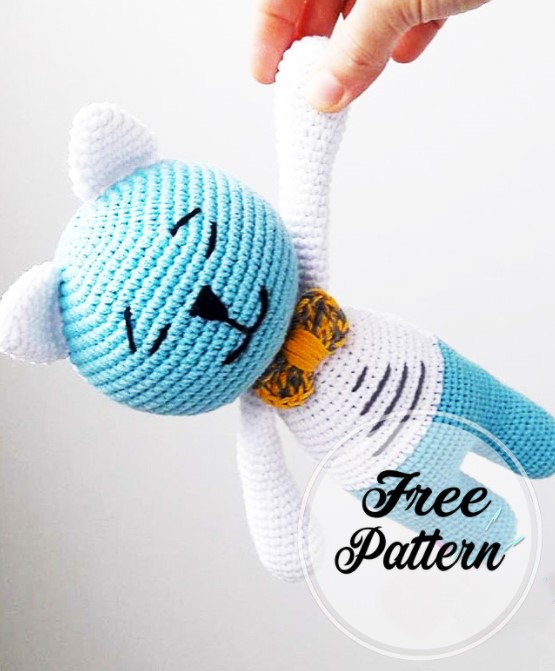 If you're looking for a unique gift, an amigurumi cat is one of the best options. You'll get to play with yarn while creating something fluffy and cuddly! The combination of white and blue colors is inviting: it's a classic color combo that will last through generations. With this free crochet cat pattern guide, you can create your own cute bowtie accessory too!
A Purple Amigurumi Cat Wearing A Scarf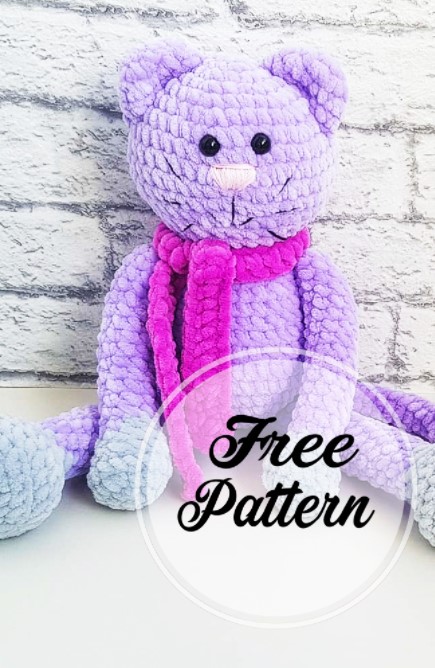 This free crochet cat pattern gives you another amigurumi kitty to snuggle with. Following the easy-to-follow pattern, this plush kitten will be about 13 inches tall and can come in any color! This cute cat is perfect for people who love animals and need some cuddles to brighten their day!
No-Leg Halloween Cat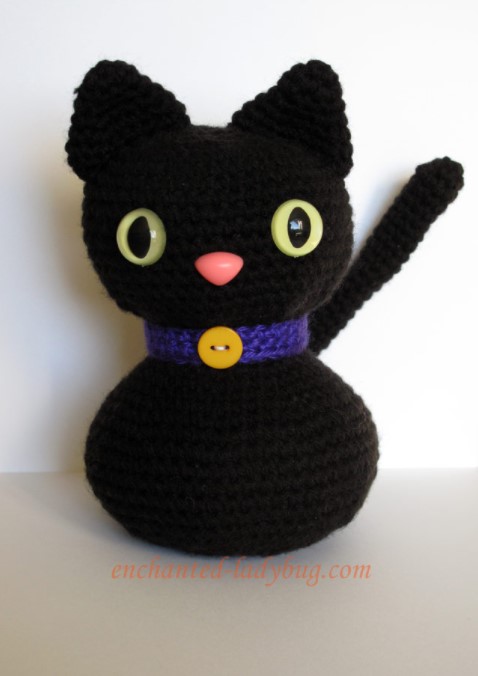 Are you getting psyched for Halloween yet? Whether you're looking forward to decorating or just in love with black amigurumi cats, this free crochet cat pattern will make your home a little more spooky. The fluffy feline is 6 1/2 inches tall and comes complete with a witch hat, choker, and broomstick!
A Pretty Cat in Pink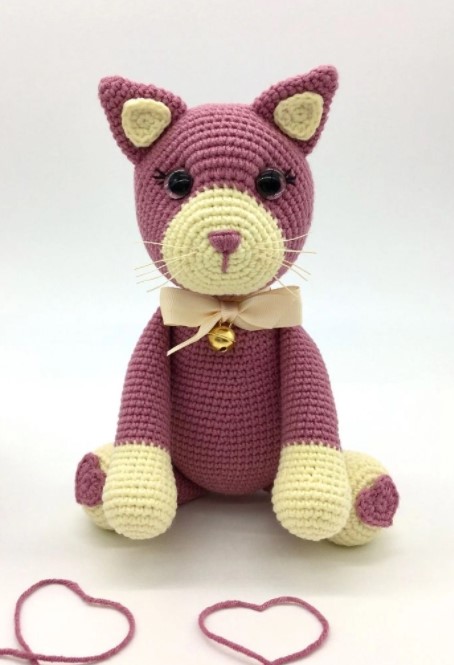 If your daughter wants to have a cat but the no-pet rule in the house gets in the way, you should try this free crochet pattern for making an amigurumi pink kitty. This beginner-friendly pattern comes with detailed instructions too. In the end, the 28cm tall feline buddy will go perfectly at any tea party she may have planned!
An Adorable Ghost Kitty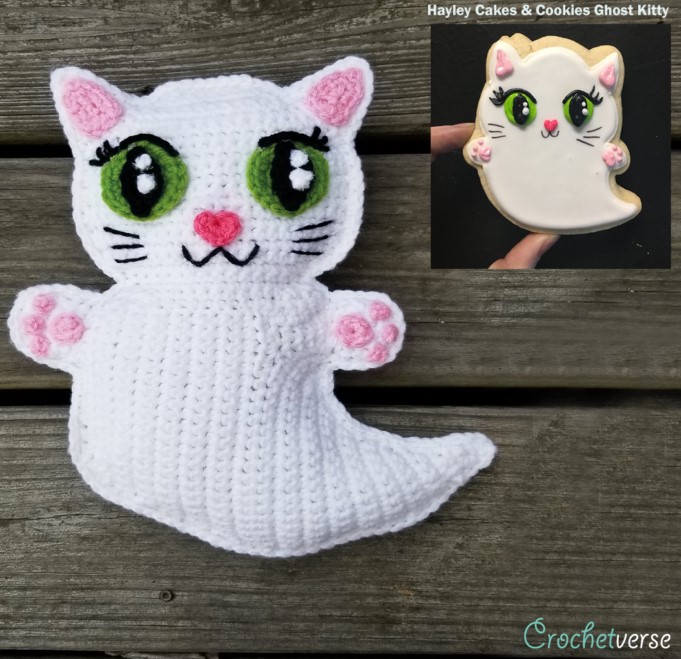 Inspired by an adorable ghost kitty cookie, this free crochet pattern is making a perfect amigurumi that looks just like the cookie. It's so cute and great for beginners who want to try their hand at crocheting something new! This unique idea may inspire you to make your favorite sweet treat into an awesome amigurumi too!
The Little Ginger Cat
Cats have been faithful companions for centuries, and this amigurumi ginger cat is the perfect birthday present or personal companion. The finished crochet cat measures 11cm in height using 4ply yarn, but it may differ depending on what size of yarn you use. To get the full instructions on how to create this amazing project, you can simply sign up for free!
The Cutest Little Crochet Cat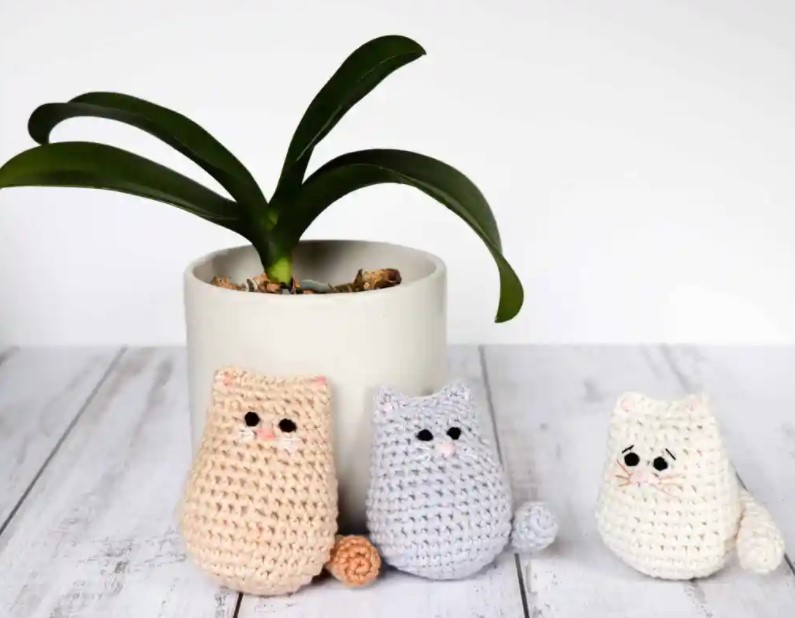 This free crochet cat pattern is easy to follow that beginners can tackle the challenge! These super adorable amigurumi cats are quite straightforward to make considering what you have to attach to the body is just the tail. If this is your first time making an amigurumi cat, the tutorial will teach you because there are some helpful guides on things like using the magic ring as well.
A Kitty Cat Cupcake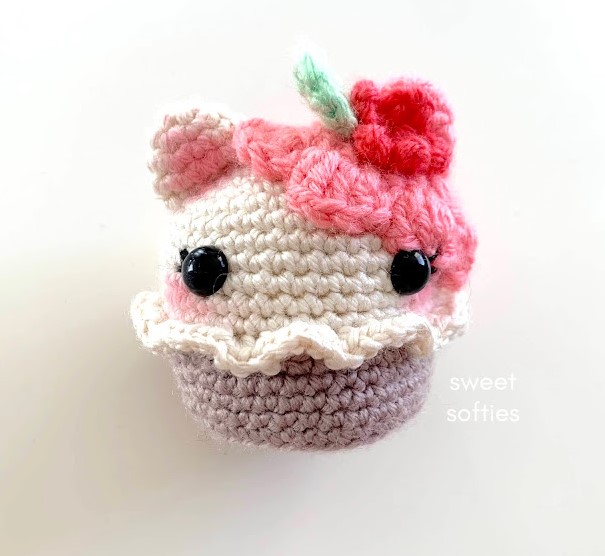 No one loves a good crossover amigurumi more than the creator of this adorable and rare cat-cupcake creation. This inedible duo is perfect for anyone who enjoys cats, cupcakes, or both! The best part about this free crochet cat pattern? You can add any personal finishing touches like sprinkles to match your favorite flavor, making it an extra special gift that will never go out of style.
Simple Little Cat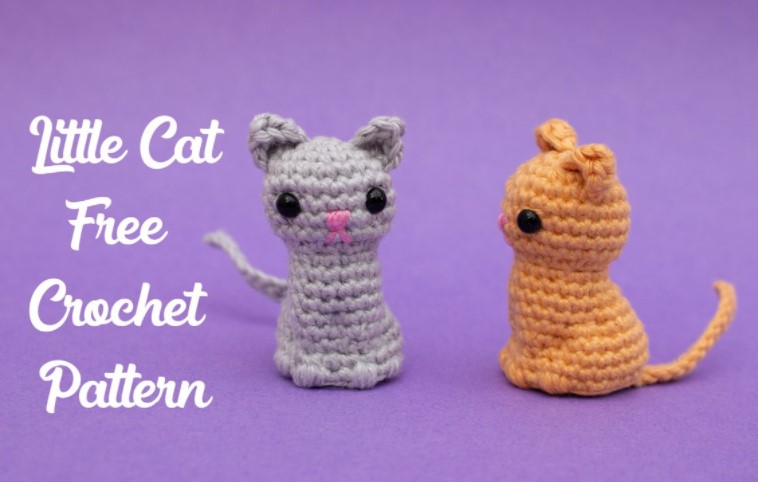 Nothing beats these adorable little amigurumi cats. If you make two, it looks like they are sitting and enjoying some cat chit-chat. Following the free crochet cat pattern is easy too! They don't really have legs; only tails and ears that need to be attached. Luckily there's a video tutorial in case you get stuck along the way!
Mochi Cat Amigurumi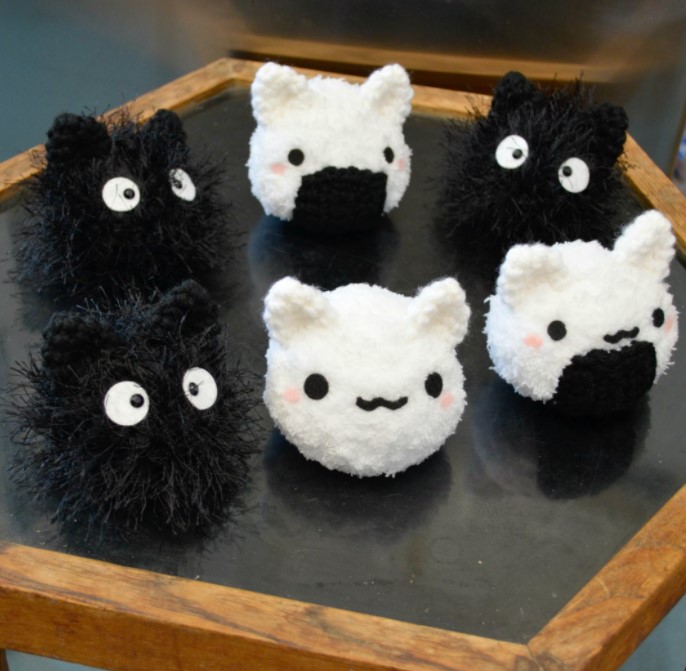 Cats are adorable, but little fluffy mochi cats? Pure perfection. This free crochet cat pattern is a delightful amigurumi that looks good! You'll love how soft and squishy this cuddly friend feels to hold-just like real mochi! And even though it's made of yarns that can't be eaten, you won't have any trouble finding ways to use it like a cute toy, a stress ball, or a handmade furry companion.
Crochet Cat Applique
Cats have been the best friend of humans since ancient times and are still everybody's favorite pet. Show the admiration by making this free cat applique pattern – which is also perfect for beginners! This easy-to-make grey silhouette will make a cute decoration that can be hung on your wall or given as a gift!
A Hugable Rebel Cat Amigurumi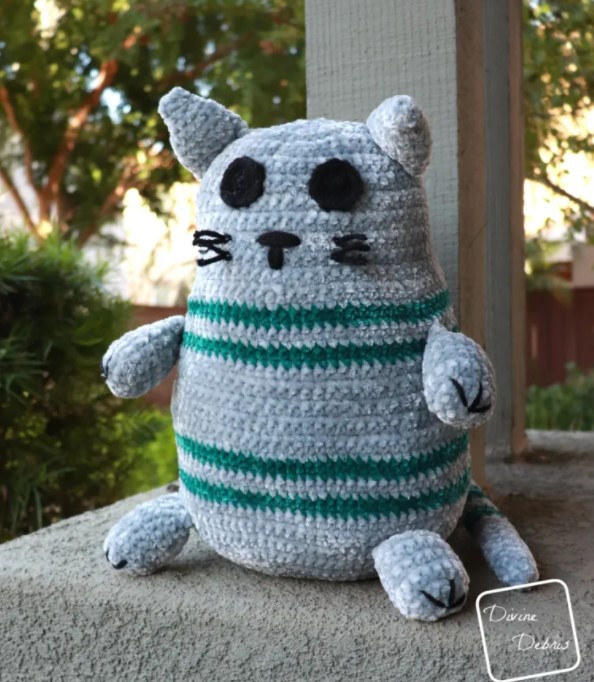 This rebel cat amigurumi is the perfect companion because it's always happy to give you a hug and comfort when life gets tough. In contrast to how it looks, this crochet project can be completed without much effort. The free pattern covers all of the details that will make your crocheting experience enjoyable from start to finish!
A Crochet Kitty Pillow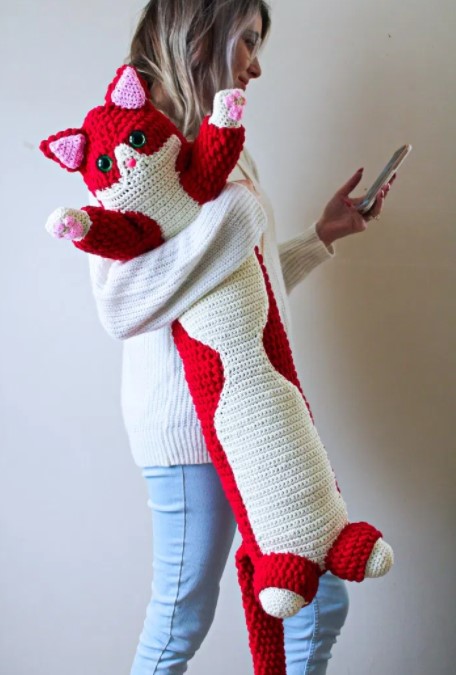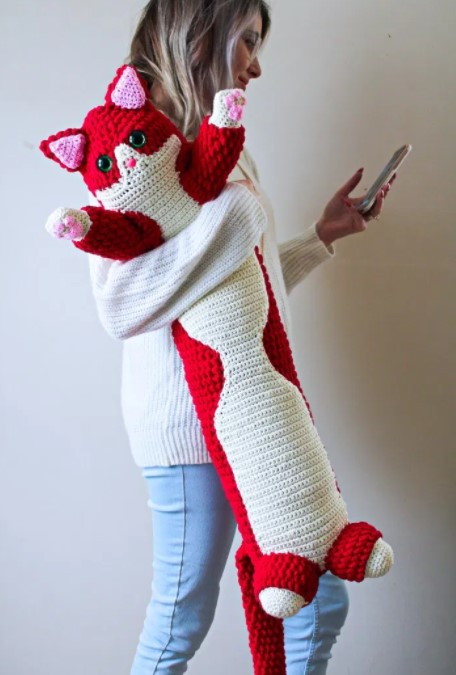 If you are up for a big challenge, why not crochet this adorable kitty pillow? It is the perfect gift to show your love on Valentine's Day or any occasion really. This long-stretchy amigurumi cat can be carried around and hugged when it gets cold outside – especially if you need something warm to hold onto! Note that this free crochet cat pattern uses bulky yarns that are suitable for cuddling!