There are many different ways to make your walls more lively and personalized. One way is by decorating the wall with gorgeous pieces of artwork or other types of decoration like furniture, plants, frames, etc.
Wall decorations can be as simple as a family picture framed in an old-fashioned wooden frame. Not only does it amaze guests, but they're super easy and simple to create at home. So, get ready for these DIY wall decor ideas and start decorate your wall in no time.
Easy and Cheap Rustic Wall Hanging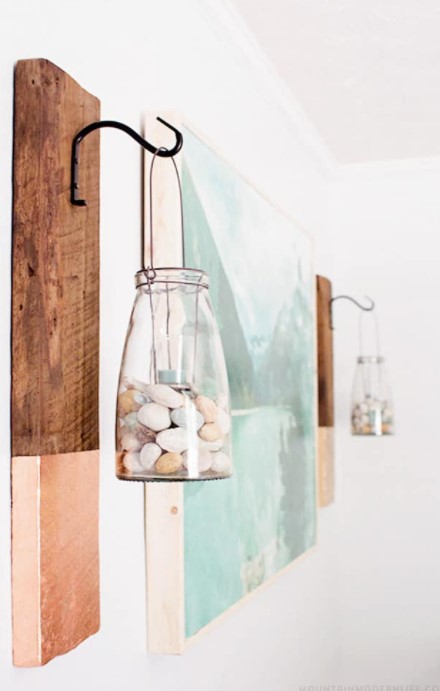 Are you looking for a new way to spruce up your room? This rustic wall hanging lantern is the perfect addition! It can be used as both an attractive decoration during the day, and also doubles as a lamp at night. Plus it only costs about $25 in total! Follow these instructions in order to get this great result yourself!
Easy Yarn Art with Bright Colors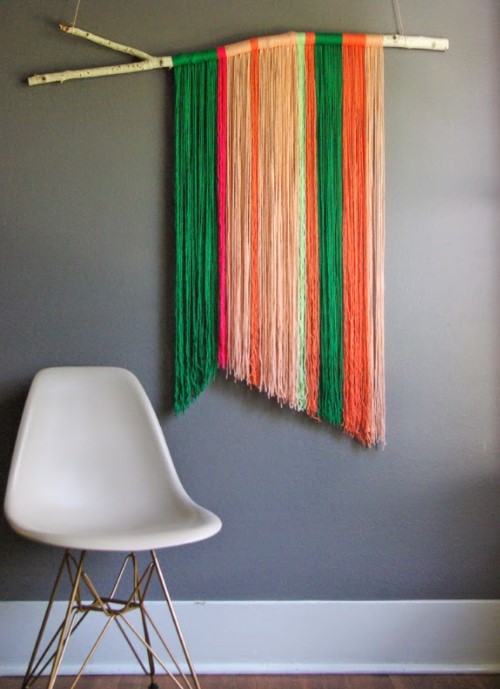 Bring your mood up with bright colors! Bright, colorful yarn art is easy to make and will help you get more energized. All it requires are two things: a twig of any type (from your yard or from the store) and some brightly colored strings that are just waiting for this project. You can even change it up by making macrame out of them later – perfect when you want something new!
Tape Wall Art to Decorate A Blank Wall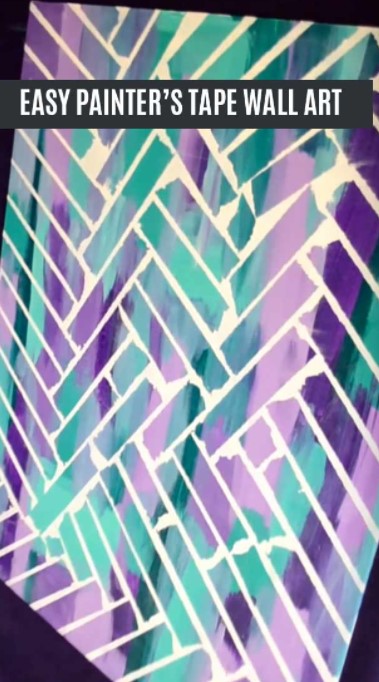 Did you ever want to get rid of that plain, old wall? Well, this painter's tape wall art is a super-easy way to do that! All you need is tape and paint. It might look like an expert painted it but in reality, anyone can do this project with the help of just some simple tape. You can get creative by choosing your own colors, or go for something more neutral–either way, this will make boring backgrounds into masterpieces!
Transforming Wine Corks Into A DIY Wall Decor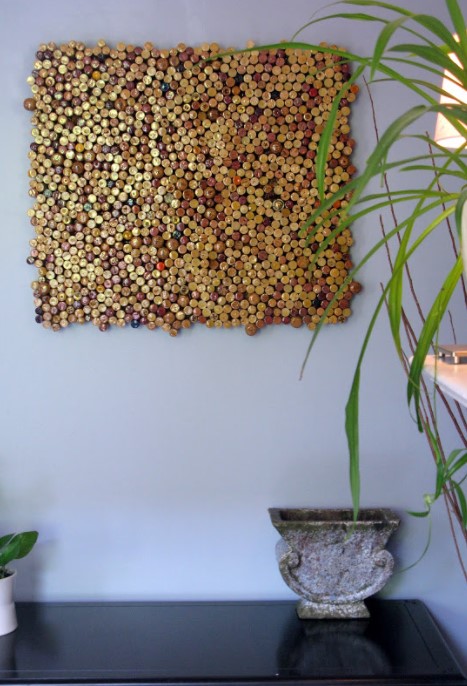 Who would've thought that wine corks can be transformed into insanely good wall art? This idea will show you how to make this happen and soon, your room's style and design will improve. You need a wood base for the corks though as they don't directly go on the wall themselves.
Romantic Doily Wall Art in Pink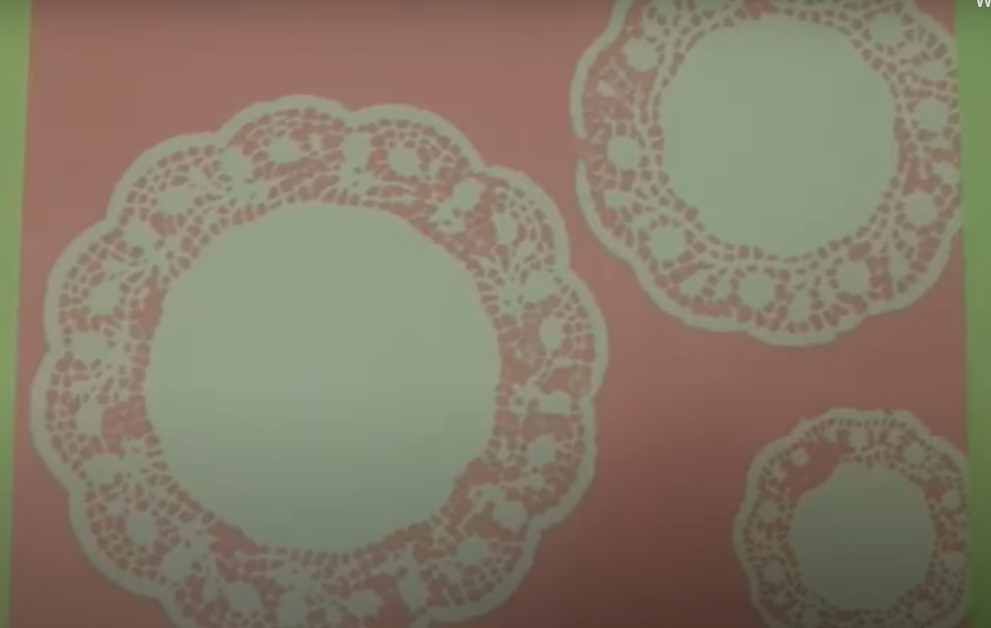 You've seen them in your grandmother's kitchen. You've probably used one at a tea party too. When you think about it, doilies are also the perfect way to show off what so many people love most: romance! For such wall decor that is easy on both time and money, this project will take that romantic feeling up another notch by giving these pieces an adorable pink background!
Triangular Painting with Tape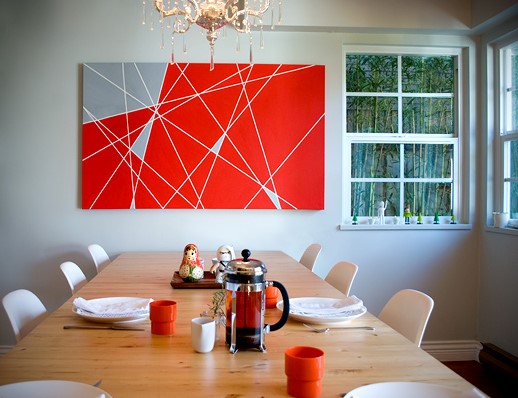 This piece of art is great to hang in a dining room. You can watch it while you're enjoying dinner, and customize the size so that you don't have any giant pieces hanging on your wall. It's done with instructions from acrylic paint which are surprisingly easy if followed carefully!
A Collection of Postcards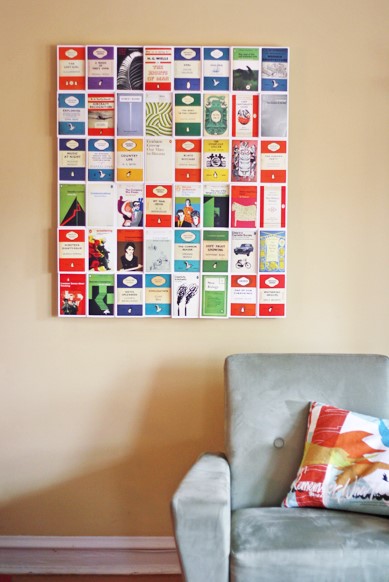 Do you have a huge stack of old postcards? Have they been sitting in the back corner of some closet and collecting dust for years now? If so, there are plenty of ways to spruce up their appearance while also giving them new life as decor pieces. One way is by sticking them onto foams then glue them on a canvas – once finished, it will be ready to decorate your space!
Watercolor Art Piece with Phrases in It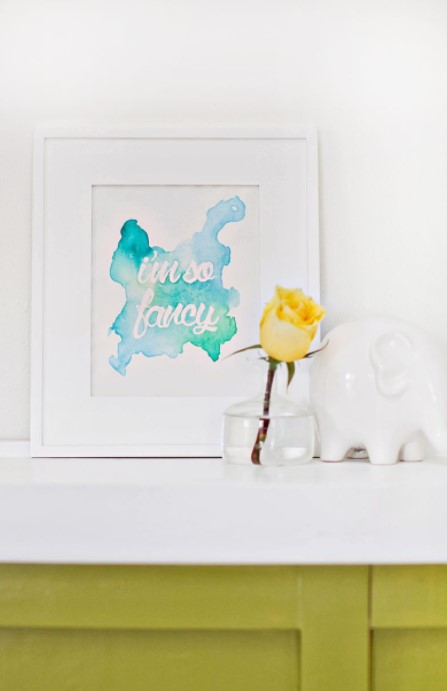 Every day, we need to be motivated. Through a phrase, the result is always something that inspires our daily lives. Put your favorite motivation quote in a frame and hang it up on the wall. You can even add some watercolors around the edges for extra flair and extra color to your life!
Hexagon Shelf Made of Popsicle Sticks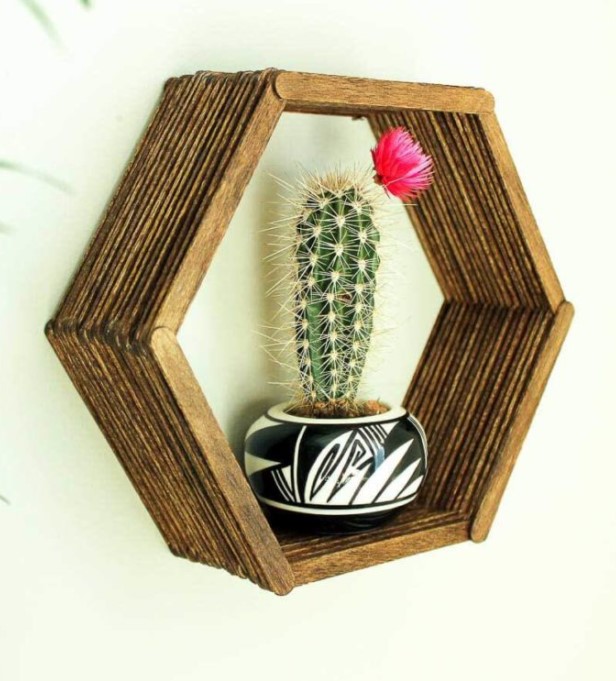 Do you want to hang a plant decoration on your wall? One of the brilliant ideas is to create a popsicle stick shelf. Popsicle sticks are cheap in an art shop, then you only need glue to complete the supplies. This seems like such a simple yet effective idea!
Pom-Pom Wall Art Made of Tissue Paper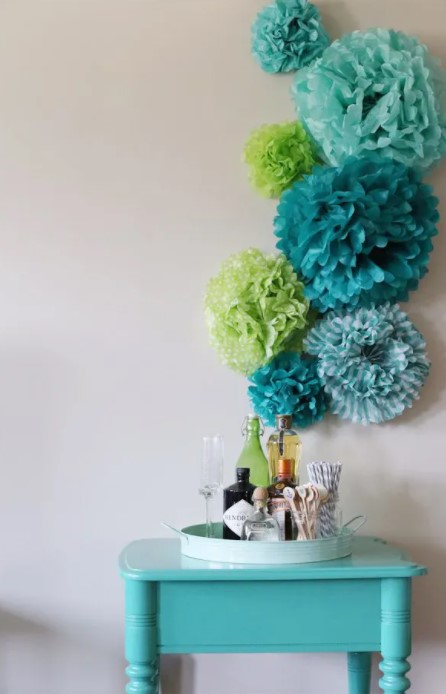 Celebrate the party with a perfect backdrop! This idea will show you how easy it is to make your own tissue pom-poms that are great for backdrops as well as wall decorations even after the celebration is over. They're the perfect way to add color, cuteness, and style!
Decorate Your Wall with Shutters and Stars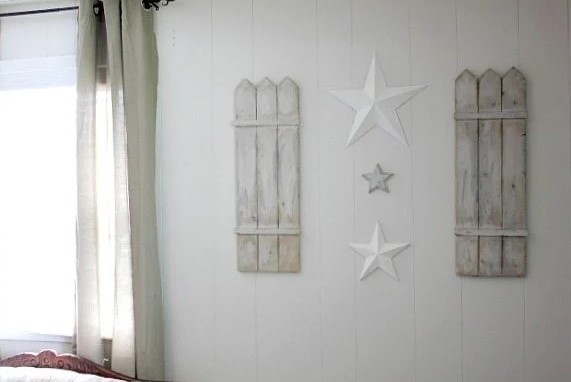 Do you want to make your house a more interesting place? Even if it is just the living room, this DIY project will help! Other than repainting it with new colors, attaching shutters and stars onto that plain old wall can do wonders. The shutters are made of 1×6 lumber which was purposely painted to look weathered in the end for an even better effect. So say goodbye to boring walls today by doing this little task yourself!
Heart Shadow Box with The Color of Your Choice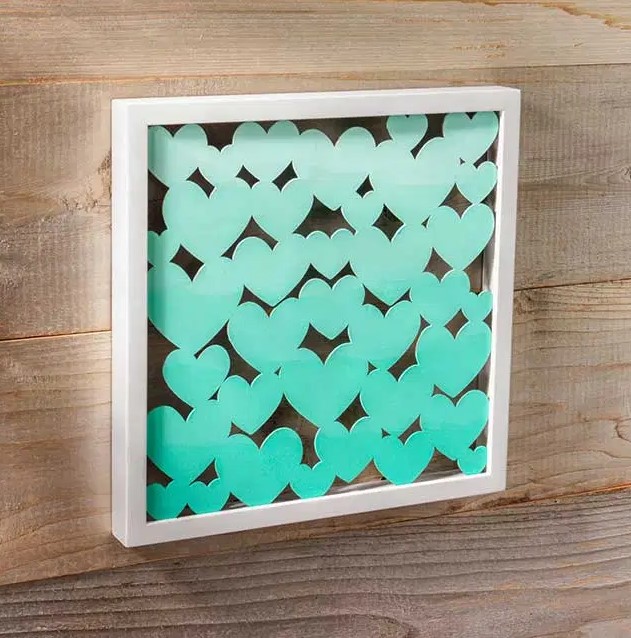 This heart shadow box is perfect for adding a little charm to your home. To make the hearts pop, brush them with white paint before you add color. This project really does not take much time so get started! You will love how beautiful and unique these pieces come out.
Clean-Lined Geometric Wall Art in Simple Steps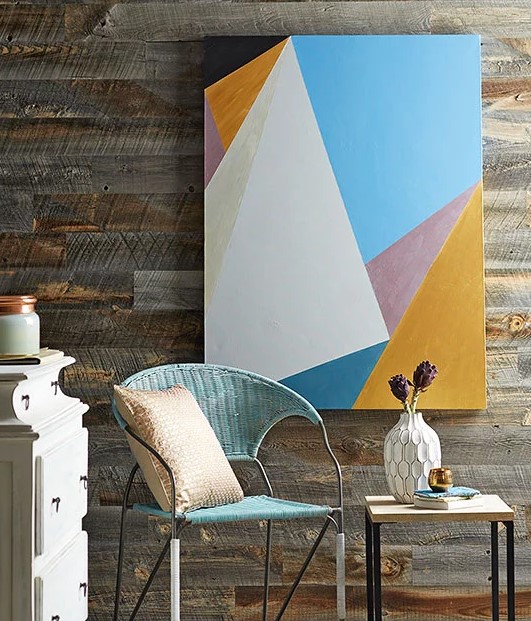 This geometric painting is easy to make and will be a great decor piece anywhere you hang it. The design comes from using tape on the canvas for some funky angles that are both simple yet eye-catching! For this project, buy your favorite color of paint or if you want something more unique try different types like glitter or gold foil. When finished with your masterpiece just nail it in place and enjoy how much better any room looks when adorned with art!
Easy to Make Yet Unique Rattan Wall Decor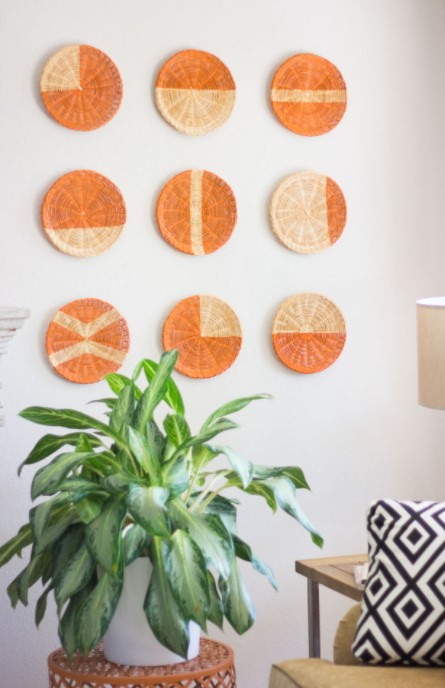 Woven rattan paper plates are common mostly in Asian countries. But they can also be transformed into wall art. Take this project as an example. The bundle of 20 rattans in this project is bought for $3! So, it must be inexpensive in art shops near you. To make the pattern, you can use spray paint.
Dripping Black Paint on Canvas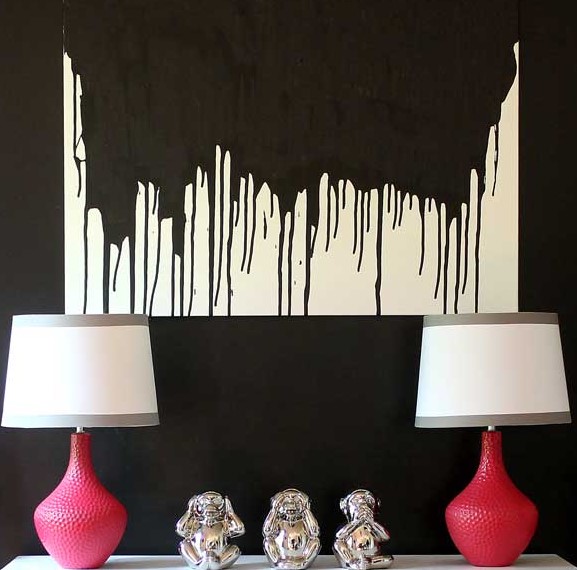 Woven rattan paper plates are common mostly in Asian countries. But they can also be transformed into wall art. Take this project as an example. The bundle of 20 rattans in this project is bought for $3! So, it must be inexpensive in art shops near you. To make the pattern, you can use spray paint.
Get Creative with Bulldog Cork Art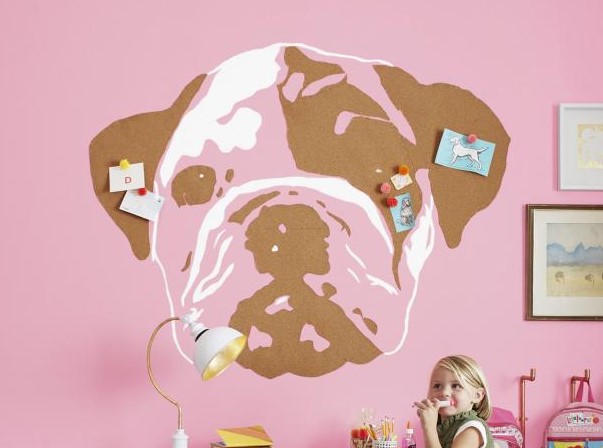 You might think that the typical cork board is boring, but with a little creativity, you can turn it into something new! Take this bulldog head for example: now your wall decor has taken an amazing step forward. This will make your space more fun to be in!
Decorating The Wall with Magnetic Frames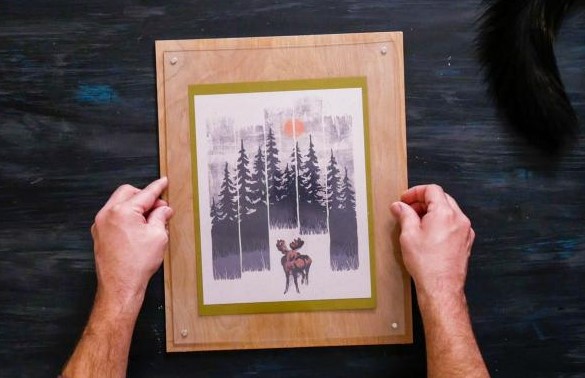 Do you have a ton of creativity and memories that want to be seen? Magnetic frames are the perfect way to display your inner artist. The process required is simple enough, just ask yourself these questions: "do I know how to use drills?" If so, great! It will only take a few minutes from start to finish before having an awesome new magnetic frame on hand!
Patterned Scrapbook Paper Wall Art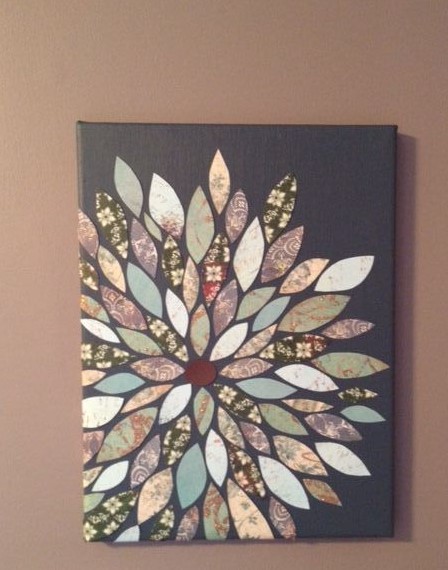 The art of the paper flower is a creative way to recycle scrapbooking materials and use them up. The process starts with cutting pieces that follow the shape of petals from patterned papers, then gluing each petal on the canvas until you have your desired design. You can paint the canvas or leave it as is for an interesting contrast in colors!
Neon and Flower Combo for Wall Decor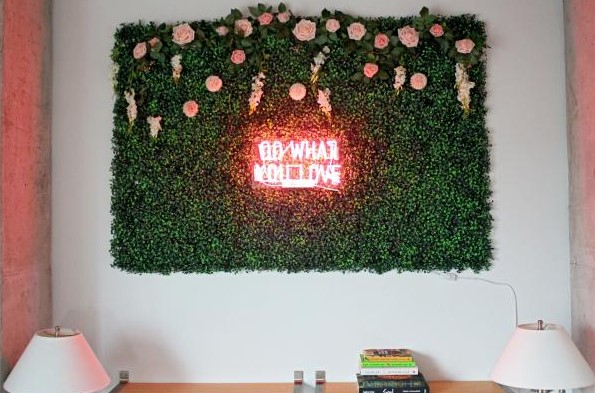 If you're looking for a little taste of nature in your living room or bedroom, this might be a perfect idea. The wall decor is both neon and floral-themed with artificial boxwood panels as its base. You can customize the sign to say whatever phrase you want as well!
Black and White Abstract Painting (FREE Printable!)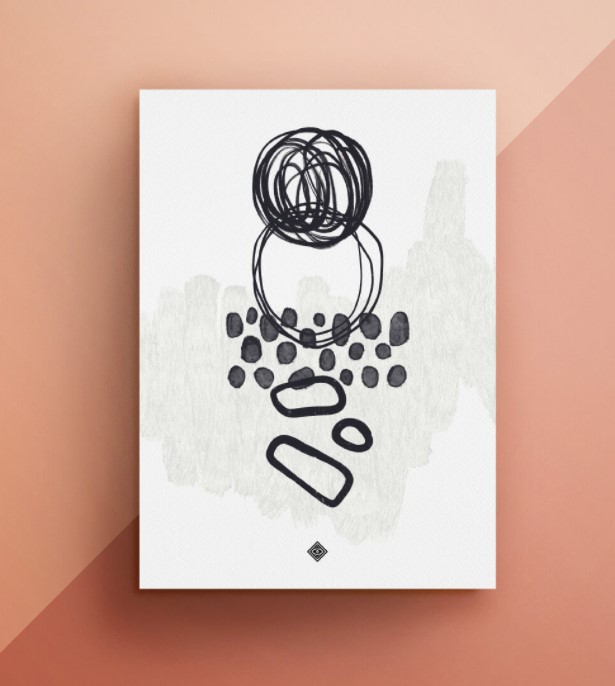 One of the best wall decors is painting. Sometimes, an abstract painting can be better and look more artistic. This right here is a black-and-white abstract art you can print out to any size or shape from your computer! The design is free for anyone who wants it (you just need some kind of frame!), so go ahead and try something different today with this abstract art that's totally customizable in every way possible!
Gorgeous Floral Wall Art With Coffee Filters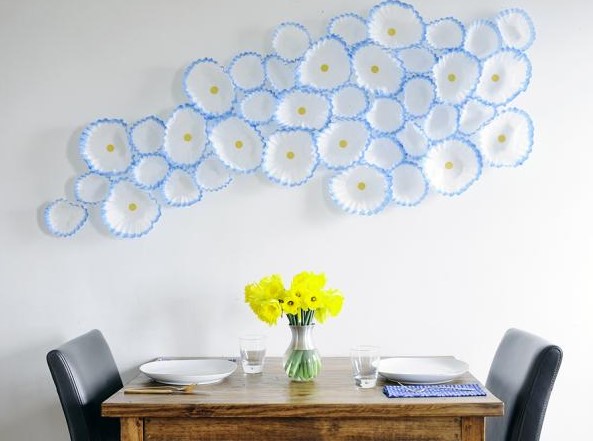 Who would've thought you could turn such an everyday object like a coffee filter into something beautiful? Well, this project is proof that it's possible and easy. To avoid painting on your wall and damaging paint in process of peeling off paper later, use double-stick tape or glue dots for this project.
Dried Eucalyptus Wall Hanging Decor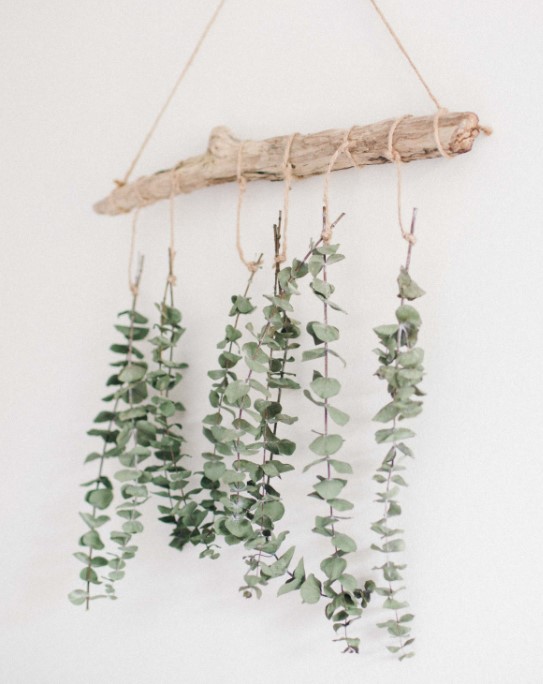 Eucalyptus is always a popular decoration element for home décor, but this piece takes the idea to new heights. The simple yet stunning design of these wall hangings can make any space feel more inviting and welcoming with its aesthetic appeal alone. It's a smart choice if you have limited time or money on your hands!
Fun and Exciting Corkboard with World Map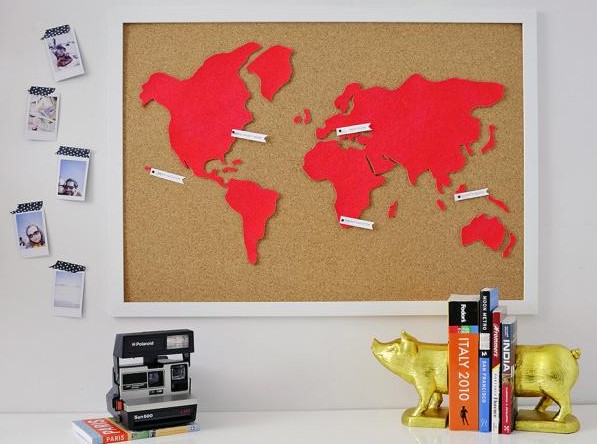 For those of you who are very adventurous and aiming to travel the world, this is a creative idea for your wall decor. The map can be used as an inspiration as well because when you've visited a country, just mark it with chalk! This project will make traveling seem even more exciting than before.
Very Aesthetic Washi Tape Wall Decor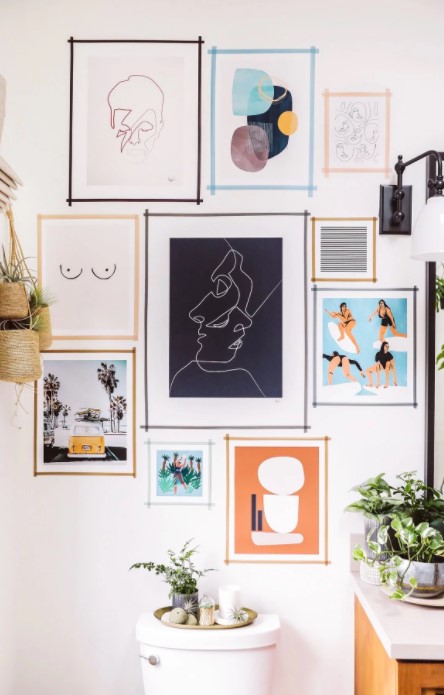 If you want to make your home look more artistic and interesting, give this a try. Washi tapes are better than using actual picture frames which may be bulky; they also allow room for creativity in drawing the lines of where pictures should go on the wall. If it's difficult picking out just one painting or photo that catches your eye, display them all with washi tape instead!
Transform A Rug into Tapestry for Wall Art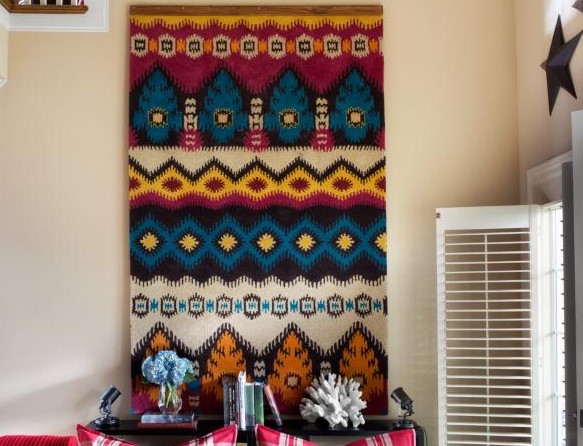 Tapestries are great for wall decoration, and their designs can suit the style of your room. For example, a rug turned into a tapestry! To hang it up, you need some wood strips (long ones!). Once this is done, I bet that you'll be amazed at how amazing your space looks with these beautiful colors all around!