With the fun and creative satisfaction that follows, you should definitely crochet dragon patterns. These are some of our favorite designs – they're unique, yet satisfyingly simple to make.
From amigurumi to crochet blankets, these patterns are full of ideas. You can choose one for yourself on a cozy day at home or pick something up as a special gift for loved ones during birthday celebrations and baby showers.
These crochet dragons aren't limited to certain colors. In fact, their unique design allows for a variety of other colors too, so you can customize them as desired with hair, wings, and tails that will make them look more alive! Need some inspiration and a fun new project? Try crocheting one of the following dragons!
Cube Little Dragon Amigurumi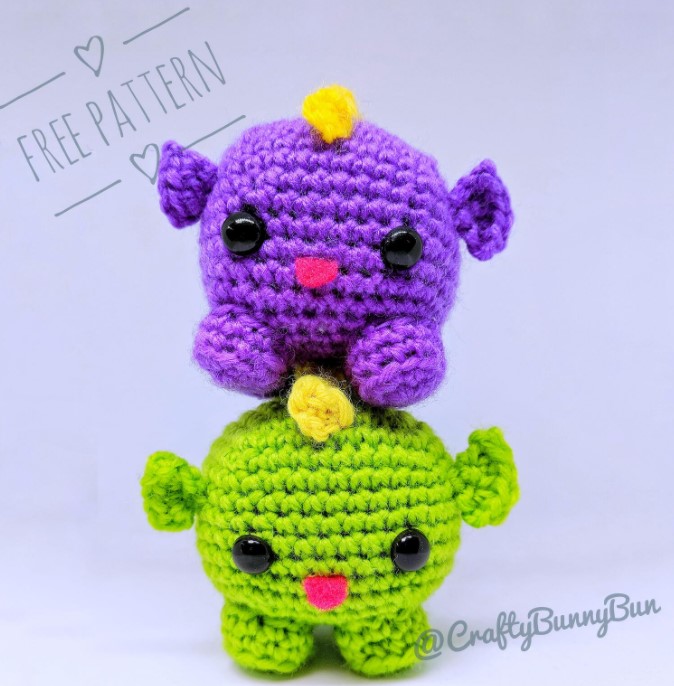 These little dragons are very playful. They're sticking out their tongues, asking you to pay attention to them! This beginner-friendly crochet dragon pattern is built from a cube basic shape which isn't complicated, especially if the tongue is a cutout red felt. These dragon cuties also display adorable horns on their heads which add a bit of charm and make these creations even more endearing than they already were!
Crochet Dragon Egg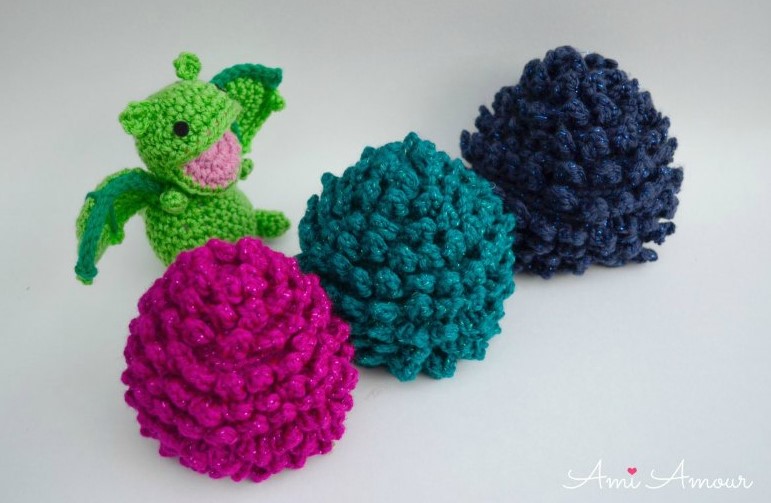 This crochet pattern is so cool and creative, as it makes both the egg that a dragon hatches from and the baby dragon itself! The crocheted egg looks realistic with the scales. The pattern of the dragon also includes wings – which is an adorable touch of fantasy to create a super cute little companion!
Dragon Drakosha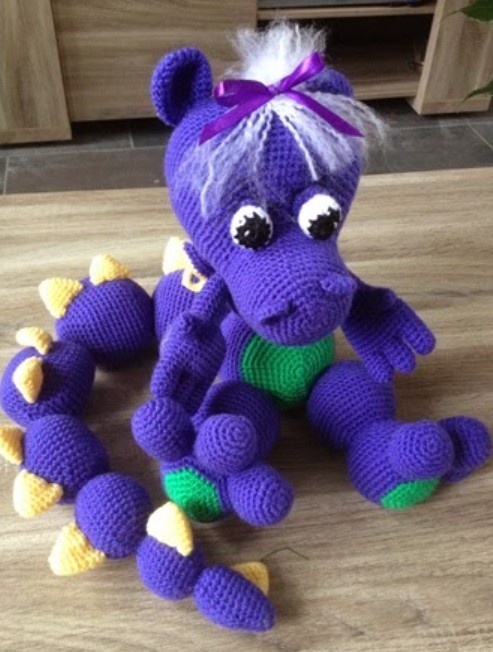 Drakosha the crochet dragon is both adorable and cuddly. Her soft, fluffy spikes on her tail are perfect for any child to snuggle up next to while reading a book or watching TV! Drakosha should be your number one choice. Not only will she keep you entertained but also safe from harm's way with her ribbon-tied hair—you'll never want anything else again!
Little Crocheted Plushy Dragon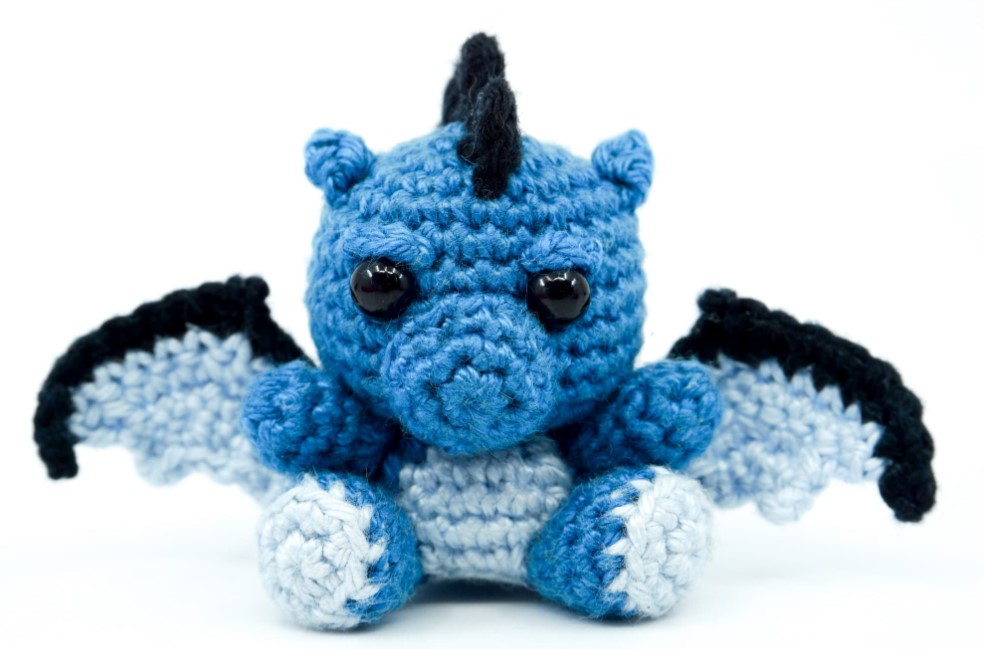 This cute crochet dragon is a little different from the typical ones you see in movies and books. Instead of being ferocious, he's cuddly due to his small size. His wings have black-colored edges that match his eyes and spikes, while his body is made out of blue shades yarn – which you can replace with your own choice of colors!
3 in 1 Ice Dragon Baby Blanket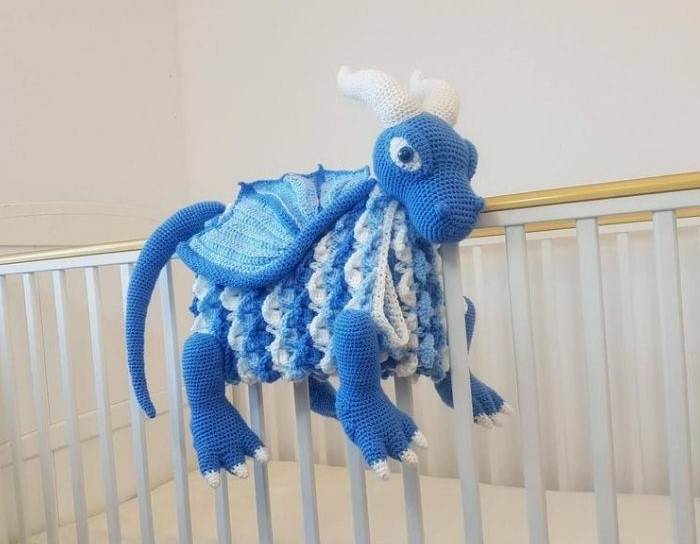 If you're looking for a big crochet project, you may want to check this one out. This is a versatile model because it can be a blanket, nursery decor, and a playmat. Guaranteed, your child would absolutely love the result! Let's start by deciding what color we should make the dragon – do you want blue like an ice dragon? Or red to resemble fire?
Dragon Crochet Toy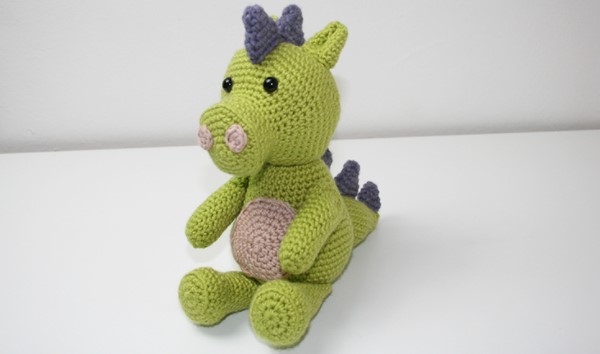 You might not know it, but there are many kinds of dragons and this crochet dragon is one of the unique types! His snout protrudes so much that he looks like a pig. But his spikes say otherwise… Let's start crocheting by taking note of what you need!
Fírnen The Dragon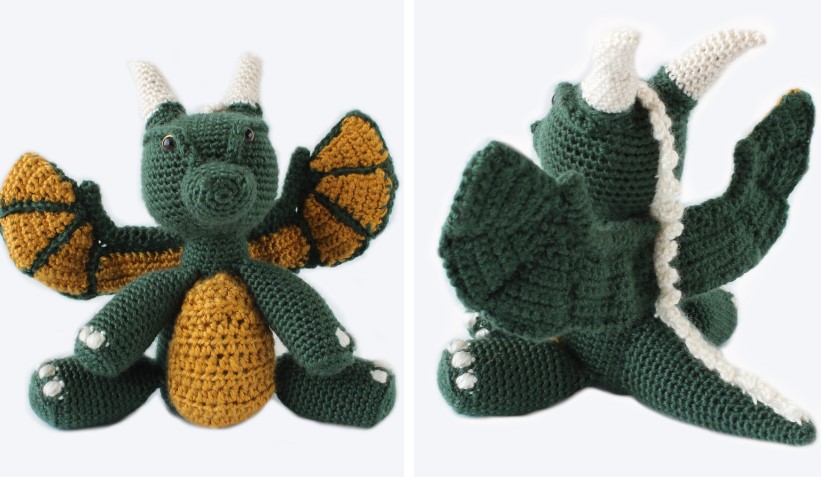 Make Fírnen, a crochet dragon with so much personality and interesting characters. His honey-colored wings are open, signaling that he's always ready to fly in case anything happens in the forest. While his scales are crocheted using deep green yarns, his spike is made using white – a nice contrast! Let's bring Fírnen into reality today!
Standing Dragon Crochet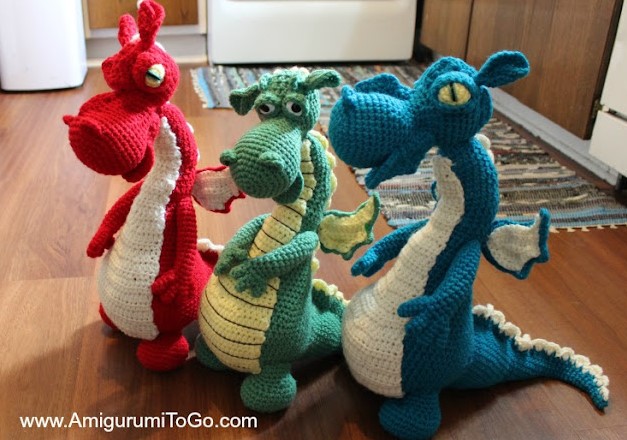 Now, we have a crocheted dragon who stands up waiting for you to play with them. Each dragon has its own personality that is different from the next due to its unique eyes! You can customize them even more by adding accessories such as marshmallows or fire which comes out of their mouths!
A Cute Dragon Amigurumi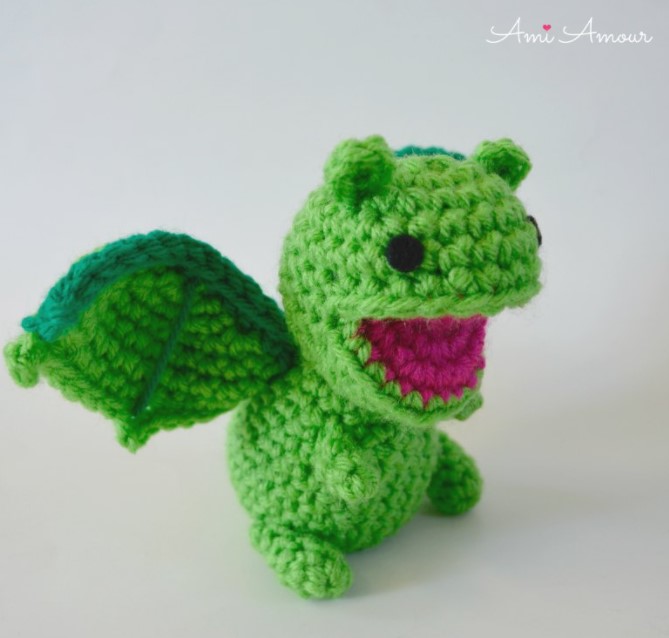 This adorable crochet dragon is called Dracarys. He's a fantastic amigurumi that looks like it came from another world! The creator of this pattern actually took inspiration from a baby dinosaur pattern, which has wings and ears added to make him a dragon. What makes Draco stand out, in particular, is his mouth – it opens up which allows you to add a crocheted fire too!
Mini Dragon Amigurumi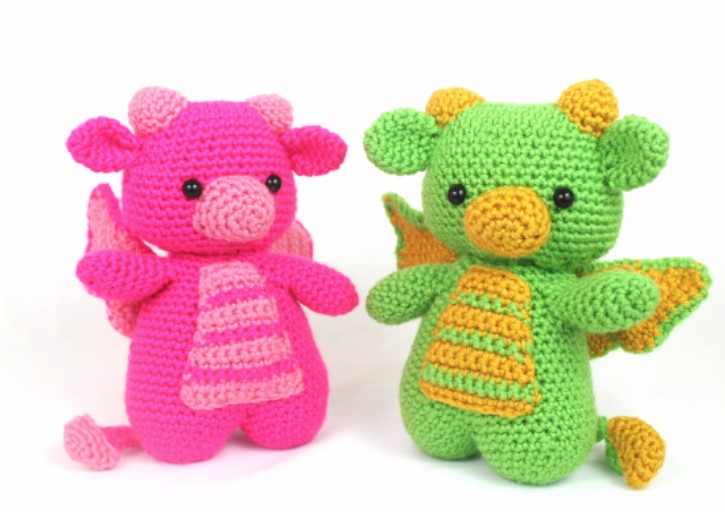 If you're looking for a new crochet project, try your hand at these adorable dragon toys. Different colors give each toy its own personality. The black one looks fierce while the colorful ones are playful and friendly! This pattern is fairly easy so it's good practice if you're just learning to crochet too.
A Cute Dragon-fruit Dragon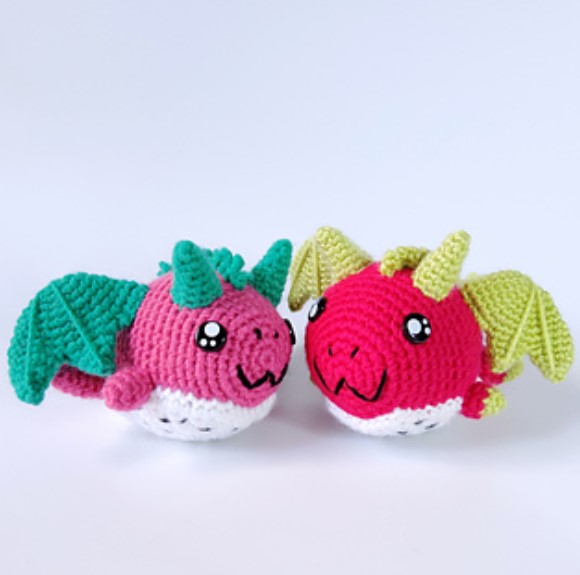 This baby dragon pattern is incredibly creative, combining an adorable little guy with the yummy fruit. It looks like there are black seeds in its belly! But don't forget about all of the spikes and wings that have been added to this design. Now, it's your turn to give this a try!
Baby Dragon with Stumpy Spikes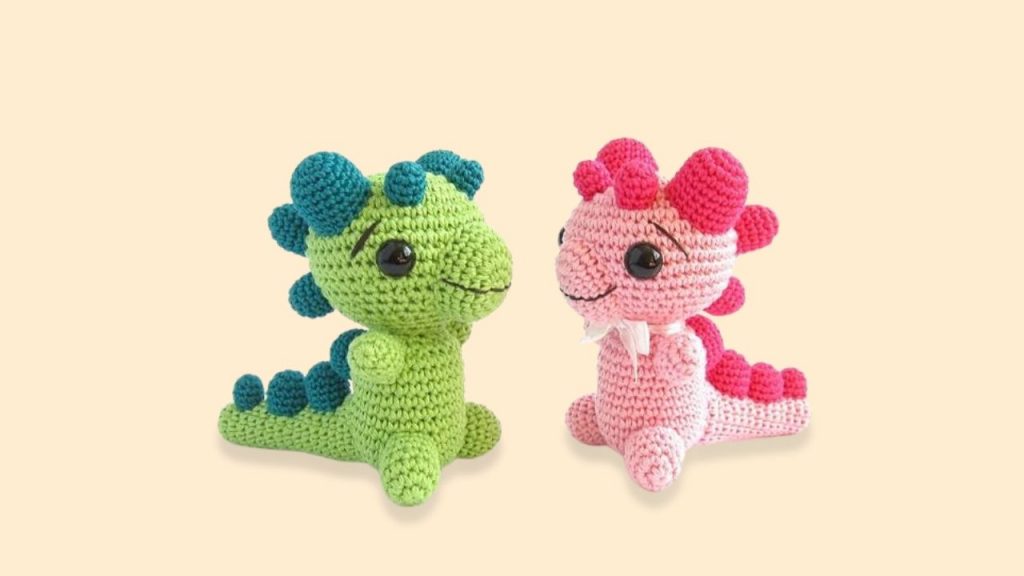 It's no surprise that this crochet baby dragon has gained popularity. With its innocent look and adorable stumpy spikes, it is hard not to go 'Awww' when you see the finished product! The great thing about this pattern is that although there are some required skills needed for completing it, they aren't too difficult so even beginners should be able to get through without any trouble at all – which makes sense since the outcome would make an excellent rattle or teething toy for your little one.
Fierce Occamy Dragon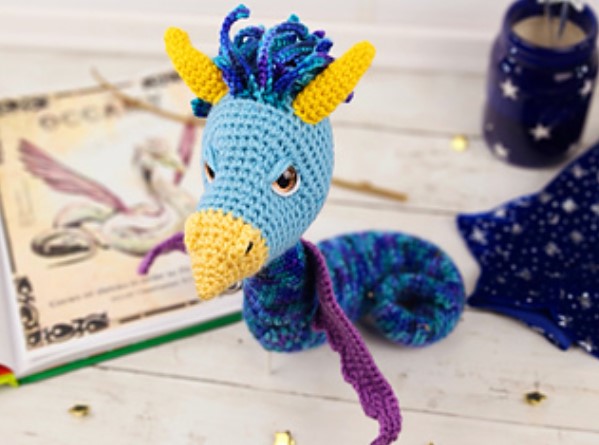 Inspired by one of the mythical dragons in the Fantastic Beasts and Where to Find Them movie, this crochet dragon pattern makes Occamy – the winged magical beast. Two of its popular features are the purple wings and the turquoise body. Once it's completed, it will be 11 inches tall – perfect to hold in your hands or display on any shelf!
Fire-breathing Cutiepie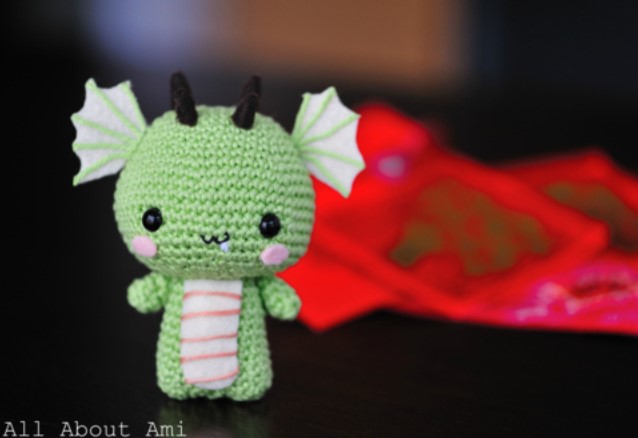 This cute, fire-breathing dragon is anything but scary. Its smile and blushing cheeks are signaling its desire to play with you. The head, body, and arms are crocheted, while the others are a work of felt pieces held together by hot glue. For example, the wings are made from yarns & felt glued together. This crochet design has other features that suit beginner crocheters as well as advanced ones too!
Joanet the Happy Dragon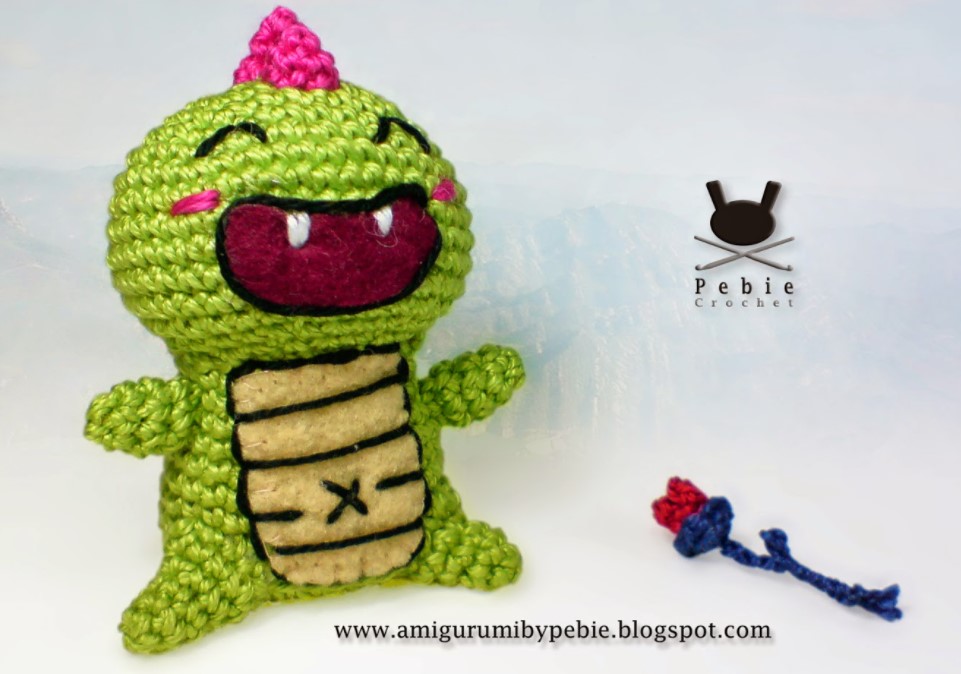 Joanet is just what you've been looking for if you're in search of an adorable, cuddly dragon who loves to laugh! This pattern captures all of Joanets' characteristics perfectly including her joyous laugh and bright eyes. She'll be sure to bring some sunshine into your life, and she looks just like you do when you laugh too hard at good humor!
Inspired by the Legend of Sant Jordi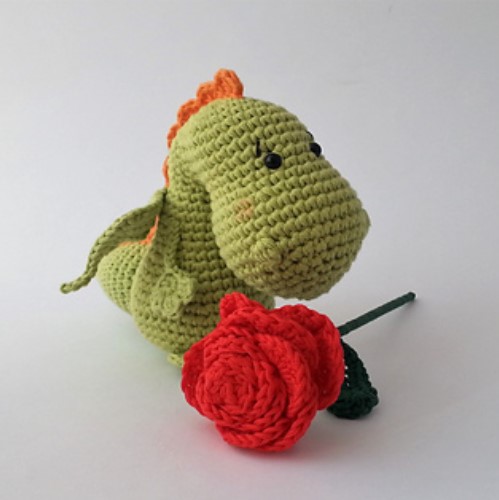 How crocheted dragons are different than what we know of dragons in legends! this version is sweet and humble. The pattern is also customizable, so you are free to choose whatever size works best for you, whether it be bigger like something cuddly to hug on when feeling down, or even making them as little charms for keys!
Dragon Scale Fingerless Gloves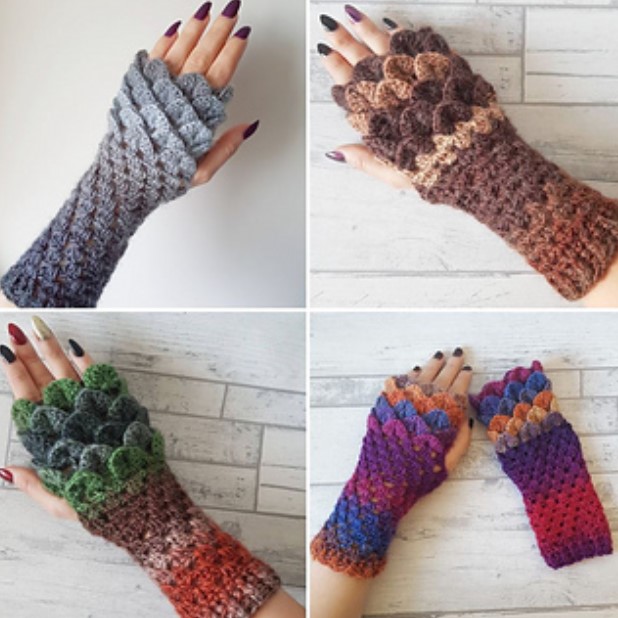 Explore your crochet skills with this dragon scale gloves pattern! This is a great accessory to wear at festivals or even as part of a costume. You don't have to stick with the traditional colors either – find one that really reflects who you are inside and out!
Hatching Baby Dragon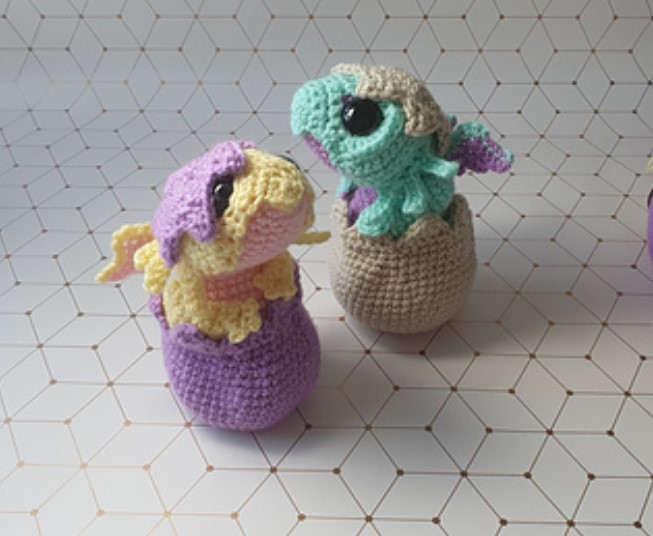 This might be the cutest crochet dragon pattern idea! The crochet dragon egg is hatching and an adorable crochet baby dragon is coming out of it looking innocent and searching for its dragon mama. Who can resist those big doe eyes? Moreover, a cracked eggshell gets stuck on its head which adds to its cuteness!
Gorgeous Baby Dragon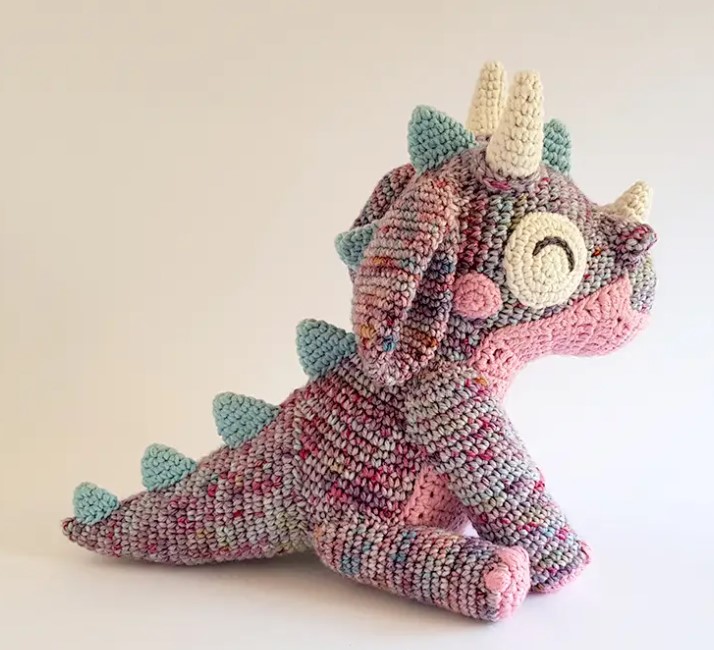 This crochet baby dragon is named Orbit. He's gorgeous because the choice of colors when crocheting him was very clever, making this super cute creature one-of-a-kind (his smile never leaves his face either!) The unique pattern, the adorable look on his face, and how soft he feels to touch make Orbit a fantastic gift for your little one too.
11" Tall Baby Dragon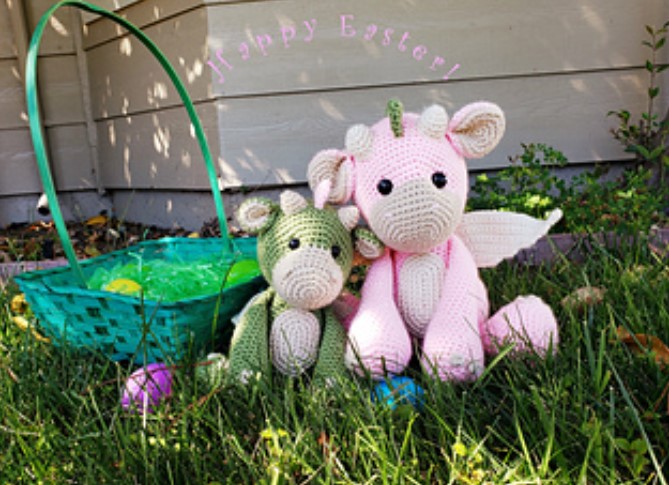 A crochet baby dragon is suitable for babies or children to play with since it's fluffy and nice to hug. Take this small crochet dragon as an example. It's 11 inches tall and is made of light worsted yarn, so you can imagine how perfect this crochet dragon is! If you know the basic stitches and techniques used in amigurumi, then these instructions are easy enough to follow along.
Adorable Dragons to Play with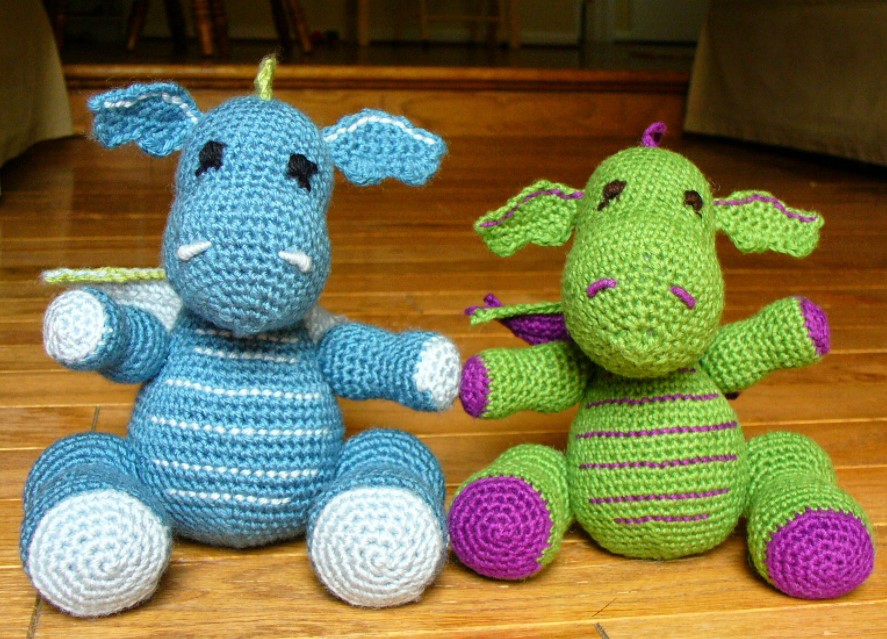 This pattern is inspired by a childhood memory of the designer's loving mythical creatures. The dragons are meant as toys to play with, so they're crocheted using soft yarn. To ease the crochet process, select one that's easy to work with too! Each body part will be made separately and assembled at the end. This already sounds fun and exciting!
Small But Mighty Dragon Crochet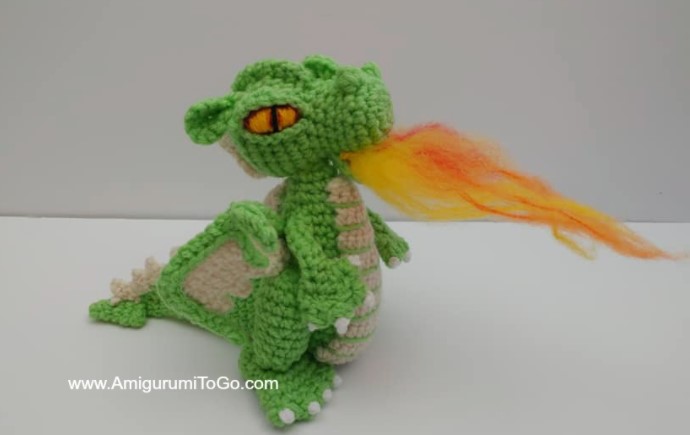 Don't be fooled by these crochet dragons' size! Even though they're below 8 inches, they can breathe fire in your direction. Nobody can escape from those fierce eyes. This mighty crochet dragon is also movable which means children can play with it by moving its legs or arms easily, making them perfect companions for children.
Dragon Hand Puppet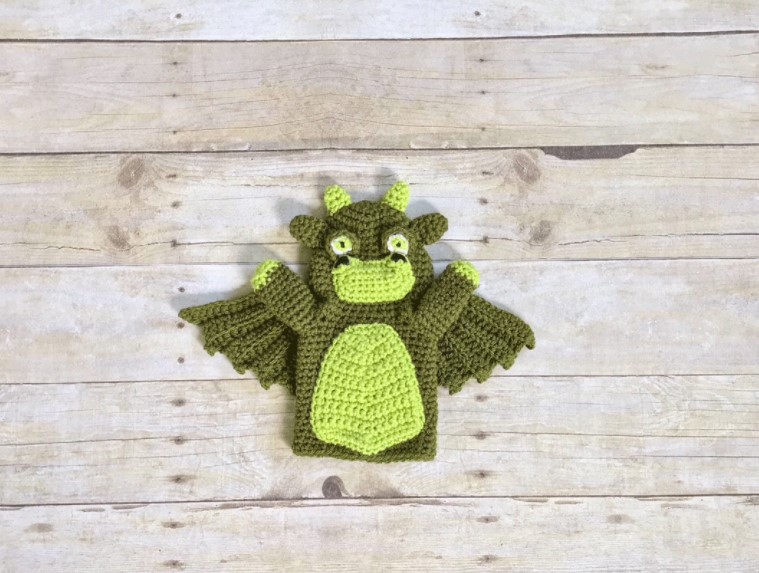 A fun crochet variation of a dragon is this hand puppet. It's perfect if you have kids and enjoy doing storytelling about mythical beasts like dragons! This crocheted fire-breathing beast has its wings opened which gives it a more intimidating presence, but you can customize the original pattern to your liking depending on what type of look fits with your stories.
Vincent the Dragon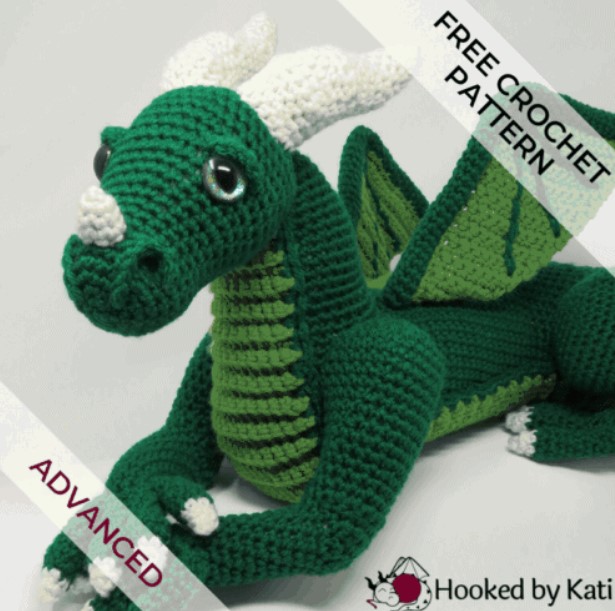 Now is your time to get creative with crochet. Vincent the dragon can be challenging, but he's also very rewarding! He's huge and extremely huggable. You may be thinking that he looks like a scary crochet snake at first glance but look again! His eyes show how loving of a companion he will be for you. It is time to have something as great as this in your life by following this crochet pattern!
Dragon Scale Dice Bag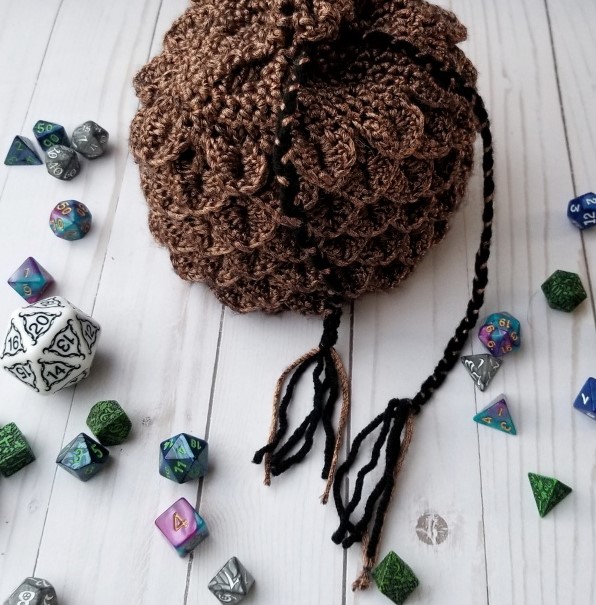 Are you ready to finally crochet a dragon bag? From the picture, the bag looks like a dragon egg. The pattern is meant to create a crochet dragon scales bag to keep the dice. You can adjust this bag as needed – making it larger means more storage space and smaller means it's easier to take on the go. Let's get started now!