"Does my dog need a sweater?" is a question every owner of dogs wonders. Some breeds are indeed more vulnerable to freezing temperatures than others.
Sometimes, it's also difficult to tell whether or not your pup needs an extra layer, but there are some pretty clear signs that they do: short-haired pups, young and old pups with thin coats (like English Bulldogs for example), older dogs that can shiver easily, or senior pets in general – all these dogs require the warmth that only sweaters can provide!
Luckily, we have collected adorable crochet dog sweater patterns so you can make one for them. They're sure to love it!
Stylish Crochet Dog Sweater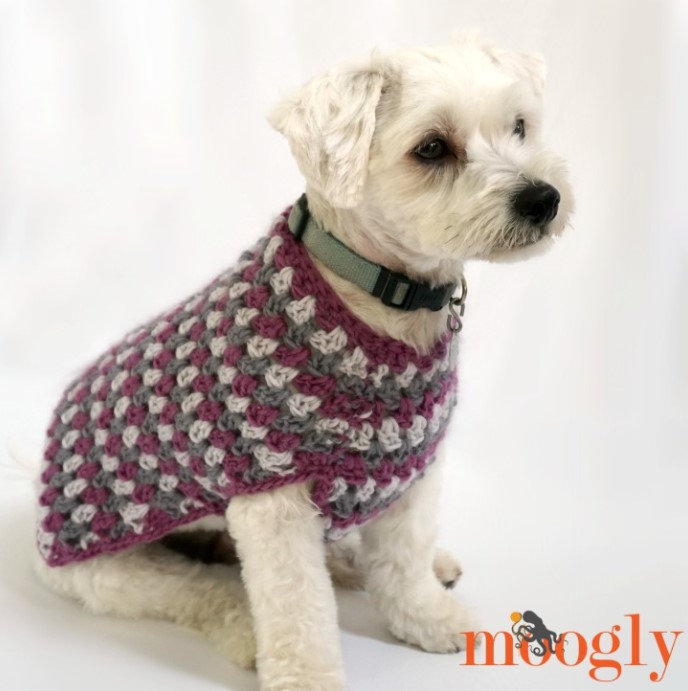 Crochet dog sweaters are so cute and stylish, but they're not just for the cold weather! If you have a fur baby that loves to play outside in all seasons, then this project is perfect. It's made with two parts – back and belly – which can be done quickly if you know how to do double crochet stitches upfront before beginning. Plus don't make it too tight; otherwise, your pup might feel irritated by the snug fit of their new sweater when playing around outdoors because furry friends need some room to move about as well!
Easy Hunter Dog Crochet Pattern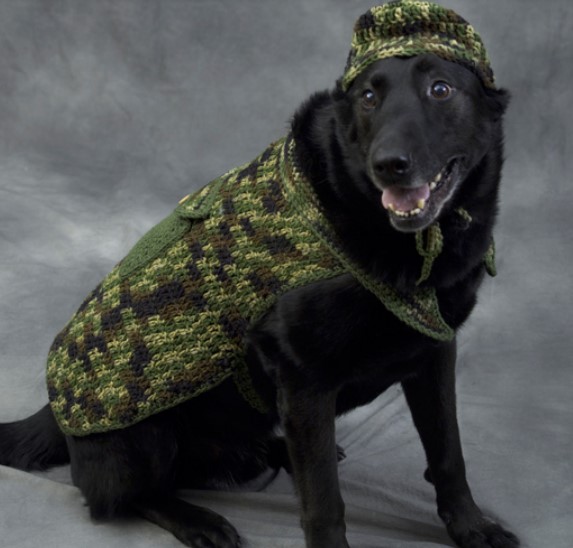 With a camo crochet sweater and hat, your hunting dog will be ready for the job. But what if they chance upon some interesting finds? Equip them with back pockets too so you can store whatever treasures find along their way through any wooded area! The pattern is straightforward to follow; just make sure to measure in advance of choosing which size best suits either medium or large breeds.
Adorable Crochet Sweater for 8-16 lbs Dog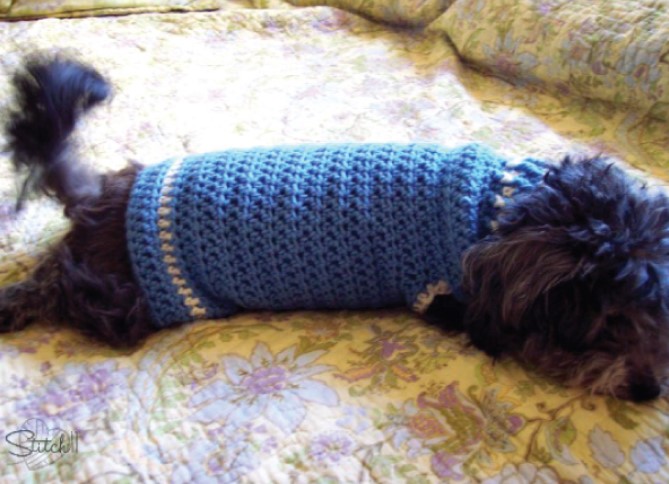 It's time for small dog owners to get their hands on this free crochet pattern! The sweater is made with a simple stitch that can be done by anyone and will fit dogs who weigh 8-16 lbs. It measures 15.5″ long, which allows it to come down just past the chest of your pup (so they'll stay warm), and has an armhole so you won't have any trouble putting it onto them either way!
Sporty Style Sweater
After prioritizing functionality, you need a crochet dog sweater pattern that's simple and doesn't irritate your pup. You've found what you're looking for with this one! The result is stylish while providing the flexibility they need to move around freely – plus there are plenty of colorful yarns to choose from so get started today!
Cowl Neck Crochet Sweater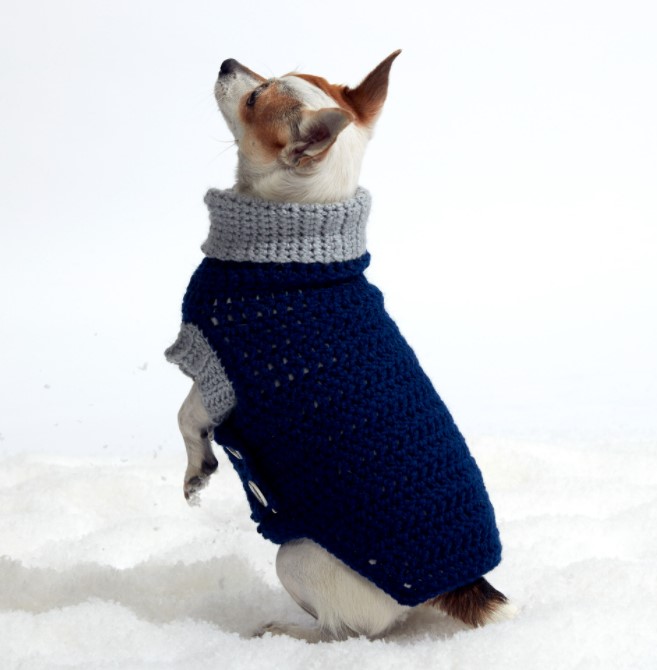 You know how cozy those cowl neck sweaters are! Let your lovable dog feel cozy by crocheting this cute, easy-to-follow crochet pattern. The instructions provide measurements from S to L because you want the sweater to fit just right and not be too tight or loose on its furry frame. This one uses 4 buttons with a 2CM diameter each so they can wear it around their belly – which is an interesting addition that makes them look even more adorable!
Pop of Colors Dog Sweater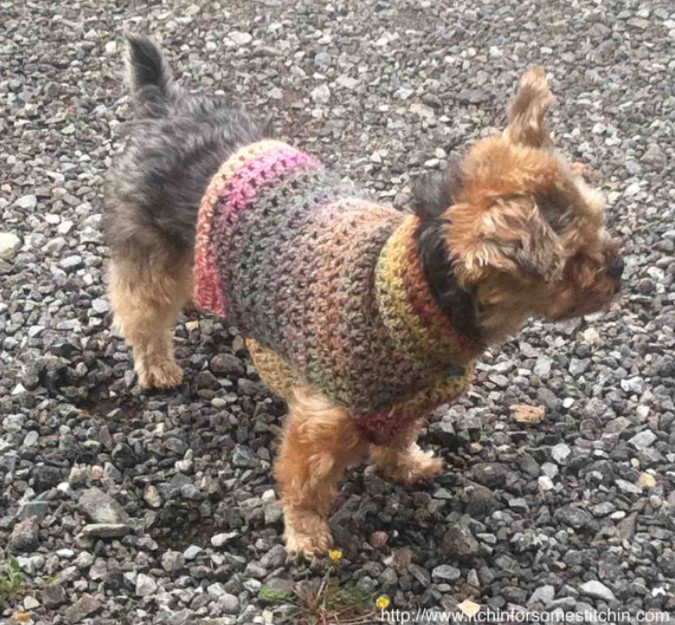 With the cold weather coming, it is important to make sure your dog has a sweater. This crochet pattern will teach you how to create an easy and colorful one that suits any small pup weighing about 10 lbs or not having enough hair or fur to provide warmth; like Yorkshire Terriers! The instructions also provide video tutorials if you get confused by crocheting terminology – perfect for those who don't have much experience knitting but still want their canine companion looking fabulous this winter season.
Spring Striped Dog Sweater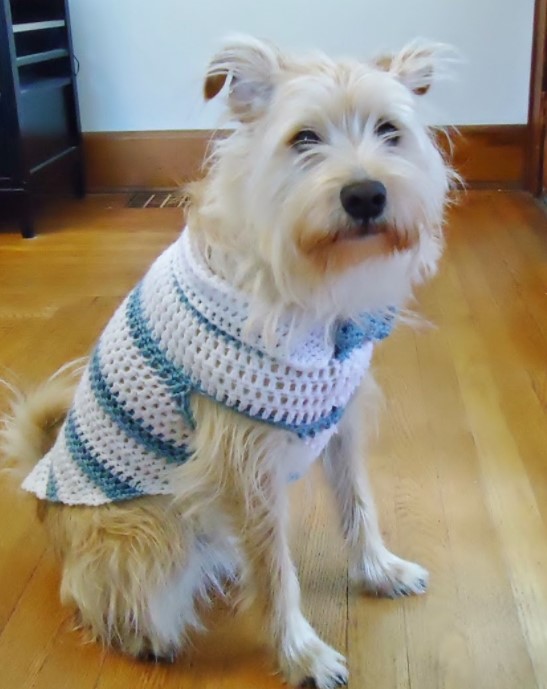 If you're looking for a quick and easy way to add some flair to your favorite pet's sweater, consider adding on an adorable collar with the matching little bowtie! Even though this crochet dog pattern is made specifically for 25 lb terriers with a barrel chest, there is plenty of room in case any adjustments need to be made to suit your lovely dog!
Autumn Stripes Crochet Min Pin Sweater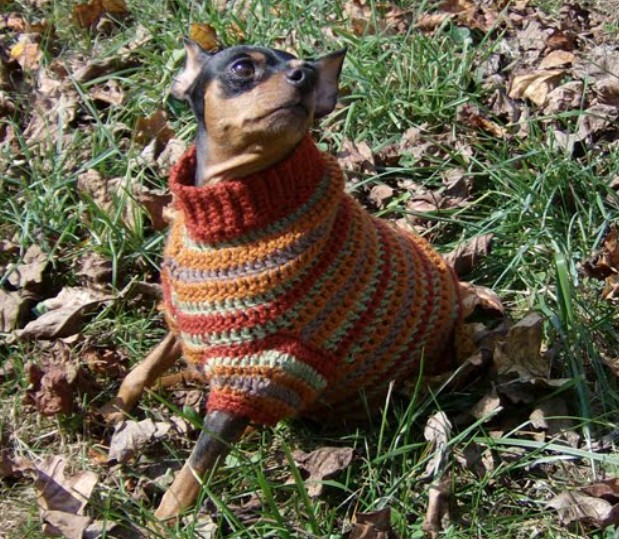 If you want to get inspiration for your next crochet project, then why not follow the seasons? For example, if it's autumn and you're looking for a new sweater pattern that will work with those colors. You can make this dog sweater using dusty green yarns or rust-colored ones like in the picture! This particular design is also unique because of its decorative ribbing on fabric edges and necklines to make this design stand out from others!
Super Simple Crochet Dog Sweater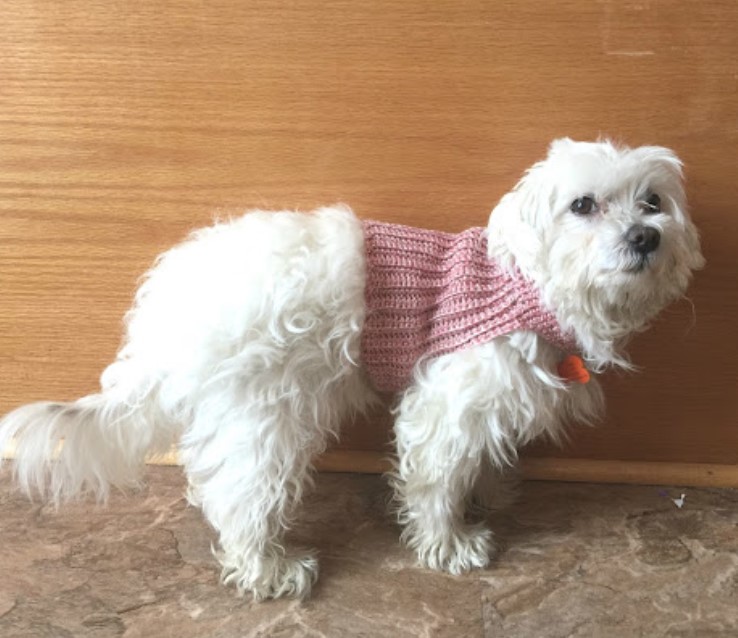 So you've been dying to crochet your own sweater for your pup? This tutorial is the most complete and thorough one out there, with a meticulous step-by-step guide to measuring not only their chest size but also their height as well. If that's still not enough, they have additional tips on how to make sure it fits just right in every way!
Crochet Sweater for A Medium-Size Dog
If you have a medium-size dog weighing 18-28lbs, this crochet sweater is for them. With the measurements of 119″ X 22″, we are certain that your pup won't shiver due to coldness during these winter months! To avoid getting an ill-fitting and tight sweater, leave 1 or 2 inches when measuring their chest so so the result fits perfectly.
Adorable Gingham-Style Crochet Sweater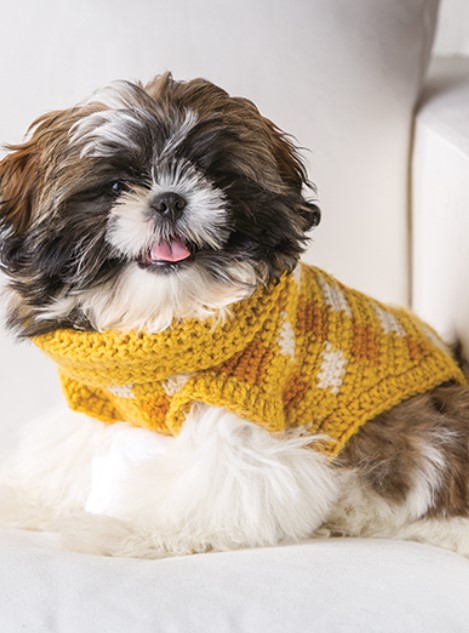 This adorable crochet sweater will make your dog happy because it feels so warm in the thick, snuggly fabric. If you want similar colors to what is shown on the model, then be sure to get lemon yellow with cream and mustard skeins for a cheerful look that matches any mood! To finish this project, you need to sign up for a complete, free tutorial – which is totally worth it!
Cabled Dog Sweater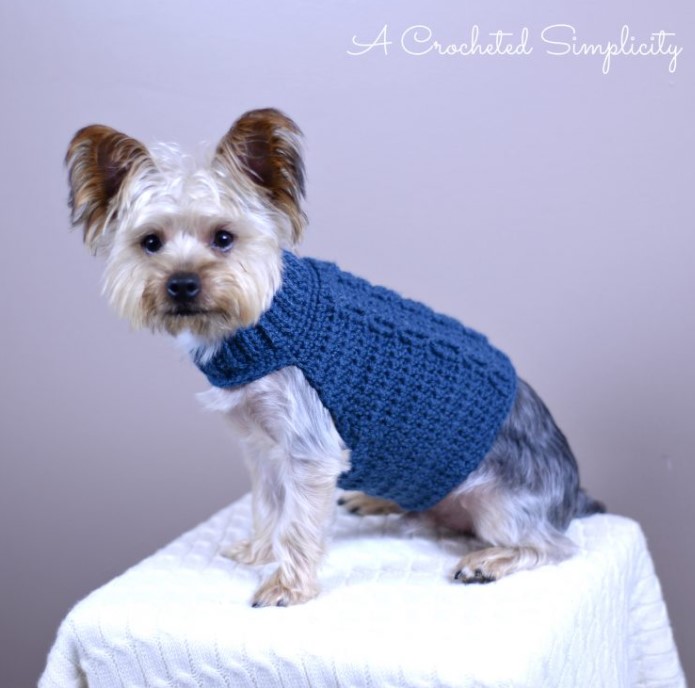 The cabled dog sweater fits the cute pup perfectly. Even from afar, we can all see how warm that crochet pattern is! This particular sweater is made out of denim yarn and has a medium thickness to it so you know that this will provide your much-needed warmth for your pup. Other than the hook, you'll need scissors, a needle, and stitch markers in preparation as well.
Basic Crochet Dog Sweater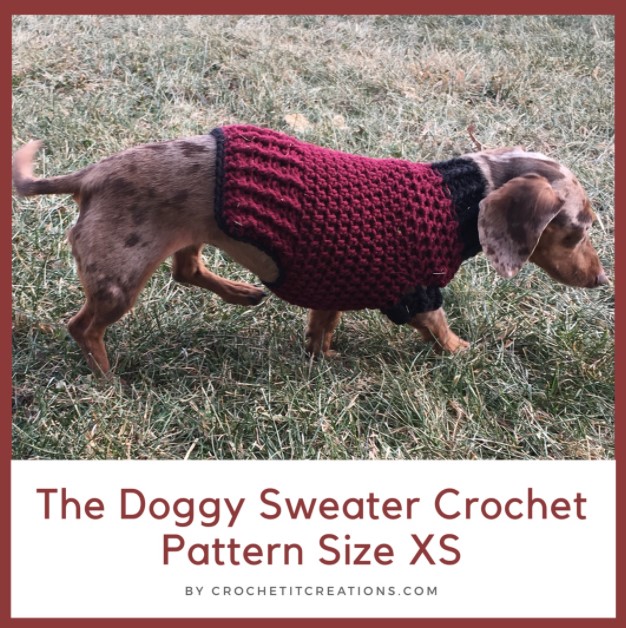 This article is a beginner-friendly guide, providing tips on the basics and assembling instructions for your very own dog sweater. All materials needed, such as 125 yards of worsted weight yarn, can be found at any local craft store. Then, you can make a cozy crochet sweater for a dog weighing 5-10lbs and 12″L X 14″W. Your pup will love this custom-made piece that only took hours to create!
Easy Crochet Dog Sweater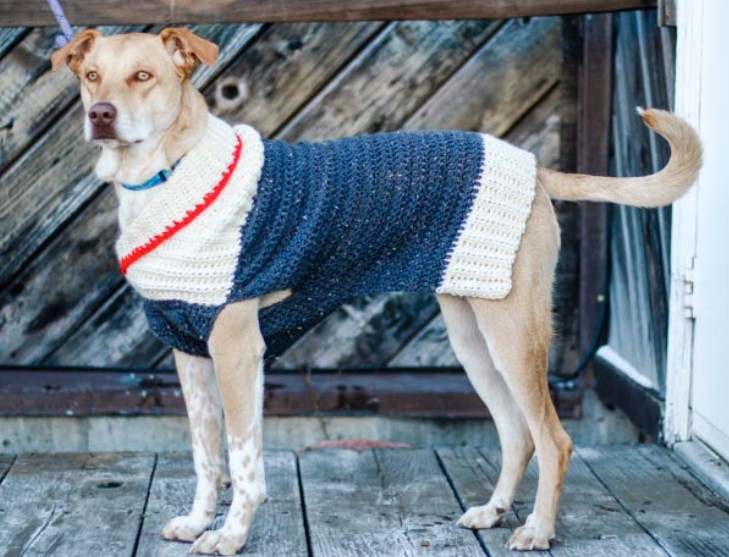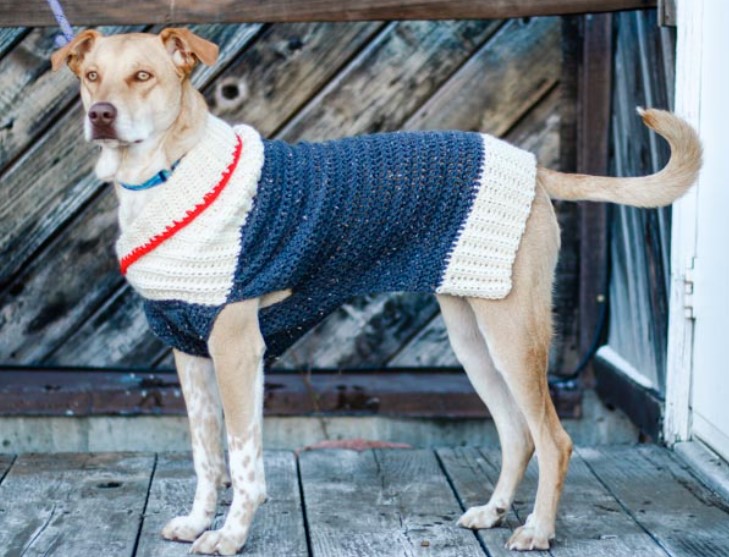 If you are looking for a simple but stylish crochet sweater for your dog, this pattern is perfect. You may do color experiments with it, but these colors look great and work together well already! Also, make sure to have your tapestry needle, 6.5mm crochet hook, stitch markers, and wooden buttons ready before starting the project so they won't be far from reach. You can always count on being prepared like an expert knitter/crocheter should be!
Easy Crochet Dog Sweater Pattern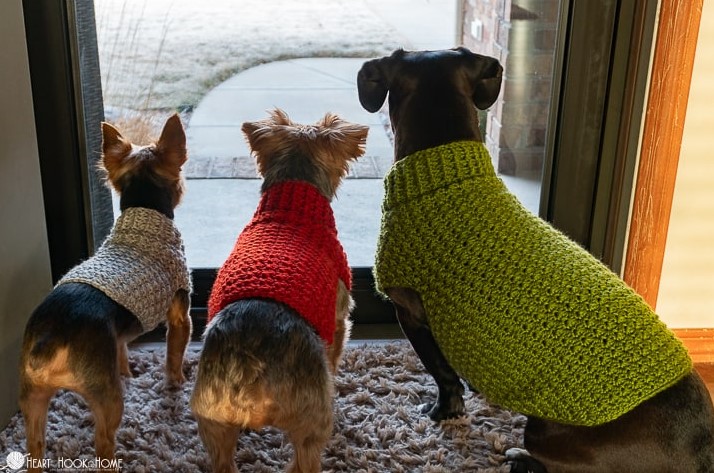 Have you been searching for the easiest crochet dog sweater pattern for your lovely dog? Well, look no further! This pattern is all you need with room for adjustments to make (three different sizes are available – small to medium), you can explore your crocheting skills. Look how comfy they are inside their new crochet sweater!
Free Crochet Dog Sweater Pattern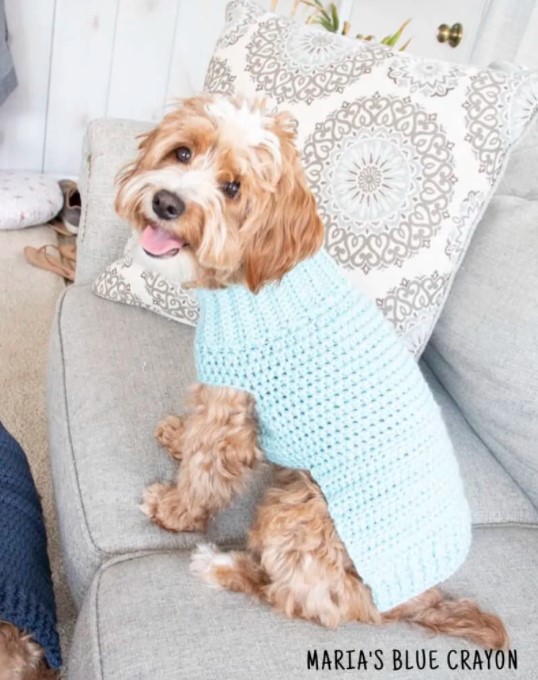 Even your furry best friend hates the cold and you can tell when it's too chilly for them to even leave their doghouse. That is why you need to make a crochet sweater! This simple pattern will take less than one day, and this tutorial provides various sizes based on measurements of your dog so that you obtain the right gauge.
Bumble Bee Dog Sweater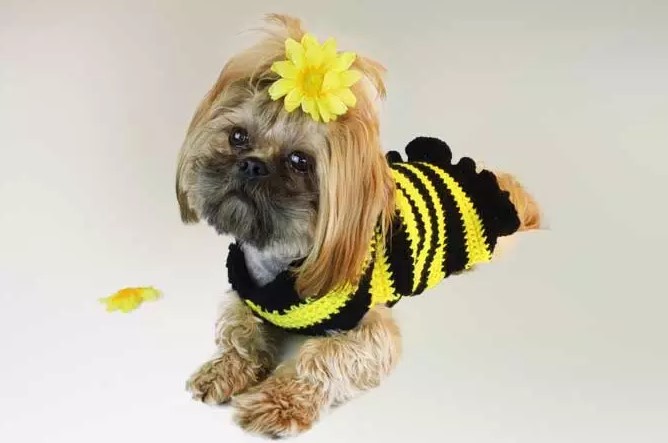 Do you recognize what the black and yellow colors represent? Yup, a bee. Precisely, the bumblebee species. Other than the cute flower addition to the dog's costume, the bumblebee sweater itself is made with a ruffled edge – which might not be suitable for a boy dog. This easy crochet pattern also provides video tutorials for close-up details on how to crochet the sweater, either using right or left hand so everyone can follow along without any trouble!
Crochet Basic Dog Sweater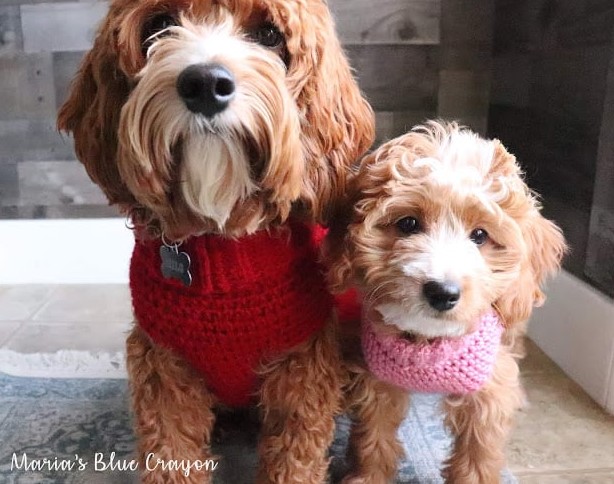 If you are a beginner crocheter and have been practicing basic crochet stitches, this free pattern is a must-try. You will make sweaters for small and medium-size breeds but can adjust the pattern however you'd like. Try sweater on your dog to ensure it fits perfectly on your pup!
Cozy Crochet Dog Sweater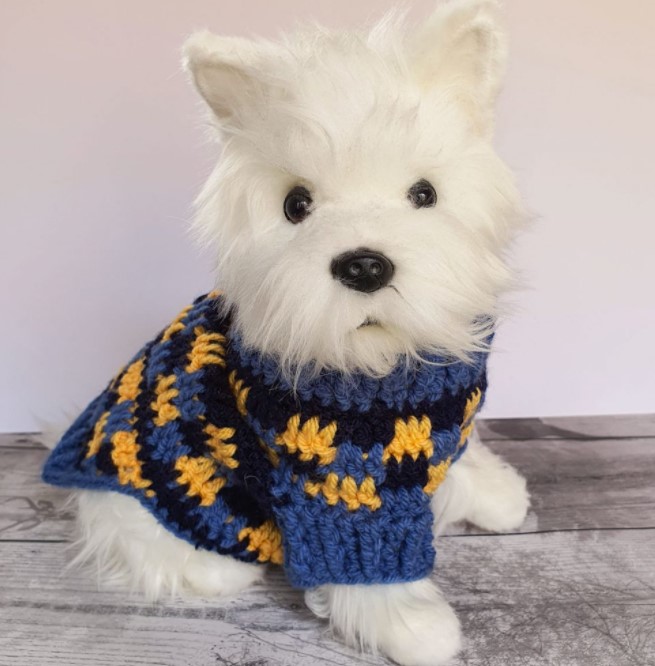 A super cool crochet dog sweater that you're going to love making for your furry best friend. This design has been published in a magazine so it's definitely got the seal of approval from many people. Start by measuring your pet (neck, chest area, and back), and make sure that the yarn is soft enough not to irritate them!
Caron Textured Crochet Dog Coat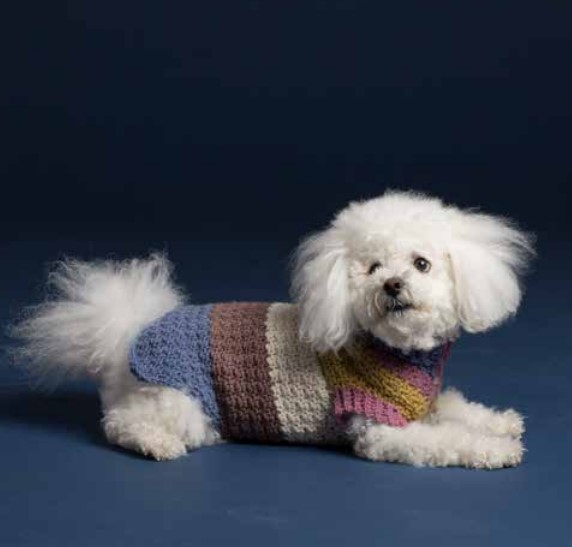 With this cozy and warm crochet sweater, not even a chilly winter can bother your precious pup. The mixture of these colors is also a great choice to make your lovely friend looks energetic and playful. For ease in knitting, this free crochet pattern offers detailed step-by-step guidance from making the neck rubbing down to assembling the leg edging and leg band!
Easy Crochet Pup Sweater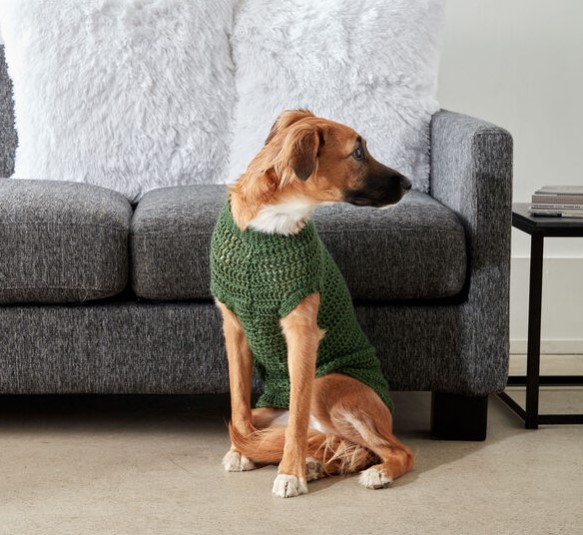 Your pup will stay comfy in this crochet dog sweater. The peaceful color of sage green brings more comfort to the pet, especially with a free pattern available for any size from S-XL! You'll need 4mm and 4.5mm crochet hooks – use your smaller one when making the neck ribbing so that all sides can be assembled seamlessly afterward, and there you have it! An adorable crocheted outfit for your furry friend!
Violet Dog Sweater with A Rosette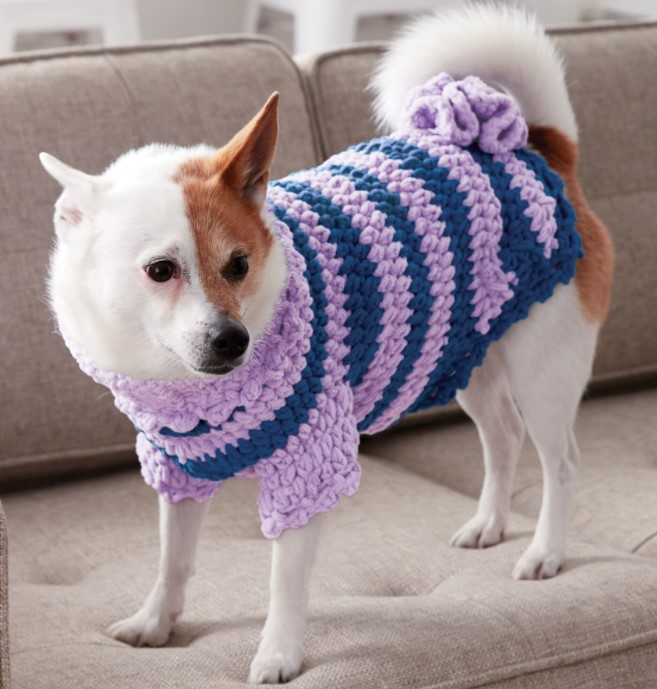 Violet is such an amazing color because it radiates positivity. This violet crochet sweater will surely make your dog happy, moreover, it looks adorable in it. For extra comfort, this pattern secures the neck ribbing with a picot border so it also has a decorative touch. For extra cuteness, a rosette is added near the pup's tail which is also the last step in the pattern – sewing the rosette to the coat.
Colorful Striped Dog Sweater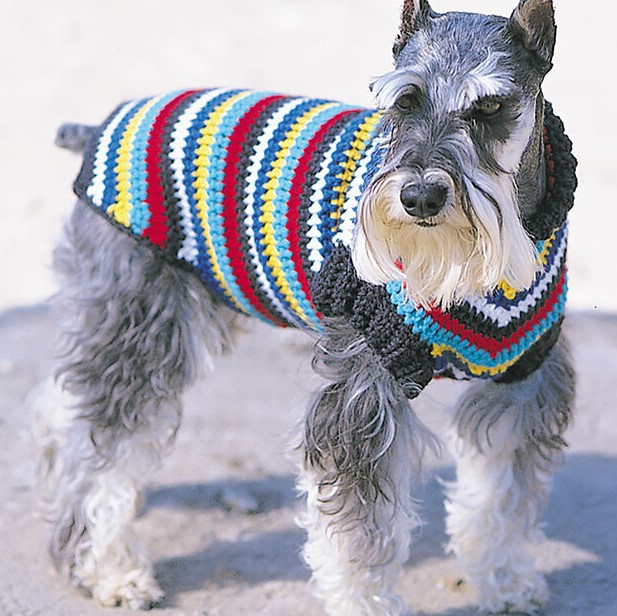 Wearing this crochet sweater, your pup will be delighted. The colorful pattern surely brings more joy to the pup. There are 5 colors and 1 main color that will be repeated in 6 rows to create the stripe pat thoroughly. If the neck opening seems too tight, adjust as needed before dressing up your furry friend!
Fiery Red Crochet Sweater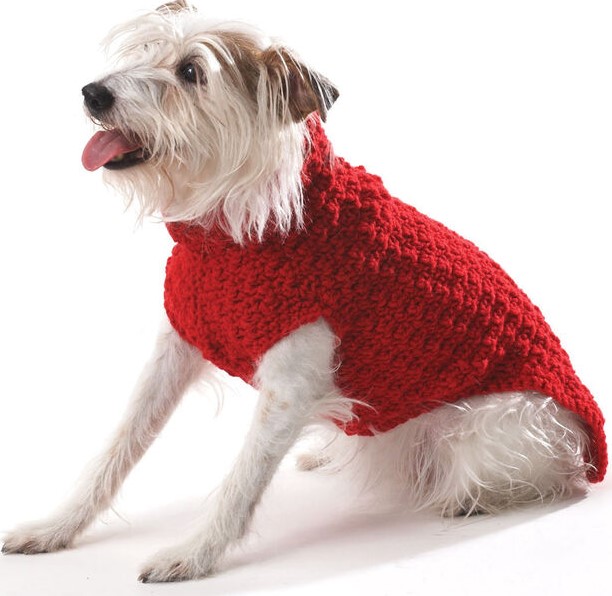 The red color immediately catches your eye, and you know it's perfect for the pup in your life! As you stitch along with a 5mm crochet hook, remember that dogs come with different measurements – but no worries, this tutorial has included sizes ranging from S-M-L to XL depending on how big they are. When finished with the scarf, watch as your dog feels happy and warm throughout its day thanks to its new crochet sweater!
Beginner-Friendly Crochet Dog Sweater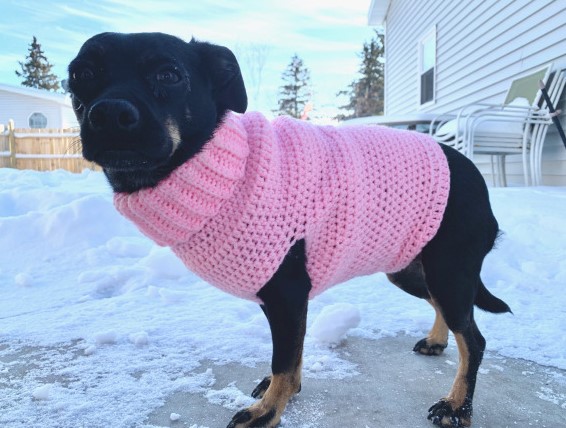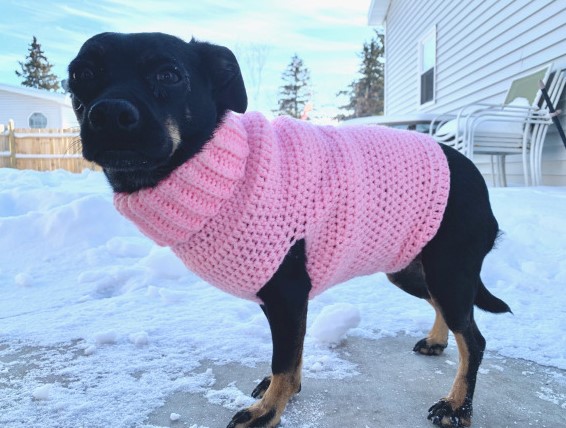 Making a crochet sweater will help your pup enjoy the winter weather. When you are done, he or she can play in the snow without getting cold! To make this project successful, you need medium-pink yarn (preferably petal pink but you can choose your favorite color too) and a 5.5mm hook. Once finished with crocheting, the 15lb dog should be able to fit into it comfortably—like the one pictured here!