A birthday party is a joyous and memorable celebration. It is a time to enjoy the cake and share a laugh with family and friends. To make the celebration more magical, you need to know how to make birthday party decorations.
Don't worry, we have the best DIY birthday decoration ideas for you! Whether you're looking to brighten up a table, dress up the walls with colorful garlands and balloons or set the mood by adding some candles – we've got it all!
Our list of ideas has awesome kid-friendly decorations which would also look great at an adult's party too! Get ready and be inspired by our most creative decorating skills that'll make any celebration just as special.
3-D Rainbow-Colored Balloons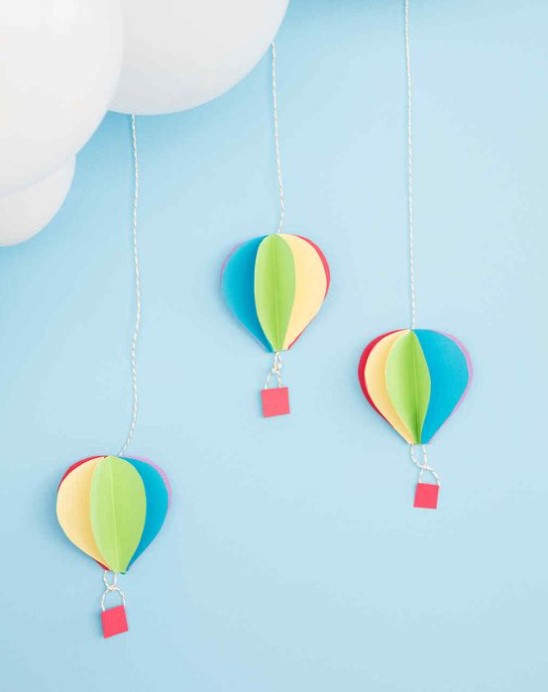 The first decoration you can make for your child's birthday party is a paper hot air balloon. The idea may be perfect since it reminds kids of being on an adventure, floating high in the sky! Kids will also love making and decorating their own wild-style 3D hot air balloon. Simply print out a template, cut it out with scissors, glue on some cardstock pieces, then use baker's twine to tie up all those fluttering colors!
A Cherry Garland for An Upcoming Kid's Party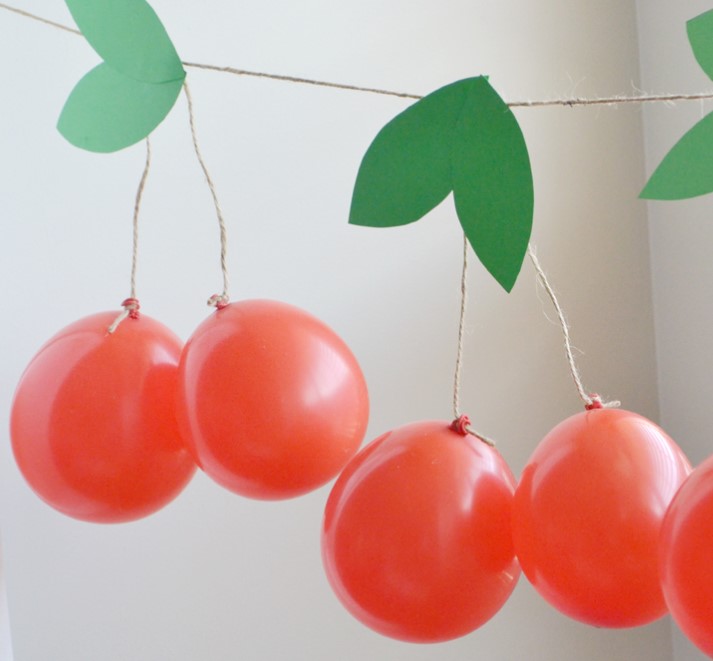 Cherry balloon garland is a simple, last-minute birthday party decoration that can be used for both children and adults. It's colorful and eye-catching without being over the top or complicated to make. You need red or pink balloons, green card stock paper, string/twine of any color you like, scissors, and glue. If it's not cherry, then you may replace it with another fruit such as blueberries!
'Happy Birthday' Garland with Bright Circle Colors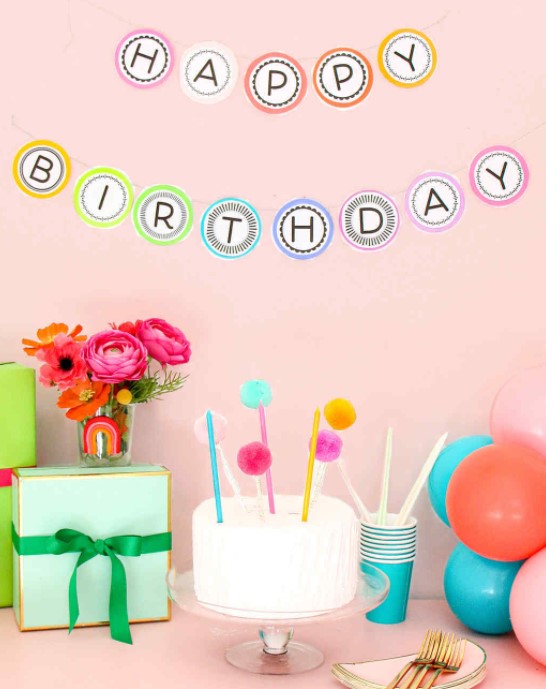 Your birthday celebration won't be complete without the perfect decorations. Why not pick out a festive banner? They come in all sorts of designs – from a simple 'Happy Birthday' to a cheesy message like "I love you!" written on your favorite cardstock paper colors (the letters and circles are already provided). So, string up some streamers, grab a few banners and you're ready to party!
Fun and Whimsical DIY Cupcake Liner Garland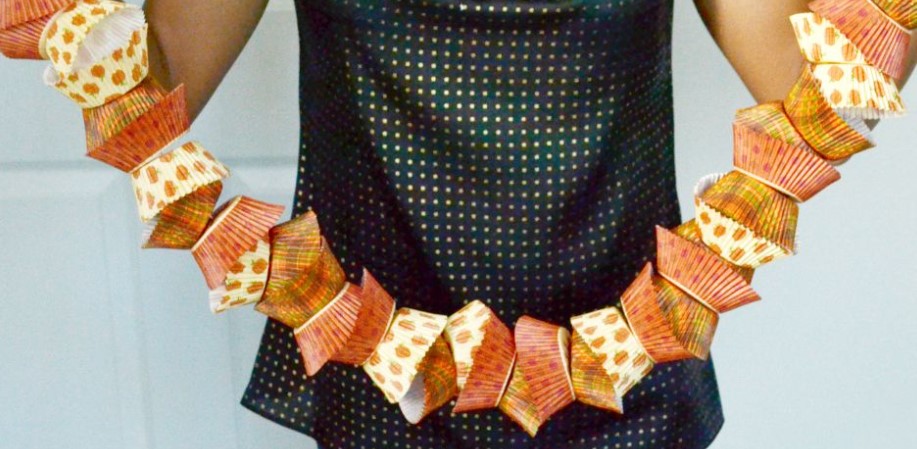 Creative party-goers can make a festive cupcake liner garland for any occasion. For Thanksgiving, use brown and orange liners to match the colors of your feast. If you're throwing a birthday bash, find some red or pink cups with fun shapes like cakes or balloons–they'll look adorable! Work carefully so you don't tear or crumple up the liner paper.
Rainbow Balloon Arch for A Magical Birthday party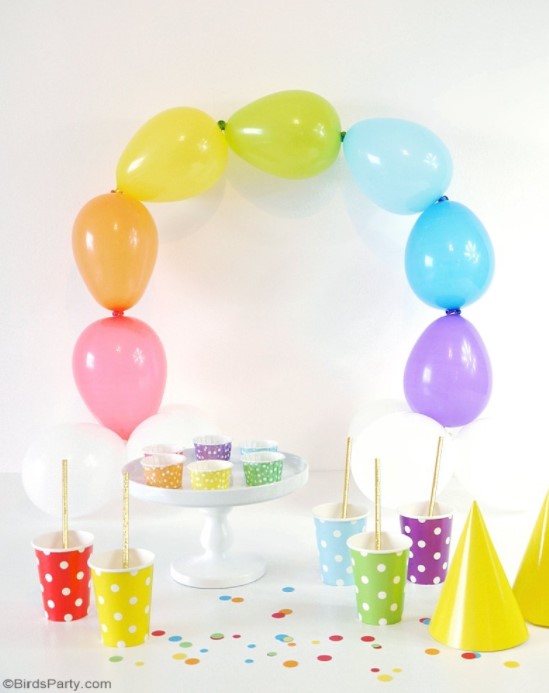 Balloons are the life of any party, bringing color and vibrancy to an otherwise dull event. If you're looking for a fun way to add some new excitement to your birthday plans, try assembling the balloons to create arches. You can use these as tabletop decor, backdrops for photo booths, or even wall art decoration!
Instagram-Worthy Photo Backdrop for Parties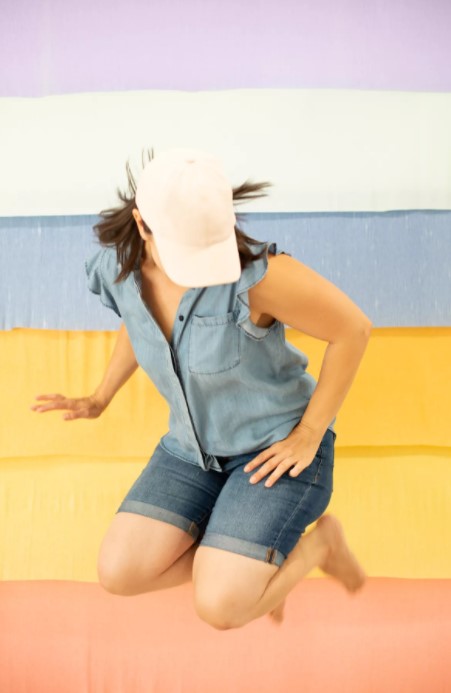 Sometimes it's hard to get a good shot of all guests. But, if you add an Instagram-worthy backdrop that is not just plain white or black, then everyone will be sure to have their photos taken. All you need is crepe paper of different colors, scissors, and glue dots! The best part about this project? It's super easy for beginners!
DIY Splatter Paint Popsicle Stick Runner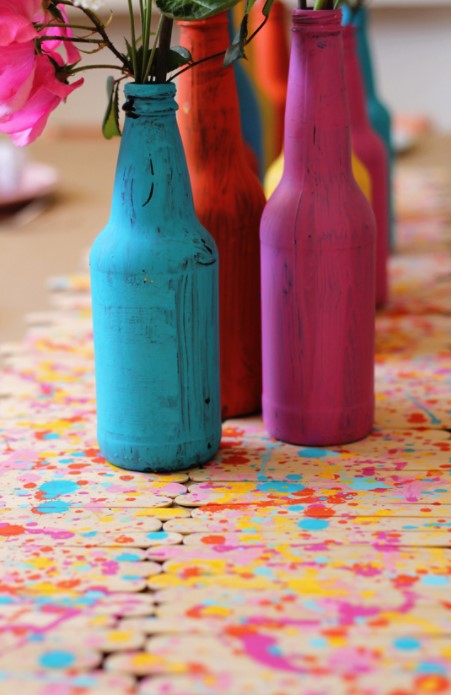 Without exception, the dessert table also needs birthday decorations. And that will be this fun and artsy popsicle stick runner made out of colorful paints! This very inexpensive party supply is not only easy to make but is lots of fun because all you have to do is splatter different colors of paint. Before long, your table will be looking spectacular for party guests!
A DIY Tassel Garland That Is Simple and Cost Effective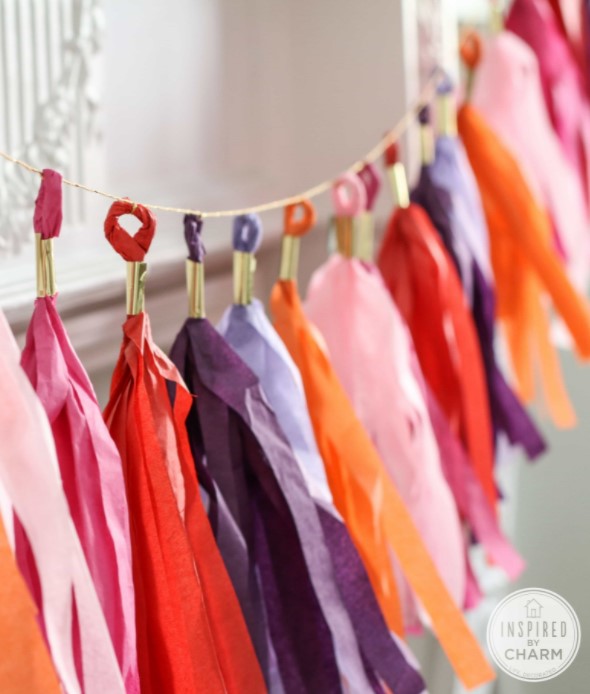 Tired of the same old birthday decorations? Want something that will make your party stand out and say "Party Here!"? This colorful tassel garland is perfect for you. It consists of tissue paper, which means it can be any color scheme or pattern to match your event. You'll need some supplies: tissue paper, scissors, decorative tape, and string or twine; all are inexpensive and easy-to-find items in most craft stores.
Pretty Watercolor Party Supplies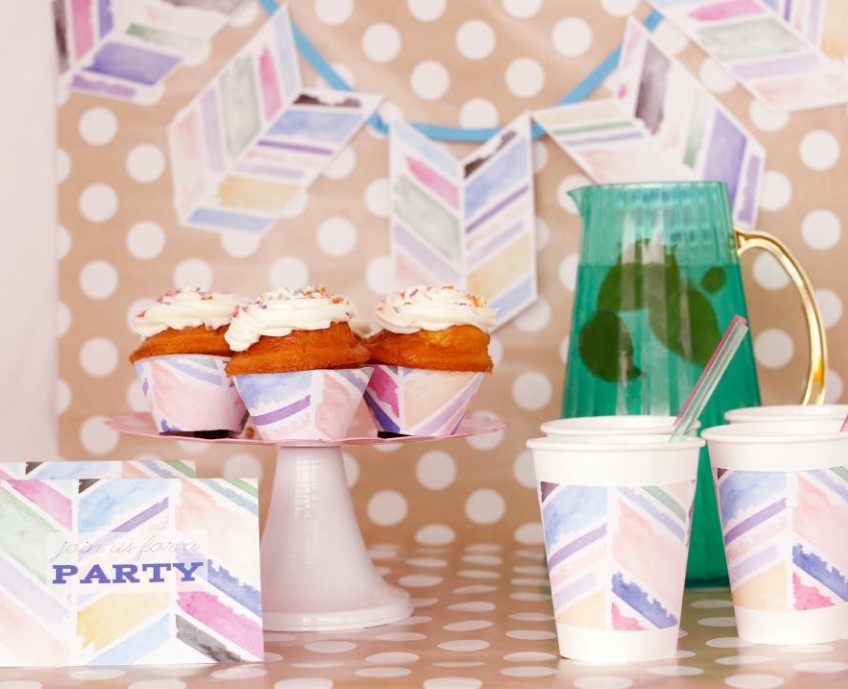 Experimenting with different colors can be a fun way to give your birthday party an extra flair. This watercolor set is relaxing than extravagant. Plus, the chevron design features soothing pastel shades in soft hues. The painting is scanned onto paper using a home printer before being multiplied on various items like cups, garland ribbons, and cupcake liners so it looks as though you went through hours painstakingly hand-painting each one!
Watermelon Banner for A Summer Birthday Party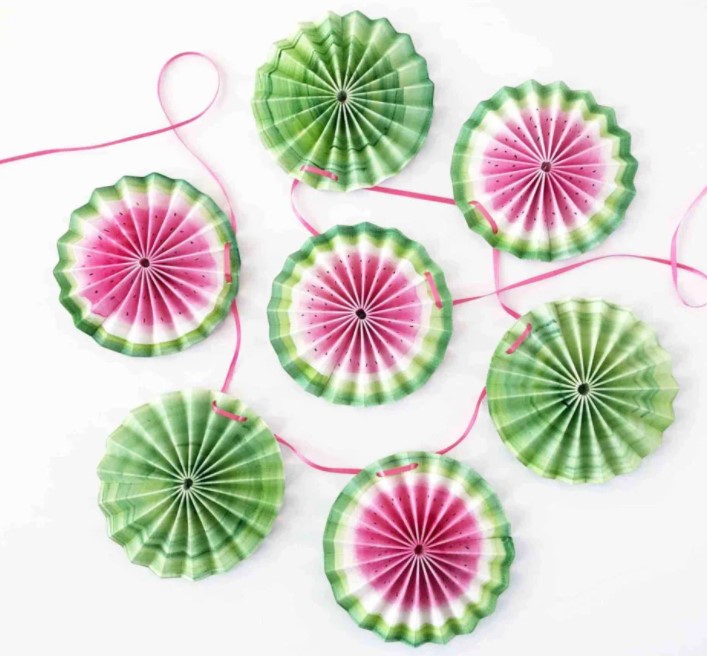 Do you know what to do when summer comes around and you're celebrating your birthday? Get a watermelon medallion banner! Watercolor paper is used and painted with simple horizontal stripes (not difficult at all!), then wait until the paint dries. It'll look amazing when it's folded–perfect for a birthday decoration during this season of sunshine.
Oversized Paper Dahlias from Scrapbook Paper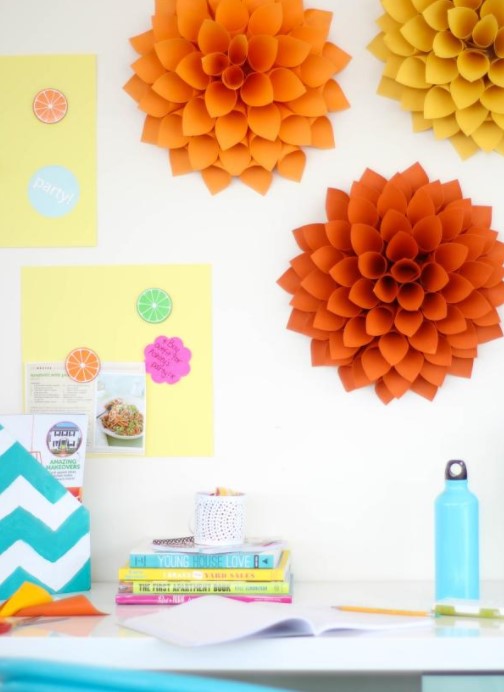 A plain wall at a birthday party? Big NO! Let's transform this flat surface into something more exciting with giant paper dahlias. These gorgeous party decorations are made of scrapbooking supplies in your favorite color and take some time to make the cones, but when they're finally done it only takes about fifteen minutes to assemble them for a stunning decoration that will last all day long!
Hot Air Balloon DIY for Sweet Centerpiece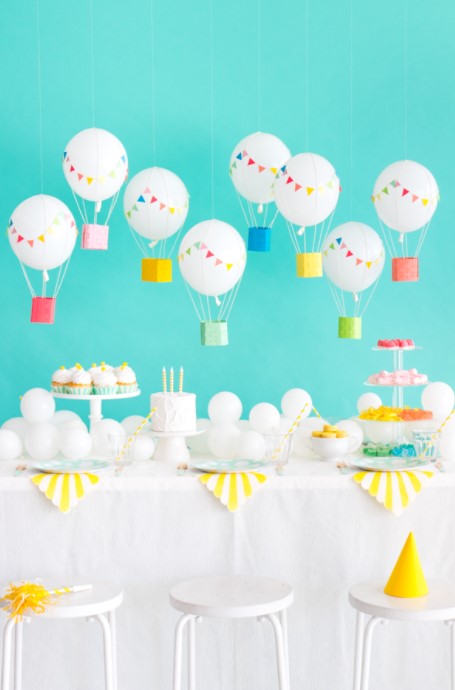 A fantastic birthday party needs to have a theme. If you or your kid are fans of air travel, hot air balloons will make excellent decorations for the event! These decorations are using actual balloons and all that's needed is some cardstock paper so they can be transformed into baskets – this way, colors can be added to an already attractive atmosphere!
Adorable Paper Flowers Using Cupcake Liners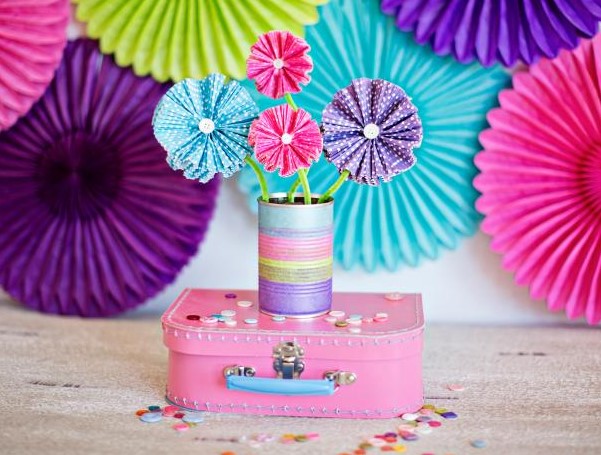 Looking for a party centerpiece? Well, here you go, a vase full of paper flowers made of cupcake liners. The amount of liner paper you need depends on how many flowers you want to make. Here, 8 cupcake liners are used per flower. It's quick and easy! This project can be done by the whole family in just an hour or so.
A One-of-a-Kind Booth with Props and A Backdrop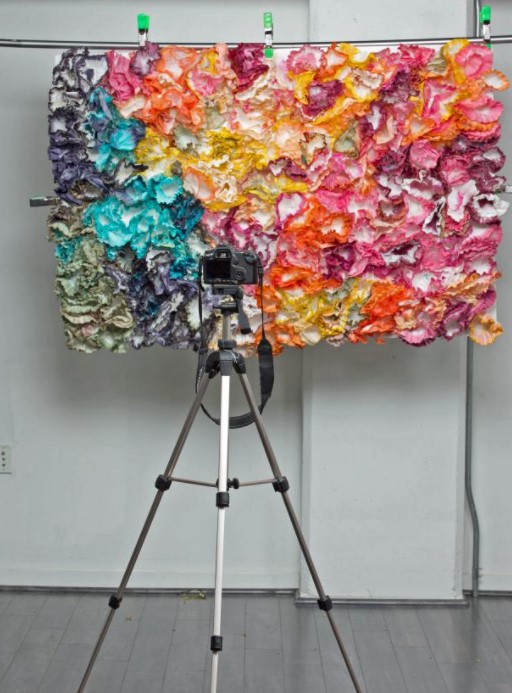 A party without a photo booth is like pizza with no toppings. So this is your chance to know how to set up the perfect area for snapping some memories and completing your decorations! The photo booth needs a backdrop which you can DIY from our selection in this list, plus it requires more equipment: tripod stand, camera mount, and then props – we have templates available below so you don't need to make them yourself.
A Fun 'Hooray!' Backdrop for the Focal Table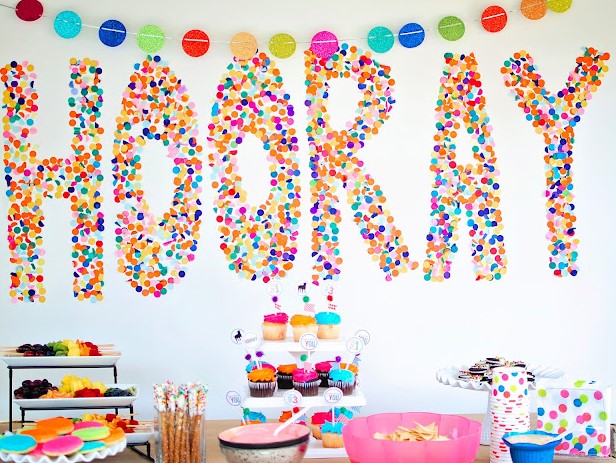 A focal table at a birthday party must be filled with exciting decorations. Other than the cake and cupcakes, have you thought about a fun backdrop? This (less than) $15 'Hooray!' backdrop is made by sprinkling confetti on a laminated board surface where Mod Podge glue has been spread beforehand.
One-of-a-Kind Metallic Striped Glassware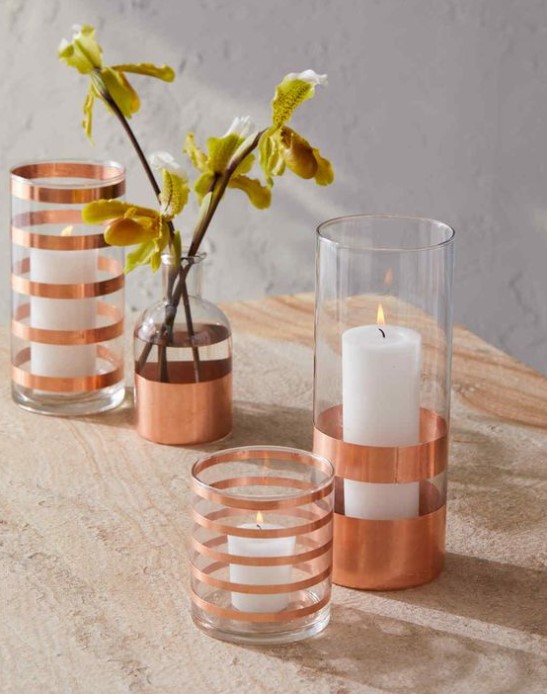 The only way to create elegant birthday decorations is to add copper tape to the glassware used for the party. The metallic shine from the tape turns the glassware into stylish party supplies–perfect for minimalist adults but modish. You can also use this party decor for an industrial or rustic-themed birthday!
retro-inspired Gumball Machine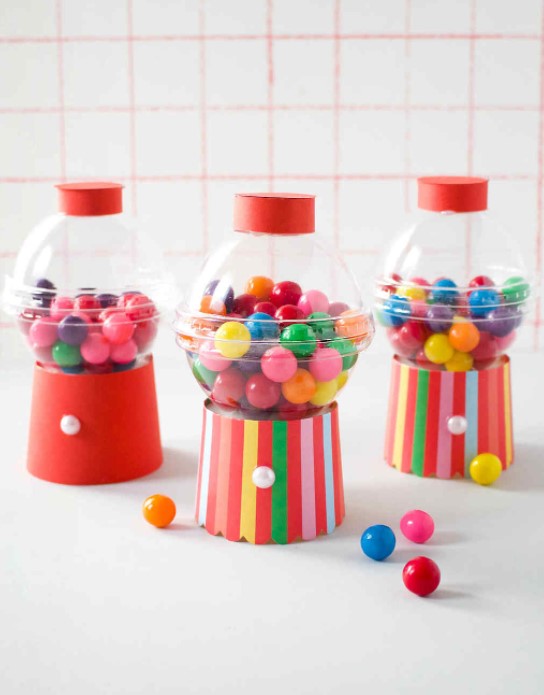 Design a birthday party that has a vintage flair with the help of easy-to-make gumball machines. Paper cups and ice cream dome lids are all you need to create this colorful party decoration for your next big celebration–no matter what age group is attending!
A Simple Backdrop with Party Confetti Wall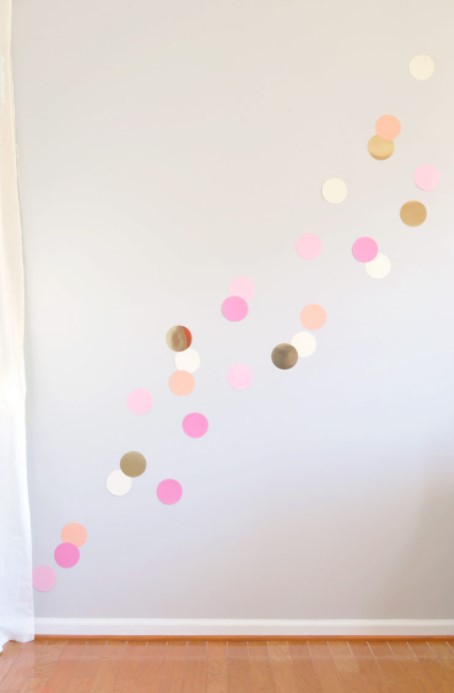 It's not good to overdo a backdrop for a photo booth idea because it'll divert the attention so let's go with a simple confetti wall. To create the confetti, you can use a circle cutter to cut the colorful cardstock paper or simply buy craft stores confetti for an easy and quick solution. Be as creative and artsy as you want when arranging the confetti to the wall!
Silly but Endearing Photo Birthday Party Hats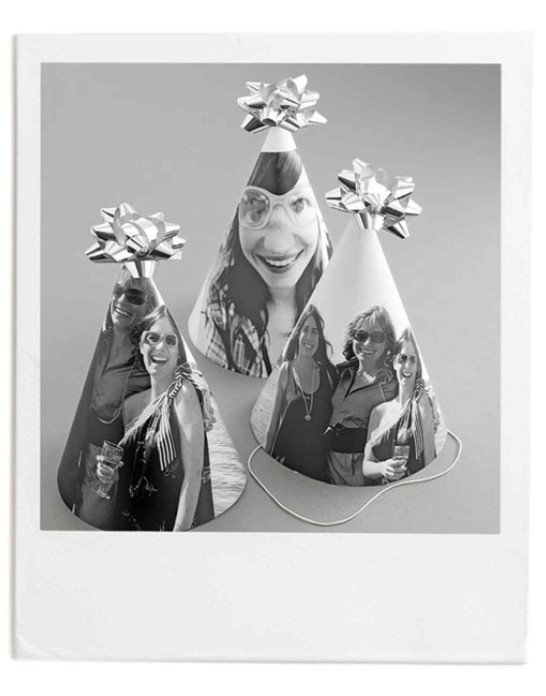 A birthday party is a special moment where laughter and funny stories are shared among friends and family. Make the laugh even more hysterical with silly (but endearing) photo birthday party hats! To top it off, glue on some shining silver bows to make an extra statement of celebration.
Dahlia Pom-Poms for A Cheerful Birthday Party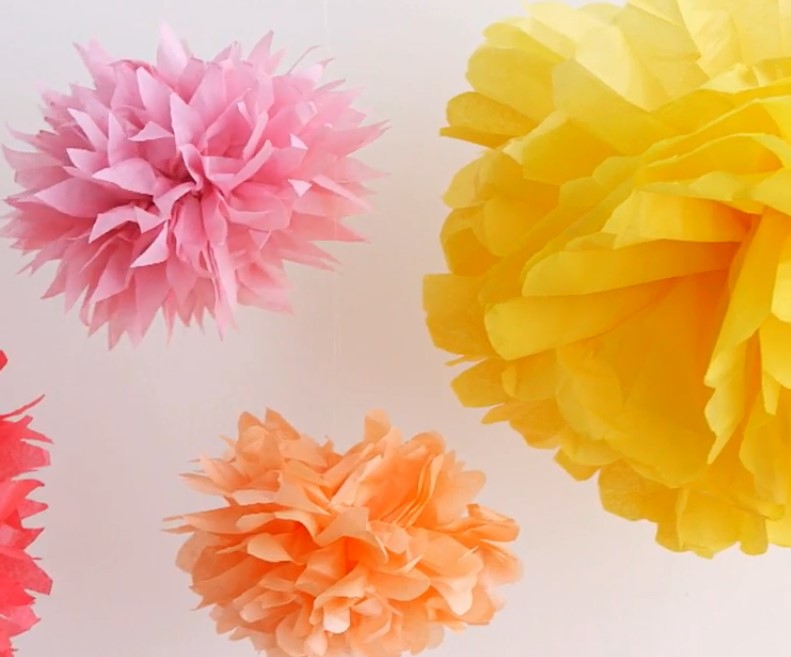 Create a cheerful ambiance for your next birthday party by crafting these tissue paper pom-poms. These easy-to-create decor items will make the once-in-a-year bash festive and memorable without going too far over the top. The pastel colors are peaceful and soft so they're perfect if you need something calm enough that won't overwhelm guests.
Decorative Eggs for A Colorful Party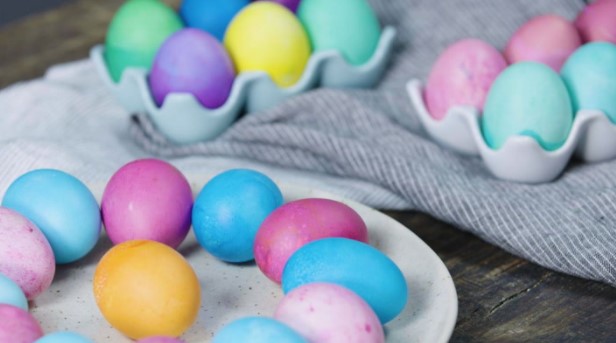 Decorative eggs can be enjoyed for all sorts of holidays such as birthday celebrations for kids. These edible gems are sure to delight anyone who stumbles across them. To make your eggs safer to be eaten, use food coloring instead. You can add just a little ribbon detail around their topsides or some stickers applied in fun patterns like polka dots or stripes down the side- it's up to you how much bling is appropriate enough. Just remember that they must be edible!
Adorable Chalkboard Letters Cake Bunting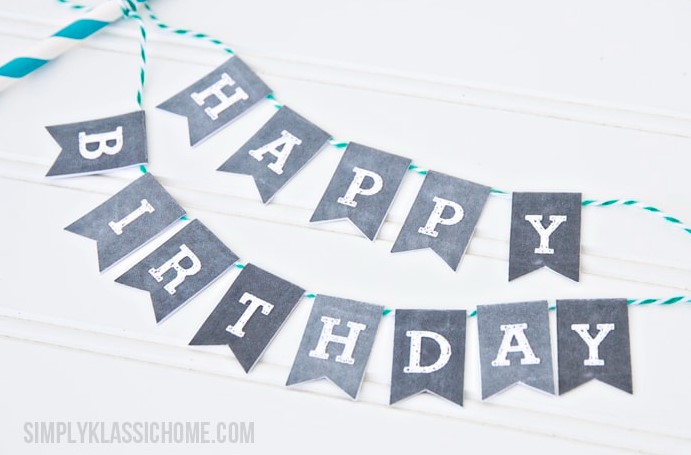 A birthday is a rare occasion because it happens only once a year. When it comes, make sure everyone can see that today's your day! Simply by making this chalkboard-letters bunting for the cake or pies that you're serving at your party, no one will forget to wish you well. Don't worry—the website below has provided free printable templates for each letter of the bunting!
A Festive Colorful Banner Floating Over the Table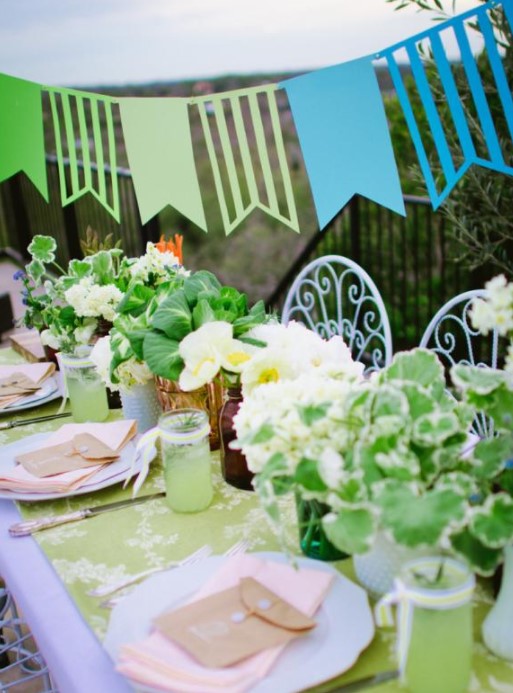 If you're looking to spice up your outdoor birthday party, look no further than our over-the-table flag banners! There's no better way to bring a celebration in the outdoors than this idea. The best part about these flags is that they can stay on display as long as summer lasts. They come with printable templates so all you have left to do is pick out which colors match your theme. Let's get started designing them today!
Cuteness Overload with 'Sprinkled' Birthday Party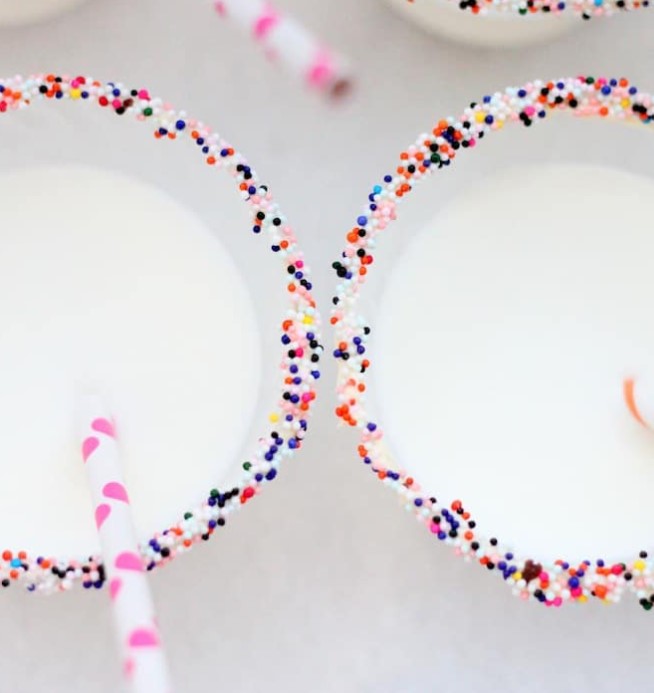 If you're looking for the perfect way to celebrate, look no further! We have a birthday party that's sure to be every child's dream. This is the "sprinkled" party! All of your and your kids' favorite food will come with sprinkles on top so this really is one colorful moment. For those who are health-conscious, there's also veggie without any sprinkle toppings too!
The Easiest Party Decor Zig Zag Accordion Streamers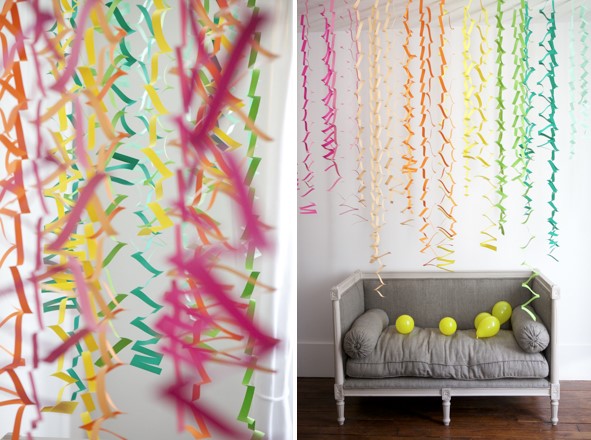 For those who want a more festive but not too much touch, these zig-zag accordion streamers are perfect. All you need is colored paper and scissors to create your DIY birthday decorations for any age group. The best part about this easy project is that it doesn't have to be precise, even crooked cuts will turn out just as great!