The holiday season is here and that means it's time to decorate for Christmas! So if you're not sure what to do with this year's tree, or you just want some new ideas, we've got 31 DIY Christmas Tree Ideas for your home.
There are many different types of trees on this list, some are quick and easy to make, others take more time but they're also bigger and more dramatic.
Choose the type of tree that will work best with your space so you can enjoy your holidays even more!
We hope this list of projects inspires you as much as they did us!
DIY Felt Christmas Tree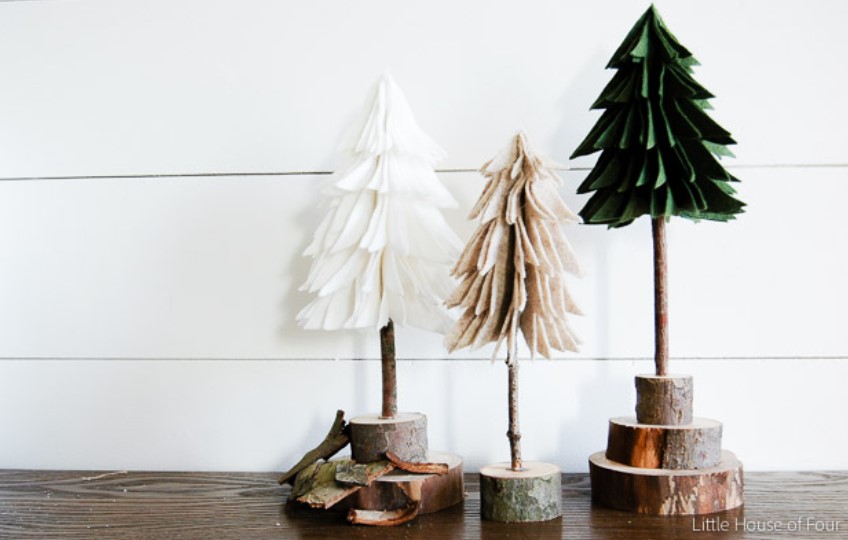 This mini Christmas tree is made from wool felt glued on a pine stick to mimic a real pine tree. It's a fantastic way to make a Christmas tree decor as well as centerpiece for cheap.
DIY Ornamented Cone Christmas Tree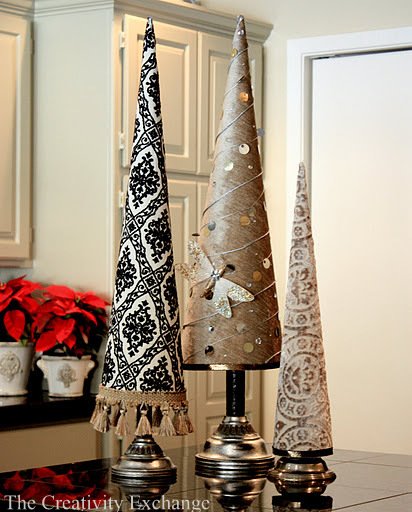 You can DIY your very own Christmas tree this year! It's made from cardboard wrapped with beautiful ornaments, and it only takes about five minutes to assemble.
DIY Cactus Christmas Tree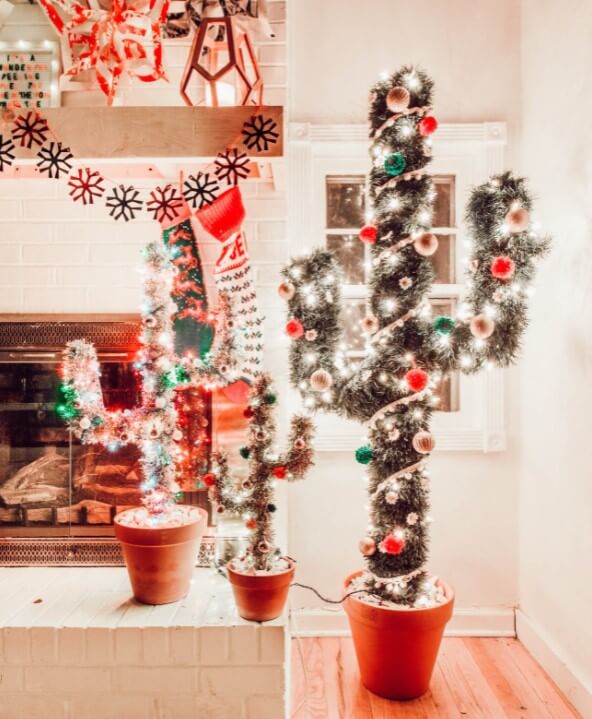 You will never look at a wooden Christmas tree the same way again when you make this cool cactus Christmas tree. All it takes is some PVC pipes, garlands and christmas light to transform your living room décor in no time!
DIY Christmas Tree from Bamboo Skewer and Paper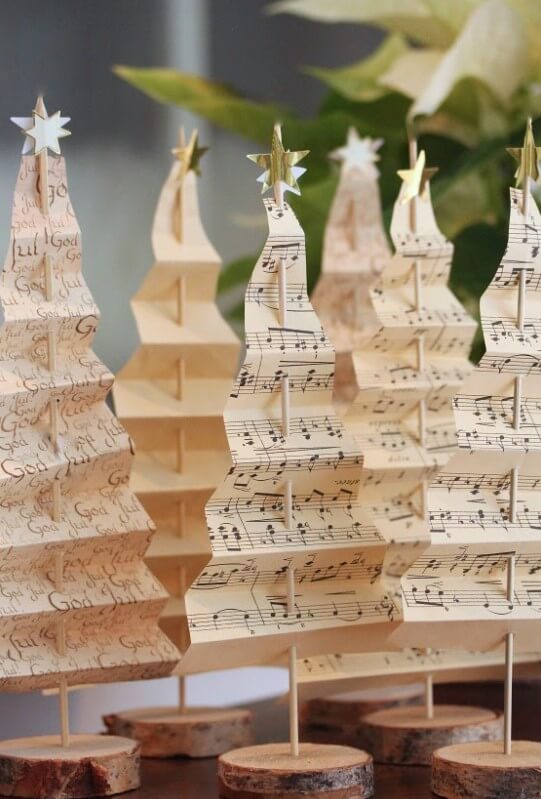 This is a simple way to have the merriest mini Christmas tree you can imagine. All it takes are sheets of patterned paper, cut them into triangles and fold like an accordion before punching holes in every gap with skewers.
DIY Mini Christmas Tree from Yarn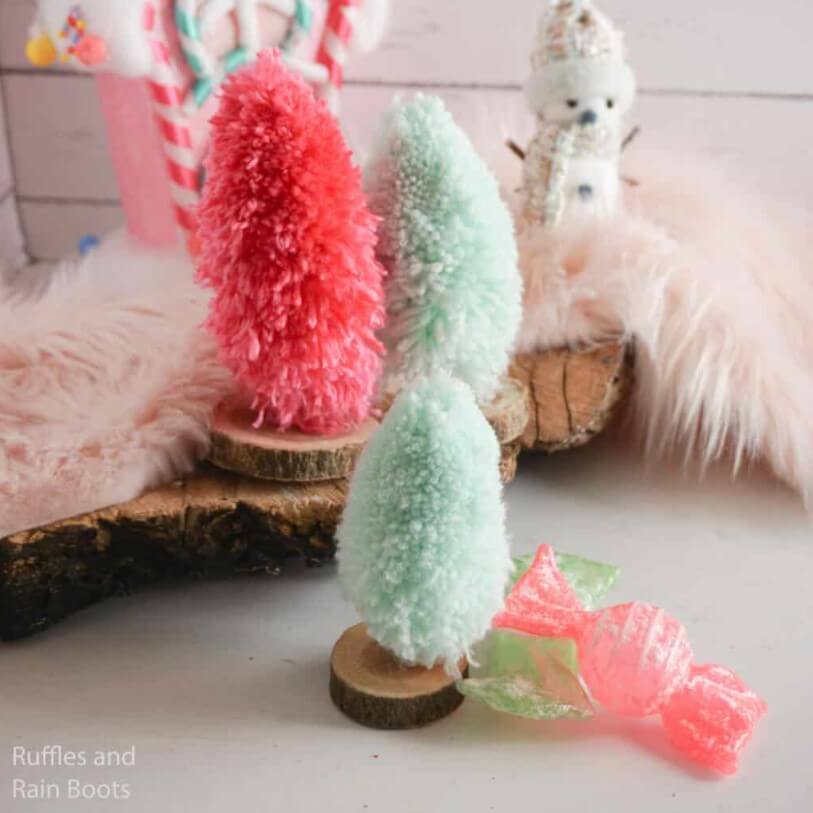 This little fluffy yarn christmas tree is super adorable and easy to make. It only takes around 15 minutes from scratch to finish. All you need is just yarn with your preferable color, floral wire, and a wood base.
DIY Yarn Christmas Tree for Last Minute Decor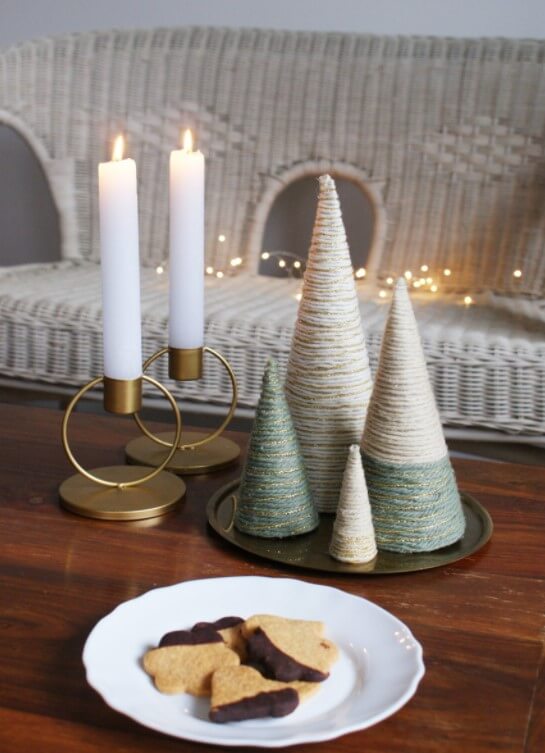 Here's another DIY christmas tree option if you already have yarn. You'll only need to make the cardboard cone and wrap the yarn around it with glue. This is perfect for decoration as well as centerpiece.
DIY Flat Christmas Tree for Small Space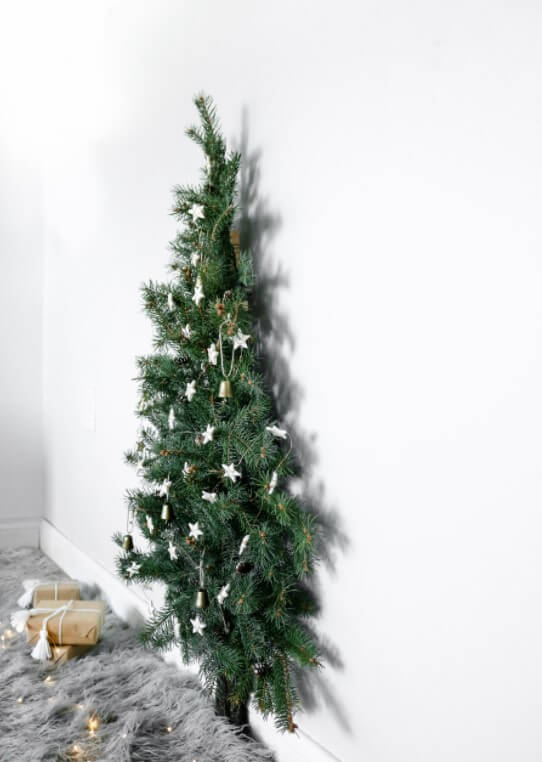 You don't need a space-consuming tree to decorate your home for Christmas. This DIY project is flat and can be mounted on the wall, so you won't have any problems with limited living room or hallways!
DIY Flat Triangle Christmas Tree for Small Space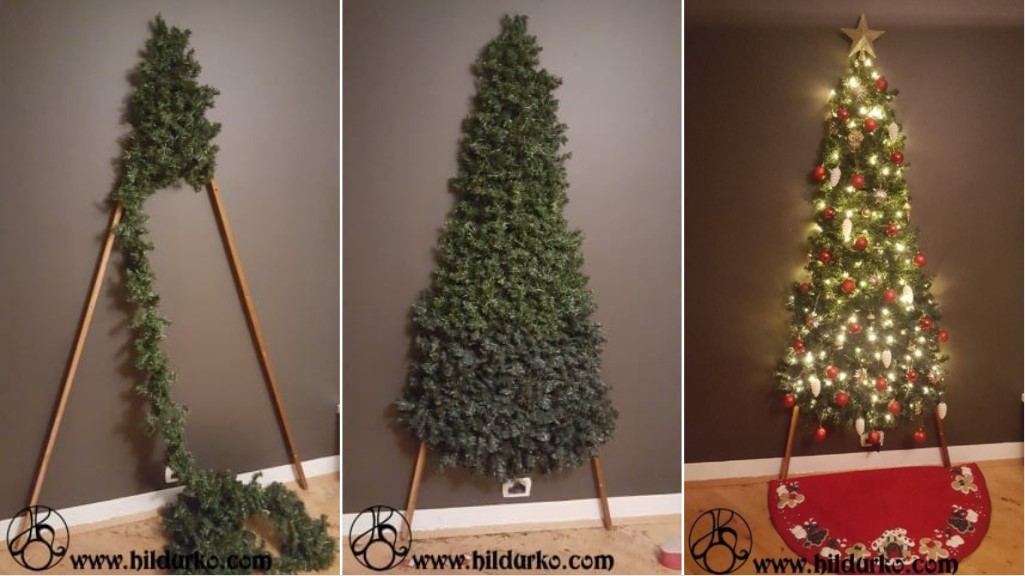 This is another idea of DIY flat christmas tree. You'll only need two wooden dowels, christmas garland, and a couple of christmas decorations. Be sure to put it near an outlet so you can keep it flat and tidy.
DIY Flat Christmas Tree from PVC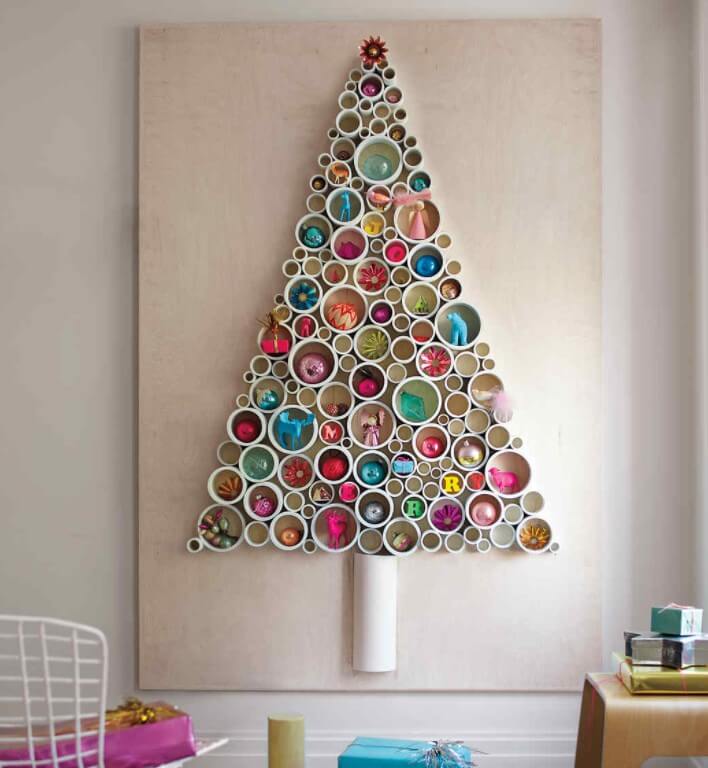 I'm sure you probably have seen this somewhere before. This idea comes from Martha Stewart and still be one the most popular DIY christmas tree ideas on the internet.
DIY Mercury Glass Christmas Tree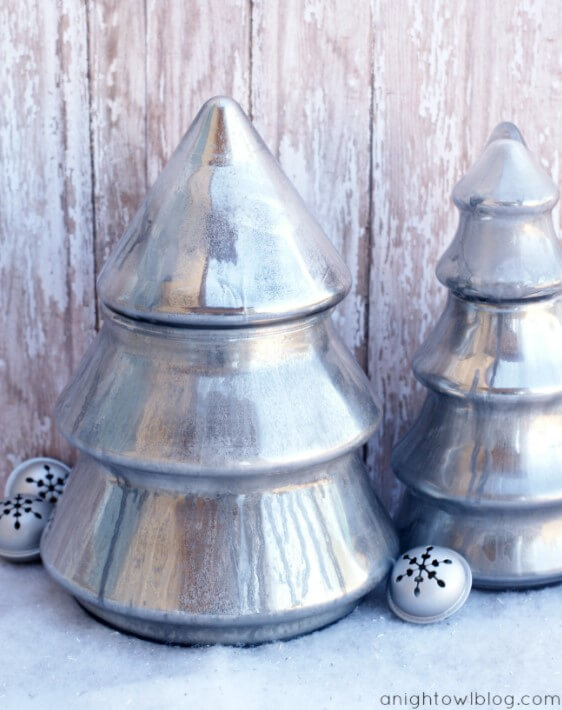 If you already have a christmas glass tree in your home, do you ever thought of painting it? This tutorial will show you how to paint a glass tree with mirror-like paint. But you can go with any color you like!
DIY Christmas Mantel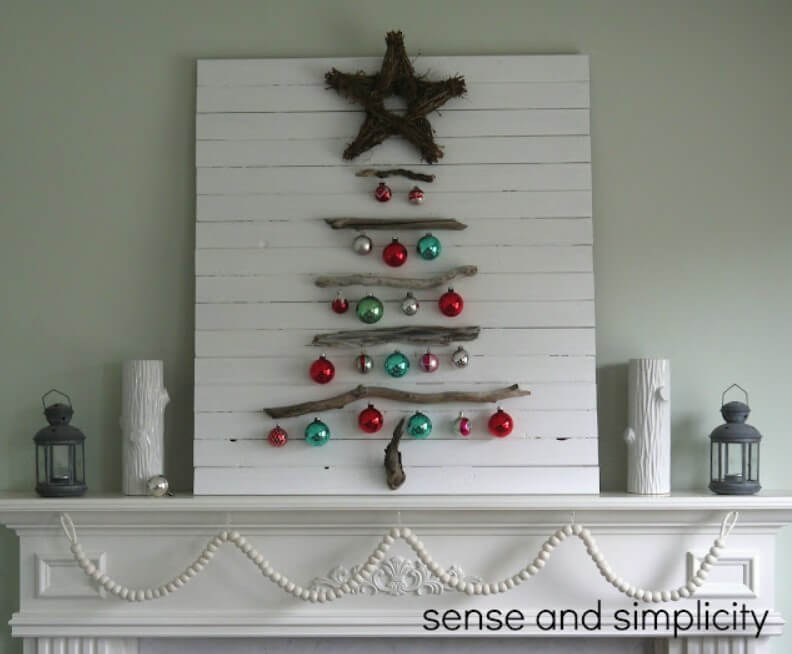 The winter is coming, and it's the perfect time to give your fireplace a new touch! This DIY christmas tree mantel will make for an awesome decoration at Christmas.
DIY Burlap Christmas Tree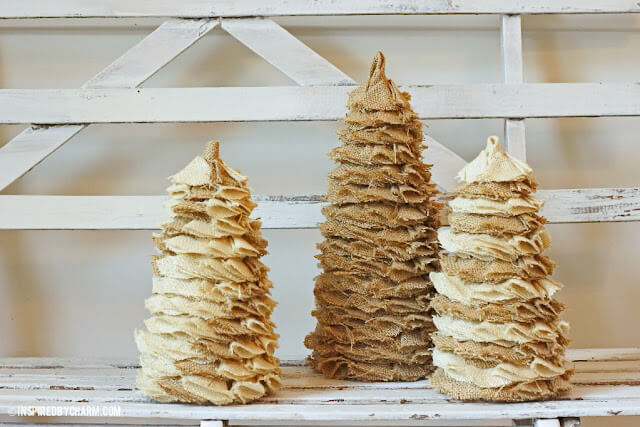 This little Christmas tree is made from burlap and it's so whimsical! I like how it looks like a pile of folded burlap while actually there's a Styrofoam cone inside.
DIY Fringe Christmas Tree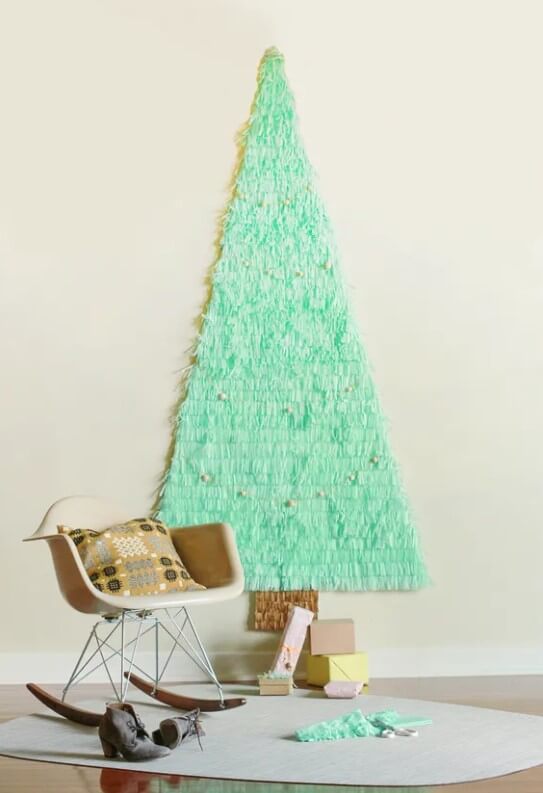 If you're looking for a unique Christmas tree to make your home look fresh during the holiday season, this DIY alternative may be perfect. The project can be done in just a day and requires minimal materials that are easy to find at any grocery store or hardware store near where you live! While the height is 6 feet tall, but it takes up virtually no space at all!
DIY Moss Christmas Tree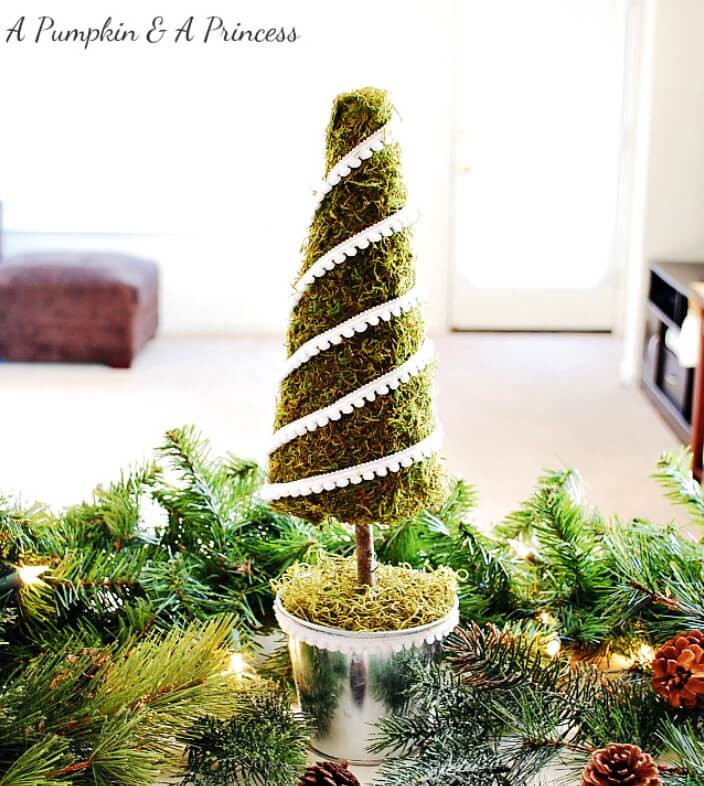 This mossy DIY project will make a great addition to any home for both decoration or centerpiece. The best part is that it's easy enough to make and perfect for anyone who loves nature!
DIY Hanging Marble Christmas Tree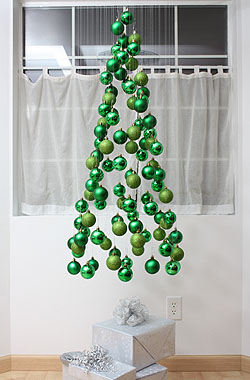 Well, this is not an easy DIY project, but the end result is worth all of that hard work. You'll be able to put up your very own hanging marbles Christmas tree and enjoy it every day until New Year!
DIY Fabric Wrapped Christmas Tree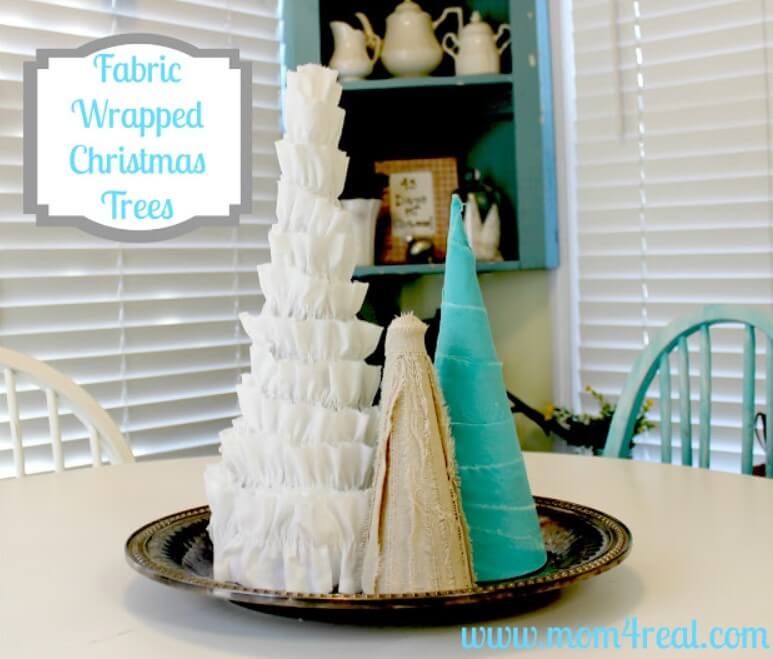 There's tons of ways to cover a cone (styrofoam or cardboard) for a Christmas tree. The difference is how you decorate them – this one gives an example with fabric that looks great on top of the shape.
DIY Rosette Christmas Tree from Upcycled Material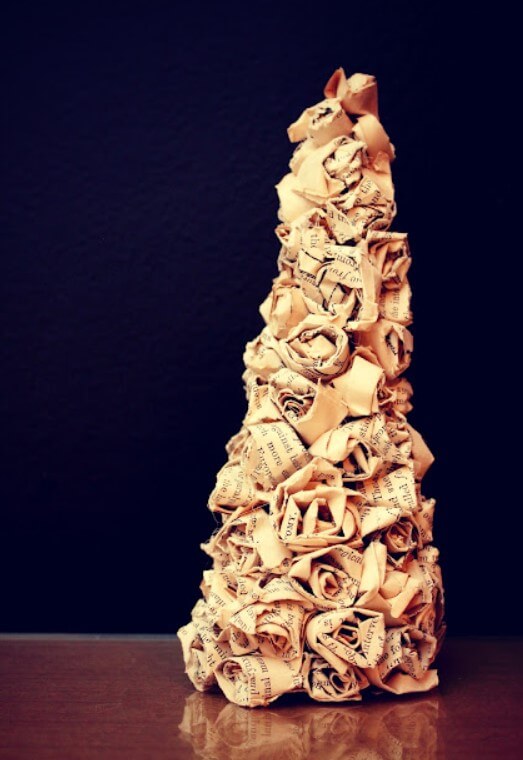 You can make an adorable christmas tree using an upcycled material like this one. It uses old paper that is folded and wrapped so it looks like a rosebud.
DIY Stick Christmas Tree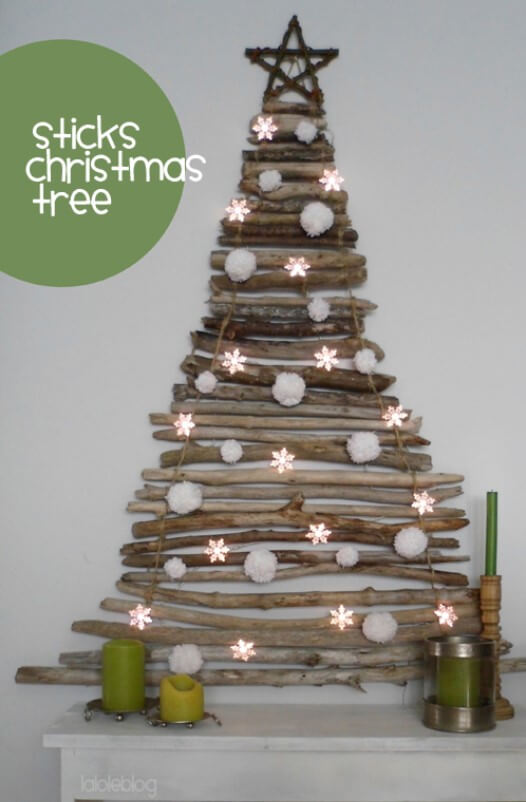 With creativity, you can use anything to form a Christmas tree. This DIY project features an example on how you can use a tree branches from around your home to make a Christmas tree.
DIY Spool Christmas Tree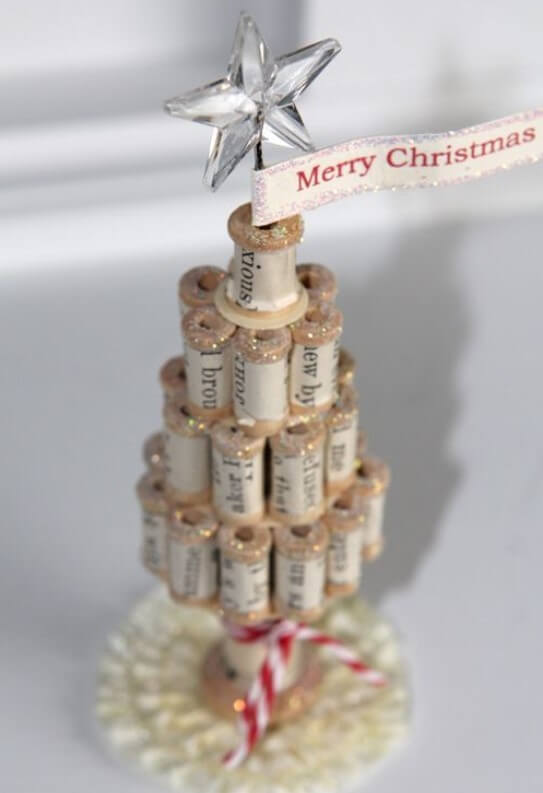 If you have leftover spools, then you can make a Christmas tree out of it like this one. Put the big wooden spool at the bottom and stack up smaller ones until they are all pyramid-like on top! Additionally, decorate your own personal touch by wrapping them in patterned paper or adding glitters to each individual branch for an extra special effect.
DIY Custom Sign Christmas Tree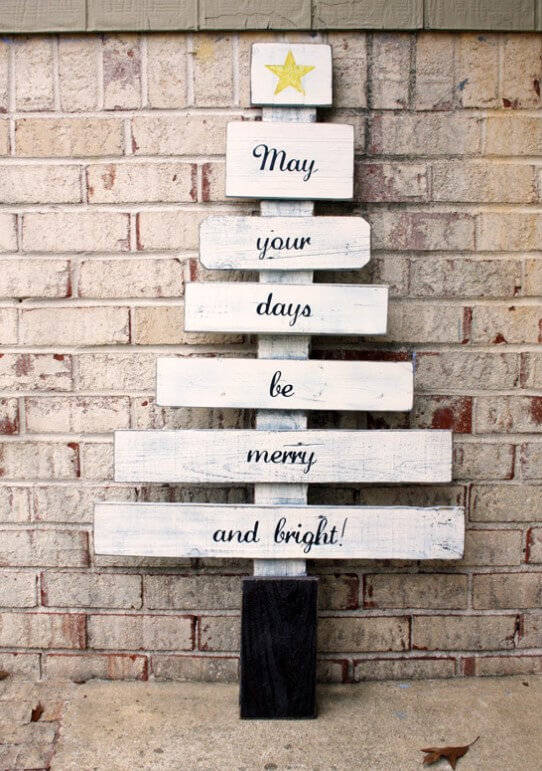 This DIY wooden custom sign is the perfect addition to your front porch. Not only can you write a message of your own on it, but with its Christmas tree shape and black lettering style, this piece will be both functional and aesthetically pleasing for any home owner!
DIY Candy Christmas Tree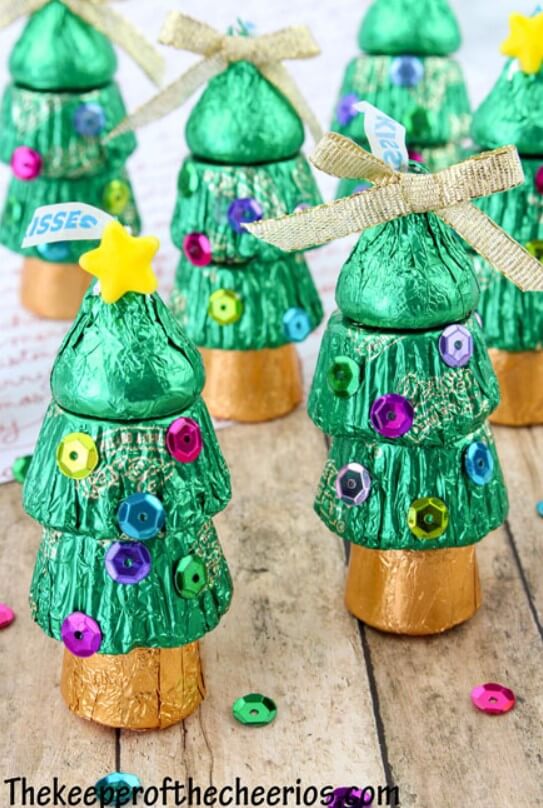 The perfect blend of sweet and salty, this little tree will be your new favorite decoration. You can even make it into an edible creation by using chocolate candy as the base!
DIY Pinecone Christmas Tree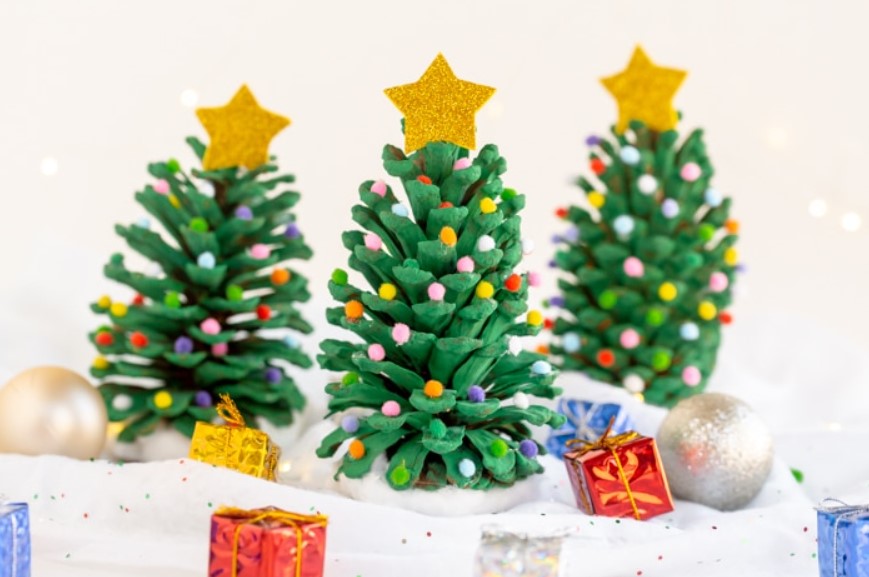 What could be more festive than an artificial Christmas tree? This DIY project is perfect for any home, office or classroom. All you need are pinecones and green paint to create your own customized Christmas tree!
DIY Paper Christmas Tree Decorations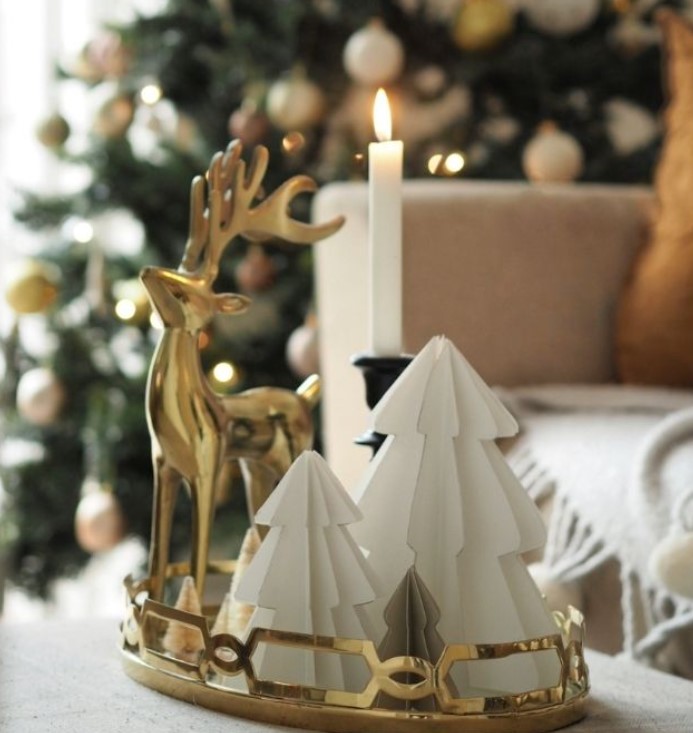 This simple DIY Christmas tree is the perfect last minute decoration for when you need a little festive decor. In fact, it can be made in just an hour or so and at only cost a couple of pennies!
DIY Wooden Frame Christmas Tree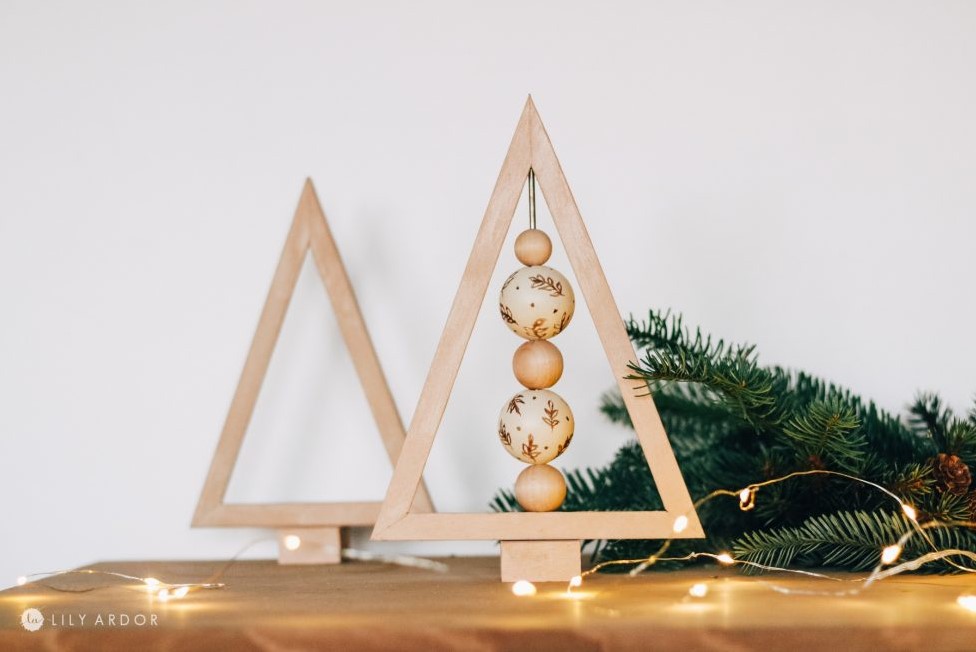 This DIY triangular Christmas tree is a dollar tree hack using square frame, but you can basically use any frame to make this. This is an example of turning a square picture frame into triangle, which you can do by cutting it at the corners.
DIY Scrap Fabric Christmas Tree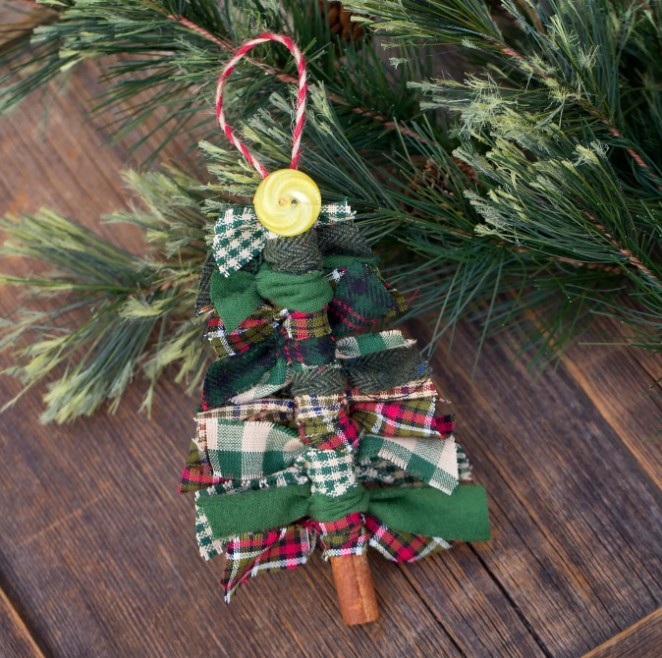 Want to make a simple yet beautiful Christmas tree ornament? Well, you can do it with scrap fabric. You only need remnants from your favorite color of thread and any number of cinnamon sticks or buttons that will go well in the design!
DIY Christmas Tree from Chunky Yarn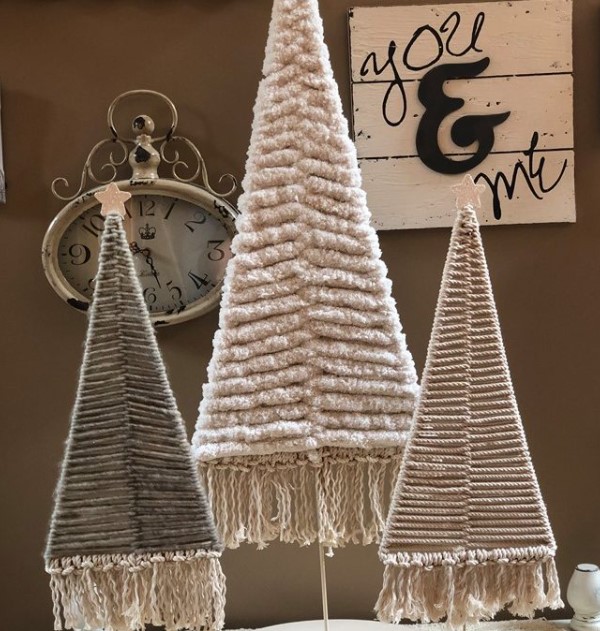 This DIY tree is made from a fluffy yarn wrapped in a triangular floral stand. It's so cute, I can't help but use it as my Christmas decorations too! You could add some ornaments to make this perfect for any occasion.
DIY Foam Board Christmas Trees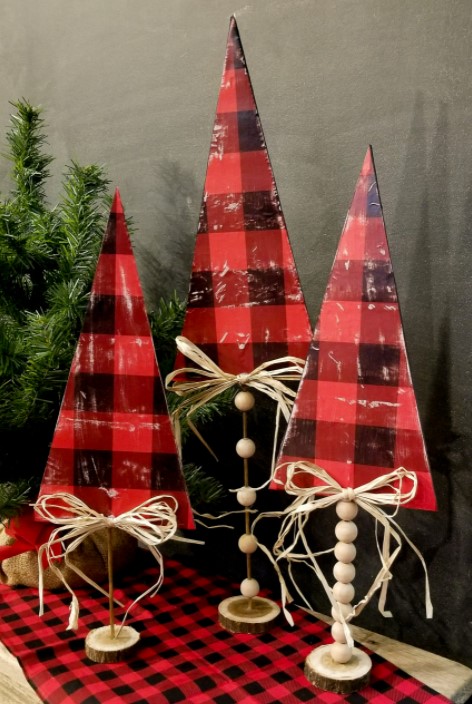 At first, you might think that this Christmas tree is made from a plywood, but it's not. The beautiful, rustic wood look of this Christmas tree is achieved by using foam board that has been cut and wrapped in wrapping paper. Then you sand its surface to give it an even more aged appearance!
DIY String Christmas Tree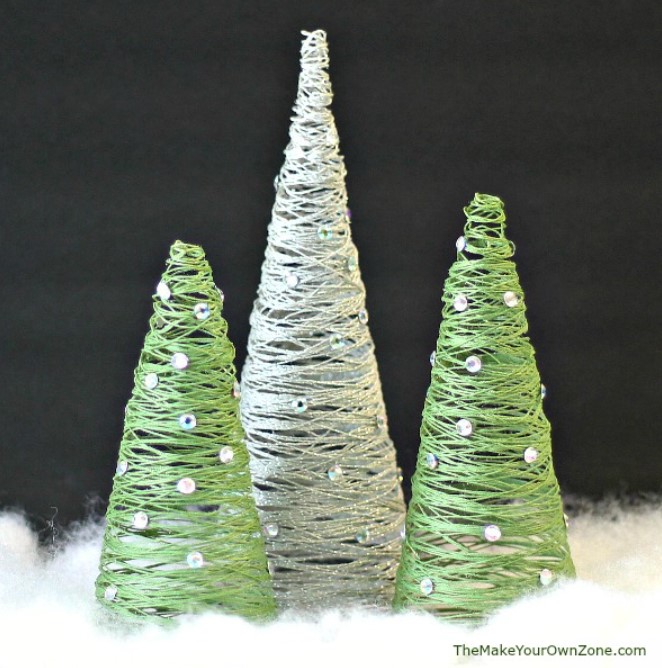 This DIY string Christmas tree would look gorgeous as a centerpiece! It's made by wrapping crochet strings on cone covered in plastic, then apply some mod podge. Let it dry and simply peel away from its cone shape core revealing your new gorgeous decoration – perfect for any room in need of some winter classiness.
DIY Wood Christmas Tree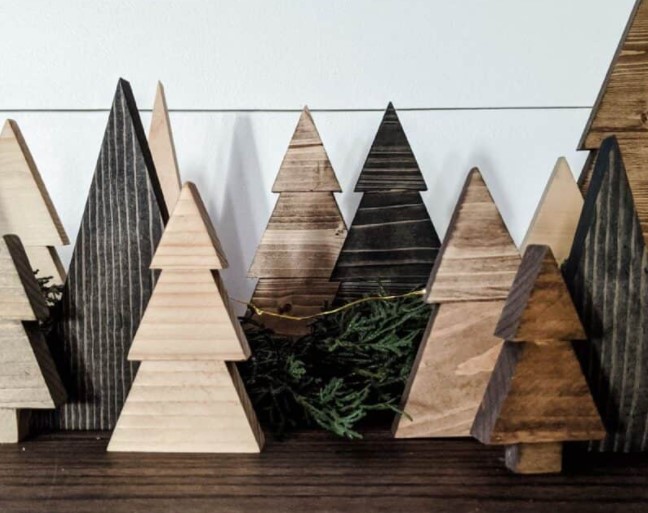 If you love wood like me, this DIY project is perfect for giving your home the Christmas feel. It's made from scrap wood so it should be very cheap (maybe free!). But this project requires a woodworking skill because you need to work with a miter saw.
DIY Stuffed Fabric Christmas Trees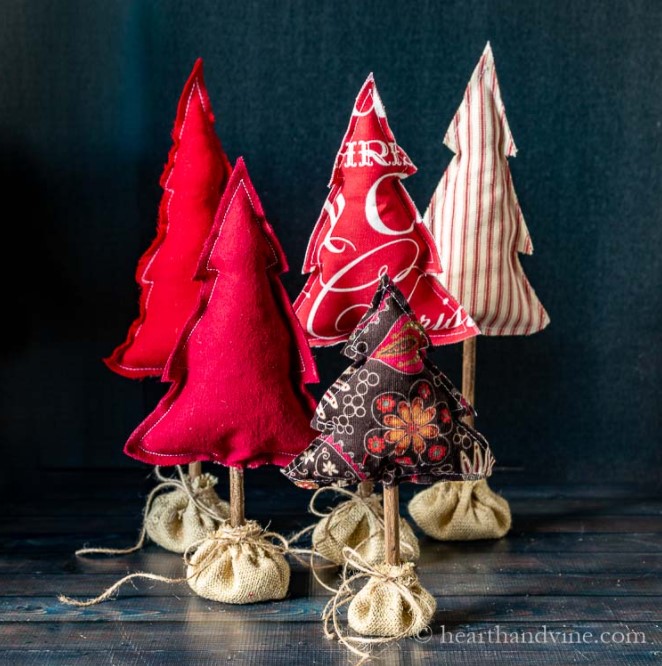 Patti from hearthandvine.com has a perfect example on how to make your own stuffed fabric Christmas tree! Follow the tutorial below for an easy craft that anyone can do this season or next year if need be. 🙂
DIY Rustic Christmas Tree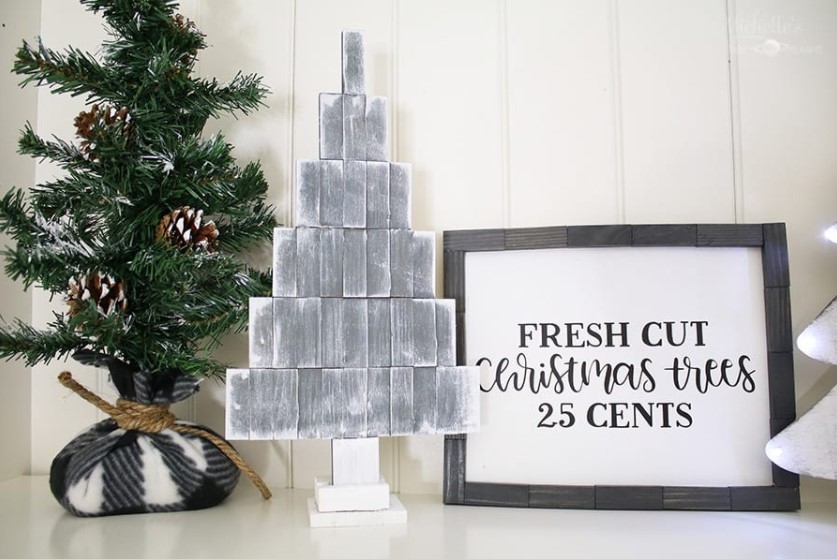 Tumbling wood is one of the most popular board game. Now you can turn your favorite tumbling blocks into an impressive Christmas tree with these easy steps! Put each block on top of the other to form pyramid shape then paint with your preferred color.