A picture frame is a hutch for your memories. It's best to keep them in the open so that you can enjoy and reminisce about them every time. The only problem with store-bought frames is they don't suit one's style.

So, there isn't anything wrong with making DIY picture frames! Not only will you get creative while doing this project (which we know from experience), the entire process will be fun too.
Here, we have gathered impressive ideas for you. We are confident that one of them will inspire you. Let's take a look at our list together!
Cross-Stitched Pattern on A $1 Wood Picture Frame
A wall without any decor is no fun, but it's even worse when the photos are not framed! A cross-stitched frame for a memorable moment captured on a photograph will be perfect to keep your room happy and lively. The wood frames cost only $1 and make that photo stand out–perfect for an affordable way to spruce up your space while you're being productive at home or work.
A $3 Wood Picture Frame with An Adorable Bow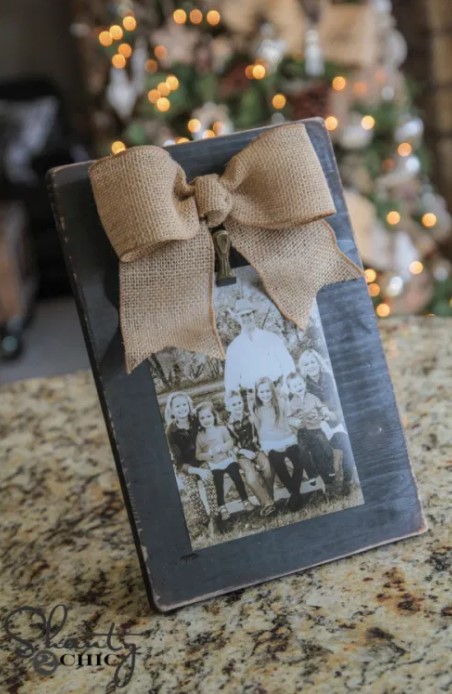 Make adorable picture frames that are not only beautiful but also cheap! Follow this fun DIY project to get started. The materials can easily be bought at a local store for less than $3 per frame and the result is an inexpensively-priced product with plenty of styles. Finishing touches like wood stain and cute ribbon on top add another layer of beauty to each piece – the frames are gorgeous as well as affordable!
A Homemade Wood-Grain Paper Frame with Stand
The perfect gift doesn't have to be expensive. This idea, for example, is a very economical option because it's so creative and thoughtful! The frame that looks like it is made of wood is actually watercolor paper painted with a wood grain to resemble real wooden planks! And not only does this provide an attractive painting display space but also includes printed instructions for how best to set up your new masterpiece on its frame stand!
A Fun and Colorful Picture Frame from Polymer Clay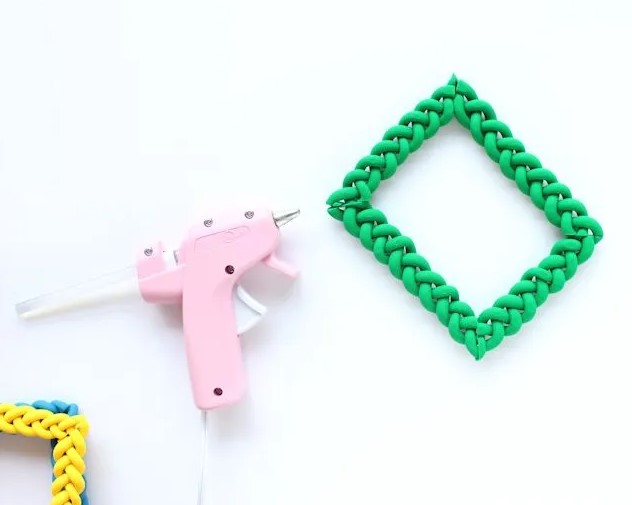 It's always fun to come up with new ideas, and this project is no exception. The colorful frames from polymer clay are a great way of expressing children wearing bright-colored shirts! To accentuate the vivid colors in each picture, you will get different colorings for your polymer clay. You'll be surprised by how easy it all turns out to be!
A Custom Picture Frame to Fit Any Print or Picture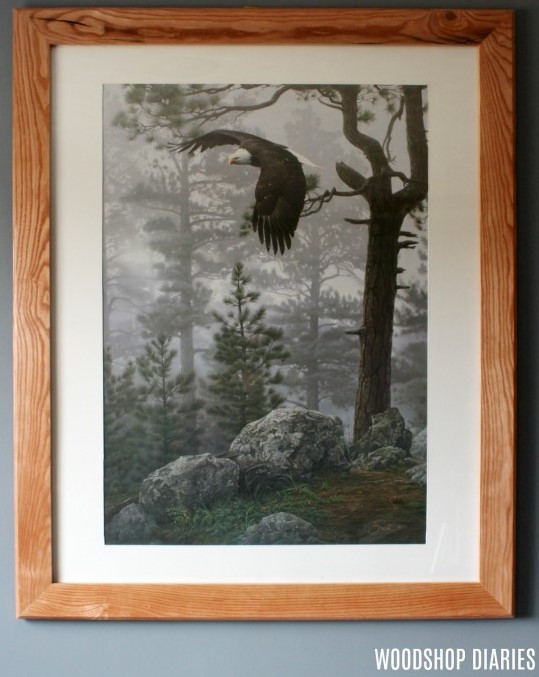 To treasure a precious moment, we need to keep the picture or the print nicely in a framed picture. Sadly, sometimes stores don't have frames that fit perfectly and when this happens it's time for one of those DIY projects! So if you're feeling up for some crafting with glass panels, here is your chance!
A Picture Frame Made Out of An Old Book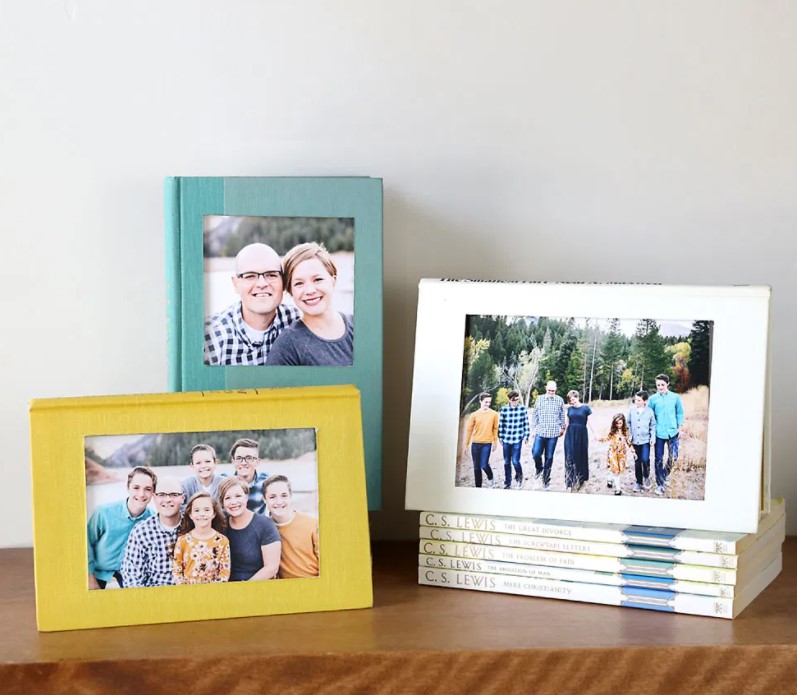 Can you believe it if we say anything can be a picture frame? You have to because that is true! In this DIY project, we are about to make one from an old hard-back book. The best part about this is the fact that it's not damaging the book because only using its back cover so the content will still be readable and you won't ruin your favorite read just for framing some of your most memorable moments!
This Handmade Photo Frame Is Out of Cardboard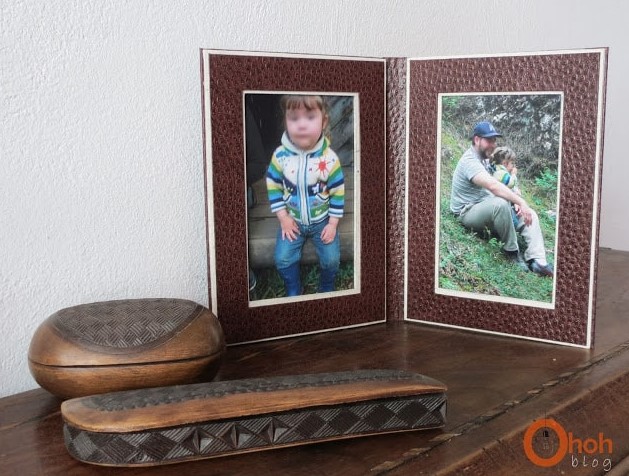 Making something out of cardboard is never hard because they are so easy to work with! A DIY picture frame out of cardboard can be made easily and the finished product that holds the precious memories won't disappoint either. Moreover, it'll stand on its own due to how stiffness. Plus, it looks nice!
A Copper Pipe Picture Frame Tutorial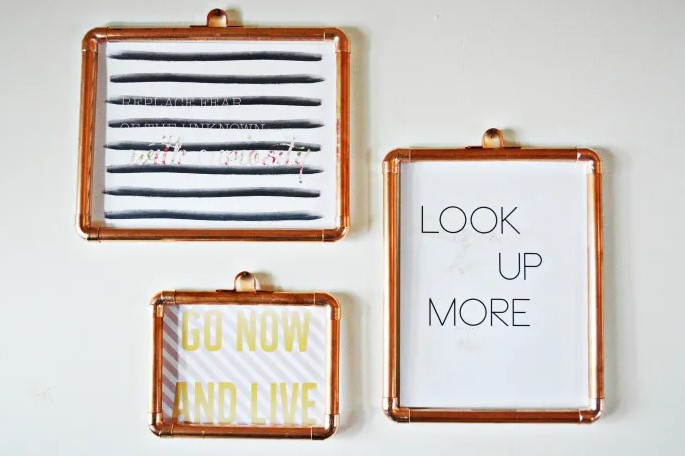 This project is simple because all it takes is some copper pipes! Copper pipe can add a unique flair to your space while doing double duty as an easy DIY frame. Copper pipes are not only durable and inexpensive but they come in a variety of styles, sizes, shapes, and colors so you're sure to find one that fits with the look or feel of what you want!
A Cute Fabric-Covered Frame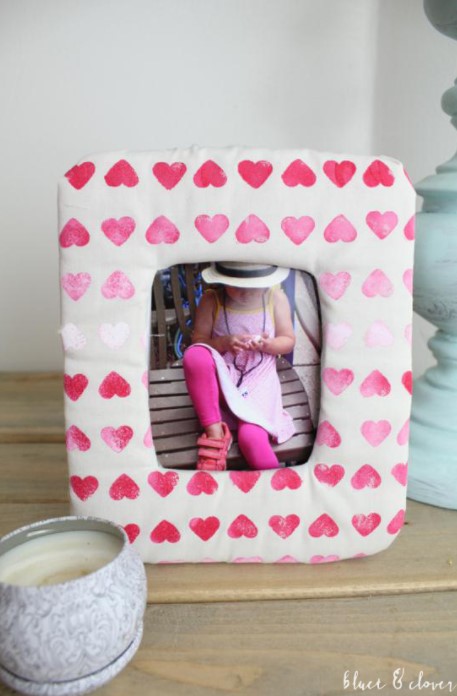 You may start to get a DIY idea, but if you don't act on it soon enough, then the plan will be gone. This adorable fabric-covered picture frame is super easy and won't take long to make. All of the supplies are probably in your drawers already. Plus, you have full freedom over what type of clothes or materials that you want for this project!
A Brilliant Idea to Upgrade Your Picture Frames with Unique Fabrics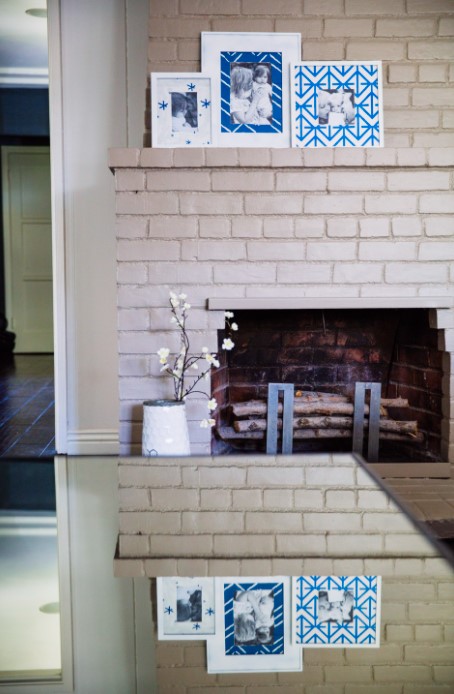 Upgrading picture frames is going to make them look more updated without spending too much money. You can give your old frame the upgrade it deserves by getting creative with fabric! We will show you how easy this process really is, and that using thicker fabric in a unique pattern improves both durability and appearance – as well as making for one impressive DIY project!
An Inexpensive Picture Frame Out of Foam Board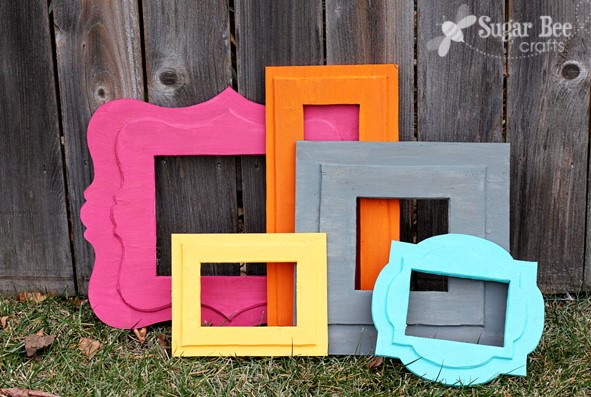 If you want something more unique then try using foam board instead of traditional cardboard-type frames. Foamboard can be purchased anywhere and in a few different shapes. The fun part about working with foam board to make a DIY picture frame is deciding what shape to use when framing up your pictures; it doesn't have to match any other frames already at home. You can decide the shape of your frame out of your own imagination!
A Magnetic Brass Tray Photo Holder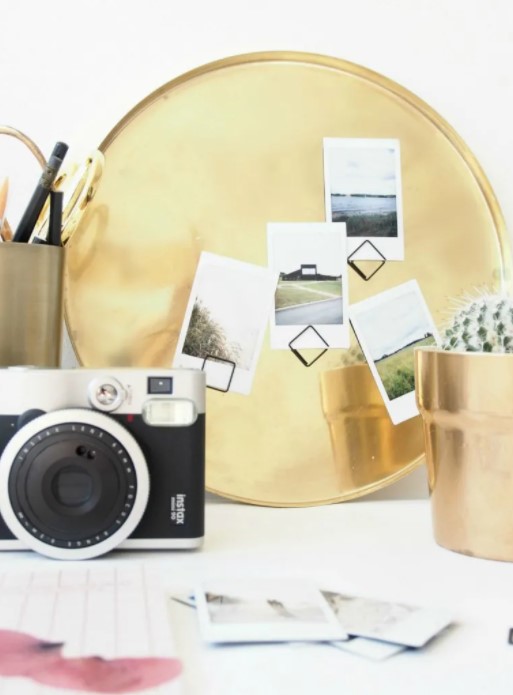 Give your photos a little extra flair with this easy-to-make magnetic photo holder. All you need is an old brass tray, paper clips, and some powerful magnets, then just stick the polaroids on whatever side of it suits them best! The retro vibe idea has been captured nicely by the brass tray–a perfect blend between vintage and modern aesthetics!
A Kraft Paper Tape Picture Frame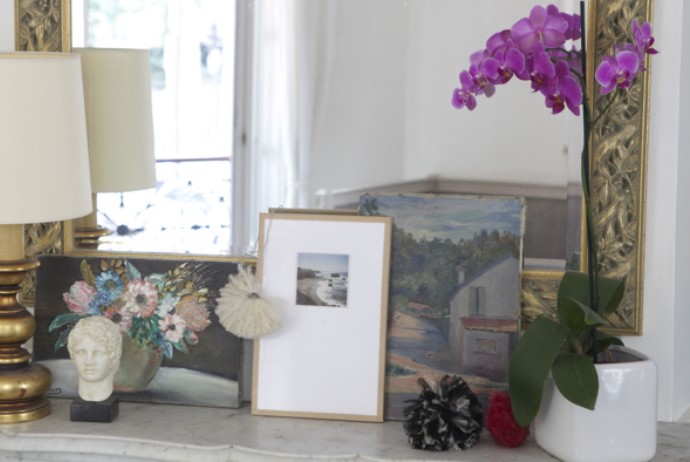 From afar, the picture frames look like any other thin wood frame you will see at stores. However, when you examine them closely, you'll be surprised that they're actually made of kraft paper! This easy project shows how to create a similar effect for yourself using a simple but clever idea. Pick out whichever color suits your fancy–and don't forget about all those vivid colors!
A Magnetic Modern Hanging Picture Frame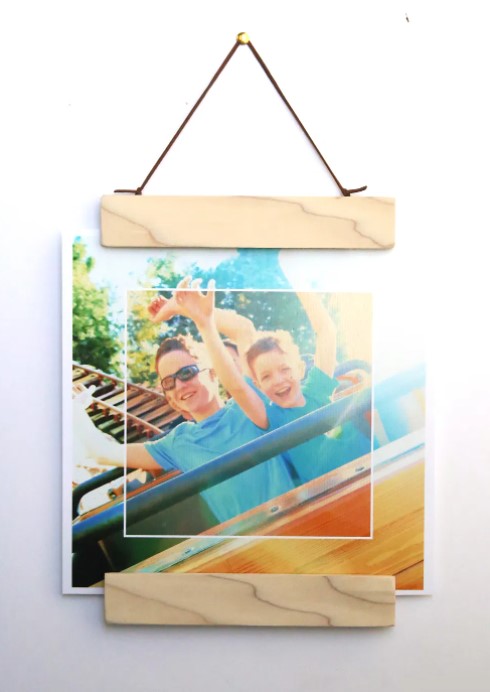 Want to make your space feel like home? For some, it's as simple as decorating with their favorite photos. If you want the perfect way of displaying them, then this modern hanging photo frame is for you! It'll hold up all those special memories and show off more creativity than a basic boxy frame. With just wood and magnets at hand (and maybe an hour or so), creating one will be easy breezy!
A Handy Paper Easel Picture Frame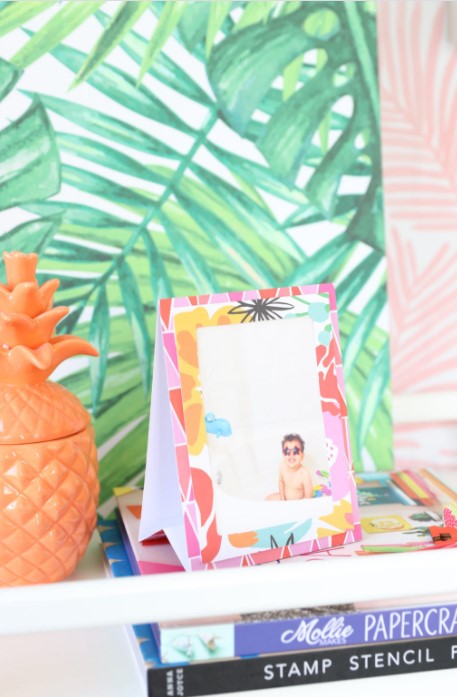 We can all agree that paper is one of the simplest materials to make a DIY picture frame. In this project, you are in for an adorable treat because we will be making an easy-to-make and customizable easel cardboard photo holder! It's as simple as cutting it out and folding it together with some tape on the backside. Plus, what better way to show someone how much they mean than by giving them something handmade?
A Quick and Easy Wooden Picture Frame for $15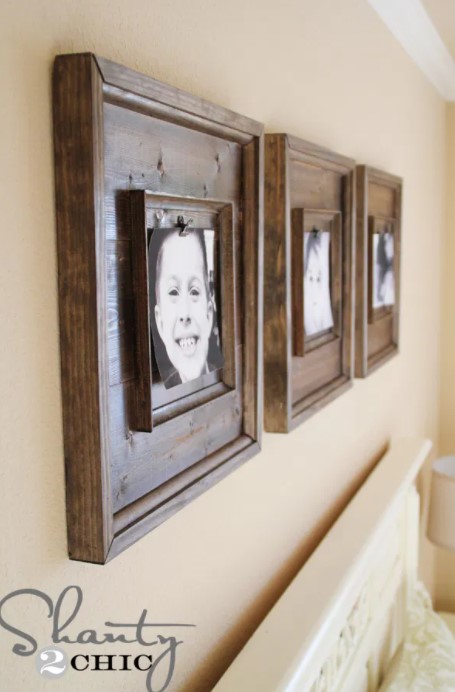 We are not the only ones who notice how sturdy those wooden frames look, and you might be assuming that they're expensive. Guess what? Those DIY picture frames didn't cost too much to make because all we did was cut some wood then glue them together using gorilla glue before finishing it off by applying dark walnut stain!
A Super Simple Think Plywood Picture Frame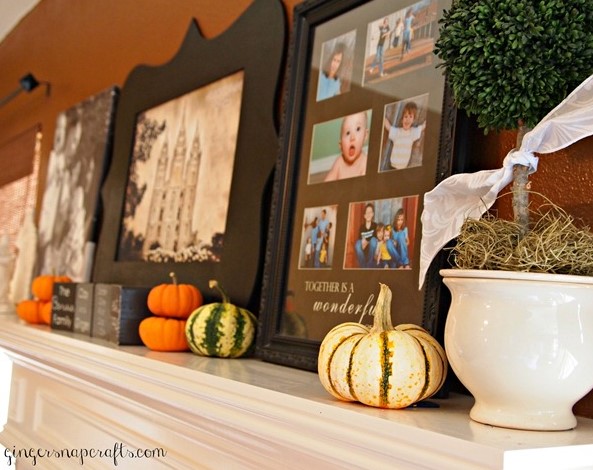 This DIY picture frame is a perfect option for those who don't want to use the traditional big and bulky frames. Its thin plywood construction makes it lightweight, unlike other options that are usually too heavy or overbearing. The shapes of this design can be chosen based on the silhouette drawings available in the tutorial!
A Photo Collage from Repurposed Old Frame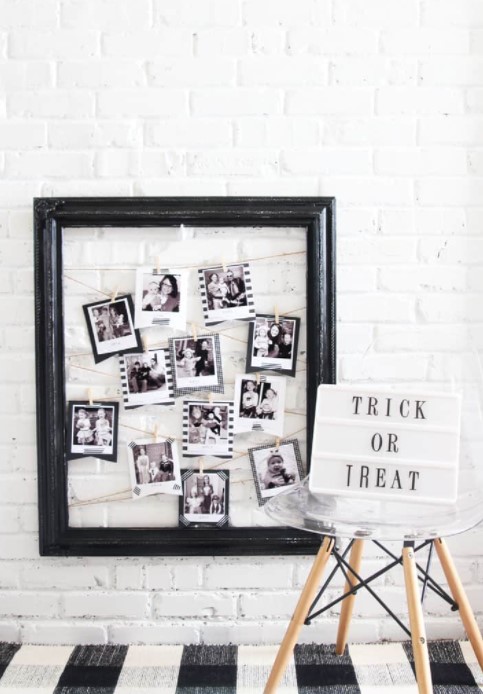 An old, vintage photo frame may not go with today's design well. If that is the case, you can repurpose it into a unique picture display for many photos from your special occasion! Despite being easy to make and inexpensive as well; this idea will be sure to impress anyone who sees it!
A Denim Photo Frame Out Of Old Jeans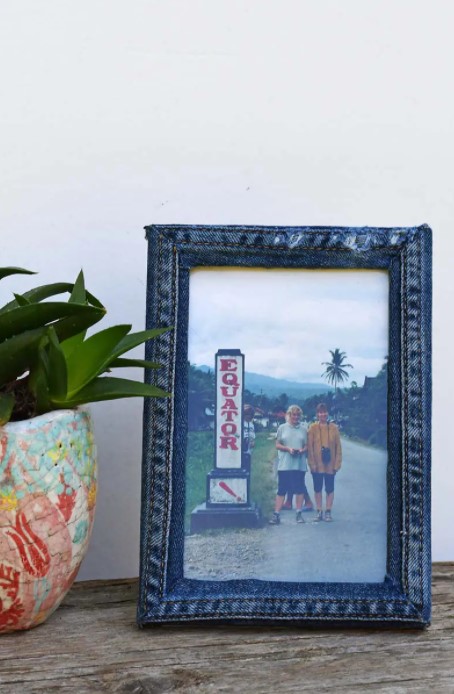 Do you have old jeans sitting around your house that are on the brink of being thrown out? Why not turn them into a cool DIY denim picture frame to hang up in your living room, bedroom, or even office! All it takes is some scrap fabric and belt loops from an old pair. This tutorial will show you how to create this one-of-a-kind piece without breaking any sweat!
An Impressive Printed Map Picture Frame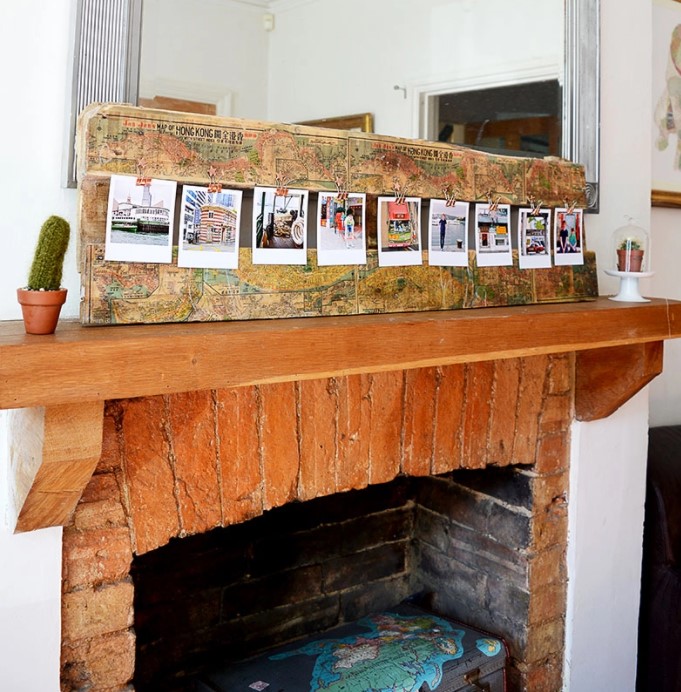 Take a look at this amazing project that was built off of an idea from your favorite map. Printing the map onto pallets and transforming them into an eye-catching picture frame that can contain more than one polaroid photo. Then, you can use bulldog clips as holders for the polaroids so you can change up photos whenever you want!
Transform Some Egg Cartons Into Roses for A Picture Frame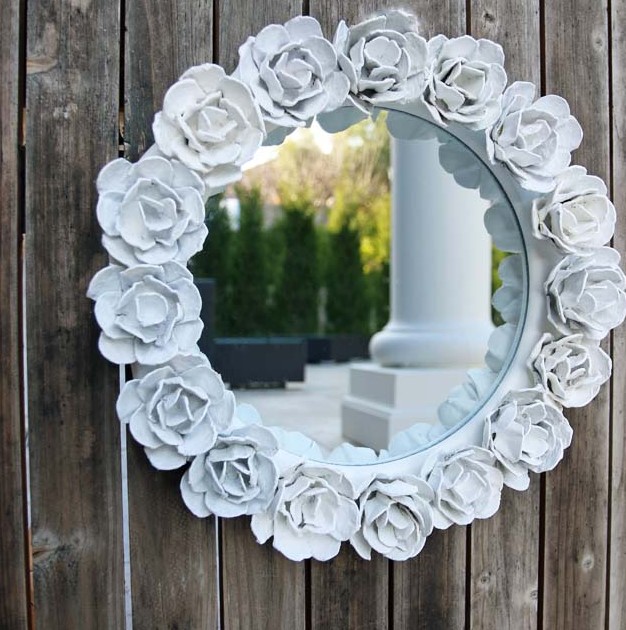 You might be tempted to toss your egg carton, but check out this creative way of using it as a DIY picture frame! You can make roses with them and assemble them into a circle frame. Plus, if the picture is no longer there, you can turn it into a mirror – how practical!
5 Minute Glitter Picture Frame for Less Than $10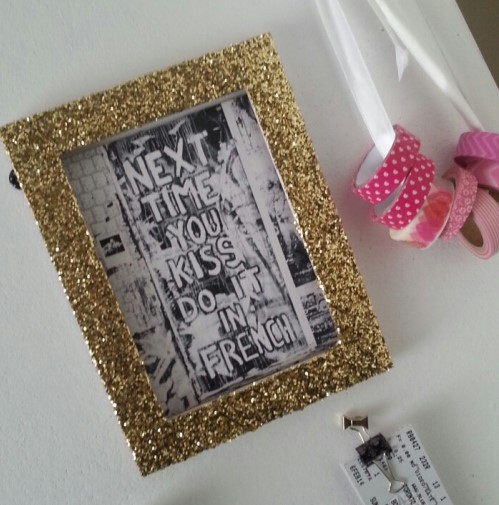 Glitter brings a little bit of happiness to the world. This design is perfect for anyone who loves glitter, or for some special occasions where you need to add glamour but don't have much time! This project takes less than 5 minutes from start to finish because it's so simple and easy too – all you need are frames that cost less than $10 each.
Popsicle Stick and Washi Tape Picture Frames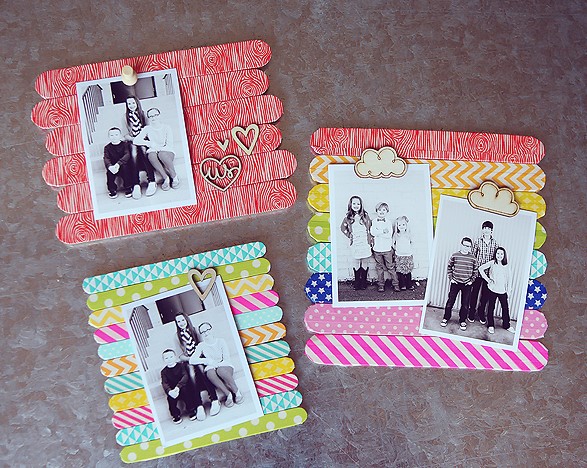 Popsicle sticks are an excellent, cheap way to make your own DIY picture frames. You can even get the kids involved in this project by having them help with painting or decoration! There is no limit as to what you could do- there's a ton of creative ideas out there for popsicle stick craft projects, especially when you also have washi tapes with unique patterns!
A Quick Scrap Wood frame in A Few Minutes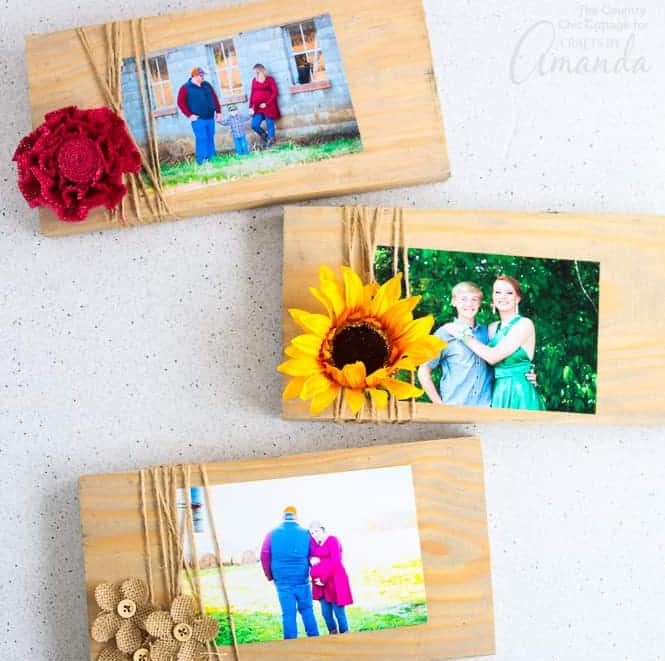 We may think of our scrap wood as being useless, but it is actually just waiting for you to turn into an awesome DIY picture frame. Well, now is the time! With just 4 easy steps you can turn your scraps into an awesome DIY picture frame for display on any wall in your house.
An Old Window to Frame A Pretty Poster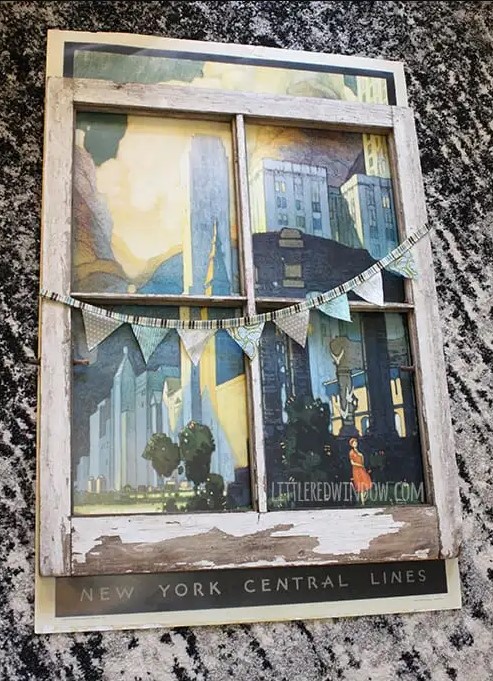 Looks like this vintage frame is destined for the trash, but don't be fooled by appearances. This old chipped paint vintage frame is a true gem that can be transformed into the perfect picture or poster frame with just some simple DIY modifications. It turns accent piece that will add rustic charm to the room!