Sitting for hours can take a toll on your back and shoulders and standing desks are an ideal solution to this problem. The problem is standing desks will cost you around $400-$1000 depending on the quality of desk that you purchase; however, there is hope!
There are DIY standing desk ideas available that won't break the bank or compromise any features to save money!
Building your own DIY standing desk at home can pay off in more ways than one. You may save money, customize the size and color to match exactly what you want, or even make it more ergonomic for yourself.
All of these benefits are worth considering when thinking about how you spend your time working from home or even the office!
Adjustable Standing Desk for Computer or Serving Table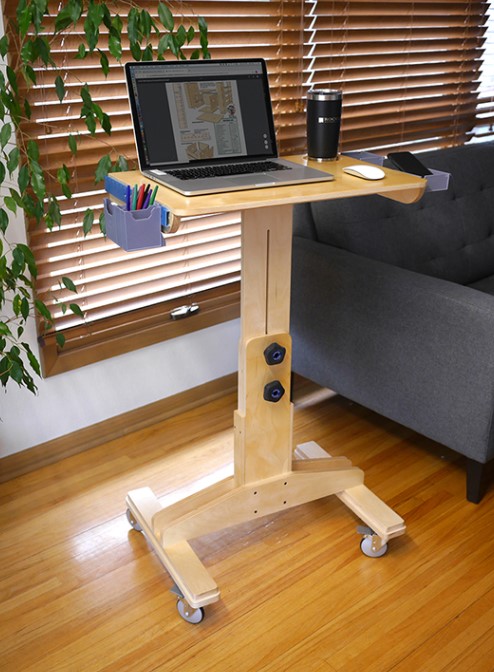 A DIY adjustable standing desk is the perfect furniture choice for people on the go, and this one has convenient features that make it even more useful. The height of the table can be adjusted – not only to accommodate sitting or standing positions but also to make an excellent office workstation, laptop table, or even just for movie night when you want snacks. The rolling casters are definitely a great addition as they grant maximum mobility while still providing convenience.
Home Office Makeover with A Standing Desk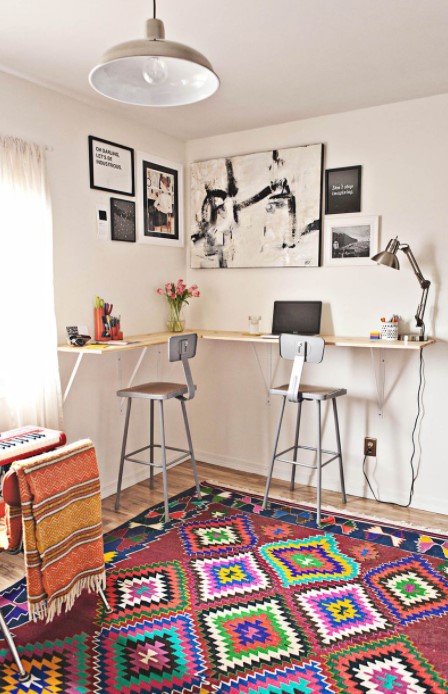 As of recent, a new trend to more innovative office space has been the standing desk. Instead of sitting for long periods, you can stand and avoid health risks such as back pain. By building a standing desk with a wrap-around style, there is room around your workspace to share with someone else which also provides personal privacy while still allowing flexibility when needed!
$200 Convertible Standing to Sitting Desk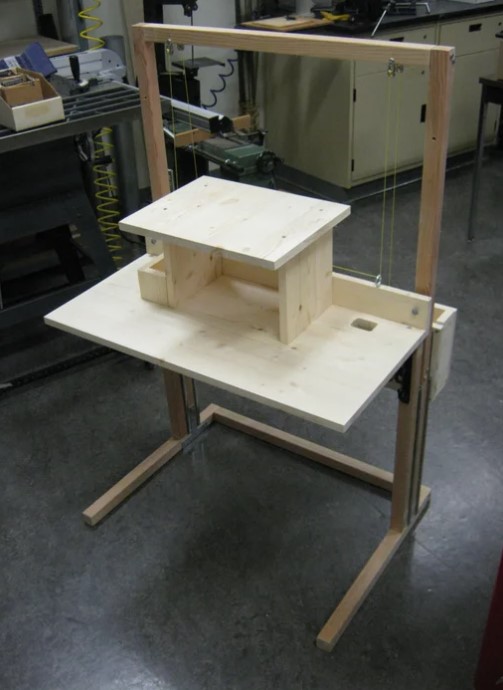 Everybody knows that sitting too much is bad. However, we also know that a lot of us spend most days hunched over our computers working on them for hours at a time. The solution? Convertible desks! This DIY desk only costs $200 and you have the freedom to change it from standing to sitting quickly when your back starts acting up or if you're feeling antsy after an hour in one position.
$70 IKEA Hack Standing Desk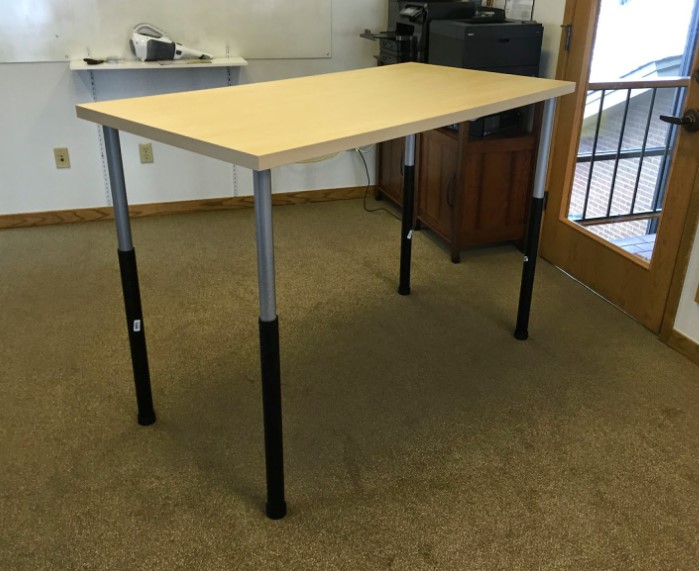 If you love DIY projects, but don't have the funds for expensive furniture, be sure to check out this IKEA hack. The desk is created by using a table that costs less than $70 and then adding some simple plumbing hardware from Home Depot! This desk meets all of your needs- it's lightweight with adjustable height so you can use it as a standing or sitting desk. Plus, there isn't very much needed in terms of tools or skills when building one yourself!
Standing Desk Hack for Less Than $20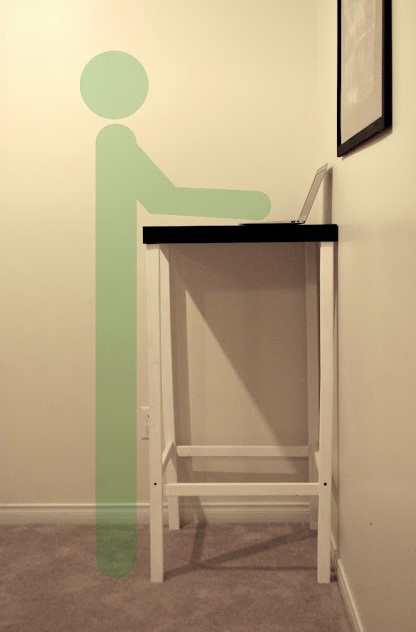 This $20 standing desk is a great idea for people who are looking to save space and money. It's built by using an IKEA side table, spruces, acrylic paint on top of the existing color. The finished product fits almost anywhere which means you don't need to worry about taking up any room in your house!
$25 Desk Converter to Boost Work Productivity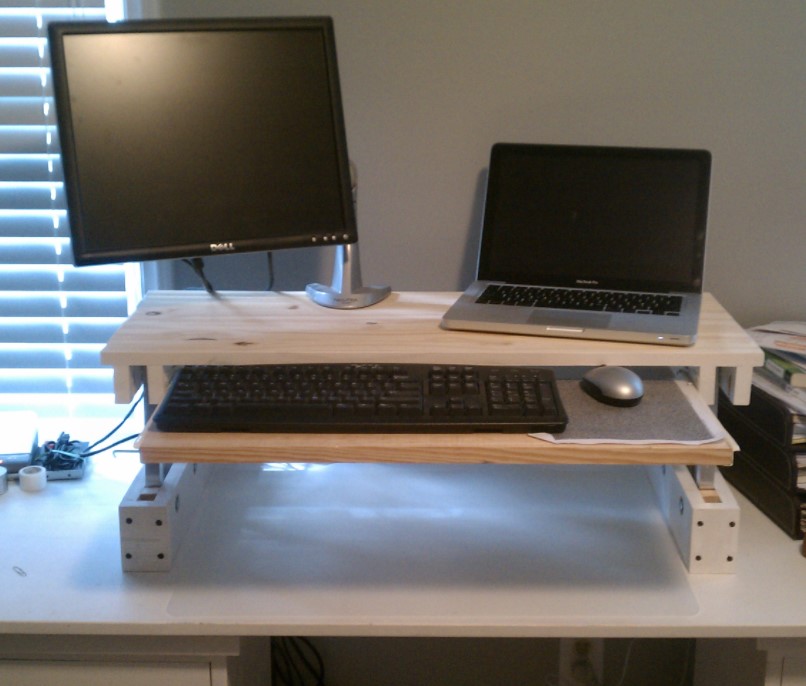 Standing while working has become a new work habit. It balances the amount of time one spends sitting down in the span of 8 hours of working. Without remodeling the existing table, a DIY standing desk converter is absolutely recommended. It's not too hard but it will take about two weekends, so start now because we all know how much more productive we feel when our office feels like home!
Improve Your Posture with 'Ladder' Standing Desk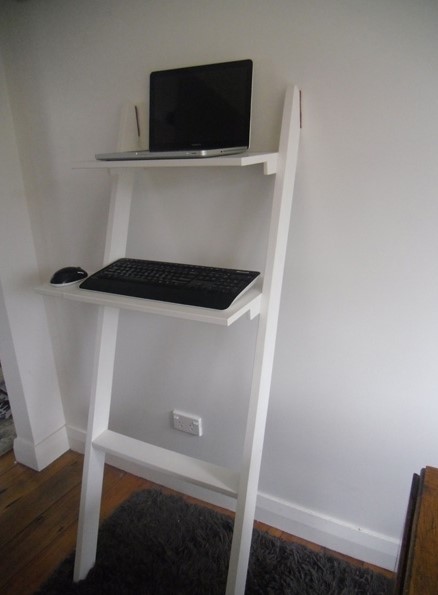 If you want to have better posture while working, consider building a standing desk. With a standing desk, you can be productive while keeping your spine in good shape. This DIY project also allows you to have a pleasant-looking stand-up desk because it looks like a ladder too! You can customize the height so that you are comfortable as well. This way, no part of your day will ever feel boring anymore.
Standing Desk for People Who Are On the Go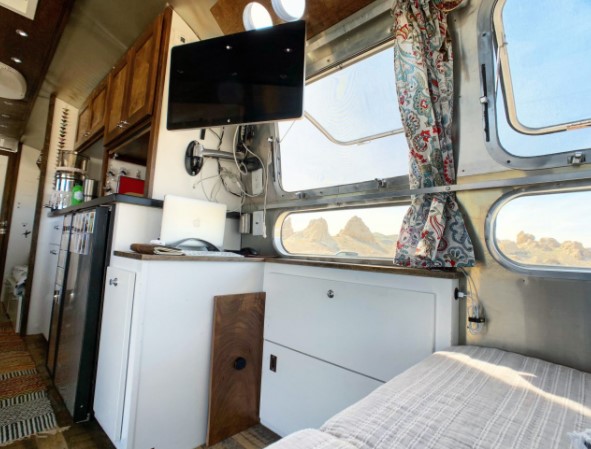 Working remotely has become very popular lately due to our ability to actually work from literally anywhere with an internet connection. That's why the person who designed this adjustable standing desk is a genius. Because the tripod base idea and the ease of switching from sitting to standing positions make it perfect for remote workers – something that can't be said for most desks on the market today.
Boost Productivity and Energy with A $50 Standing Desk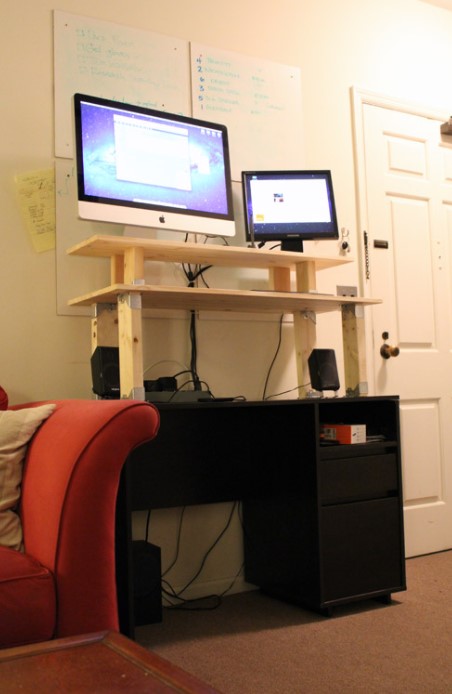 Sitting too long can cause back pain, which is a problem. But that's not all because it also reduces productivity and energy due to the pain! The solution? Building a standing desk for cheap so you're saving your back AND wallet in one go. And best of all, this DIY project only costs around $47.59 and will help keep you from having hunchback issues down the road!
Unique and Inexpensive Standing pallet Desk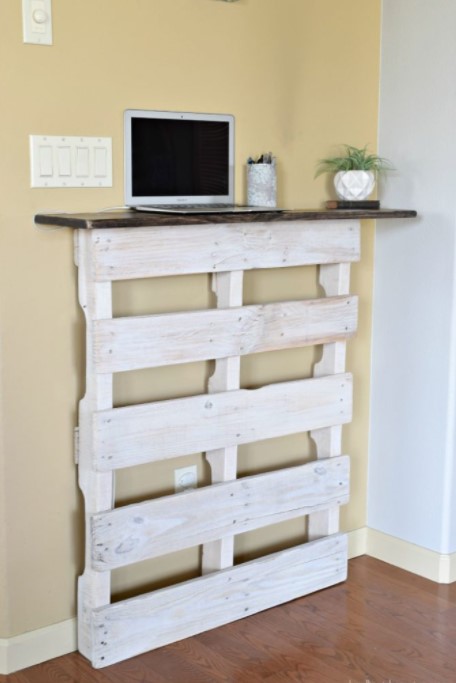 As a person who spends most of their day in front of the computer, you know how important it is to get up and move around. One way to do this without sacrificing your workspace or wallet-size is by building an inexpensive standing desk that uses wood pallets for its base! This DIY project radiates farmhouse charm – plus, it's easy enough so anyone can build one too! If you want to sit down for a while, you can complete the workspace with a barstool.
A Large Standing Desk with Storage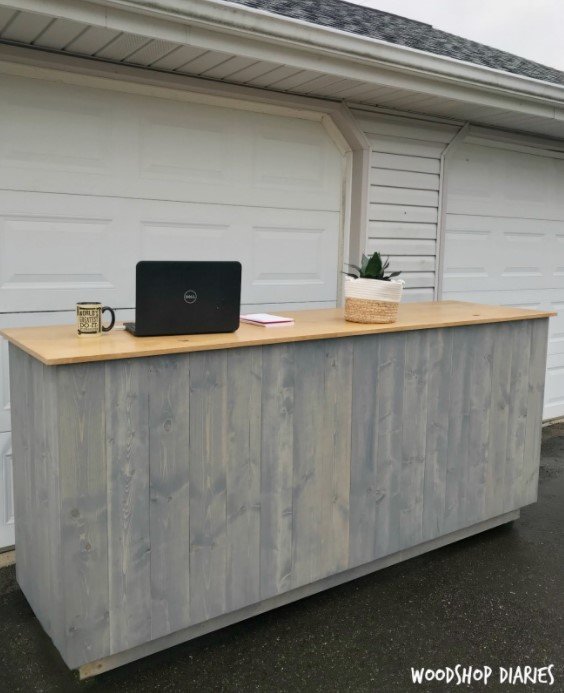 A standing desk isn't exclusively used by remote workers. Many offices have adopted the new trend of working standing up, and this large piece is perfect for any office needs! The best part about this? There's storage underneath so you can store anything from snacks to books under your workstation!
A Standing Desk with Wood Top & Metal Legs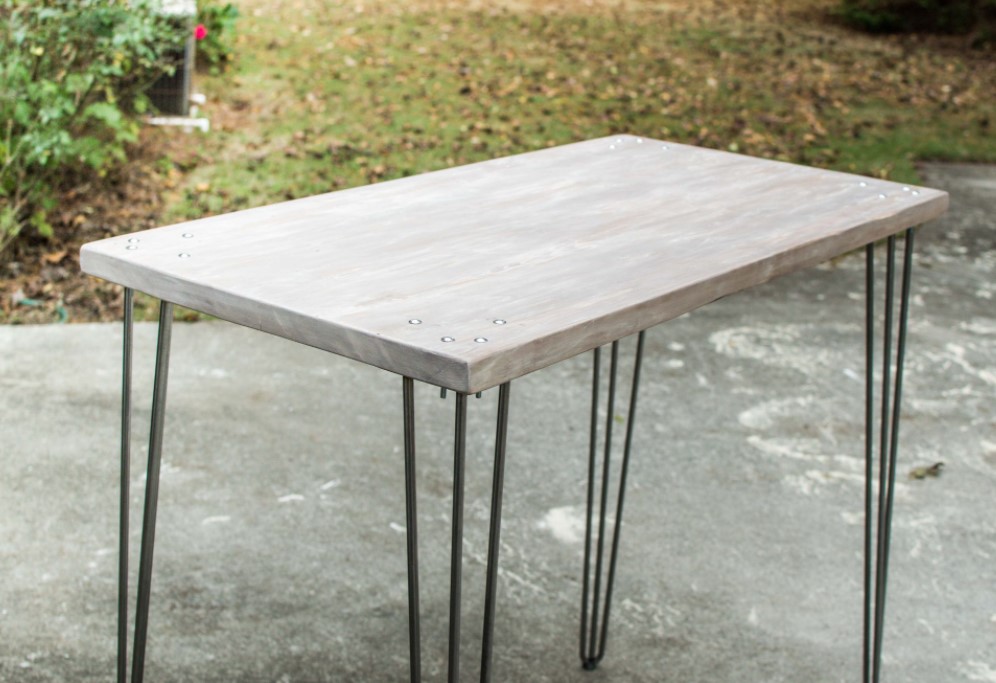 We all know that modern wood and hairpin-style tables are typically used as coffee tables. But, it turns out they make for an excellent standing desk that's easy to build! The tabletop itself is made from common boards sourced at your local hardware store while the metal legs can be found online for an affordable price. Once assembled, you'll have this game-changer of a desk that not only looks fabulous but also functions efficiently!
A Simple Copper Pipe Desk Riser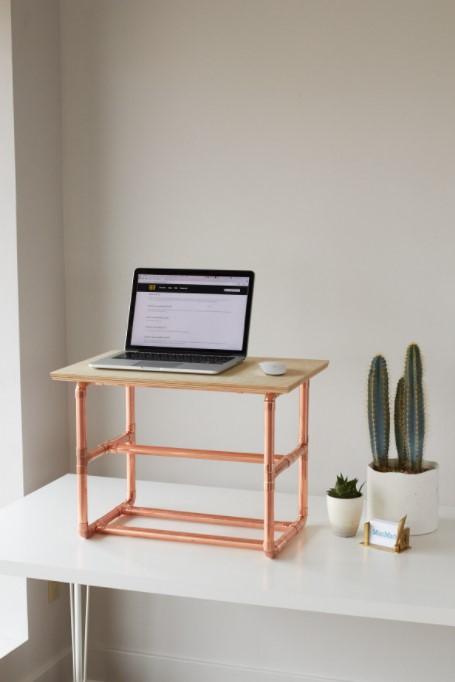 You don't have to do a total overhaul of your workstation just because you want to switch from sitting at the desk all day. The best way is as easy as building a raised platform that can be placed on top of an existing desk, and voila! You've got yourself a standing workstation with minimal effort required. This DIY desk riser is made of a combination between copper pipe and wood top. The unique design gets attention in any modern workspace with its simplistic appeal, strong surface, and an aesthetically-pleasing look.
Adjustable Standing Desk That Offers Comfort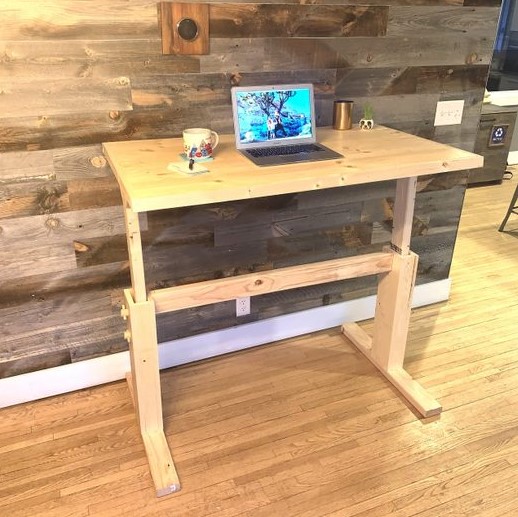 It's important to stay focused while working, but this can be difficult when you're feeling discomfort. To avoid being distracted by the slight pain and keep your work flowing smoothly, you should construct a DIY standing desk to find that perfect balance between sitting down and getting up. It'll take some time building it with pine lumbers (following an easy 15 step plan), but soon enough, you'll have your own adjustable standing desk!
Transform An IKEA Desk Into A Standing Desk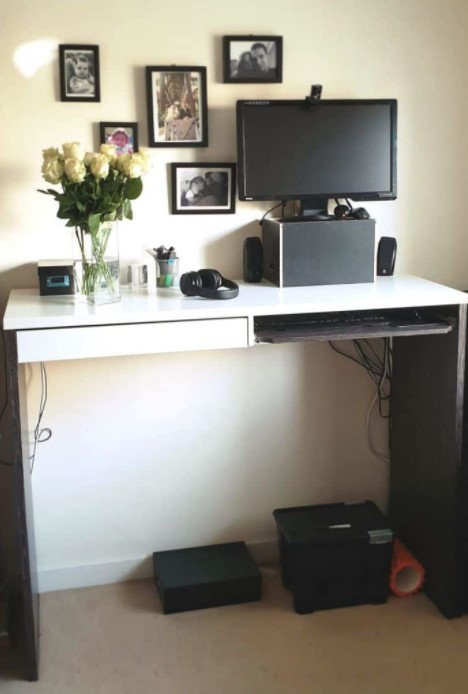 The DIY standing desk doesn't have to be expensive. With the IKEA MICKE table, you can reduce your material costs and it will take much less time. This is because of its simple design in comparison with other tables that are more complicated than this one. Have a look at how simple it is to make! You'll definitely want to try out this DIY standing desk if you're looking for an affordable way of getting rid of back problems too!
Make A Standing Desk from A Coffee Table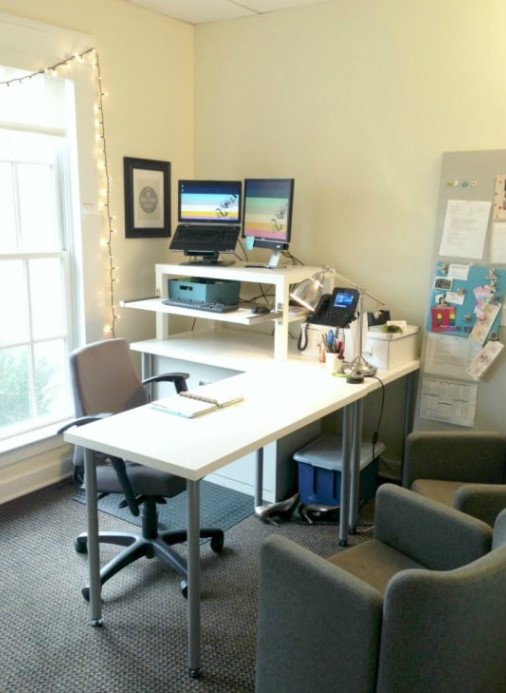 This DIY standing desk is a perfect solution for your office workspace. It's affordable and easy to assemble. Let's take a look at how you can turn a coffee table into an affordable standing desk. The design is simple and efficient, with dual monitors securely mounted on the surface of the coffee table and your keyboard safely stored underneath for space-saving convenience.
Avoid A Hunched Back with A $20 Standing Desk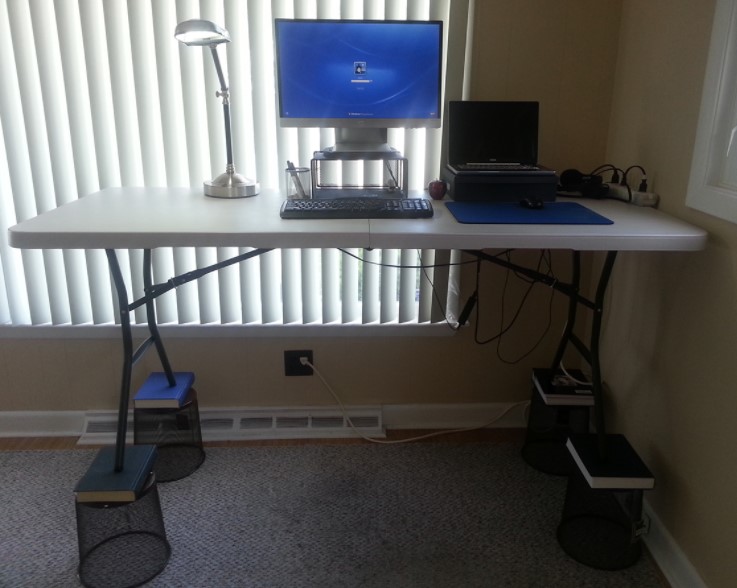 Standing desks are becoming more and more popular as the world moves towards a healthier work-life balance. Think about how your back feels after only an hour of sitting, then think how much worse you'll be feeling after 8 hours straight in front of your computer screen. This DIY standing desk project will cost $20 to make with materials like books and metal trash cans!
Revamp An Office Desk Into A Stand-Up Desk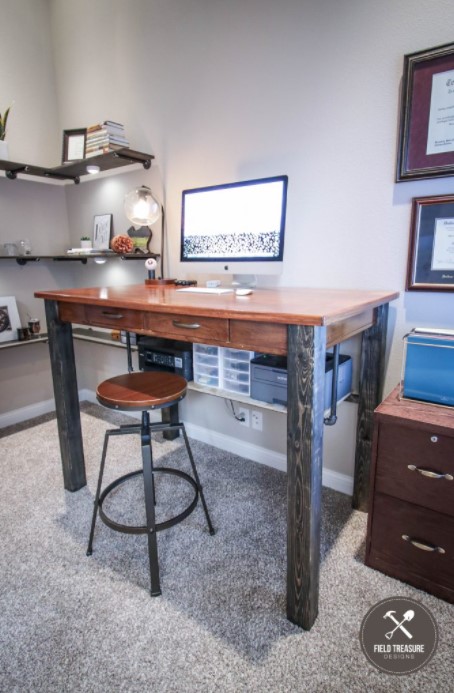 Have you ever ordered a table and it didn't quite meet your needs? It's frustrating when you don't get the table to work for your needs. But, as this post shows us, sometimes a little tweak can make all the difference! One example is that this table was too short and needed something added on top of it so people could stand up or sit down – but in order not to be bulky, some inexpensive local hardware posts are used instead which made things way more awesome than before!
A Cheap Way to Raise Your Desk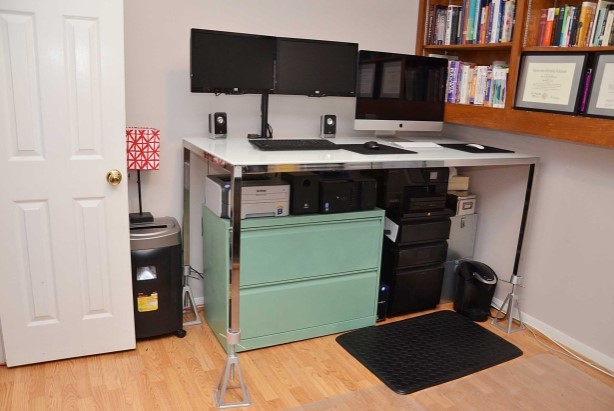 Is there any way to raise your desk for cheap? The answer is YES! This standing desk alone can be built for $50. It's lifted a few inches from the floor with some Aluminum Jack Stands. What makes this even better, you have space underneath that could fit anything in it like a whole cabinet or storage unit of sorts!
Adjustable Standing Desk from TV Console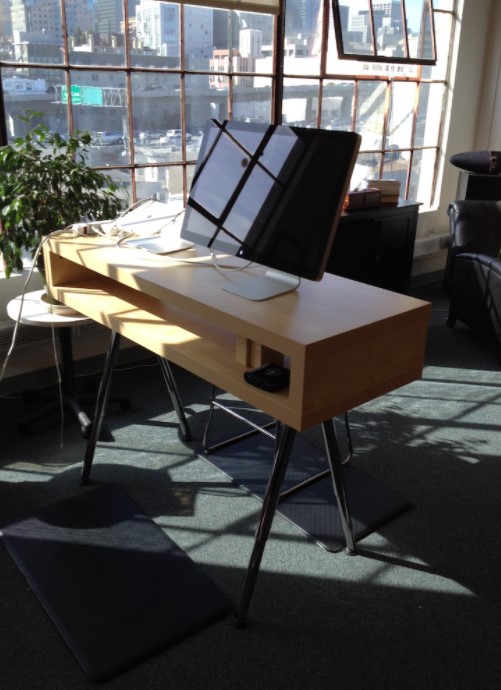 Can you believe that you can construct an adjustable standing desk from a TV console? Well, it has happened, and here's the proof. Don't worry, this is easy and budget-friendly ($140 in total!). The final setup looks stunning and we're certain that you want to have this at home too!
Very Effective Bookshelf Standing Desk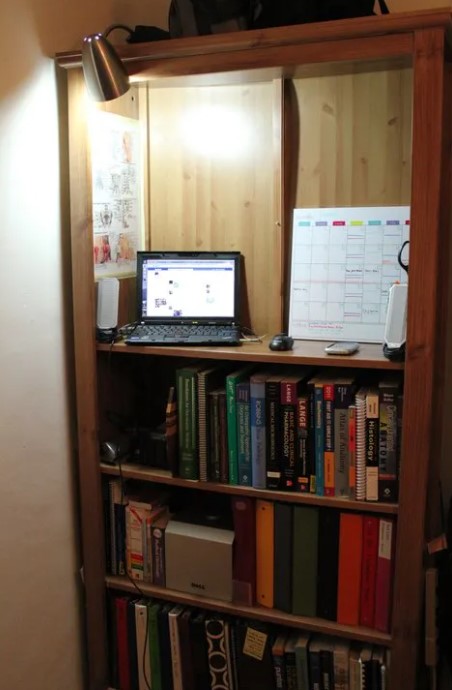 Today, more and more people are waking up to the benefits of standing while working on computers. Not only remote or office workers but students too! Medical school is a time-consuming endeavor for those who study long hours each day. The solution? A DIY project of bookshelf that doubles as a standup desk which allows you to display all of your sources without having them clutter up space at a traditional desk.
Increase Blood Flow with Treadmill 'Walking' Desk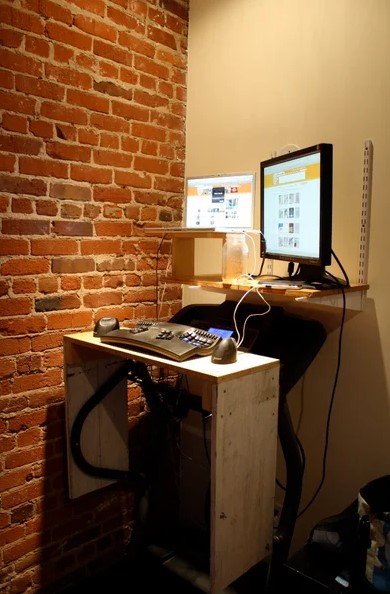 Tired of sitting all day? Introducing the latest craze to hit your office spaces, a treadmill desk! Yes, you read it correctly. A standing desk has been taken up yet another notch by constructing this brilliant invention that enables those who work at their desks to walk on the spot as well – an amazing idea for health benefits and overall cognitive ability too. All you have got left is deciding which style gives maximum comfort while walking.
A Wide $40 Standing Desk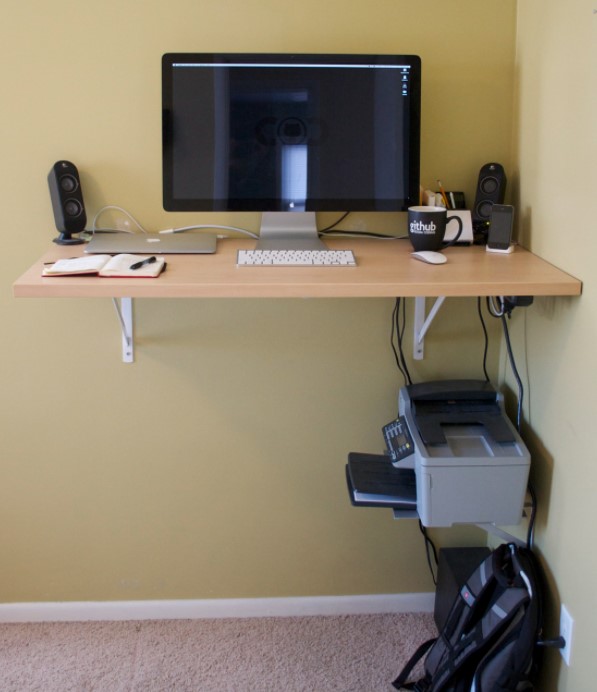 Would you pay $800 for a standing desk or build one with materials that cost only about one-fourth of the price? If you're here, chances are you'll decide to go DIY–and this project won't disappoint. With heavy-duty 19″ shelf brackets, a desktop surface, and screws from your local hardware store, it's not hard at all to assemble an inexpensive but comfortable adjustment station in no time!
Change Workspace with Tabletop Standing Desk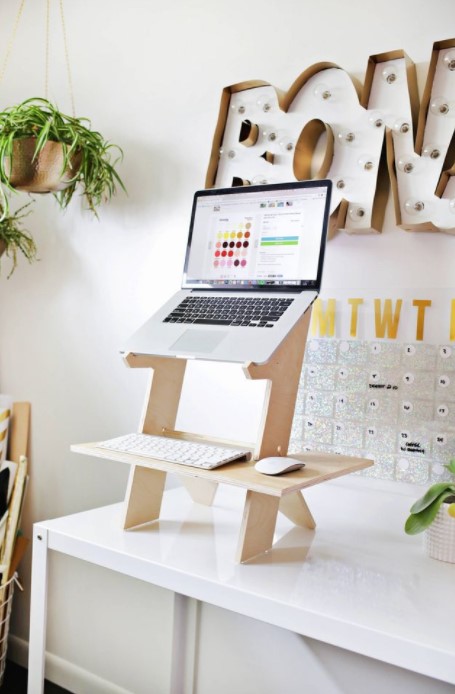 If you want to be a healthier person, there are plenty of ways that can help. You can start by making better choices about your health and how long you spend sitting down for work or other activities. A DIY standing desk is an excellent way to get on the path toward improved fitness while working! For just $13 worth of plywood board, this sleek tabletop stand will have you up off the ground in no time as it helps promote good posture and healthy joints too! Don't miss out! Don't let another day go by without one installed at home or office today!
$50 Standing Parson Tower Desk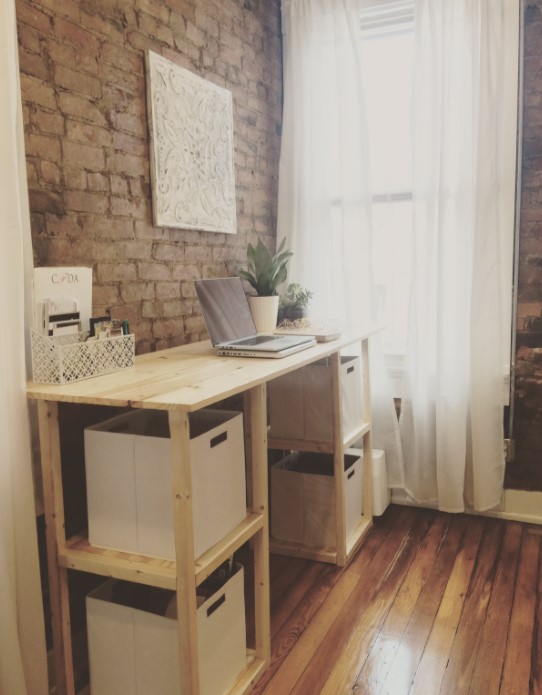 With the parson tower desk, you can customize your desk to fit any need! For example, if a standing desk is what you're looking for – all it takes are some taller towers. This DIY project only costs around $50 and finishes in just 10-20 hours. It's even easy enough that beginners will have no problem making this amazing piece of furniture for themselves (or as a gift)!