Carl Sagan once said, "A book is like a voyage through time." If you want to see the future generation experience the fun and joy of reading books, you need to have a shelf to keep all the books safe!
The most important thing when building your own bookcase is finding out what you need it for first! Do you want something tall enough to hold stacks of paperbacks? Or do you prefer wall space dedicated only toward displaying hardcover editions?
These DIY bookshelf ideas are perfect! If you love reading so much, it's hard not having all your favorites on display close at hand. Now, you can tailor your shelving dreams accordingly in size, shape, style (and color!)
DIY Crate Bookshelf for a Small Bedroom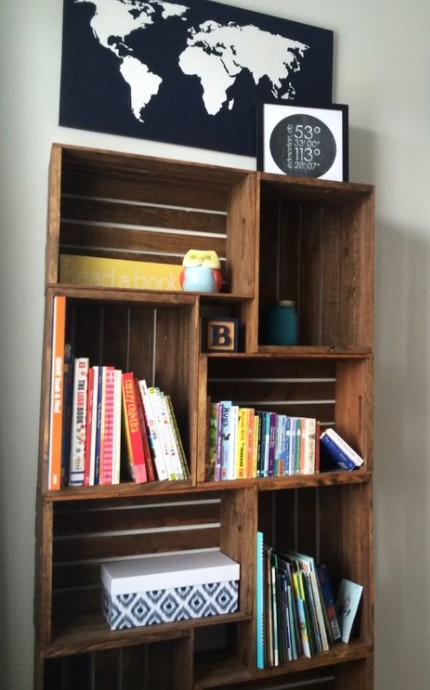 Spaces are limited in bedrooms, however, with creativity and resources, you can make it work. This DIY bookshelf idea is a perfect plan for any small bedroom; the total cost of this project will only be $120 to get started!
DIY Unique Floating Bookshelf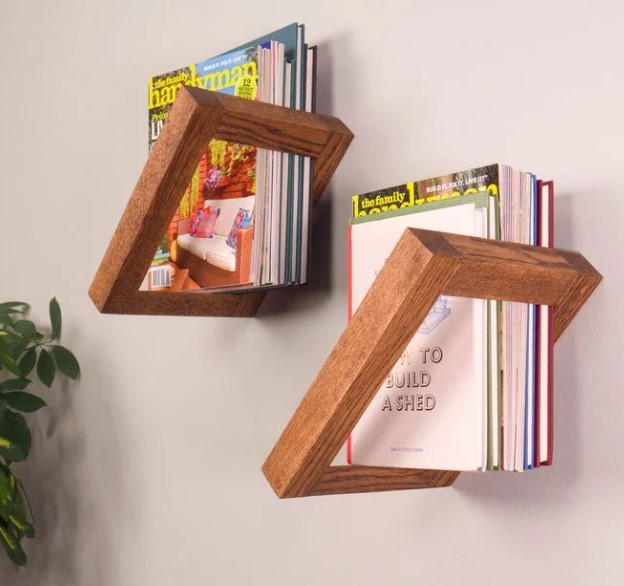 This DIY bookshelf is giving your reading space a modern feel. The sleek design and the floating aspect make this project unique and easy to assemble! With around an hour of time, you can have a beautiful shelf for all your favorite reads.
DIY Vertical Spine Bookshelf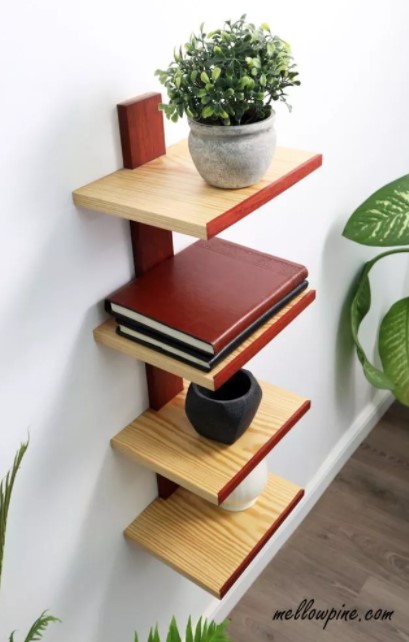 This vertical spine column bookshelf is a quick and easy project for anyone. The natural colors balance each other out perfectly, and the process of constructing this shelf couldn't be easier!
DIY Wall-mounted Bookshelf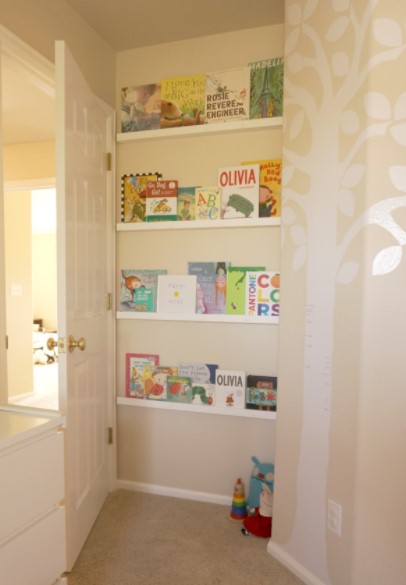 When your room feels too small for all of the books you need to store, a DIY bookshelf can really help. This particular design takes advantage of unused space on a wall and is perfect if you want something that doesn't take up any floor space at all!
DIY Tree Bookshelf from Wood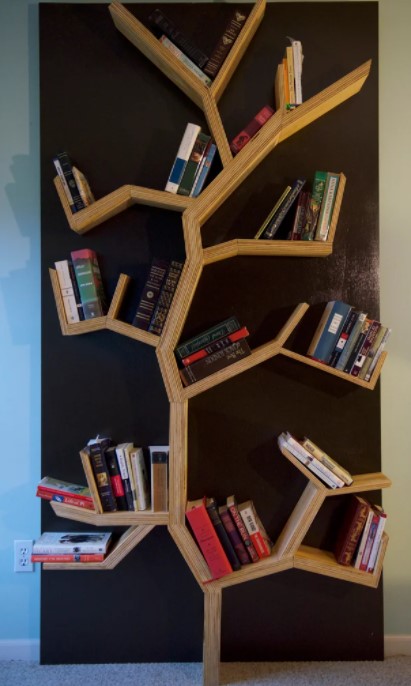 Some say that books are like trees of knowledge, so this tree-shaped DIY bookshelf is both awesome and a great idea. Since a tree can symbolize calmness when reading one's favorite book on the shelf, it would be perfect for any home or library!
DIY Small Bookshelf on the Wall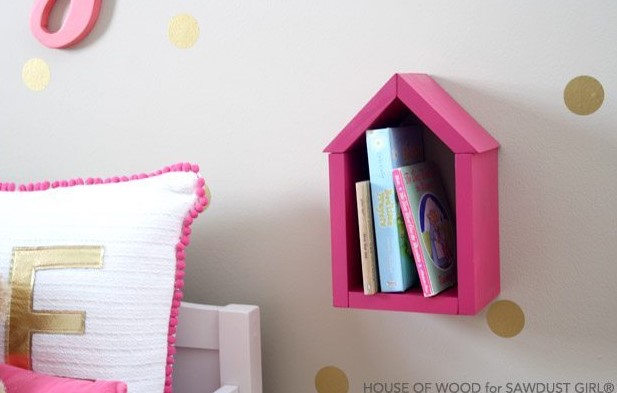 Imagine a birdhouse in your kid's bedroom! This DIY idea is perfect for children who enjoy reading and need some extra space to store their books. The project itself takes no time at all since it only requires pine wood, paint of the child's favorite color.
DIY Rustic Bookshelf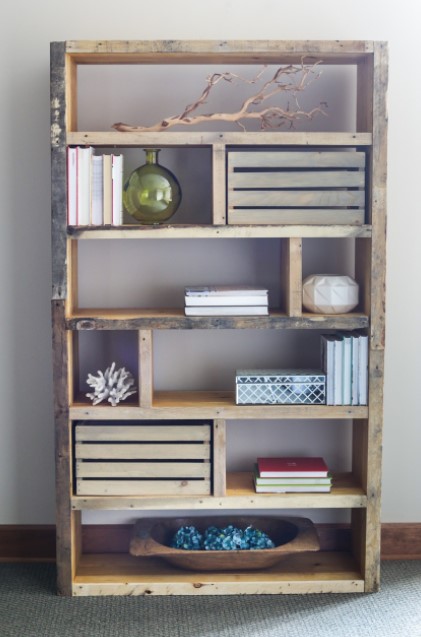 Looking for a rustic-themed bookshelf? This project is using old crates and pallets to make the shelf. You'll need strong materials like those used in this tutorial, but it's worth all that work because you're sure to get an attractive end result!
DIY Bookshelf as Nightstand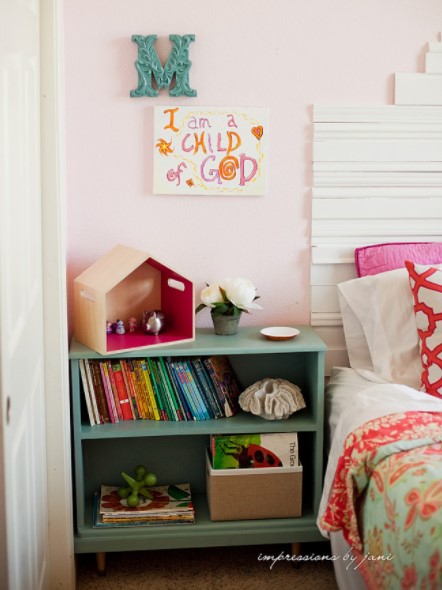 The idea of this project is a multi-purpose bookshelf that doubles as a nightstand. The shelves themselves are designed so they're accessible by hand, which makes them even more convenient to keep necessary items close at all times!
DIY Cardboard Bookshelf for Kids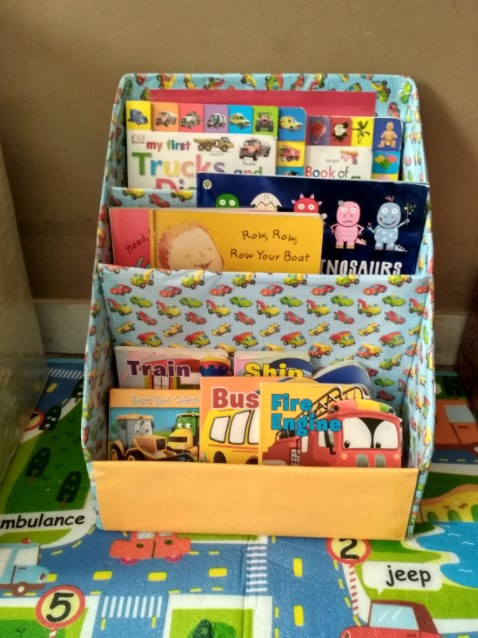 This is a cool DIY bookshelf for kids. All you need is an old cardboard box! You can even customize the design with your child's favorite colors or characters if they have any. Keep in mind that it should be on their level so they don't strain while taking out some of those small colorful books.
DIY Tall Cardboard Bookshelf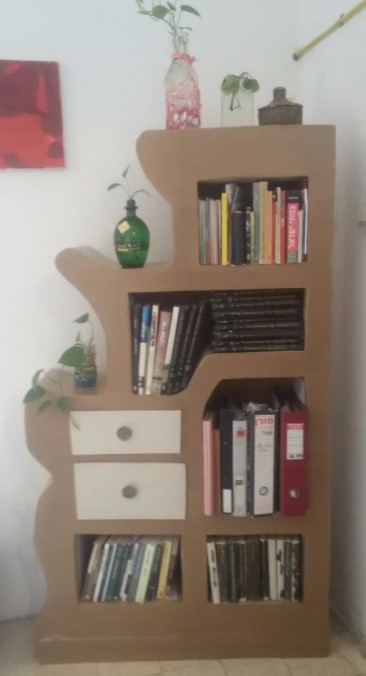 If you are looking for a unique way to organize your books, this is the project you have been waiting for. With a cardboard box as its main supply, this fabulous idea combines some manual work and laser cuts to create an interesting design.
DIY Metal Basket Bookshelf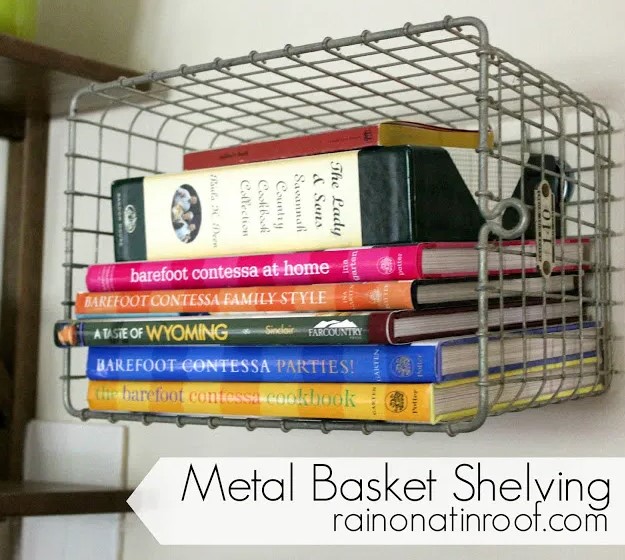 You can find old metal baskets at a junk store for an inexpensive price, and then you can turn those into one-of-a kind DIY bookshelves by creatively transforming them. The best part is that they are wall mounted so it saves your floor space!
DIY Beginner Bookshelf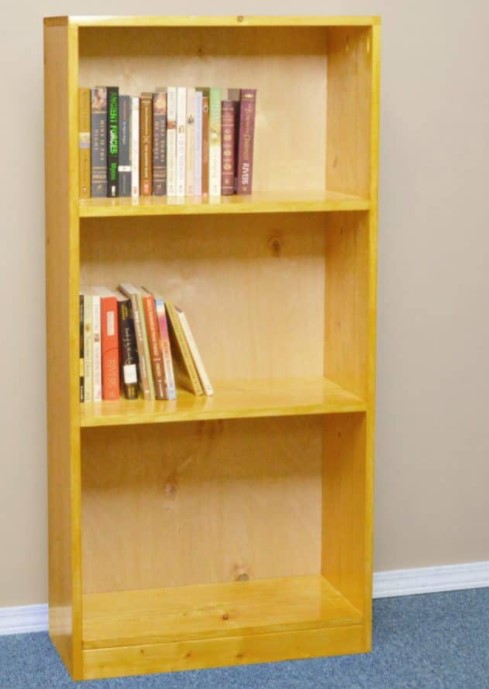 This bookshelf will save money and space while also being customized to fit the dimensions of your room. Moreover, this project only requires basic skills which means that it's perfect for beginners!
DIY Bookshelf for the Living Room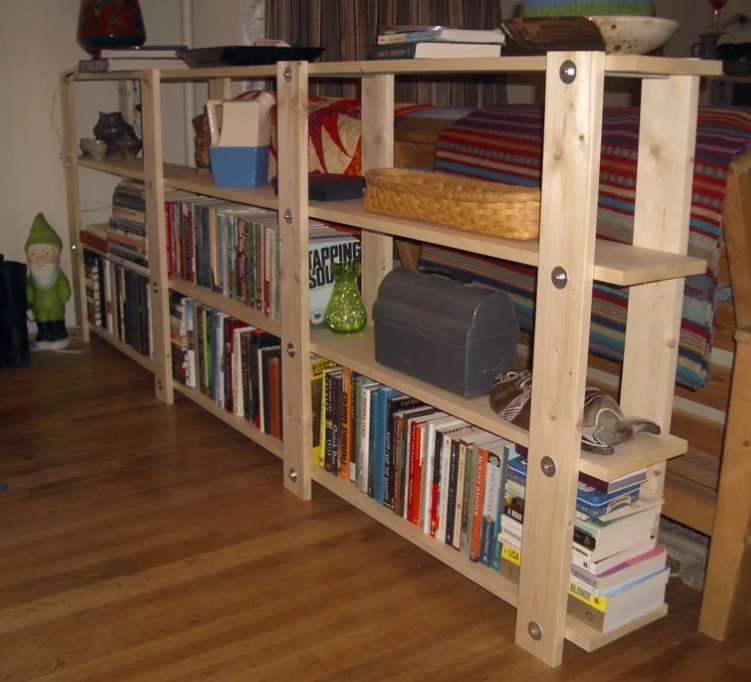 If you're looking for a DIY project to do this weekend, then the 20-minute 3′ x 8′ wooden bookshelf is perfect. All it requires are your bare hands and less than $60 in materials. You can even get away with using scrap wood! If any of that sounds too hard or time-consuming, don't worry, there are some pictures provided in the instructions if you need help putting everything together.
DIY Tower Bookshelf in the Corner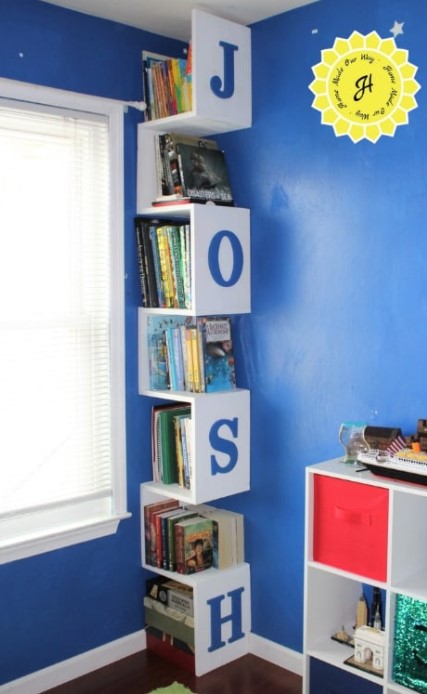 What kid doesn't want his or her own unique bookcase? And don't worry about fitting this in a small size bedroom because the shelf is built right in the corner. It's space-saving and built just how kids need them, with plenty of room to store any book imaginable beneath each shelf!
DIY Cozy Bookshelf Chair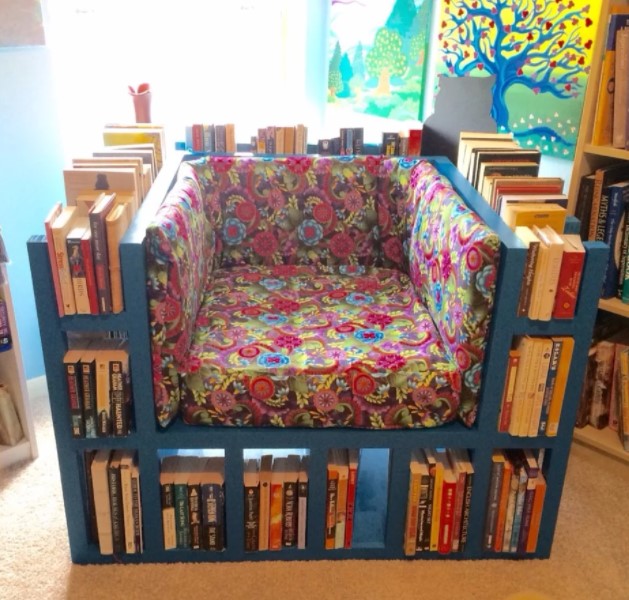 This cozy bookshelf chair is so unique and a must-have for all book lovers. You can use it to read, relax, or even nap in the middle of an afternoon. This project requires time and effort but will be worth it (considering how much money you'll save) because the store-bought ones are sky-high expensive!
DIY Bookshelf from Wood Ledges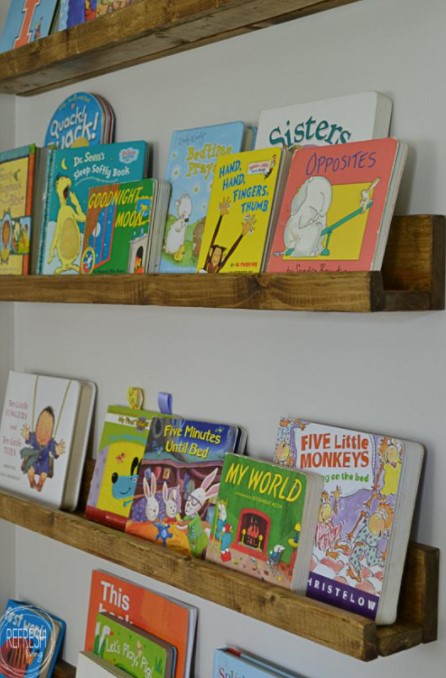 For anyone who has been around a toddler, it is clear how important early literacy skills are. There's nothing quite as fun for them to learn about the world than books! But what if you can't store many books? Building these book ledges solves this problem by being both practical and attractive for your child.
DIY Repainted Bookshelf Ledges
The DIY bookshelf ledge is a much-loved addition to any room. This way, they are all in one place when it comes time to read them again or share with someone else! Not only does this shelf look sophisticated but the whole room looks so much more put together now that these book ledges exist.
DIY Cool Skateboard Bookshelf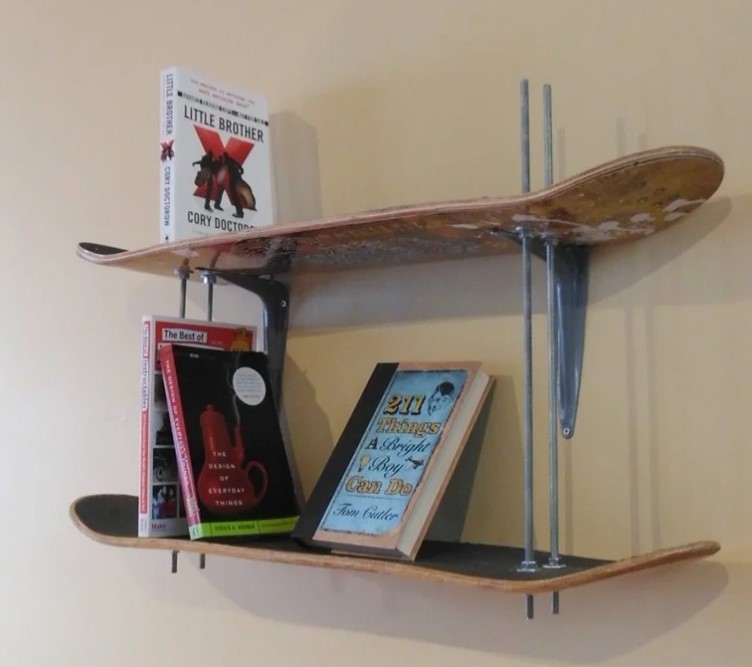 Do you have a friend that's into skateboarding? They'll love this DIY project. You can make their day by crafting them the coolest bookshelf around out of old or new skateboard decks, whichever they prefer! It will be done in less than 24 hours and is perfect for any type of book lover to admire on top of an empty wall.
DIY West Elm Knock-off Bookshelf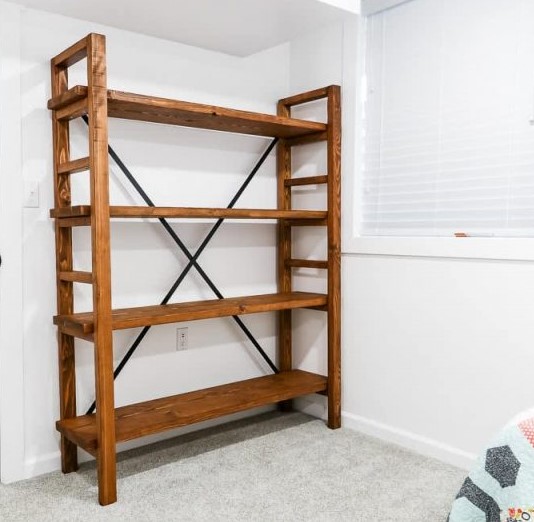 The best part about DIY furniture is that you can make the pieces yourself. Not only that it saves money, but also offers flexibility when designing what it looks like. One example would be this knock-off version of West Elm's pricey bookshelf (which should hopefully please all those out there who love their design aesthetic).
DIY Ladder Bookshelf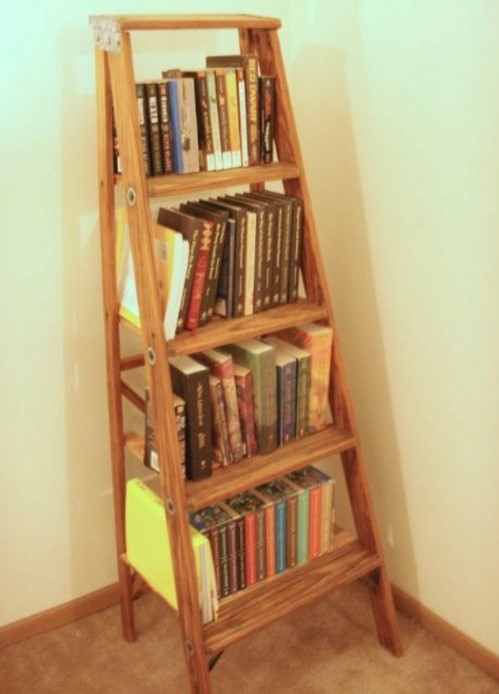 A small room shouldn't stop you from making a DIY bookshelf. From junk, even on the sidewalk, one can make beautiful pieces of art! Take this creative project for example: The shelf is made out of an old dumped ladder and how cool is that?
DIY Floating Bookshelf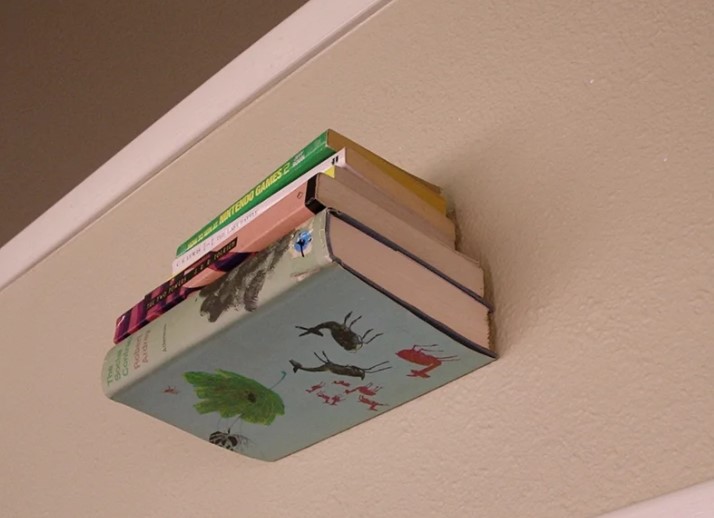 A very unique piece! This DIY bookshelf will leave your guests in awe. To create a levitating bookshelf, you'll need to sacrifice one book that has been forgotten and will probably never be read anyway. Curious? Let's try it out!
DIY Bookshelf from Concrete Block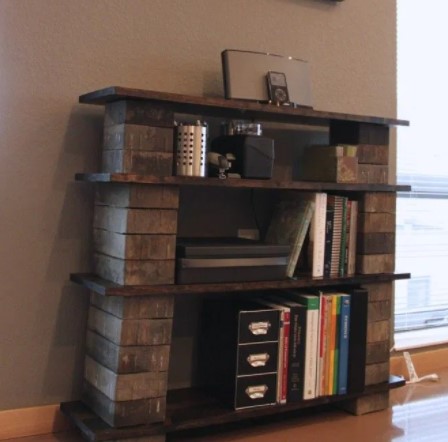 Do you want a bookshelf that will keep your precious collection of novels safe and sound? If so, this concrete block bookcase is the best choice for you. With instructions below to guide you through assembling it, there's no need to worry about wasting hours trying to put together something on your own!
DIY Easy Crate Bookshelf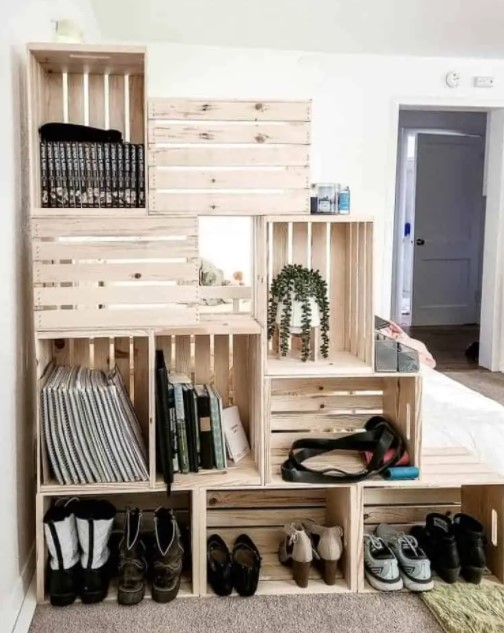 DIYers, have you ever wanted to make your own DIY bookshelf? Well, this is a great tutorial for you! Frameless and easy to assemble, this DIY wooden crate bookshelf is perfect for small spaces. The entire project can be completed in just a few hours!
DIY Adorable Bookshelf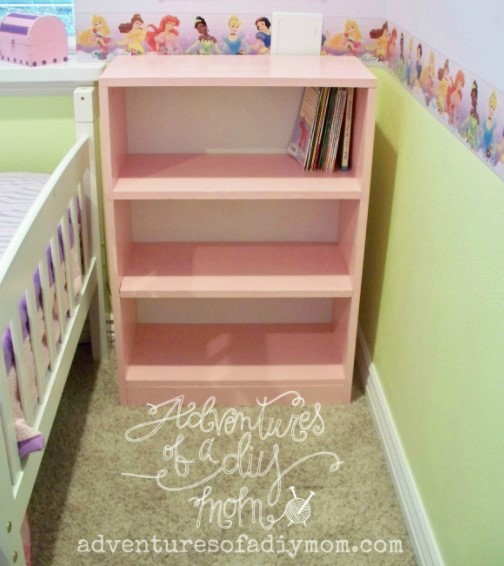 You've been promising your daughter a bookshelf for as long as she can remember. Now that the weekend's here, it's finally time to put together this DIY project and make her dreams come true! The instructions are easy enough; most of what you'll need is already in your home or hardware store just waiting to be grabbed!
DIY Industrial-themed PVC Bookshelf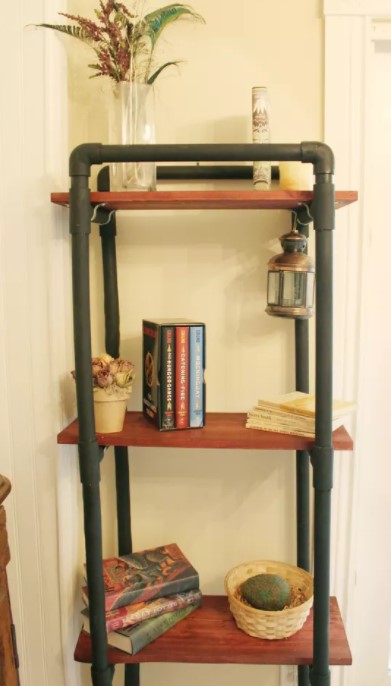 With the trend of personalized furniture, it's best to invest in a piece that speaks your style. Not only will this cool PVC pipe DIY bookshelf give off an industrial feel from its pipes, but you'll also save money on materials because it requires less! This project is easy enough for even novice crafters with basic skills.
A Tardis Bookcase for A Dr. Who Admirer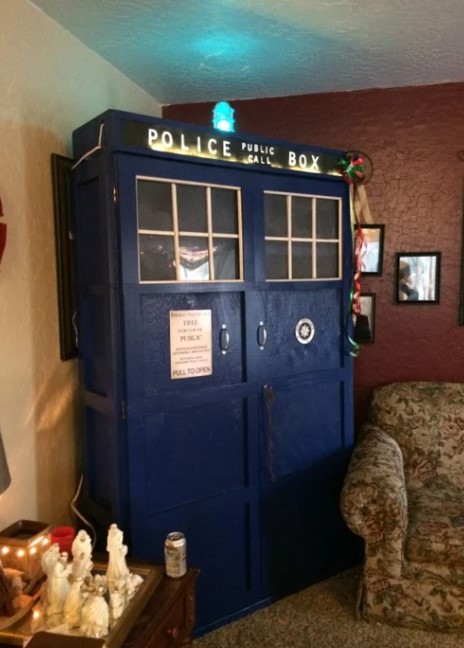 If you grew up watching Dr. Who, then this is the bookcase for you! The Tardis Book Case features a light-up design so that it looks just like the entrance to an exciting adventure in space and time every time your walk by it! Another best thing about this bookcase? It has plenty of room on the shelves so you can fit all your favorites!
A Simple Bookcase with Adjustable Shelves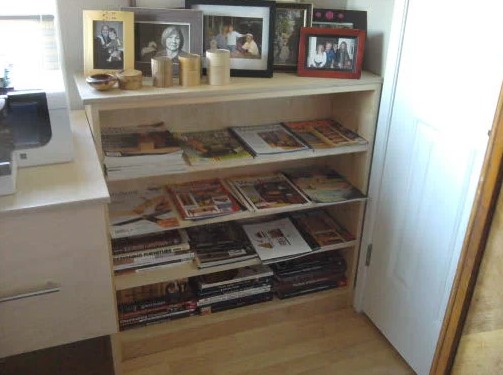 Your home is a sanctuary from the world that you should be able to customize for your needs. The 3/4″ plywood bookcase is a great example of utilitarian design. This shelving unit has been specifically designed to hold books and magazines, so you can customize the measurements according to your needs!
A Travel Bookcase That Folds Up Into A Suitcase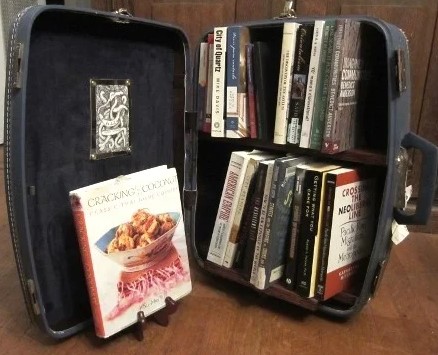 Here comes another unique idea that will surely make organizing easier! With this creative idea, you can turn your suitcase into a bookcase! All it takes is some handy work and creativity. Once the case opens, it reveals its wooden shelves and becomes an adorable tiny library that's ready for traveling with you anywhere!
A Bookcase That Doubles As Seating Area from Metal Milk Crates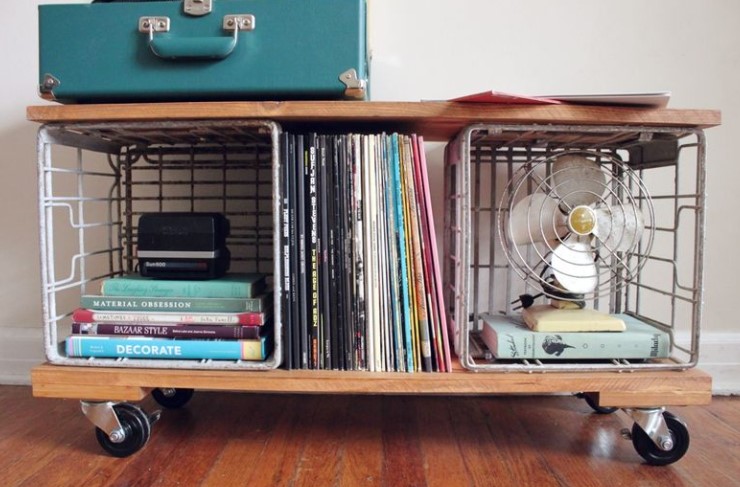 This project is perfect for any avid reader who wants a unique bookcase that doubles as a seating area. Keep all your favorite books (or records!) organized and up-to-date with this stylish milk crate design. The highlight of the project is its multifunctional features, making it comfortable, convenient, and chic!
A Simple Bookcase with Nice Weathered Pallet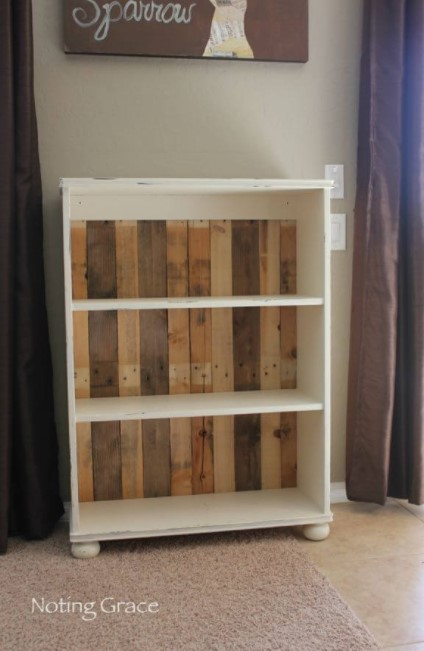 Weathered pallets have an alluring rustic feel that is unmatched by any other material- not even metal or plastic can compare! So the worn, weathered appearance of these pallets becomes the main highlight as they are left on display. The rough texture and variations in color are what make these pallets so beautiful. They have this timelessness to them! So let's go build one today; we bet you'll love it – especially if the process is as fun as it seems!
Shipping Pallet Bookcases That Doubles As A Bike Rack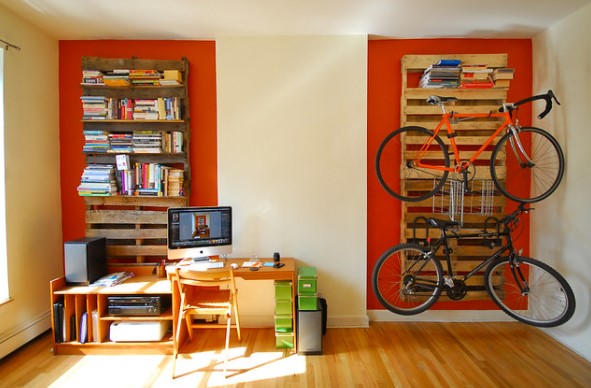 When you go out on your next adventure and spot a discarded pallet, grab it for yourself! You can easily turn this into an awesome bookshelf with just a few materials from the hardware store. Plus, if that's not enough storage space for you to make use of, we have a smashing idea right here, why don't we also think about using it as a bike rack?
A Catch-All Shelf from An IKEA Magazine Holder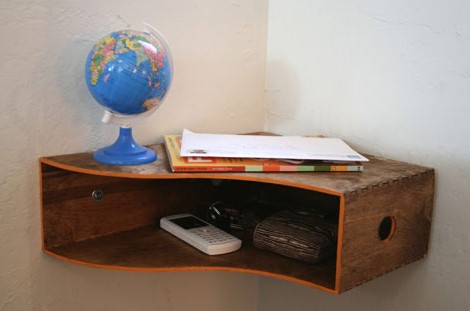 Ready to get organized? You can do it with a little IKEA hack! This clever idea transforms the iconic magazine holder into an organizing shelf. Firstly, stain its wood with a darker color for that sleek Scandinavian vibe we love. Then, screw the shelf onto your wall, and you'll have a catch-all for everything from keys to books!
Wine Crate Display Cases That Can Be Used As Bookcases Too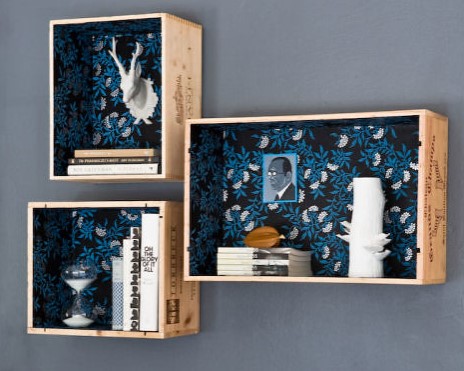 Interested in a weekend project? Check out this display case that can also function as your new bookcase. The main supply for this project is wine crates and you'll find these easily at any local winery or liquor store. So, get on it and start building something spectacular for your home today!
A Floor-bed with A Reading Nook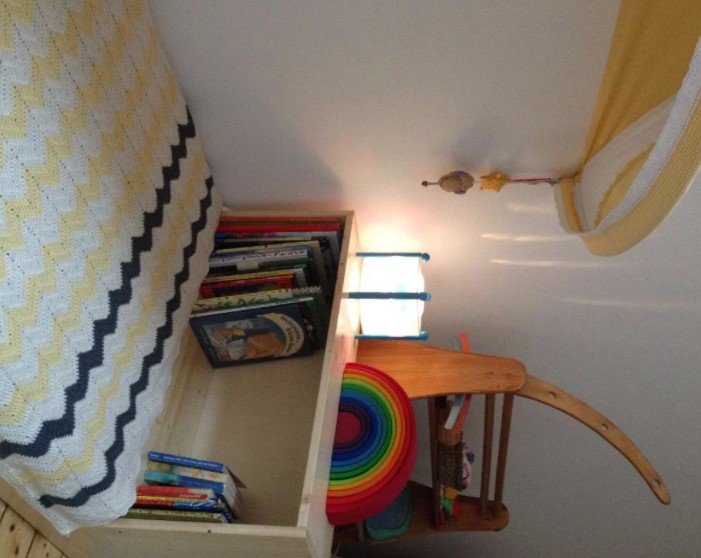 For those who love to read, this floor bed is the perfect place for lounging and reading. The built-in bookshelf at the foot of it creates a comfortable spot with plenty of storage space. The idea behind building them was to provide children with an educational center in their bedroom, but they are great even for adults!
A Bookcase Out of A Wooden Spool for Less Than $50
This DIY bookcase project won't cost you over $50 which is great news. Moreover, it offers a very unique idea because it uses wooden spools and wheels to make the bookshelf movable. The original designer called this piece of furniture "a bookmobile"–which sounds superb!
A Mini Wooden Bookcase for Desktop Decoration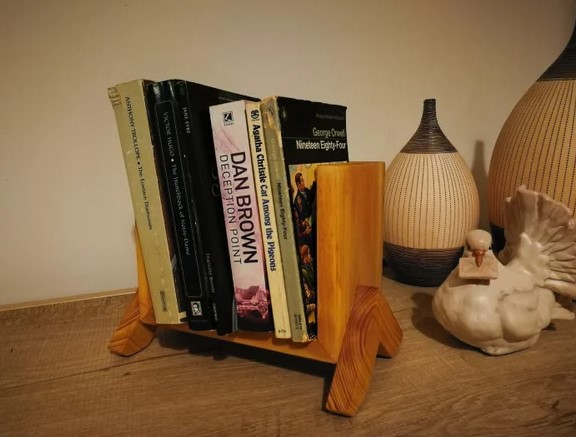 You will be able to enjoy your favorite books in a compact and tidy way with this mini bookcase that doubles as a desktop decoration. This DIY bookholder can store up to 5-6 of your novels, a perfect way to display all of those favorite reads in one place on the desk or end table! Plus, you'll never have any excuse for not finishing the next chapter!
DIY Bookcase Made of Two Sets Old Bi-Fold Doors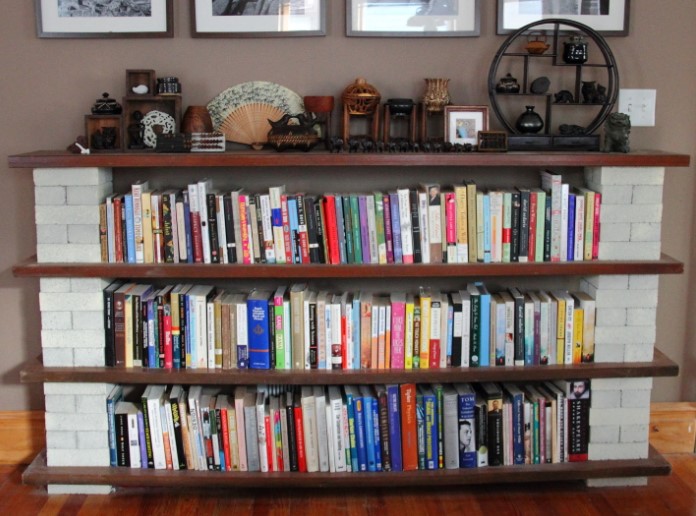 Have you been looking for a way to show off your favorite books and keep them organized? Well, this DIY bookcase is perfect! It's easy enough that it can be done on the weekend in just a few hours. All you need are some thrift shop bi-fold doors ($5 each!), bricks (we used columns of six), and wood glue or construction adhesive. Just think how much more room we'll have around our house now!
A Rustic Pallet Bookcase for The Bedroom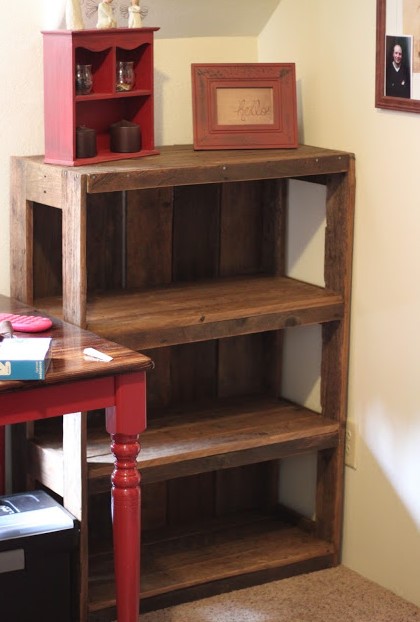 Building a DIY bookcase is an excellent idea for anyone who loves to read. This project can be done using pallets and some other supplies you may have on hand. Once it's put together in your bedroom, not only will the bookshelf look amazing; but with all those shelf space inside of this furniture piece, they'll be even more accessible!
A Vertical Bookshelf for A Small Living Space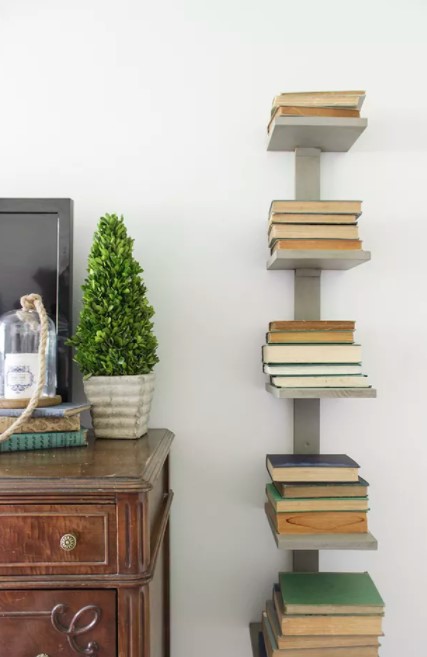 A small living space can be a challenge, but with creativity, it doesn't have to feel so cramped. One way that many people combat this is by adding a vertical bookcase or bookshelf. You get more storage without taking up as much floor space and you still maintain the pleasant view of your room! This is the best way to maximize your living area!
Strong Suspended Bookshelves with Steel Cable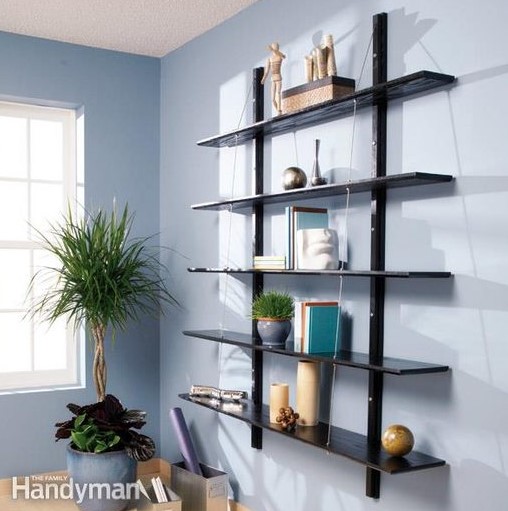 Suspended bookshelves are a great way to add storage space in small living spaces, and are an interesting alternative for those who want the option of using their walls as storage. These shelves can be hung from a steel cable, which ensures that they will stay put–guaranteed! Depending on your needs (and budget), these suspended shelf units range between $101-$250 with installation taking around 3-5 days depending on how complicated your design may be.
Interesting Bookshelves Hanging on Rope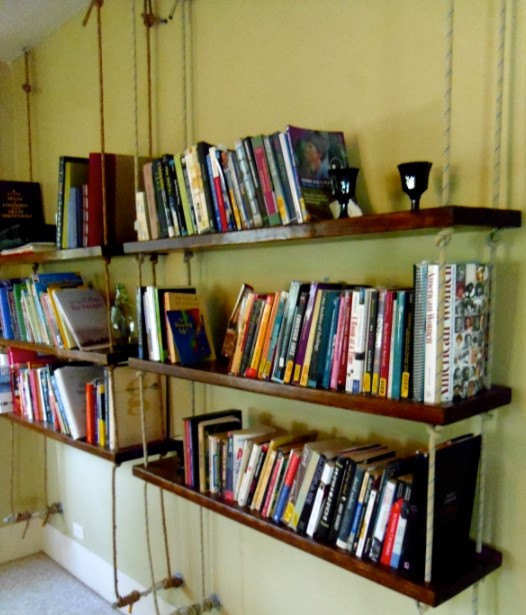 Hanging bookshelves can be a great way to add some character and style to your living space. This hanging shelf is supported by rope, which adds an even more rustic feel. The rope comes in many different colors such as brown, gold, green or dark gray so it's easy to match the color scheme of any room! The best part of the project is it costs only around $150!
A Unique Standing Bookshelf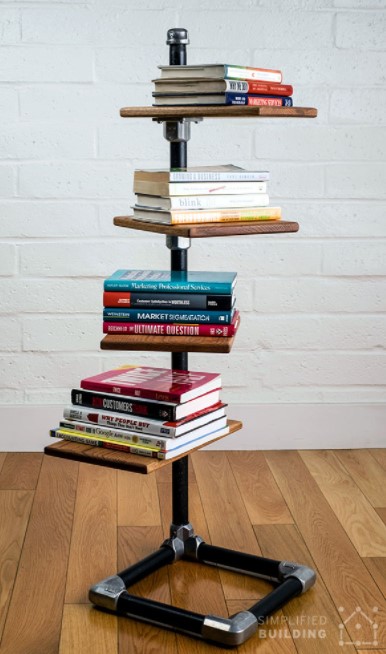 Don't let a lack of floor space get in the way of your book-time! With this standing bookshelf, you can save yourself some valuable square footage without compromising on quality. The instructions are easy to follow and come with an informative tutorial that'll keep any novice builder up and running through construction phase one!
Side Bookshelves Using IKEA Spice Racks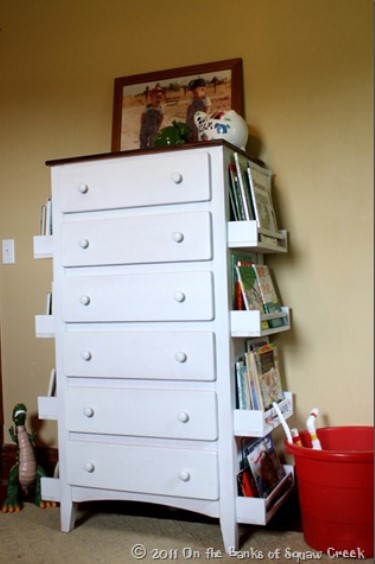 We all know that children's bedrooms can be a mess, but with some creativity and ingenuity, you don't have to live in chaos. Just take an old dresser for example; paint it, install spice racks from Ikea on each side of the unit (near eye level) then put books inside! A brilliant idea if we do say so ourselves!
A Creative Desktop Beehive Bookcase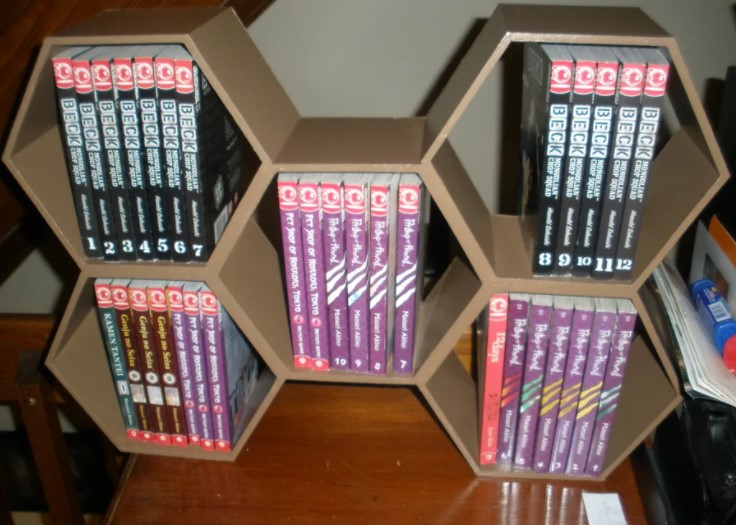 The popularity behind desktop bookcases comes from their ability to provide organization as well as creativity. Whether you want to stock your favorite books in a space-saving way, or maybe just make something cool for the desk area of your bedroom – this DIY beehive bookcase is sure to please. With an easy build and materials that can easily be found at any hardware store, it's no wonder why people love building these!
A Hanging Bookcase from a 42-inch Piece of Fabric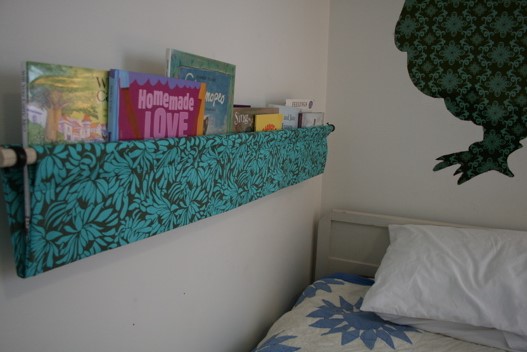 It's always nice to have a creative way of storing your books. This DIY bookcase idea is perfect if you're looking for something different and unique in the style department! The holder itself is made using a 42-inch piece of fabric, so that leaves you with plenty of options when it comes to selecting an eye-catching pattern or color scheme. Plus making this project yourself couldn't be much easier – plus there are many things about this design that make it even more interesting than others on the market today!
A Bookcase with A Map Background from A Repurposed Drawer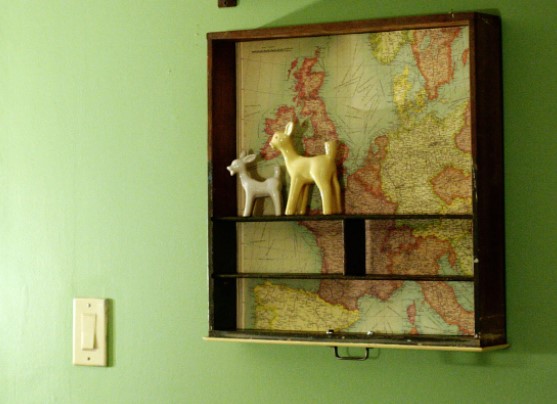 With the help of an old drawer, this DIY bookcase is simple yet attractive. Thanks to a map glued on its background which creates such an eye-catching view! You can customize any other map according to your liking and make it unique for yourself or someone you know who loves maps as much as you do!
A Super Simple Washi Tape Bookcase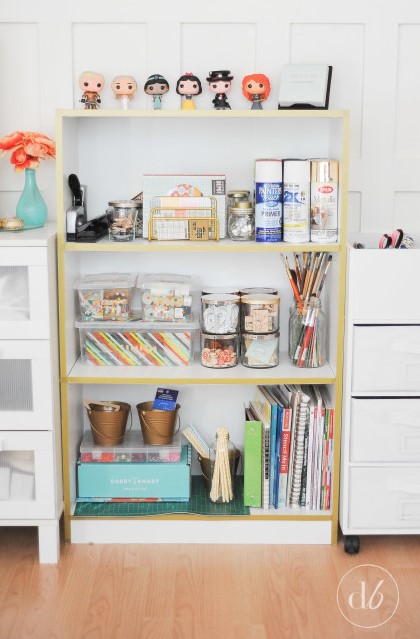 This DIY bookcase is a great way to spruce up your living space. By using washi tape, it's easy and fast to transform the original plain wood into something more exciting! There are so many colors or patterns you can choose from the washi tape that will suit any style of room decor!