When people think about adorable animals, they often first consider cats and dogs. However, bunnies are not to be overlooked. Whether you want to cuddle your own pet bunny or make a crochet one, bunnies are lovable.
They look adorable as they hop around with those long ears and soft fur so if you're looking for the perfect furry friend then either get yourself an actual rabbit or work on making some of these DIY crocheted ones.
The following is a list of crochet bunny patterns, from easy to intermediate levels. Patterns include amigurumi dolls that can be given as gifts or kept around for company on cold days. Each pattern contains step-by-step instructions and some even have video tutorials with close-up photos included too!
So let's take a look at these free bunny crochet patterns and find some inspiration. We are sure that there is one of them waiting for you to discover it!
Adorable Bunny Hugging Easter Egg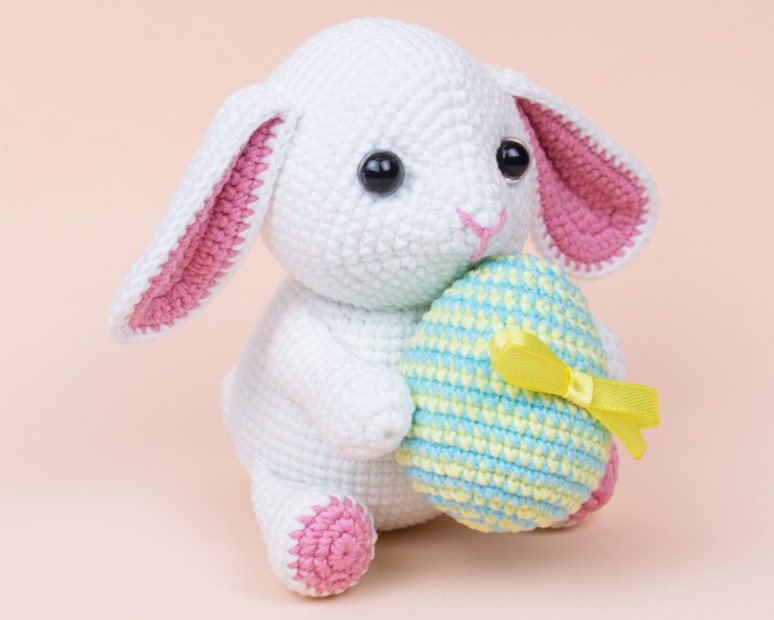 The Easter Bunny and decorative eggs have been around since the 19th century, so celebrating without them will not be fun. Surely, this Bunny and her egg are going to be the center of attention for this Easter! Crocheted using a 2.5mm hook, once you finish, she will be 11 cm when sitting down (about 4 inches). The instruction provides a step-by-step tutorial with photos too, so it's not too difficult for anyone who wants to try this out!
Amigurumi Bunny Wearing A Bowtie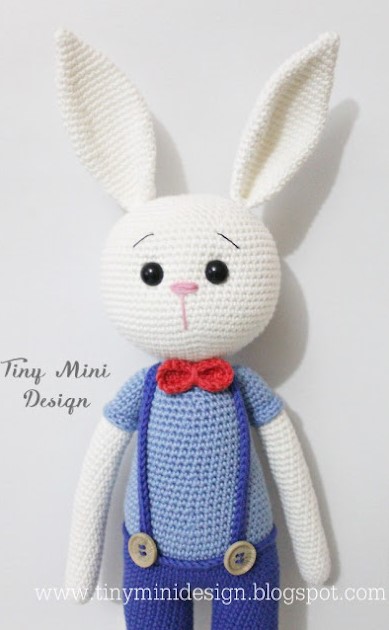 A bunny wearing clothes and a bowtie might be the cutest thing in existence. If you want this little guy to accompany you next weekend, get your cotton yarn and 2.5 crochet hook ready! A color change will happen (for example, from white to blue once you get to the pants), so it would help if some basic crocheting skills were known beforehand.
A Palm-Size Crochet Bunny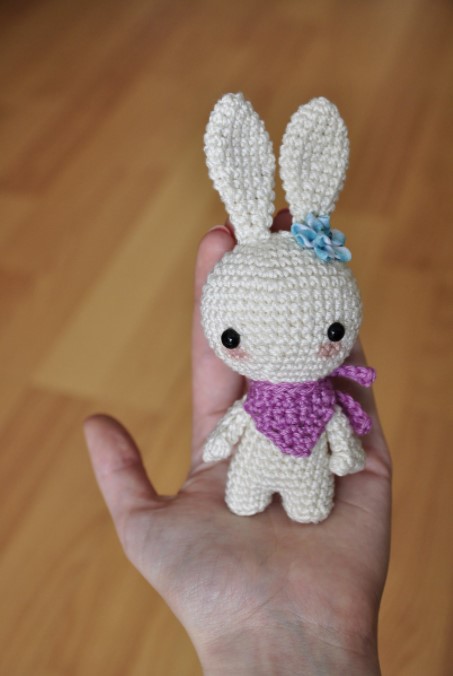 This adorable crocheted bunny pattern is great for beginners. It's palm-sized, so you won't have too many stitches to make, and it's easy enough that even a beginner won't miss any important details. That being said, it will be more lively if the little additions such as the flower pin and neck scarf are kept intact! Of course, don't forget those crimson cheeks either – they really add some super cute charm to your new friend!.
Carrot Bunny Heart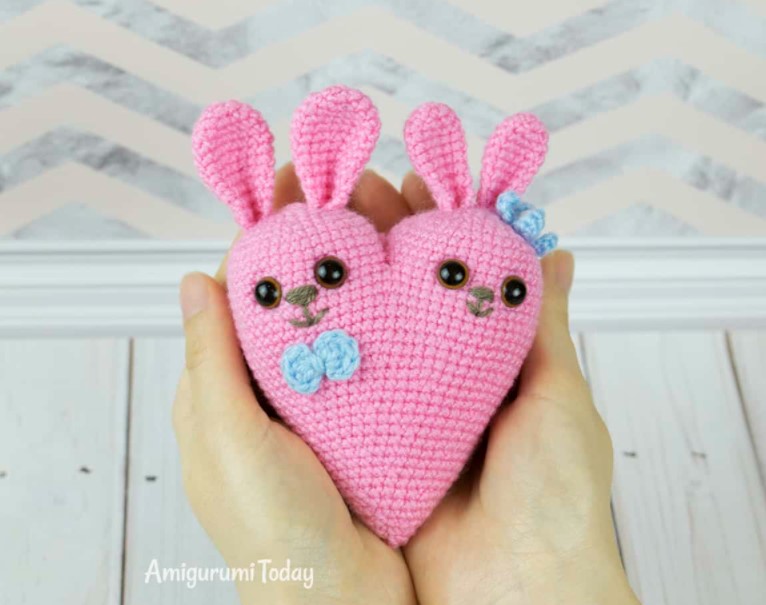 If you're looking to try your hand at crocheting, a crochet carrot bunny heart could be exactly what you need. It's simple enough that it won't take too long or become frustrating. Plus it doesn't require making the typical parts of an animal – no bodies, legs, and hands required! You can also customize whether to make two bunnies like in the picture or just one with its face more centered on the heart.
Pink Bunny with A Tough Attitude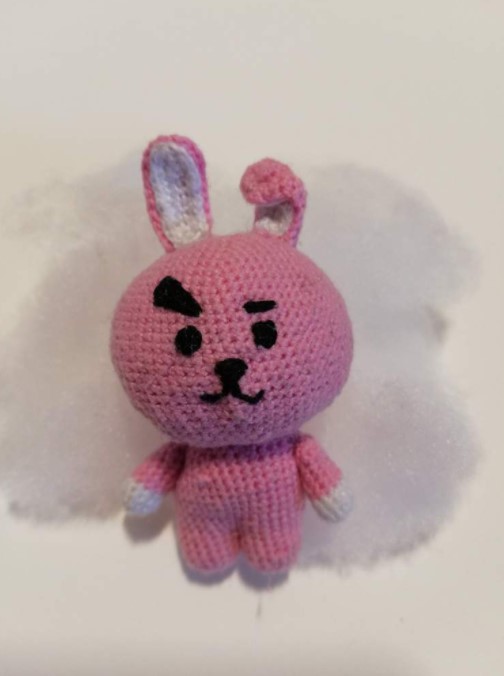 While bunnies are often portrayed as these adorable creatures, it's okay to make a bunny that displays a tough attitude. One such example is Cooky that happens to be one of the BT21 characters. He has pink fur so you'll need 50g pink yarn along with other colors like white and black. Start crocheting him with a 1mm hook, but don't forget about bringing stuffing, scissors, and also preparing your sewing needle too. He will rise up against any threats by your side as he accompanies you everywhere!
Amigurumi Bunny with Ears Sticking Up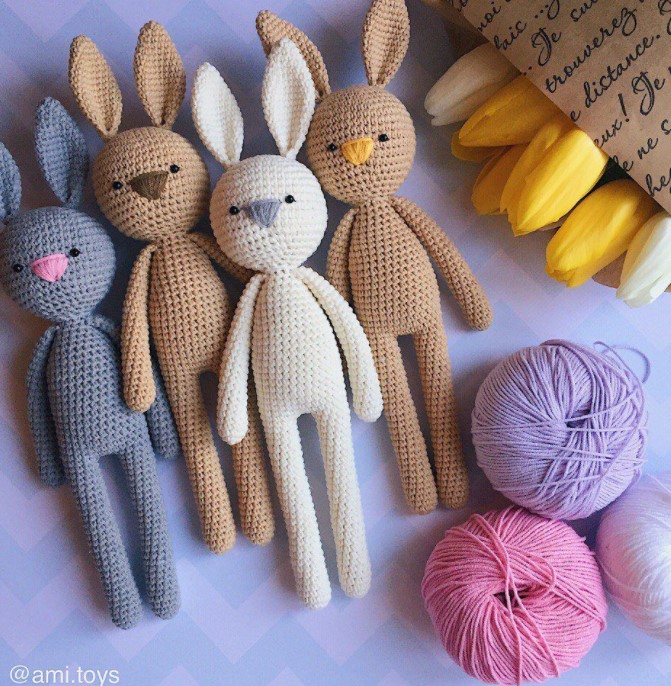 This crochet bunny is so cute with its long legs and hands that you can easily grab. Its snout is made simple in a triangle shape too, while the ears sticking upright add to the cuteness factor of this crochet bunny. Get creative with the colors, though these pastel colors seem to fit into the calm personality of the amigurumi bunny!
Bunny As White As Snow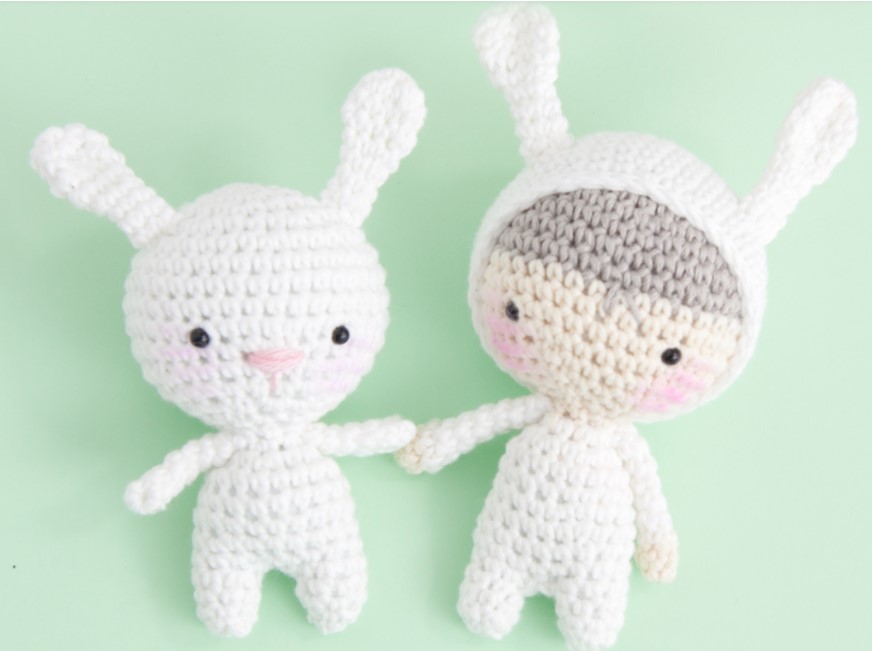 This amigurumi project is perfect for any crocheters who are new to the craft. With just a little white cotton yarn and some polyester stuffing, you can hopefully complete this bunny in no time! Remember to stuff it as you crochet. Once finished, attach the arms by sewing them on either side, but be careful not to get too close, or else they might unravel!
The Yellow-Ears Bunny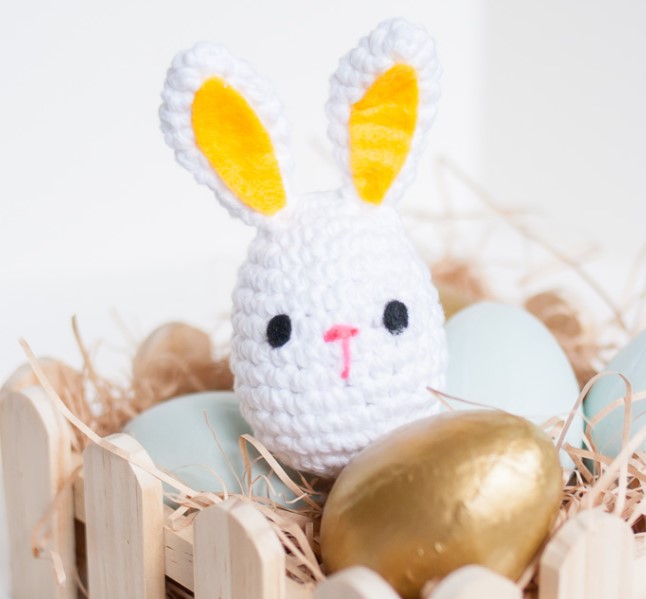 This is a crochet easter bunny that has been turned into an egg shape with just its ears sticking up. Other than being used as decoration for Easter, this makes for the perfect toy baby to play around with during their younger years. The yellow felt pieces on top of each ear make it even more visually appealing and exciting!
Bunnies with Adorable Scraves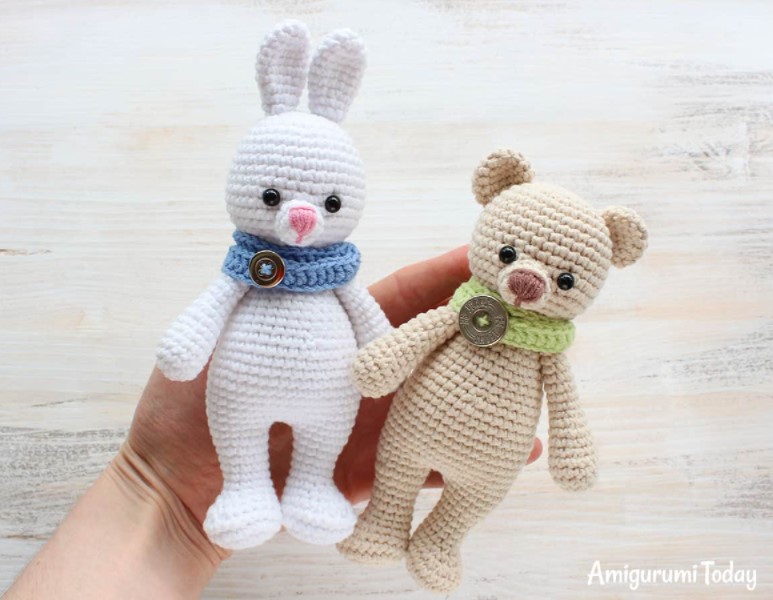 When Easter comes around, it's only perfect to make a crochet bunny. To give the bunny more style and flair, add an accessory such as a scarf! It can also be good to have contrast with your amigurumi design – for example, this one is made using white cotton yarn while the scarf itself is in light blue or green. Continue using this same pattern for more company too!
Customizable Amigurumi Bunny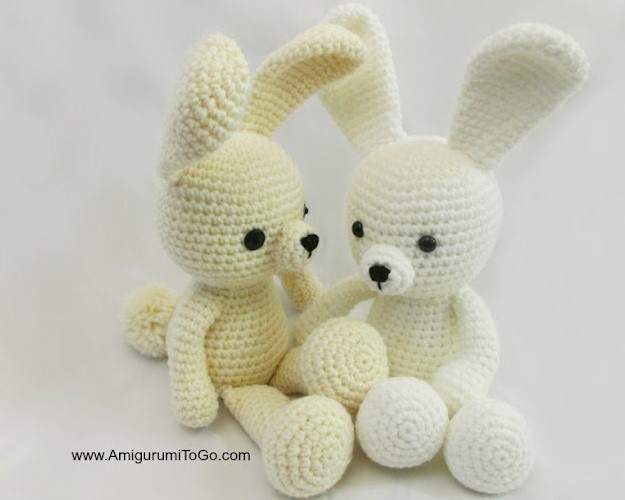 This special crochet bunny comes with a few accessories, including overalls and dresses. The complete playlist of the video tutorials will ensure that you don't get lost! This 100% polyester stuffing is comfy for hugging. Before beginning, make sure to watch the tutorial on how to create a magic ring to avoid any problems while crocheting!
The Most Adorable Easter Bunny Mug Cozy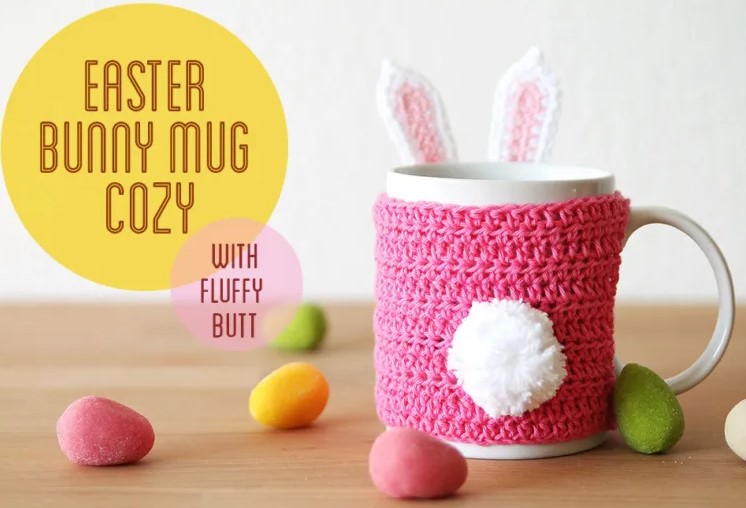 Need inspiration for this Easter? Here's one idea! Create a bunny mug cozy. This unique design follows the shape of your favorite cup, and you can customize it with any color or pattern that matches your Easter decor. The pattern comes complete with long ears to keep your fingers from getting burned while enjoying hot beverages on chilly days – just make sure not to lose them when washing!
Bunny Cupcake Crochet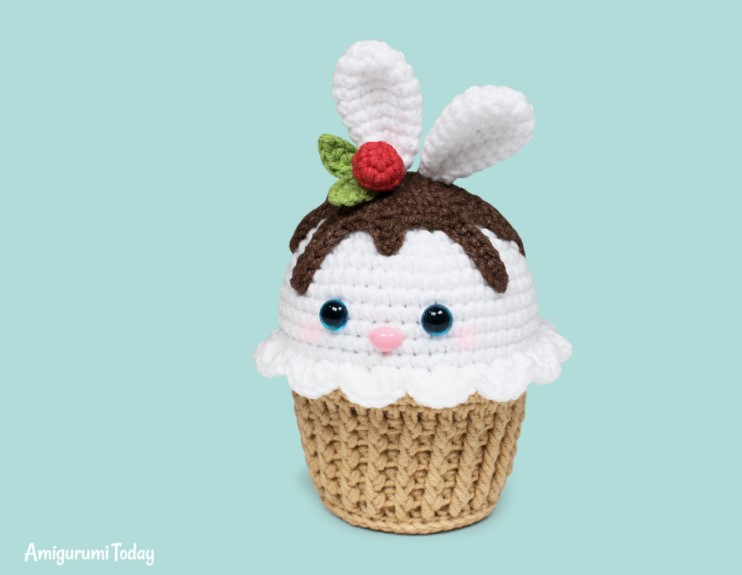 The bunny cupcake amigurumi is as tall as three macarons (about 3.5 inches) – how cute! Precisely, this cutie uses a 50g fine semi-cotton yarn. If you want the crochet bunny bigger or smaller, just change up your choice of yarn (thinner or thicker). Just remember not to eat it!
Green Bunny Bust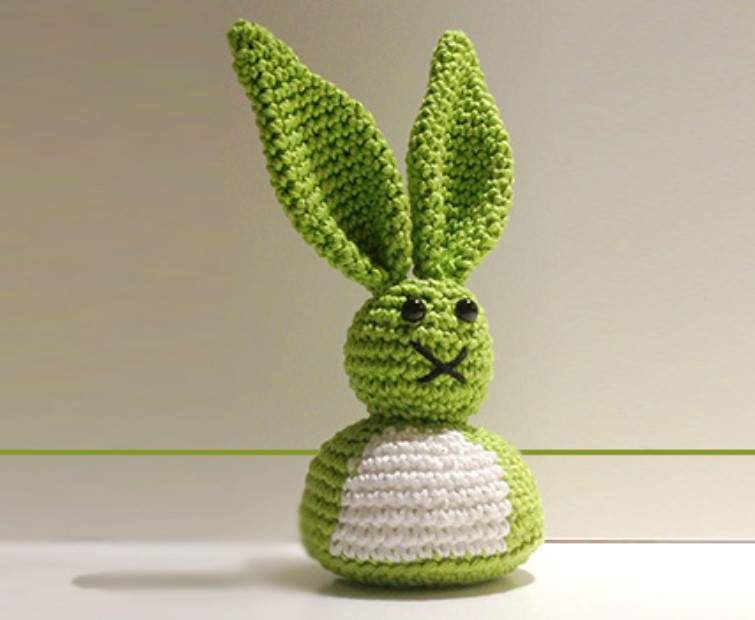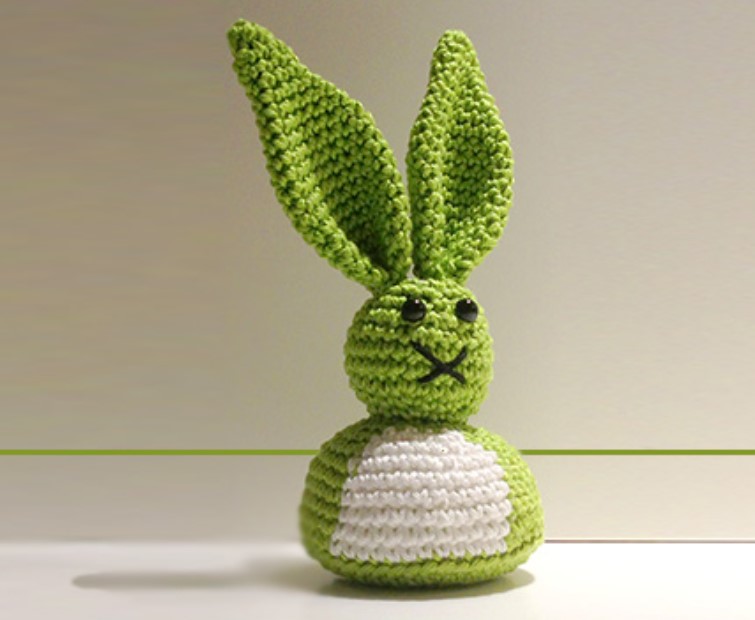 This bunny bust is an easy crochet pattern, perfect for beginner crocheters. You only need to make the head and sew on some ears before giving it a face with eyes and embroidered mouth! With this same simple pattern, you can also adjust what animal you want to create by changing its size and colors of your choice.
Small Long-Legged Bunny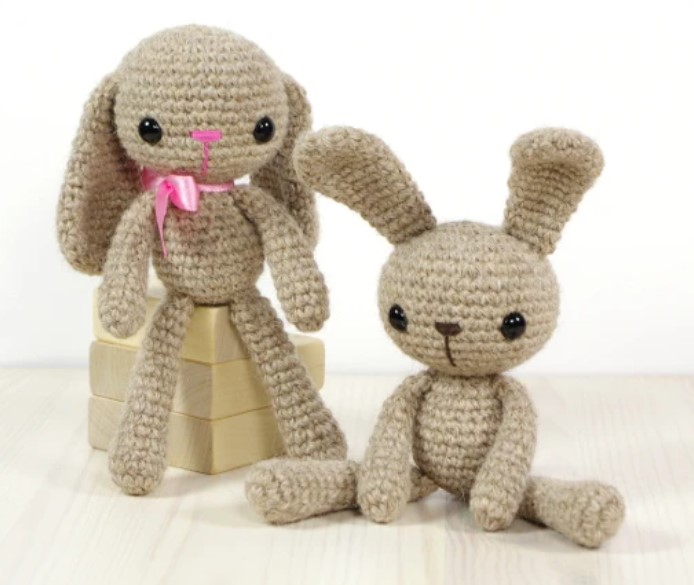 This unique bunny pattern is perfect for your kid's toy animal collection. The long legs enable it to sit down nicely too, and the ears can be floppy or straight depending on what you prefer! This beginner-friendly pattern also allows some modifications if needed. For example, a ribbon for the girl bunny or a bowtie for the boy bunny.
Crochet Easter Bunny Washcloth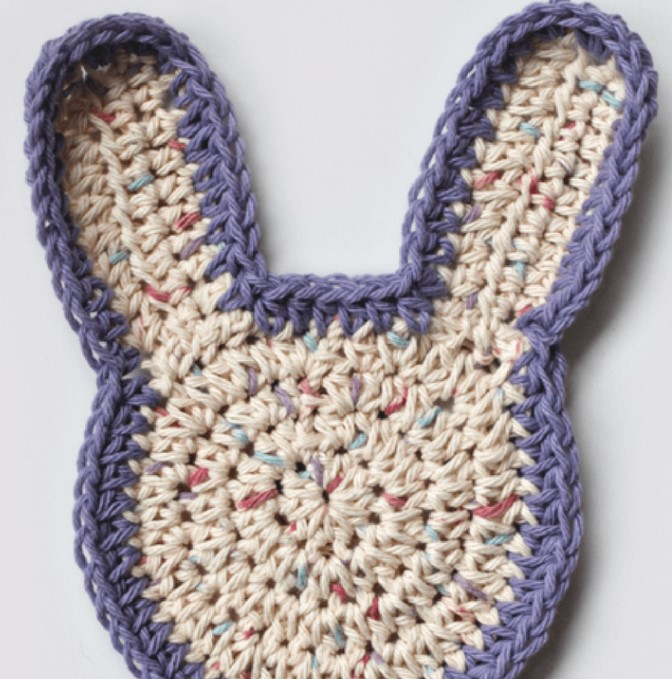 Let's make a washcloth crochet bunny! It may be super cute, but this pattern also has some great features like color choices. Make sure you can do half double crochet and slip stitches first before getting started. Tutorials of those two basic crochet techniques have been provided too, so check them out while you're at it!
Lovely Gentleman Bunny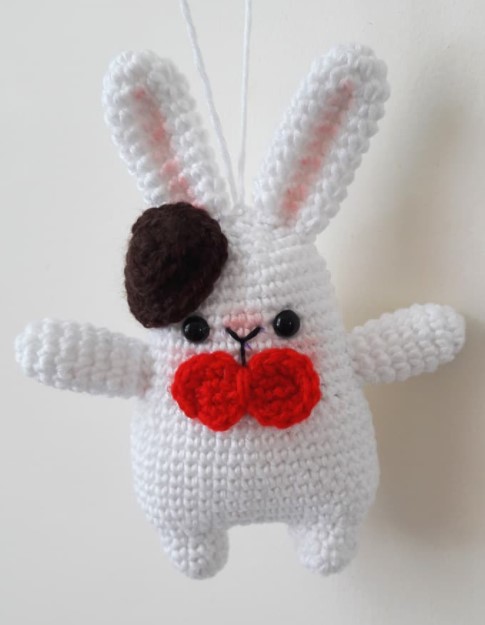 This crochet easter bunny understands the importance of listening and being a good friend. This gentleman has an eye for fashion, so he makes sure to always wear his classic bowtie! He is made with 4-ply white yarn along with some red and brown to make accessories such as his hat. You can start making your own today by using a 1.75mm hook!
Jackson the Rabbit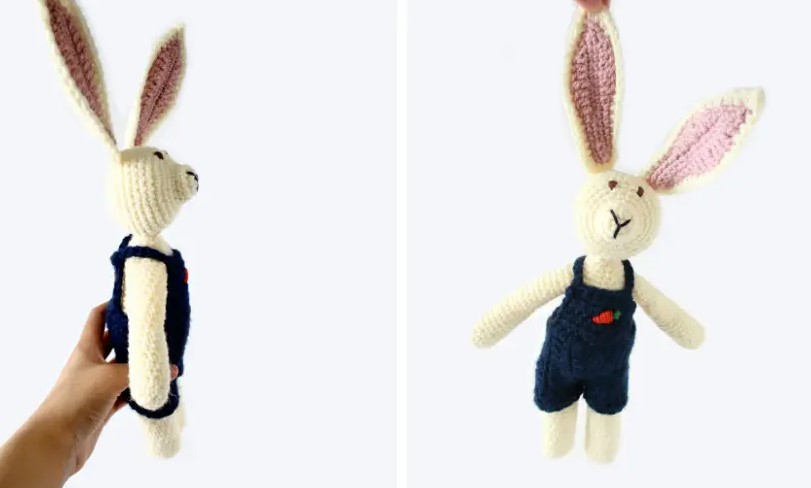 Jackson is a cool rabbit that will make your spring even more exciting! Everyone loves him because he is so cool with his dark denim overalls and knitted carrot. He's your adorable bunny friend that isn't difficult to make since all you need are basic crochet techniques plus some pipe cleaners to stiffen up those ears!
Crochet Bunny Hat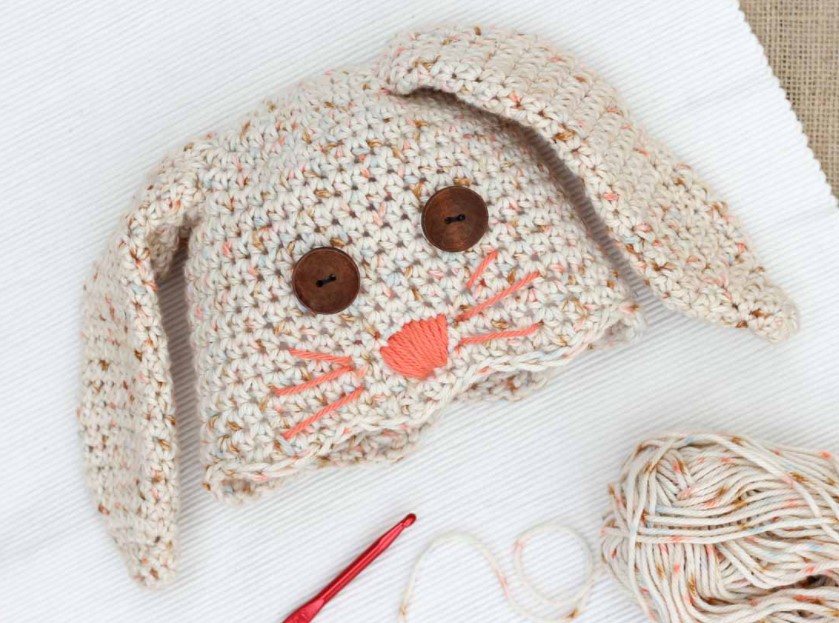 Don't you want to give your newborn child something adorable and warm? Take a look at this crochet bunny hat! Your baby is cute, but the hat will make them extra cuter. You can adjust the front part as well; for example, add two buttons with a knitted nose and whiskers or leave it blank if that works better for your baby.
Adorable Spring Bunnies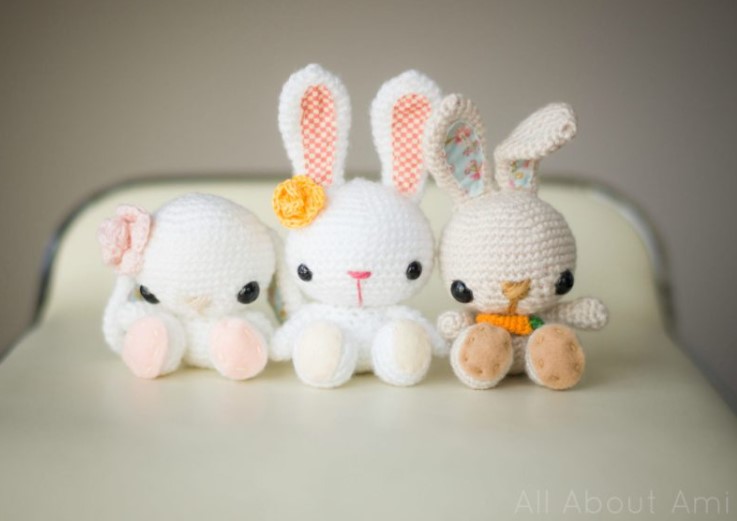 Spring has arrived and what's better to welcome it than crochet bunnies! Each of the bunnies is unique with its own accessories like a cute flower or carrot necklace. The more detailed your pattern, the better results will be, for example, the ears & paws! One of those adorable crochet bunnies features dirty paws which are super easy to create – just use felt pieces!
Simple & Quick Bunny Crochet Pattern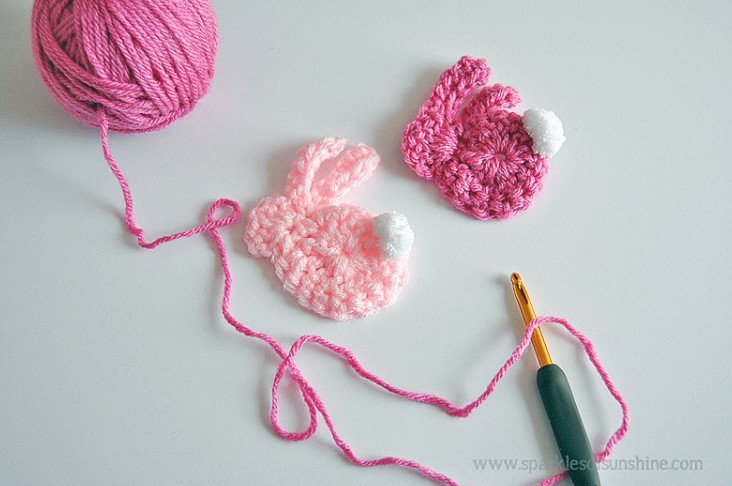 A quick and easy bunny crochet pattern! To make the small bunnies, use the medium-weight yarn of your choice. You will also need a size H hook for this project as well as some craft pom-poms to create their fluffy tails. The instructions have pictures in case you need some help along the way too so nobody should be confused about how to do it! Let's begin then, shall we?
The Sweetest Amigurumi Bunny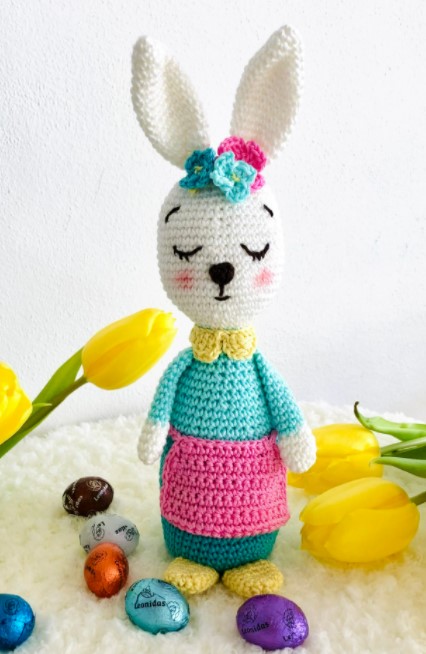 This crochet Easter bunny is more colorful than others and has decorative eggs around her legs too. From the top, she has flowers tucked between her ears. Then, she has a yellow collar and a pink apron, not to mention that it's extra cute with the blush on her cheeks! Since the pattern uses a lot of colors, this amigurumi project takes a bit of time, but the result worths all the effort you've put in!
Adorable Flop-Eared Bunny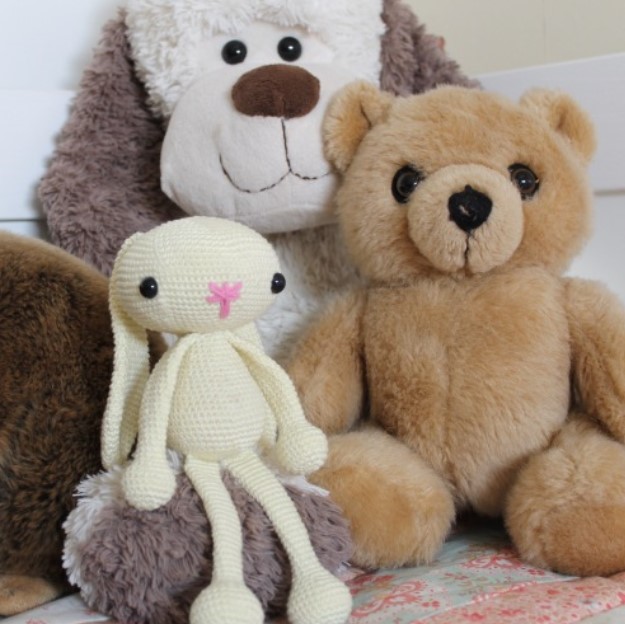 This cute crochet bunny is a great pal to cuddle with as the floppy ears and pink snout are very endearing. The limbs can be held which makes it easy for small children to play with this toy too. Make sure you use safety eyes when making your own so that they do not pose any health risks or hazards if chewed on by kids!
Super Cute Bunny Jar Cozy
This jar cozy is perfect for Easter! The crochet pattern can be downloaded free of charge and you have the option to adjust it. Crafty crocheters like you who like trying new things should give this a shot. Once you take a look at the instructions, they are pretty straightforward and easy-to-follow which should make crafting fun again!
White Rabbit Amigurumi with Ribbons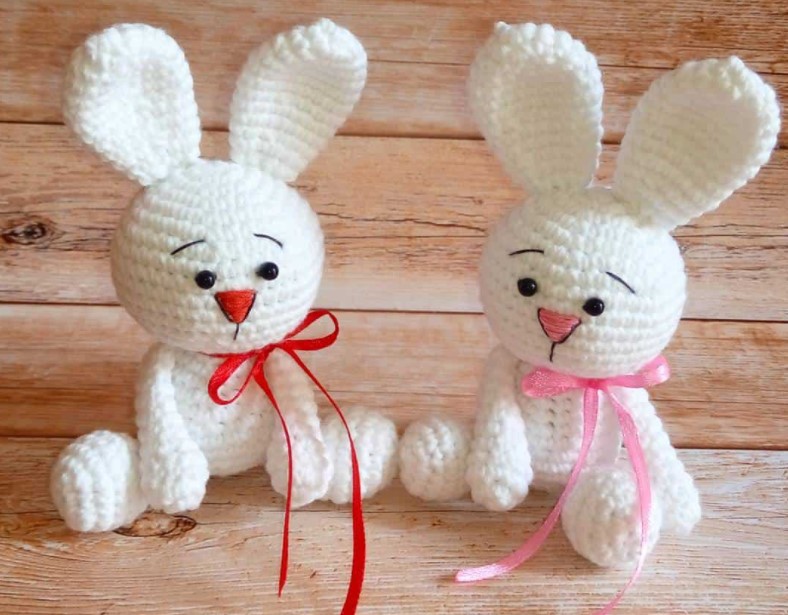 Among other colors, a white rabbit is the most common one. Inspired by that, this crochet bunny pattern is using white worsted weight yarn and is made using a 2.5mm hook. The result is somewhere between 15 and 20cm. It is also nice to adorn your crochet bunny with a cute accessory like a ribbon tied around its neck nicely, matching the nose for more cuteness points.
Winter Bunny with Accessories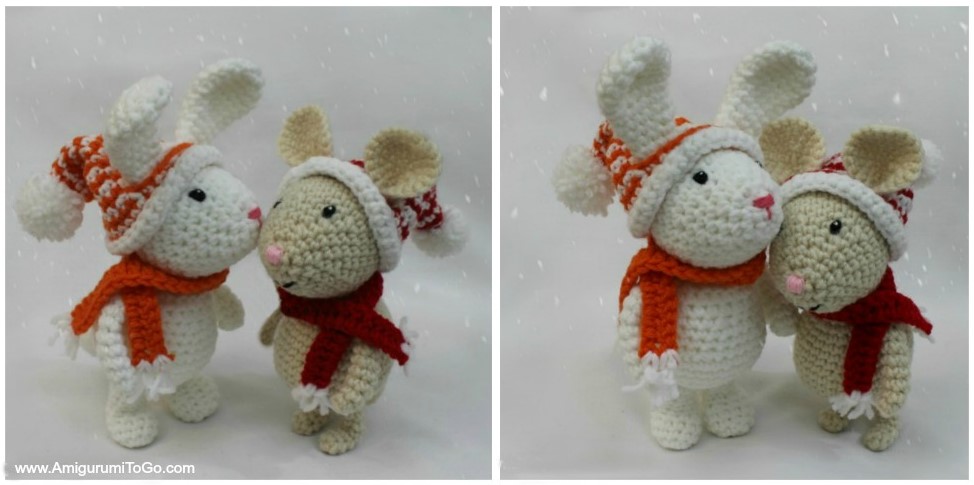 Even though bunnies are closely related to Spring and Easter, a bunny also makes the perfect winter decoration – just add a red and white hat and scarf, for example. If you're interested in more accessories for your rabbit friend(s), there's even an adorable carrot sled tutorial that will go well with them! Now, you should be all set to start crocheting!