Crocheting is the best hobby because of two main reasons. First, it becomes a source of peacefulness and second, you can sell your creations to make money from home.
Either way, when you crochet something yourself instead of buying one at the store or online, you will feel accomplished and satisfied with what you made!
One of many crochet designs that you need to try is amigurumi cow. The amigurumi cow is a stuffed animal that's adored by many children and adults for different purposes.
Children would love to play with their plush toy, while the adults use it as either room decoration or extra comfort during sleep or other activities throughout the day.
The cow crochet has no limits to its creativity as it can be made into a baby hat, plushie, rattle, or blanket. It is great for birthdays or nursery decorations and gender reveal events too.
As a result, there is an extensive list of free cow patterns you can use for your next project! Here are 25 awesome ideas that you will surely love!
Hilde The Highland Cow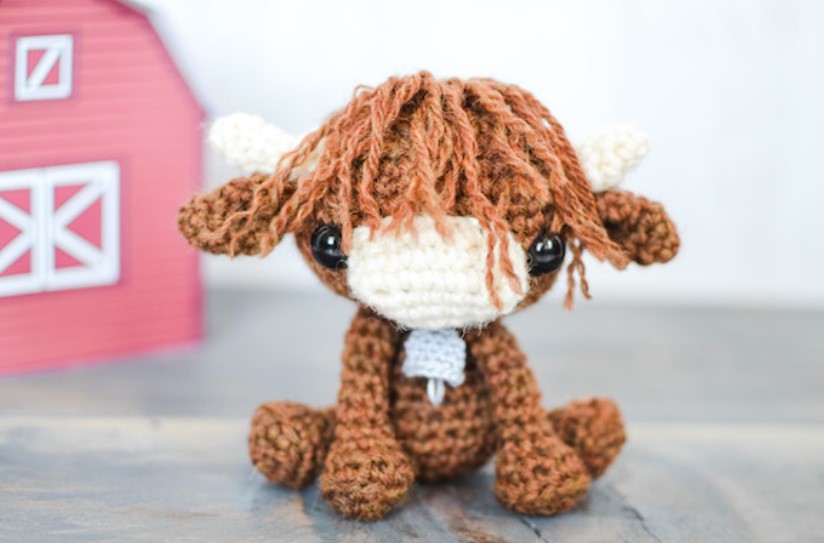 Meet Hilda the Highland Cow, a crochet cow pattern that will make you want to pack your bags and head deep into Scotland. Her luscious locks were designed with worsted weight yarn to create her distinctive characteristic – the luscious locks. She stands about 5 inches tall when completed but this may change depending on what type of hook or size of the yarn is used. Anyone who will meet Hilda will love to have their new best friend!
Lolly Baby Cow Amigurumi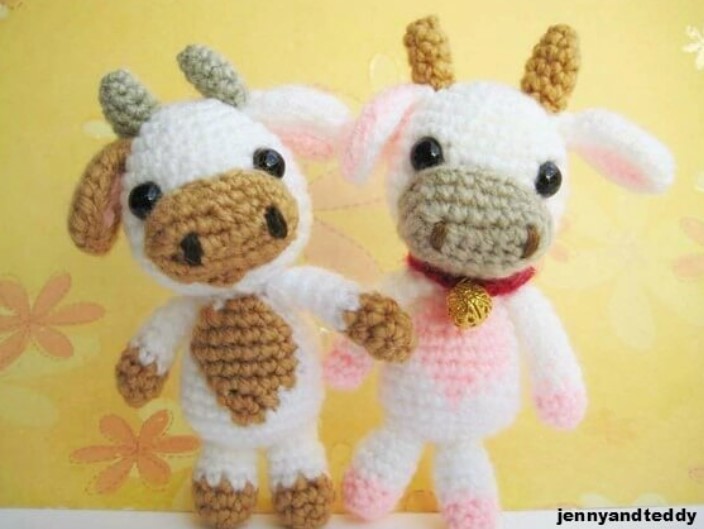 These miniature crochet baby cows are too adorable to resist. Their tiny snouts make them perfect for a keychain or small gifts. If you wish the cow to be bigger, use thicker yarn and a larger hook; if you want it smaller, thinner yarn and smaller hook will do just fine! Learn how to change colors while crocheting before making your way into crocheting this 4.5-inch cutie pie so that finishing is quicker than expected!
Adorable Little Calf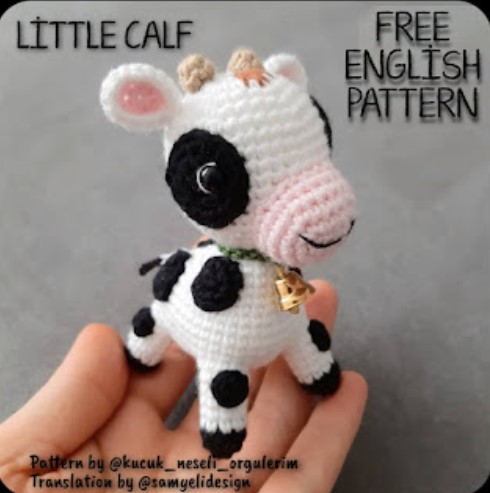 What is more adorable than a crochet cow? A crochet calf! This tiny baby even has a cowbell on his neck – which adds to its cuteness. Make sure that all the supplies are ready (the cotton yarn in 4 different colors, 2mm hook, 6mm eyes, and fiberfill. Stitching its little black spots makes the crocheting progress more fun!
Temple the Little Cow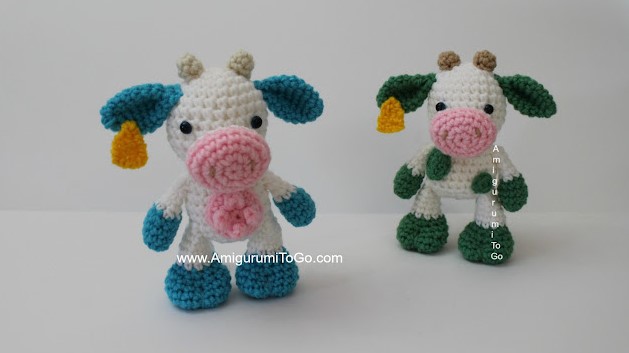 This Temple the little cow is an absolute delight and makes a great decoration for your room. What makes this toy extra special? The unique design where its hind legs are used to stand upright. While you admire how cute Temple looks on any surface at home or office, the light polyester stuffing makes for easy cleaning and ensures that this cute little guy won't be too heavy!
Amigurumi Funny Cow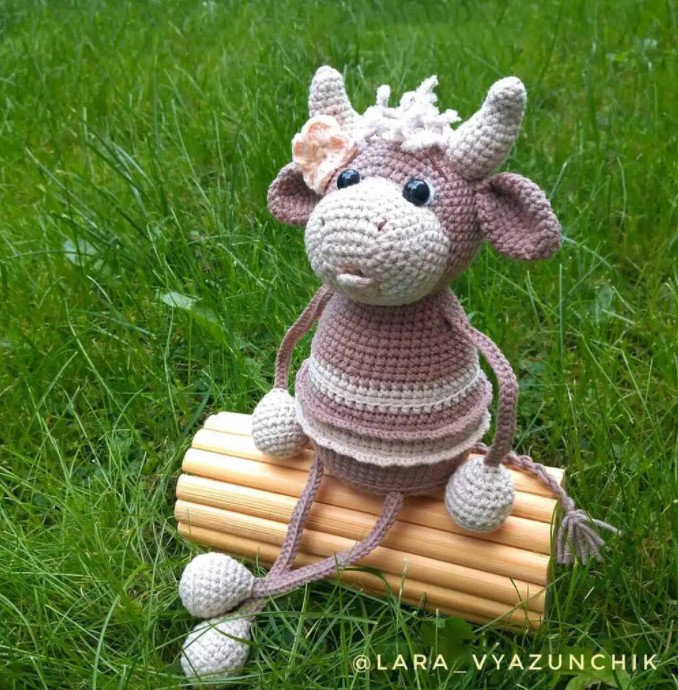 The unique pattern of this crochet cow is due to its hooves not being stuffed with fiberfill, so it relies on its plump tummy to sitting down. An interesting detail near the horns and ears is the flower tucked between them. To assemble all of these parts you need a needle with a wide eye; take some notes along the way for avoiding errors as well!
Mini Amigurumi Cow Pattern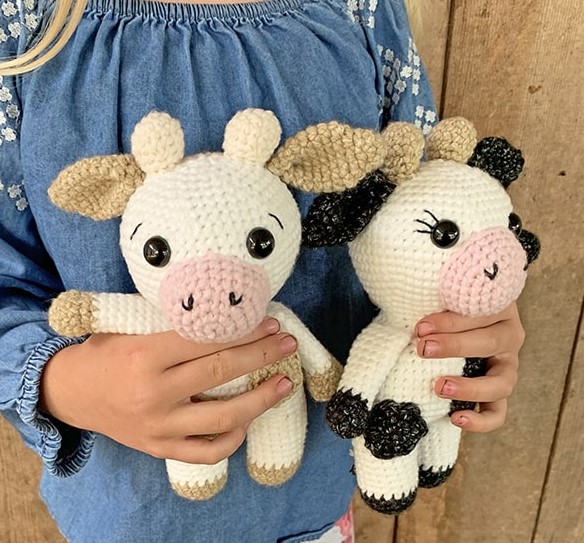 A stunning crochet cow amigurumi pattern is exciting because it involves crocheting the legs, body, and head all in one piece. It's quick too! The little patches are unique as they're shaped like flowers rather than circles. Along with other stuff, the main supplies of this project are worsted weight yarn and a crochet hook, so make sure you have those before beginning this fun craft!
Crochet Cow Stocking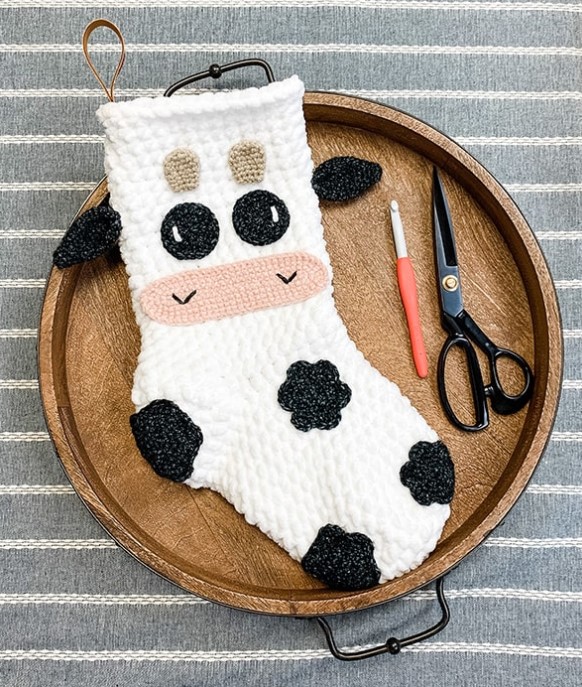 Crocheting the cow Christmas stocking is a great way to bring some fun into your home during this holiday season. You can use hot glue as an alternative if you don't want to sew the patches, eyes, and more, but make sure there's cardboard inside so that it won't stick on fabric! To crochet this adorable cow, you'll need 10.5 oz yarn.
Adorable Amigurumi Cow Pattern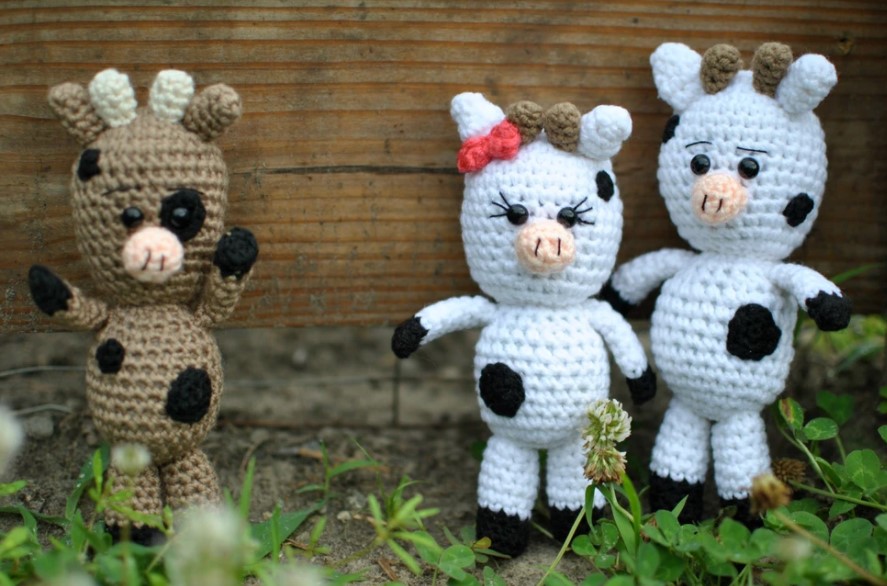 As the crochet cows are outside, they mingle with nature and they are having so much fun. Anyone who will have these crochet cows will join in the happiness wagon. To create each cow, you need 100-150 yards and a 3.5mm Furls Odyssey Hook. This crochet cow tutorial has two parts as well: the first one is about making the head and the second one is creating the body. Once the stuffed cows are done, you can pose them like this fun shot above!
Chloe the Cute Cow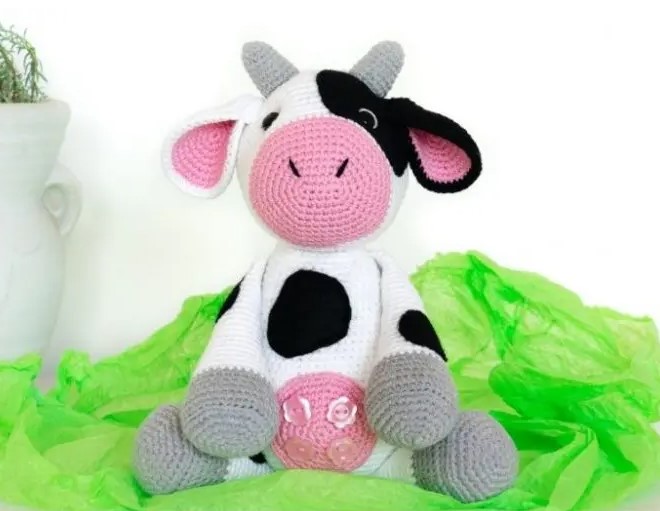 Meet this super cute crochet cow named Chloe. She's an adorable amigurumi with a wonderful personality that brightens any day, and she also happens to be the cutest thing you've ever seen! One of her unique characteristics is one ear which is black and another which is white. Another is her udder which is made out of 4 transparent buttons in the shape of flower petals.
Amigurumi Cow with A Flower Hat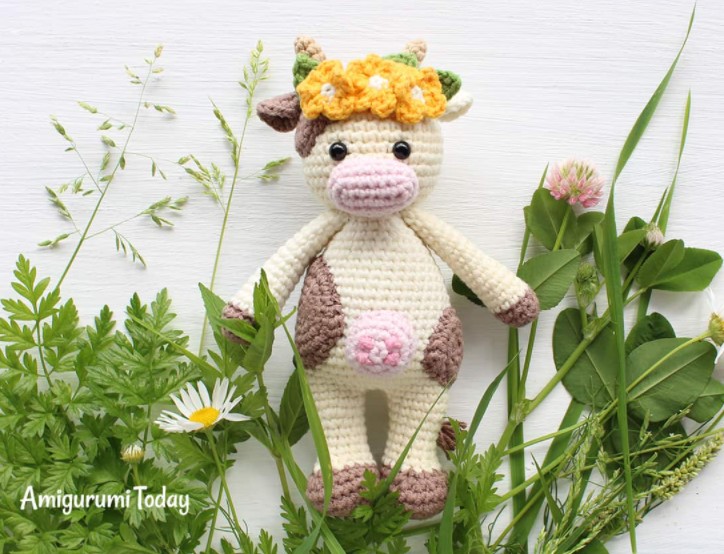 This cow crochet is the perfect portrayal of how cows love to munch on grass. Moreover, with its flower crown, this adorable cow becomes even prettier – but what about the crocheting process? The pattern requires an intermediate level of skill and novices can still try if a basic understanding of crochet techniques is already at hand.
Claire the Cow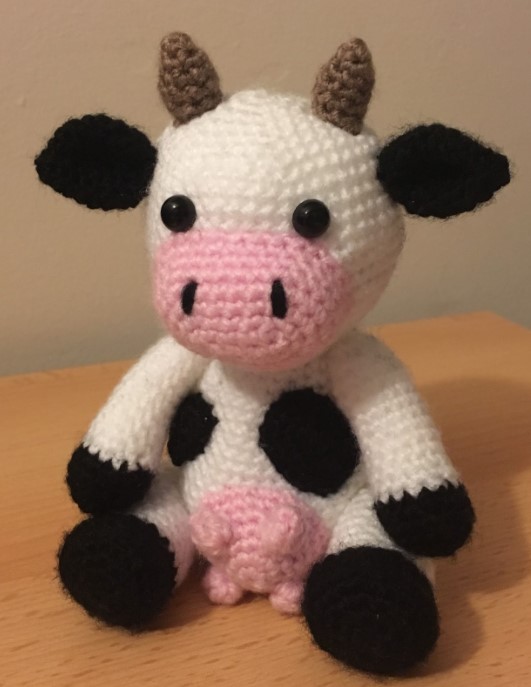 This adorable amigurumi cow is named Claire. She also has an impressive name, which makes her even more lovable! Her black patches above the udder add another element of cuteness to this little one and she can sit down on her own so you don't have to worry about placing it anywhere specific. You will need 4 colors: black, white, pink, brown for the horns!
Crochet Cow Rattle
This crochet pattern for a baby calf rattle is a simple project and it's actually very fun to make. The finished product is so cute and the combination of brown shades gives this cow such an innocent look! You can change up what colors you use if you want to, but honestly, I think that these soothing tones help capture just how calm your little one will feel when they have their new toy by them in bed at night or wherever else they rest during the day.
Crochet Cow Potholder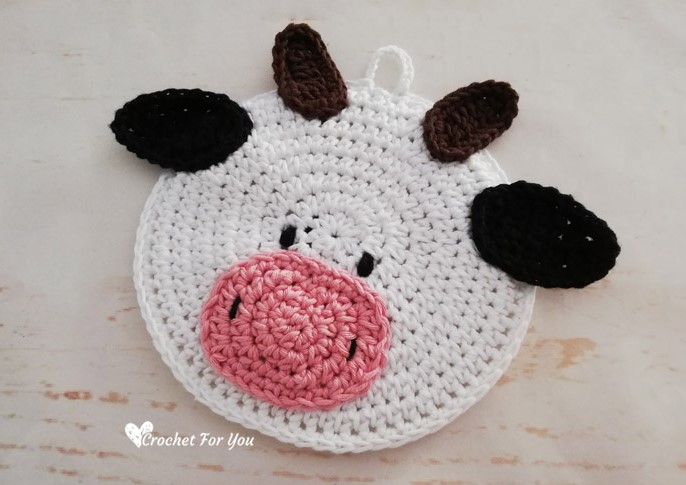 Crochet is quite versatile because you can create almost anything—for example, cow crochet potholders. The idea of having your kitchen or eating space decorated with this adorable potholder already sounds exciting, especially cows on it! The result is 7.25″ in diameter and the overall pattern is easy so perfect for beginner crocheters.
11″ Tall Amigurumi Cow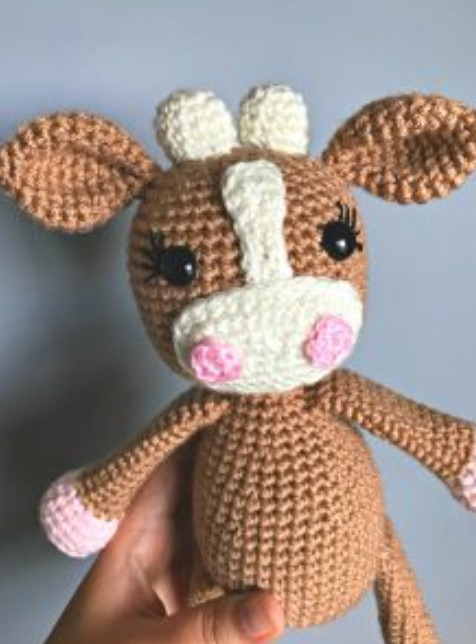 This brown cow is an advanced-beginner crochet pattern that's inspired by the herds of cows you see grazing in pastures. This amigurumi project only takes a few hours since its head and body are done as one piece while the rest of the parts are sewed on after crocheting. You will need to use a 3.75 hook size for this 11 inches tall stuffed toy, or it can be made into other sizes if desired.
The Easiest Amigurumi Cow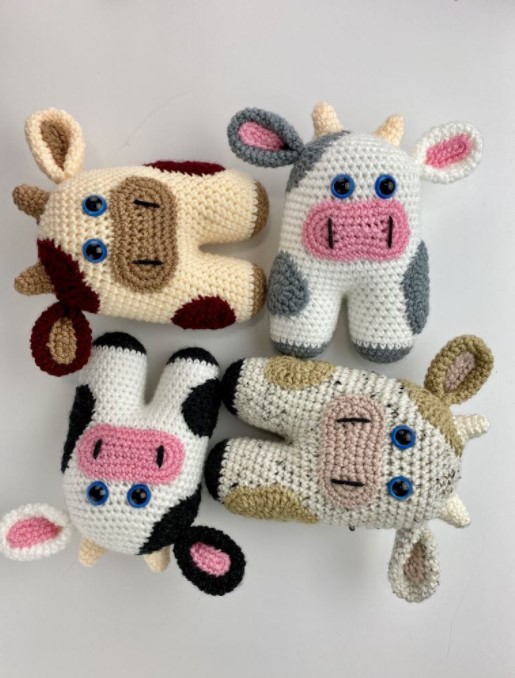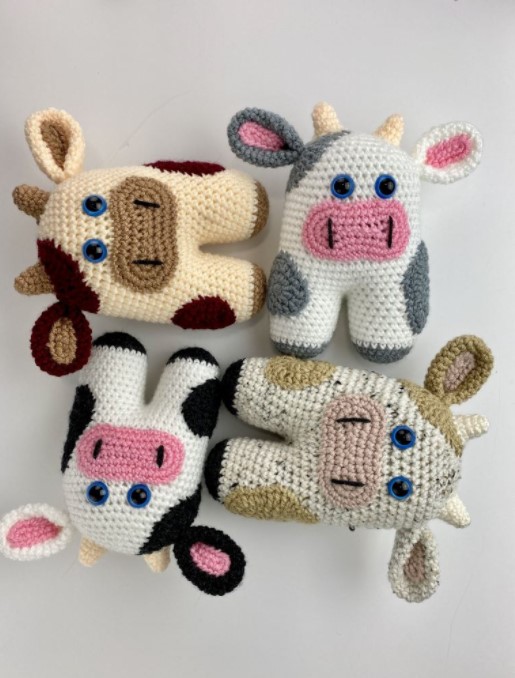 This unique crochet cow pattern makes it easy for novice crocheters to make a cute amigurumi. The most eye-catching detail from the design is its adorable pink snout and clever color choice, which will make you amazed at how creative this project looks! If you prefer watching a video tutorial, there's one available that shows all steps involved in making your own crochet cow with ease.
Crochet Cow Hat Pattern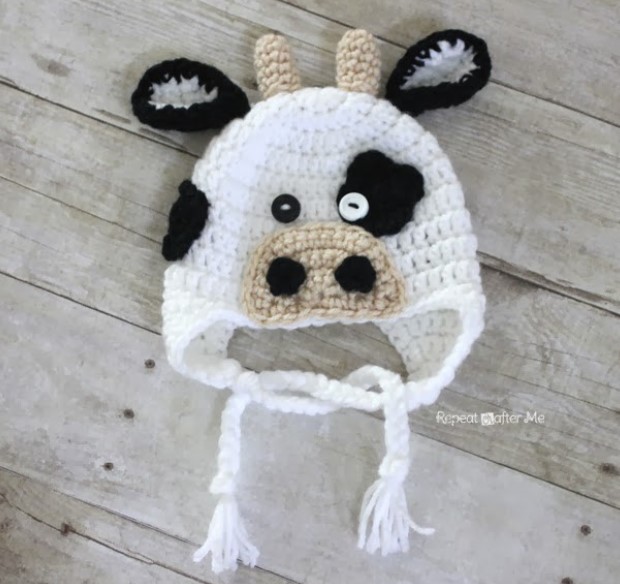 This crochet cow hat is a great gift for newborns and toddlers. It's unique, cute, and the fact that you made it yourself adds to its personal touch! With just an H-sized hook and some worsted weight yarn in your favorite colors, this easy project will be finished before you know it. The black and white buttons make up the eyes – they're sure to bring about lots of smiles once the baby sees them!
The Cutest Crochet Cow Amigurumi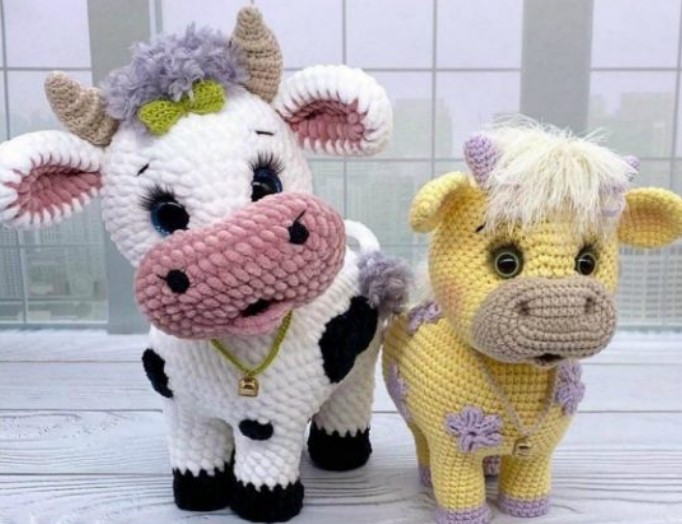 Are you a huge fan of cow plushies? This is the perfect one for all your needs! Cuteness overload: this pattern comes with wide eyes, graceful eyelashes, and even details like a bow on the head. It has a tiny bell to make it seem more realistic as well as a muzzle and inner side ears which complete its cuteness factor. Plus at 10 inches tall (25 cm), hugging such a cutie will be easy breezy!
Caroline the Cow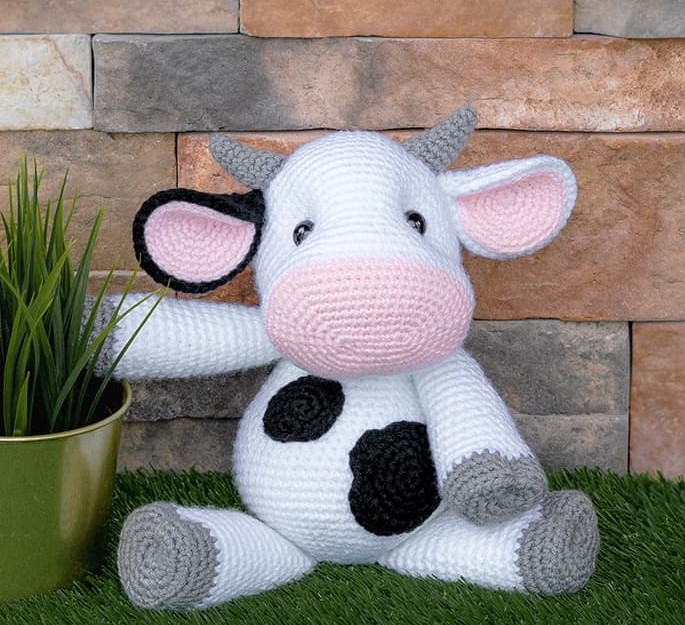 You can't help but admire this cow's plump tummy. She is super soft and has black-and-white ears, grey hooves, and some fun dark patches on her side. This miniature crochet creation measures 14 inches from head to toe; use a 3.5mm (E) hook when following the pattern provided for the best accuracy.
Fluffy Cow Amigurumi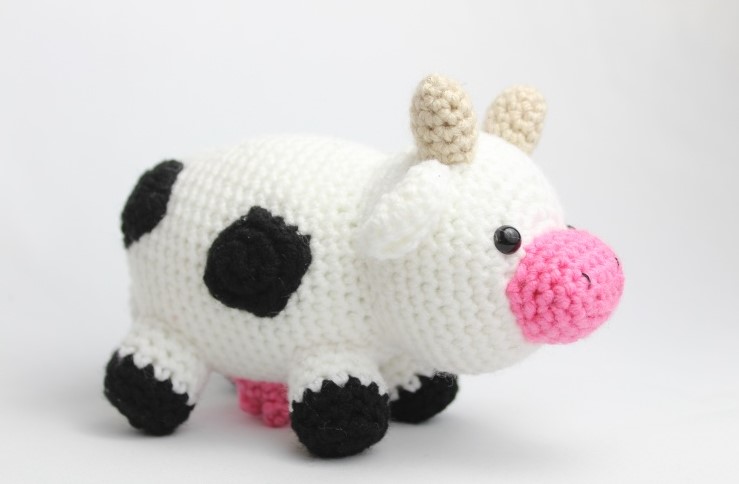 With materials like a 4mm crochet hook, medium weight yarn, 10mm safety eyes, black embroidery thread, and scissors you will have this fluffy cow amigurumi. The finished product is an 8″ long 3.5″ tall cute little pudgy brown cow sitting before you once crocheting the pattern is complete!
Yellow Snout Cow Amigurumi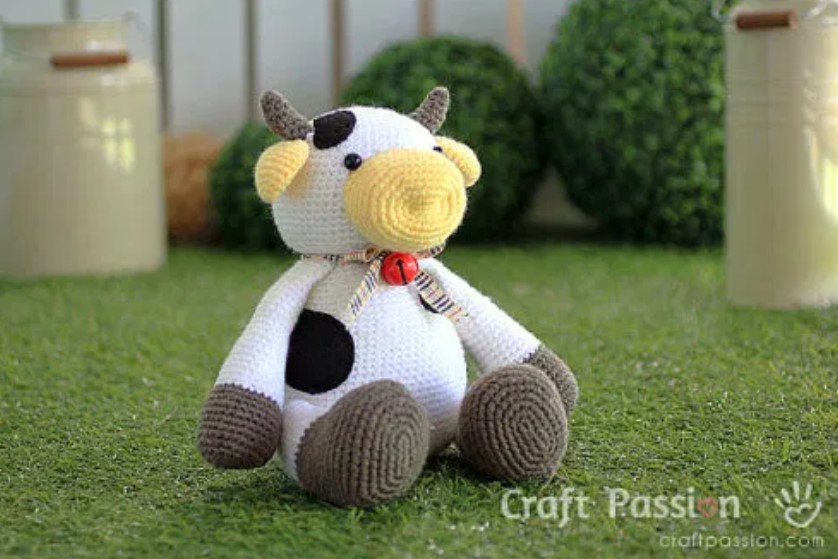 There is no limit when it comes to being creative in crocheting. A snout is usually made with pink yarn, but this pattern shows a new and different style – yellow snout and ears. The yarn used is acrylic yarn because it holds up well and washes easily in case the cow crochet gets stained. You may include the cowbell too or omit it if not desired.
Moo Moo Cow Amigurumi Pattern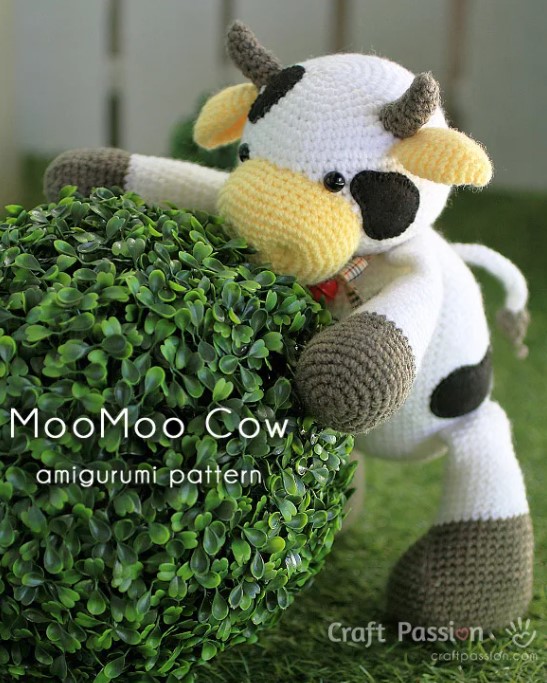 If you are looking for a stuffed animal friend, this crochet cow is pretty great and will be your best companion anywhere. It's 12" tall in standing position and 9" while sitting so it'll look cute no matter what! Before getting started with the project make sure to have all of the necessities prepared such as medium-weight acrylic yarn and a 3mm hook.
Cuddly Amigurumi Cow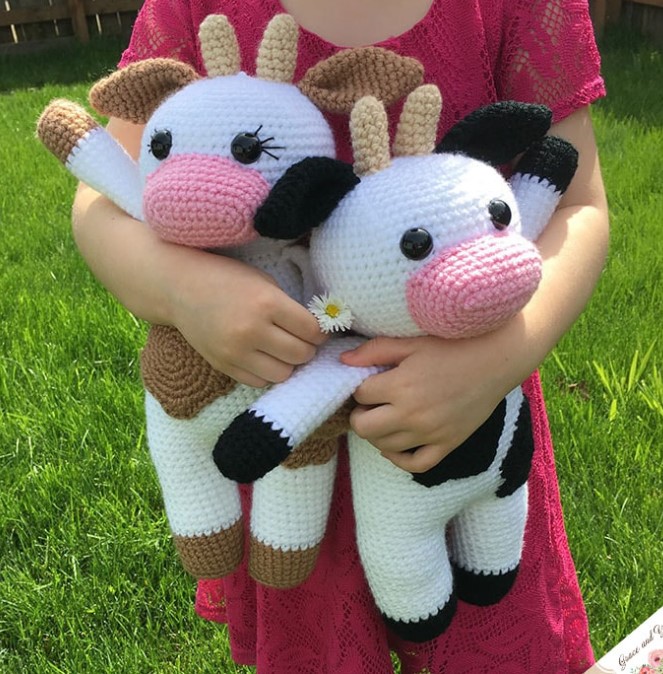 Making a cow amigurumi is an easy way to use up leftover yarn and make someone happy all at the same time. This free pattern includes details for creating both male and female cows with different eyelashes (or no lashes), so you don't have to worry about getting two of them confused!
Adorable Amigurumi Calf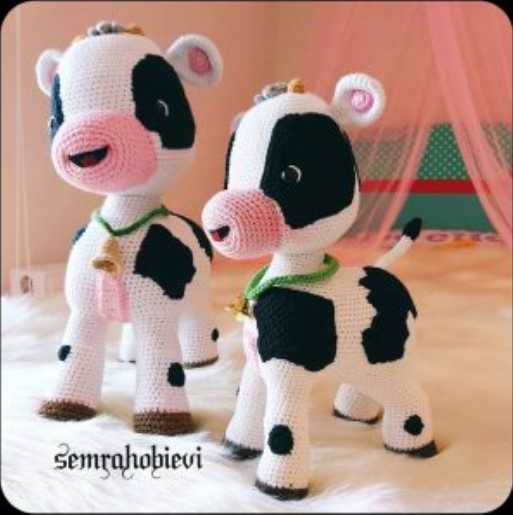 Cow crochet is cute, but calf crochet is cuter. Everything about the tiny size of this stuffed animal toy captivates you – especially its wide smile that it shows brightly. Because of its small size, only two and a half millimeters are needed to achieve this result! If you want an even easier process for creating the patches, use black felt.
Alpine the Cow Amigurumi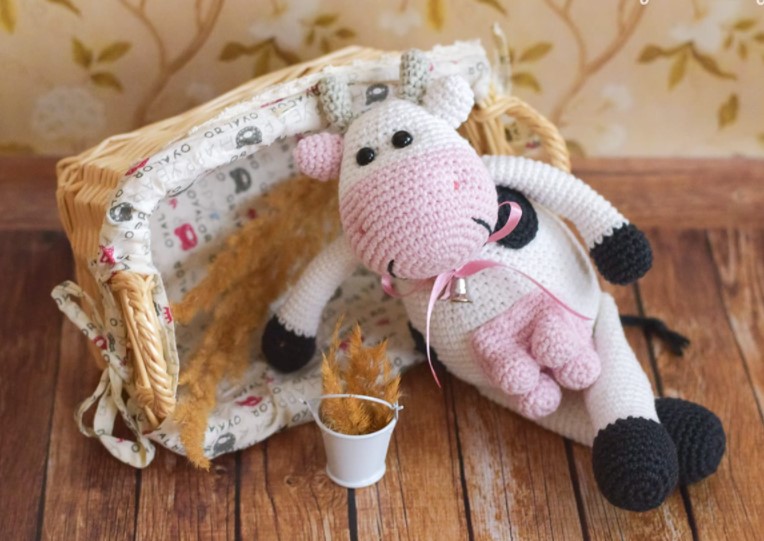 The laid-back Alpine crochet cow is the perfect cuddle buddy. She will sit and listen to your stories all day without complaining, so grab some yarn in whatever color you'd like! You'll also need a 2 mm hook, 8mm button eyes, a 4 ply semi-cotton yarn of any colors desired (optional), needle & thread for sewing on decorations such as ribbon or bow if wanted.
Monty Moo Cow Crochet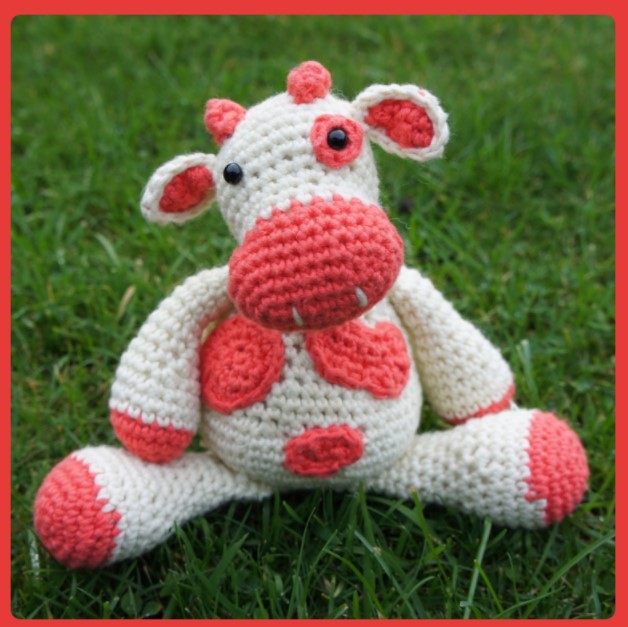 A delightful crochet cow named Monty Moo wants to be your best friend! This stuffed animal toy is made with pink and ivory yarn. You can replace the colors you desire, like black or grey for example. Get creative when making her patches as they don't have to be all circles – make them a bit oval works too. Once she's done, this new company will bring joy into your life or give it to someone special as a gift!