Are you in the mood for an adorable and winter-themed crochet project? Why not try your hand at some amigurumi penguins! These little guys are perfect as a cute decoration to add that "winter spirit" or even make them into key chains, hats, and other accessories.
These amigurumi penguins can be made from palm-sized up to hug size. Any size you would prefer to crochet we have it all here.
The instructions also include cute, little additions such as warm scarves, and fuzzy, knitted caps. Plus, we have a huge variety of colors to choose from, as well as specific patterns for boys and girls. With such an expansive selection available, you're sure to find just the right pattern in no time at all.
We can already tell how much fun it is going to be making these adorable craft projects, so let's start the crocheting adventure with us today!
Pom-Pom Scarf Penguin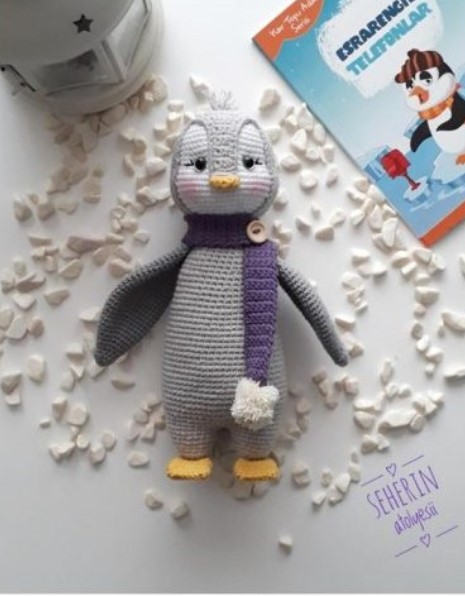 This little penguin amigurumi is what you need during wintertime. You'll feel a nice cuddle and warm, fuzzy feeling when the cold seeps into your bones from sitting in front of the TV all day long! Don't let this adorable crochet pal feels cold so make sure to crochet it with a pom-pom scarf that wraps around its neck for extra warmth. It would be helpful if you know how to do single or double crochets. Now, your wintertime won't seem as grey anymore!
Happy Yellow Feet Penguin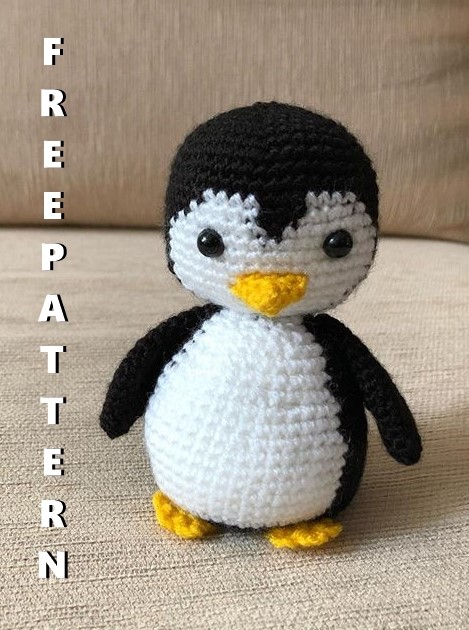 The days will never be boring when you have this little crochet penguin by your side. Its yellow flippers make it an adorable companion and the small size makes it easy to carry around with you. The pattern is complete with all of the details needed. This crochet pattern is complete and all the details are included. If you know how to work around the magic ring then it will make the process quicker for sure!
Long Flippers Penguin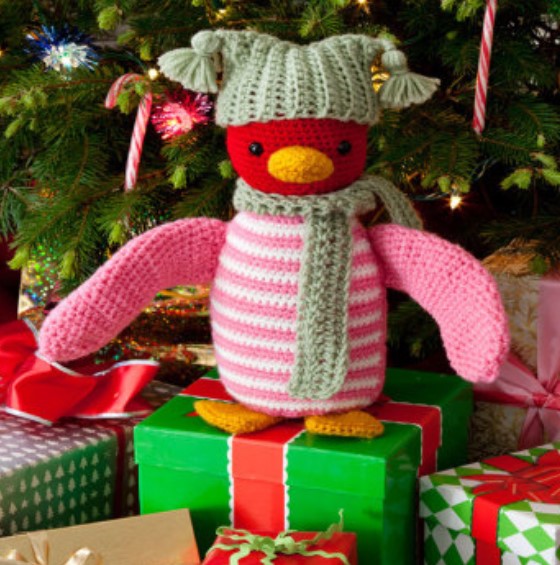 Make your own crochet penguin with this simple and creative pattern! Now, you can make an amigurumi (crochet) penguin that has long flippers for holding hands. You'll want to be as creative as possible too- the colors don't have to stay black, white, and yellow either. If it starts to get cold out in the wintertime, then remember: crocheting is also a great way of keeping warm! So why not add on some accessories like hats or scarves?
Pom-Pom Winter Cap Penguin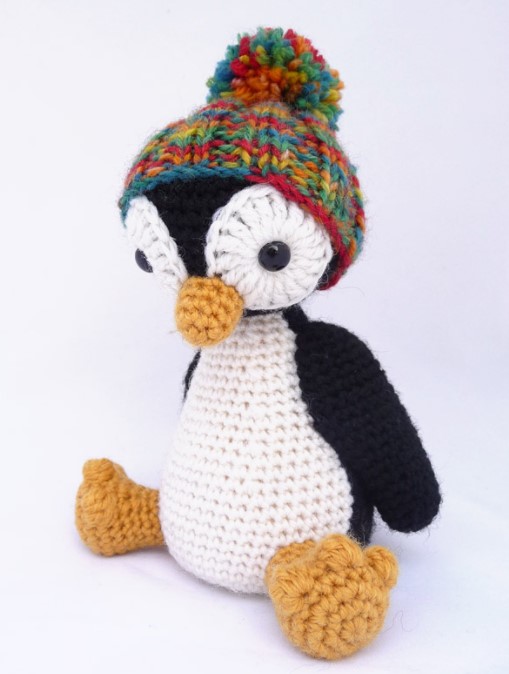 Have you been looking for a fun and creative project to work on? Look no further! This amigurumi penguin crochet pattern is definitely worth the try. In this tutorial, there are detailed instructions with illustrations that will guide you through every step of making your own cutie Happy Feet Penguin friend. You can't go wrong by giving it a shot – all it takes is one download click away from becoming an expert in creating these adorable little guys yourself!
Crimson-Cheek Penguin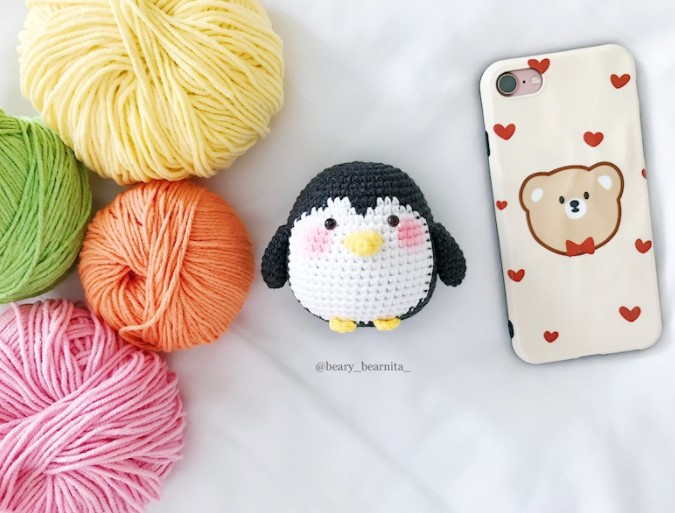 This penguin crochet is so adorable because of two things- it's tiny and has a cute blush. It will fit in your palm, which makes holding this little guy feel like you're cradling him! The blushing cheeks make the baby penguin even more lovable than before. This cutie can accompany your days better while making them brighter with its presence too!
Frosty Penguin in Purple Scarf and Cap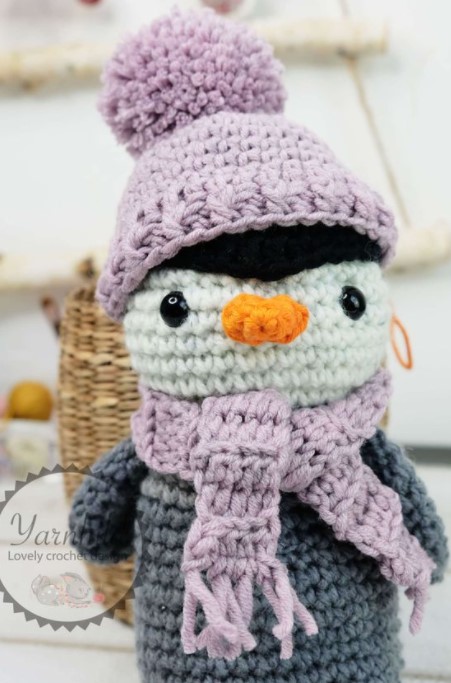 Crocheting a penguin is easy and rewarding. The pattern includes several pictures with detailed explanations on how to make the different parts of Frosty's body, wings or flippers, scarf, and hat for a warm appearance. This guide also provides videos that show close-up details of each step. Crocheting this adorable little guy couldn't get any easier than following these detailed directions! With some yarn in hand, you're ready to make your own Frosty.
Twin Baby Penguin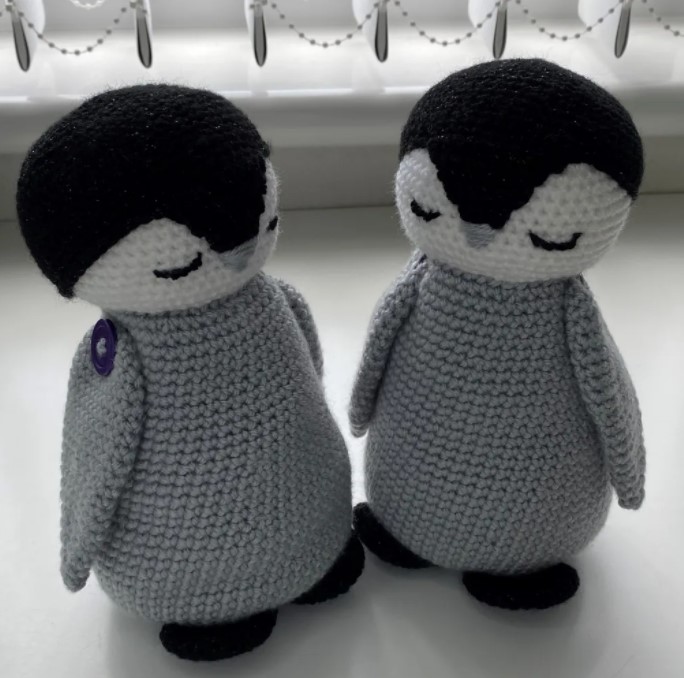 If you're looking for a gift of a wedding anniversary or a baby shower of your friend who has twin babies, this crochet pattern suits you. The penguins are closing their eyes, making them look so peaceful. The buttons on their flippers are a nice touch too, making them more unique than the usual penguin crochet!
Crochet Penguin Baby Hat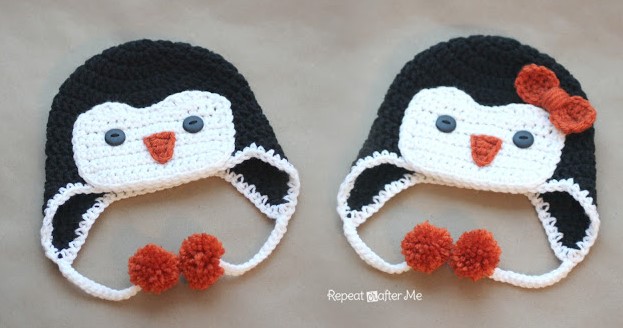 This crochet pattern is not a plushie, but instead, it's a baby hat. Imagine how adorable your little one will be when they're wearing this cute penguin hat! You can easily personalize the accessory for either gender by adding bows or stitching on some flowers for girls to make them unique and perfect.
Teeny Tiny Grey Penguin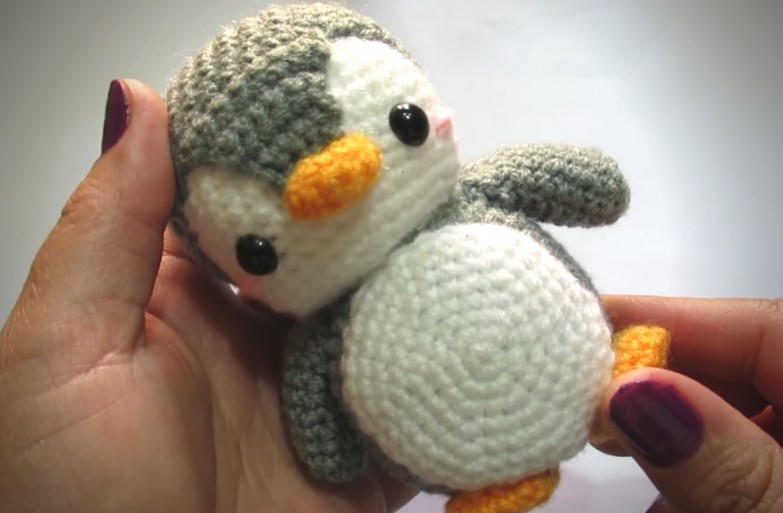 Another penguin crochet tutorial has arrived but instead of using black, use dark gray wool yarn This makes them slightly different than usual because their appearance isn't as common among other traditional colors. Plus, there's a helpful instructional video included when following along step by step makes everything much simpler!
Penguin Crochet Applique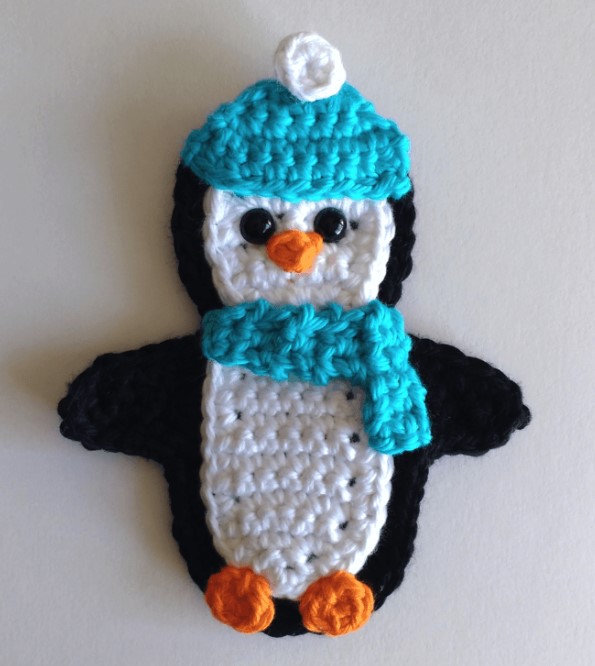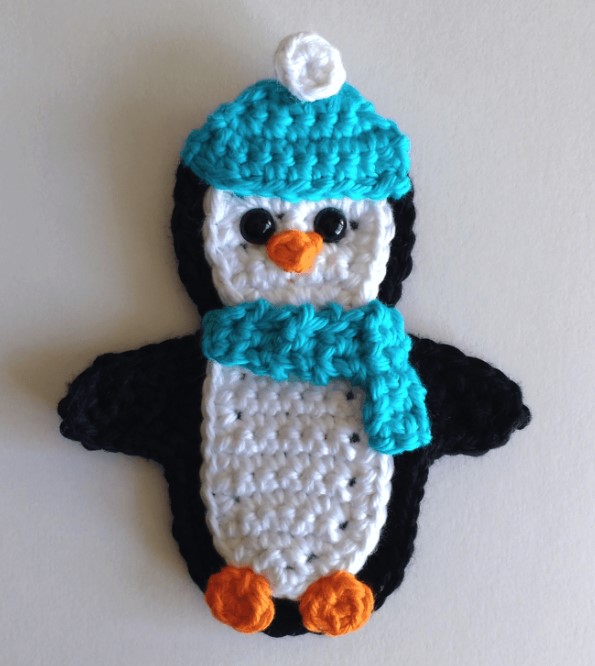 This handmade penguin will make you happy in any mood! This project is beginner-friendly, so don't be afraid to try this one. You'll need a 3.5 mm crochet hook, but if you want him or her to have accessories like an adorable hat and scarf, just choose your favorite colors before getting started. Once it's finished up, they're sure to bring joy into your everyday life!
Beginner Crochet Penguin Pattern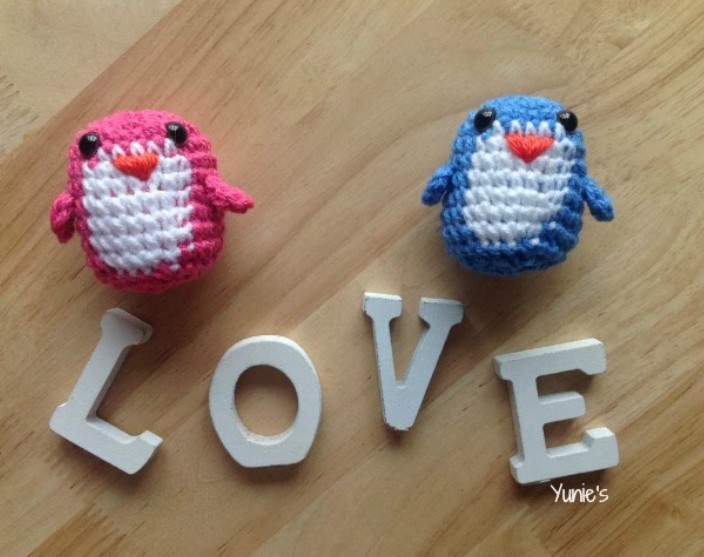 If you've just begun your crochet journey, this super quick and simple penguin pattern will be great for beginners. The height of the tiny cutie is about 5cm which makes it a perfect keychain size! After learning some basics like magic rings, carrying yarns from one row to another, and color-changing, you're all set to go!
Parker the Adorable Penguin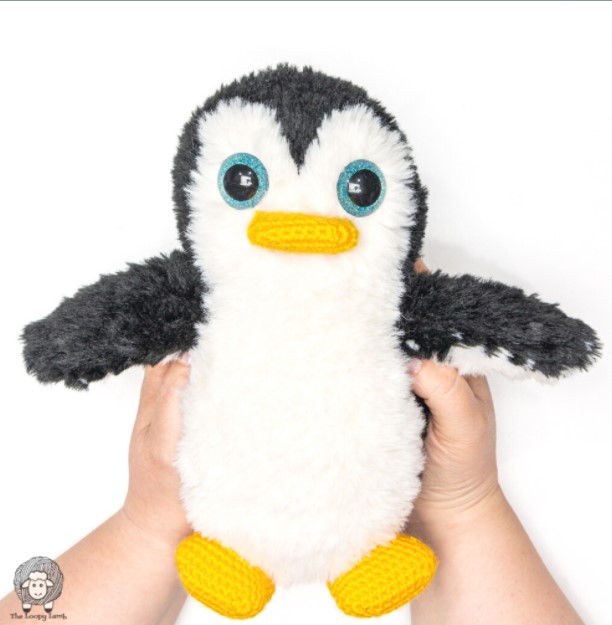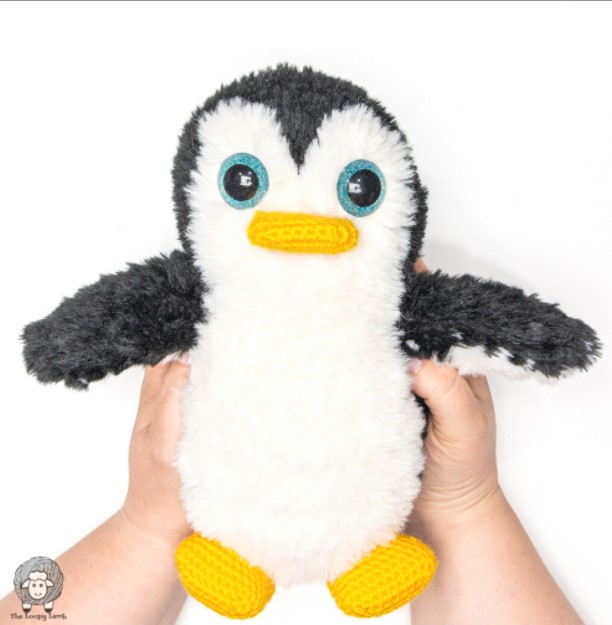 Crocheting is an excellent time-killer. For example, this Parker the penguin crochet pattern will keep you entertained while your children are sleeping. Made from faux fur yarn, this penguin crochet provides softness and comfort for kids as well as adults!
Black Tummy Penguin Crochet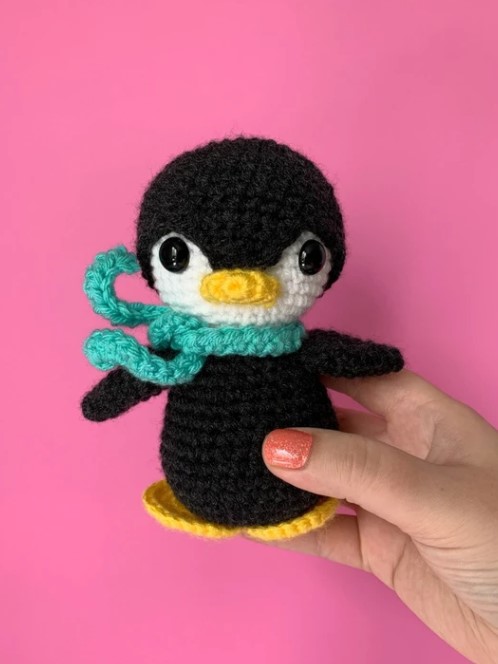 Put your hand in the penguin's and let him lead you to a world of imagination. This little amigurumi guy is not only friendly but also pleasingly huggable! His 6 inches tall body fits perfectly into your hands for hours of fun times together. There are plenty more options than just black yarn that can be chosen for this pattern. So, don't worry about getting bored too quickly when making one!
Vibrant Blue Penguin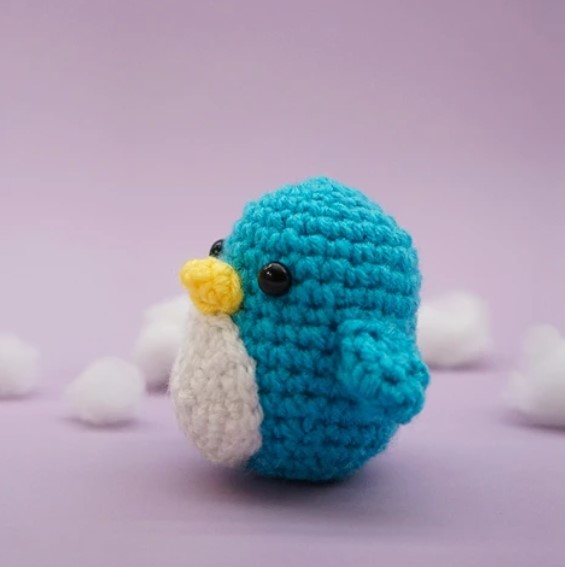 Crocheting your own adorable penguin companion is a relatively simple process. All you need to know are the basic stitches for crocheting such as double crochet, single crochet, and slip stitch in order to complete this project successfully! With these basics under your belt, all that's left is following the video tutorials that will walk you through each step from start to finish. Soon enough, there will be an endearing 3.5″ tall penguin looking back at you!
Penguin Teething Ring Crochet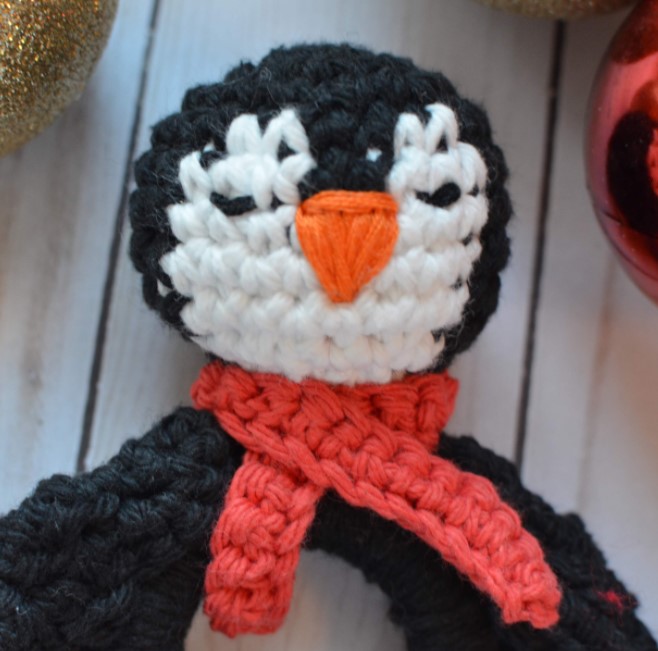 Ah, the penguin seems to be sleeping. He is kept warm by his red crochet scarf and looks so peaceful because of it! This crochet baby teething ring with a cute penguin face on top will make for good company when your little one falls asleep while trying to gnaw away at their hand or chew on this soft toy instead. With an easy pattern like this, you'll finish in no time!
Penelope The Sweetest Penguin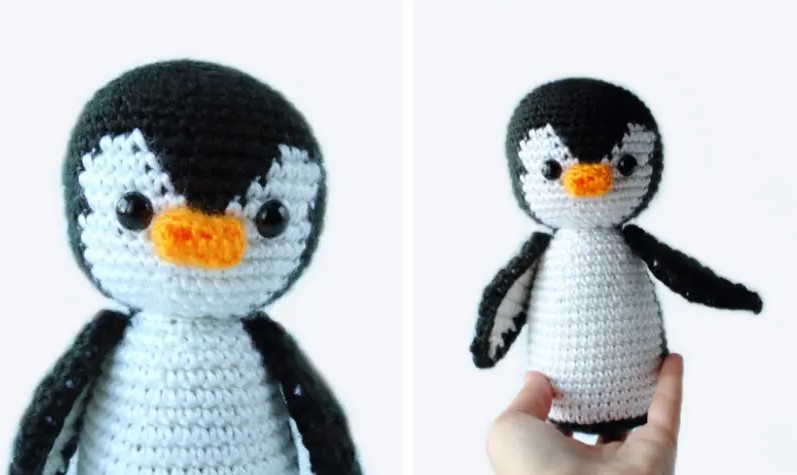 Meet Penelope, a crocheted penguin that every beginner would adore. The body and the head are in one piece so it's not difficult at all to attach the rest of her pieces too! This free pattern offers beginners some basic shapes they can complete with ease; it'll be done within 4 hours or less – perfect for those looking to take on their first project as an amigurumi toymaker. To ensure little Penelope has somewhere cozy to sit, you need only make sure her bottom is flat enough.
24/7 Cotton Yarn Penguin with A Bowtie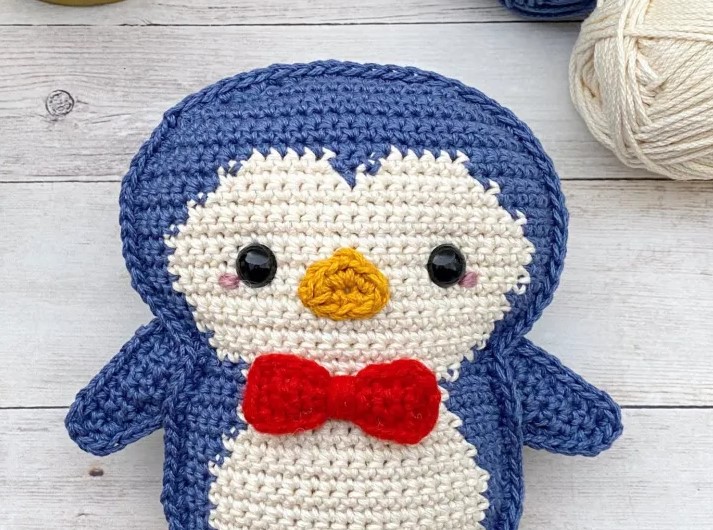 This penguin crochet pattern wants to accentuate a vintage look by using 24/7 cotton yarn. This 2-D penguin is assembled from 12 separate pieces which include the adorable bowtie. If you have been familiar with a tapestry (or intarsia) crochet technique and how color change works, this 18cm project will be done in no time!
Penguin Baby Rattle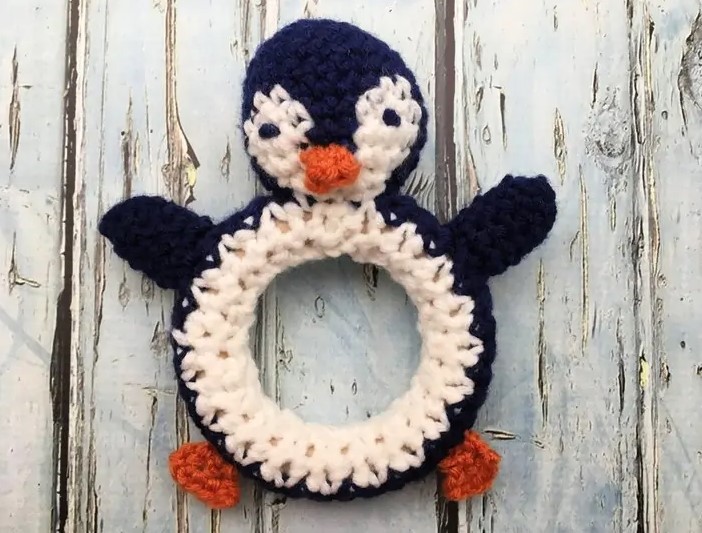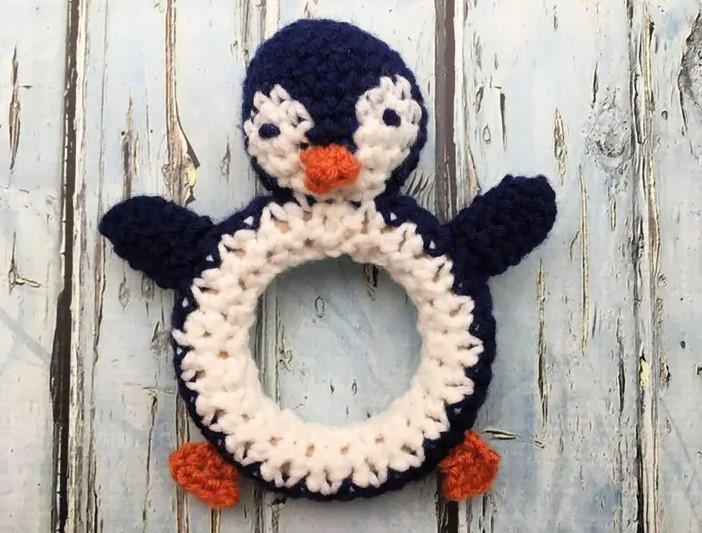 You should know that the baby rattle has been around for a long time! Some experts believe it helps babies develop better hand-eye coordination and there are many designs to choose from. One interesting design, in particular, is the penguin crochet baby rattle! Your little bundle of joy will be amazed at this cute toy because their favorite animal opens its wings to give them an affectionate hug every time they play together.
Penguin Crochet with An Eye Smile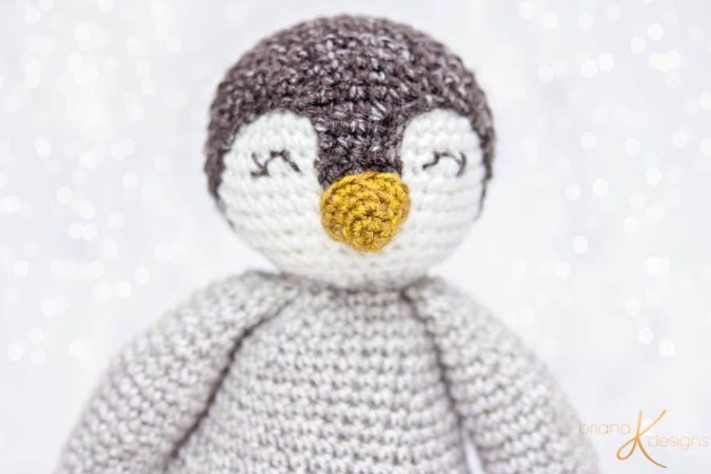 If you are looking for a Christmas decoration to welcome wintertime, this penguin crochet is the perfect answer. We are certain that your guests will love that eye smile! This adorable penguin amigurumi is crocheted using a 4.0mm hook and a yarn needle to help to weave those ends. In the end, you will have a 5 inches winter friend that won't disappoint!
Poppy The Ball-Penguin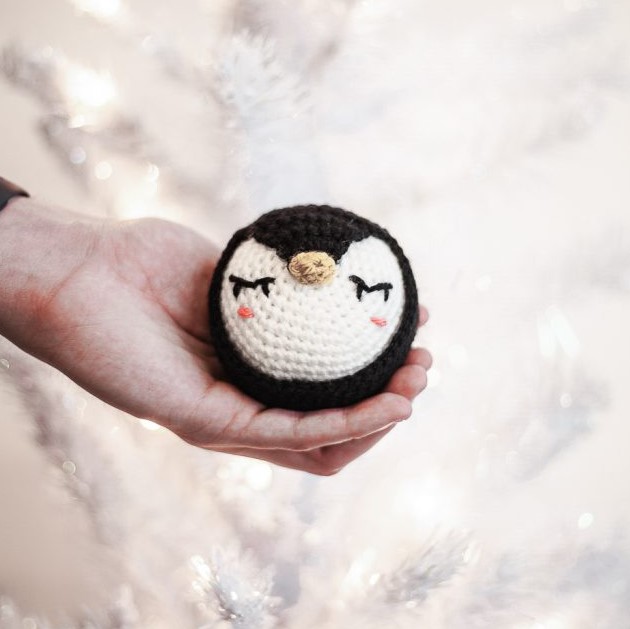 This sleeping baby penguin is more than just adorable. Everyone who looks at it will automatically go "Awww!". This palm-size penguin, named Poppy has blushing cheeks which add to her cuteness, and can't help but make you say aww! The colors needed for this amigurumi project are black, pink, and white but feel free to be as creative as you want with the design because these little guys always turn out cute no matter what color scheme they have.
Newborn Penguin Crochet Pattern Hat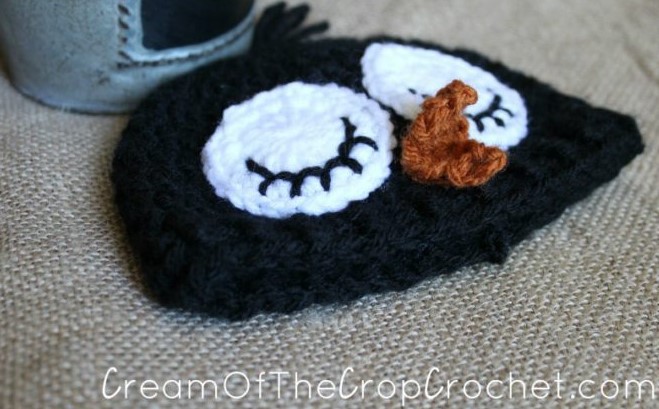 The one thing that a newborn baby likes to do is sleep, so crocheting a sleeping penguin hat makes for the perfect newborn gift! The best part about this project is how creative and customizable it can be. For example, you could choose to include an adorable little bow on top if it's intended as a girl or make expressive eyes that open wide with just some minor adjustments. Let's get crocheting!
Grey Tummy Penguin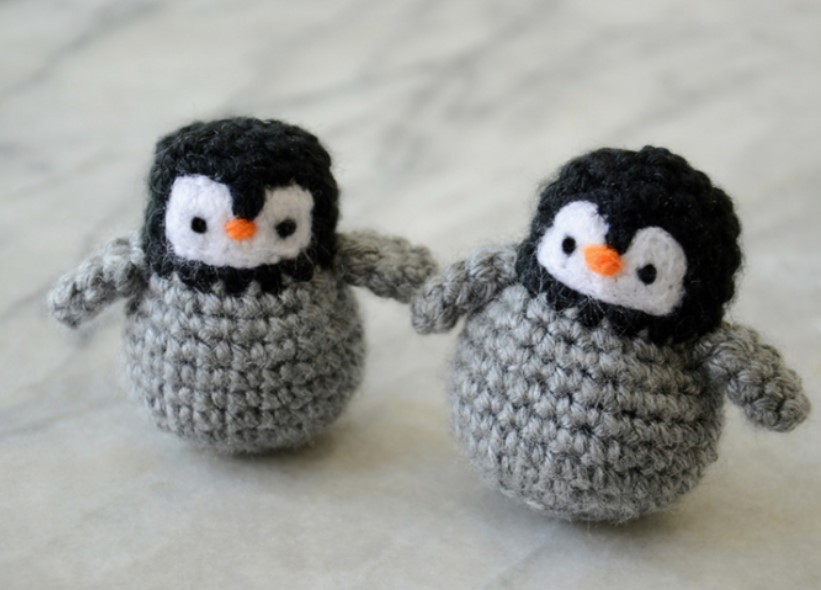 It's hard not to fall in love with this adorable penguin! The grey patterned tummy paired with the black and white head makes it irresistibly cute. This knitting technique is not for the ultimate beginner, but don't worry; there are videos available that will show you how before starting your project if you're a first-timer.
Meet Tux the Linux Penguin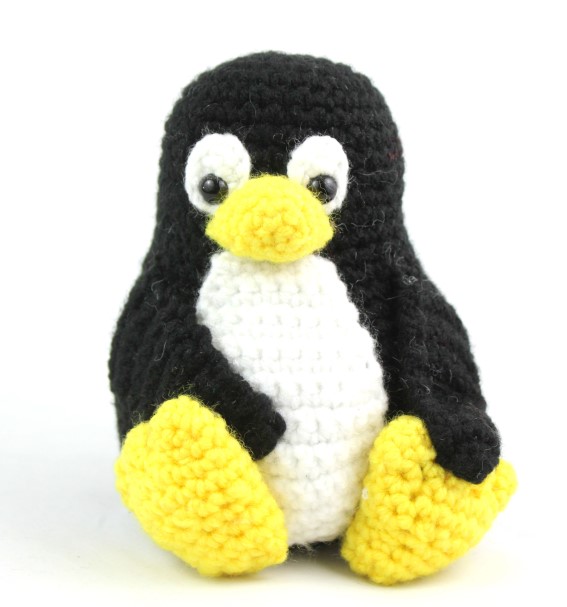 With its bright yellow beak and feet, this amigurumi penguin is sure to cheer you up with just a single look. A perfect desk decoration that will put some color into your workspace! The best part? It's sitting on his bottom – so he doesn't need any help staying upright! If you want an accessory for the penguin, why not crochet him one of those adorable scarfs we all love from grandma when she made us sweaters in her spare time (and had too much yarn)? You can choose between red or white as they both have their own energy.
The Ice Cream Seller Penguin Amigurumi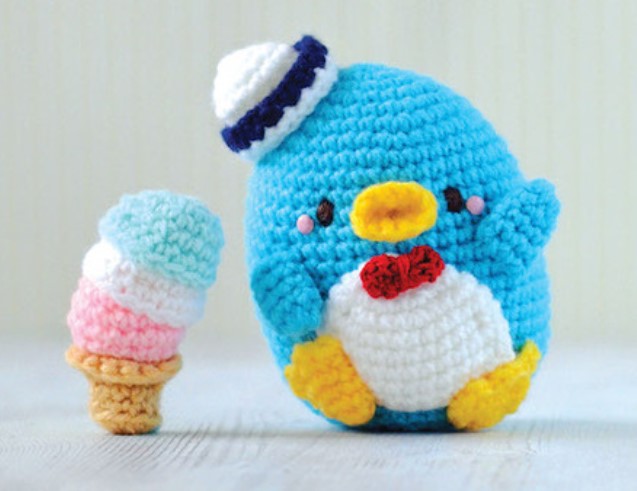 This penguin crochet might not suit Christmas or wintery vibe, but it is the perfect addition for a summer day. With its bright turquoise color and fun accessories such as a navy hat and three scoops of ice cream! To create them all you need are some different sized hooks to complete this project – 2.3 mm and 1.75 mm will do nicely with the turquoise yarn being your main choice in colors though other vibrant hues could be substituted if desired!
Boy and Girl Penguin Crochet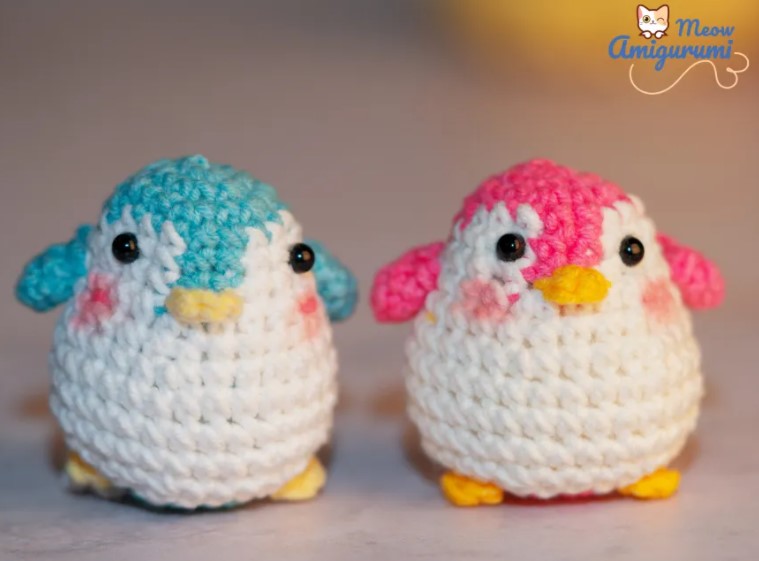 Want a gender reveal party that's even better than the last? Make these crochet penguin plushies to help celebrate! Imagine how cute it would be if they sat together and welcomed guests while we're all waiting for what their colors say. If you want, after the party is over, keep them as decoration in your home or office space so everyone can see just how creative this gathering was. These patterns will give you 5cm crocheted baby penguins, but adjustments on size are easy enough with some simple changes made beforehand like adding more rounds of stitches.