Nature is a beautiful thing. It can be rejuvenating and soothing for adults while bringing joy to children as an educational experience. There are many ways you could attract birds that come either at the right time of year or any season- one is by making a bird feeder, but there's nothing better than attracting them with a birdbath!
Not only does bird baths offer the opportunity to have a refreshing splash, but also provides an excellent way for you to decorate your garden or yard with something beautiful. Here's our pick of some one-of-a-kind DIY birdbaths! Let's dive right in.
A Birdbath for Little Patio (Complete with Its Flower Decor!)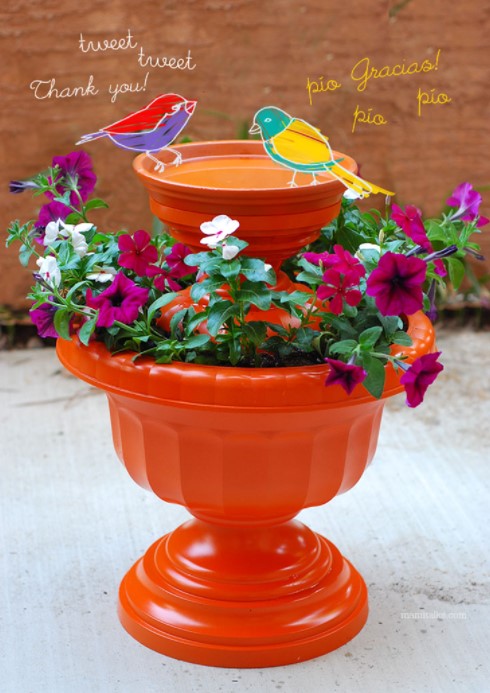 Inviting our feathered friends is fun, but we're always excited to see them having a great time taking a bath. To make it look even more natural, adding flowers or planting some nearby will have your guests feeling right at home! Now you can share this birdbath with all of the birds in your garden and enjoy watching them splash around while they bathe themselves as well as any other visitors that might stop by for an evening dip.
Decorated Serving Bowl Birdbath for $5 Only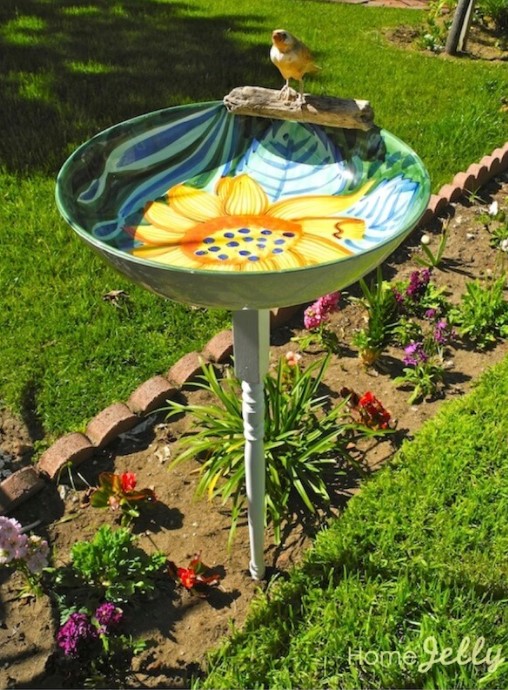 Making a DIY birdbath is easy, inexpensive and it's sure to make your garden or yard more beautiful. A simple serving bowl can be decorated with paint in any design you choose for $5 at most stores. Keep the project even easier by choosing an already-printed pattern on glassware that suits either flowery spaces or those filled with plants!
Garden Birdbath from A Tea Set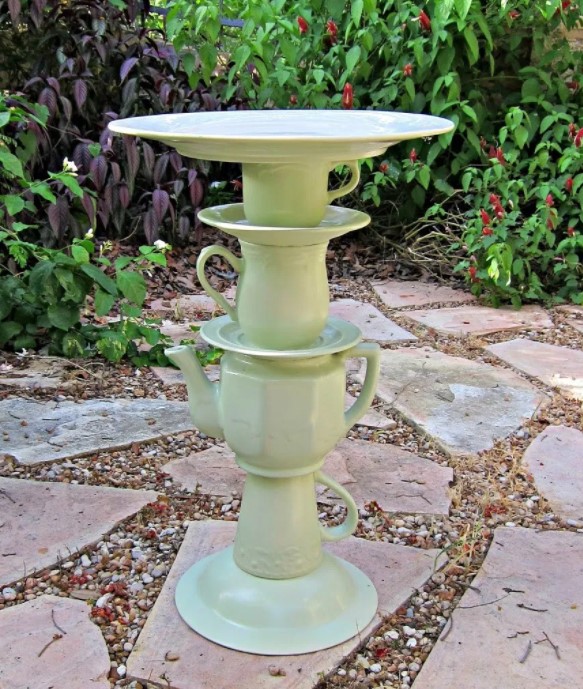 For the avid bird watcher, this creative and whimsical tea set may be just what you need. It is crafted out of a collection of teacups and saucers with ceramic glue to hold them in place so they don't fall over when filled with water. Pick out colors that match the garden design for some added flair!
Easy Birdbath from Salvaged Chair and A Terra Cotta Saucer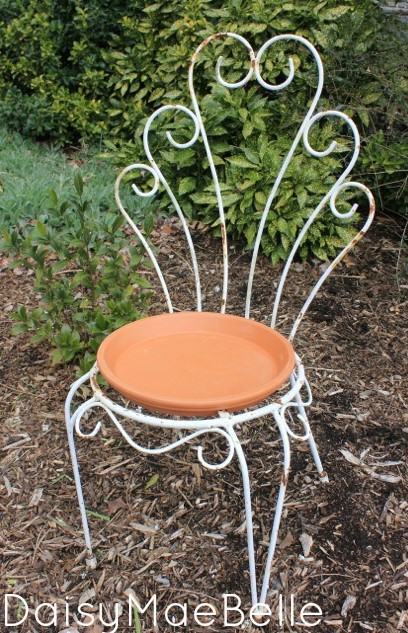 A vintage chair has a mesmerizing charm. It's aged and weathered, so it shouldn't be thrown away! Instead, use it to support an old terra cotta saucer for an amazing birdbath that will add character to your outdoor space–and may even save money on this project! Now, the garden has a charming vintage birdbath.
A Little Bird Bath Made of Old China and Glass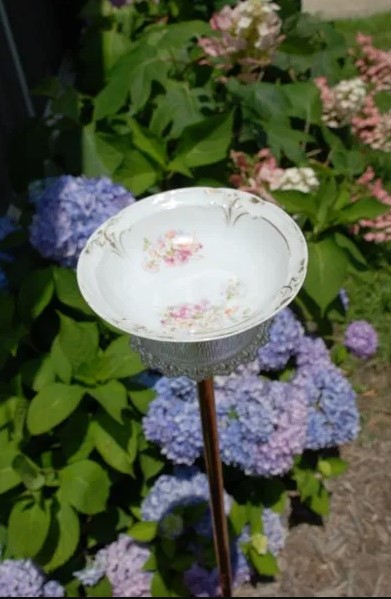 Old china and glass are usually filled with vintage markings or patterns that cannot be found anymore. You can either preserve them as a collection or as decoration such as this DIY birdbath! The old dishes were glued to a copper pipe before being placed in your garden where birds will appreciate their new home too. All that's left is waiting until they show up!
DIY Mini Birdbath from Terracotta Pots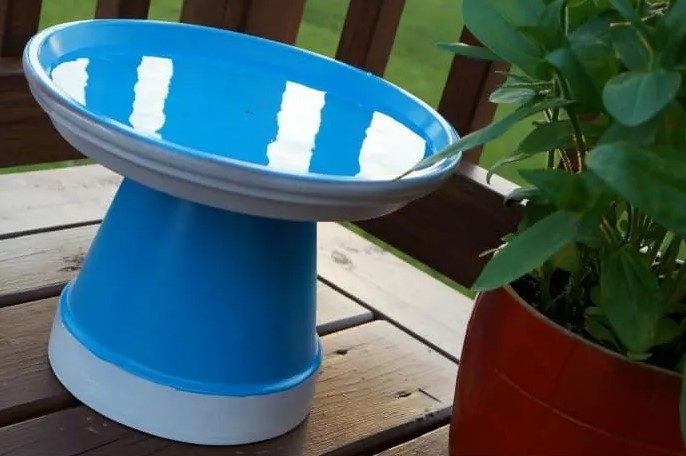 Want to attract a whole new flock of feathered friends? You might think that the best way would be by buying expensive feeders, but it turns out that many birds will come for food if they can find clean water. With this project, you'll learn how to make your own birdbath with just some clay pot and saucer from around the house! or cheap prices from local stores.
A Birdbath with A Vintage Touch From A Salvaged Sink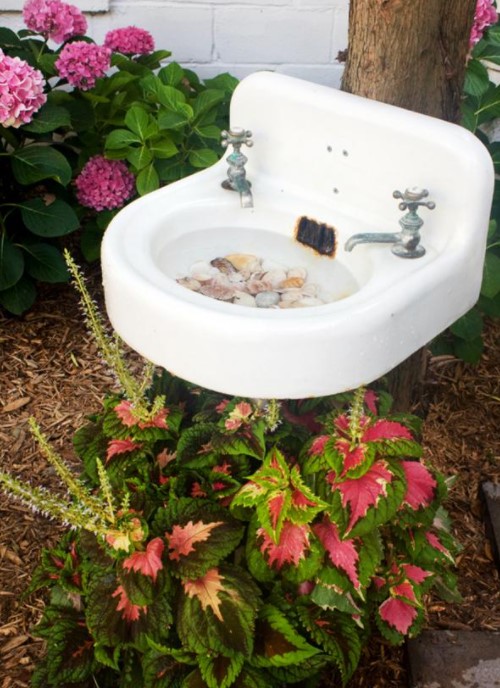 Who would have thought a thrown-away wall-mounted sink is useful? With the help of some handy work and creativity, this old piece is transformed into an eye-catching birdbath. The next step in transforming your boring ol' bathroom fixture is deciding where to mount it. It's recommended that you hang it on trees for that natural feel!
A Fun Birdbath Project with Kids
An empty spot in the garden can be filled with any decoration, but it's recommended to fill it in with a birdbath! Other than giving your garden an adorable decoration, this also attracts birds that need a refreshing bath. To make the project fun, you might want to ask your children for painting and decorating – they'll love getting their hands dirty as much as making something beautiful together!
Retouch House Landscape with A Big Pan Birdbath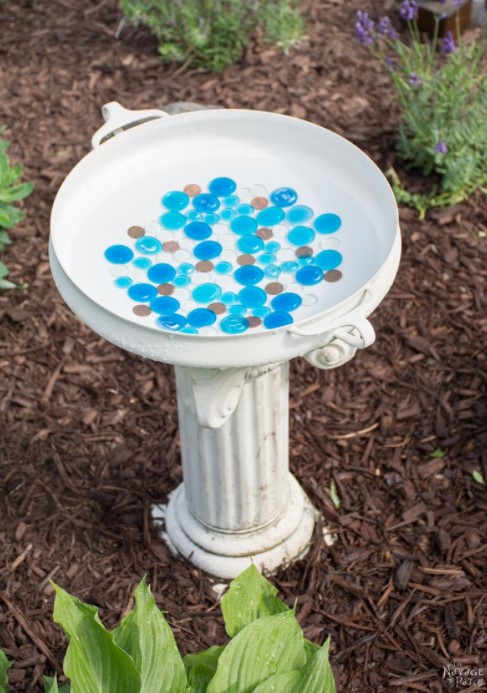 When you retouch your outdoor landscape, especially the pond, it's always a good idea to include some of nature to make everything come together. In this project, the birdbath is made out of an old pan and attached on top of an old garden column! You can find these items at second-hand stores or even garage sales so be sure not to pass them up if they are available.
A Birdbath Made From A Candlestick and A Pot Lid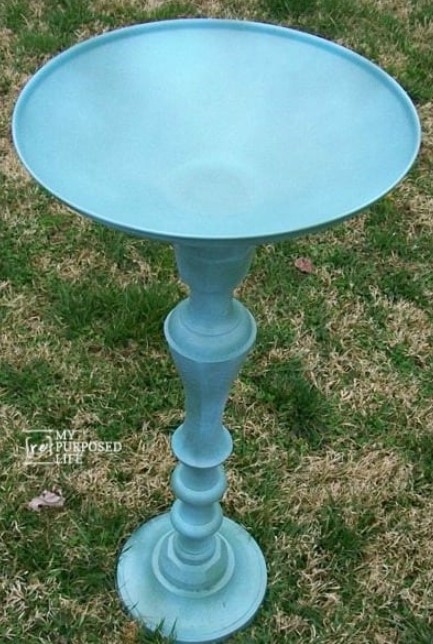 Lately, birdbaths have been known for using bowls or saucers to contain the water. However, we're taking a new take on the norm and using pot lid! This project will require you to use an extra-large candleholder that can be found in your house right now if not bought from a store. This will surely be admired by all your guests!
Creative Birdbath from Twigs and Garage-Sale Wooden Bowl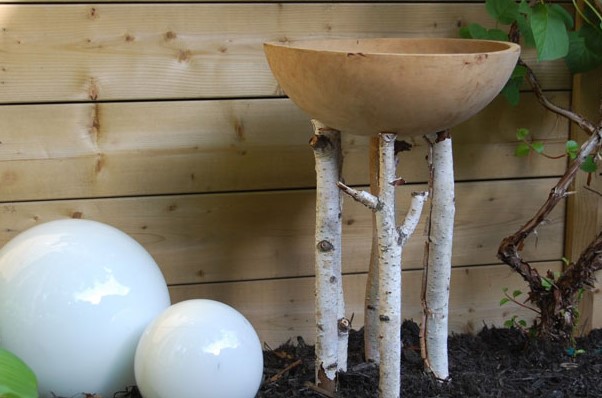 Birdbaths can be expensive, but it is possible to make one with your own two hands. For example, a wooden bowl could easily become the birdbath, and twigs from anywhere will serve as legs. This project might cost $0 if we have all materials at home already or just spend less than $100 for inexpensive garage sale items.
Minimalist Modern Birdbath from A Bowl and 3 Wood Dowels
It's said that a birdbath attracts more birds than a feeder. This is because a feeder is shared among other backyard animals too. To keep up with today's popular design, the minimalist modern, this birdbath is made of a white, clean-look bowl that is attached to 3 wood dowels and you can get the dowels from old brooms. Now you have an outdoor oasis for all sorts of feathered friends!
An 'Uneven' Flower Pots birdbath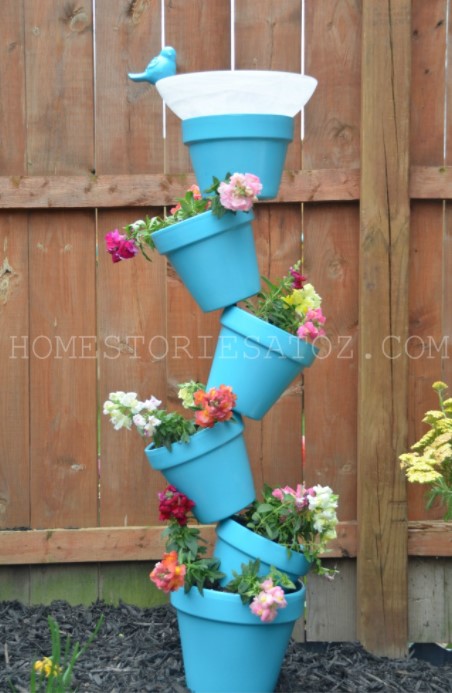 This project was designed for the bird lover who is looking to give their avian friends a more interesting bath. The design incorporates an eye-catching feature of uneven flower pots, which are made that way on purpose so as not to be too boring. This unique take would look fantastic outside in any garden setting!
a DIY Concrete Leaf Birdbath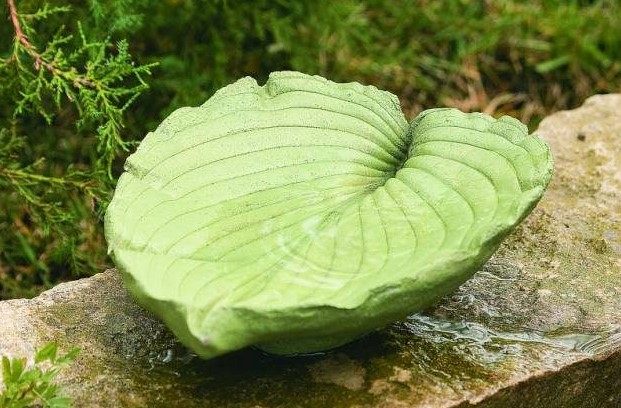 A birdbath is an adorable addition to any garden or outdoor yard setting. To make it more natural-looking, it's a brilliant idea to make a concrete leaf birdbath. Don't forget to find a large leaf to make the leaf print on the concrete. Later on, before you paint it, leave it to dry completely!
A Rustic Worn-Out Ladder Leading Up to A Clay Saucer Birdbath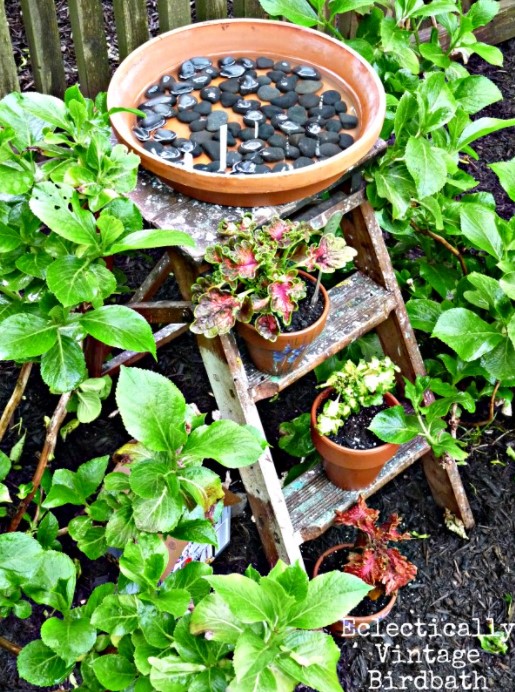 Usually, people throw away an old ladder that looks worn out. This time, let's transform it into a birdbath along with a clay saucer. Several clay flower pots are placed on the steps, leading up to the clay saucer filled with water and rocks. There is no better rustic touch for your garden than that!
Large Pumpkin Birdbath Complete with Feeders Too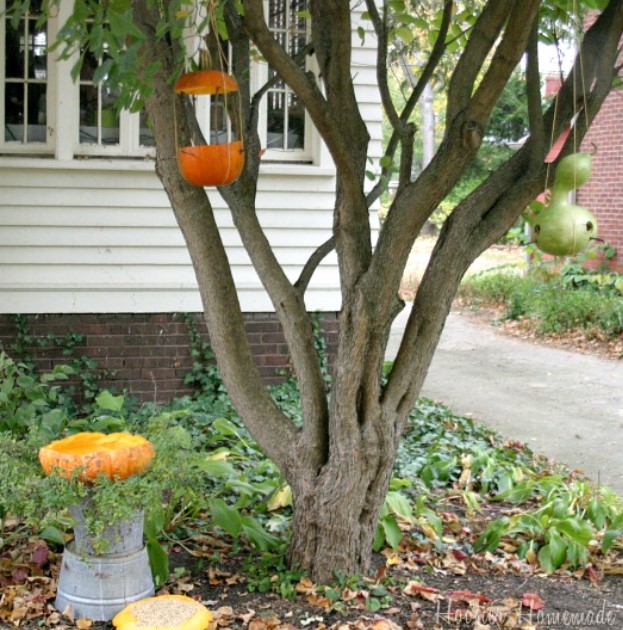 A birdbath isn't always made of recycled furniture or dishware. This time, the project shows that it can be made out of a pumpkin too. Here, we're making both the bath and feeder. For the bath, the way we make it is very simple. Simply cut the pumpkin into two before anything else. This way, you don't have to spend any money at all–except if you need to buy the pumpkin which costs $1 each!
Fun Tree Branches Birdbath Project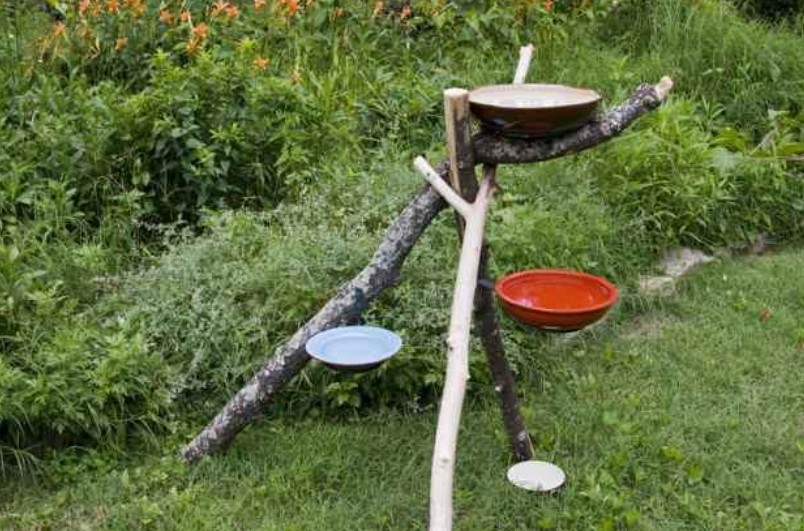 It's a birdbath like no other. It has the look of a water park, but it's just for birds! Birds will love to splash about and bathe in this unique bath made from three tree branches with bowls placed on iron plant holders that are shallow enough not to drown them. Now, your garden can be more colorful than ever before!
A Hanging Terracotta Saucer Birdbath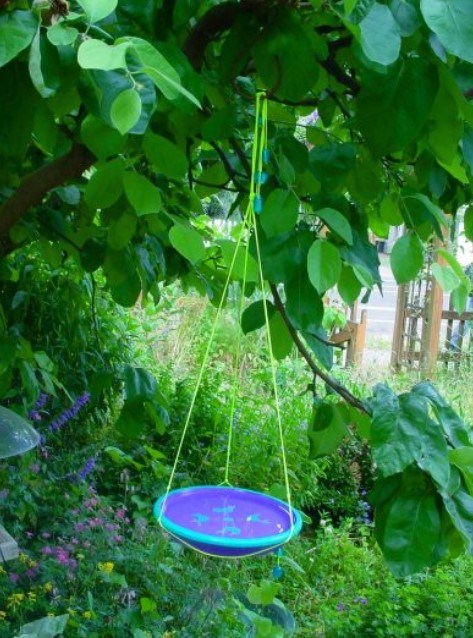 For a DIY birdbath, What if you only have a terracotta saucer but don't have any pots to stack it on? Don't worry, we've got your back. Here's an idea: use a nylon cord (or perhaps a rope or twine) and hang the saucer from a tree branch where the birds will have fun taking a bath. Have fun!
Making A Birdbath with Your Kids Is Fun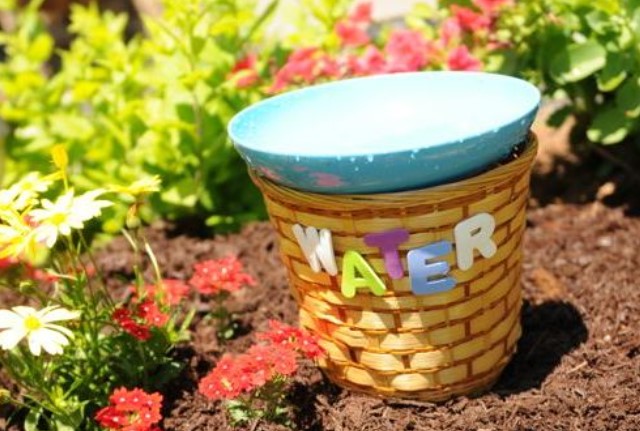 It is exciting when kids are involved in simple DIY projects. For example, this birdbath idea that transforms a wastebasket and shallow bowl into an aesthetically pleasing bath for birds to take a soak. The colorful stickers can be used for decorating the basket – your children will love how it turns out!
A Shallow Pan Birdbath with Solar Power Pump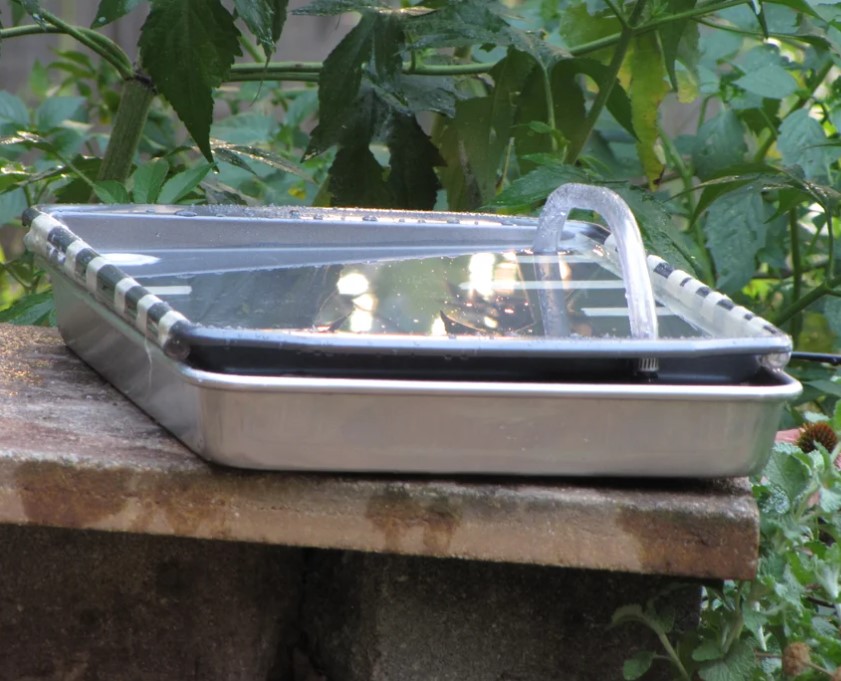 This shallow pan birdbath is specifically designed for Hummingbirds, but the idea is applicable to any bird. The shallow pan bath has a small pump that is operated by solar power. The solar-powered pump means you never have to plug it in and maintain its power source!
A Birdbath from An Old lamp and A Dip Bowl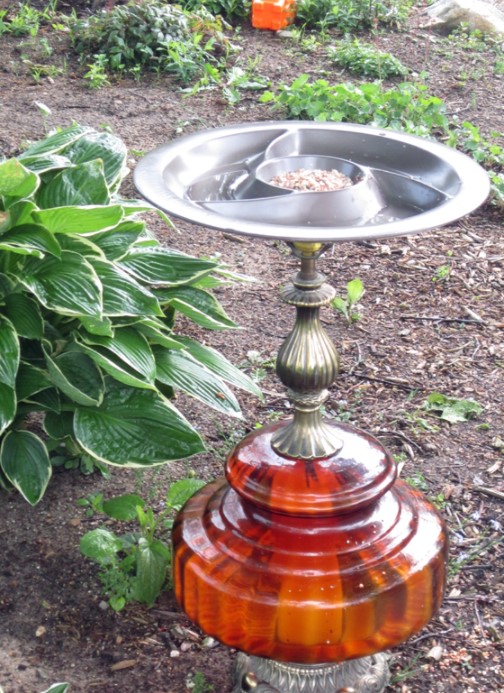 Give your old dishware and vintage furniture a second chance! Transform them into something new like this birdbath. A coat of paint will provide it with the refreshing look you're looking for, or if that's not what you want to do, you can try out some other creative ideas by doing things such as painting on an image from nature or make use of the color white instead. Now, the fresh paint gives an updated feel!
A Birdbath on A Tree Stump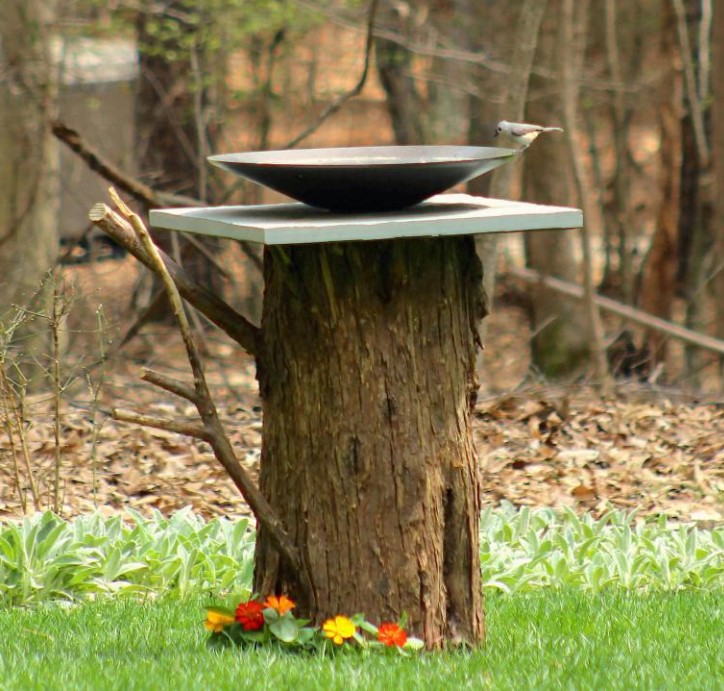 A very natural approach to a birdbath project is a tree stump. Here, the basin sits on top of the stump. To give the basin a stable base, this project opts for a square slate for the base–which works very well! To add some flair to your new bath's design, river rocks are spread so birds can perch!
$30 Birdbath Complete with A Solar-Powered Fountain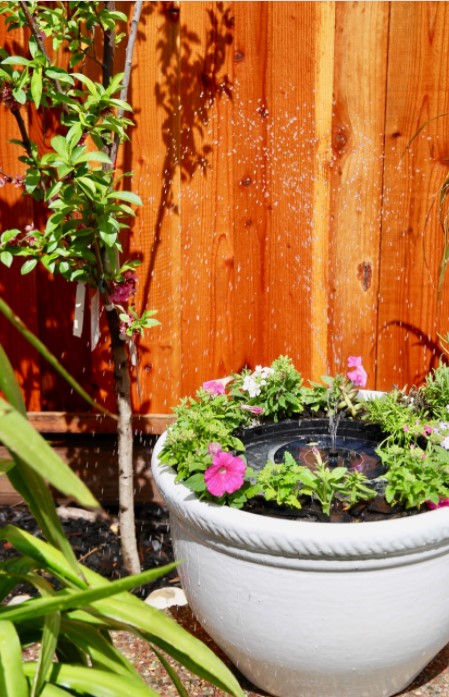 It is always nice to have a multipurpose product at the house. For example, this is a water fountain that doubles as a birdbath. More importantly, the fountain is solar-powered! Not only that this project is perfect for the birds but it also helps us reduce our expense!
A Birdbath That Is Rich In Pattern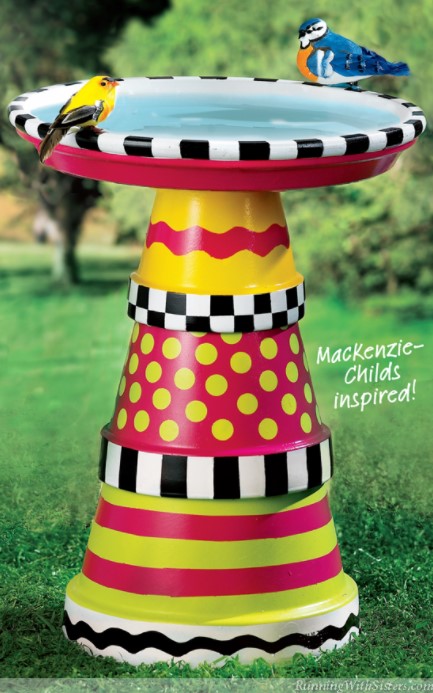 Escape the ordinary birdbath with an exciting design. For this project, terra cotta pots and saucers are given a cheerful decoration! Patterns like stripes, polka dots, and checkered patterns can be seen on these baths as well. With such a design, you will surely attract many different types of birds in your garden or backyard!
A Garden Art or A Birdbath? Both!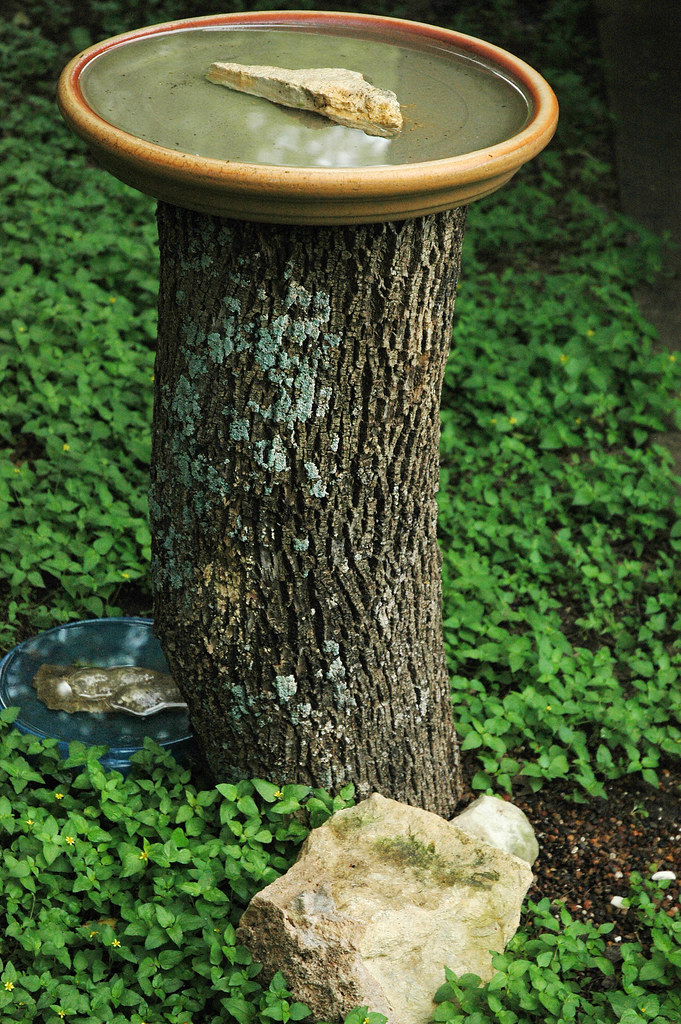 Our last idea comes from this project. This eye-catching birdbath doubles as garden art! The shallow ceramic planter saucer holds a natural color that complements the tree stump, while the stump blends in any outdoor landscape beautifully. Not only does it provide a new place for birds to flock and drink water, but it also doubles as an outdoor art display!