Many people build fences around their houses not only to keep out prying eyes but also for a variety of other reasons.
For example, some want privacy from the neighbors or want to keep their pets inside, while others need protection so that their little kids can't wander off unnoticed near busy roads.
In addition, building a fence saves money on landscaping costs too! Here are some creative and clever DIY fence inspiration that might be suitable for your needs!
DIY Basic Fence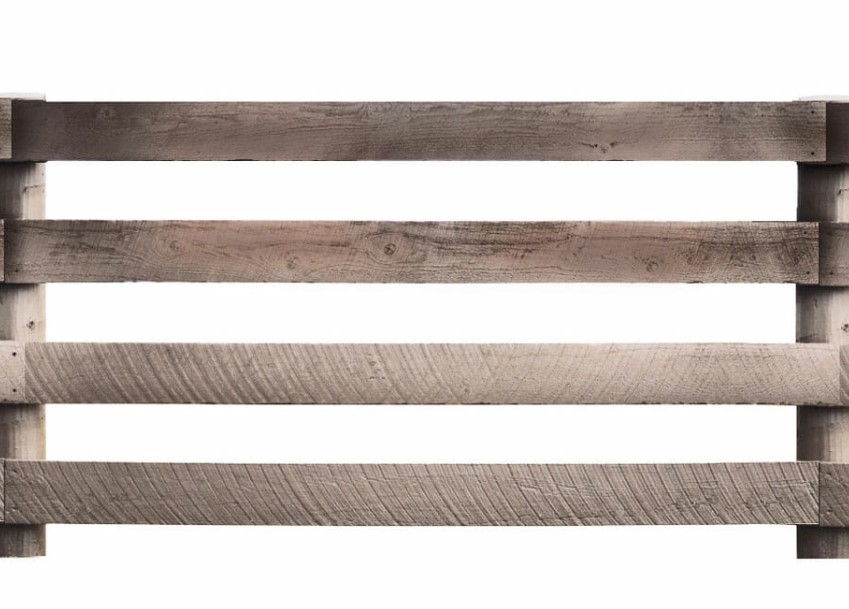 We'll take things from the ground-up with five crucial considerations that are sure to help make one's DIY plan come together smoothly when trying their hand at fencing construction – all the way down to estimating time and materials needed beforehand so as not waste precious funds on something ill-fitting; also the potential pitfalls along each step of what makes up constructing fences effectively!
Split Rail Fence With Wire Mesh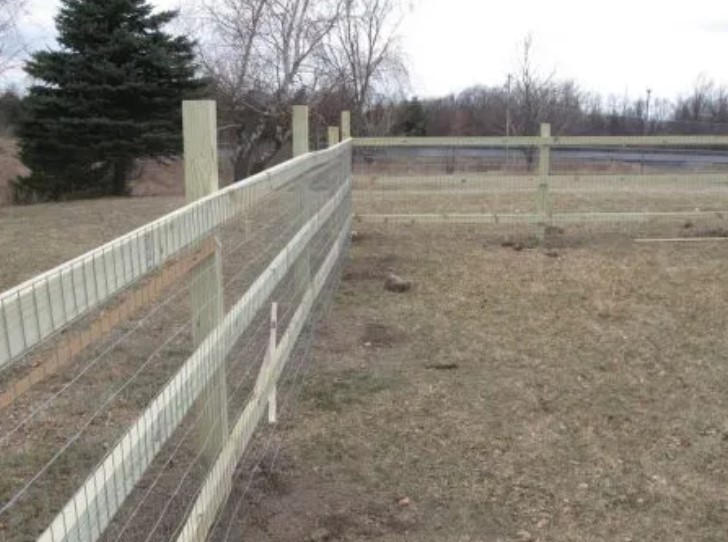 Now, if you're thinking about keeping your wild beast inside a fence, this split rail fence with wire mesh might be the project for you. The sturdy and durable split rails are perfect for enclosing anything from horses to cows or even sheep! A total cost of $750 means that it's not only affordable but also easy to maintain as well due to its attractiveness in any location- so, why not give it a try?
A Garden Fence around Your Vegetable Garden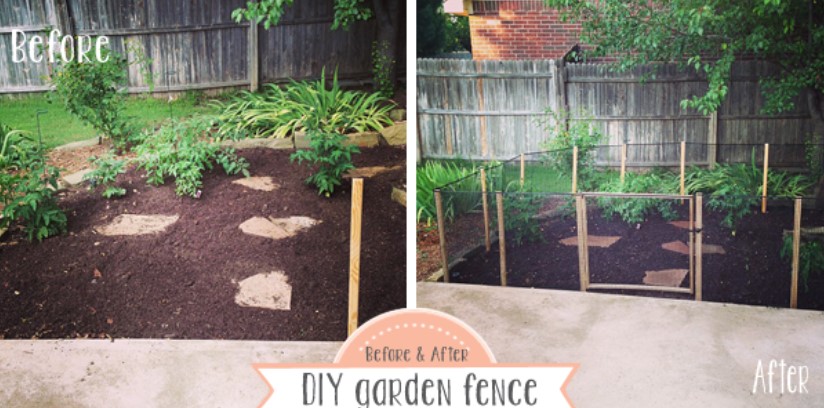 For those who grow their own vegetables or herbs in the garden, there are a variety of wild animals that might come and eat up all the leaves. To combat this problem, build such an inexpensive fence to keep out these pesky intruders! Black plastic netting is available at your local home improvement store for $16.44 per roll (prices may change). Moreover, it's easy to install and helps protect the garden!
Build A Fence with A Hidden Entrance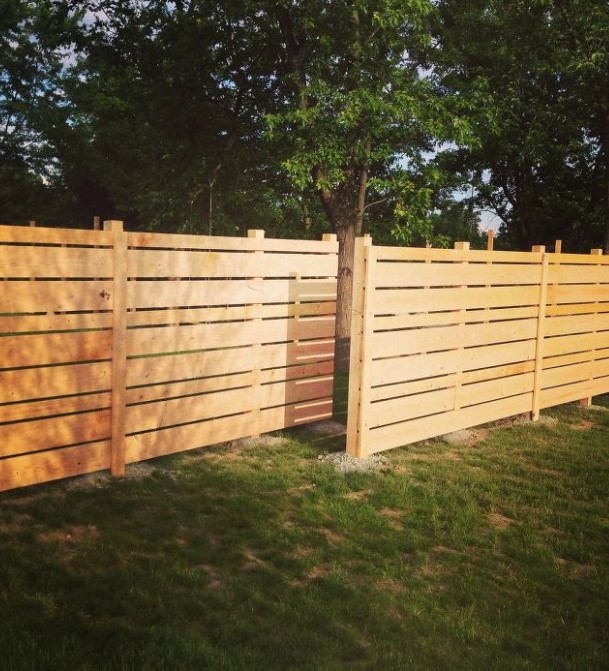 Getting your kids close to the road or having a pet that likes sneaking out can be stressful for any parent. To make sure this doesn't happen, you may want to consider building a fence. The average rough budget range of this project is around $1,000 for 1/4 acre of yard and desirable addition to the project is a hidden entrance on the back! With this unique type of fence, you will have peace of mind.
Let This Horizontal Fence Inspire You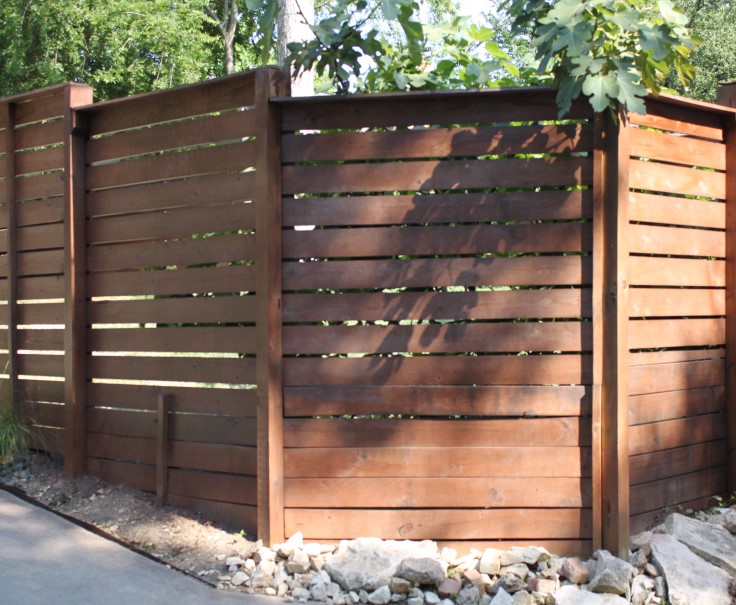 Trim the grass and see how much space you have. Guard it by building a fence around your property if you don't want to put up with any intruders! If possible use cedarwood because its natural color will stand out nicely; however this product isn't forever, plan accordingly! One of our inspirations was horizontal fences made from cedar which looked pretty – we'll show you about the maintenance too.
Fence with A Tin Accent Wall for An Industrial Chic Look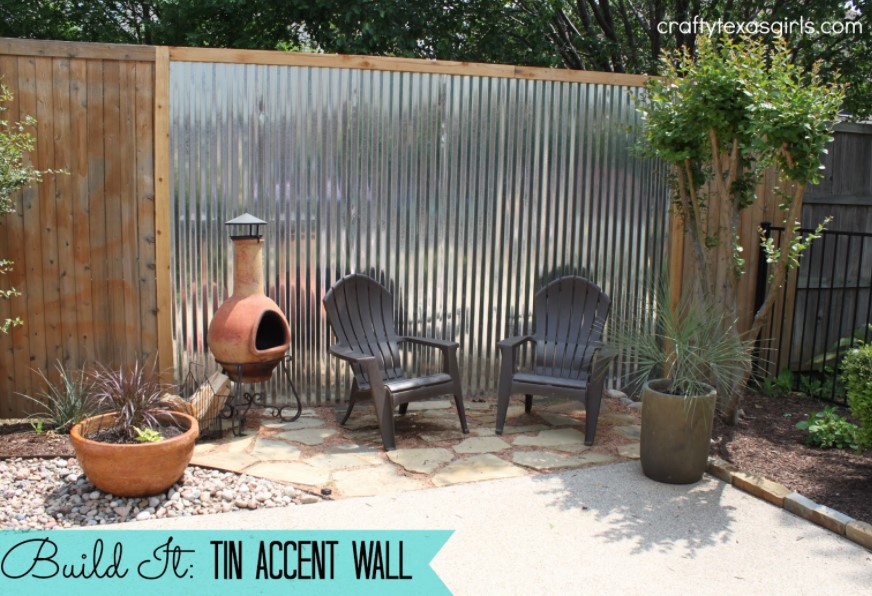 A fence can be a great way to get the privacy you need in your yard. You could also use it as an opportunity for creativity and design by choosing something that reflects what you love! A neat idea is having tin accents on the wall of the fence, which will give it more character. Tin material is pretty easy to work with so there's no need for worry and get this DIY project done right away!
Create More Privacy with Cedar Panel Fence
Living in a busy part of the neighborhood might leave you with no privacy, especially if your house is only protected by chain-link fences. This can be quite frustrating for those who are trying to enjoy some time outdoors on their own property and without being stared at. A fence, especially if built from cedar like this one, will help regain peace of mind while also providing more security from intruders or thieves!
Protect Your Garden with Rabbit Wires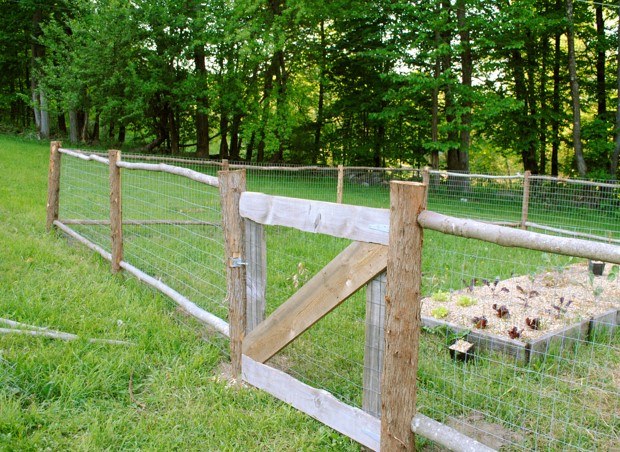 The wild rabbits from the forest are coming into your garden and eating all the leaves. You may want to build this fence so they don't come near anymore! This project is very budget-friendly as it requires rabbit wires, and pieces of wood you might already have in a pile somewhere or salvaged wood you find in garage sales.
Wattle Fencing: The Ancient Style of Fence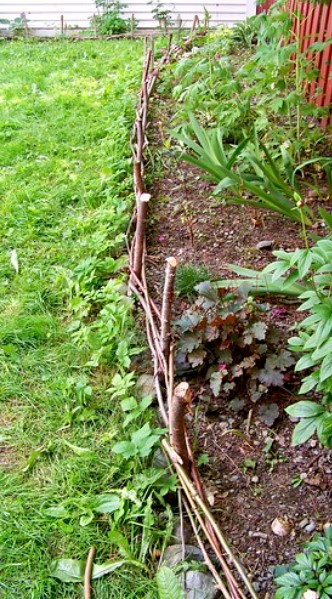 Have you been looking for a way to keep your dog out of the vegetable garden? Either that or are you just at a loss when it comes to choosing fencing styles and materials. One option is wattle fencing–this style has existed since ancient times but remains popular in rural communities. The best part about this fence type is that all its components can be found from natural resources!
Build A Fence with Unique Privacy Screens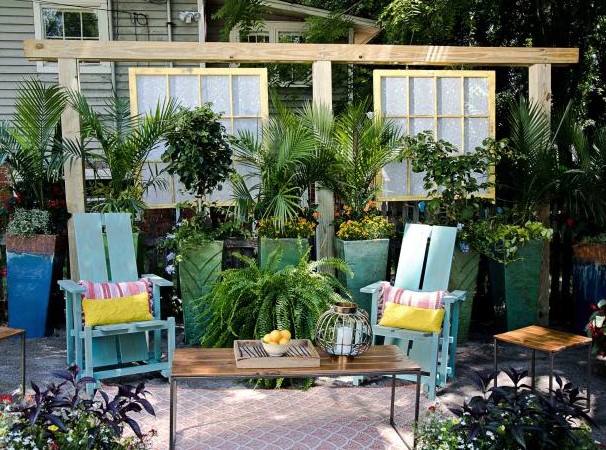 Imagine a backyard or porch with waist-high fences. They provide the perfect amount of privacy, but you still feel like something is missing! Why not add some screens and walls made from remodeled vintage windows? The finished product will be unique to your home and also offer more protection!
More Privacy with Shadowbox Wood Fence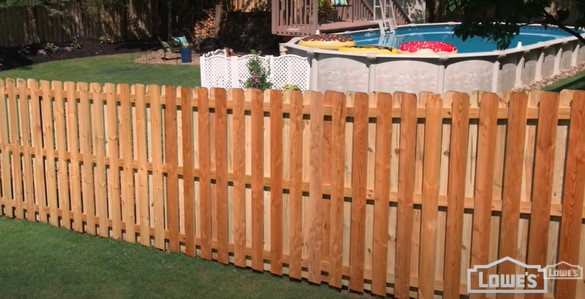 With this project, you get the best of both worlds – more privacy and a traditional look. It'll only take about a week to complete but it won't cost more than $5000 too! The great thing is that it's easy enough for any intermediate-level woodworker in building fences or shadowboxes.
A Horizontal Plank Fence for Sloping Backyard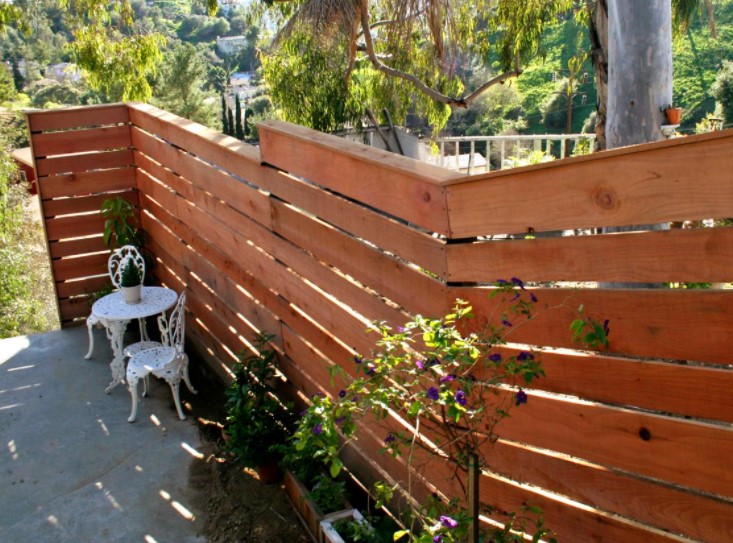 Don't worry about having a sloped backyard. All you have to do is build your fence horizontally so that the privacy will be spread out evenly across both sides of the yard. If you want it to look daring like in this photo, use redwood! Redwood is popular for its style and durability so it will be perfect!
Stained Cali Bamboo Fence for Backyard
You don't want those prying eyes to stare at your backyard activities, right? A fence is a necessary investment. One of the options for an interesting and unique design is bamboo! If you have walls that are over 6′ tall then it's recommended that you purchase 8'x8′ bamboo sections, so they can give them some height as well as provide protection from peering onlookers. You'll be glad you choose this project when these pictures show how easy it is to construct the bamboo fence!
Bamboo Roll Fencing Inspiration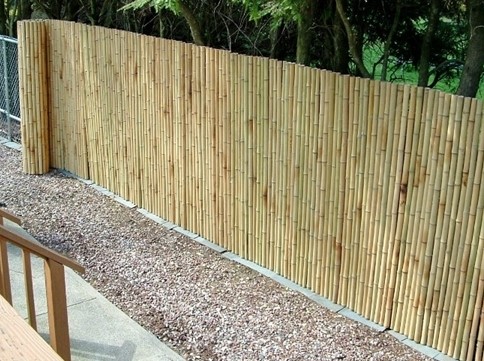 You want the yard to be a place you can go and not worry about people watching or judging what you do in there. A fence will work great to block any prying eyes, but sometimes they're just plain boring! Think about bamboo. Bamboo is a flexible and versatile material that can be used for more than just fencing. Bamboos are not only perfect as an attractive privacy screen or backyard decoration but also serve to enhance the beauty of your landscaping, especially bamboo rolls.
Using Cedar Wood Found in An Old Warehouse for This Cedar Fence

The project takes place in New Zealand and cedarwood is quite expensive. So, the cedar used here comes from an old warehouse. The finished fence looks stylish and awesome with a DIY touch! Other than that, this tutorial will guide you to be thrifty so you can spend less money on your next big home improvement project–fences don't have to break the bank after all!
Beautiful Low Picket Fence to Frame Your Gorgeous Landscape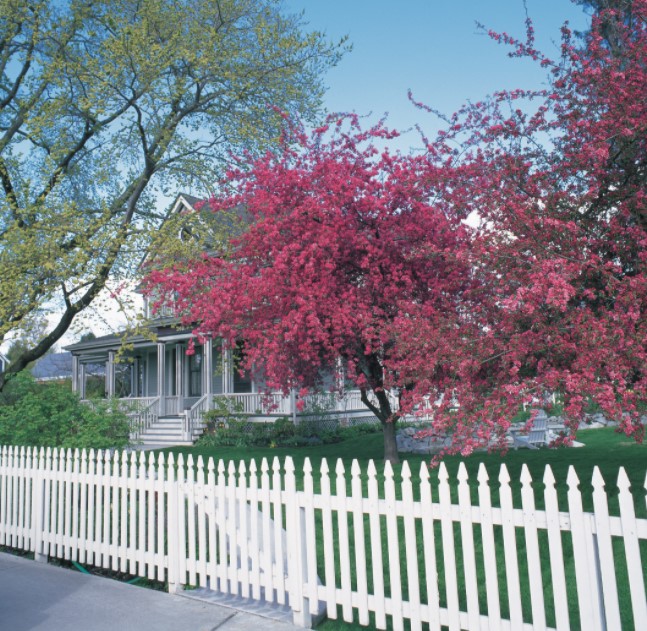 A new and popular option for homeowners who want a shorter fence is the low picket variety. A tall fence can sometimes block the view of an amazing home's landscape, but this one beautifully frames it with great detail provided by our tutorial on how to measure from each post!
Install This Fence for Your Front or Side Yard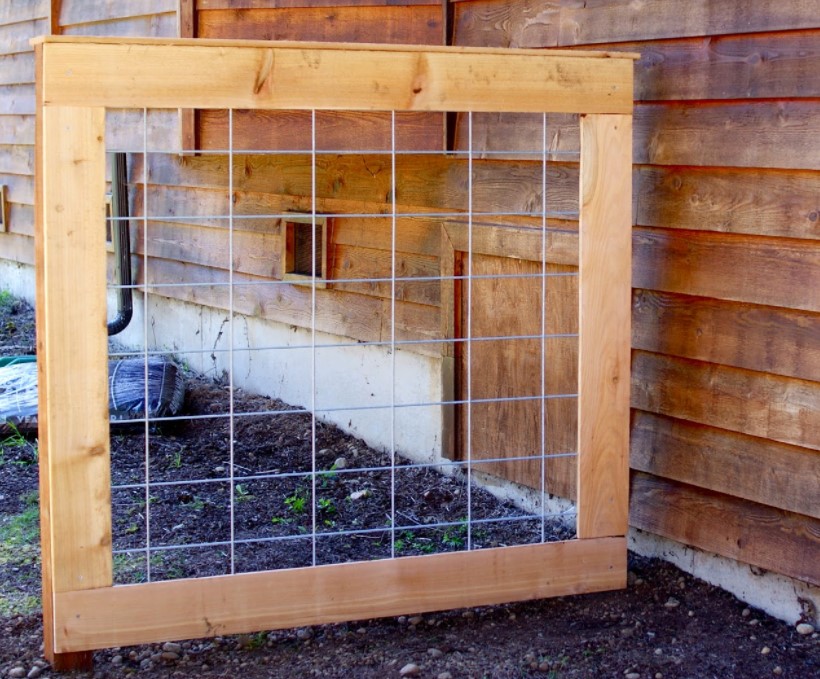 A lovely idea for a front or side yard fence. Most people don't build fences that provide privacy because the house is located on top of a hill, but if you live in the same landscape as well then check out these plans! The project doesn't cost much either and will look great with your other landscaping around it too.
A Low Semi-Permanent Fence to Protect Garden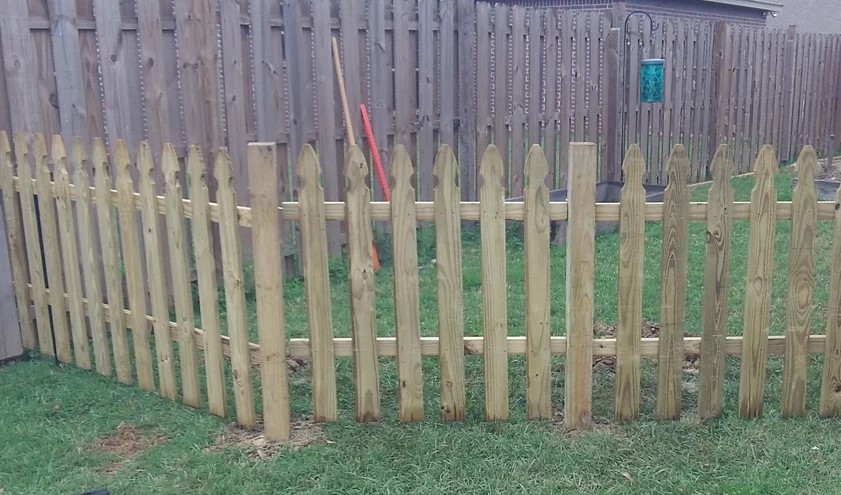 There's no need to fear for the safety of your colorful garden, decked out with all the blooms and greenery that you can imagine. This low-style fence will keep it safe from any intruders (like your pets) who would like to ruin its beauty! You'll be able to enjoy this semi-permanent barrier without worrying about a change in scenery – because changing seasons won't affect these durable wood. Take a look at how the project is done by following our detailed step guide!
Making Wattle Fence in Very Simple Steps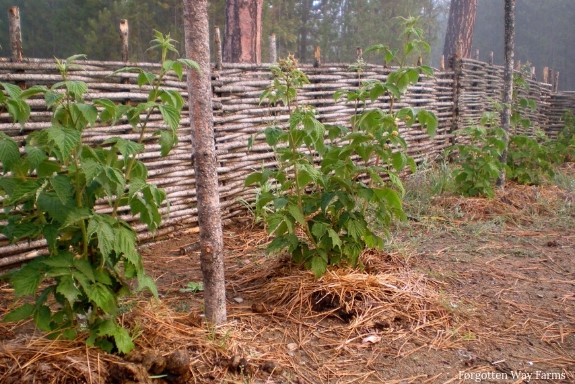 Wattle fencing has been said to be an ancient wonder. Its charm and hypnotizing effect on its admirers never goes away, the process of building a wattle fence is very simple! Even your kids can join in with this easy task. Here's how it works!
Protect Your Vegetable from Rodents using Metal Fencing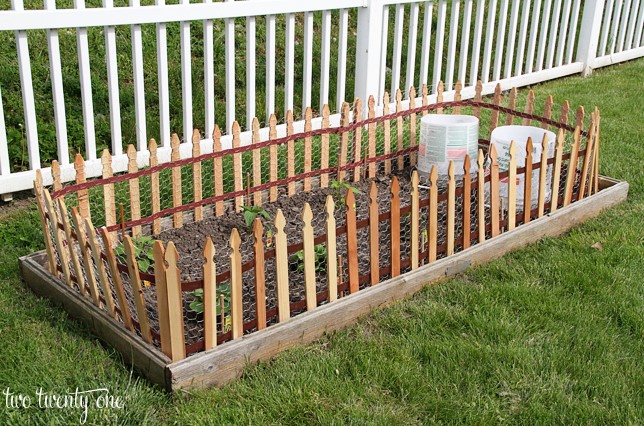 It's always frustrating when your vegetable plants are eaten by naughty rodents. It may be time to build a strong metal fence around them! This easy tutorial requires simple supplies that you can find at any hardware store and will take less than an hour of work–perfect for the busy garden enthusiast on a budget!
Garden Fence Inspired by A Farmhouse Style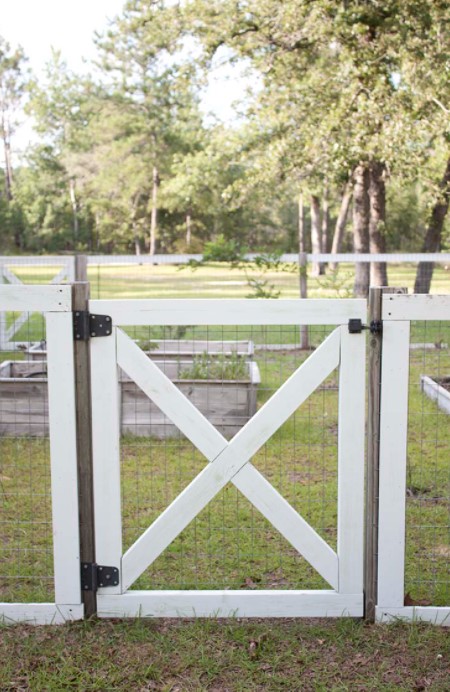 Building a garden fence is an excellent way to keep your animals out of the vegetable patch. This project uses use 4x4x6 boards for each four-foot-high section of fence and features some beautiful farmhouse-inspired details, including X's on either side of the door. So, what are you waiting for? Let's get started!
Building Horizontal Slatted Fence Easily with An App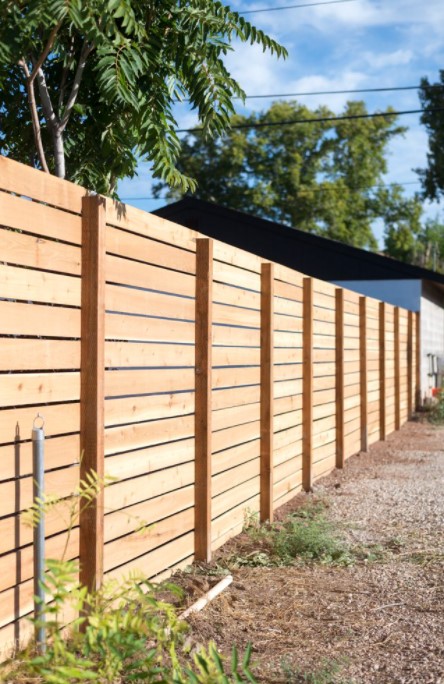 Horizontal slatted fences are a great option for homeowners who want to add privacy or block out certain views. A DIY app will provide the information needed, but if you're looking for some inspiration on how it's done there is plenty in these step-by-step pictures! Take notes that the ground of this project is sloping so there's a special trick to tackle it!
Build A Cattle Fence in Easy Steps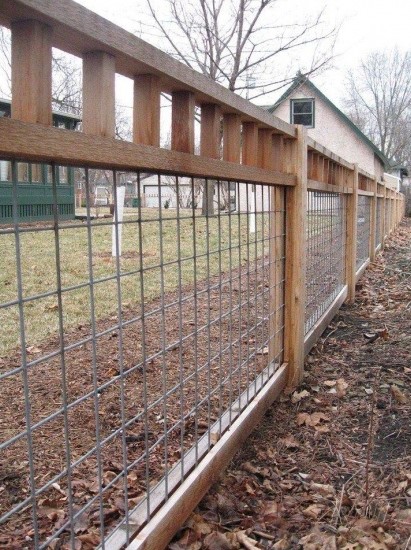 Fences are a necessity for any home, but they can be expensive and time-consuming to maintain. This fence idea is one of the simplest out there, using cattle panels that can be found in any local hardware shop near you! If you're looking for this design or just want to save some money today (you deserve it!), take a look at how much $50 will get you!
Kepp Those Rabbits and Deer Out of the Garden with A Fence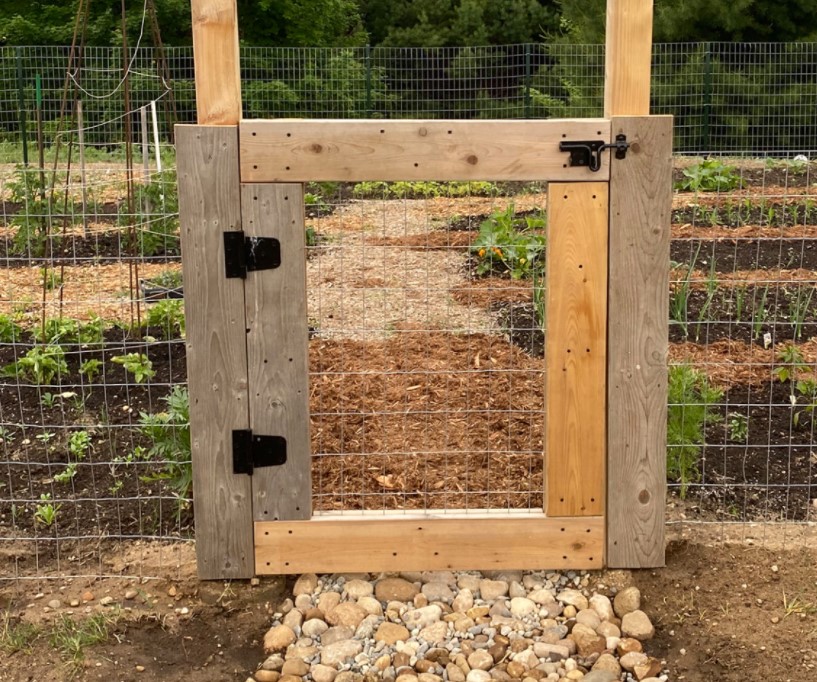 If you happen to live in a region with an abundance of rabbits and deer, you might find yourself constantly defending your garden from plant-eating pests. The solution is to build a small fence around it! This inexpensive design will block any potential animal intruders while giving those who admire its beauty plenty of room for viewing pleasure.
Easy-to-Build Horizontal Fence That Looks Awesome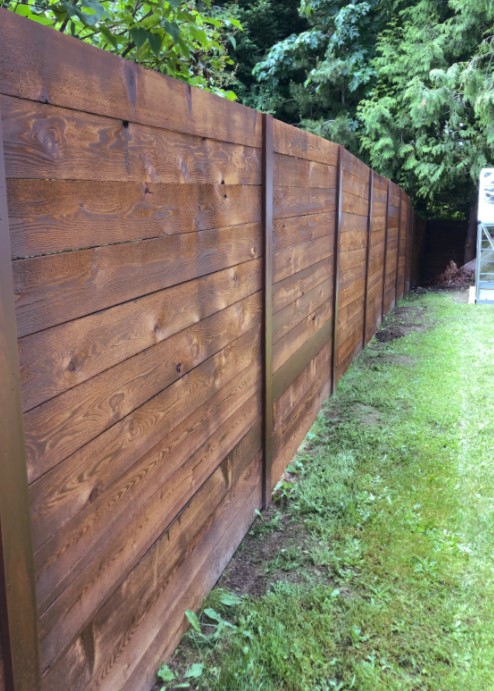 Building your own fence offers you the luxury of customizing a design that works specifically for your space. It's always better to go with simplicity, which is one reason why this horizontal fence holds such an appeal and keeps things sleek and clean-lined. This perfect modern house design might be just what you need!