A bird feeder at your home is an opportunity to take things slowly like providing food during winter when birds are hungry, or simply watching as dozens of colorful songbirds flock around you every day.
With these little moments of peace come knowledge about nature's creatures (what they eat, how many species there are out there), teaching us all that we need not harm them but rather care for one another like family members!
If you're looking to make a DIY bird feeder for your backyard, here are some awesome ideas and tips on how to do so. The following are easy crafts that can be made with materials at home or even recycled items from around the house!
DIY Glass Shade Bird Feeder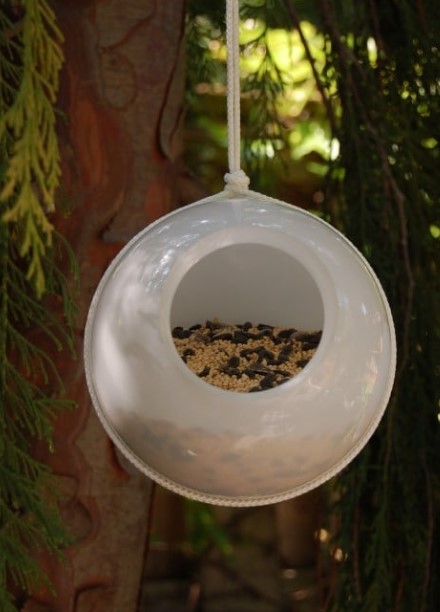 This glass bird feeder is a quick and inexpensive project that will provide hours of entertainment watching the birds come to your garden. You'll need glass shades from the dollar store or recycle center, a rope, and glue. So, why not give it a try today?
DIY Plastic Bottle Bird Feeder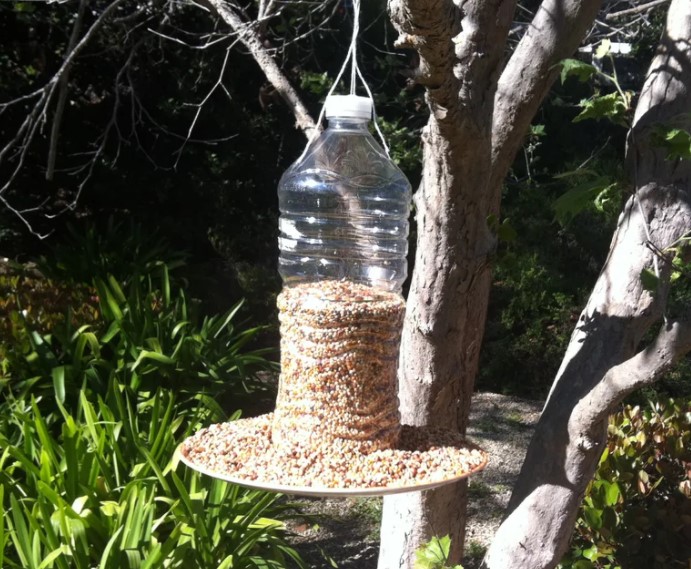 This DIY bird feeder is an excellent way to spend some time outdoors, while also being a great opportunity for recycling materials. It only takes about ten minutes and the cost of supplies is very low. The design turned out fantastic!
DIY Upcycled Plastic Bottle Bird Feeder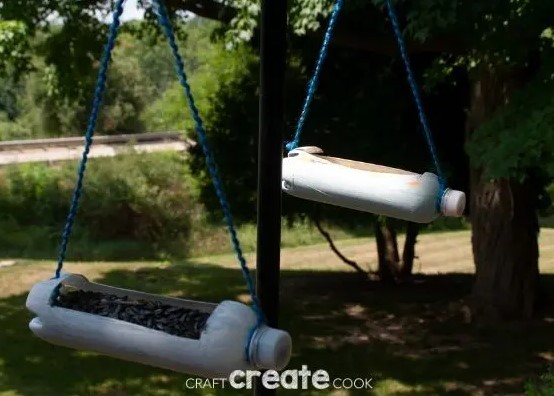 You've got some animals that love to hang out at your house over the course of every season? You can put bird feeders up and keep them fed, but you could also make a simple little project like this one!
DIY Hanging Log Bird Feeder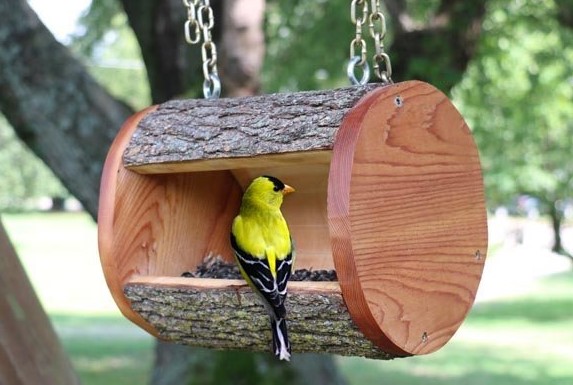 A homemade bird feeder is a great way to add color and life to your backyard. With this DIY hanging log seed feeder, you'll be able to attract many birds such as chickadees, nuthatches, woodpeckers, house finches, goldfinches, or bluebirds with ease! In under 15 minutes (depending on the size of logs), it's easy enough for anyone who wants some garden visitors in their yard!
DIY Bird Feeder Wreath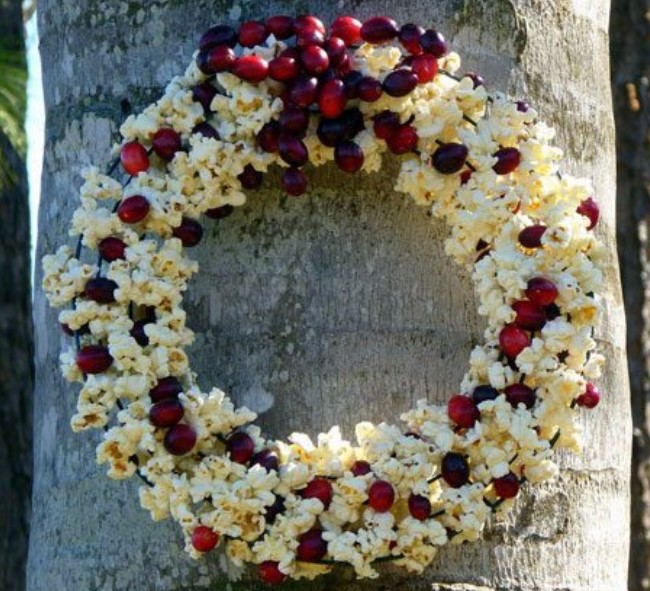 People used to feed birds with plain popcorn and cranberries on a string attached to a tree. Now, there's an exciting twist! Instead of just tying the string around some branches, try this wreath instead!
DIY Bird Feeder from A Plant Saucer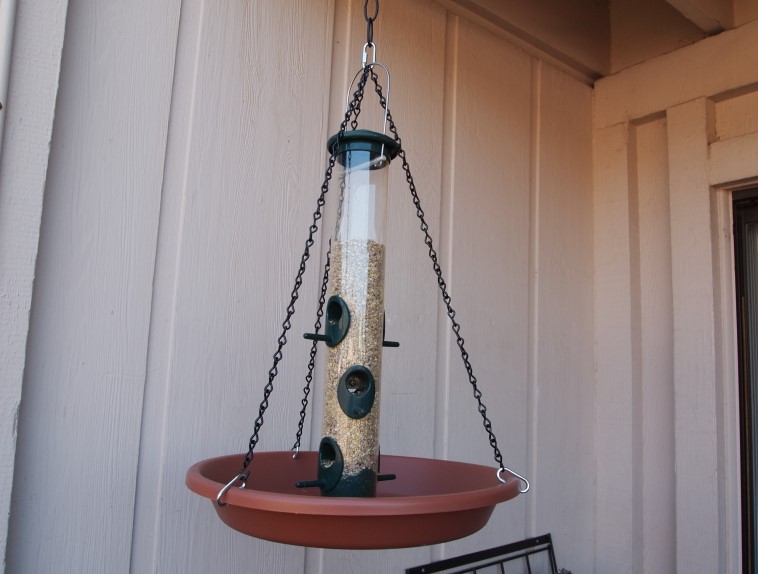 You'll never have to worry about your bird feeder tipping over again with the help of this genius idea. The seed catcher is made from a plant saucer and it's perfect for catching any seeds that might fall through onto the ground. The birds are able to sit on the edge while eating without tipping over too!
DIY Tea Bottle Bird Feeder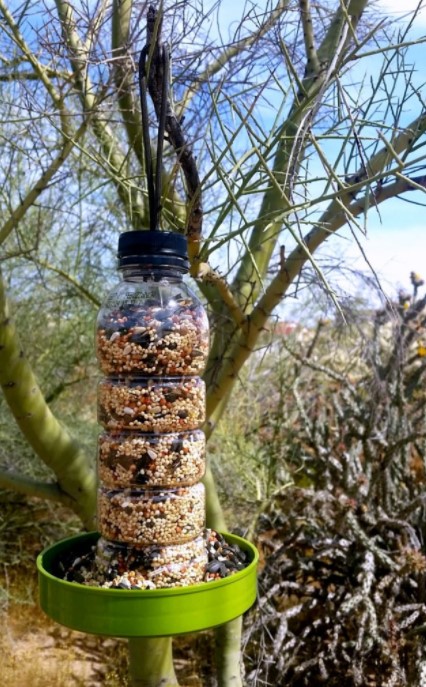 If you're looking for a fun and easy project to make on your own, or with the family this weekend, up-cycling is perfect. Those empty bottles can be transformed into bird feeders! This project is a great way to show your creativity while also helping out our environment.
DIY Hanging Vintage Teacups Bird Feeder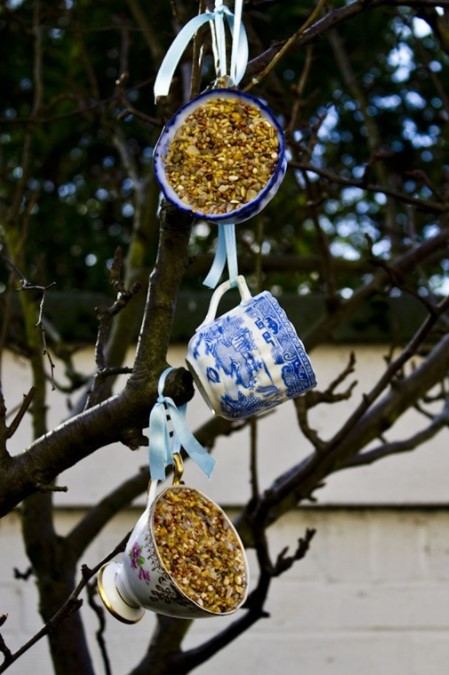 Have you ever wanted to turn an old, unwanted teacup into a bird feeder? It's simple and easy with some chipped or cracked dishes. All sorts of birds will visit your new feeders for the fresh food!
DIY Macrame Orange Bird Feeder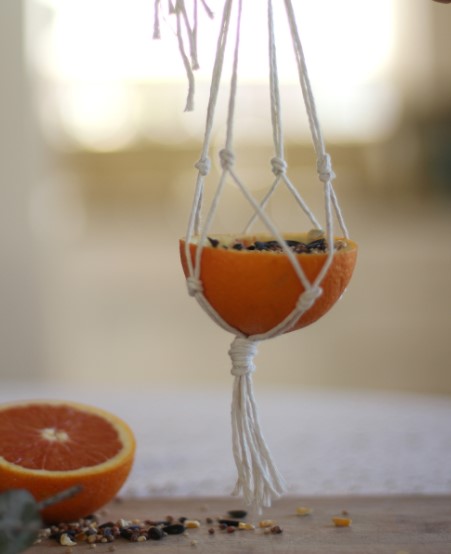 This DIY bird feeder is a creative way to never let your garden go without life. The bowl to put seeds in is made of orange, which will impress friends and family! Then, with the use of 8 strings, you can create this simple macrame design!
DIY Milk Jug Bird Feeder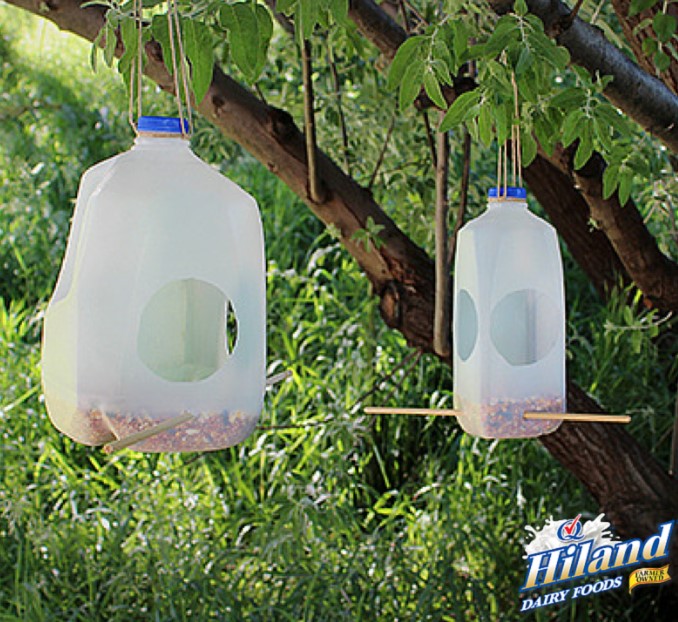 A milk jug, with the cap on and clean of course, can be turned into the perfect place for squirrels and birds to snack when they're out in your neighborhood looking for some food! The best thing about this simple project is that it doesn't require any expensive tools or materials.
DIY Paper Cup Bird Feeder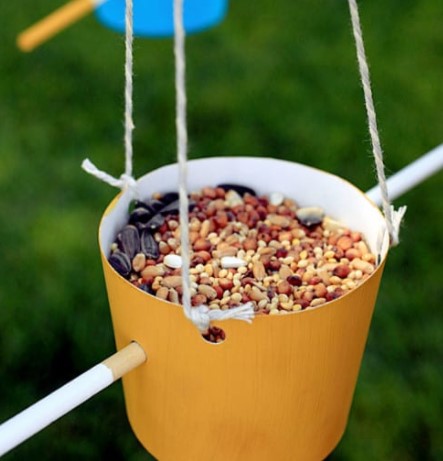 Homemade bird feeders are a fun weekend activity for the whole family. Making and decorating them is not as difficult as you might think, the mess stays outside too! And what better way to get closer with your feathered friends?
DIY Toilet Paper Roll Bird Feeder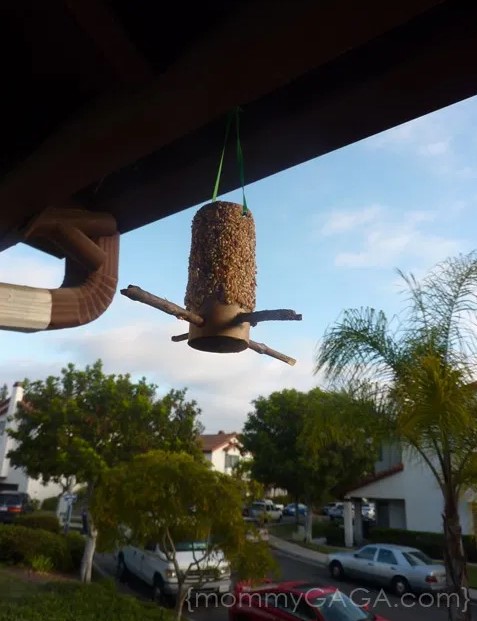 This toilet paper roll bird feeder craft is a super fun way to bring life and color into your backyard this spring. Use old toilet paper rolls and string to create this whimsical bird feeder. The birds will have a blast dining on your crafty creation!
DIY Frisbee Bird Feeder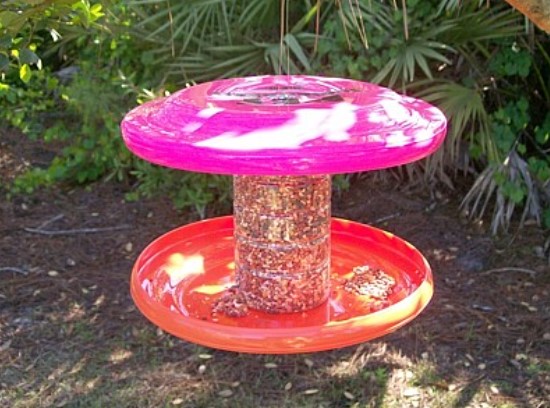 If you're looking for a creative way to feed the birds, this DIY birdfeeder is what you need. Recycled from materials such as an old frisbee, it takes only 30 minutes before your bird feeder will be ready!
DIY Apple Bird Feeder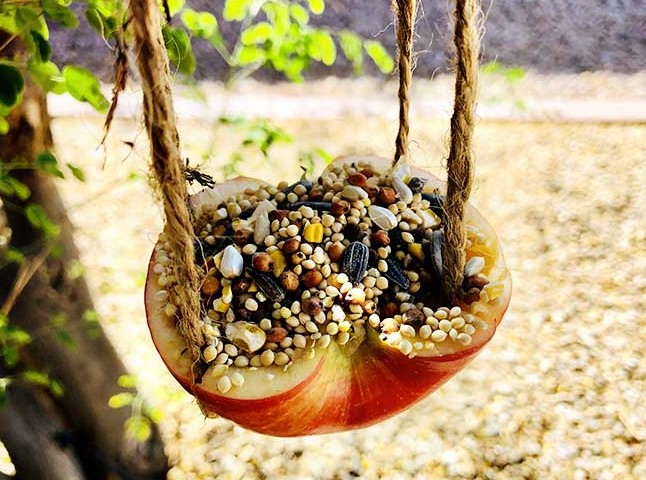 Previously, we had an orange bird feeder. Now let's make a new apple bird feeder! Once the project is finished you can hang it in a tree outside of your window and watch all kinds of birds fly by!
DIY Wine Bottle Hummingbird Feeder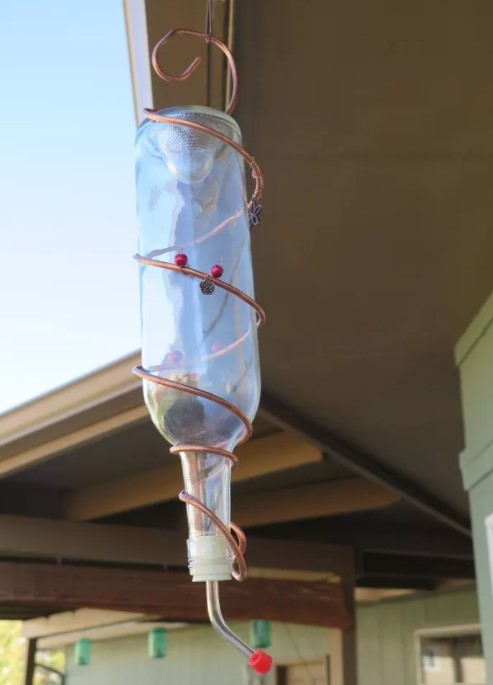 Who knew an empty wine bottle could be so useful! You could attract hummingbirds to your garden by making a bird feeder out of an old wine bottle. The best part about it, it can be a wonderful yard decoration too!
DIY Cardboard House Bird Feeder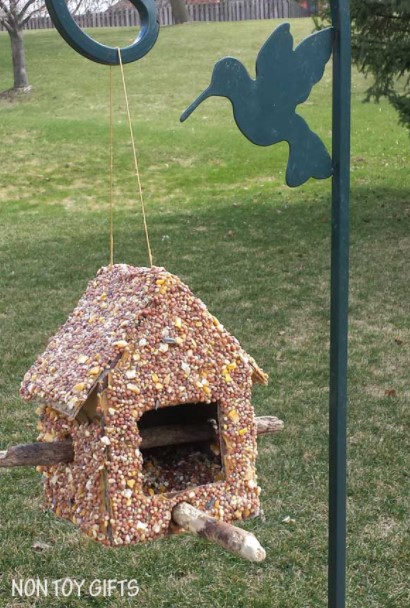 This DIY bird feeder is inspired by the Hansel and Gratel Candy House. Made of cardboard, it's very easy to make- but be sure not to leave on when raining or snowing. When dry weather returns you can place this back in its original spot!
DIY Upcycled Tin Can Bird Feeder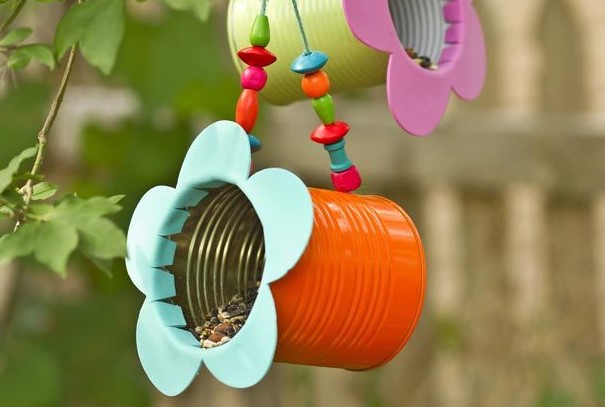 Don't throw away those leftover metal food containers from the grocery store – instead make them into DIY birdfeeders. Just take some paint or markers, get as creative or simple as you want in designing it, and don't forget to put holes on either side of the container so birds are able to reach their beaks through easily enough too.
DIY Standing Teacup Bird Feeder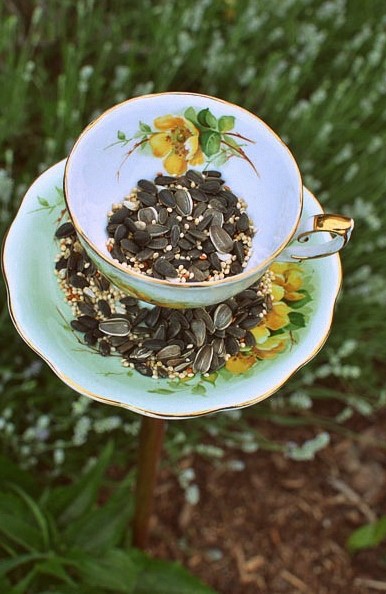 Do you love vintage teacups? We have the perfect DIY project for your next crafting session! You won't believe how easy it is to make this adorable bird feeder. The best part, it will only cost about $2-4 for each cup at a garage sale or second-hand store.
DIY Clay Flowerpot Bird Feeder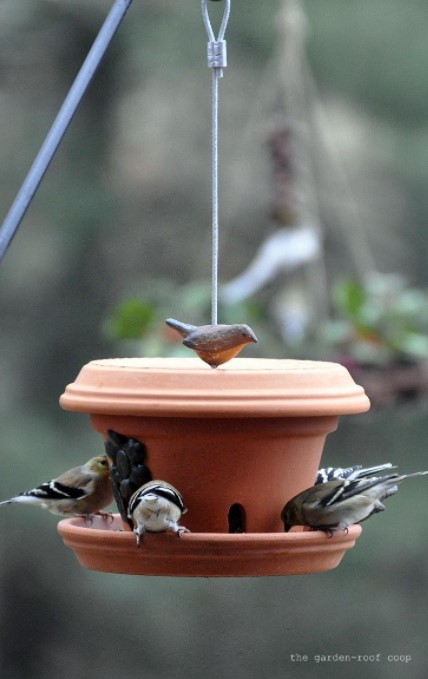 This DIY bird feeder project is a fun way to spend an afternoon crafting. You can use natural sources, recycled materials and re-purposed items like clay flowerpots and saucers for this easy craft!
DIY Milk Carton Bird Feeder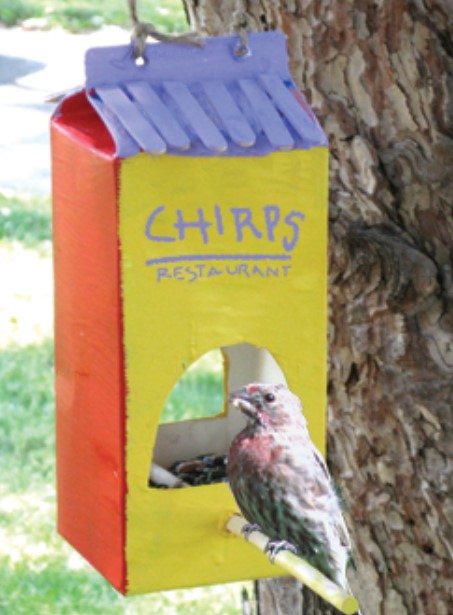 Birds are always hungry and it's hard to find food this time of year, so why not use empty milk cartons as bird feeders? You can hang them in your yard or near a window. Just fill up the container with seeds for all those feathered friends!
Donut for The Birds
Are you looking for a fun and simple DIY project? Look no further than this acorn squash bird feeder! Just cut the squash, remove the seed from inside, spread some peanut butter on it to stick your cranberries in place. It's that easy! Click on the instruction below for more details.
DIY Boho Macrame Bird Feeder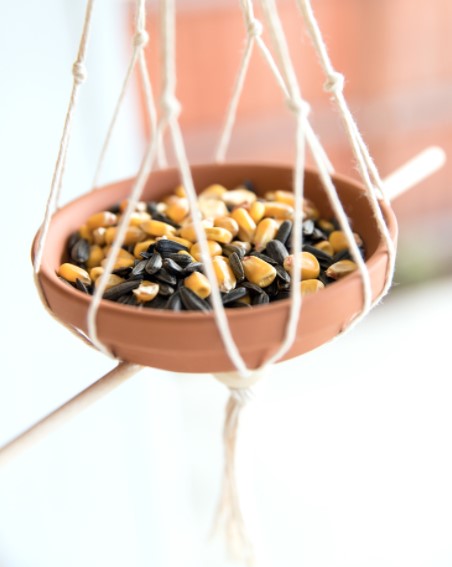 When people think of macrame, they often imagine a design that is charming and traditional. However, the simple knots in this project make it modern-chic enough for any home! The clay pot saucer will be perfect as your bird feeder's base when you're done with this DIY craft.
DIY Teacup and Saucer Bird Feeder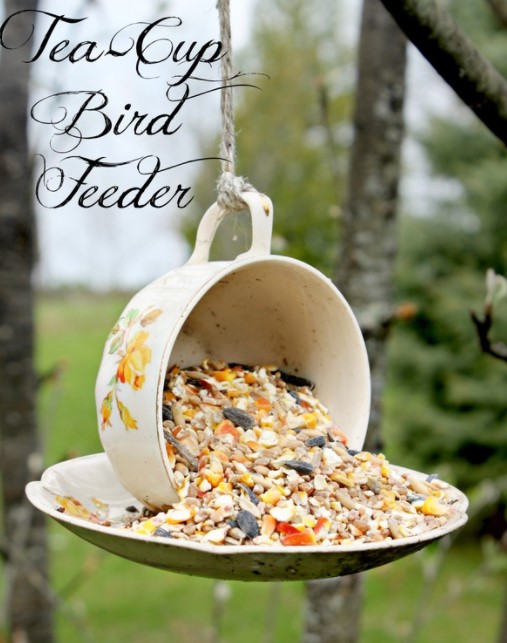 Create a beautiful feeder to hang in your garden! All you need are some glass and ceramic glue, string or chain, and a teacup and saucer from an old second-hand store. It's quick, easy, inexpensive, and really durable if made correctly. The perfect gift idea for any gardener this holiday season!
DIY Recycled Plastic Bottle Bird Feeder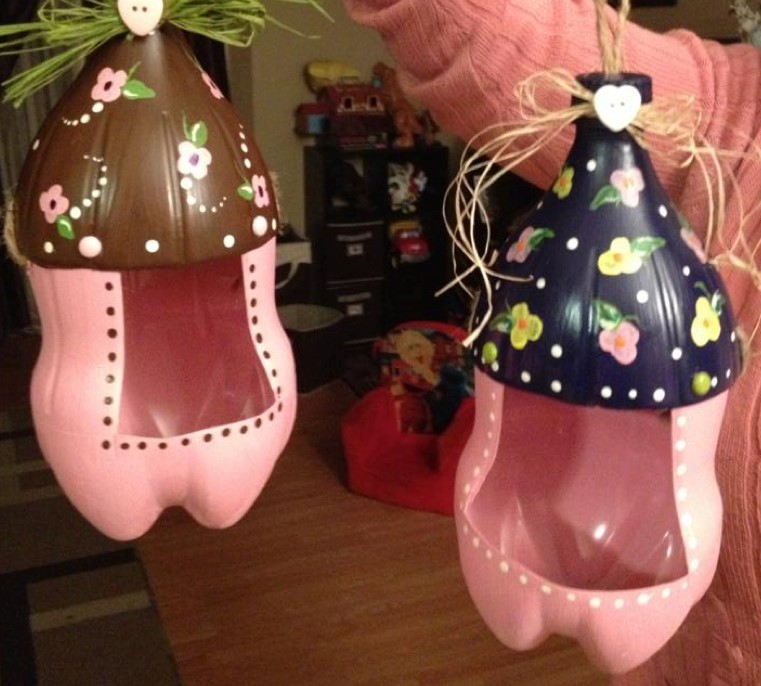 Don't throw away those empty plastic bottles! You can turn them into cute bird feeders with your own personal flair. Just follow these simple steps and you'll have an adorable backyard addition to enjoy without too much cost or fuss.
DIY Popsicle Stick Bird Feeder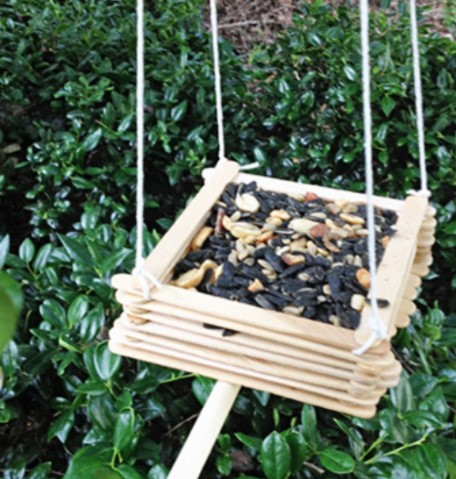 Do you love ice cream? Or have kids who just can't get enough of it either? Collect the popsicle sticks and make this cute DIY bird feeder from them! Other than being easy to put together, it's a fun weekend project for your little ones too. Let's get started!
Questions about Bird Feeder and Bird Feeding
Do we need to take care the bird feeder?
Absolutely! Regular cleaning is needed. If not, there is a sign to tell when it's time to clean the bird feeder, a foul odor! This unpleasant smell comes from bird feces and moldy seeds. If not properly clean, these problems will attract unwanted creatures that might spread disease too like rats or mice.
How to clean the bird feeder properly?
First, Prepare a sink or a large basin filled with a solution of nine parts hot water and one part bleach. Wear rubber gloves to prevent unwanted contamination from bird feces, moldy seeds and other stuff.
Second, make sure to soak all parts of the feeder in the solution.
After a couple of minutes soaking, clean every part of the feeder using a stiff brush to scrap off the dirty things. The brush used in cleaning process depends on the feeder whether it has an easy to reach surface or it's a tube-like feeder. You may use an old toothbrush or a regular bottle brush.
Third, rinse the feeder in clean water to remove the chemical residue (it can be done several times!). Then, let the feeder dry completely before placing it back and filling it with seeds.
What type of seeds used for feeding the birds?
One of the seed that we see in all DIY bird feeder above is Sunflower. The best sunflower seed for birds is the black oil sunflower. Other than that, you can also use stripped sunflower seed, safflower seed, Hulled sunflower seed, nyjer seed, Millet (also called white proso millet), cracked corn, and sorghum.