A dog bed is a pet lover's must-have item! It lets your adorable pets feel comfortable and loved when they sleep on it. However, if you're looking to buy one from the store then be prepared for expensive prices!
A homemade version of this product can help save money because not only are you customizing it, but also able to make any material or style that works with your home décor best while still maintaining quality and comfortability in mind at all times.
We have provided a list of adorable DIY dog bed ideas below and one (or more) could be exactly what you need to make your furry friend feel like royalty. Let's dig in!
Adorable Dog Beds from Drawer Repurpose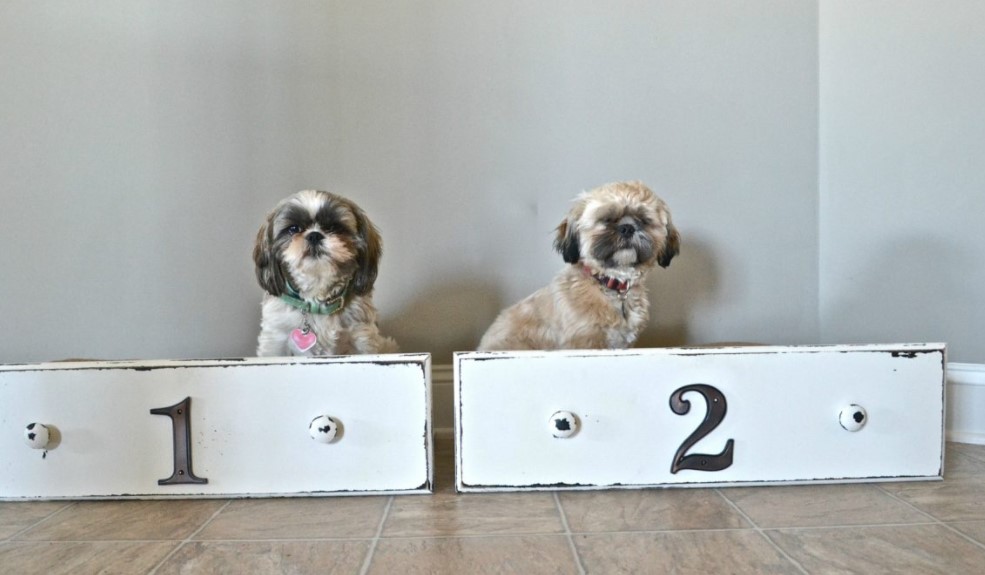 Firstly, we're digging this drawer repurpose idea. The drawers have been revamped to adorable dog beds for the little pups. You can see how comfortable they are there! For a shabby chic look, the drawers have been distressed, but you can go with a modern look if that is what you aim for. Above all, what a remarkable DIY dog bed idea! It has been the time for your furry friend to be able to lounge, nap, or play in comfort when they need some downtime from all that running around outside!
An Upcycled Old Suitcase Dog Bed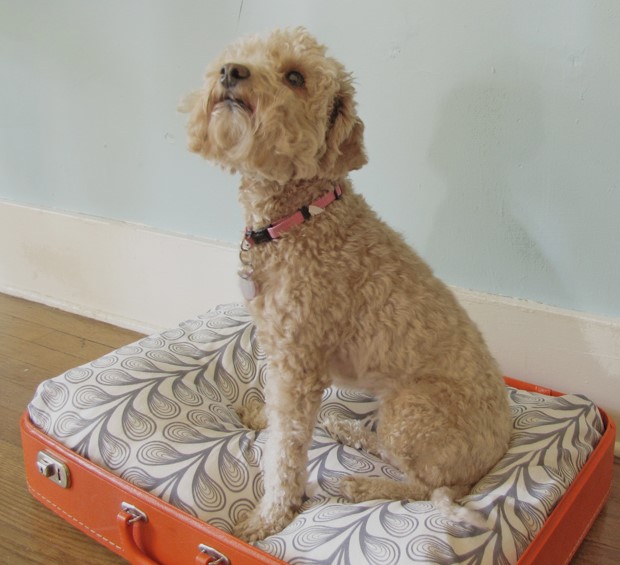 Thrift stores are full of treasures. If you haven't had the chance to go in one yet, get ready for an adventure! The next time you are at a thrift store, we suggest looking for an old suitcase. Who would have thought that this unused piece of luggage could become something new? This one is being used as the base to build a DIY dog bed! In just 5 easy steps, your pup will have its very own comfy couch!
A Wine Barrel Dog Bed for $22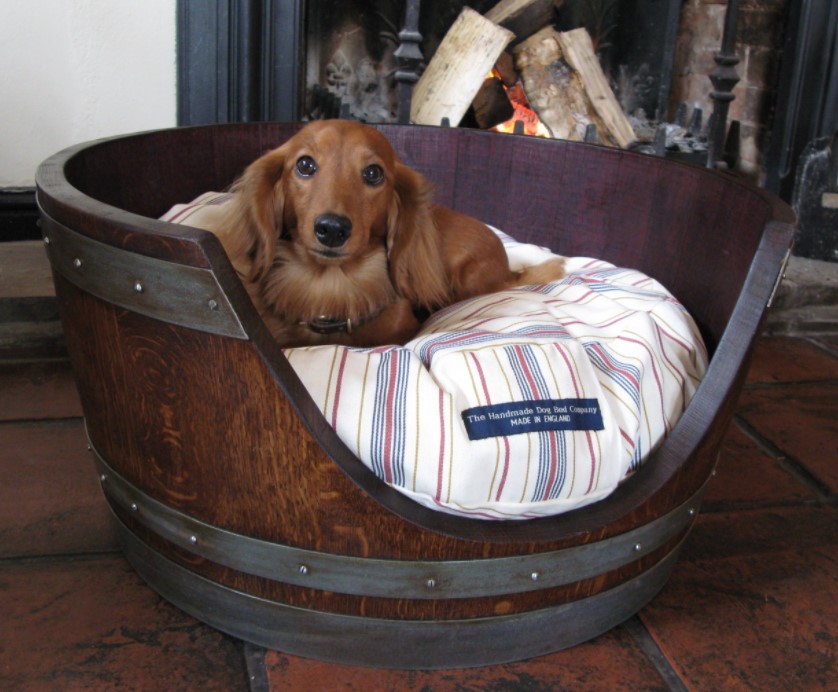 There has been a wine barrel dog bed in many pet stores, but, as you may have guessed, the price is skyrocketing above $250! The truth is you can buy a wine barrel that has been cut in half for $22 and you can work your way from there with this simple DIY wine barrel dog bed tutorial! Now, your pup would love to snuggle up with their favorite toy!
A Striped Shipping Pallets Dog Bed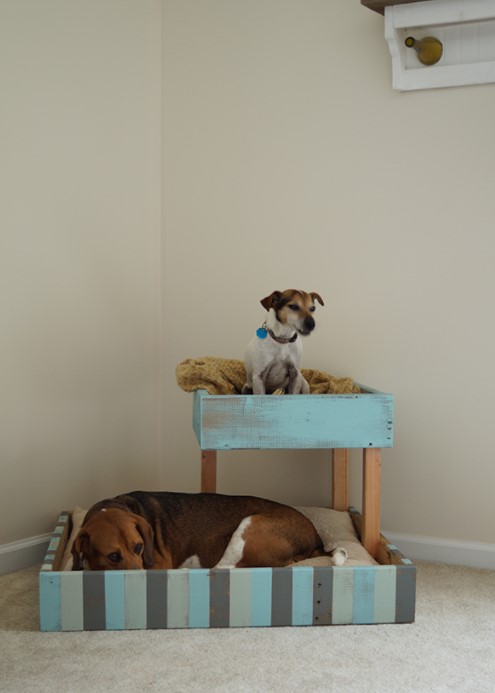 You may have been letting your dog sleep on a pillow at the foot of your bed, but it's time for something new! With this DIY tutorial, we will show you how to make one from shipping pallets. Personalize by adding stripes and designing with fun colors that reflect their personality so they know it's theirs!
A Modern Doghouse with A Geometric Shape and A Comfy Dog Bed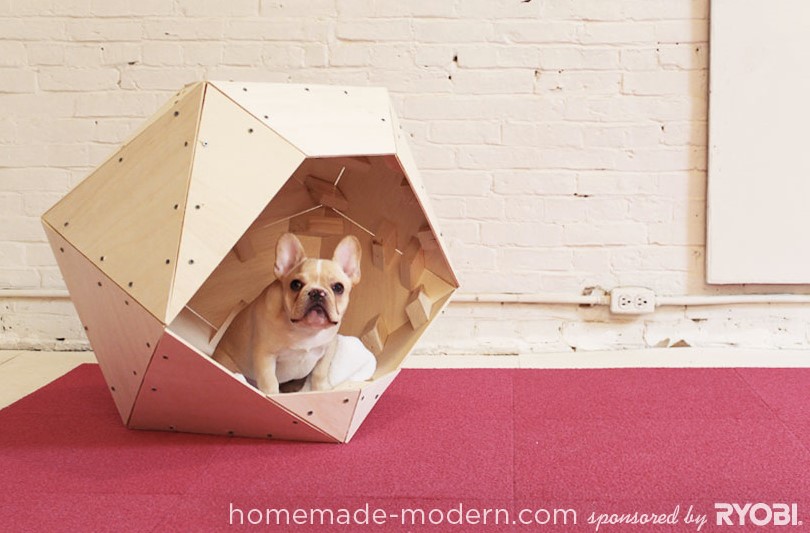 Now that the geometric shape is all around us, it's no surprise to find them used in modern house design. But they're not just for humans anymore! Dogs everywhere will love this DIY dog bed with its cozy doggy bed inside. It may look complicated at first, but don't worry! it isn't as hard as you think. The handy tutorial is showing measurements and instructions on building one yourself. So let's get started by measuring your pup who wants to sleep there!
A Cute Doggy Bunk Bed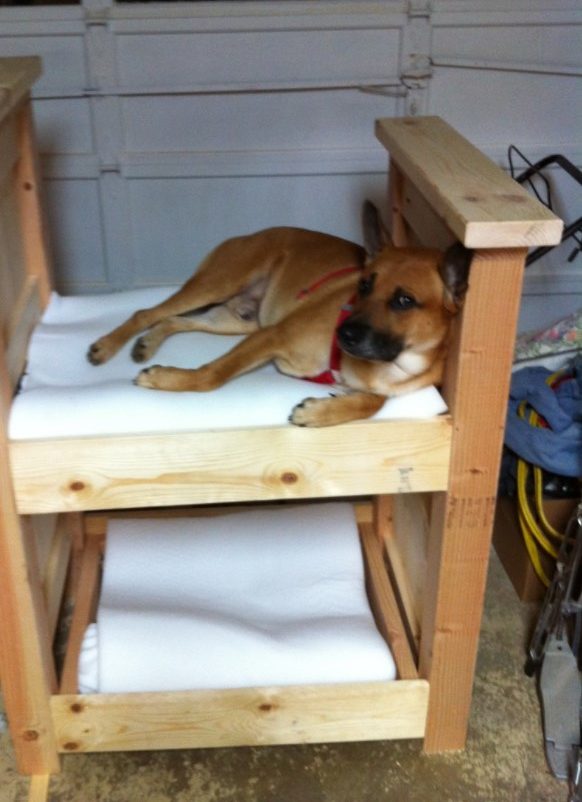 You may have thought bunk beds were just for kids, but they are actually a great space-saving option and the perfect solution for pet owners. This DIY doggy bunk bed is easy to build and affordable with materials costing about $100. You can save even more money by buying secondhand wood! The project takes up to one day's work for beginners but as we can see from this photo of that happy pup on top-he will love it too!
A Retro iMac Upcycled Computer Pet Bed for Dogs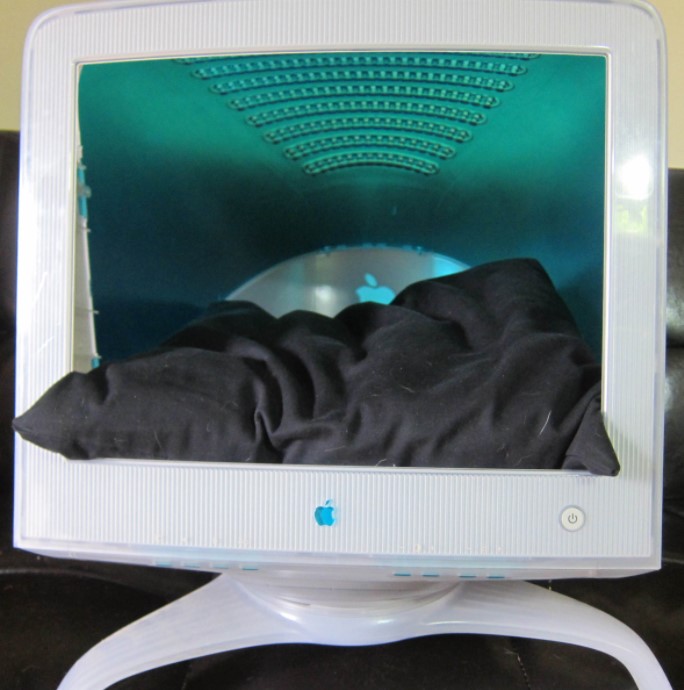 This cool and durable bed is fashioned from an iMac G3s computer that has been converted into a pet-friendly sleeping spot that is perfect for dogs too. The design makes use of the iMac's case and then fills it up with soft pillows. Now, it becomes perfect for pets who love to snuggle while they sleep!
A Simple and Raised Dog Bed from PVC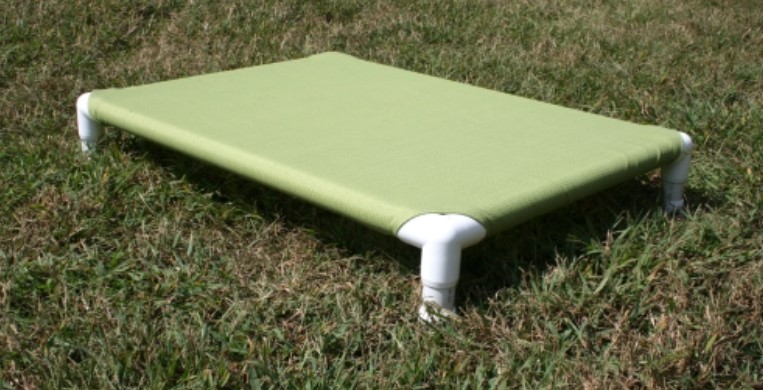 Are you the type of pet owner who treats your dog like a king or queen? Well, this raised DIY dog bed might be perfect for you. A lot of people enjoy taking their dogs outside with them but don't want to have them laying on dirt all day long. So, rather than allowing our pets to do that, we can make an outdoor snuggly spot just as good! All it takes are PVC pipes and fittings used as the frame while outdoor fabric makes up its cover! It's really easy too, so go ahead and give it a try today!
Nautical-themed Suitcase Dog Bed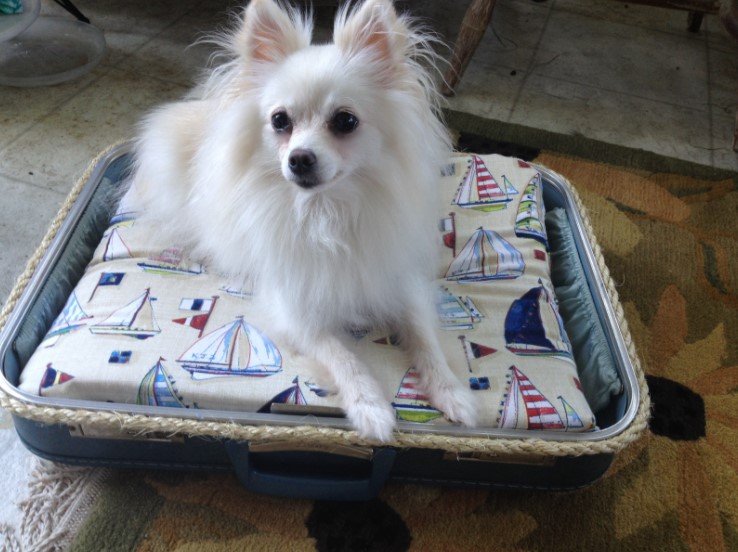 Another trip to the thrift shop for a vintage suitcase, let's go! This vintage suitcase dog bed is given a nautical theme which is a refreshing theme for your dog. Meanwhile, the suitcase costs around $1.99! The finished look is so simple yet super adorable. Your dog will love how amazing they feel in such an awesome space built specifically just for them!
A Woven Fire Hose Dog Bed
Are you tired of your furry friend destroying his or her dog bed? You can protect their best investment by making a DIY dog bed with the help of a fire hose. It is durable enough to withstand any teeth and claws, so they won't be able to break it like other beds! The woven material will provide them with both support and comfort.
A Comfortable Dog Bed From Old Sweatshirt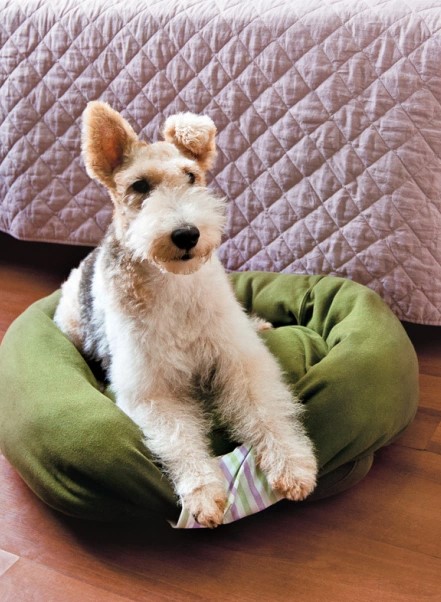 You'll never need a hammer to try this DIY project of transforming an old sweatshirt into a cozy doggie bed that looks like an adorable mini bean bag. It's quick, easy, cheap, and the perfect way for your pup to lay down on their favorite spot!
A Side Murphy Dog Bed Using An IKEA Hack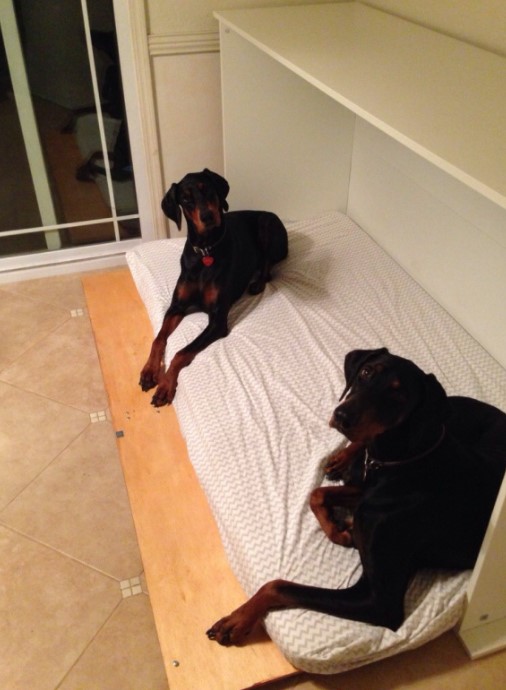 A Murphy bed has always been everyone's favorite furniture when it comes to a space-saving solution. Now, this is a side Murphy bed for your dog. The project is using an IKEA day bed and it has been successful in transforming it into a highly functional dog bed. Let's try this DIY dog bed today!
A Dog Crib from Repurposed Crates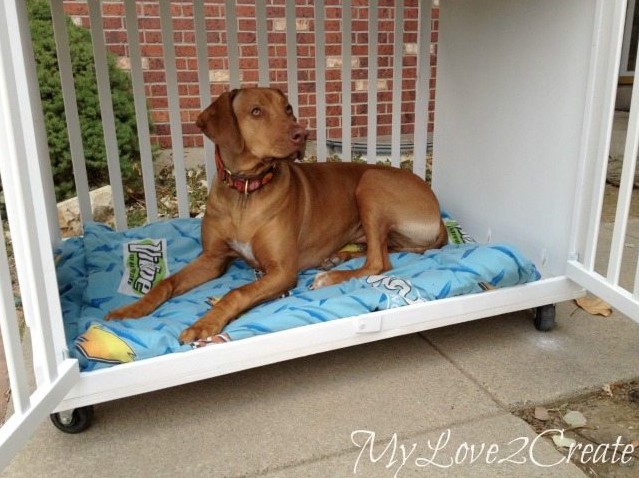 A DIY dog bed can be made from many repurposed items. Before, we have tried thrift shop suitcases, and now we are trying repurposed crates. The crates become the perfect crib for the dog with soft cushioning to lay down on! Plus, this entire project cost much less than $200 which is great considering there's nothing more precious in life than your furry friend!
A Darkwood Stained Plywood Dog Bed
Here comes our highly versatile dog bed! This DIY project is made of plywood and doubles as a side or end table. With just one day's work, your project will be finished (and looking great). And if you want to make a bold statement: dark stain the wood for an even more stunning finish. This will keep him out of trouble and also looks stylish!
Mid Century Style Pet Bed with A Star Trek Cushion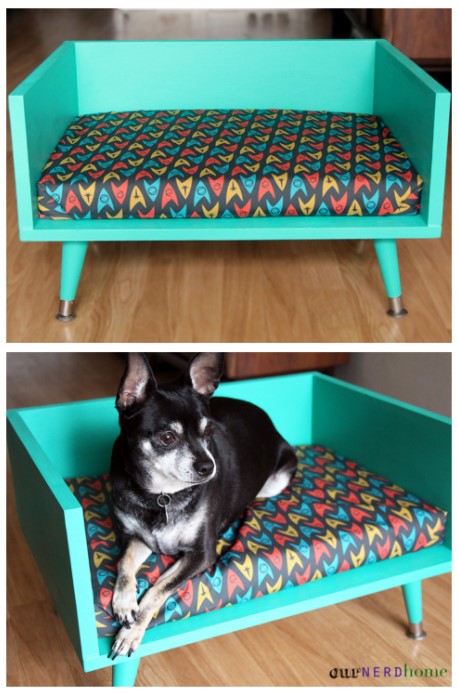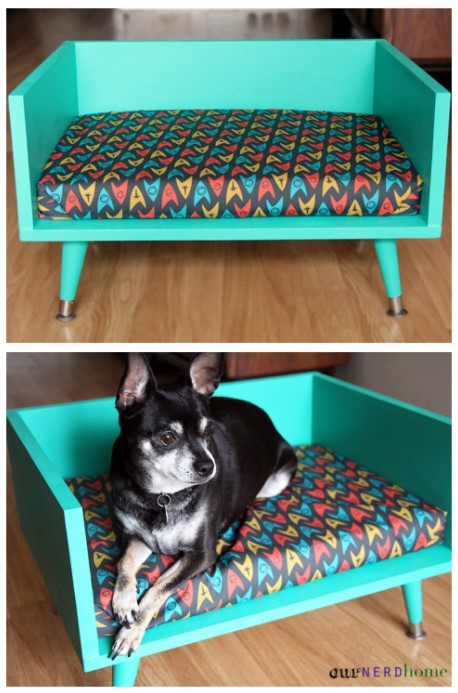 Are you a fan of Star Trek? If so, this is the perfect project for you! The bed cushion is covered with an awesomely designed cover that will make your entire room look like it's from outer space. Not only that but it has an awesome mid-century-inspired style that will make any dog feel like royalty. What do you say we give this DIY dog bed a try?
A Versatile Dog Bed That Doubles As Nightstand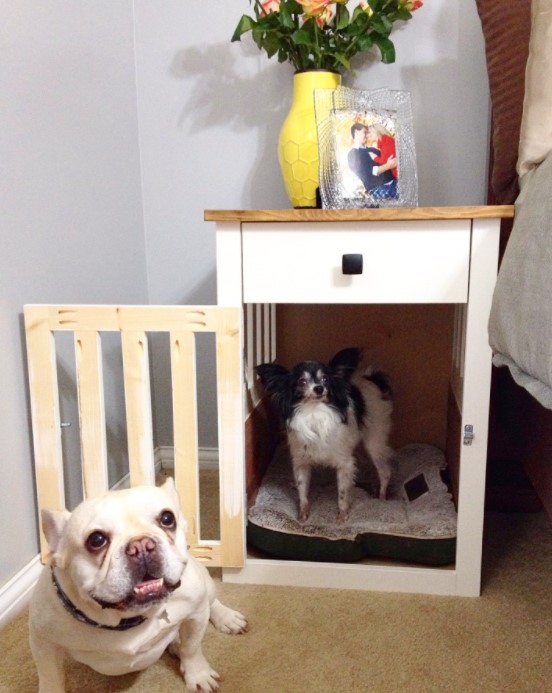 You can turn a nightstand into a pup-friendly table and bed with this DIY dog bed project. The dog will love to snuggle up on the soft cushiony surface while you work or read in peace next to them on the bed! In one space, they get their very own side table, a drawer for things like treats and toys – but most importantly: they have an adorable new place to sleep that doubles as furniture!
A Dog Bed From A Recycled Tire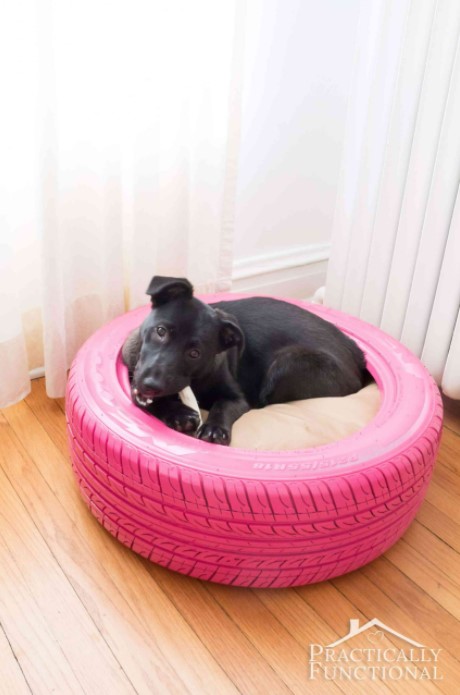 This Earth Day, turn your old tire into a DIY dog bed for the furry friend in your life! You'll need to find an appropriate-sized tire and decide what color you want to paint it. Don't forget about adding some fluffy cushions on top of that so they can get comfy while lounging around during their lazy days!
A Lovable Dog Cabinet with A Cozy Bed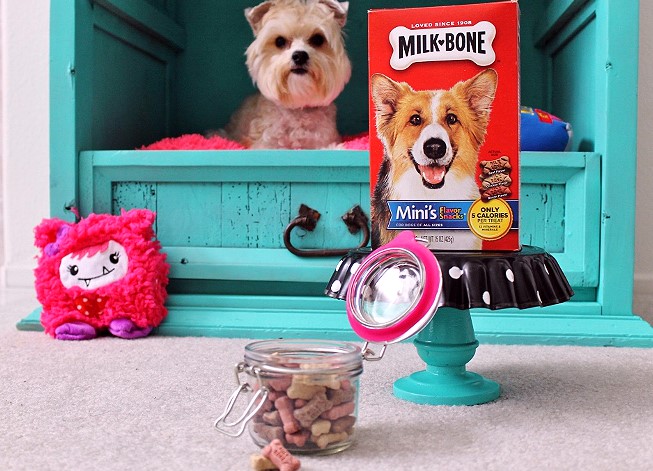 Let's make this wooden entertainment cabinet a place for our favorite furry friends by turning the space into an adorable dog bed. The top drawer will be perfect to store food, while the surface on top can serve as a toy holder. This project won't take much time or effort – but we'll know your pup will love you, even more, when they finally get their new home!
A Dog Bed from Repurposed End Tables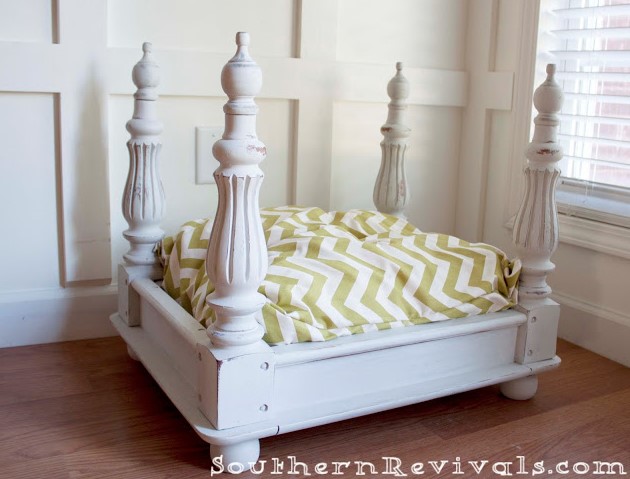 If you're a person who likes to fix old furniture and make it into something new, then this DIY Dog Bed is going to be for you! All these supplies are available at your local thrift shop or garage sale. You can find end tables that were previously priced at $40 but after some magic, they have been converted into an awesome dog bed! Don't forget about the fresh paint job either as painting really makes it cute!
Say Hello to This Modern Murphy Dog Bed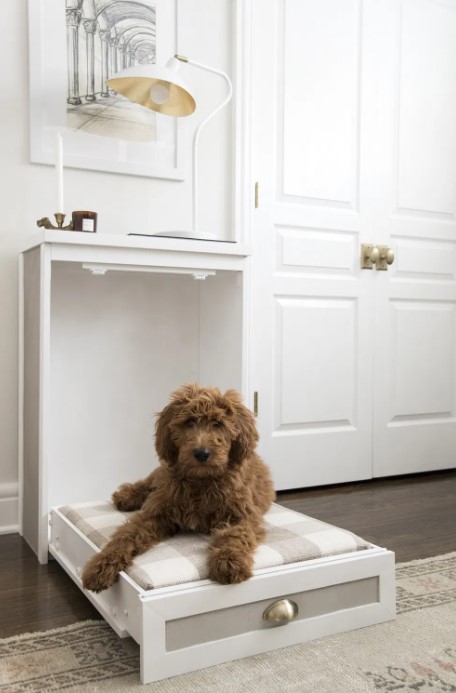 You love your dog so much, don't you? No matter what size or shape they are. That's why we have this Murphy bed for them! The clean white coat of the furniture makes it look very modern and up-to-date in any room type. With a few simple instructions that can be done by anyone, assembling this is easy as pie for anyone to enjoy!
Very Easy No Sew Dog Bed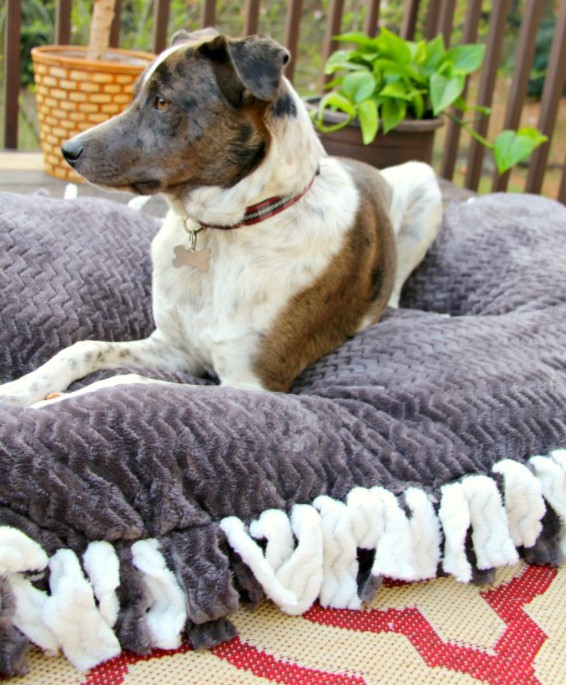 Making a DIY dog bed is not for everyone. For those of us who are less inclined to assemble wood and sew things, this idea will be perfect! This no-sew project uses fleece fabric with colors based on your choice that can easily be cut down using the cutting direction as a guide. And best of all – there's no sewing involved!
Less Than $30 Dog Bed From Plywood & Boards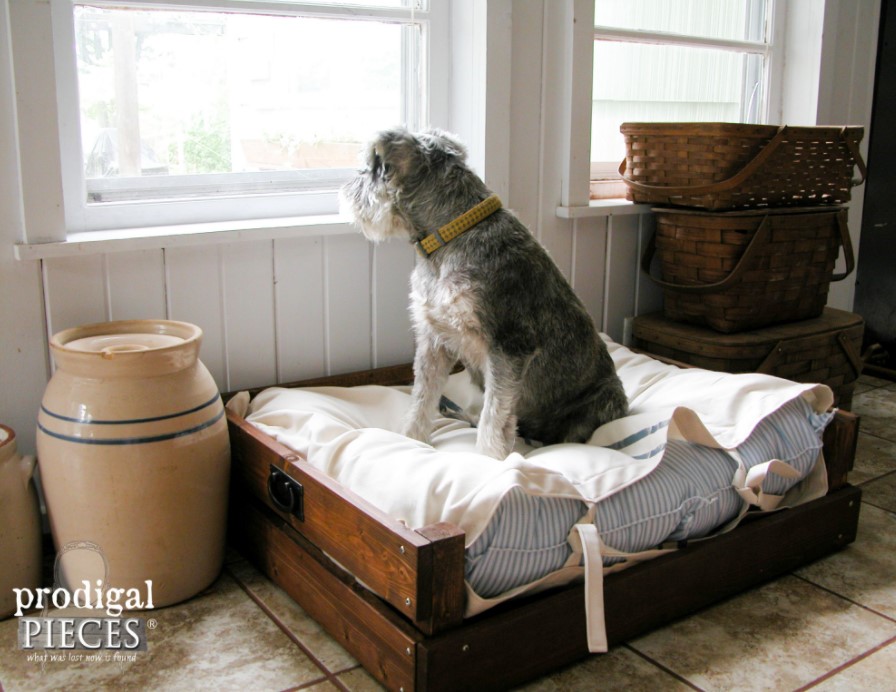 We all want to provide for our pets and give them the best we can. Now, not only will they have a pleasant dog bed but also one that looks great! Before you know it this adorable pup is enjoying some downtime on her new DIY dog bed made out of plywood sheets and boards. Most importantly, this project costs under $30 so let's get started right away!
A Wooden Dog Bed with A Distressed Look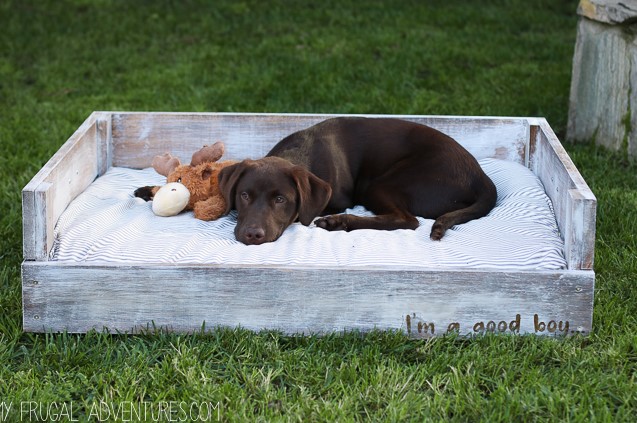 Some puppies prefer so much alone time, but they also need a cuddle spot. That's why it is best to provide the perfect place for them! Here's how you can make your own DIY dog bed that will give these furry friends their very own cozy and relaxing area with pinewood pieces that are given a distressed look in the end. Let's take a look at this awesome finished result together!
A Shiplap Dog Bed with A Modern Classic Look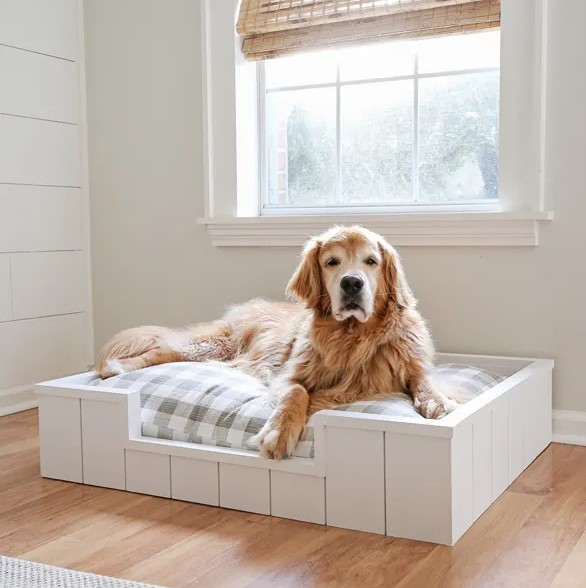 The DIY Dog Bed with Shiplap Wood is the perfect space for your pup to relax. Our shiplap wood was positioned vertically and given a nice frame, resulting in an aesthetically pleasing piece that will complement any room! It takes less than a day from start to finish-so get started today!
A Perfect Dog Bed with Tall Legs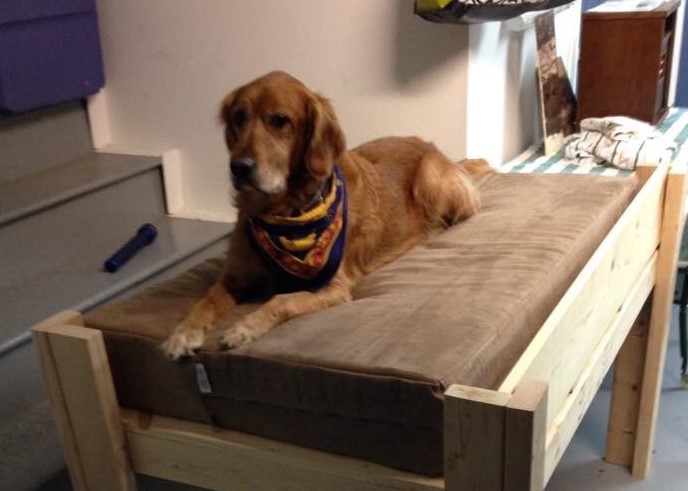 Now, you can make your pet feel loved with a custom dog bed! Just think about how much happier they will be when they have their own place that is made just for them – not one of those generic beds in stores where there may or may not fit properly. Customizing the bed means taking into account things like height. For example, the legs need to come out taller than usual because some dogs might be quite tall themselves and would want something high enough off the ground so as not get dirty while sleeping (or even worse-falling through)!