Does your heartbeat for the kitchen? It's where you share your love of cooking and good food with friends and family. You can't forget about kitchens when it comes time to remodel because they're one of the most expensive home renovations!
However, there are some less-expensive options that will still bring a smile to anyone who likes their space stylized – like a DIY Kitchen Island. You'll want these DIY projects from our favorite bloggers on hand before starting. These ideas could work out just fine in any kitchen makeover project!
$250 Kitchen Island with A $4000 Look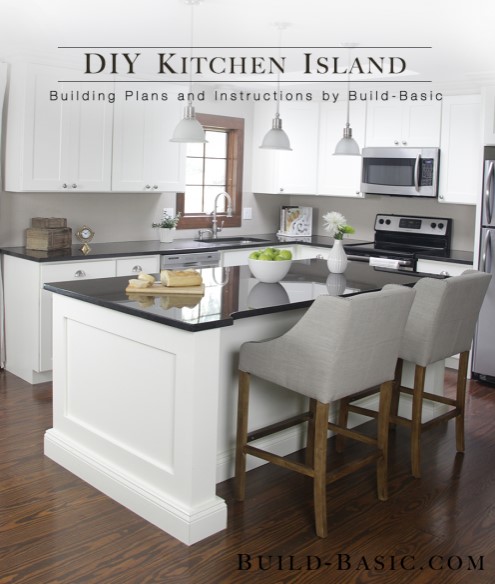 Building your own kitchen island is a great way to save money and have the kitchen space you want. This project costs under $250, but it has an expensive look with fairly simple cuts that are easy for any DIYer! The tools required for this build only include a circular saw, drill, and other basic tools. If time permits, painting is optional after completion of construction; otherwise all work can be done within two days depending on how much help there's at hand!
Modern Kitchen Island with Simple Design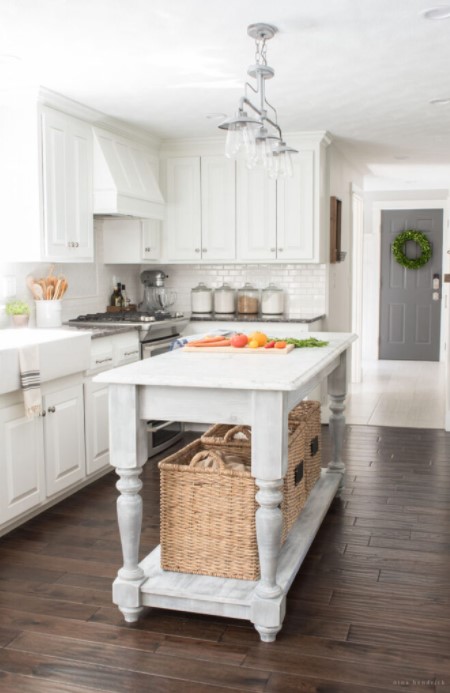 For the modern home, organize your kitchen with a sleek and clean design! The crisp lines of this island are perfect for minimalist homes. This is an inexpensive project because you can find materials at garage sales; it's easy to make something beautiful from just what others throw away. Saving money by using old stuff!
Give A Cheap Pre-made Cabinet An Upgrade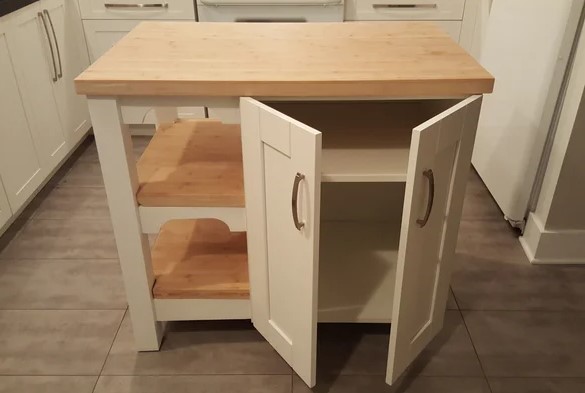 The kitchen is the heart of any home and you deserve a place that will make cooking easier. One way to do this cheaply with little effort is by buying an inexpensive pre-made cabinet and giving it new shelves as well as other upgrades! With these simple additions, your cooking space can now become more modernized without breaking the bank!
Slender Kitchen Island with Wine Racks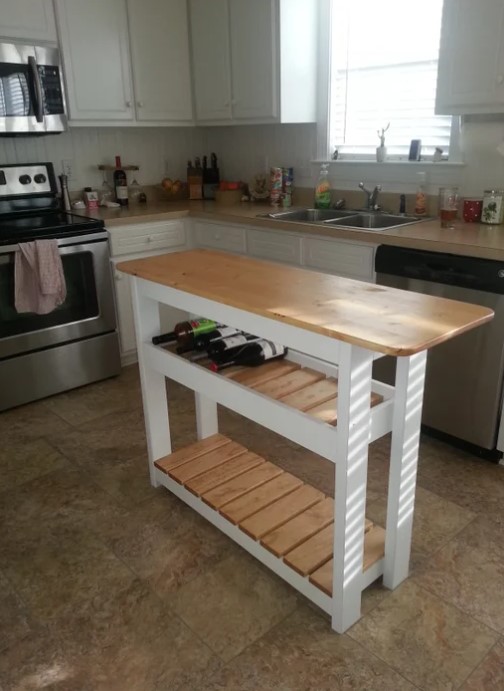 A kitchen island with storage is a great investment for any cook. This design provides both the space to prepare food and store extra items like wine bottles neatly on top or underneath, making it perfect even in small kitchens! This new innovation lets homeowners store up to about six bottles without sacrificing style or convenience.
Easy Build Rustic Kitchen Island with Hooks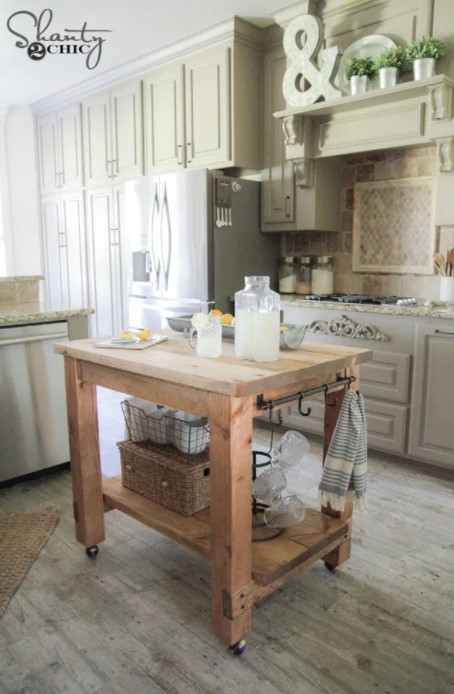 A functional kitchen island is needed for the perfect kitchen productivity. However, to reduce cost, it would be best if you build one yourself! This project will guide you through every step of building your own kitchen island with storage space and hooks for napkins– very convenient indeed!
Aged Wood Kitchen Island for That Perfect Rustic Look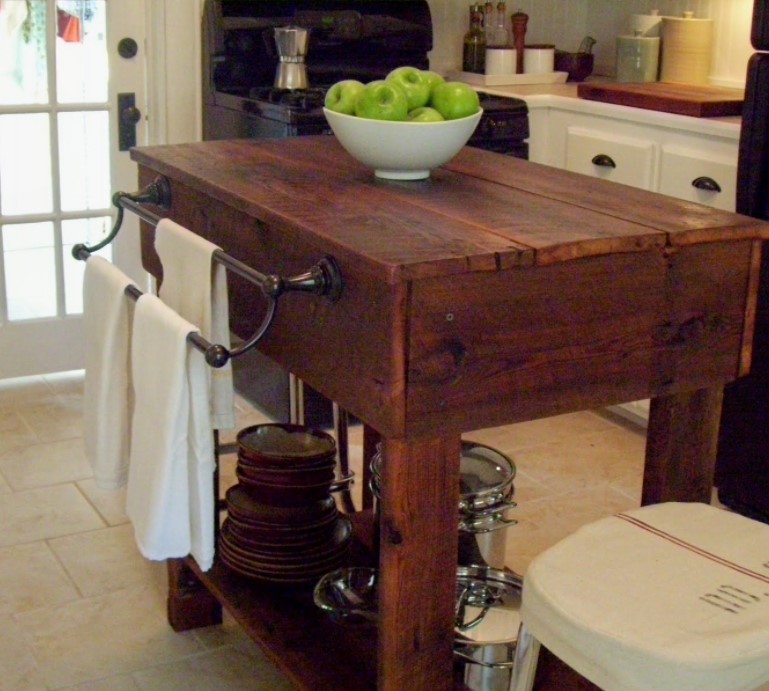 To save money when building a kitchen island, you can use old wood or reclaimed wood. This type of lumber is easily found in garage sales and sometimes leftovers from other projects too! Not only does it help to save some cash, but aged woods are also usually pretty on their own. Now let's grab our tools so we can get started on this project!
Rescue A Dumpster Bookshelf to Make A Kitchen Island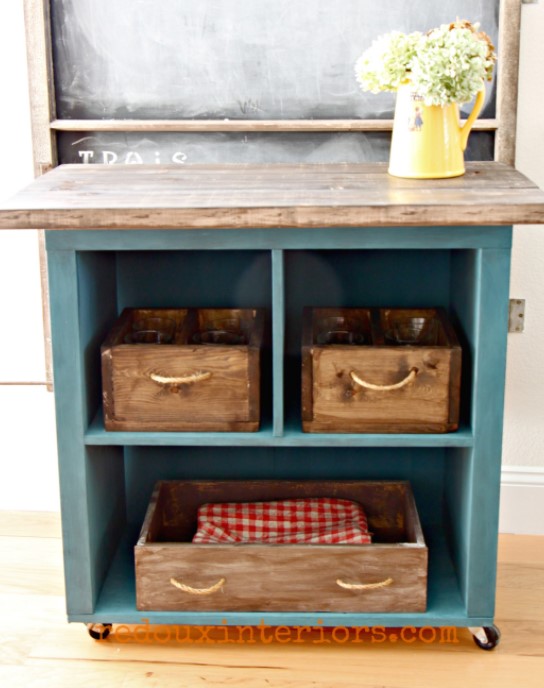 It's not easy to believe that this kitchen island is made of a bookshelf someone has thrown into the dumpster. This project cuts the shelf into several pieces and reassembles them into a chic island perfect for a modern home design. What a great way to repurpose an old bookcase!
Repurposed Washtub Kitchen Island with A Wood Top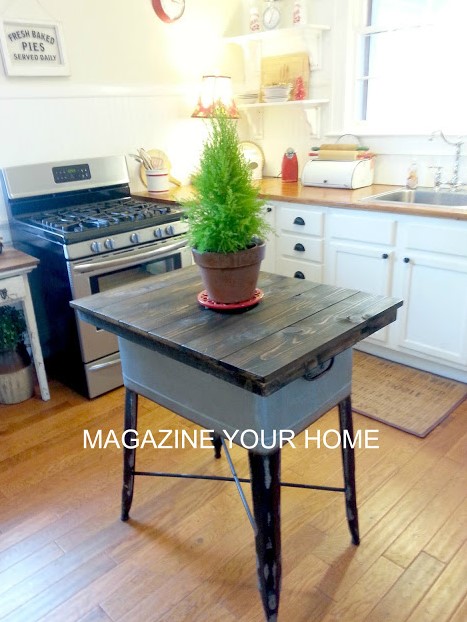 This clever washtub island is a perfect solution for the small kitchen. The storage area underneath provides lots of room to store those items that are typically difficult to find in cluttered kitchens, or maybe some cookbooks you want to keep near you. It even has a nice wood surface on top for meal prep!
Save Money and Space with This $30 Kitchen Island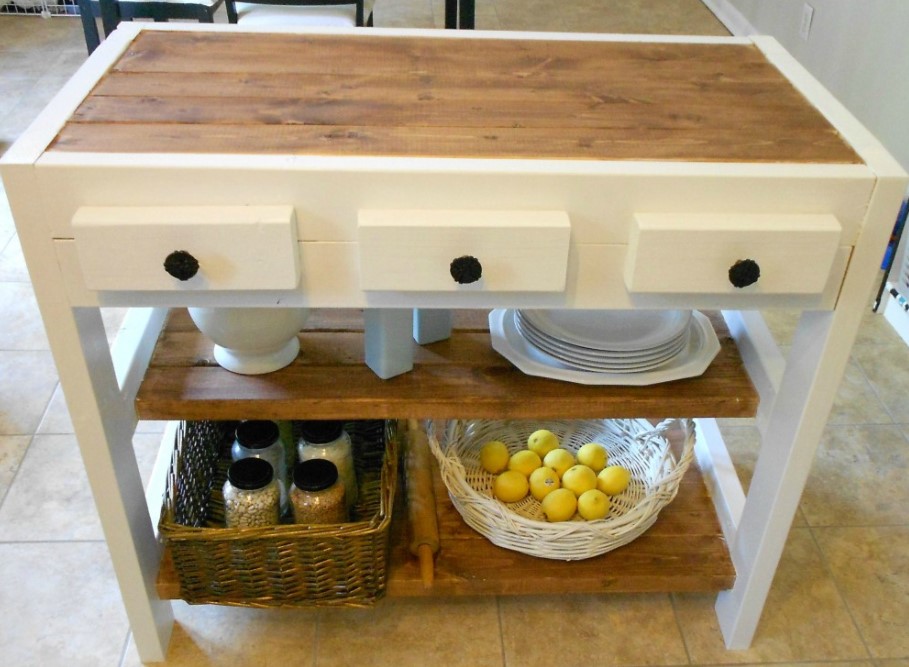 Get a beautiful, functional kitchen island for your home without breaking the bank! With this project, you'll be able to add two shelves and ample counter space with three faux drawers. You won't have to worry about blowing up your budget either because it only costs $30!
Easy to Build Kitchen Island Pipe Legs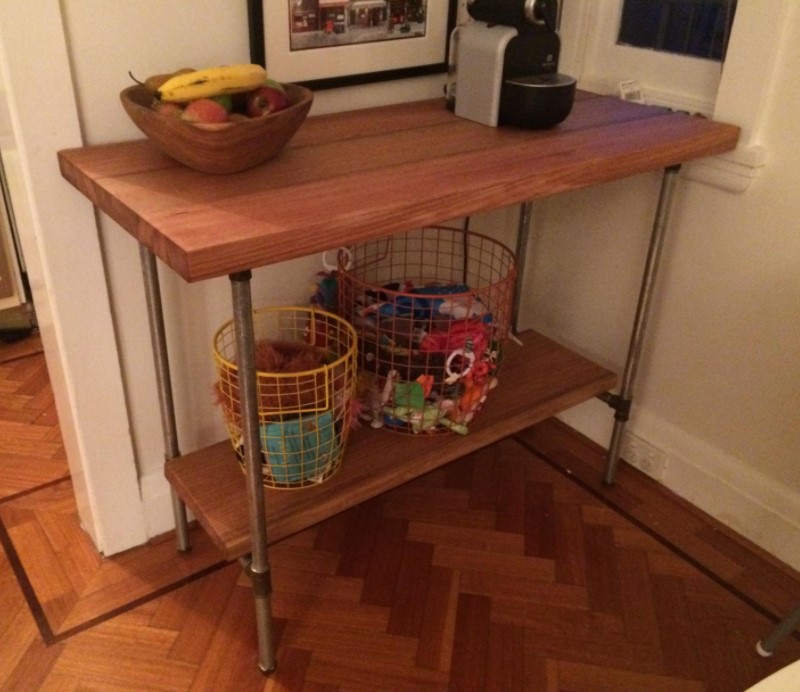 Inspired by a console table that uses pipes as its legs, this project is using the same idea for your kitchen island. Assembling these pipe legs takes only 5 minutes in total and can hold any weight you put on them! You may need to cut the wood down so they fit perfectly. That said – once assembled, this DIY will look great at home!
A Simple Kitchen Island from Reclaimed Wood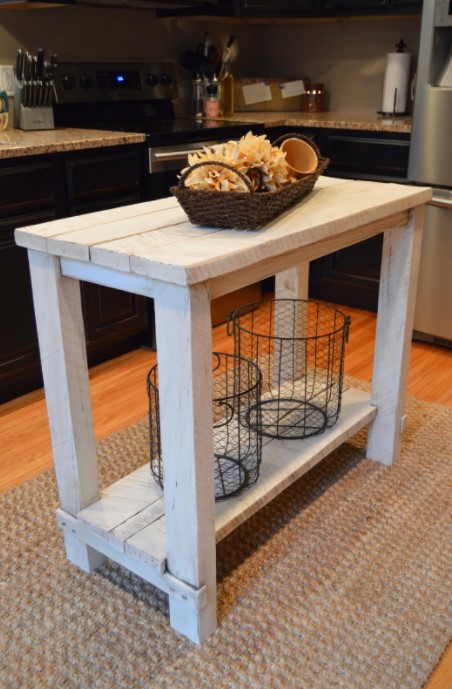 Reclaimed wood has been sitting in your garage for too long? It's time to create a project of yours! This article will show you how to keep that naturally distressed look until the end, and after it is finished being built. As it turns out, this masterpiece can also be turned into a bar when needed (just make sure everything fits!)
Repurpose A 24″ Old Door Into A Big Island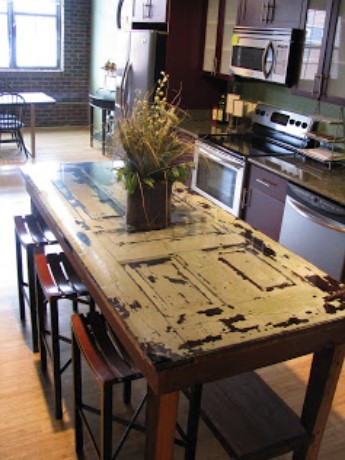 This project is a brilliant and creative way to repurpose an old door for your kitchen island! If you have any lingering doubts about the process just go and see for yourself how wonderful it can look in the end. First thing's first: Seal off all of those pesky holes that were once handles with either wood or water putty before continuing on with this project. If done correctly, your finished product will look amazing – we promise!
A Good Sturdy Bookshelf Kitchen Island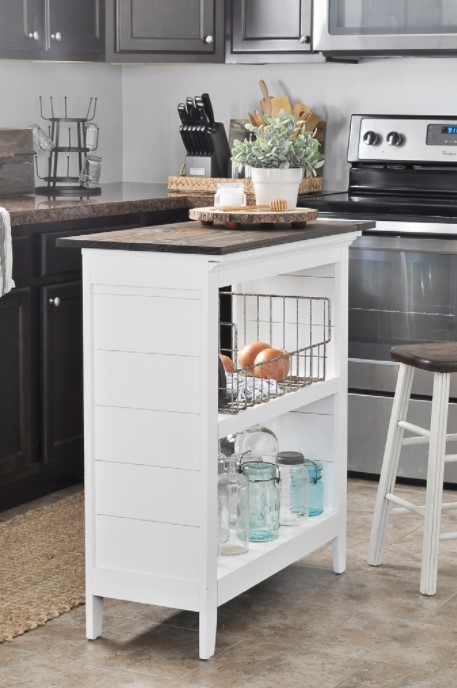 If you're looking to turn your bookshelf into a kitchen island, this is the perfect project for you. A sturdy frame will give it plenty of stability and help keep all sorts of items close by. The shelves are great places to store anything from cooking utensils or spices rather than going through drawers or cupboards!
A Standing-Height Kitchen Island with A Lot of Space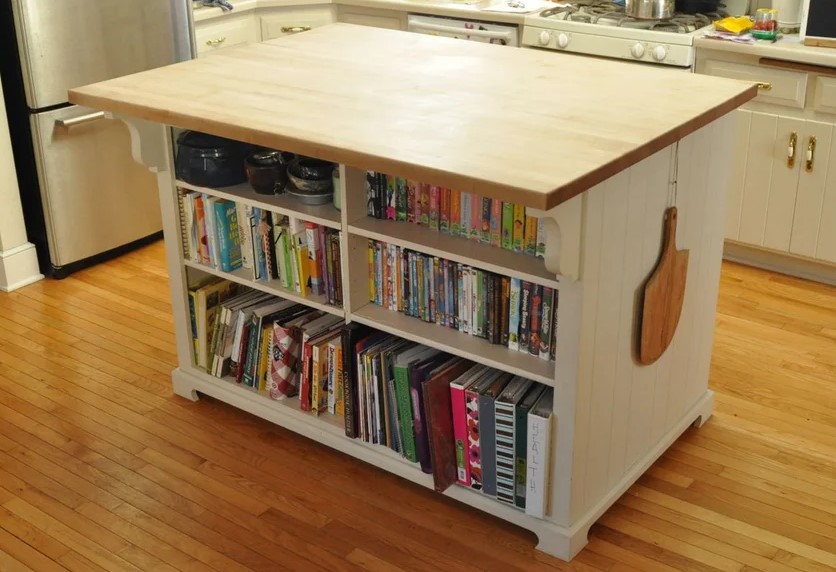 The kitchen island is an all-around staple for any well-stocked family. It not only provides the perfect space to store your favorite utensils and appliances, but it also doubles as a place to enjoy a meal or prepare one! The height of this particular piece allows you to feel comfortable even when standing in front of it while cooking. Plus with so much storage room inside!
Budget-Friendly Makeover for A Stunning Look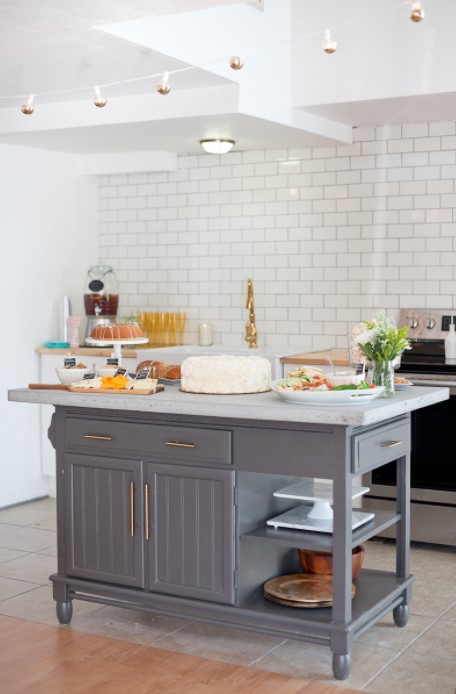 The price of this awesome kitchen island is surprisingly affordable for what it provides! This old piece was given a budget-friendly makeover. It now has new color and personality, making your space look brand sparkling new–from boring and dreary to eye-catching!
Amazing Rustic Island from A $25 Antique Market Piece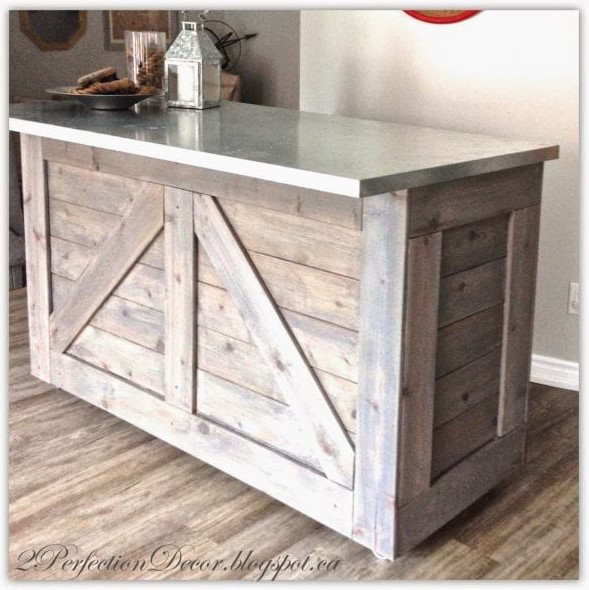 The antique market is a treasure trove of hidden gems. They're hiding in the dustiest corners, waiting to be found and turned into something amazing! This project uses one such gem that was originally $25 at an antique store- now it's been transformed into this dazzling piece! All you need are some basic supplies. So, are you ready to make yours?
A Quick Project–Making An Island from Salvaged Wood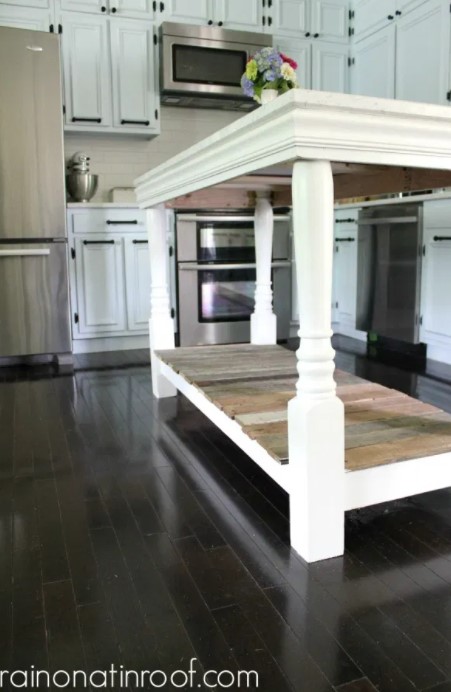 Are you thinking of renovating your kitchen? If so, please don't miss out on this DIY project idea! This is a quick and simple design that will take only an afternoon with minimal skill to make. Check the dimensions listed below for supplies needed before starting construction.
Ridiculously Gorgeous Kitchen Island with Two Shelves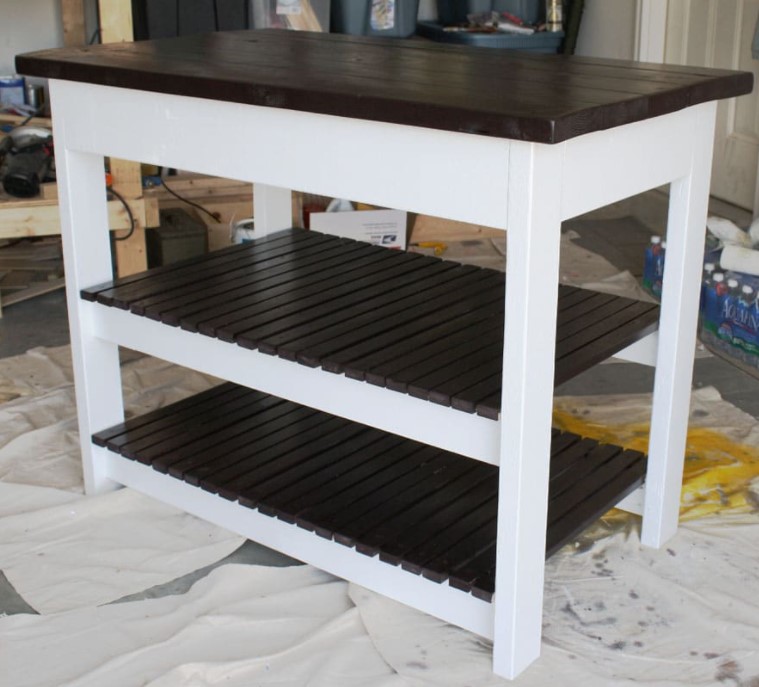 When you decide to upgrade your kitchen, sometimes the simplest updates make a world of difference. This beautiful island has open-concept shelves and is customized with colors that contrast beautifully against each other for an excellent design aesthetic. The length can be adjusted depending on how much space you have in your home or business too!
Trouble-free DIY Kitchen Island from A Desk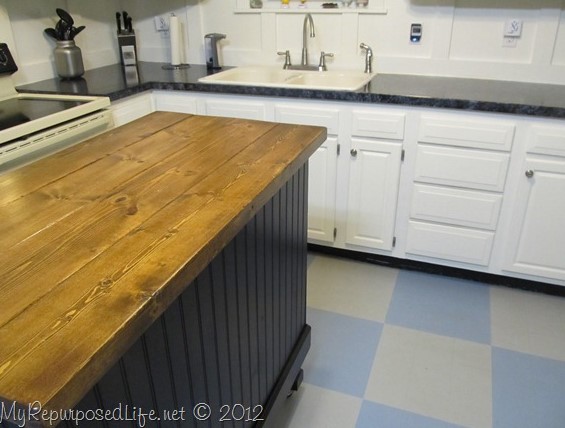 A desk can be one of the most forgotten pieces in your home. If you're looking for a way to give it new life, transforming it into an island is easy and affordable! With just some creative effort like painting or adding intricate details that have more of the modern style to them, you will make it new again!
Upgrade Your Kitchen island with A Fresh New Look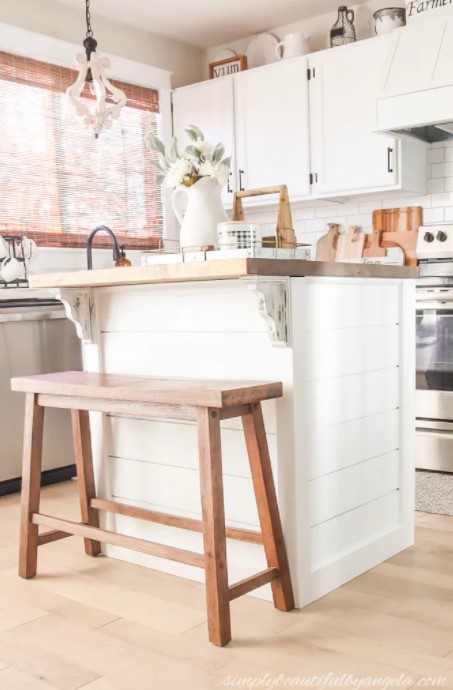 Do you have an island that doesn't look good anymore in your eyes? Before thinking about buying a new one, we recommend doing a little upgrade. Take the example of this kitchen island. In this project the old bland-looking island was given a fresh coat of paint and top – now it looks brand new again!
Kitchen Island with A Butcher Block Countertop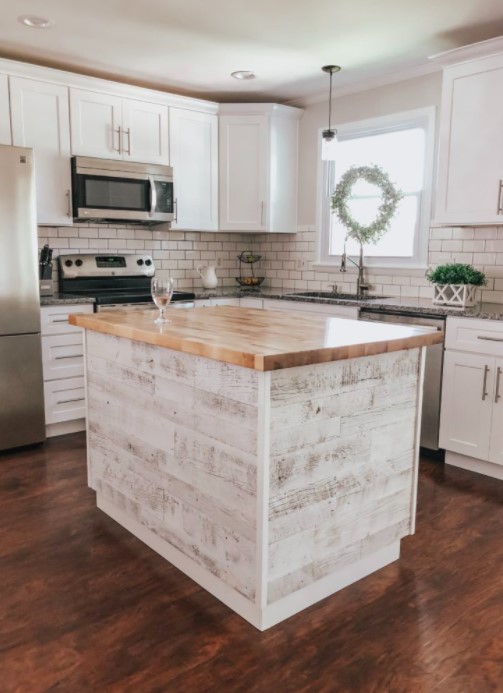 It's a sad day when your kitchen forgets to budget for an island. But don't worry! This project will show you how to build one from scratch using reclaimed wood, and luckily it won't cost much more than $300-$400, thanks to the butcher block top that is being used as well! Check out this tutorial to get started on assembling what could be your new favorite addition into your home décor!
DIY Farmhouse Style Kitchen Island to Save Money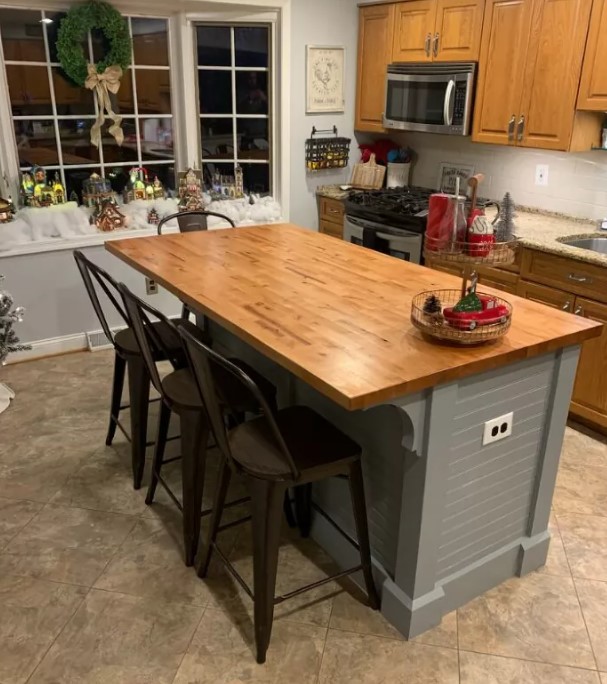 Transform your kitchen into an exciting and engaging space by adding a new island that can be used for cooking, mealtime, or as additional storage. A versatile piece of furniture that is also perfect for entertaining guests! $150 will get you the base cabinet from Home Depot; perfect with a little remodeling to make it look brand-new again in no time at all.
IKEA Base Cabinet Hack for A Kitchen Island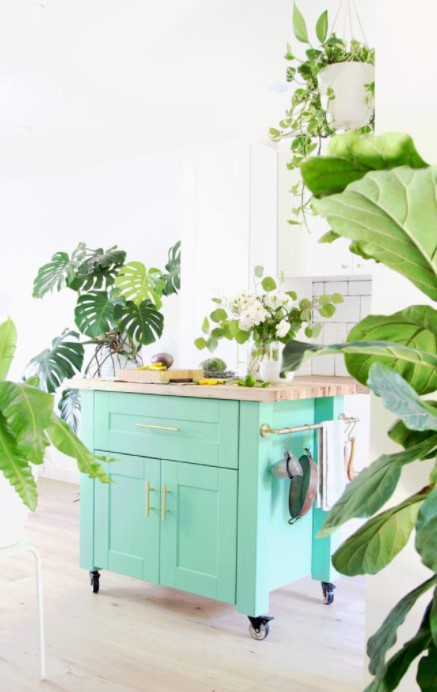 Building a kitchen island from scratch may take some time, but starting off with an IKEA base cabinet can make it go by quicker. To get that farmhouse look and feel, top off with your favorite butcher block! Plus- these cabinets have wheels for movability too so you never need to put up new furniture in order to change things around when needed.
Transform The Sofa Tables into A Kitchen Island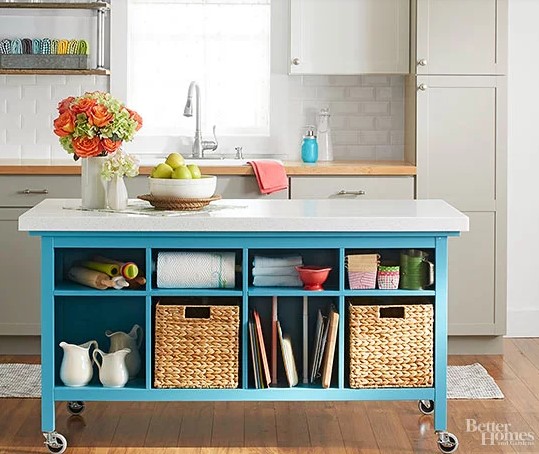 The kitchen island is constructed from two sofa tables that measure 61-3/4 inches long and 15-3/4 inches wide. The idea behind this design was to construct a generous-sized cabinet, but you could always customize it! There's plenty of storage space too which makes it perfect if you need to store lots without things getting cluttered!
A Walk Around DIY kitchen island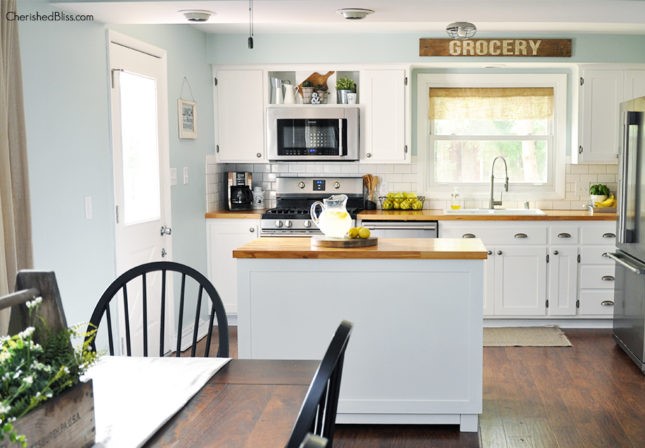 A walk around a DIY kitchen island is perfect, and it's not just because you're getting the chance to place all of your houseware in one location. A new centerpiece will bring balance to an otherwise empty space; as well as be functional for cooking or simply prepping ingredients next time there are people over who want a bite!