How will you be celebrating St. Patrick's Day this year? If your idea of the perfect holiday includes a little crafting, then consider our list for some creative DIY St. Patrick's Day decorations to spruce up any space or celebration!
For those who are looking to set their house apart from all others on March 17th, try making an Irish flag banner and decorating it with shamrocks. You can also create DIY craft items like paper flowers in green and gold colors, perfect decorations for tables, or walls!
These easy crafts turn the ordinary into extraordinary. With these ideas, everything is now ready for another successful Saint Patty's day!
A Great Balloon Shamrock for A House Decor or A Party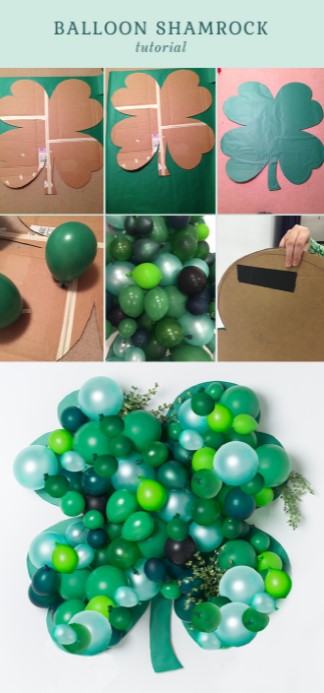 Fabulous St. Patrick's Day decorations come in all shapes and sizes, but today we have a wonderful shamrock idea for you! Wouldn't this DIY project make an adorable addition to your home? It is made with green balloons glued onto a giant piece of cardboard that has been cut out into the shape of the Irish symbol. This fantastic photo backdrop would be perfect for any occasion; just put it up against one side wall or use it as background scenery at your party!
Celtic Knot Cookies Recipe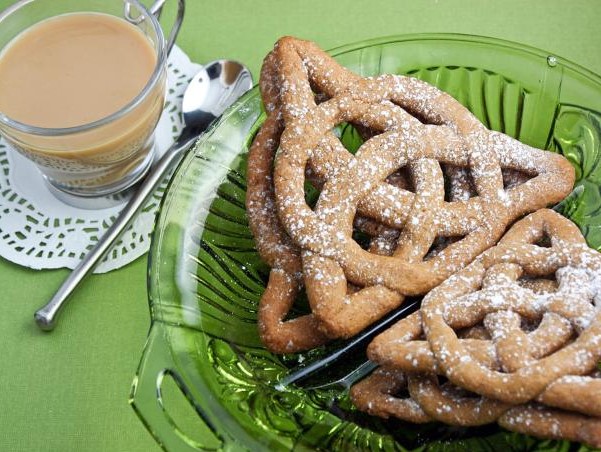 After decorating your house with all of the St. Patrick's Day memorabilia, you're moving on to Irish-themed snacks like Celtic knot cookies! These sweet treats will make any gathering better and are a must at this party!
Adorable Clay Pot Leprechaun Hats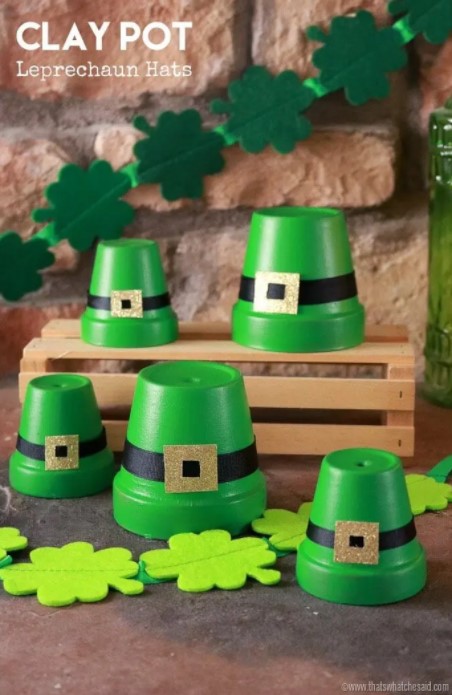 Leprechauns are known for their luck and charm, so why not make your own for DIY St. Patrick's Day decorations? All you need is clay pots to transform into adorable little leprechauns! You can keep them outside as porch or yard decoration or inside to give it that Irish touch. Painting these little guys will always bring a smile so start creating some memories today with this fun craft activity you can do at home!
Air-Dry Clay Clover Necklace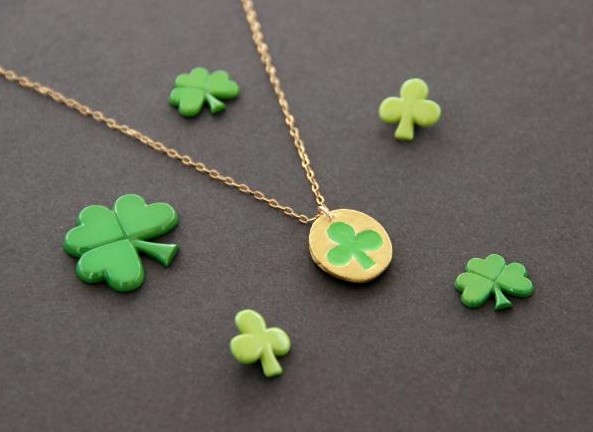 You can make a beautiful, charming air-dry clay necklace with the evergreen clover on it during St. Patrick's Day! All you have to do is use air-dry clay and shape one into an oval or heart-shaped pendant for your favorite friend as their token of luck this year! You can customize the size and shape in any way that suits them best. This is perfect if you're looking for a last-minute idea!
Shamrock Balloons That Couldn't Be Any Easier to Make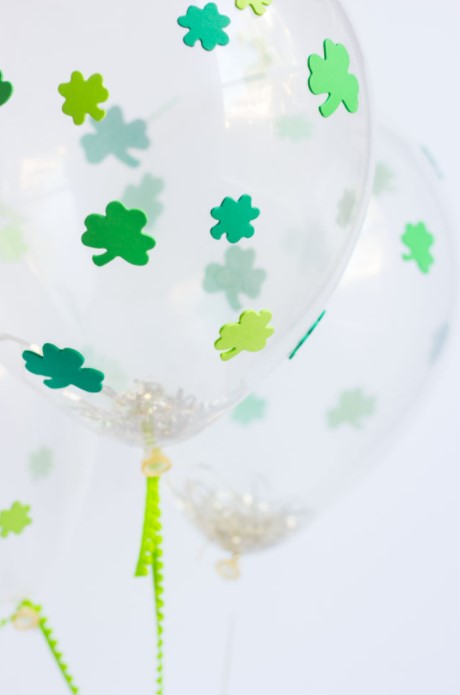 Nothing says St. Patrick's Day like a shamrock! Not only should you see it everywhere, but to make your celebrations that much more special why not add the pot of gold? This DIY St. Patrick's Day Decoration is so simple: just peel and stick those little green leaves to some balloons for instant cuteness. For even more fun this year, try incorporating the pot of gold into your project with the tips from the tutorial!
St. Patrick's Day Shirts to Light Up the Party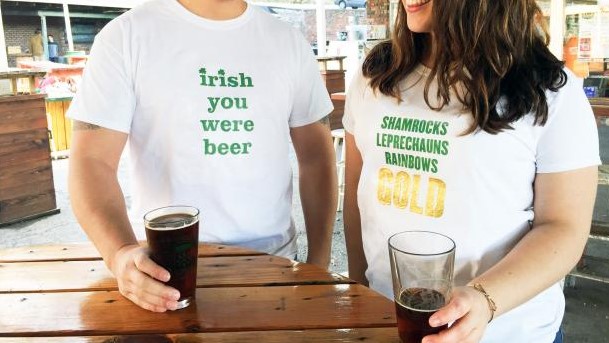 St. Patrick's Day is a day of celebration, and what better way to show your Irish pride than with an easy DIY St. Patrick's Day shirt? It is time to get creative with fun projects that will make this special day more memorable! All you need are some supplies like a plain white cotton t-shirt, iron-on transfer paper (available at most craft stores), the pattern image which can be downloaded for free here!
Green Crepe Paper Folds Shamrock Backdrop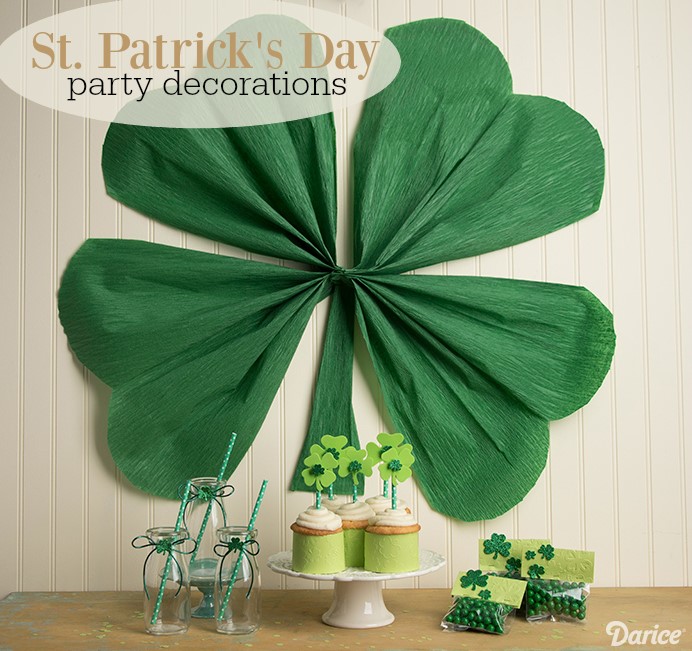 The crepe paper sheet is a fun material to play with. It is easy to cut and shape into almost anything you could think of, including this giant shamrock. When making this DIY St. Patrick's Day decoration, be careful with the cutting as the paper is thin. One thing for sure, you need 4 of 18 x 18-inch sheets of crepe paper to make this stunning shamrock backdrop!
Be Festive and Make A Paper Leprechaun Hat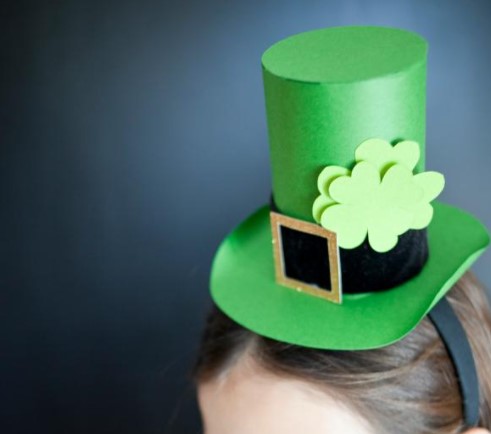 As you will be taking a lot of photos to commemorate this special occasion, or attending a parade around town, there are plenty of DIY St. Patrick's Day decorations that can help complete your festive outfit! One simple idea is to make your own leprechaun hat. With the free patterns available here, it's easy for everyone who wants to make one (or more!).
Potted Paper Clovers as Festive Centerpiece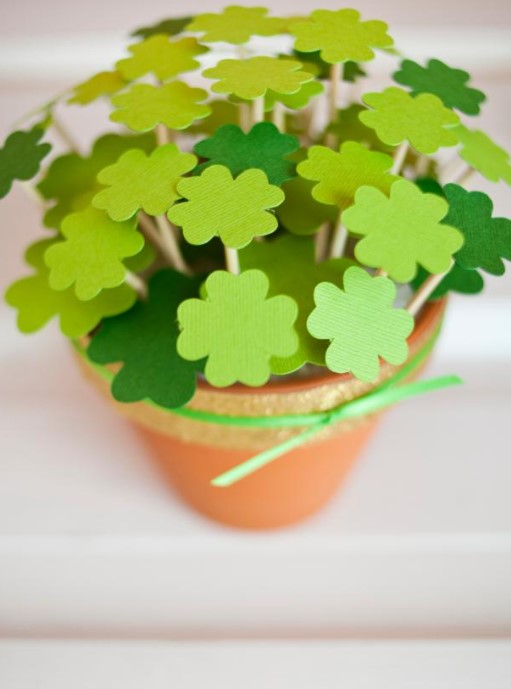 St. Patrick's Day is only once a year, so there isn't any time for you to make complicated decorations that are as much work and hassle. These simple potted paper clovers will be perfect! Print the available pattern and then trace your size of choice out on green paper before cutting them all with scissors. This trouble-free DIY St. Patrick's day decoration idea won't take more than one hour at most. It couldn't get easier or quicker than these cute little flowers!
Irish Blessing Wall Art to Bring Good Luck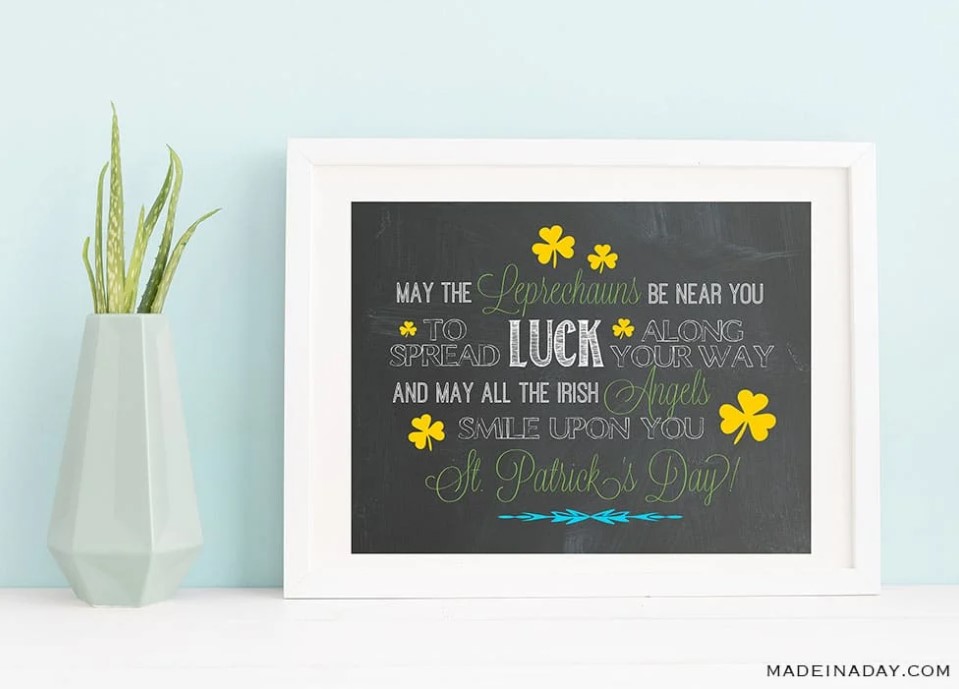 With St. Patrick's Day right around the corner, it would be a shame not to decorate your home for this festive occasion! One of the best ways is with an Irish blessing wall art! It looks like chalkboard artwork but it's actually available as a printable sheet which makes it easy to hang at any moment. Because of that, no one has any reason why they shouldn't have good luck brought closer!
Make Irish Flag Mason Jars for St. Patrick's Day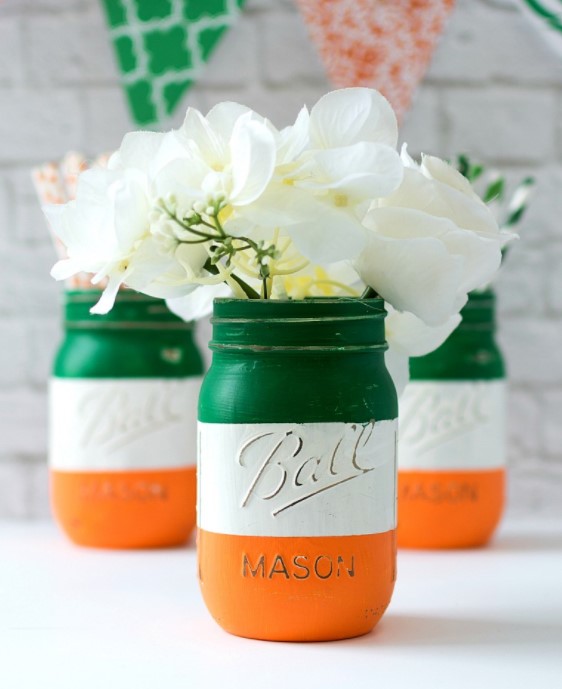 Painting your mason jars for St. Patrick's Day is a lot of fun! You can use the colors from the Irish flag, green, white, and orange, or any other color you want to make it special. Paint them with white color first so that the green and orange on top will pop out nicely as well!
Shamrock Wall Hanging for A Light Touch of St. Pat's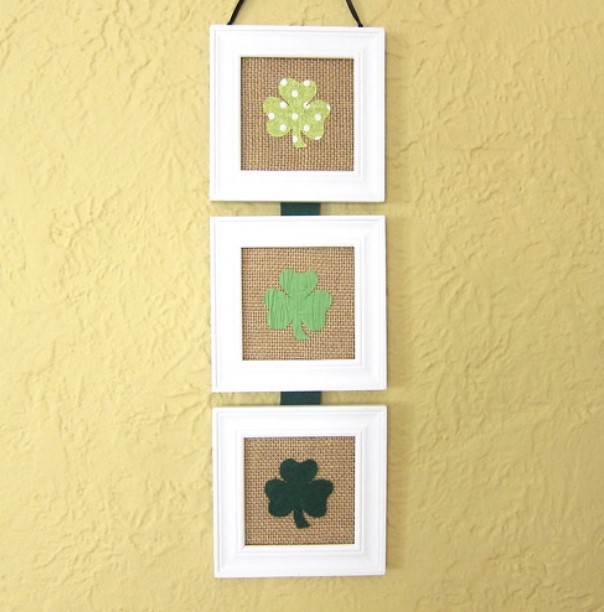 It's St. Patrick's Day, and you're looking for the perfect way to celebrate it without being over-the-top or extravagant? Well, look no further! This creative shamrock wall hanging will be both a sight to see as well as a conversation starter with friends and family alike (because we all know how much people love talking about their holiday decorations!)
St. Patrick's Day Love with A Festive Pillow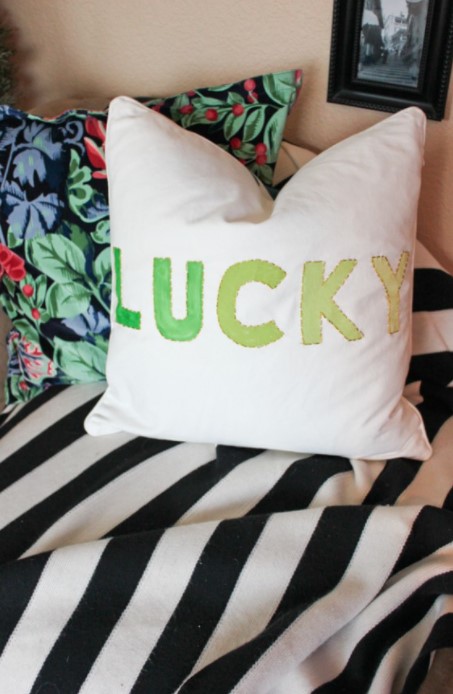 St. Patrick's Day is a time where friends and family come together to celebrate, but you should be prepared for what that entails! If your living room will serve as the gathering space, make sure it has these St. Patrick's day pillowcases; the letters are made in green or gold colors with an easy paint technique and sewing skills required.
Lucky St. Patrick's Day Pallet Sign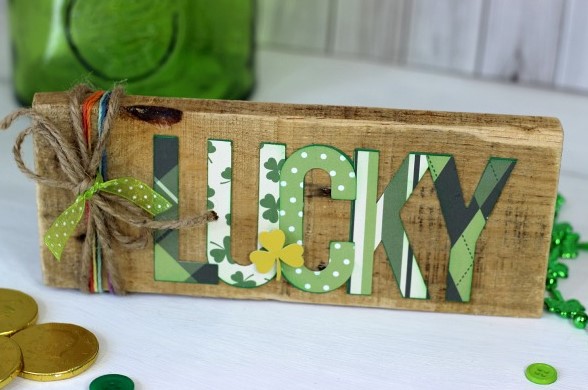 You're short on time and don't want to craft a complicated DIY project? Well, here is a DIY St. Patrick Day's decoration that you can make in no time! The idea of this St. Patrick's Day decoration comes from using pallet wood, some glue, ribbon, or twine in the color palette that best suits your decorating style. For example, 'Lucky' can be changed into something like 'Believe'.
'Lucky Us' St. Patrick's Day Banner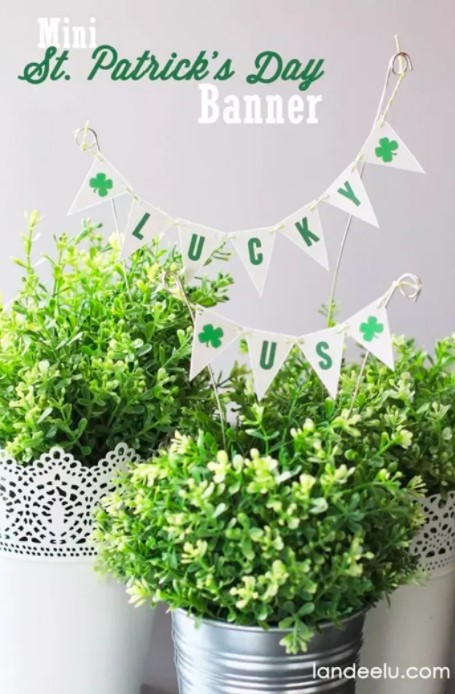 You want to make a centerpiece but you don't it to be something big that takes all the space? Well, look no further! This mini St. Patrick's Day banner is just what you need. The phrase reads 'Lucky Us' and can easily be customized for any occasion or holiday celebration. Not only does this project take up hardly any room on your table-top but these banners patterns are also free to download!
Paper Clover Wreath for St. Patrick's Day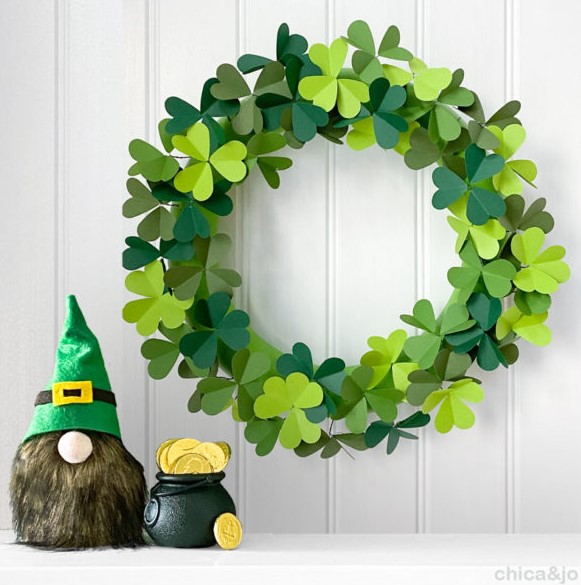 So, you're looking for a new St. Patrick's Day project? Well, I have just the thing! You will need a paper puncher in heart shape to make your clovers and different shades of green cardstock to create gradation. You can find these items at any local craft store or online e-commerce shop for an affordable price too! Begin crafting right away with this easy wreath that is sure to please everyone on March 17th!
Saint Patrick's Day Wreath from Clothespins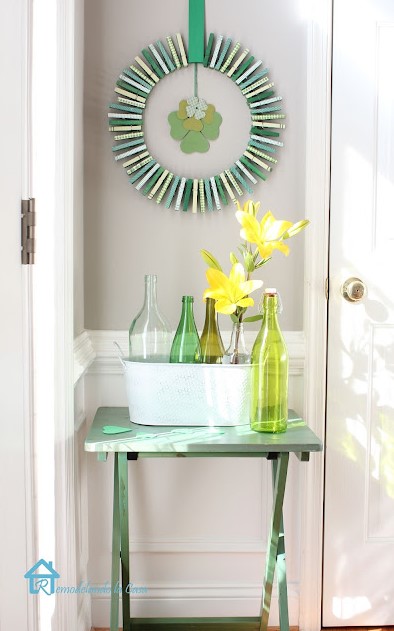 Another wreath idea to celebrate the festive day! This one is also unique because it's using clothespins. The clothespins are then spray painted with meadow green and then adorned with St. Patrick's Day-themed washi tapes which provide a great accent for any room in your home, office, or dormitory space during this time of year. Believe us when we tell you that you won't have problems making this amazing wreath!
Shamrock String Art Decor for St. Patrick's Day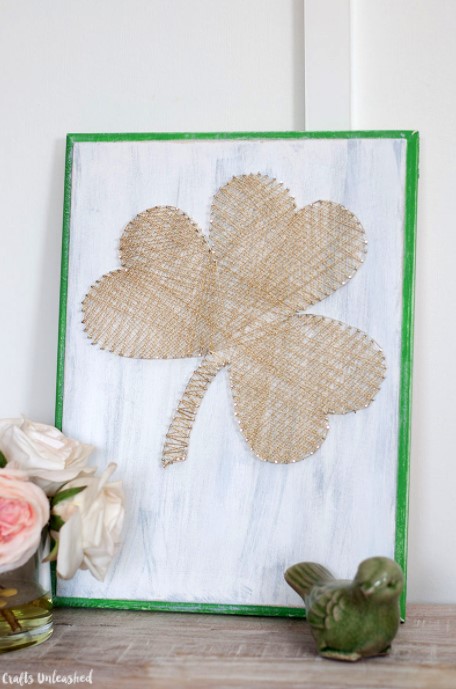 In the time of St. Patrick's Day, crafting is a tradition that can help one get into a festive mood; especially when it comes to designing something green! One fantastic craft idea we want you to try this year is making your own shamrock string art with clover designs to create eye-catching decor for yourself or share as gifts. Not only will these pieces be lovely additions to any décor setting, but they are also very easy and fun projects anyone can make on their own!
Shamrock Balloons Decorations for St. Patrick's Day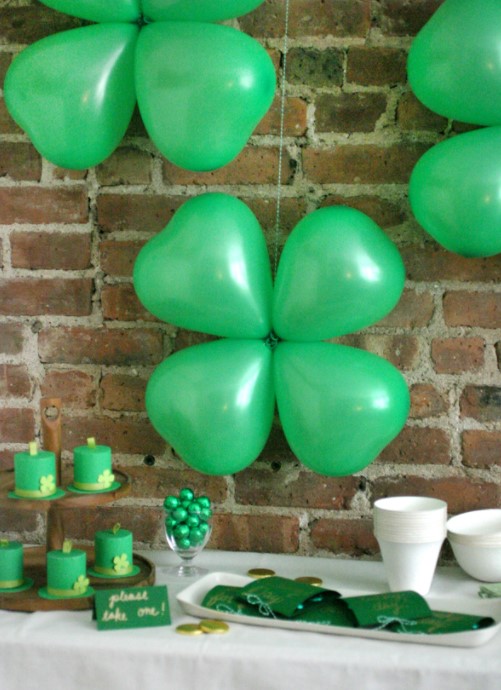 Balloons make any celebration a little bit more festive, and this is no different when you're celebrating St. Patrick's Day! To really bring the Irish spirit to life at your party, try assembling some balloons into an adorable shamrock shape hanging them from the ceiling, or setting them on tables as decoration.
Little Shamrocks on Gold Mason Jars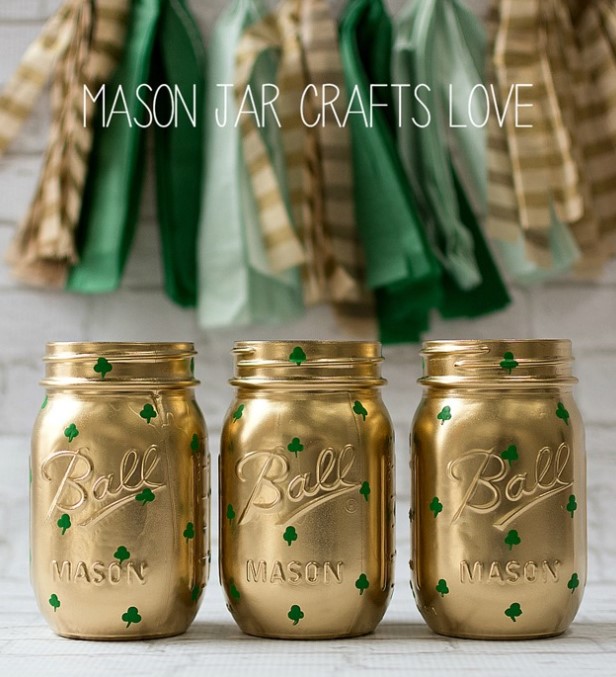 We believe that mason jars are everyone's favorite when it comes to DIY projects. This time, the mason jars are fully coated with gold spray paint and the little shamrocks are scrambled around the glass surface. Forming the clover leaves is easy by using a thin and smooth paintbrush.
Shamrock Nail and String Art for St. Patrick's Day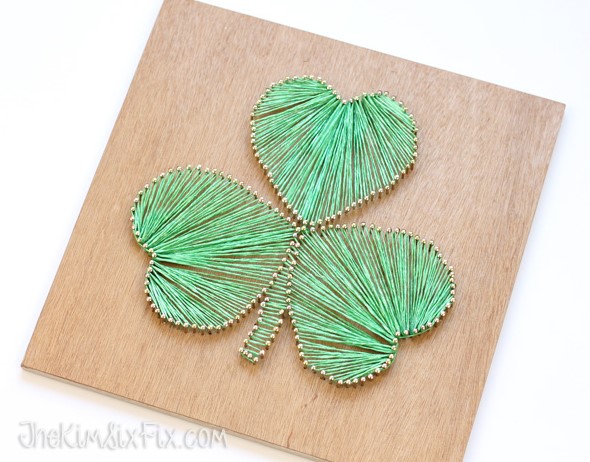 Now that Saint Patrick's Day is just around the corner, it's time to get started on your DIY project! The nail and string art shamrock will be a fun addition to any door or wall this holiday season. This amazing result starts by forming the shape of a shamrock with nails. Follow these steps in our tutorial for more information about how you can complete this simple but impressive design yourself over the weekend!
Cheap and Quick St. Patrick's Day Clay Pot Planters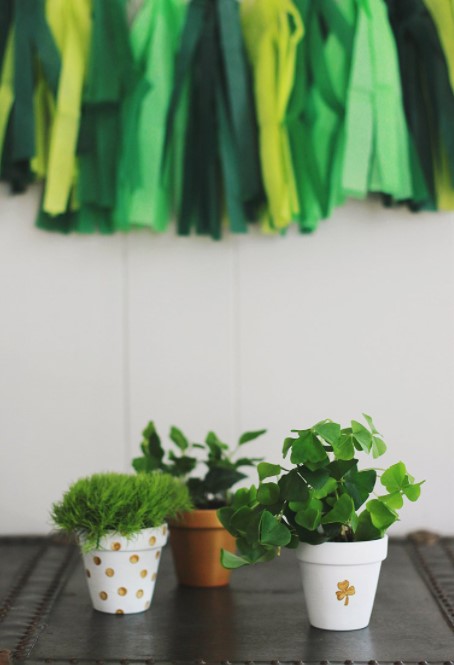 Clay pots are an awesome and cheap way to create planters for your St. Patrick's Day party. They're so easy to make, you might not want to put them away after the holiday! Plus, with such a small investment of time (less than 30 minutes) and money ($1 each), it just doesn't get any better than this project if you're on a budget!
Fun Paper Shamrocks for Wall Hanging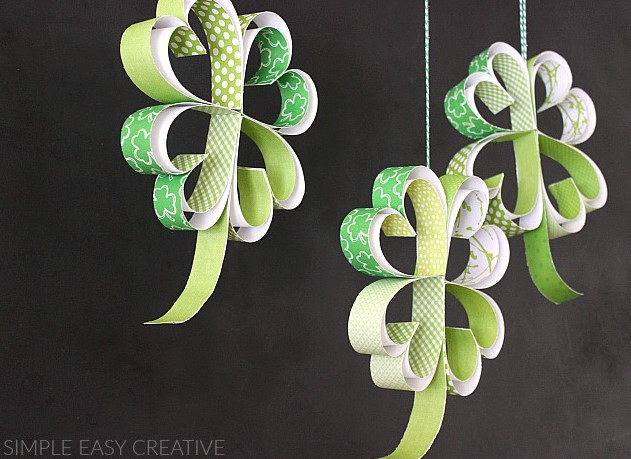 For St. Patrick's Day, we have another wall-hanging idea that will make your house look festive and green! The clover design is made out of paper with help from you or your kids. It can be cut into a pattern to resemble big clovers which are then attached to strings for easy display on any window or wall in your home this holiday season!
'Feeling Lucky' St. Patrick's Day Shadow Box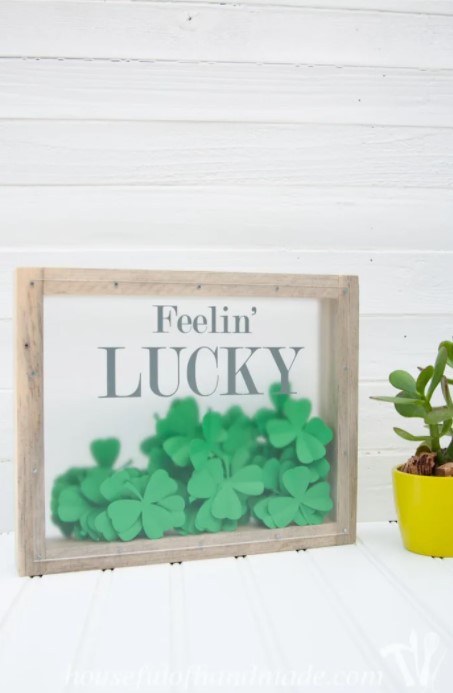 The luckiest day of the year has come again and you can test your fortune by picking a clover from this shadow box! You may want to grab one by chance and see if it has four leaves or not. This fun decoration will surely bring laughter to any St. Patrick's party and gathering!
St. Patrick's Day Pot of Gold for Your Ultimate Luck!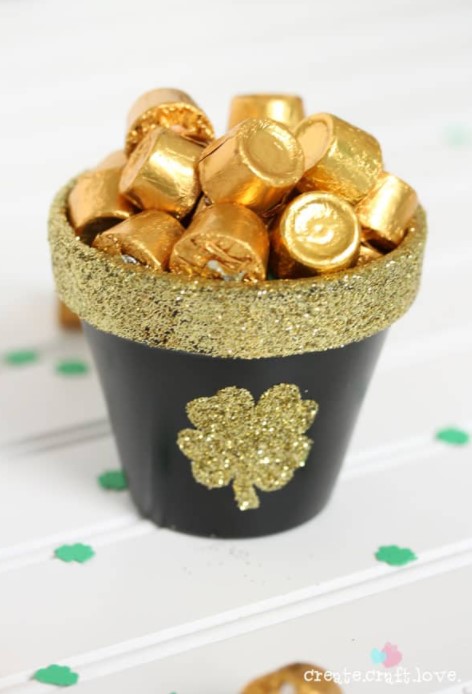 For a holiday that's all about luck, why not decorate your home with a pot of gold. This DIY St. Patrick's Day decoration will bring smiles to everyone as they find their candies wrapped in golden wrappers inside this terra cotta pot that has been coated with black shimmery paint for an extra touch! This will definitely bring joy to everyone!