When it comes to sewing, comfortable space is key. That means plenty of table space and the right light for your work area, but what if you're on a budget?
These DIY sewing project ideas can help keep those high prices down without compromising comfort or creativity.
These DIY sewing table plans will show you the complete process from start to finish so that in no time, not only can you sew but also create your own unique masterpiece!
Build Your Own Cost-Effective Sewing Table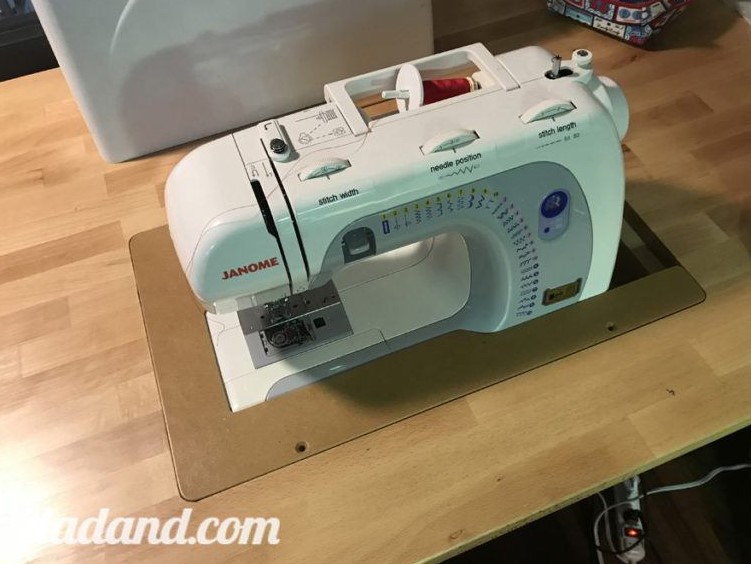 For those who love to sew and quilt, finding a sewing table that is both functional and affordable can be tough. However, this easy-to-follow DIY sewing table project means you won't have to worry about it! The following instructions will help anyone with basic skills build their own affordable sewing or quilting studio at home for the cost of around $125-$150 (even as low as $50 if they use an old desk).
Economical and Space-Saving Craft or Sewing Table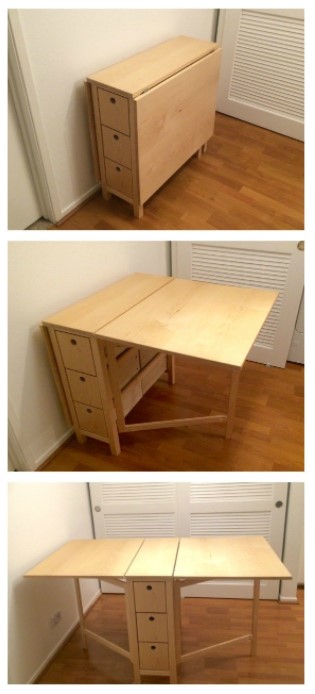 One of the most important parts of sewing or crafting is having a clean, well-lit work surface. But when you live in an apartment or a house with limited space, it can be difficult to find such areas – unless you build your own! This DIY foldable sewing or crafting table provides both extra time and room for creativity at home by folding up into a compact stool that doesn't take much floor space.
Fold-Down Sewing Table That Doubles As A Chalkboard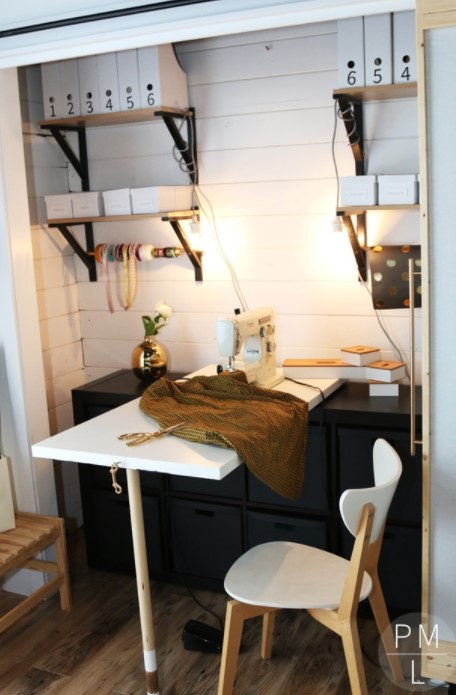 If you're looking to make space for your projects, but don't want the worry of a bulky table taking up valuable floor space in the room, then this idea is perfect. A fold-down DIY sewing table project that can be tucked away when not in use will save on precious floor space. Furthermore, it doubles as an easy and inexpensive workstation with plenty of chalkboard space, so no need to take another surface area!
Quirky Drop-In Sewing Table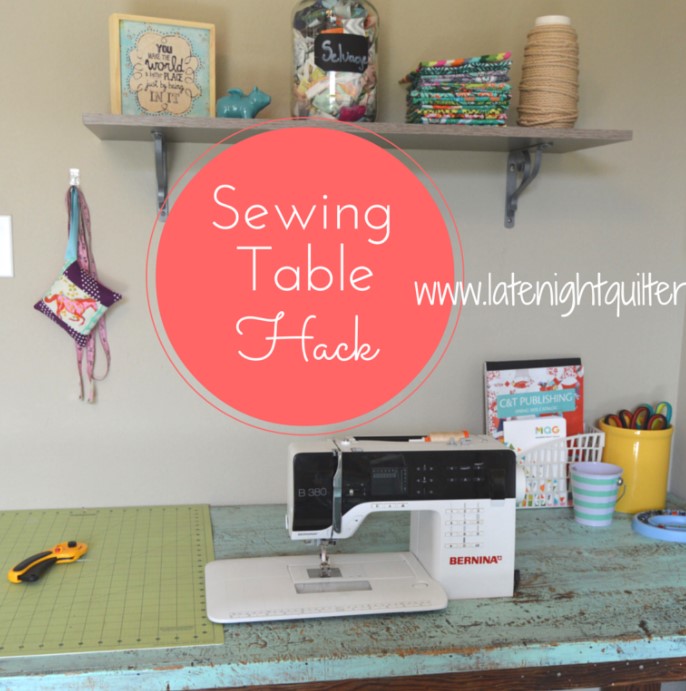 Whimsical, rustic, and easy to make – this DIY sewing table project is perfect for someone who doesn't mind revamping a flea market table. A secondhand table usually has this charming quality such as chipped paint or an old-time look that actually makes it more interesting (and convenient). It's even better when the sewing machine is dropped into the tabletop!
Sewing – Cutting Area from A $30 Drop-Leaf Table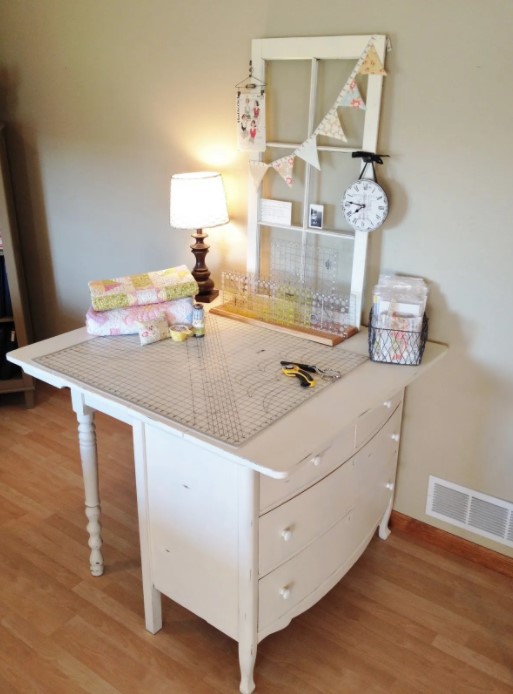 A sewing project requires a good amount of cutting tablespace. The great news is that you can build an inexpensive, long table for this task by combining two different types, a $30 thrift store find and a drop-leaf set. To succeed in the DIY process, some parts need to be cut out with accuracy; though after it's all finished up the result looks awesome!
A Large Sewing Table with Cabinets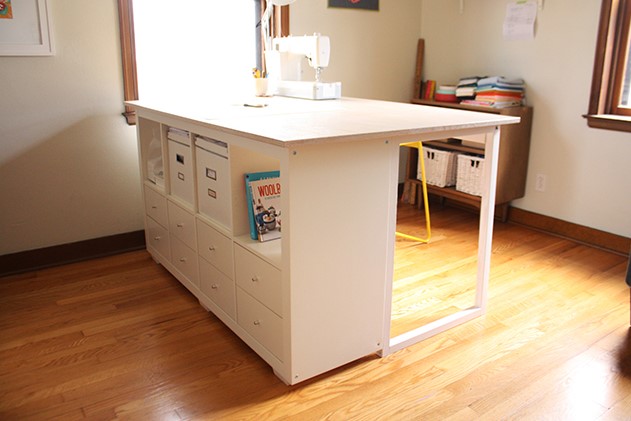 If you're a seamstress, this sewing desk is perfect for your needs. It has enough storage space to hold all of your supplies, fabric, and the necessary tools at arm's length. Plus, a workspace that provides ample room for cutting or crafting. You'll be able to focus on your craft because this table is perfect for all types of projects, big or small.
A Drop-In Sewing Table with A Large Surface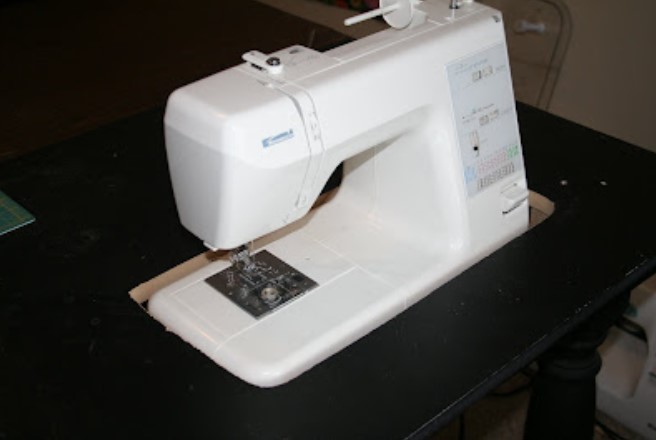 Sewing or quilting is a process that can take an hour at the least. More time for bigger projects, less on smaller ones. It's still not fun if your workspace leaves you with a sore back and limbs. This DIY sewing table idea shows you how to create your own space with an opening in the table for comfortable access to your machine. By installing L-shaped brackets underneath its base legs, you're improving both stability as well as accessibility in one fell swoop!
Transform Antique French Armoire into A Sewing Cabinet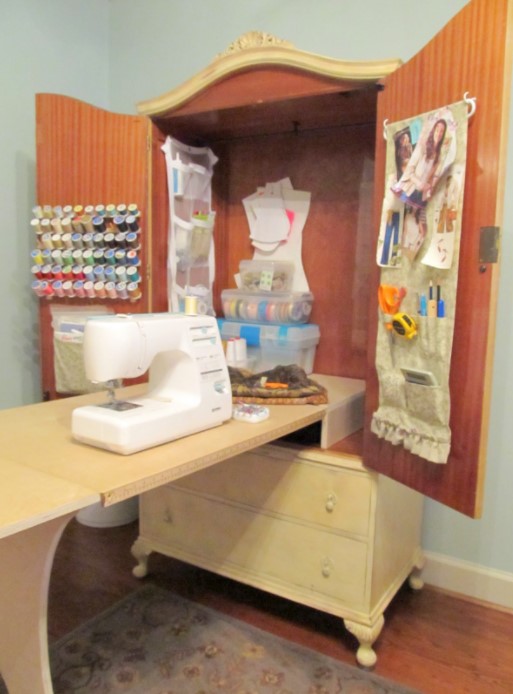 Do you ever go looking for your favorite needle or thimble only to find yourself frustrated because of all of the different places they're scattered? Say goodbye those days as we show you step-by-step instructions on making an easy DIY sewing cabinet so everything stays in one convenient place!
Plexiglass Insert to Improve Your Bernina Sewing Table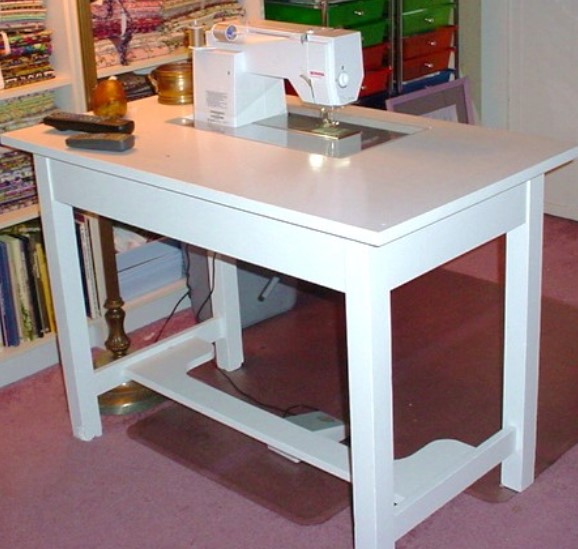 Berninas are perfect for those who want to get straight down to business and sew fast. With the speed of 900 stitches every minute, sewing just couldn't be easier! However, there is one small drawback: a tall hinged front cover that can sometimes make it difficult to see what you're doing. This DIY project solves the problem by using plexiglass inserts so your stitch plate becomes level with the table surface, making way more room for bigger projects too!
A Sewing Machine Table Great for Free Motion Quilting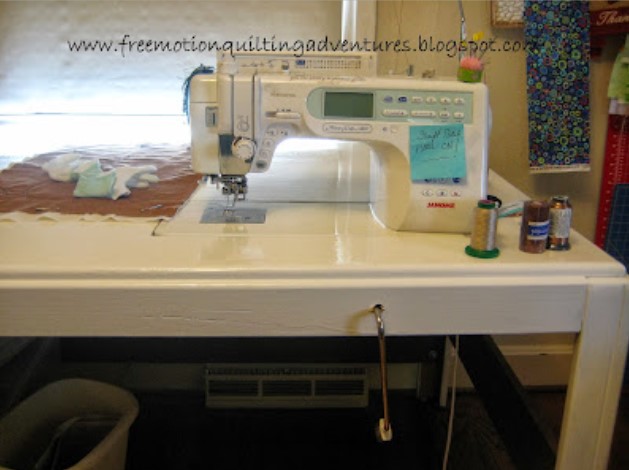 Free-motion quilting requires as much table surface as you can and this DIY sewing table project will show you how to provide ample surface to get the quilt done. This DIY is using a rustic table from a garage sale or a thrift store to reduce the material cost. Then proceed to cut the opening where the lower part of the sewing machine will sink. Remember not to leave out drilling a hole for the power and pedal cords!
A Sewing Table for Bernina's High Sewing Bed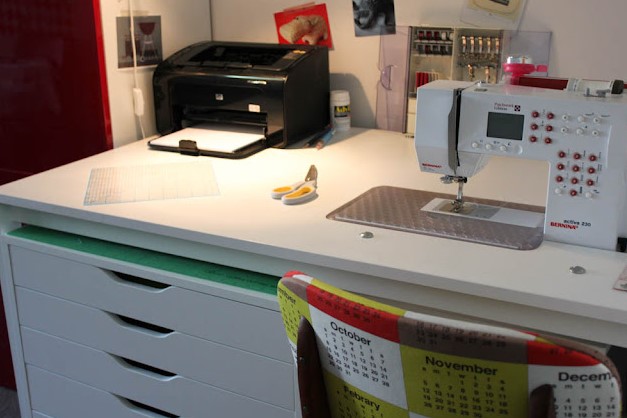 Bernina's sewing machine comes with a sewing bed that doesn't sit flush. The best way to solve the issue is to build a DIY sewing table where an opening is made on the tabletop so the sewing bed can sit without a difference of height to the table surface. This way, you won't experience any wrist or shoulder pain when sewing for long periods.
Simple IKEA Sewing Table Hack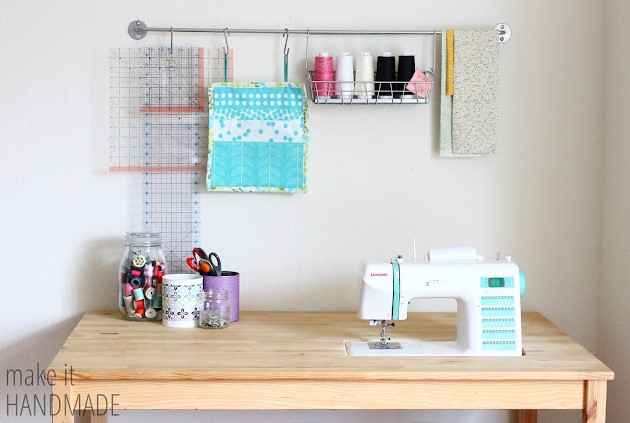 Do you want to get your sewing machine out of a closet and back into action? This IKEA hack allows you to repurpose an old table or revamp a cheap-bought table so that it becomes more functional. The tutorial also outlines some places where improvements could be made for future DIYers who might just need a little guidance with their own projects. By following these steps, not only will this project cost less than buying one new from the store but it's easy enough even beginners should feel comfortable working on their machines!
A Sewing Table with A Large Work Surface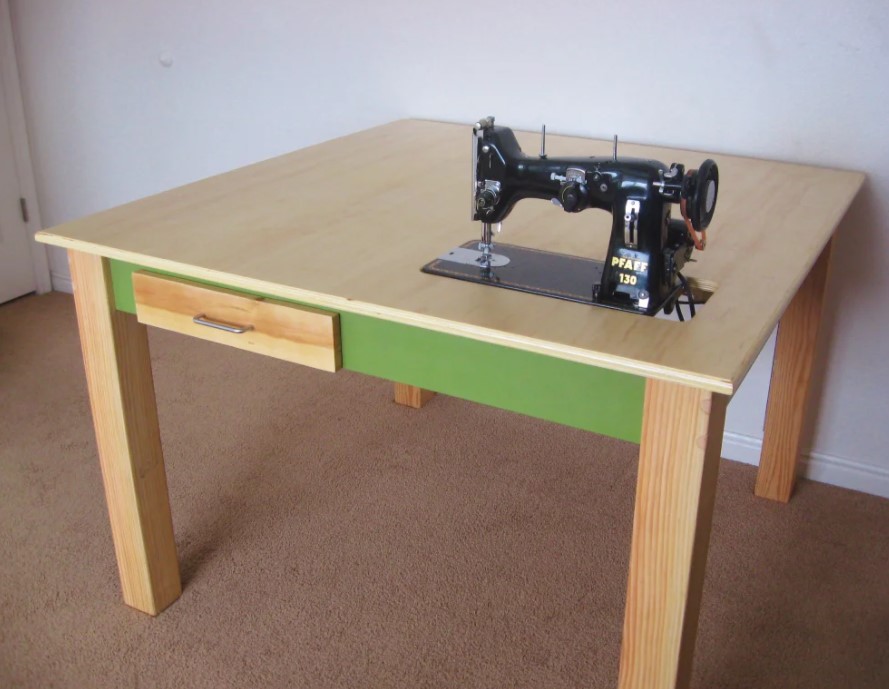 The benefits of having a large sewing table are plentiful. You have enough space to cut and pin fabric without any problems, which makes it easier for you in the long run because your productivity will be maximized. Plus, the ample storage is perfect for all those necessary items like needles or scissors that can easily get lost among other things when they're not stored properly.
40 Square Feet Sewing or Crafting Table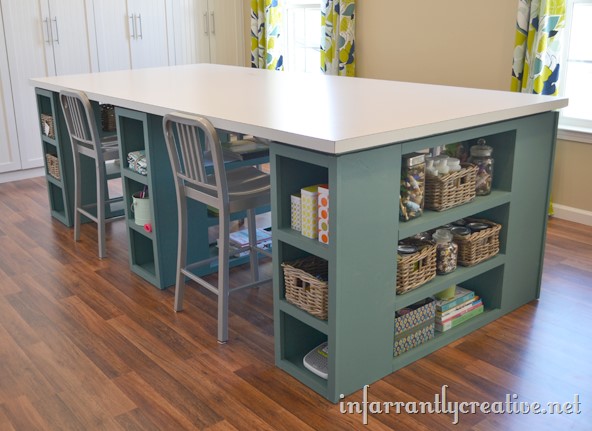 Imagine a sewing or crafting table that's so big you can do projects with the whole family and then still have space left over? This is because of its 40 square foot size. The best part about it being called an island is all the storage! You'll never find yourself running out of room, even if your project requires multiple tools and materials, they can be placed in one central place!
IKEA Kallax Hack for Sewing and Crafting Room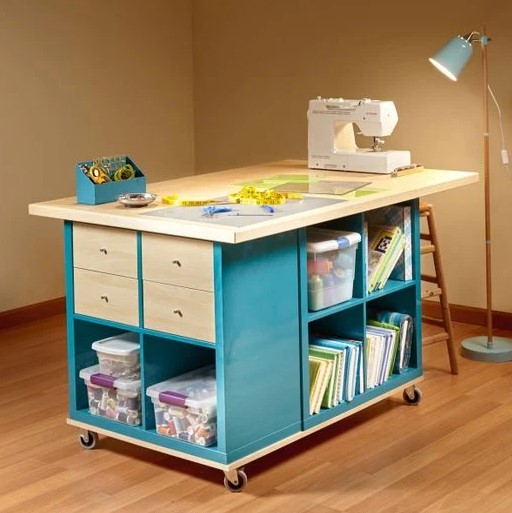 This is a new and improved way of sewing that you don't want to miss out on. With the help of an IKEA Kallax shelf, this DIY table has storage for all your materials while still being budget-friendly! The finished price doesn't exceed $250 which means you'll be saving quite a bit with no added effort at all. Plus, if mobility is what's most important then these swivel casters are perfect for moving around as needed without any extra work required from yourself.
Sewing Table That Doubles As Cutting Space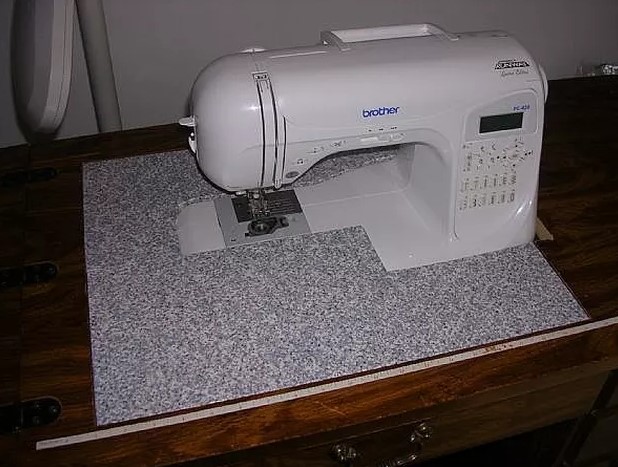 This space-saving sewing table is the upgraded version of a cheap sewing cabinet. The revision that you need to make is creating an opening for the bed to sit flush and adding a new top boards cover for a fresh look and a smoother surface! Then, where is the cutting board? Just close your cabinet, voila! There it is sitting waiting for you in all its glory!
Folding Sewing Table from One Sheet of Plywood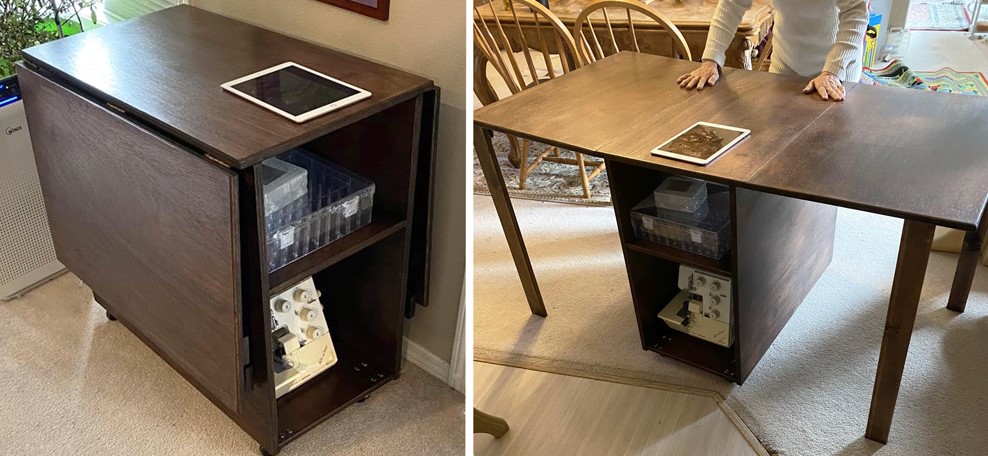 A DIY folding sewing table is perfect for those who don't have a specific space to sew and craft. It's easy to move around the house so you can find your most comfortable spot. When not needed anymore, this handy little table folds up neatly into itself without taking up too much floor space! What are some other great features? This useful piece has storage that provides an excellent place for things like a sewing machine or a basket full of fabric.
Modern Hairpin Legs Sewing Table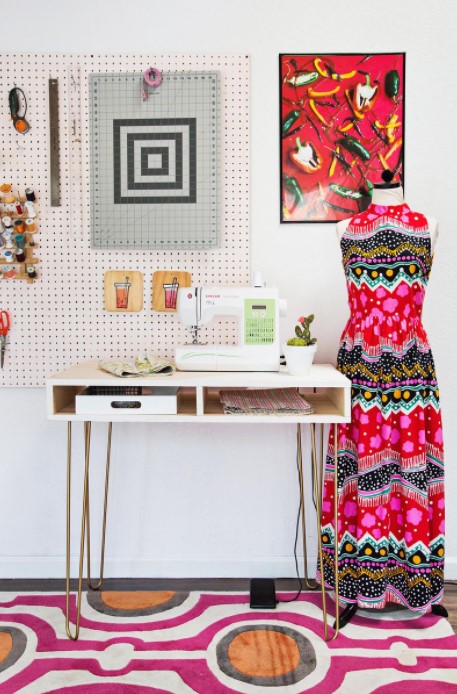 Your sewing machine has been abandoned on the floor? It's time to pick it up and put it in its rightful place. This time around, we're going to build a modern sewing table with hairpin legs (which are all the rage these days!). Although this elegant design may look easier than others, there is actually ample space for your favorite embroidery items thanks to one of two drawers that fit neatly under the tabletop surface.
Functional Drop Down Table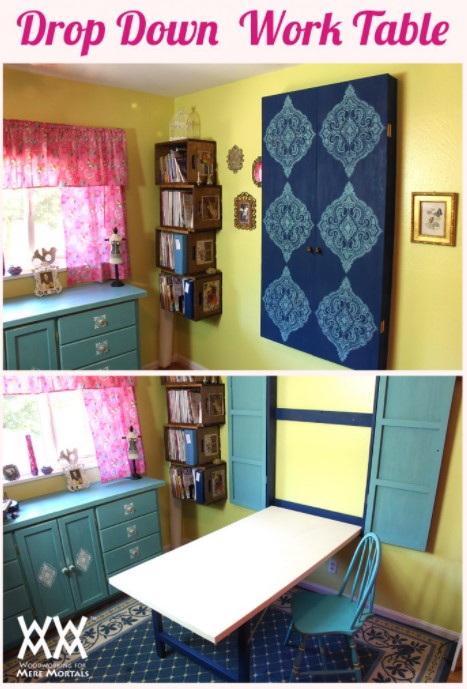 For crafters and seamstresses, it's important to have a designated space for crafting or sewing. Oftentimes this is difficult because the room may be too small but drop-down tables are an inexpensive solution that works wonders! They're sturdy and easy to build. Best of all, they look great when folded up against the wall. This DIY drop-down sewing or crafting table makes everything more organized. It doesn't take up any additional floor space too, so it's perfect for smaller apartments where every square foot counts.
Easy Sewing Table Project Using IKEA Ingo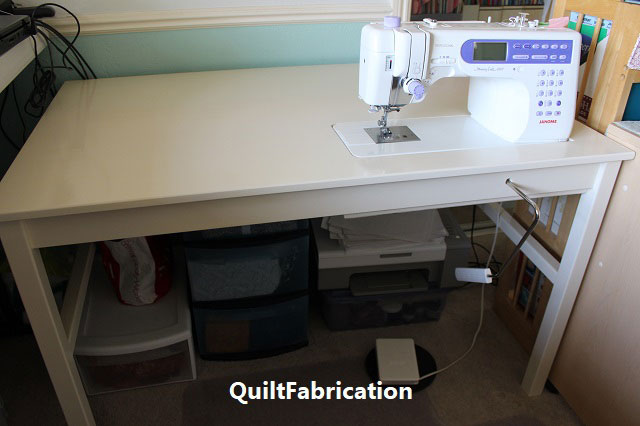 A DIY sewing table project becomes much easier when using an existing table at home. This idea uses IKEA Ingo, but it works on other types of tables too as long as they fit the intended plan for your do-it-yourself project. To make this dream a reality you will need to have your machine securely seated in the tabletop and flush with the surface so that all materials are within reach while working. Quilters and seamstresses everywhere can finally get their life back!
A Folding Table for Small Craft Space
Using a spare or guest room as craft room leaves very small space. To get creative with the limited space, building a folding craft table is the only way out. This DIY sewing or crafting table is using the IKEA Norden gateleg table design as inspiration. You can see it from the 2 foldable wings on the sides and a center section where 2 sliding storage shelves are featured.
Upgrade Your Sewing Studio with DIY Cutting Table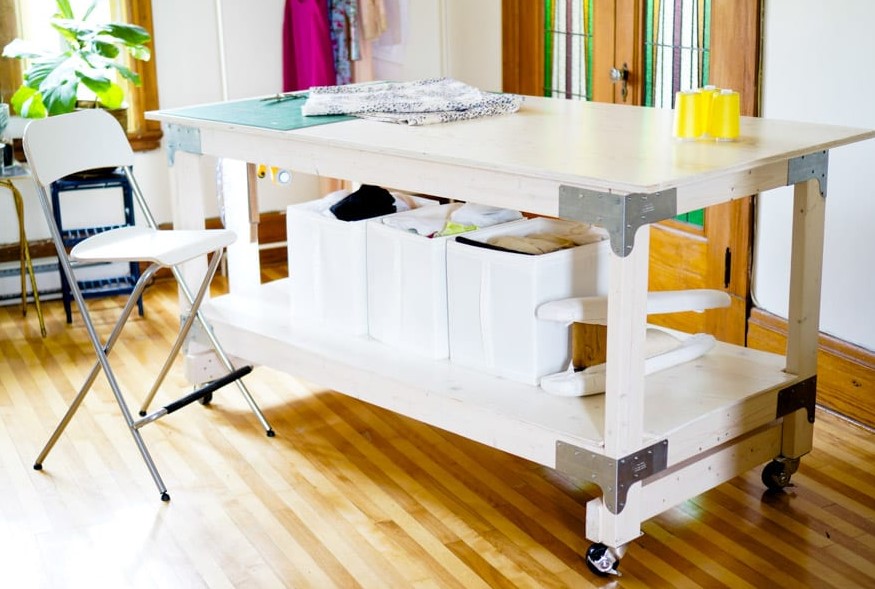 The need for a lot of storage space and a wide surface for cutting inspired this DIY sewing table project. The final dimensions are 3 feet by 6 feet, so if it's too huge you can always customize the design to your needs. Surprisingly, such an enormous size only requires minimal tools like an electric drill, sander, a level, measuring tape, and handsaws. This giant worktable will make any seamstress feel excited!
The 'Sanctuary' Cabinet for Sewing Supplies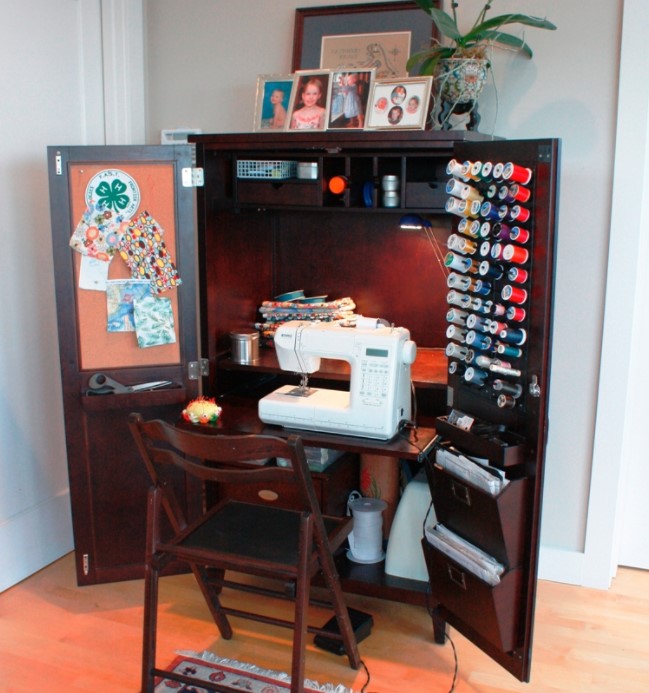 Sewing supplies are always so necessary and if they're lost then sewing becomes an absolute nightmare! The solution is to create your own sanctuary of sewing supplies! Luckily, Craigslist provides a variation of a secondhand cabinet at such affordable prices. All you need now are a hole for power chords, a cork board, and storage cubbies!
Multi-Purpose Mobile Sewing Table with Built-In Drawers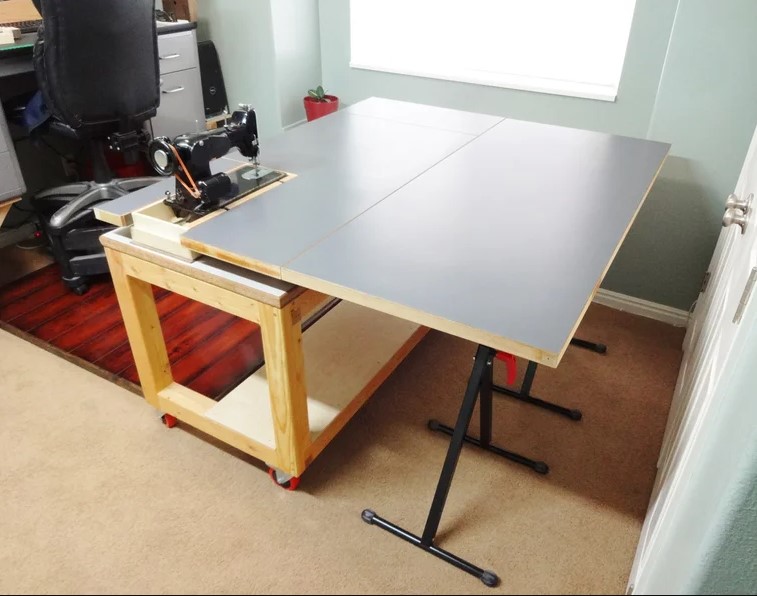 Here it is, a mega DIY sewing table project! It has everything a seamstress could ask for: built-in drawers, easy mobility, and multi-purpose table (sewing to cutting and vice versa). Considering the difficulty level, this project is suitable for those with intermediate to advance woodworking skill. The finished table may look ordinary but when you want to sew, it converts in the speed of light!
Remodel The Old Office Desk to An IKEA Knockoff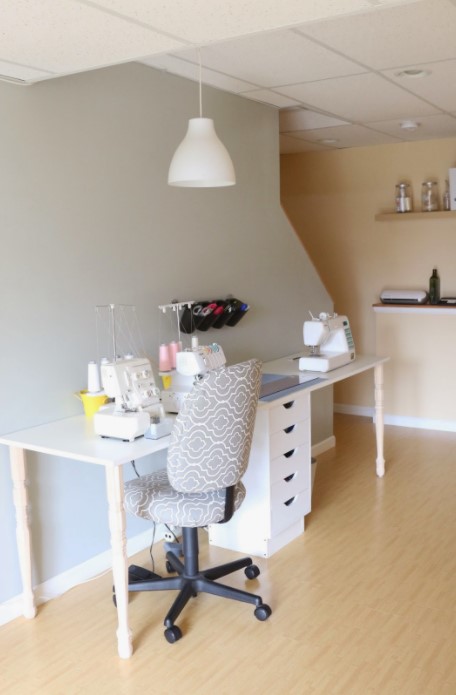 The time has come to upgrade from the old desk that served as a sewing table for 10 years. The new setup is inspired by IKEA, but is cheaper and built using materials bought at Home Depot. For such an excellent DIY project, you may be surprised how little it all costs! Just $143! You can clearly see how gorgeous and effective this latest creation really is!