The right shoe rack is as essential to your household as the shower or toilet. Without a proper place for shoes, they're scattered all over and it's hard to keep them organized nicely. It would be awful if you had friends come over but didn't have anywhere for them to put their sneakers!
Your clothes will also look better with an orderly floor too – who wants that unorganized mess?
A DIY shoe rack can suit any style in just about every room of the house so there are plenty of options when it comes time to make one yourself. Check out our 27 great ideas below!
Giant-Sized DIY Shoe Rack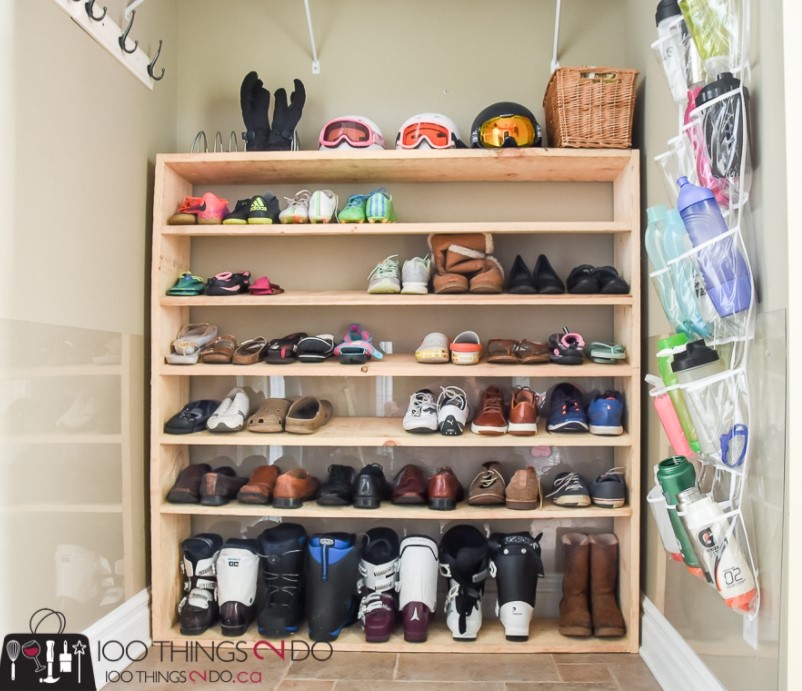 This DIY shoe rack is a wonderful way to organize your shoes and make the ugly clutter disappear. Not only will it help you save space, but also keep things looking clean at all times with its mesmerizing design.
With this DIY shoe rack, you'll be able to stack up against your shoes in a stylish and tidy manner. It's big enough for 4 kids' worth of footwear! You can't resist the clean look that comes from polishing off those prickly wood pieces.
Unique DIY PVC Pipe Shoe Rack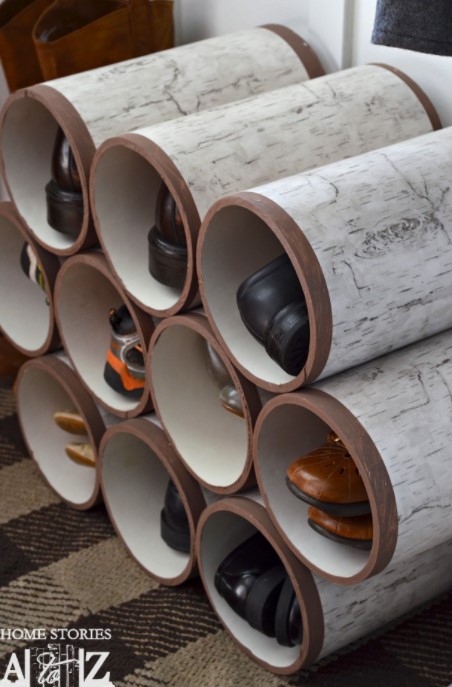 Shoes can be your worst nightmare when it comes to organizing. Shoes seem to scatter everywhere in a house with kids, so you need an efficient system of organization for tidying them up and that's why this project will show how easy it is make shoe racks out PVC pipe which not only saves space but provides much needed order.
DIY Shoe Bench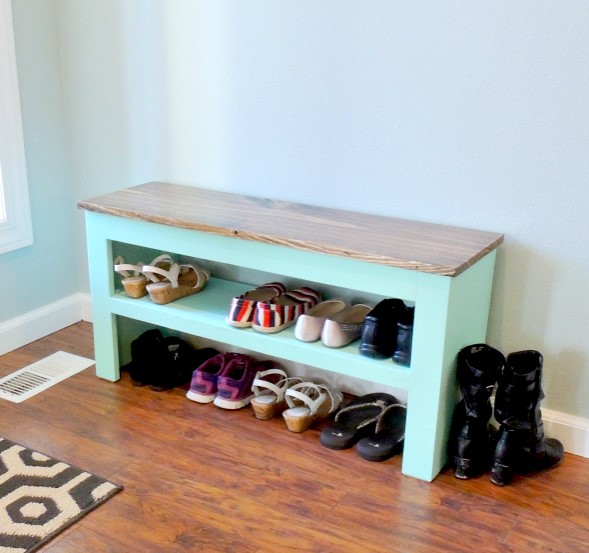 It's always a good idea to have your shoes organized, not only does it look nicer when they're all together and in order but you also avoid stepping on them or getting tripped up by the small ones that can get lost. This DIY shoe bench is easy enough for anyone with a little carpentry experience to do because as well as being functional it doubles up perfectly as an extra seat too! You could even make this one really personal with some color options – let yourself be creative here and find something perfect for your home.
Creative "Beehive" Shoe Rack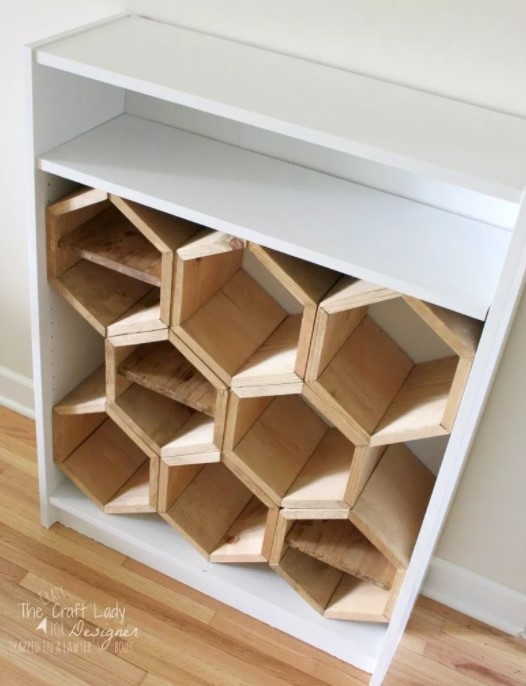 Organizing your pile of shoes is important. It is an effort to make the entryway more eye-pleasing and avoid tripping on a stray shoe, but it's also about making room for you! Inspired by hexagon wall shelves, this DIY uses a similar concept but for shoes. If you don't have enough space in your closet or floor boxes? No problem – use old bookshelves instead!
Industrial Copper Pipe Shoe Rack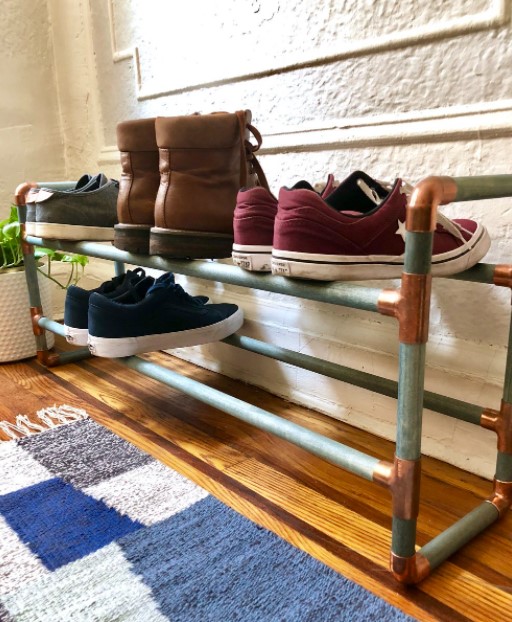 Are you still struggling with shoe organization? With just a little creativity, it'll be easy to get your shoes off the floor and out of bags. For this DIY project all you need is some wooden dowels and copper pipes for an industrial looking rack that will hold up those heels!
DIY Shoe Rack for $0!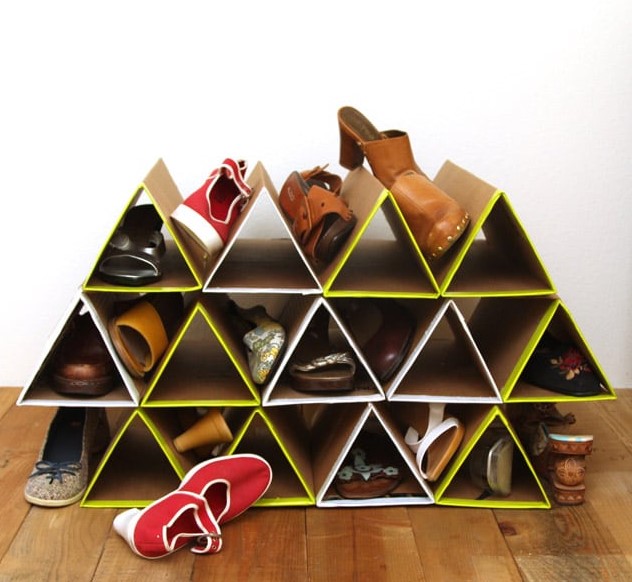 Are you sick of the mess in your closet? There's a quick and easy way to get organized without spending any money. With just cardboard pieces that are lying around, one can make their own shoe rack! It takes less than an hour for anyone to finish this project with very little craftsmanship needed.
Homely Wall Storage DIY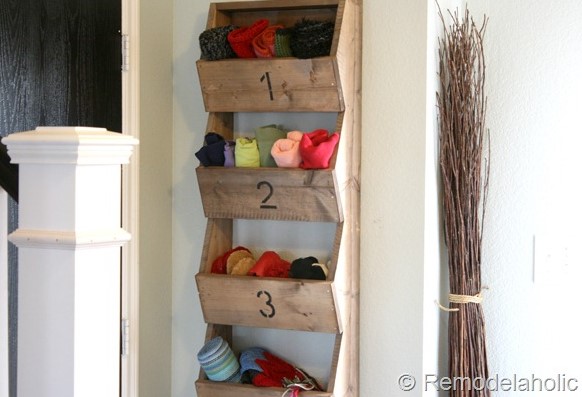 This DIY project will give your closet, mudroom or entryway that touch of rustic style and look with just some boards, a hammer and nails. It's super simple! For this project, the estimated time is less than a day. It will be finished before you know it!
Simple Wall-Mounted PVC Shoe Rack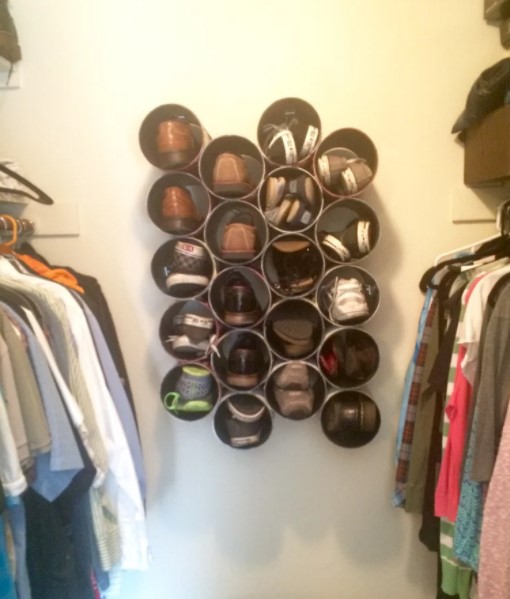 When you get lazy to place your shoes back in their rightful place, it can lead to a chaotic closet. In order for us not have this problem anymore, we recommend keeping things simple and using the PVC wall mounted shoe rack that doesn't cost too expensive or take up too much space!
A Shoe Cubby with Modern Look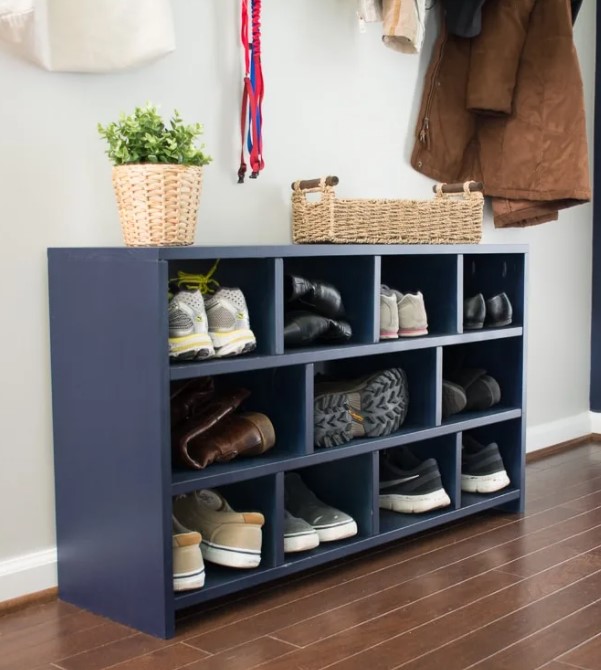 Shoe cubbies are a great way to utilize some of your space. In this tutorial, you'll learn how to build one with supplies from the hardware store! This is best for people who live in townhouses because it can fit nicely into those smaller entryways and provide an efficient place for shoes, keys, sandals and coats. Match the color to your wall for a more eye-pleasing look!
DIY Entryway Shoe Organizer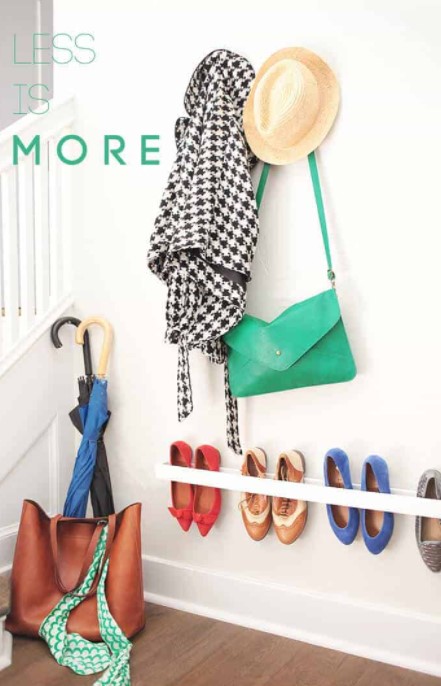 The project is for those who want to improve their mudroom, entryway or small apartment by creating a simple and inexpensive shoe organizer. You'll be able to slip your shoes into the dividers of this DIY so they won't scatter on the floor any more and then you can go about your day!
DIY Storage Cabinet for Shoes and Boots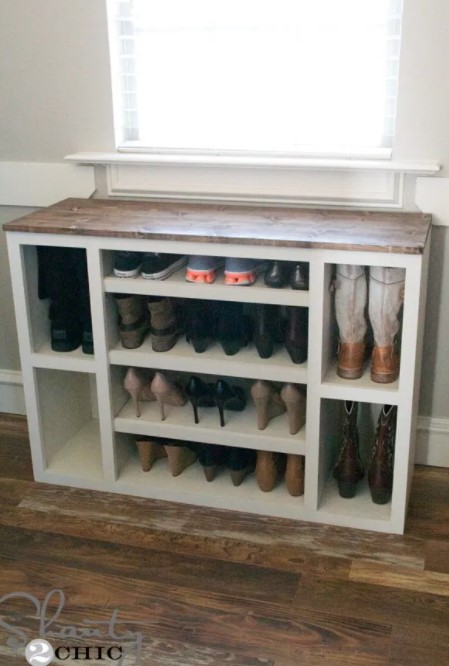 This is a very easy shoe storage project because the supplies are easily obtained from nearby stores like Home Depot. The wood used in this idea is plywood and you can customize it to make sure that your shoes, heels, sneakers, and boots will fit perfectly!
DIY Horse Trough Planter Shoe Rack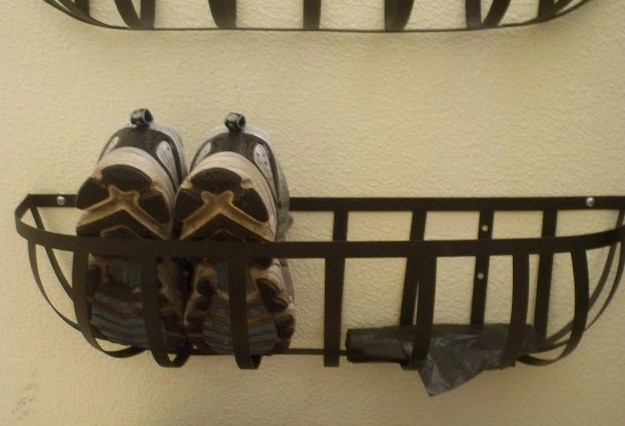 If you're looking for an inexpensive and creative solution to shoe storage, look no further. Using old horse trough planters as a DIY project is a perfect way to turn that awkward hallway into something useful. Your shoes won't pile up in the entryway anymore!
DIY Well-built Shoe Storage

What a hassle having to constantly rearrange the closet when more shoes are added. This DIY project is perfect for creating some extra room in your shoe storage area while giving it an industrial look, with wheels installed so that you can move it around as needed!
Repurposed Crown Molding for Shoe Rack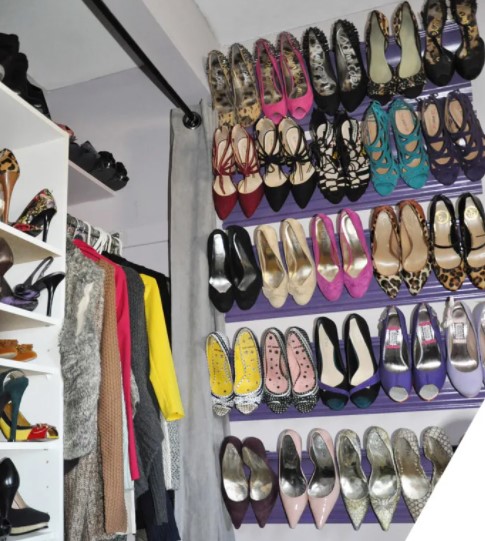 Crown molding has a new function! It can be transformed into an elegant shoe rack. With creativity in mind, you'll have a safe place to hang your high heels and display them as wall art. You're not only using that useless space on the walls, but also creatively transforming it with a perfect set-up for under $100!
DIY Shoe Bench with Crates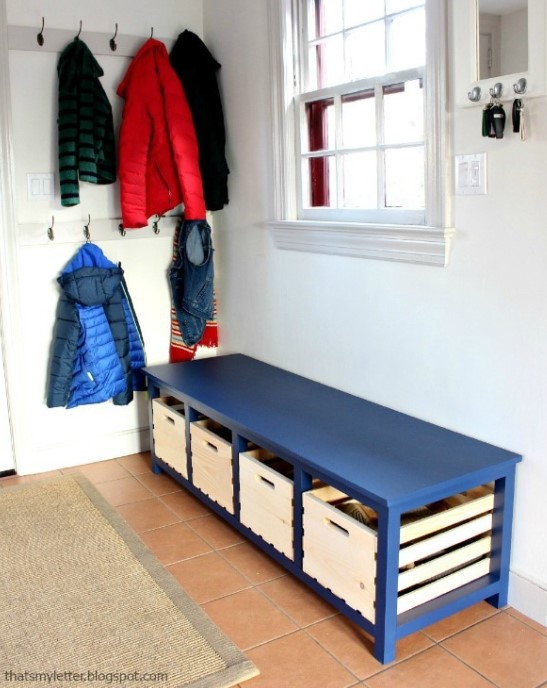 It can be overwhelming and chaotic when everyone's shoes are piled up in the mudroom. This DIY shoe bench will help you sort them out using crates. You'll find it easy to sort all those belongings while also providing an extra spot to sit down before putting on those cold winter boots.
DIY Shoe Bench from a 2x10x8 Board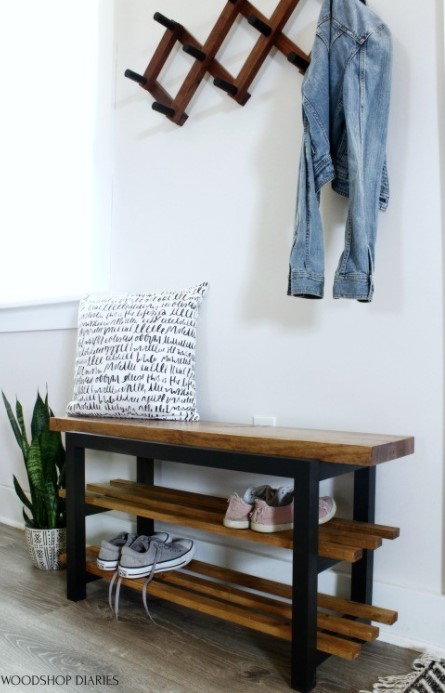 A fantastic and challenging project! With just a single 2x10x8 board, you'll have the one-of-a-kind shoe bench. The total cost of the project is $7 which is the price of the board when it was bought. It could be cheaper if you're lucky enough to find some scrap wood in your house though. Look how modern it looks when finished too – so neat right?
Easy DIY Wall-Mounted Shoe Rack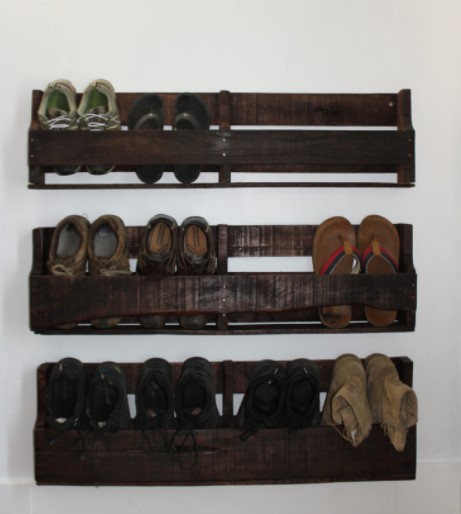 Grab your tool kit and start building with this DIY project. Why settle for a single shoe rack when you can have three? This is especially the case if all of your shoes are different colors, styles or sizes. The best part about it is that these racks can be hung on the wall which saves space and looks great in any entryway!
Creative Customized Shoe Closet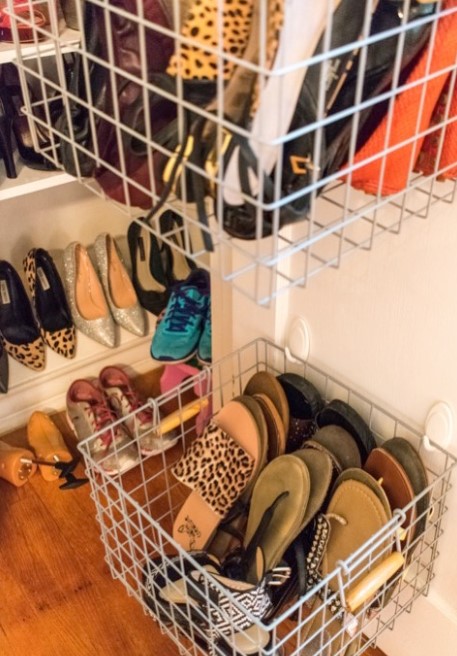 Here is a DIY project that will keep your shoes organized in such an easy way. It'll also help save space for other things too because who doesn't love more closet space? This super simple shoe organization hack is perfect if you've got some free time this weekend – just take some time out of your schedule and get started now with these instructions.
A Unique DIY Entryway Shoe Rack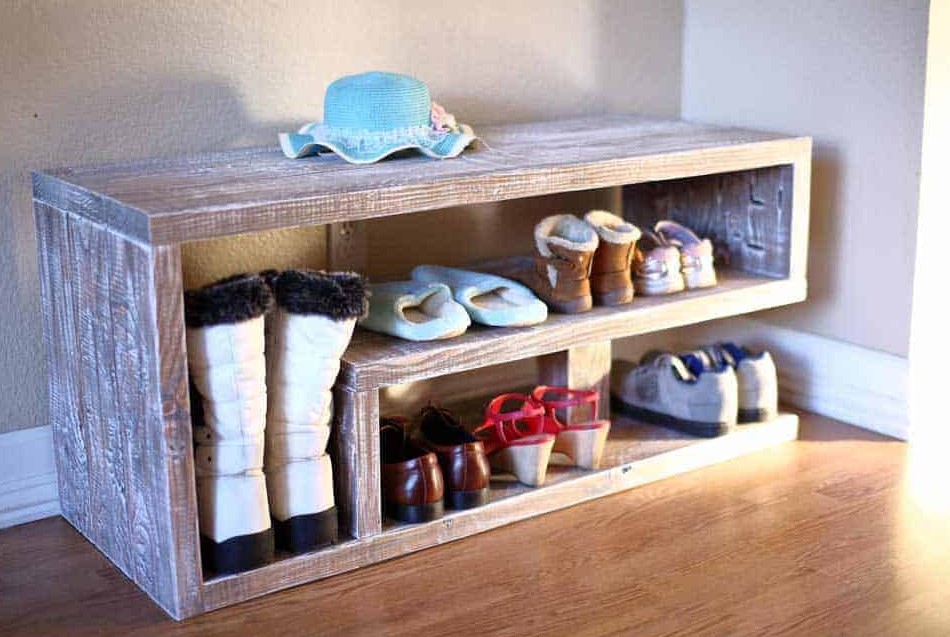 If you are looking for a project that is both useful and inexpensive, then this entryway shoe rack might be perfect. Not only will it organize your shoes but also make an excellent seating bench when guests come over to visit!
DIY Shoe Rack for A Narrow Entryway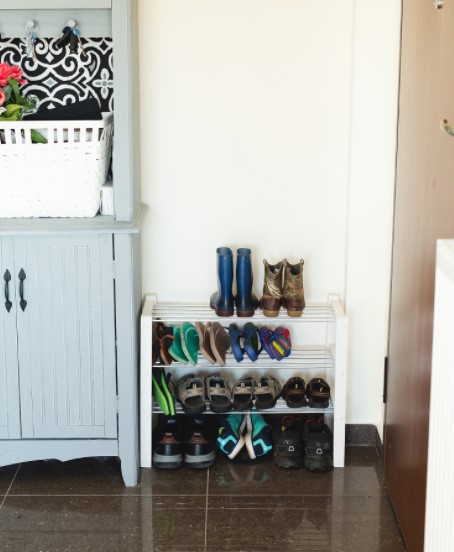 Are you looking for a solution to your shoe-piling-in-the-front-door problem? If you want to have nice and organized shoes, follow this step-by-step tutorial of the DIY shoe rack. You can customize it based on your space too so that's a plus! Other than that, it will add character and maximize space!
$0 Cardboard Shoe Rack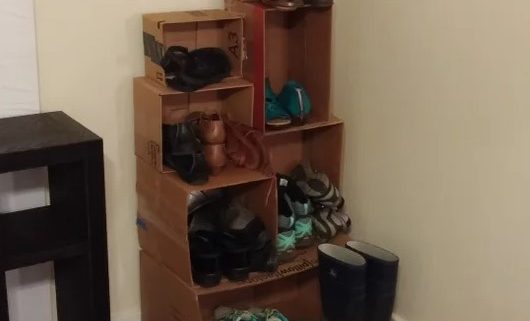 If you are looking for a way to organize your shoes without spending any money, try making one out of cardboard boxes. All you need for this project are cardboard boxes, tape, scissors, and a ruler. If you want to give yours some extra flair, try decorating before placing in right spot.
DIY Rustic Shoe and Boot Ladder Storage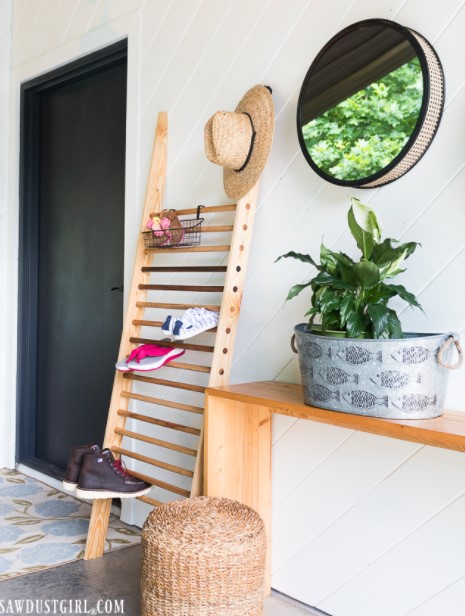 It's no secret that there just isn't enough room in your closet for all of the shoes and boots you have. Well, there's a solution to this problem – The Shoe Storage Ladder! It is practical and it gives off a rustic farmhouse look which will fit any home décor effortlessly.
DIY Supersize Shoe Shelf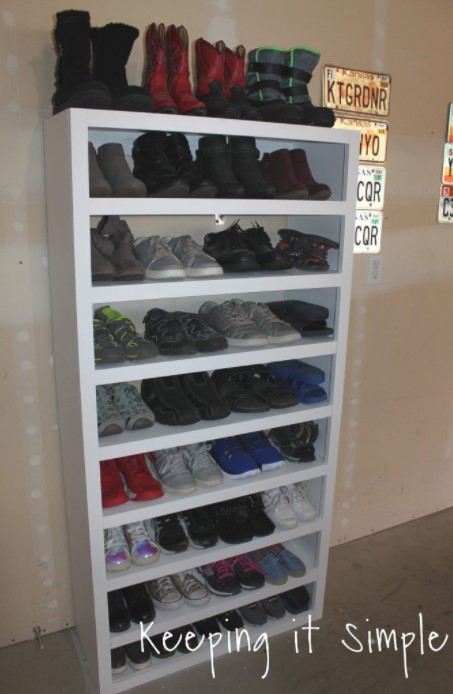 Are you and your family big fans of shoes? If so, you need to think of a place to store them too! DIY shoe rack is a great way to customize the size and style for your own space – all with just $50!
DIY Rustic Wooden Crate Shoe Rack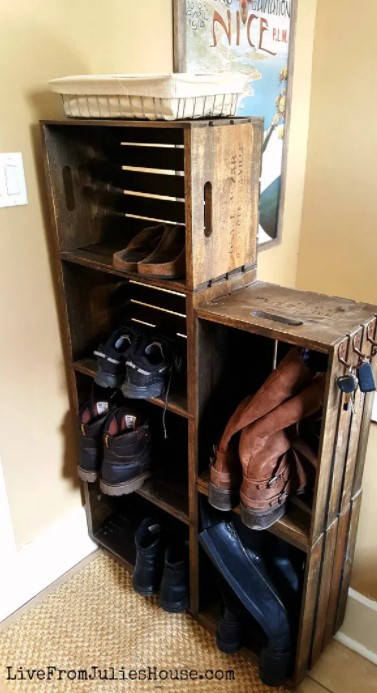 Rustic supply in the store may cost over budget. For this project, you can find cheap wood crates and distress them to give a rustic and vintage look. The crate used in this project only costs $10 each which is very affordable!
Simple DIY Farmhouse Bench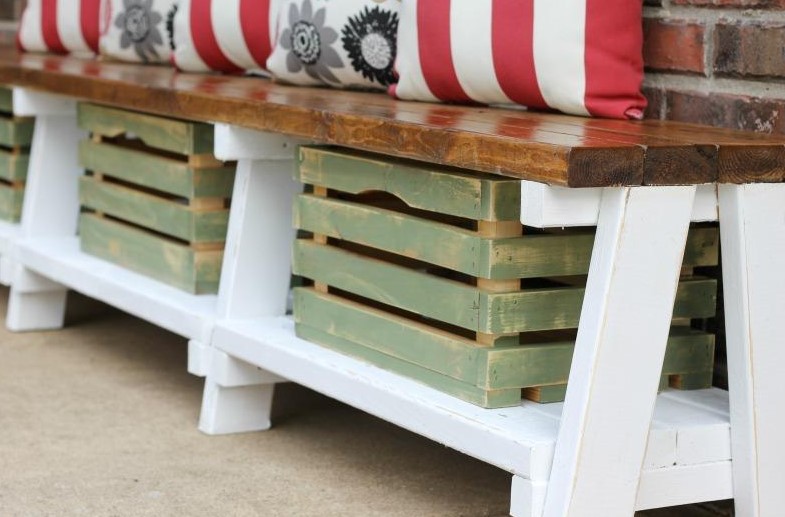 Sounds like you're in need of an outdoor upgrade? We have the perfect project for you: a DIY shoe rack. The cost is very inexpensive, and it will leave your bench looking farmhouse chic! Not only that but with all this storage space, you'll never be tripping over shoes again.
DIY Shoe Rack from Hangers
You know that feeling when you're looking for your shoes and they just seem to be everywhere? It's time to take control of the chaos in the closet. You can do it by making some DIY shoe hangers. Hanging your shoes and sandals on the wall, making use of a narrow space.
DIY Rustic Crate Boot Racks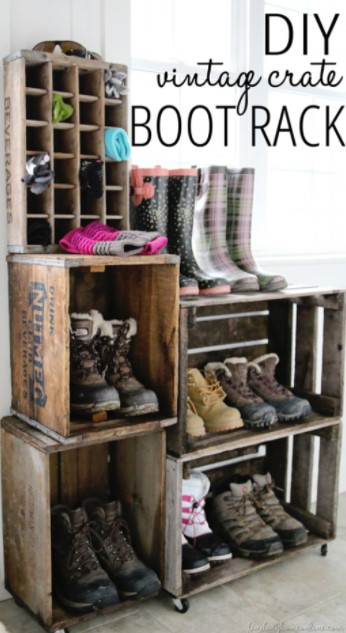 In a colder area, people will have more boots than shoes and need a bigger rack. Why not use old crates for a boot rack then? It makes the space more functional. Moreover, not only will they help save money because wood is inexpensive, but the assembly process of crate racks are easy with a few materials and tools too. This tutorial will show you how!
FAQ about DIY Shoe Rack
Below are some questions people often ask about shoe rack.
What wood is best for a shoe rack?

A lot of the tutorials above are using wood to make the rack, so, perhaps, you're wondering what wood is best for a shoe rack. Keep in mind that any wood will work, just as long as it is sturdy enough so shoes won't fall through!

However, white pine wood is recommended for painting. Oak-Hickory and Aromatic Cedar are also good if you want to stain the wood instead, as they will give a more natural finish.

How to maintain a wooden shoe rack?

A wooden shoe rack should be cleaned regularly to prevent unwanted substances from being left on the surface. Here's how:

a) Use a spray bottle to mix vinegar and warm water. This is a great way to disinfect your racks. Then, dump a few drops of liquid dishwashing detergent on the extra grimy surfaces for an even cleaner finish.

b) Then, spray the mixture all over and wipe it off with a soft cloth. Once you're done, make sure that they are fully dried. You can use a clean cloth to completely dry the surface.

Should you keep shoes in boxes?

Storing your shoes properly can be a fulfilling habit. You'll never have to worry about an unpleasant odor or having trouble finding the perfect shoe for any occasion!

You might store them in their original shoeboxes, but there's also clear plastic containers that will allow you to see what type of footwear you're storing and how many pairs are inside each container.