Have you ever wanted to gift someone a cute and cuddly animal? Crochet amigurumi are all the rage these days, so let's take advantage of this trend. Whether it is for your kids or as an endearing housewarming present, crochet amigurumi will make any recipient feel special!
Crochet patterns also allow you to make the cutest amigurumi toys! Whether it's a cartoon character, fruit, or animal – there is an easy crochet pattern for all your needs. You can get started with these 25 free crochet giraffe patterns! They are easy and you'll probably be able to complete a project without too much trouble.
So let's check out these 25 free crochet patterns that will take everyone by storm. Who doesn't want to be delighted with a tall, friendly-looking animal like the giraffe?
Amigurumi Crochet Toy Giraffe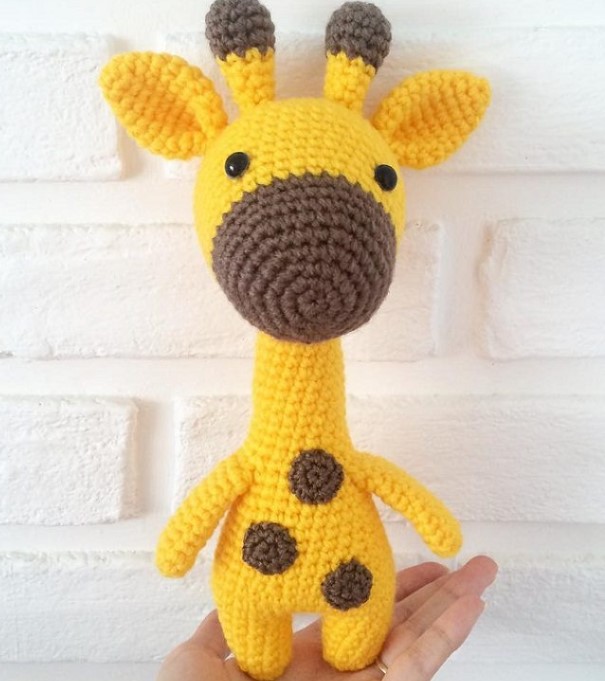 Make a perfect giraffe amigurumi for someone special! This adorable long-neck friend has three brown dots on his tummy that adds to his cuteness. Follow this beginner-friendly tutorial video guide so nobody will be confused during crocheting. Just remember to use the correct size hook; otherwise, your desired height may not work out right!
Amigurumi Doll in Giraffe Costume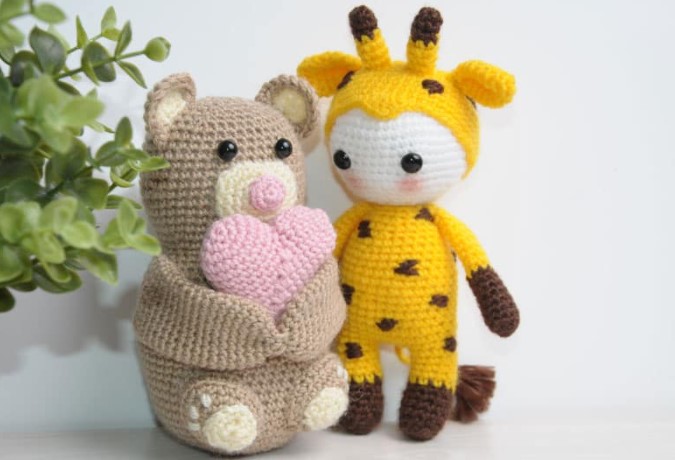 Wouldn't you love to receive a gift like this? This might be different because the project is not crocheting an animal, but rather making a doll wearing a crochet giraffe costume instead. It sounds fun and exciting so we're certain anyone who receives it will be happy! Who can resist this 17cm cutie?
Crochet Giraffe Applique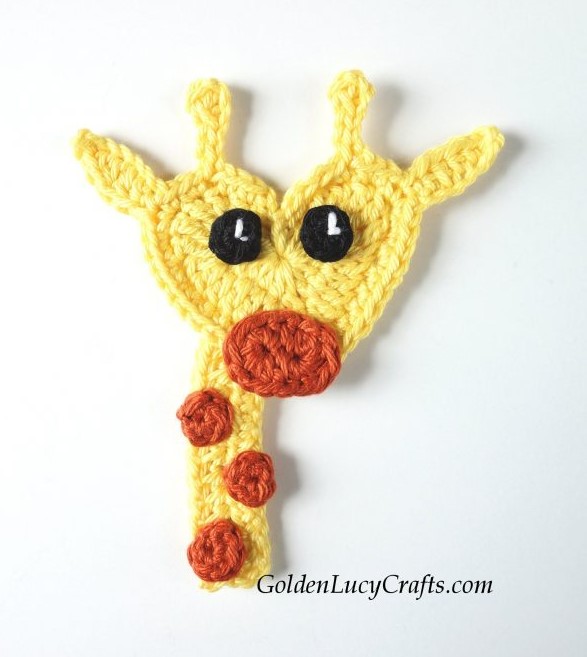 This crochet giraffe pattern comes with adorable googly eyes and cute brown freckles. With a lot of ways to customize the design, you can try out different things like making it into a bookmark (make the neck longer). If you take a closer look at its face, there is actually a heart shape – which makes this applique even more special!
Crochet Giraffe Hat for Babies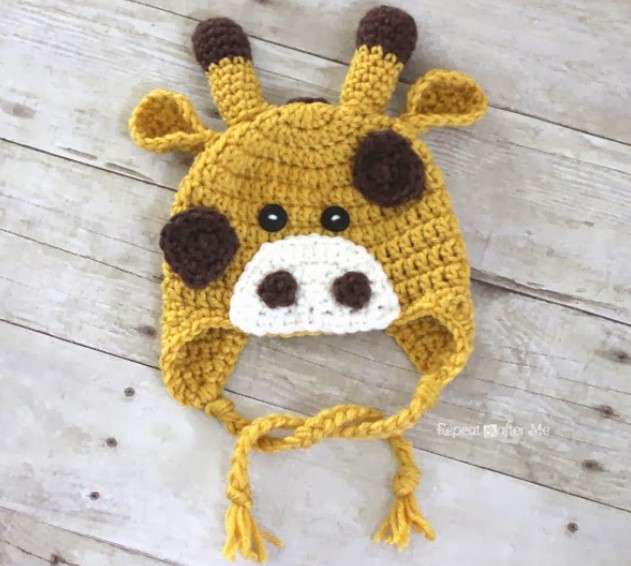 If you're the proud parent of a newborn, this crochet pattern is just right for your little bundle. The hat includes two patches near the eyes and horns in brown to imitate giraffe skin. For an alternative that's safer on sensitive baby skin, go with black embroidery instead of buttons as the eyes—you'll still get all those cute freckles though!
Adorable Giraffe Crochet Appliques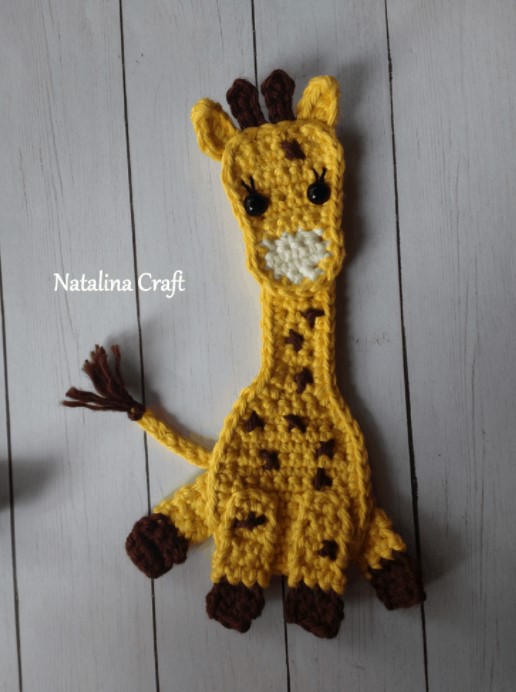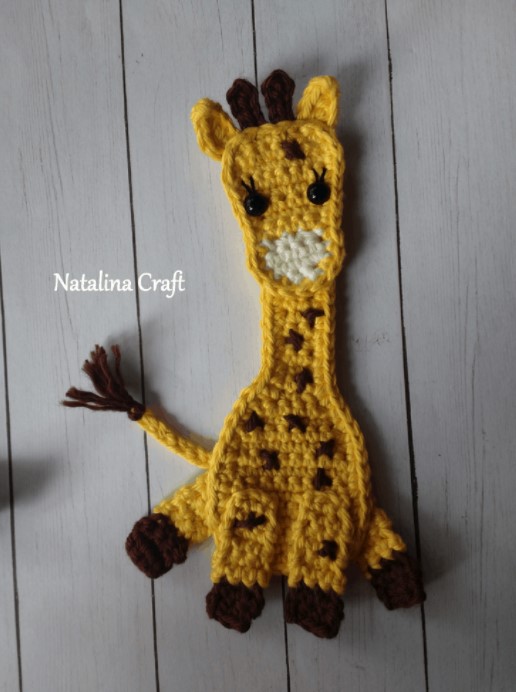 This crochet pattern is perfect for beginners because it requires simple stitches that are easy to master. Unlike the previous applique pattern, this one incorporates clear shapes of a giraffe's body – its legs are apparent and recognizable! If you want to make your new project bigger or smaller, just adjust the size of the yarn or hook accordingly. Once done decorating it with brown freckles, everyone will love it!
Ginnie the Giraffe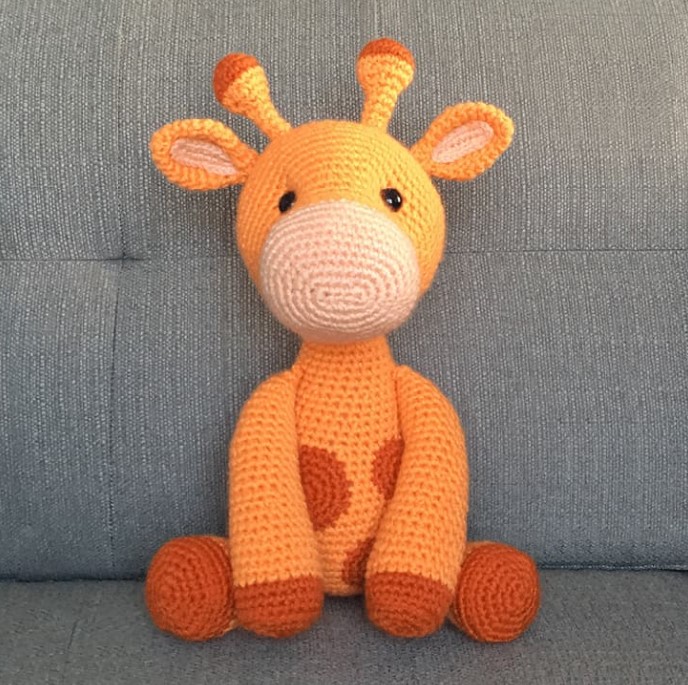 Meet Ginnie the fluffy giraffe! She's friendly, and most importantly, she's really cute, so you will want to snuggle her all day. This crochet pattern is designed to be able to sit down nicely on a couch too, but once standing up, she measures 17″ tall which means that she needs 15mm safety eyes.
Cuddly Giraffe Amigurumi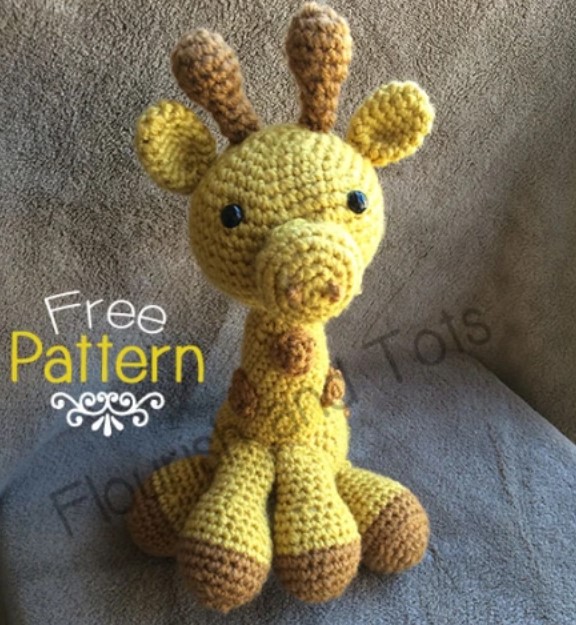 The perfect gift for your favorite nephew or niece is this 10.5″ crochet giraffe! Instructions are simple and easy to follow, so even beginner crocheters can make it without a problem. You may choose accessories (like bows & bowties) that best suit the child's personality. Note that knowing the basic crochet stitches and abbreviations will be helpful.
Giraffe Baby Rattle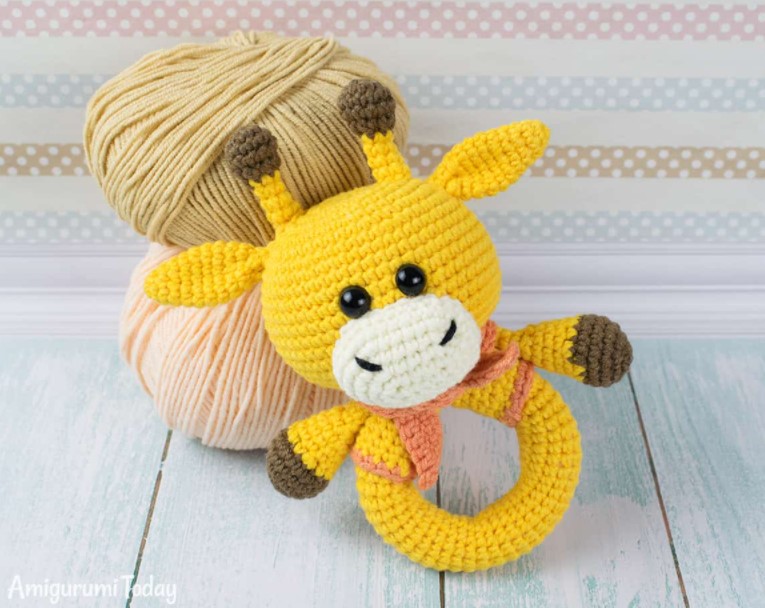 If you are a crocheting mom and looking for cute projects to make for your baby, then here's the crochet giraffe pattern that will help. This handmade rattle is soft and safe for babies. With it, you can also add small additions like scarves to give this adorable toy even more personality!
Hearty Giraffe Amigurumi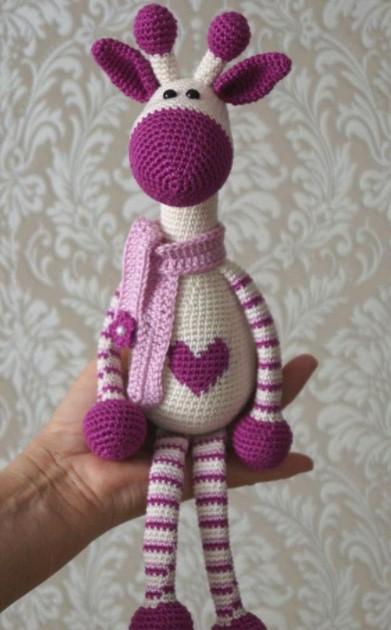 Meet this unique crochet giraffe with a heart in its plumpy tummy. This cuddly pattern also makes the animal super cozy since it adds a scarf and flower accessory at the end of it. One-of-a-kind features include stripe limbs that can be customized but these purple and violet shades make for a chic, stylish crochet design!
Crochet Stripy Giraffe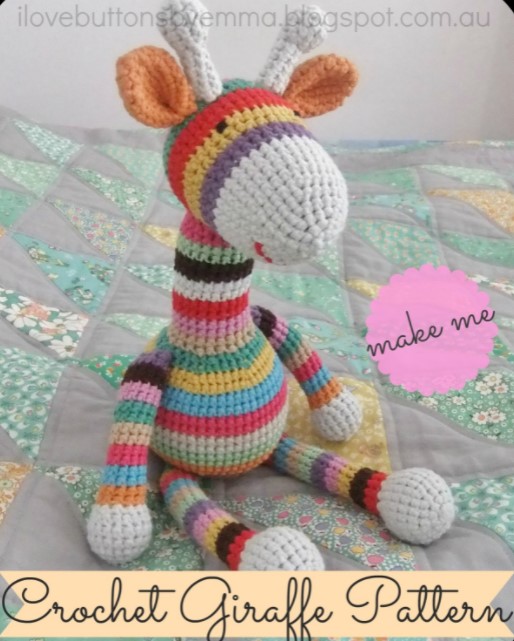 This crochet giraffe is unique because it has colorful stripes all over its body, up to the face (and legs)! However, be aware that you'll have to change color in crocheting. It may take a little time initially but will allow for more flexibility! You could even arrange the colors differently if desired – whatever works best for your project and style preferences.
Little Bigfoot Giraffe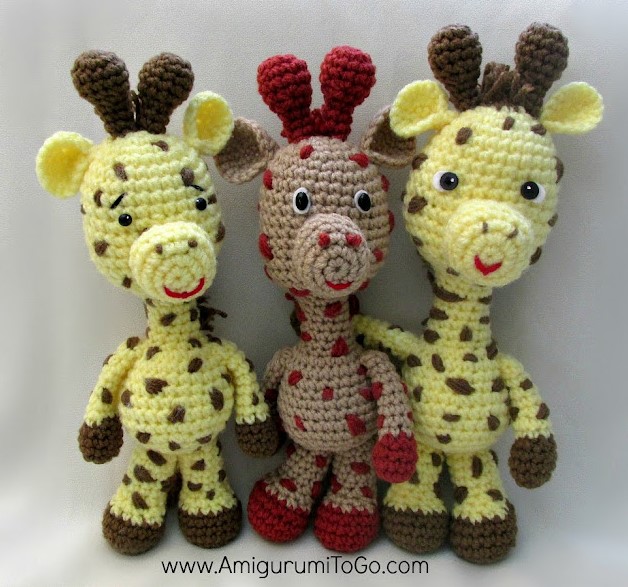 These crochet giraffes are adorable. Each one has unique eyes which give the amigurumi giraffe a specific personality. This shows how much fun you can have making these crocheted animals! From horns to toes, each stuffed animal is about 13″ in height and they're perfect for squishing with or giving as gifts.
5.9" Amigurumi Giraffe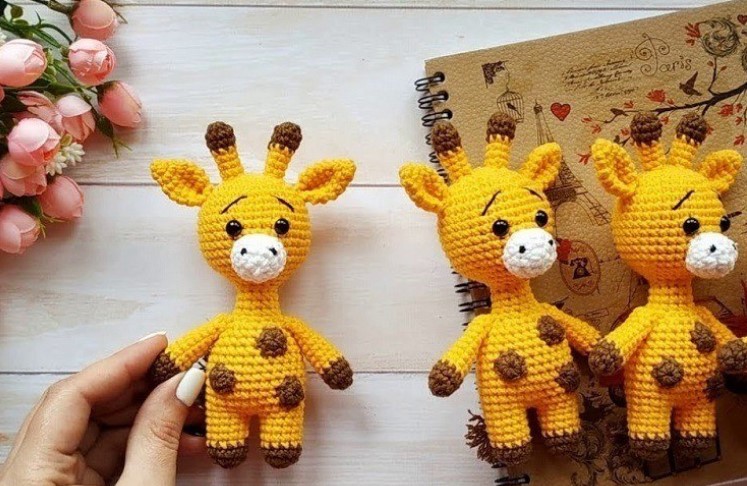 This small crochet giraffe is so cute that it will fit in the palm of your hand! The three brown dots on its tummy make him even more adorable. His 6mm safety eyes give him a look that makes you want to take care of and protect him all the time. You may use preferred colors, but yellow, brown, and white are great for making this little guy as close-to-nature (and as cute) as possible!
Cute Giraffe Amigurumi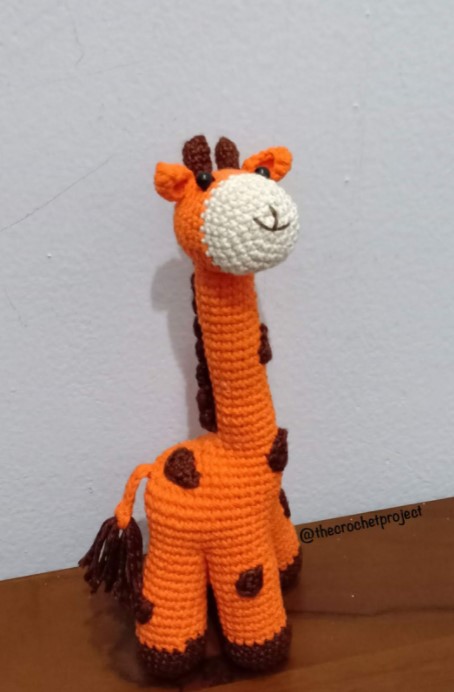 This simple crochet pattern is perfect for beginners. Before starting, make sure you have the basic skills down including making a magic ring or circle and single crochet stitches. It's best to use soft cotton yarn with this project. The hook size used in this tutorial is 2-3mm depending on your choice of yarn (adjust as needed).
Ragdoll Giraffe Free Crochet Pattern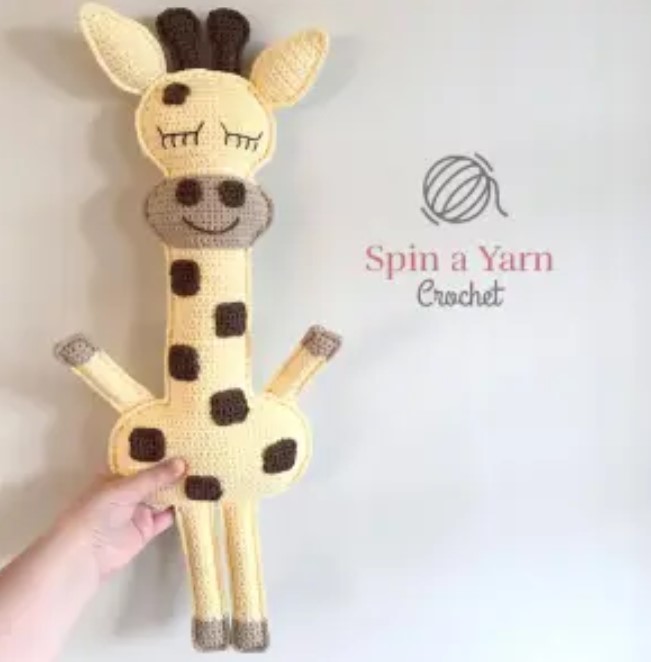 Get ready to crochet a calm and creative ragdoll with this free pattern. This pastel-colored giraffe is 22.5 inches tall, making it the perfect size for cuddling! Its closed eyes combined with its freckles are what truly make her unique and charming—You will surprise yourself once you finish the pattern because she is 22 1/2 " tall!
Baby Giraffe Amigurumi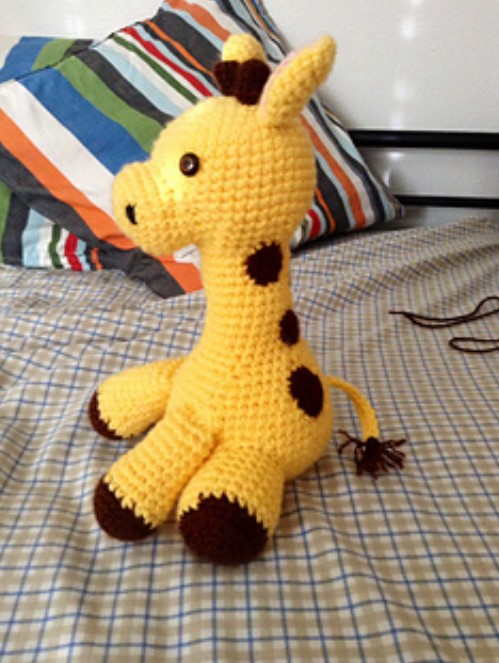 If you're looking for a crochet project that will brighten up your day, try making this adorable baby giraffe amigurumi! This easy-to-follow pattern is perfect for novice crocheters. You can make it in golden yellow with brown accents. If those colors don't work well together, you will have lots of fun experimenting with different color options as well!
Crochet Giraffe Cozy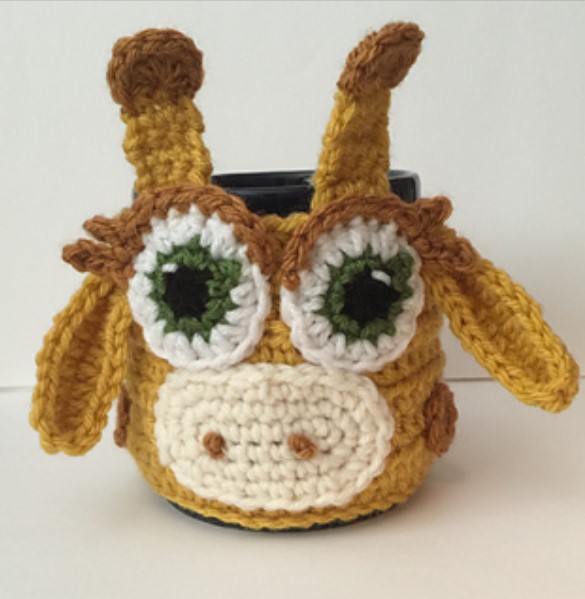 When you need a crochet pattern that is easy to follow, try this simple and cute giraffe cozy. It can be used for any coffee mug or cup depending on what size you want it to be! This would also make an excellent gift for family members or friends who love those big eyes staring at them from the front of their drink holder!
Crochet Giraffe Pillow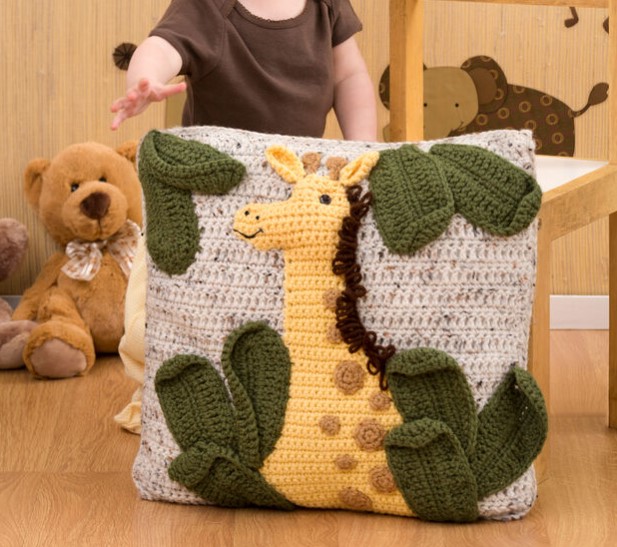 If you're looking for a crochet option other than the usual mug cozies, we have another unique and excellent design, a crochet giraffe pillow pattern! This will make an ideal addition to any kid's nursery or bedroom. The kids would love having an animal companion of their own and if you don't already know how to do french knots, this pattern has some great information about it as well.
Giraffe Amigurumi Toy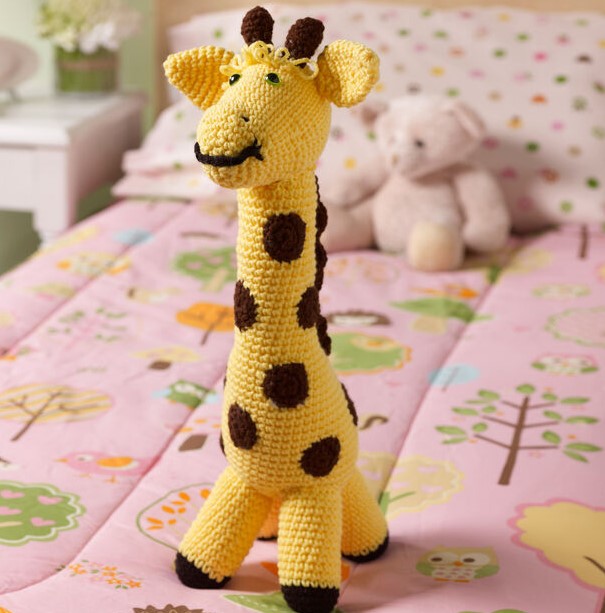 Crocheting a giraffe can be the perfect way to spend your time. This pattern includes all of the cutest features, like its adorable smile and fun noodly hair! You may want to make this realistic by adding fewer or more brown spots on its long neck. Either way, you go, having a crocheted giraffe is sure to bring joy into any child's life (or yours)!
Amalka the Giraffe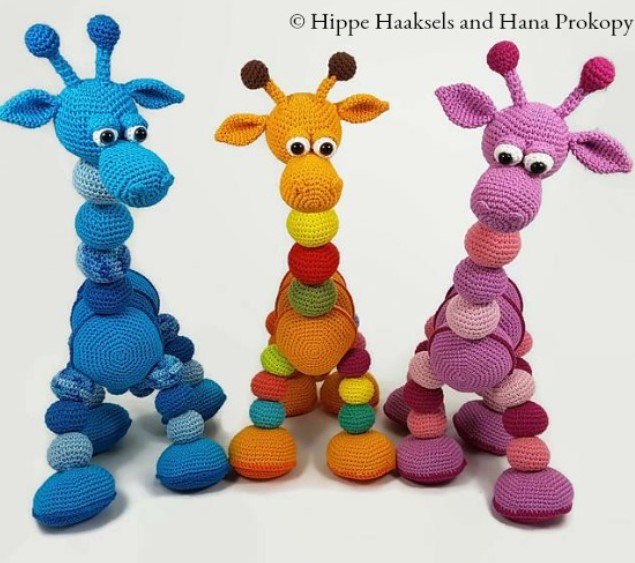 If you're looking to give a gift on special occasions, then this crochet giraffe pattern is for you. It's designed in the right size and shape so it can be hugged by everyone who receives it; each of its body sections looks like colorful tennis balls placed together!
Baby Giraffe in A Pink Dress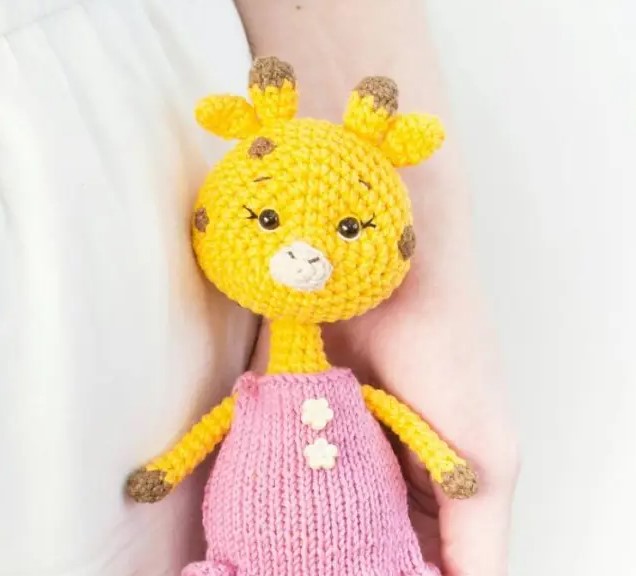 There are many ways you can customize this crochet amigurumi pattern. You could use a different color to make the dress, like pink or blue. Or add longer eyelashes for more cuteness! If it's intended as a gift for a baby boy instead of a baby girl, just replace the dress with an overall and adjust accordingly on your hook.
Wild Giraffe Amigurumi
While hanging out outside in the field, these crochet giraffes are enjoying their time as they take a break from playing. They measure 14″ when seated and can reach up to 17″ while standing which makes them huggable! Made with a 2.5 mm hook using 100% cotton yarn, you'll be able to give this to someone as a birthday present!
Adorable Crochet Giraffe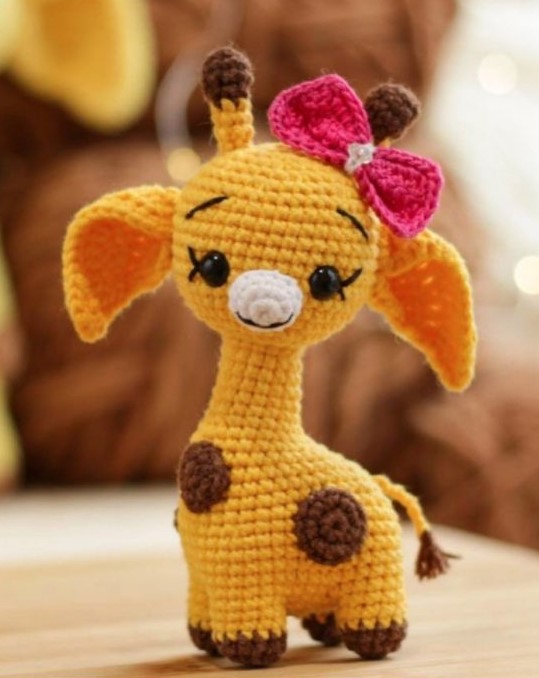 This crochet giraffe pattern is a must-try! With her cute bow and eyelashes, this simple design makes for an adorable look. What's unique about the way she's made is the floppy ears instead of straight ones – which you'll want to include in your own project too!
3 in 1 Giraffe Baby Blanket
This crochet giraffe craft is a 3-in-1 product! It can be used as a baby blanket, decoration for the nursery, and even as an adorable toy. The free pattern that you'll find online allows you to do all of these things with ease. You could make one yourself or give it away to someone who recently had their first child!
Tiny Giraffe Amigurumi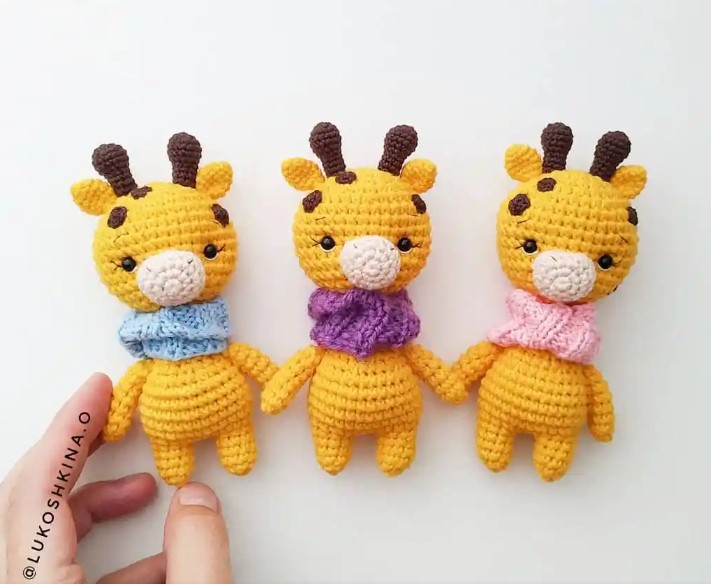 This crochet giraffe is a perfect gift for newborn babies. The tiny size of the toy and its fun addition (the scarf) make it extra cute! It can be customized to match your unique style with either color or spot choices, making this little giraffe friend even more adorable than it already is.
Giraffe Teething Ring Rattle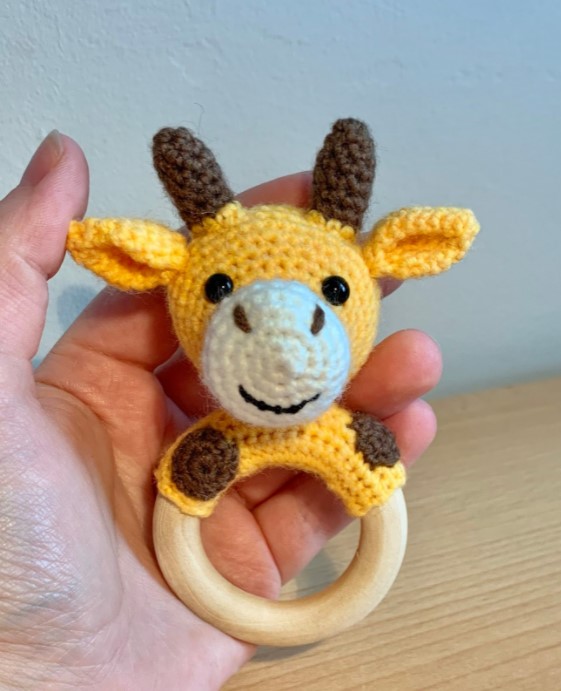 This giraffe teething ring rattle is an adorable gift for a baby. It's 6cm tall from the tip of its ossicone to the neck, and 11 cm to the bottom of the ring – perfect size for their grip! The smiling giraffe on it makes it so cute that you (and your baby) can't help but smile when looking at them too!